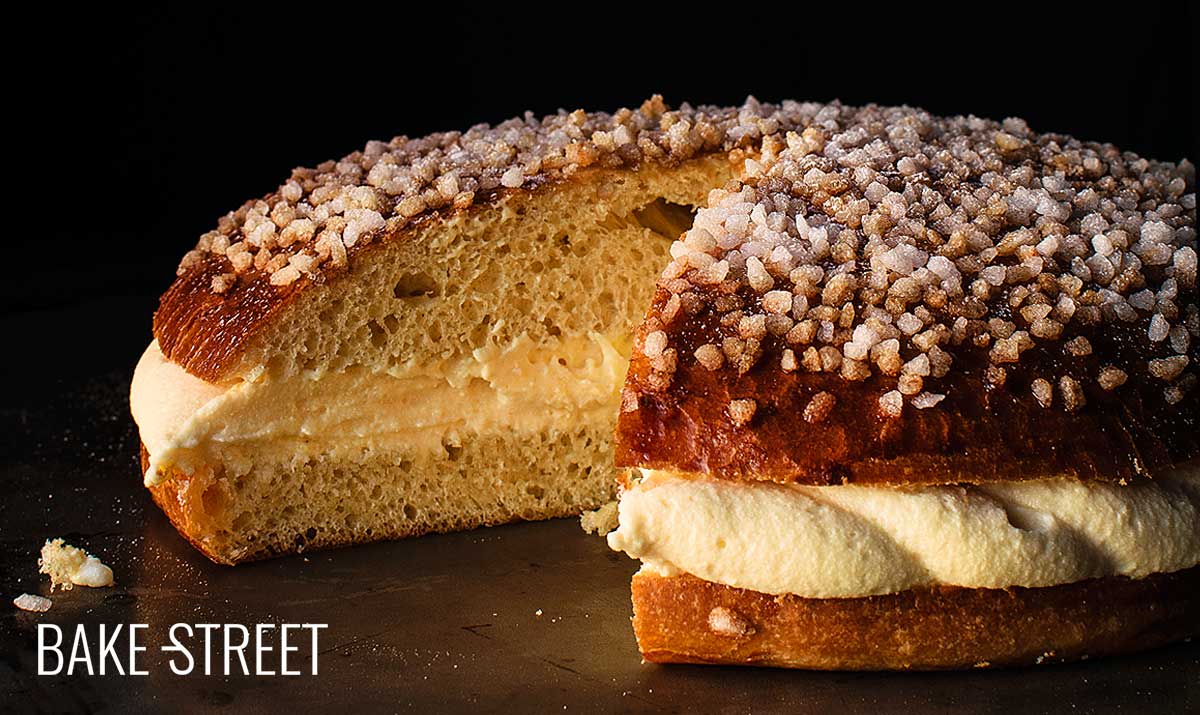 Tarte Tropézienne or Saint Tropez Tarte
Este post también está disponible en Spanish
Lately I'm preparing very classic and traditional elaborations on the blog, but I love them! I think they're like the classic ballet of pastry, they're the basis for laying the foundations, without them there would be no evolution. The fact is that I had been thinking for a long time about preparing the famous Tarte Tropézienne. And when I say a long time, I mean 3 years.
But it's from these recipes that you postpone because you get the feeling that they can wait. And yes, it's true, they can. But they shouldn't. There are things we should try at least once in a lifetime and one of them is this exquisite cake made with brioche and a Madame cream.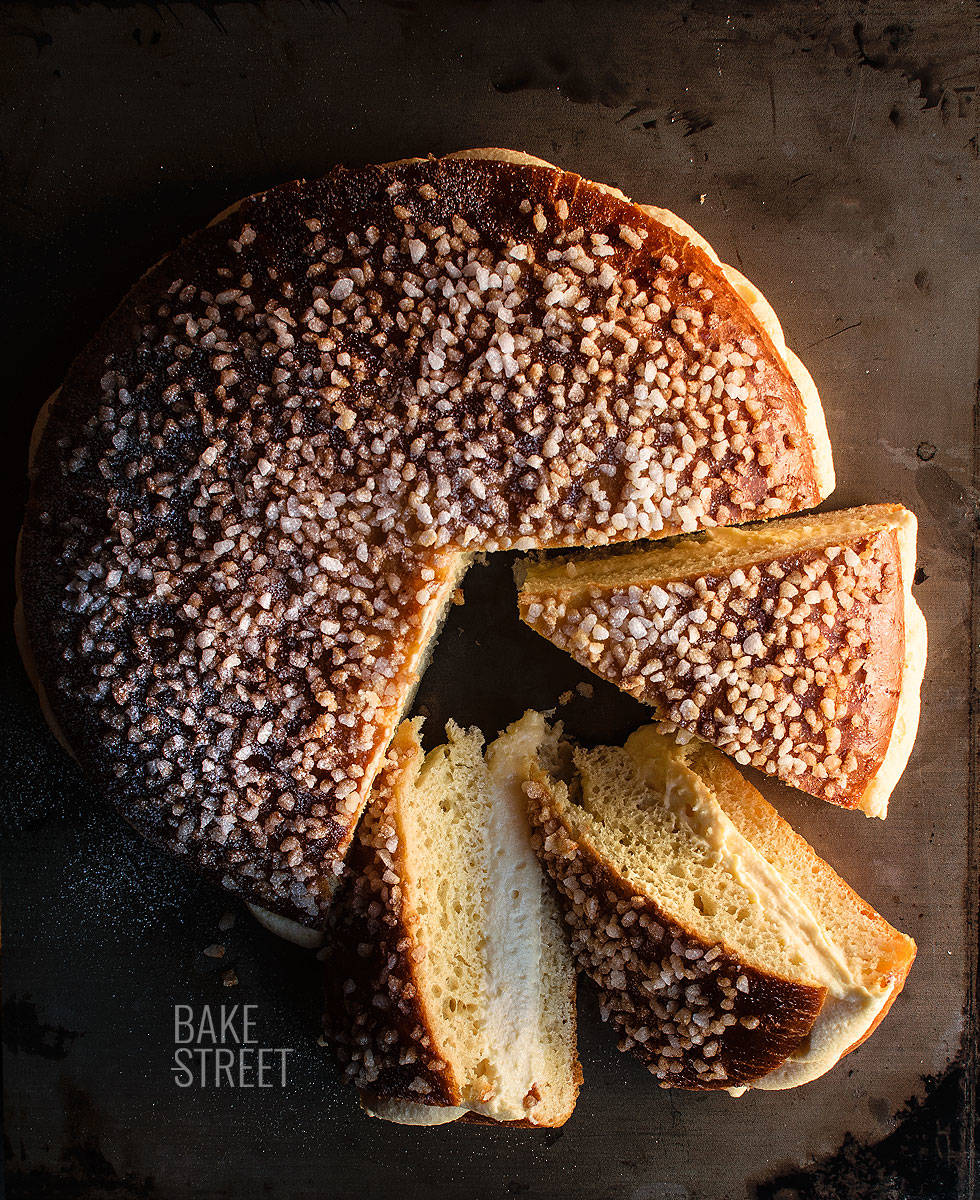 We will go in parts, but I would lie to you if I did not admit that when I carefully read the ingredients and between them I saw "Madame cream", I felt as if an irresistible attraction enveloped me and captivated me to prepare it.
Origin of the Tarte Tropézienne.
As its name indicates, Tarte Tropézienne is a traditional Saint Tropez recipe.
Alexandre Micka, a pastry chef of Polish origin, opened a pastry shop in Saint Tropez in 1955 where he made a wonderful cake filled with cream.
That same year, during the filming of Roger Vadim's film "And God created woman", Brigitte Bardot discovers this famous cake. She proposes to Alexandre Micka to call it "Tarte Tropézienne". Thanks to its success, in 1973, Alexandre registered the recipe and brand of this cake made with brioche and cream.
In 1985, Alexandre meets Albert Dufrêne with whom he shares his passion and allows him to incorporate this product into his company. Today it is a company with a great expansion, both physical and online, and great success.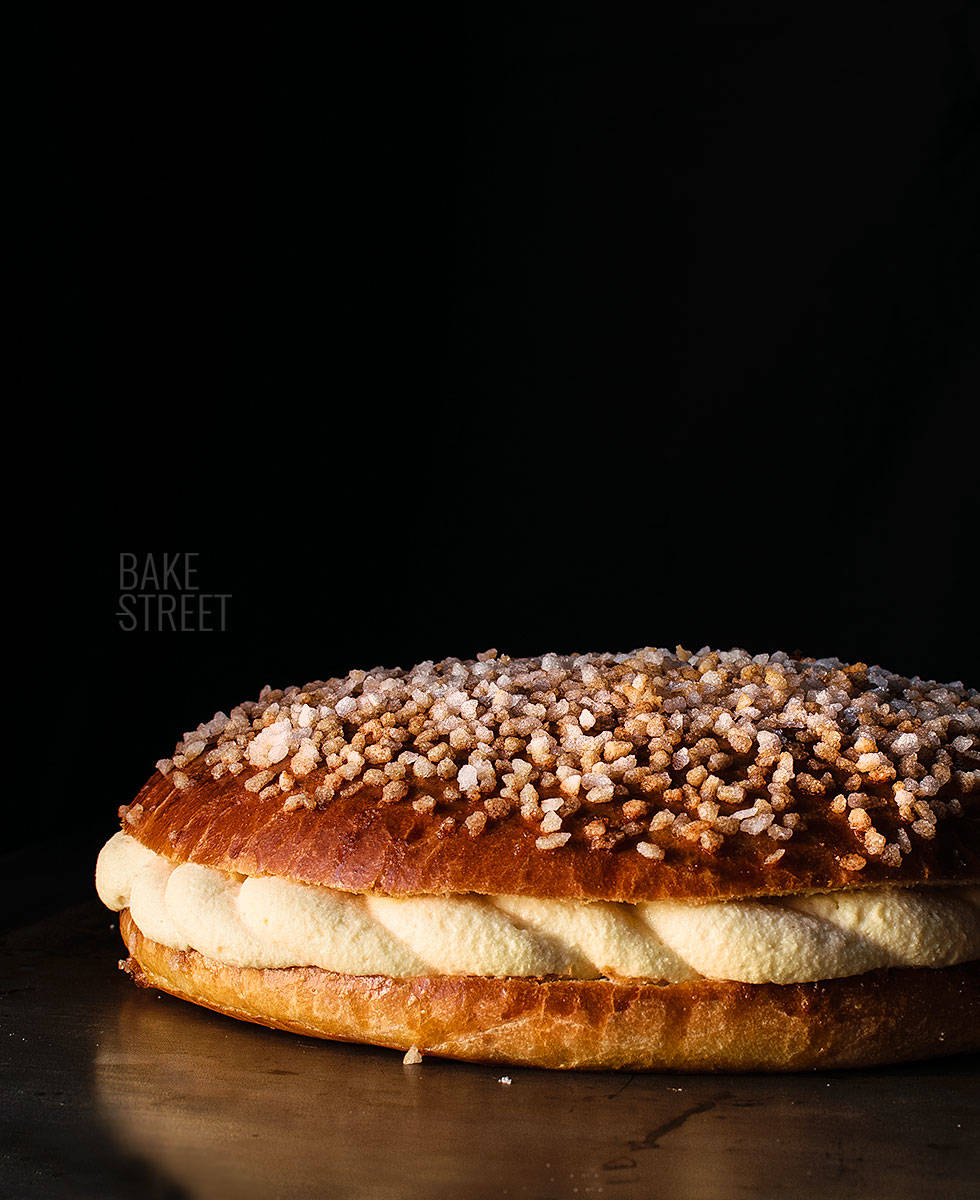 An extraordinary elaboration.
The Tarte Tropézienne consists of a brioche, lighter than a traditional brioche in terms of quantities of egg and butter, and flavoured with orange blossom water. The surface is completely covered with pearled sugar and delicately sprinkled with icing sugar.
Its filling, oh my God, its filling. It is the most exquisite thing you can imagine. This is where I was completely trapped, the Madame cream. Please, what an extraordinary, elegant and pompous name. It has everything!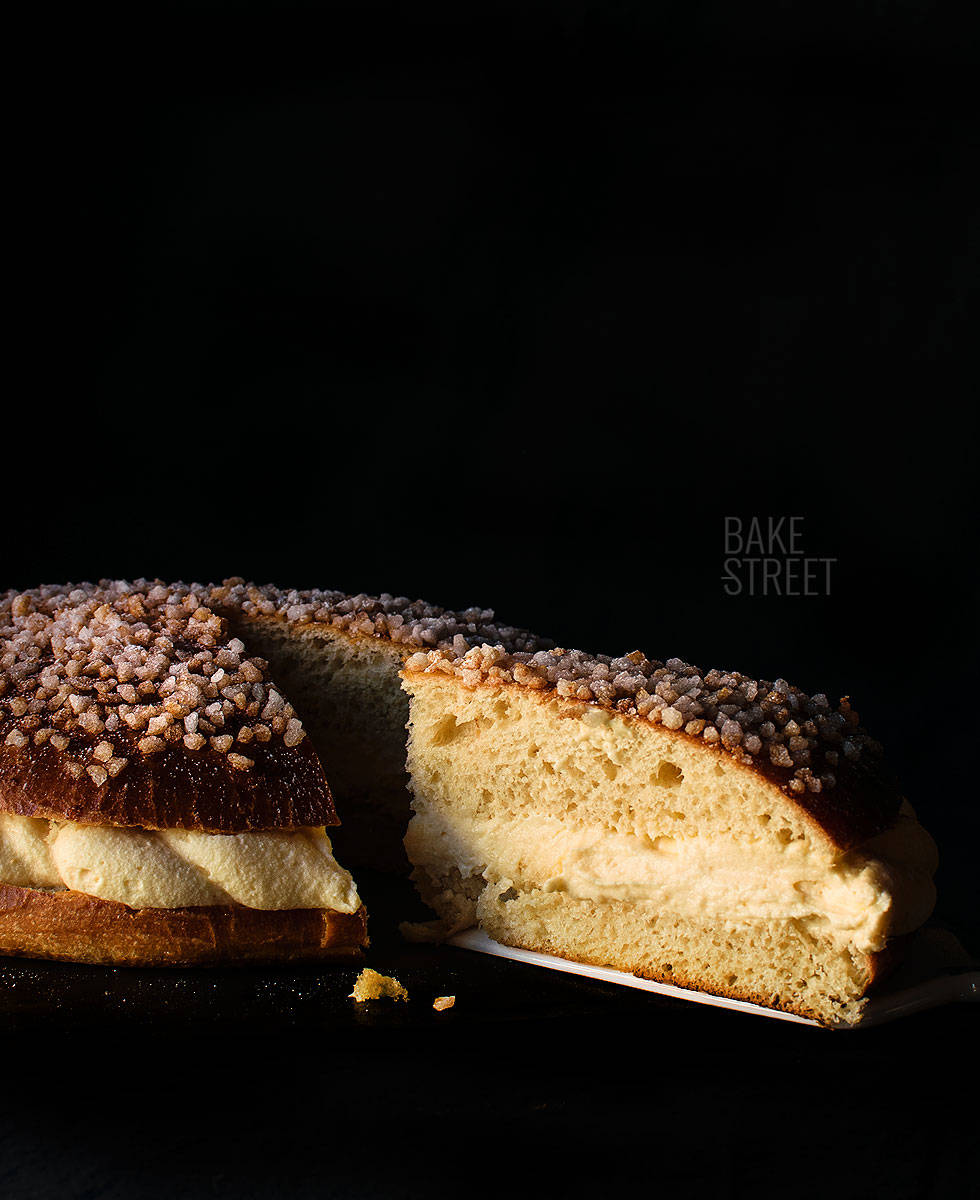 But what is Madame cream?
Madame cream also known as Diplomatic cream (this name is less attractive despite being the same wonderful cream) consists of a pastry cream and Chantilly (whipped cream with vanilla).
Searching for recipes to carry out the filling, I came across several elaborations that instead of using pastry cream and Chantilly, used mousseline cream and Chantilly. Of course, I did not hesitate for a moment to make this second version since the result would be much more creamy and firm. In addition to having a much more attractive flavor.
The mousseline cream is made with beaten butter and pastry cream, this is already a spectacle. The result is a very silky cream that almost melts in your mouth. To this, in addition, we will add whipped cream. You can imagine the result, a very soft, airy cream with a splendid taste.
Ingredients
Recipe adapted from the book "PH 4.1. Scienza e artigianalità della pasta lievitata"
FOR BRIOCHE DOUGH:
300 g AP flour
3 large eggs
115 g unsalted cold butter
30 g sugar
30 g whole milk
2,5 g dry yeast
1 Tbsp orange blossom water
5 g salt
FOR MADAME CREAM (mousseline + whipped cream):
For the pastry cream:
500 g whole milk
4 large egg yolks
120 g sugar
25 g pastry flour
25 g cornstarch
1 tsp orange blossom water
Rest of ingredients:
150 g unsalted butter at room temperature
100 g cream very cold + 1 Tbsp icing sugar
FOR THE SYRUP:
75 g water
75 g sugar
1 tsp orange blossom water
BRUSH AND GARNISH:
1 beaten egg with a pinch of salt
pearled sugar
icing sugar for dusting
Instructions
FIRST DAY
Make pastry cream.
Here you can see how to prepare the pastry cream. You only have to take into account when you read the recipe the quantities and ingredients that I leave you in the list of this recipe.
Once you have it ready, reserve it at room temperature until it has cooled.
Once it has cooled completely, place in the fridge until the next day.
Make the brioche dough.
In the bowl of the dough mixer add the flour together with the egg, milk, orange blossom water, dry yeast, salt and sugar. Knead at low speed for about 8-10 minutes. We'll get a semi-developed dough.
We stop the kneader and start adding the butter little by little. It must be fully integrated into the dough before adding more.
Knead until get a good gluten development. The dough must be elastic, smooth and not cracked.
Grease a tupper or hermetic container, place the dough inside and let it rise almost it grows 1/3 of its volume. Depending on the temperature it can take 2-4 hours. In my case it was 2 hours at 73,4ºF (23ºC).
Place in the fridge until the next day.
SECOND DAY
Shape.
Dump the dough onto a clean work surface and fold the ends gently towards the centre, without exerting too much tension.
Using a roller, begin to stretch the dough, trying to form a circle with a 9,45 inch/24 cm diameter.
Place the dough disc on a tray lined with baking paper.
Make final proof and bake.
Cover with film and let it rise until it doubles in size. In my case it was 3 hours at 84ºF (29ºC) controlled.
Preheat oven to 355ºF (180ºC).
Brush with beaten egg and garnish with pearled sugar.
Bake at medium height for 18 minutes. Remember that the interior temperature must reach 190º-194ºF (88-90ºC) for the baking to be finished.
Remove from the oven and leave to cool completely on a rack.
Make the syrup.
In a saucepan pour the water together with the sugar and orange blossom water. Place at medium heat.
Once it boils, leave for 1 minute and remove from heat.
Let it cool completely.
Make Madame cream (mousseline cream + whipped cream).
Remove the pastry cream from the fridge.
Make the whipped cream.
Before we get ready to whip the cream we must make sure of two things;
Cream must be cold 24 hours before used it.
The bowl in which we are going to make whipped cream must be cold. I recommend to use one aluminium bowl and freeze 20 minutes before beat it.
Pour heavy cream into freeze bowl and beat with an electric mixer into low speed.
Once cream is becoming to form stiff peaks, add sugar little by little stirring the whole time. Increase speed gradually but without reaches high one. Ideally use medium speed.
Be sure not to over-beat, otherwise cream will become lumpy and butter-like.
Cover with plastic wrap and chill until used it.
Beat the butter.
In the KitchenAid bowl add the butter and beat at medium speed with the help of the flat beater. We must obtain a very aerated texture, creamy and whitish.
Make mousseline (cream pastry + butter).
With the help of a whisk, beat the pastry cream to smooth it. Set aside.
Once we have the butter ready, add a little pastry cream together with it and mix until both elaborations are completely integrated.
Continue adding pastry cream as it integrates with the butter and mix until completely homogenized. We will do it until all the cream is integrated.
Finish Madame cream.
With the help of a spatula we begin to integrate whipped cream into the mousseline.
We will do it with soft and enveloping movements trying not to exceed in the movements not to lose the texture.
Once we have everything integrated, transfer the cream to a piping bag with a smooth 0,8 inch/2 cm in diameter tip.
Assemble the Tarte Tropézienne.
Using a cutter cake, cut the brioche in half lengthwise.
Remove the upper part and set aside.
Brush all the surface with the syrup, in my case I used all the quantity.
Fill the inside with the cream Madame, this part you will see better in the video.
Once we have filled the brioche, put the cover that we had removed on the cream.
To finish, sprinkle with icing sugar.
Serve.
Notes
We must shape the brioche with the cold dough, otherwise it would be very difficult to handle the dough because it will become very sticky.
Respect all the steps, rests and rising time to obtain a good result as much in flavor as in texture and sponginess.

I recommend you to use a good quality butter because this will affect the final taste of the dough.
We can keep it refrigerated and wrapped in film for 3-4 days. Before consuming it, it is ideal to temper it for 1 hour so that the brioche is more tender.
Tarte Tropézienne is undoubtedly one of those recipes that we must cook at home to make them happier. And you will, believe me.
Its taste and texture is absolutely incredible, not to mention its aroma. Orange blossom is always a pleasure for the senses. At least for mine, I fall in love with it.
I wish you a wonderful weekend and enjoy this delight!
Big hugs,
Eva
Archivado en