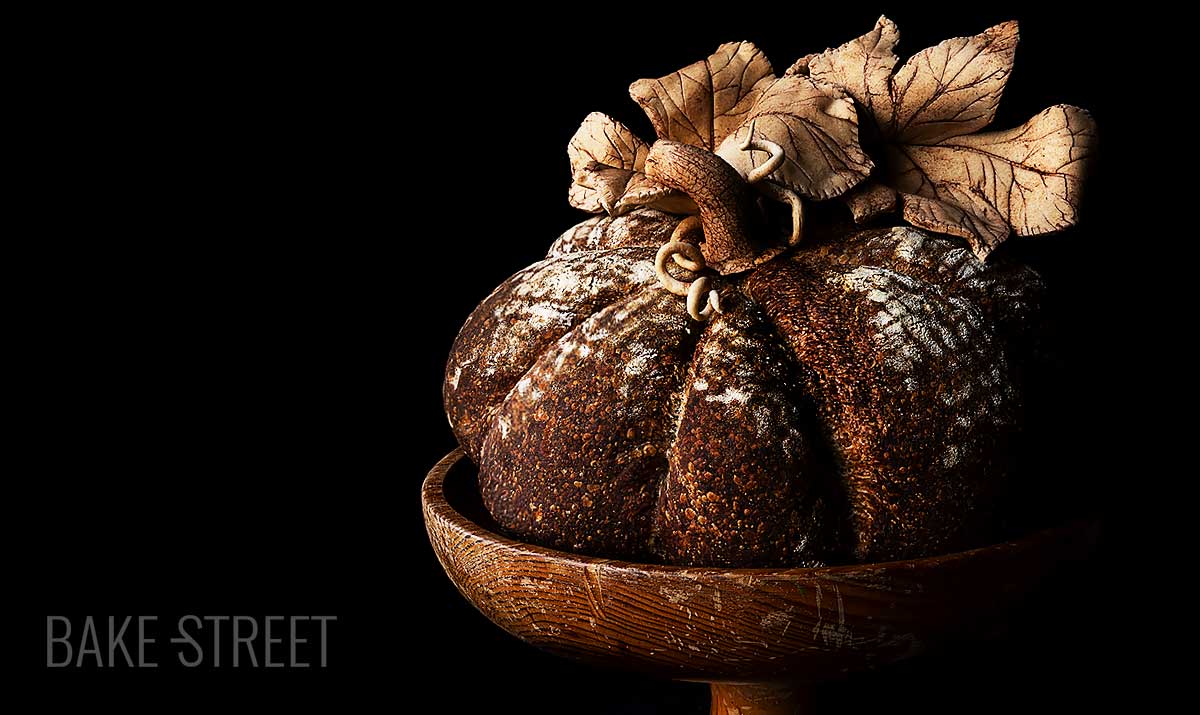 Sourdough Pumpkin Bread
Este post también está disponible en Spanish
I've been wanting to make this Sourdough Pumpkin Bread for a long time, but with it I've had the same experience as with many recipes… You put them off for one reason or another and in the end months go by and they are forgotten. Well, it doesn't happen anymore. In the last edition of the online bread workshop, which ended last week, a student told me that she really wanted to make this bread and asked me if I would try it. It was the final push I needed to get it off the to-do list!
So, thanks to her, today you have this bread recipe on my blog. What, I warn you, is not only attractive to the eye, but also has a spectacular taste and aroma. It is wrong to say so, but I assure you that it is like that… Thanks to the combination of spices that I have used together with the roasted pumpkin, the aroma and taste is very autumnal.
In fact, the combination of spices in the bread are the same as those used to make the famous "Pumpkin Pie". I love this cake and I thought it would go very well with this bread too. This is not the first time I try to bring a sweet elaboration to the bread format. Some time ago I left you a recipe for Carrot Bread, based on one of my favourite cakes, Carrot Cake (really old recipe… when I started my blog!). I used the same spices as the cake, plus carrot juice, honey and nuts. Outstanding. By the way, for those of you who are a big fan of this cake like me, I also made a Carrot Cake jam a few years ago already (in 2013)… Anyway, hahaha.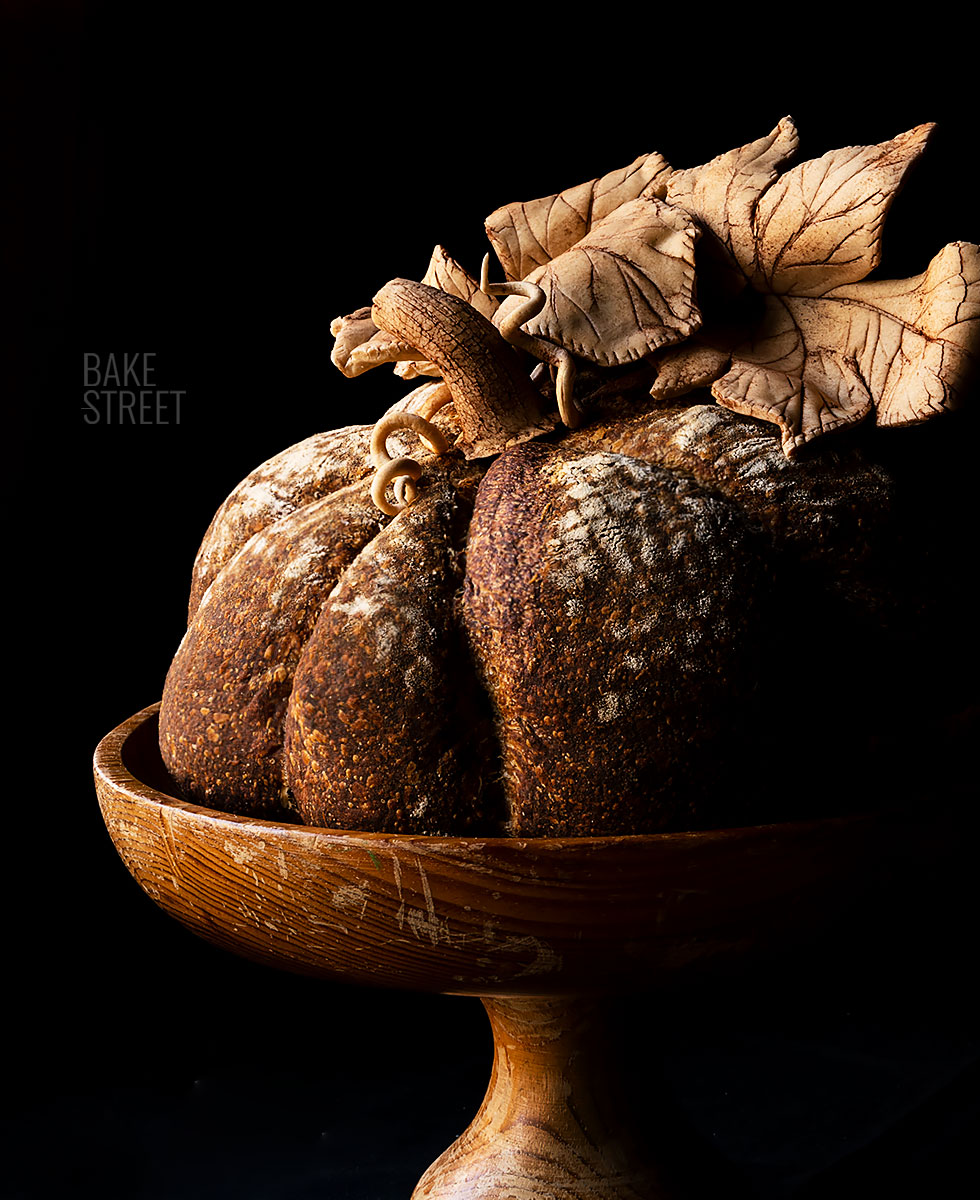 Sourdough Pumpkin Bread.
The design of this bread, of course, is not mine. I have tried to find the original source of the person who decided to use twine around a bread to give it that shape, but I have not been able to find it… There are a lot of breads of this type on the internet, like; @sourdough_nouveau @brooklynsourdough@sourdough_mania (her creation is from 2016) @habemus.panem @goodkneads  @joyosity … But it is difficult to know the original author. I found a recipe for some pumpkin-shaped rolls from 2012, but they had no string around them, they were cut to achieve that shape.
From here I want to thank the person who had the idea to do it, because it is absolutely great 😀
As I mentioned above, this bread would be a replica of the famous pumpkin pie. We will add to the dough roasted pumpkin, cinnamon, ginger and all spices. The result is a very aromatic and juicy bread, a delicacy to make good toast at breakfast with Bourbon apple butter, for example. It's true that I thought of adding pumpkin seeds, but I was afraid that when I shaped it some of them would be left outside, so I preferred to omit them.
Sourdough Pumpkin Bread decoration.
The bread itself looks very nice in that shape. In fact, many people decorate them outside with very creative scorings giving rise to beautiful breads, but I felt like giving them a "real" look with some ornamental elements. I valued the natural pumpkin stem, pumpkin leaves… But I thought it would be much better to make everything edible. And not to stop practicing crafts, which I love, hahaha.
To make the leaves and the stem I used pâte morte (dead dough). It's a perfect dough to model and create everything that comes to mind. Especially if our elaborations are related to bread… I will not deceive you, it is a dough that requires arms because we have to knead it a lot and refine it with a roller pin, but the result is worth it. Especially if you enjoy this type of preparation. Otherwise, making the bread will be enough 😉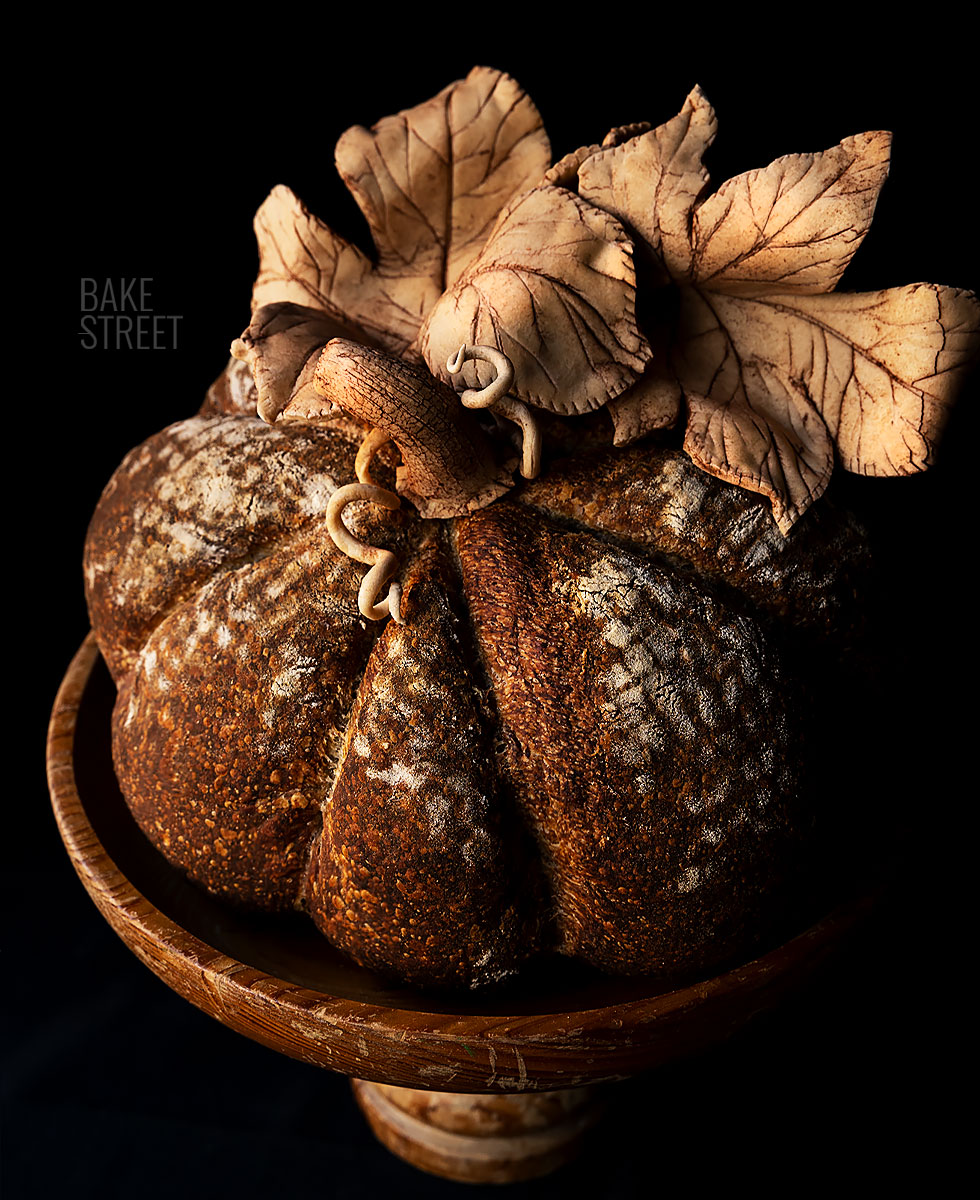 What is pâte morte?
Dead dough is a dough that does not contain leavening agents and therefore does not undergo a fermentation process. It has an ideal hydration to be able to model it with the purpose of creating artistic or decorative pieces.
We can give it colour using dark flours, such as rye or carob, or ingredients such as turmeric, matcha tea, beetroot powder, spirulina…
Once we have created and designed our pieces, we must let them dry at room temperature, so that they harden, for 1-2 hours before proceeding to bake them.
The creations made with this dough can be used to decorate all types of bread and elaborations carried out with dough. Or simply to create figures with it just for the pleasure of the process.
| INGREDIENTS | % BAKER'S PERCENTAGE | SOURDOUGH | REST | TOTAL |
| --- | --- | --- | --- | --- |
| Bread flour | 100 % |  90 g | 510 |  600 g |
| Water | 69,1 % |  90 g | 325 g |  415 g |
| Salt | 1,8% | | 10,8 g | 10,8 g |
| Pumpkin | 21,6 % | | 130 g | 130 g |
|  Cinnamon | 0,58% | | 3,5 g | 13,5 g |
|  Ginger | 0,25% | | 1,5 g | 1,5 g |
|  All spices | 0,16% | | 1 g | 1 g |
Sourdough Pumpkin Bread Recipe
SOURDOUGH:
180 g sourdough 100% hydrated and feed with bread flour
BREAD DOUGH:
510 g bread flour
325 g water
180 g sourdough, 100% hydrated
130 g baked pumpkin
10,8 g salt
3,5 g cinnamon powder
1,5 g ginger powder
1 g all spices
DEAD DOUGH (PÂTE MORTE):
250 g plain/AP flour
115-125 g water
15 g unsalted butter at room temperature
5 g salt
Instructions
FIRST DAY
Make pumpkin bread dough.
In a large bowl add the flour together with the water, mix with your hands (in my case with the KitchenAid for 4 minutes) until you get a homogeneous dough. Cover with a shower cap and do autolysis for 90 minutes.
Add the sourdough and knead with the hook at speed 1 for 15 minutes. If we do it with our hands, knead and fold until the dough is completely integrated into the dough.
Once the sourdough has been integrated, incorporate the roasted pumpkin. We will do it little by little and kneading each time, gently, to distribute it and integrate it into the dough.
Once all the pumpkin has been added, add the salt. Gently fold it over to distribute it and incorporate it into the dough.
Place on a clean work surface, without any flour, and finish kneading by hand if you have made the first part in a dough mixer.
We will combine kneading with resting time. Knead for 5 minutes and leave to rest for 10 minutes. In total we will make 3 kneads.
To check the state of the gluten mesh, we should always do this after a rest.
Once the dough has developed well, add the spices.
Stretch the dough and sprinkle it on the surface.
We begin to fold the dough to make it easier to trap the dough inside.
Knead gently to help them to be distributed evenly across the surface.
Make bulk fermentation.
Grease with olive oil a bowl or recipient and put the dough inside. Cover and make a bulk proof for 4 hours to a controlled temperature (79,7ºF/26,5ºC). Turn and fold after 60 minutes during the first 3 hours.
Let rise until almost double in sized.
Prepare a banneton, sprinkle with flour and set aside.
Make pre-shape and shape.
Preshape into a boule (ball), be careful not to degas too much, and allow to bench rest for 20 minutes cover with a cotton cloth.
Shape a boule, in the video I show you how to make it.
Place seam-side up in banneton, cover with a film or shower cap and put in the fridge for 13 hours (39ºF/4ºC).
SECOND DAY
Bake sourdough pumpkin bread.
Preheat oven 428ºF/220ºC at least 30-40 minutes prior to baking with your stone or steel sheet on it positioned on final rack. Put inside a pan with volcanic stones, this helps to get steam in the baking.
Smear with oil, it can be of sunflower or seeds oil, 4 twines that we will use to give shape to our bread. Remove any excess oil. I saw this trick to Kristen Full Proof Baking.
Put the twines on the bread, still inside the banneton, as I show you in the video.
Turn the bread very carefully placing a board previously covered with baking paper.
Sprinkle the surface with flour and spread it out carefully, this step is optional.
Tie the twines to give shape to our bread. In the video you can watch how to do it. Cut the upper surplus of twines.

Place the bread into the oven and pour boiling water over the pan with volcanic stones. Close the oven door immediately to trap the moisture.
Bake for 20 minutes at 410ºF/210ºC.
After first 20 minutes, open the oven door to allow steam goes out, remove the track with volcanic stones with kitchen gloves and reduce oven temperature to 390ºF/200ºC. Bake for 10 minutes.
Reduce temperature to 375ºF/190ºC and bake 10 minutes more. Finally bake with convection at 375ºF/190ºC for 10 minutes. Bread will get a better crust this way.
Total bake time is 50 minutes.
Ending the bake...
Once bake has ended, turn off the oven and let sit the bread inside the oven with the door ajar for 15 minutes. Remove from the oven and let cool over a rack.
Once it is cold,  cut the twines and remove them from the bread.
Make dead dough for the decoration.
In a bowl we mix the flour together with the water and salt. We will obtain a sandy mixture.
Turn it over on a clean working surface and start kneading. It is a dough that will give us work since it has a low hydration and we will need to refine it.
Once we have a dough, more or less compact, incorporate the butter and continue kneading. It is a dough that will be difficult for us to develop gluten, so be patient and remember to combine kneading with resting time. Always cover the dough to prevent it from drying out.
When you see that the dough begins to take on uniformity and starts to amalgamate, you can use the rolling pin to refine it.
Stretch the dough, fold it like a triptych and stretch it again. The dough should be left to rest with each fold or two, to help the gluten relax and allow it to be stretched without any resistance.
We must do this step until we achieve a smooth, homogeneous and very soft finish.
Cover with film and let the dough rest for 2 hours. This step will allow the gluten to relax and we can then work with the dough without any problems.
Make dead dough decoration.
Stretch the dough with a roller pin, forming a square of 30 x 30 cm.
Using a toothpick or other utensil, draw two leaves on the dough surface. Cut with a very sharp knife.
Create the natural design on the surface of the leaves. Or at least we will try it within our possibilities ;)
Place on a tray lined with baking paper. To give movement to the leaves, I have used cannoli moulds placing them underneath.
To make the stem, roll a piece of dead dough on itself. To join the dough, use water.
Give the desired shape and, with the help of a knife, create texture to the outside.
If we wish, we can make ringlets to simulate stems.
Place everything on the tray and let them dry, at room temperature, for 2 hours.
Bake the dead dough decorations.
Preheat the oven to 255ºF/125ºC.
Place the tray at mid-height and bake for 1 hour or until the pieces are dry.
Remove from the oven and let it cool down on a rack.
To create depth in the reliefs, brush with unsweetened cocoa powder.
Decorate sourdough pumpkin bread.
Prick a toothpick at the base of the stem, so that it can be placed on the bread without moving.
Decorate with the leaves and spirals..
PRESERVATION:
Bread can be stored for up 3-4 days cover with cotton cloth. If the beginning is dry, cut the first slice and inside will be still tender.
You can cut the bread into slices, cover with plastic film and freeze. This way is the better to make perfect toast each morning.
Notes for sourdough pumpkin bread
In my case I used roasted pumpkin, but you can use it cooked or mashed pumpkin (packaged). Keep in mind that the final hydration will depend on the pumpkin, for the amount of water it contains. So I advise you not to add all the water until you have integrated the pumpkin into the mixture. That way you can observe its consistency and, if necessary, rectify it with the rest of the water.
The final hydration of the bread will also depend on the type of flour you use. If it has more or less strength/protein, it can vary a few grams up or down.
Always use a flour with similar or equal conditions to the recipe you are going to follow to achieve the same results. Or as close as possible.
Flours can be adapted and modified, we just have to keep in mind what we are working with and adjust it according to your needs.
The spices are optional, but they provide a formidable flavour and aroma.
I have used "mouse tail" twine to shape the bread, but string or kitchen twine can be used (I didn't have any).
Respect the resting and fermentation times and take great care in the handling process.
This bread must be taken to an extreme fermentation since we are not going to score it, but we do not want it to crack during the baking. That is why we must control the final fermentation very much.
If your oven doesn't allow you to turn off the top resistance, ideally, for the first 15 minutes you should turn off the oven completely and not open the door during that time. After these minutes, remove the container from the steam. Turn on the oven and continue baking with the guidelines I give you from the fifteenth minute.
Pâte morte or dead dough, we must dry it very well in the baking to avoid that remains of humidity can spoil the pieces.
To give depth to the textures of the pieces of the decoration, we will use cocoa powder.
I think there is no better way to celebrate World Bread Day, today 16 October, than with this Sourdough Pumpkin Bread. I say the same thing every year, but we will not stop doing it so as not to lose the habit... Because it is also something I think about. I think that Bread Day should be every single day of the year, at least in my opinion.
It is one of the oldest elaborated foods that human beings possess.
It has evolved a lot over the years together with us. It has taken on various forms, uses and purposes, it has rubbed shoulders with nobility and kings, but it has also been at the side of every humble and simple fire in every home. Even in the streets. It is food that has united people, brought different cultures together and brought out the human side of each of us. And not only that. It has provided us with patience, wisdom, knowledge, generosity, perseverance, love, passion and enthusiasm.
I believe that few foods in the world can boast of that. That is why I encourage all of you to make bread at home. Not because of trends, forget about it... Someone who does it to be in the limelight at a particular time will not enjoy it, will not see the good side of it and will be "just another thing to do". Do it for you, to get to know a world that has nothing to do with the rest, to be happy, to see how far you can go and, moreover, to make the people around you happy with what comes out of your hands. You don't have to prove anything to anyone, just live with intensity the things that make you happy.
And, after all this text that I have let you, I wish you a wonderful weekend!
Big hugs,
Eva
Archivado en