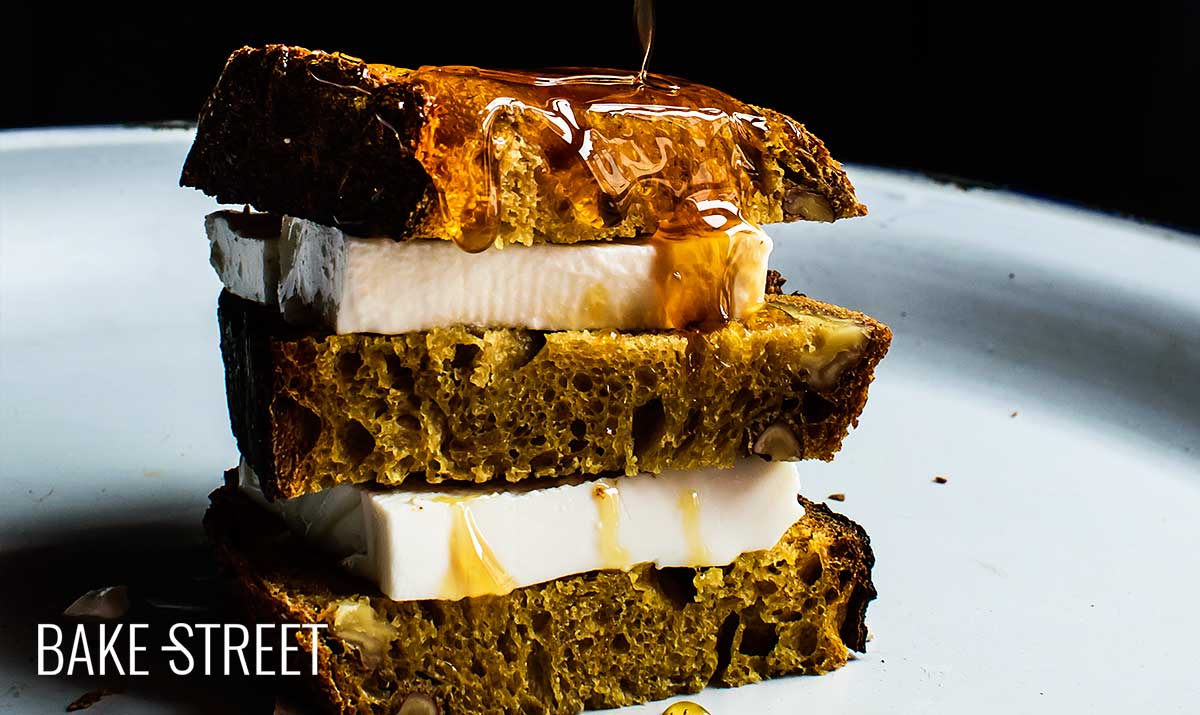 Sourdough Carrot Bread
Este post también está disponible en Spanish
To take better these cold I bring you a recipe of bread, but in this occasion it is a little special since its elaboration is versioned of the traditional and famous recipe of the Carrot Cake. I introduce you (yes, it deserves presentation, it's one of the best breads I've made lately) Sourdough Carrot Bread.
This post should have been published for next week, but I couldn't resist leaving it without sharing so much time. I had recipes prepared and ready to publish, but yesterday when it came out of the oven I knew that today should not pass the publication.
It all started the other day when I fed my sourdough, I made more than I needed and was sorry to throw it away. While I was doing autolysis one of the breads, I started to think about another variety to make and take advantage of the excess of SD. Suddenly, I don't know why strange reason, the idea of adding carrots came to my mind. I began to think about how to put them in the bread; rolled, chopped, mashed… and suddenly I remembered my favorite super sponge cake, the carrot cake, and there came my inspiration and I said, "Let's make a Carrot Bread".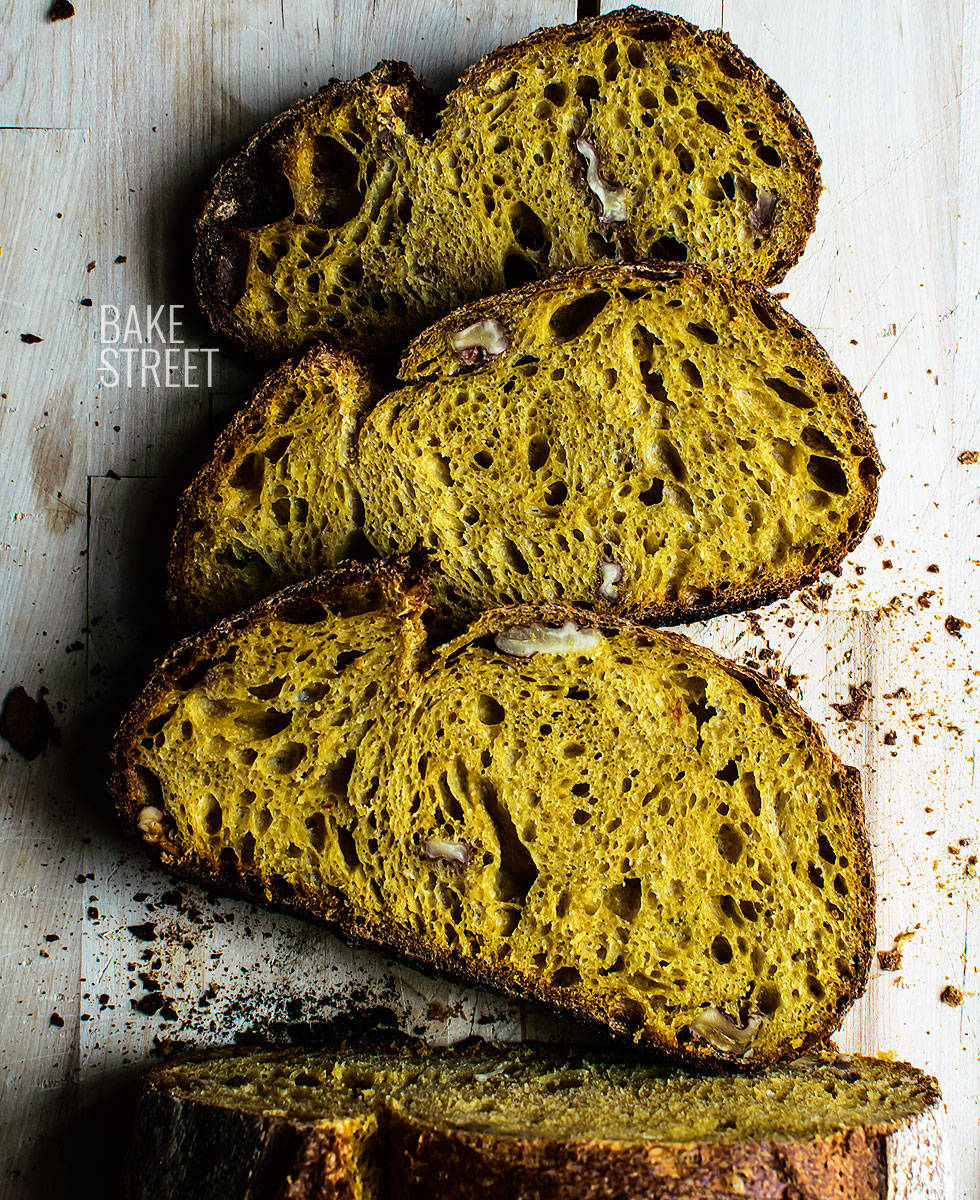 Making Sourdough Carrot Bread.
I prepared the carrot juice while thinking about the flour combinations that would work well for it, and from there everything was rolled. The simple fragrance that the dough gave off as I worked with it was spectacular… And that color, so intense, so orange! I fell in love with it.
The next day while the bread was baking, the kitchen was wrapped in a cloud of sweet, intense aromas… Stunning! I was hoping it would cool down so I could taste it. And when it's time to try it, I can only tell you to try it, really. Do it because the taste is simply extraordinary. The texture of the crumb, its sponginess, the combination of flavors, the touch of the nuts… Fascinating everything.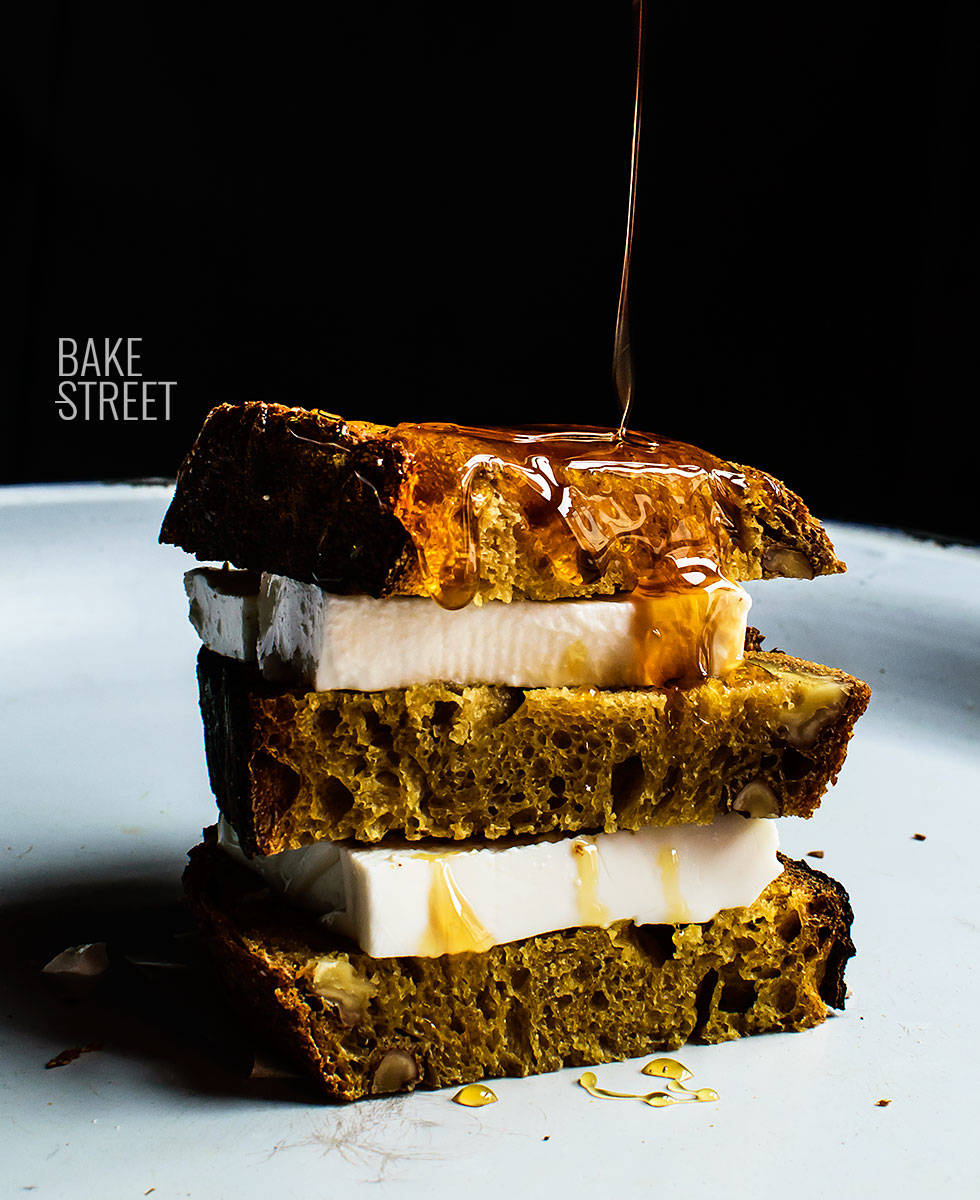 That's why I decided to bring forward recipes and leave you this one first, since the weekend is coming and you'll have time to prepare it without problems 😉
It's wonderful toasted, with fresh cheese and a little honey… I lack good qualifiers to be able to describe it. I think, or rather, it is the best bread I have made so far.
Lately what I do most at home is bread, with so many things to do, is what I can best combine with the rest. Although I have to admit that I miss making sweets pastries a lot. In these days I remedy it. I have new workshops in my hands and these, together with the online workshops, take up a lot of my time.
But now we are going to see how to prepare at home this version of bread that I am sure you will love.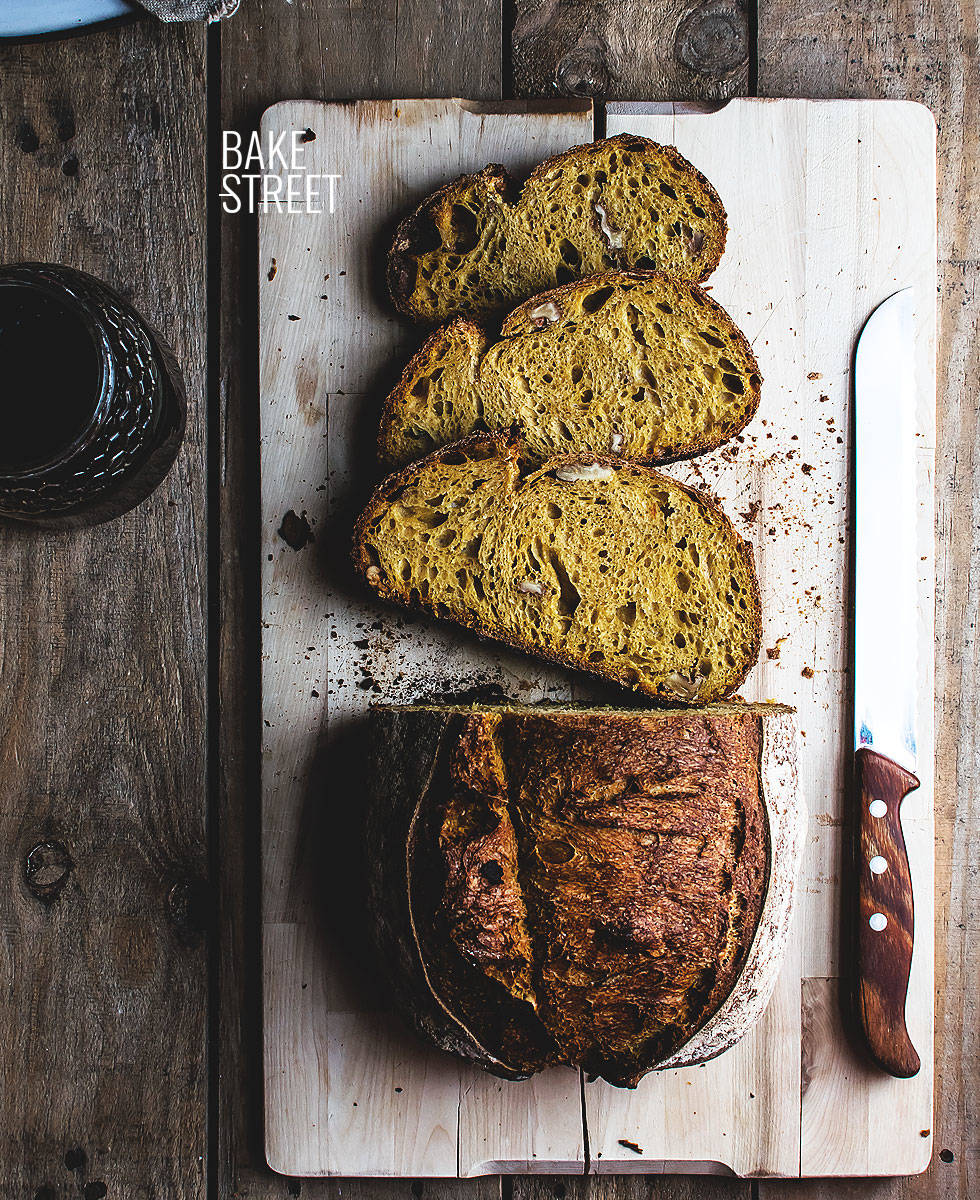 | | | | | |
| --- | --- | --- | --- | --- |
| INGREDIENTS | BAKER´S % | SOURDOUGH | REST |  TOTAL |
| Rye | 11,6% | 10 | 60 g | 70 g |
| Semolina | 25% | | 150 g |  150 g |
| Plain/AP flour | 46,8% | 80 g | 200 g | 280 g |
| Tritordeum flour | 16,6% | | 100 g | 100 g |
| Water | 20% | 90 g | 30 g | 120 g |
| Carrot juice | 60% | | 360 g | 360 g |
| Salt | 1,8% | | 10,8 g |  10,8 g |
| Honey | 2% | | 12 g | 12 g |
| Cinnamon | 0,55% | | 3,3 g | 3,3 g |
| Nutmeg | 0,08% | | 0,5 g | 0,5 g |
| Ginger | 0,2% | | 1,2 g | 1,2 g |
| Nuts | 7,5% | | 45 g | 45 g |
Ingredients
SOURDOUGH 100% HYDRATION:
180 g 100% hydration starter refreshed with 80 g plain flour and 10 g rye flour
Here you can read how to make water yeast fruits or here how to make common sourdough (By the moment, both are only available in Spanish)
DOUGH:
60 g rye flour
150 g semolina
200 g plain flour
100 g Tritordeum flour (a cereal obtained by crossing wheat and barley)
360 g freshly made carrot juice (recipe below)
30 g water
10 g salt
3,3 g cinnamon powder
0,5 g nutmeg
1,2 g ginger powder
12 g honey
45 g walnuts, peeled and lightly chopped
FOR THE CARROT JUICE:
5 medium carrots
250 g water
juice from 1/2 lemon
Instructions
FIRST DAY
Prepare the carrot juice.
In a glass mixer add the carrots, previously peeled and washed, in pieces.
Pour the water together with the juice of 1/2 lemon and blend until obtaining a completely liquid texture. Set aside.
Make the dough.
We start from a well active sourdough, 100% hydrated with plain/AP flour and rye.
In a bowl incorporate the 4 types of flour, mix lightly with a silicone spatula.
Strain the carrot juice (to remove any bits that may have remained) and pour over the flours. Mix again until a homogeneous dough is obtained (we will obtain a somewhat compact texture).
Cover with a cotton cloth or plastic wrap and do autolysis for 30 minutes.
Add SD and integrate well by mixing in the bowl itself and using a flexible scraper. Incorporate the honey and mix to integrate it completely.
Incorporate the spices and knead again to homogenize the dough.
Pour the 30 g of water, we will do it little by little and kneading at the same time.
It is important that you do not add all the water at once because each flour works in a way and not all of them have the same absorption capacity. In this way we will avoid that we have a dough with more hydration than we are looking for.
Transfer the doughs to a clean work surface and begin to knead. Make the French or Bertinet kneading.
Combine kneading with resting, in this way the dough will develop gluten without the need to work excessively.
Knead for 2-3 minutes and let it rest for 4-5 minutes. We will do this step once before adding the salt.
Add the salt by spreading it on the surface, integrate carefully so as not to lose it on the table and knead again. The dough will gradually take shape and "muscle". Continue alternating kneading with resting until our dough has a good gluten development.
Add chopped nuts. We will do it in two or three batches, very carefully so as not to damage the gluten mesh. Spread a few over the dough and make several very soft folds. Once they are more or less evenly distributed, we integrate the rest until we distribute them throughout the dough. Remember to carry out this step carefully so as not to damage and tear the dough.
Make bulk fermentation.
Grease with olive oil a bowl or recipient and put the dough inside. Cover and make a bulk proof for 5 hours at room temperature. My home temperature was 66,2ºF (19ºC). Turn and fold after 30 minutes only 3 times.
Let it rest until it has grown 1/3 of its volume
Sprinkle the banneton with rye flour, set aside.
Shape the dough.
Preshape into a boule (ball), be careful not to degas too much, and allow to bench rest for 15 minutes cover with a cotton cloth.
Shape a batard, how I made this from Chad Robertson.
Place seam-side up in banneton, keep in a big plastic freeze bag and put in the fridge for 13 hours.
SECOND DAY
Bake.
Preheat oven 445ºF* at least 30-40 minutes prior to baking with your stone or steel sheet on it positioned on final rack. Put inside a pan with volcanic stones, this helps to get steam in the baking.
Transfer the bread from the banneton over a wooden board cover with parchment, seam side down. Score the bread.
Place the bread into the oven and pour boiling water over the pan with volcanic stones. Close the oven door immediately to trap the moisture.
Bake for 20 minutes at 410ºF.
After first 20 minutes, open the oven door to allow steam goes out, remove the track with volcanic stones with kitchen gloves and reduce oven temperature to 390ºF. Bake for 10 minutes.
Reduce temperature to 375ºF and bake 10 minutes more. Finally bake with convection at 375ºF for 10 minutes. Bread will get a better crust this way.
Total bake time is 50 minutes.
Ending the bake...
Once bake has ended, turn off the oven and let sit the bread inside the oven with the door ajar for 15 minutes. Remove from the oven and let cool over a rack.
PRESERVATION:
Bread can be stored for up 3-4 days cover with cotton cloth. If the beginning is dry, cut the first slice and inside will be still tender.
You can cut the bread into slices, cover with plastic film and freeze. This way is the better to make perfect toast each morning.
Notes
Is it imperative to use these flours? Absolutely. There are many varieties of flours and you can adjust them to your needed. Just take in mind to use similar types of flours so the final hydration would be properly. If not, change the final hydration to your flours.

It is important that you do not add all the water at once because each flour works in a way and not all of them have the same absorption capacity. In this way we will avoid that we have a dough with more hydration than we are looking for.
If you don´t like one of the spices, just omit it.
I am sure you will love this Sourdough Carrot Bread, flavor and taste is so good! Besides, not only will you be able to enjoy this great combo of ingredients and spices in a cake, like Carrot Cake. Now, it can be part of your breakfast and enjoy the best toast you can imagine.
Hope you try it soon and tell me about it goes! Have a great week, see you!
Big hugs,
Eva
Archivado en