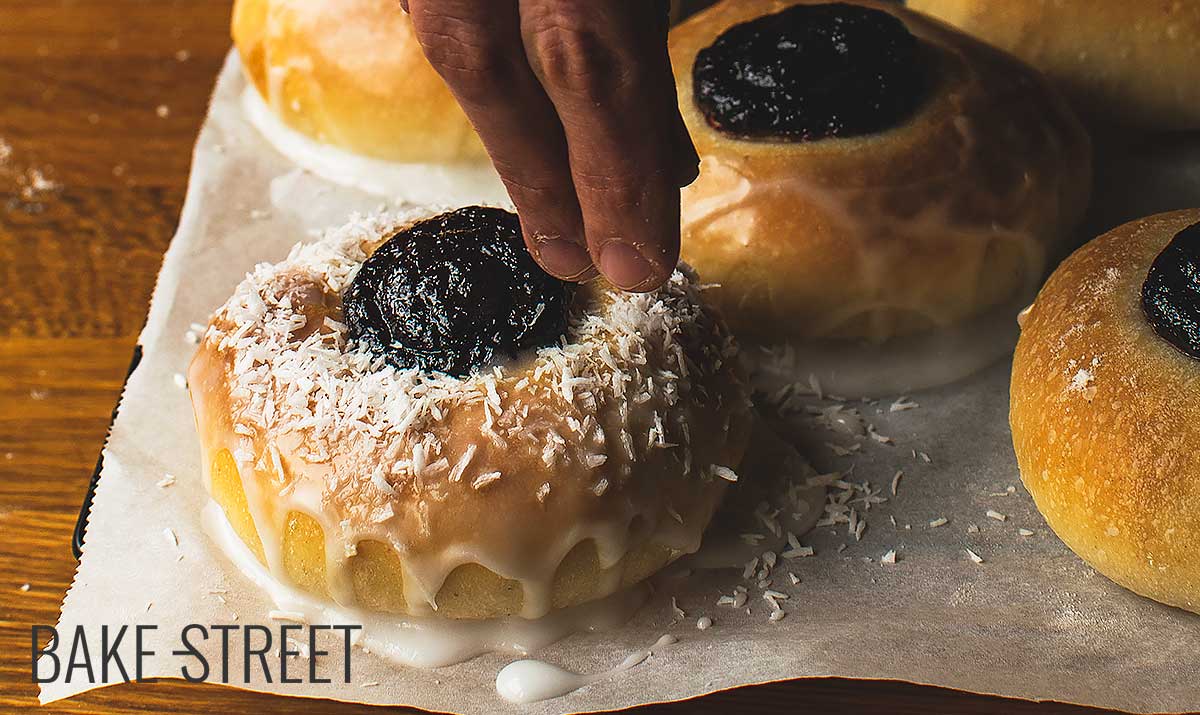 Skoleboller with cream and plum – Skolebrød med plommepasta
Este post también está disponible en Spanish
With each passing day the winter gets deeper and deeper and, for that reason, we must expand our winter and Christmas recipes. In this way we can enjoy and spend better the cold evenings that we are having these days. Today's recipe may remind you of another one I already have because it's based on one I left you a long time ago on the blog. In fact, 5 years ago, but this time I have carried it out in a different way. Skoleboller with cream and plum or Skolebrød med plommepasta.
They are very tender buns flavored with cardamom, this time made with stiff sourdough, filled with pastry cream, plum paste and decorated with grated coconut. A wonderful combination and with very Christmas flavors thanks to the plum paste.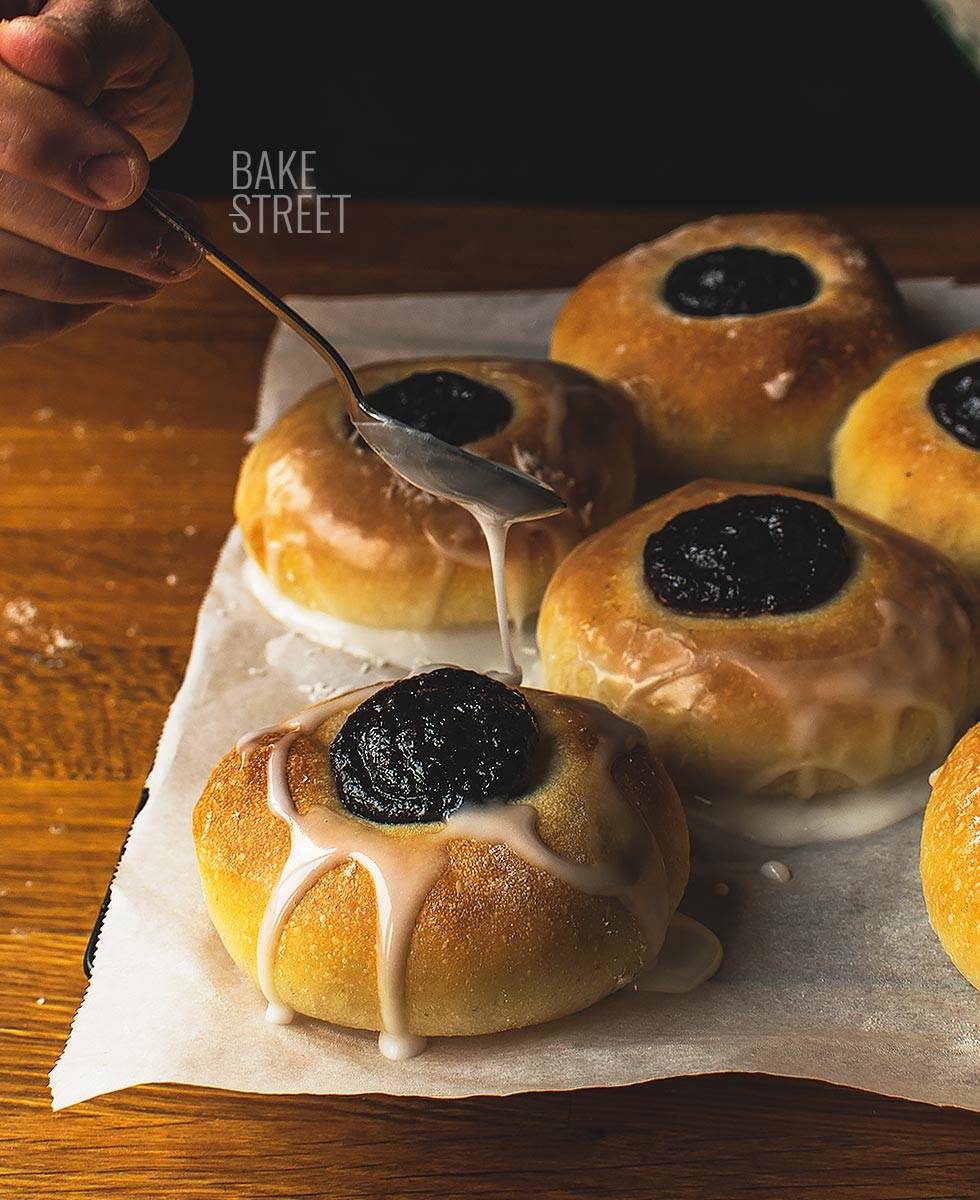 Skoleboller or Skolebrød history.
This sweet is typical of Norwegian gastronomy and very popular with children. It receives the name "skolebrød" although it is also known as "skoleboller", and its translation means "school sweet bread". You can also find it by the names tolvøres, pai, purke, sånn med gul I midten, and lørdagsgodt.
It is apparently difficult to know the exact origin of these small sweets, although it is believed that they were related to the school kitchen.
In the post-war period, people were very concerned about malnutrition and the mentality about consuming sugar was completely different from today. In the 1950s there was a large consumption of sugar as it was considered to help with nutritional problems. After the war it was considered a luxury because of the ingredients it was made with, including flour.
Other ways to carry out skoleboller.
I know many of you don't work with sourdough, don't worry. You can carry out the recipe anyway by making it with yeast, either fresh or dry.
In the notes section I have left how you should proceed to carry out another way of baking the buns. As well as other options for top filling in case you do not like the plum or simply want to try other fillings.
Remember also that the original recipe is made only with a filling of pastry cream, which is how I shared the first recipe. So if you prefer, you can make them that way 😉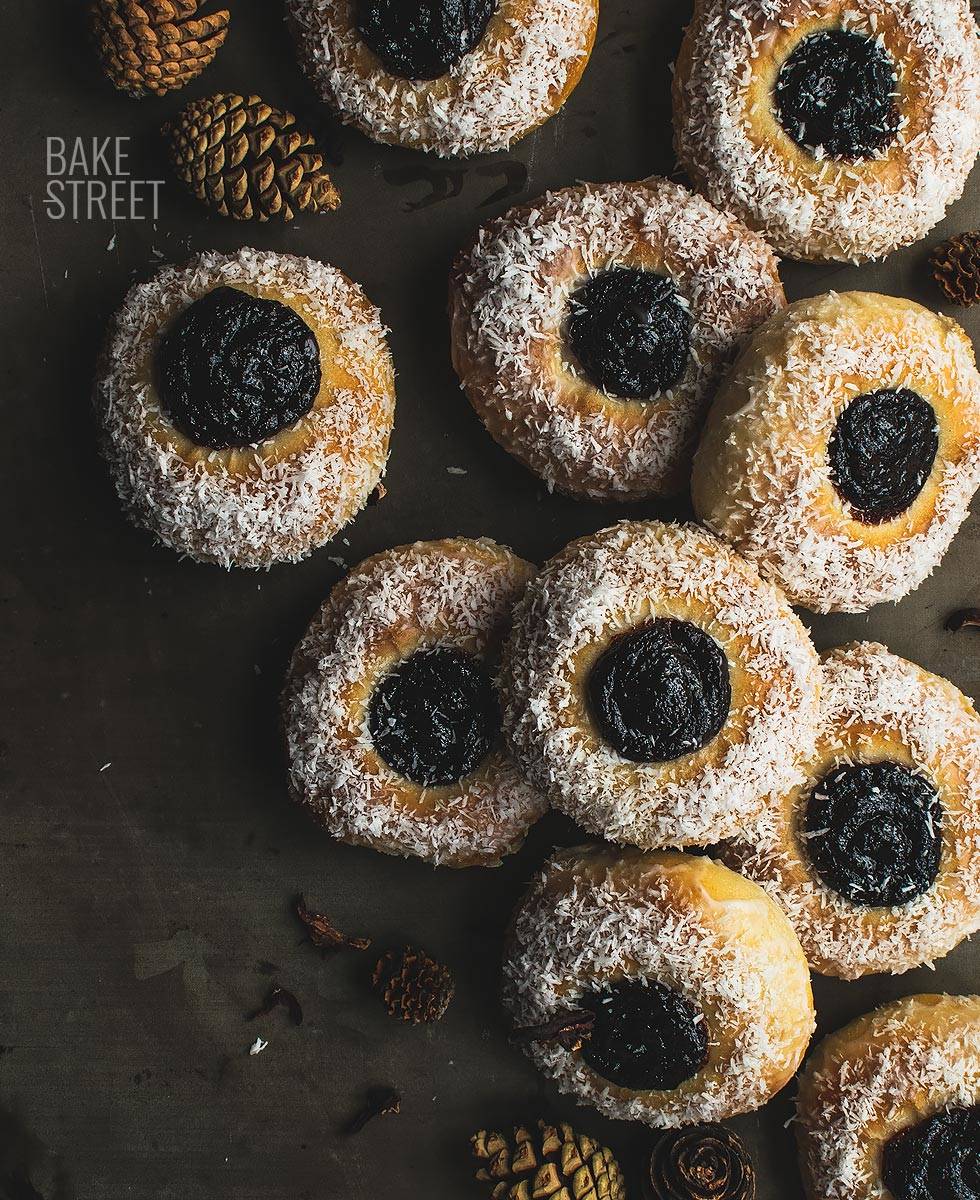 Ingredients for 12-14 pieces
FOR THE DOUGH:
300 g AP flour
105 g stiff sourdough
170 g whole milk
40 g sugar
1 large egg
30 g unsalted butter at room temperature
8 cardamom pods crushed with shells removed
3 g salt
FOR PASTRY CREAM:
250 g whole milk
1 tsp vanilla extract or a pod opened lengthwise
2 large eggyolks
60 g sugar
1 y 1/2 Tbsp flour
1 y 1/2 Tbsp cornstarch
FOR THE SPICED PLUM PASTE: (OPTION 1):
650 g fresh black plums, pitted
80 g dark muscovado sugar
1/2 tsp cinnamon powder
1 star anise
FOR THE SPICED PLUM PASTE: (OPTION 2):
100 g prunes
juice and zest from one orange
 ½ lemon juice
1 tsp cinnamon powder
1 clove
4 cardamom pods
¼ tsp nutmeg
1 tsp dark muscovado sugar
FOR DECORATE:

200 g icing sugar
2 1/2 or  3 Tbsp water
grated coconut
Instructions
FIRST DAY
Make pastry cream.
Here you can see how to prepare the pastry cream.
Once you have it ready, reserve it at room temperature until the moment of its use if you make the galettes the same day.
In case you make it one day in advance, once it has cooled completely, place in the fridge until the next day.
Prepare the spiced plum paste.
To make option 1 of plum paste, you can do it in this post.
Option 2 plum paste.
In a saucepan add the chopped plums together with the orange juice and zest, lemon juice, sugar and spices.
Place at medium-low heat and stir with a spoon to help crumble the plums slightly until a soft puree is obtained.
We must obtain a "spreadable" texture, if we observe that it has dried too much in the heat and the texture is very dense, we can add a little more orange juice or water, at our choice, to soften it.
Remove from the heat and let it cool completely.
Make the dough.
In the bowl of the kneader or KitchenAid, add the flour together with crushed cardamom, milk and sugar. Mix with the help of the hook until a homogeneous dough is obtained, about 8-10 minutes.
Add the SD cut in pieces together with the egg and knead again until a homogeneous dough is obtained and with a semi-developed gluten.
Incorporate the salt together with the butter and knead again until completely integrated. We must obtain a soft, elastic and well-developed dough.
Grease an airtight container, place the dough inside and let it rise until it grows a little more than 1/3 of its volume. Depending on the temperature it can take 2-4 hours. In my case it was 3 hours at 69,8ºF/21ºC.
Place in the refrigerator until the next day.
SECOND DAY
Shape.
Take the dough out of the cold and let warm for 1 1/2 hours.
Dump the dough on a clean work surface and divide into 65 g portions.
Preshape, remembering to place the dough leftovers in the center, and make a ball.
Place on a tray lined with baking paper. Repeat the same process with the rest. Remember to leave space between them because later we will press them in the center to fill them, in my case I used 2 trays.
Lightly grease the surface of the buns with olive oil and cover with film.
Let it rise until it doubles in size. In my case it took 3 hours at 80,6ºF/27ºC.
Fill and bake.
Preheat oven to 375ºF/190ºC.
Put the pastry cream in a piping bag, set aside.
Put the plum paste in a piping bag, set aside.
With the help of a shot glass or a narrow glass, press in the center to form a hollow. Do not be afraid to press. If you notice that the dough adheres to the glass, sprinkle lightly with flour over the buns.

Fill half of the hollow with pastry cream and finish filling with plum paste.

Place in the oven at medium height for 14 minutes. Remember that the inside temperature must reach 86-194ºF/88-90ºC for the baking to be finished.
Remove from the oven, leave to warm for a few minutes over a rack and finish decorating.
Prepare the sugar glaze while baking the buns.
In a bowl add the icing sugar together with the water and mix well until completely dissolved.
Decorate skolleboler.
Coat the sides of each Skoleboller with the glaze using a spoon and sprinkle with grated coconut.
Allow to dry completely before eating.
Notes
Always take into account the absorption capacity of the flour you use. The dough should be slightly sticky to the touch, not dry. When you integrate the wet ingredients, observe how the dough behaves as you knead it.
You can make these buns with yeast instead of sourdough. In this case you should add 65 g flour + 35 g water/milk to the final dough to make up for the absence of sourdough. In addition to using 2 g of dry yeast or 6 g of fresh yeast.

If you want to omit the plum paste, you can do it and fill them only with pastry cream. In this (very old) post I made them that way. You can also use another type of filling such as Bourbon apple butter or homemade jams of your choice.
These buns are at their best the same day we bake them. Warm are exquisite. But they keep well for the next 3-4 days in an airtight container and refrigerated. You must temper them before consuming.
If you like soft, spongy, aromatic and filling buns, don't forget to try these Skoleboller with cream and plum. I am sure that as soon as there are fresh plums again I will make a large amount of this paste to be able to have it available as a filling. It is incredibly delicious.
And the combination with the pastry cream and the cardamom-flavoured bun is outstanding. I have in mind to make them again, but with apple butter in the filling. I can't stop imagining the flavor along with the pastry cream...
I wish you a wonderful start to the week!
Big hugs,
Eva
Sources:Coop.no
This post contains affiliate links
Archivado en