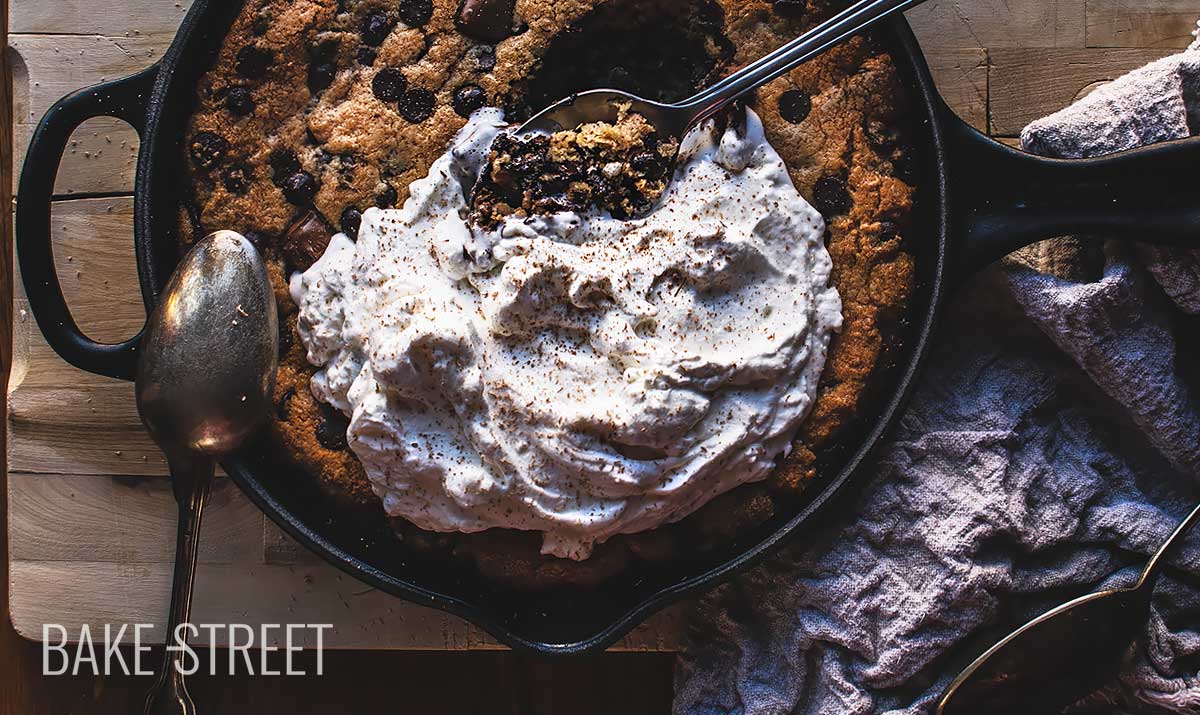 Skillet Chocolate Chip & Nutella Cookie
Este post también está disponible en Spanish
You won't believe it, but despite having gone to Tony Roma´s a lot of times, I've never eaten the famous Skillet Chocolate Cookie. I know it's weird because who really doesn't like a giant cookie with chocolate chips and ice cream? I imagine she was always tempted by cheesecakes or brownies. But you already know that it's never too late if the happiness is good. An example, this Skillet Chocolate Chip & Nutella Cookie.
So today I bring you a super simple recipe, that many times you write to me to tell me that you like everything I leave you, but the process is very complicated. Today's recipe is not only easy, but also in less than 40 minutes we will have a spectacular dessert, breakfast or snack. This shouts "outstanding weekend" 😉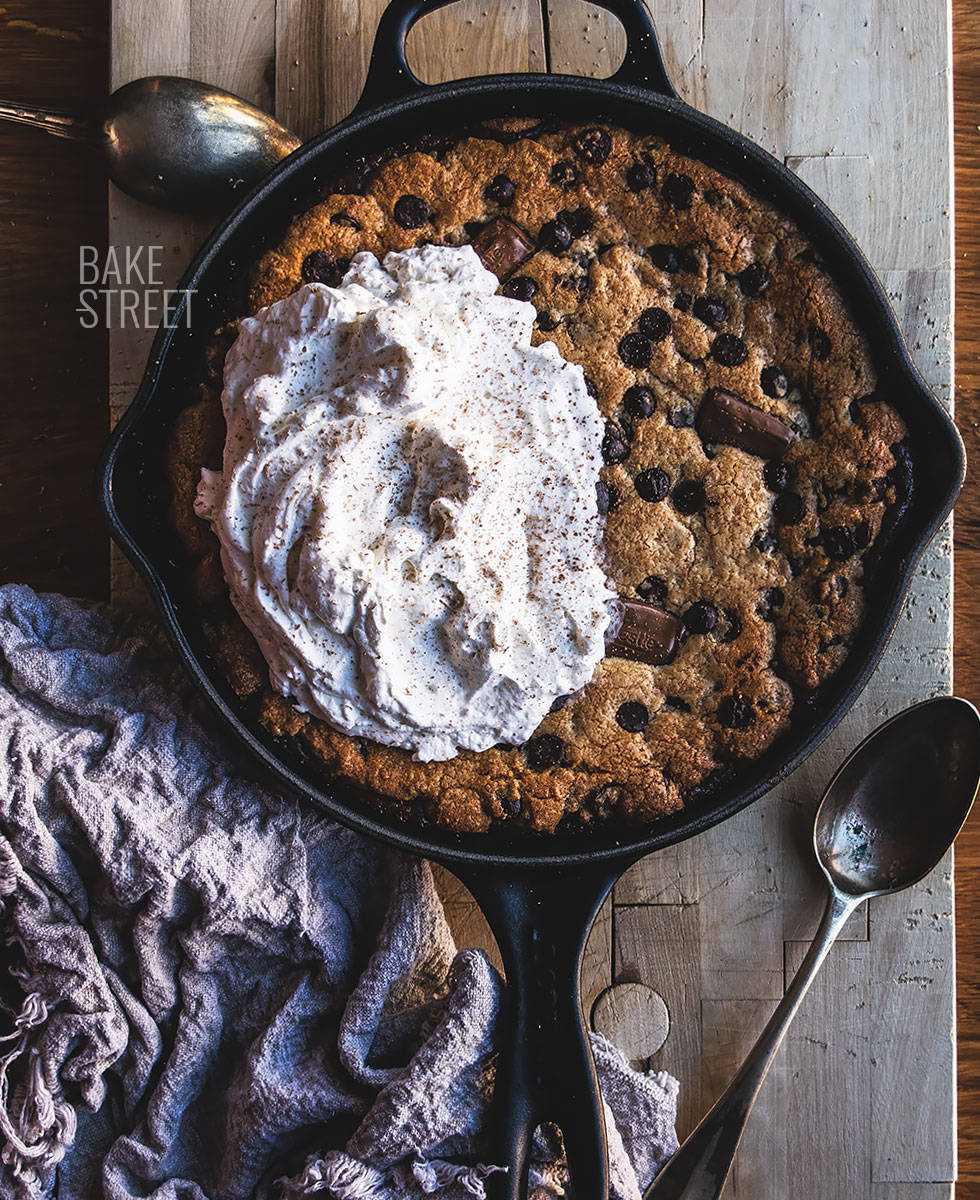 Skillet Chocolate Chip & Nutella Cookie.
I know many of you are going to ask me if it is essential to have an iron skillet. If you have a skillet that can be used in the oven, you can make it there without any problems. Otherwise, the ideal is to use an iron one. Cooking in this type of skillet is uniform, and it also acquires and keeps the temperature very well.
If you plan to do it in a porcelain or glass mould, for example, I can't guarantee how the result will be. But I guess it won't look like much.
In some elaborations you will see that they use baking paper in the base. If you want to use it, you can, but if your pan is well seasoned it won't be necessary. The cookie does not stick and can be removed without problems. However, please be very careful with the utensil that you eat or take out the cookie so as not to scratch the surface of it.
Making the cookie.
Today's recipe is as simple as mixing, spreading and baking. It couldn't be easier because then it would be a cookie store-bought in a supermarket! And we'll probably take longer to take it off the shelf, pay in those endless queues, go back home and open the package. Sure.
Besides, you don't know how wonderfully amazing it is to eat a warm, juicy cookie made by you…
To prepare it I have followed the recipe of Cafe Delites, but changing few things. In my case I have replaced part of common butter with peanut butter. I like it very much and it gives it a spectacular flavor/aroma. The rest of the ingredients are very simple and I'm sure you have them at home; flour, sugar, salt, eggs, chocolate… No fairy dust, wavy black sea flowers or unicorn horn.
I tell you this because I am aware that sometimes (people who have food blogs or we like this work) we use ingredients a little particular or rare and the simple fact of having them at home and consuming them normally, makes us think that everyone can have them. But no, this is not so.
Today's recipe is easy no matter where you look at it.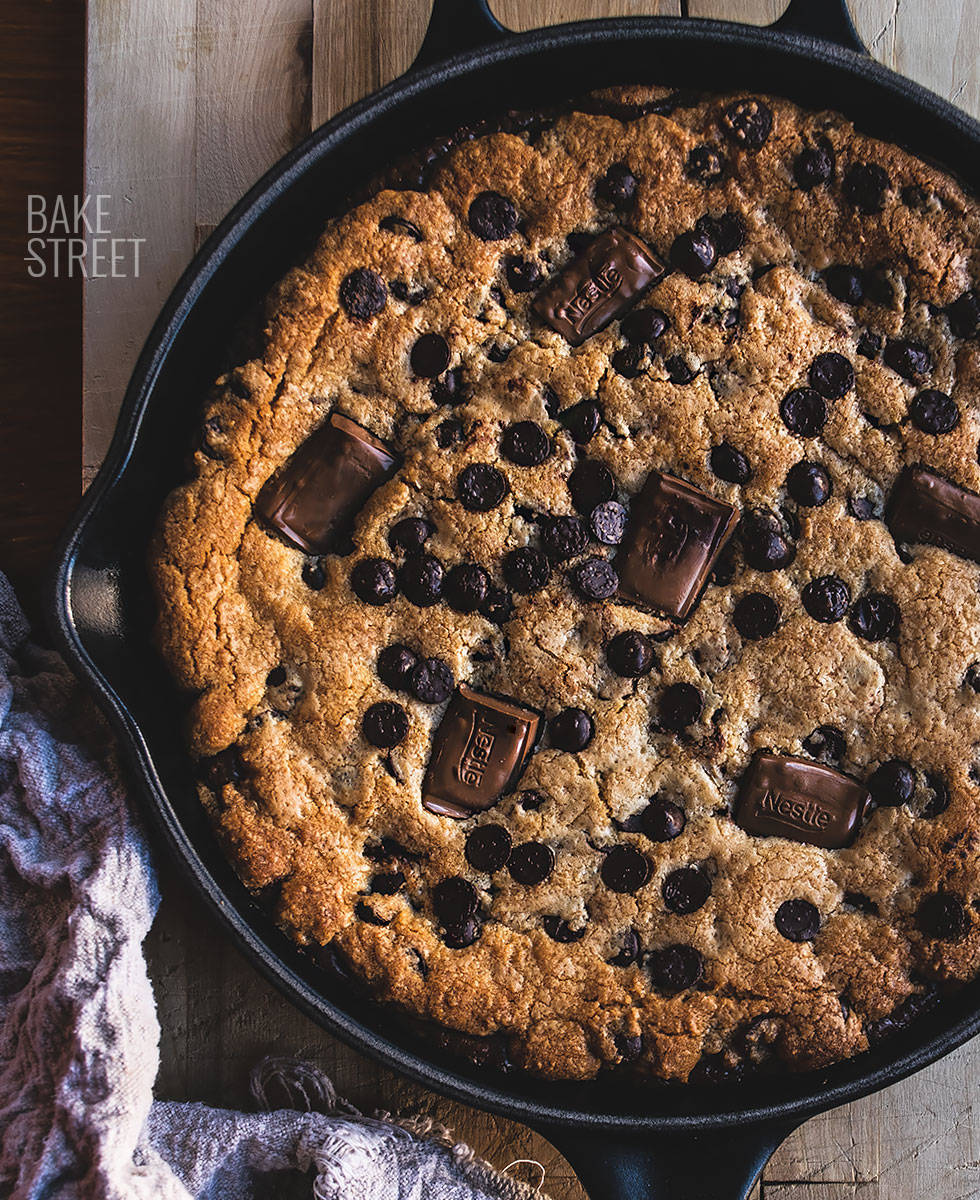 Stuffed or non-stuffed?
In my case, I preferred to stuff it. I know that it is not very healthy and that it has tons of sugar… But I like Nutella® very much, , I'm not going to tell you the opposite because I would be telling you a huge lie. There is no night that I don't have a sandwich with it after dinner…
If you dare to stuff it, you can use the cocoa cream that you prefer and more you like. Even use a homemade one, I'm sure it will be good. If you don't want to fill it, instead of dividing the dough into two parts, spread it all over the skillet and you're done.
Finally decorate it with what you like. In my case it could be said that I have made an ode to chocolate, but the day I prepared it I needed a good dose of it.
When you take it out of the oven, be careful. Let it rest for a few minutes before dip in it or you'll burn… Accompany it with what you like best; ice cream, whipped cream, more chocolate (even this is a little exaggerated), caramel … And enjoy it a lot!
Ingredients for 9 inch skillet
FOR THE COOKIE DOUGH:
65 g unsalted butter at room temperature
60 g peanut butter
100 g sugar
50 g light muscovado sugar
1 large egg
135 g pastry/cake flour
1 1/2 tsp vanilla extract
4 g baking powder
1 g salt
125 g chocolate chips
milk chocolate (optional)
TO STUFF:
TO GARNISH:
whipped cream
grated chocolate
Instructions
Make dough cookie.
Preheat oven to 350ºF (175ºC).
In KitchenAid bowl, add the two types of butter along with the two types of sugar. Beat with the help of the flat beater until you get a creamy and whitish texture.
Start with the lowest speed and progressively increase until we reach speed 4. It will take about 5-6 minutes.
Stop the KA, scrap down the sides and add the egg together with the vanilla. Mix again with the flat beater until they are completely integrated. It will take about 2 minutes.
Add the flour together with the salt and the baking powder. Mix only until it integrates the ingredients and there are no remains of flour.
Finally, add the chocolate chips and mix so that they are distributed evenly.
Bake.
Divide the cookie dough into two equal parts.
Lightly grease the iron skillet with butter all over the surface.
Spread one of the parts of the cookie dough that we had reserved over the whole surface of the skillet. You can do it with a spatula or with your hands (in this last way it will be easier for you).
Using a spatula, spread Nutella® over the surface of the cookie dough.
Place the rest of dough on top of the Nutella® layer and spread until the entire surface is covered.
Decorate with chocolate chips and milk chocolate squares.

Place in the middle of the oven and cook for 25-30 minutes. The variation of those 5 minutes will depend on whether you like a more gooey inside or, if on the contrary, you like a more set cookie.
Remove from the oven and let it rest for 5 minutes before eating.
We can serve it with ice cream, whipped cream, melted chocolate...
Notes
If you don't like or can't eat peanut butter, you can use common butter.
Muscovado sugar can be substituted by panela if you wish it.
Nutella® is optional, but I certainly recommend you to fill the cookie with it. The final result is impressive.
You can use another cocoa cream to your liking, even homemade.
It is important not to exceed the final baking time so that the result is not a dry biscuit. We must achieve a crunchy outer texture along with a very juicy inner.
Remember that the cookie will continue to be baked out from the oven since the skillet keeps the heat very well.
The ideal thing is to consume it freshly made, it is in the moment in which it will have better texture.
This Skillet Chocolate Chip & Nutella Cookie is perfect for weekend. We can surprise our children at breakfast time, enjoy a wonderful family dessert or have an afternoon enjoy a freshly baked cookie with a blanket and film with our love.
If you are wondering if you can leave the dough made in advance, the answer is yes. Although it doesn't take long to make it, you prefer to do it like this. You have two options in this case; leave it refrigerated the night before and take it out a while before to be able to stretch it or leave it divided and stretched and  shaped ready to fill and bake. I leave it to your choice.
I wish you a wonderful weekend, see you on Monday!
Big hugs,
Eva
This post contains affiliated links.
Archivado en