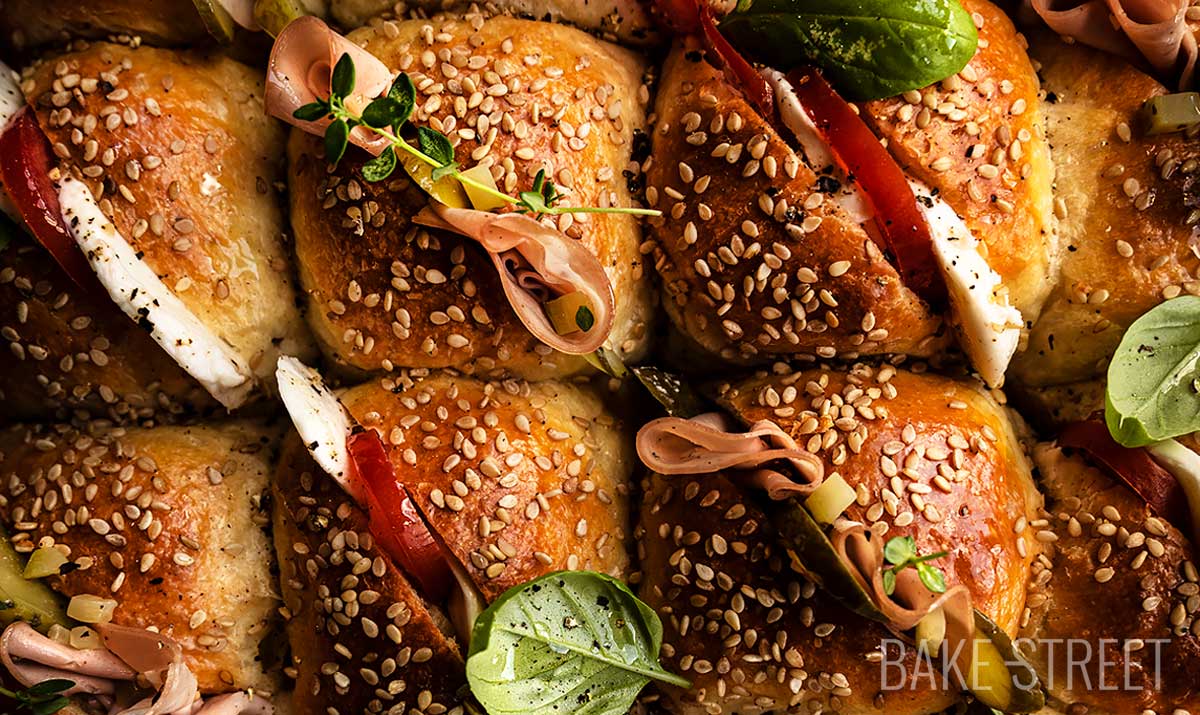 Savoury brioche appetizer – Amuse Bouche Brioche
Este post también está disponible en Spanish
Today I come with an idea for an appetizer, starter, snack or caprice that you can't miss. Even if it's just once… There is still a lot of time left for summer and "bikini mood", hahaha. A few weeks ago I saw on Pinterest a recipe for stuffed brioches in savory format, on this website, and I was fascinated. I thought it was a very striking, easy and different idea to present some appetizers. So I leave you this recipe that I have decided to call Savoury brioche appetizer – Amuse Bouche Brioche.
I know it's a very simple recipe, but hey, these ideas are also appreciated from time to time, right? Besides, I find it very versatile since we can fill them with whatever we like. In my case I leave you a couple of options, but you can fill them with whatever you like. Even in sweet format if you want, imagination to the power!
Savoury brioche appetizer – Amuse Bouche Brioche.
To be honest, it took me a while to find an idea to name them. The website where I saw the idea called them "Brioche ápero façon sandwich", it would be "Brioche appetizer sandwich style". Linda, in turn, found the idea on the IG profile of Assia Cuisine Facile. To Caesar, what is Caesar's.
I thought around a lot until I thought of the term "Amuse Bouche".
In French gastronomy, an amuse-gueule or amuse-bouche is an appetizer, snack, entrée or hors d'oeuvre in a size format, ideally to be tasted in one bite.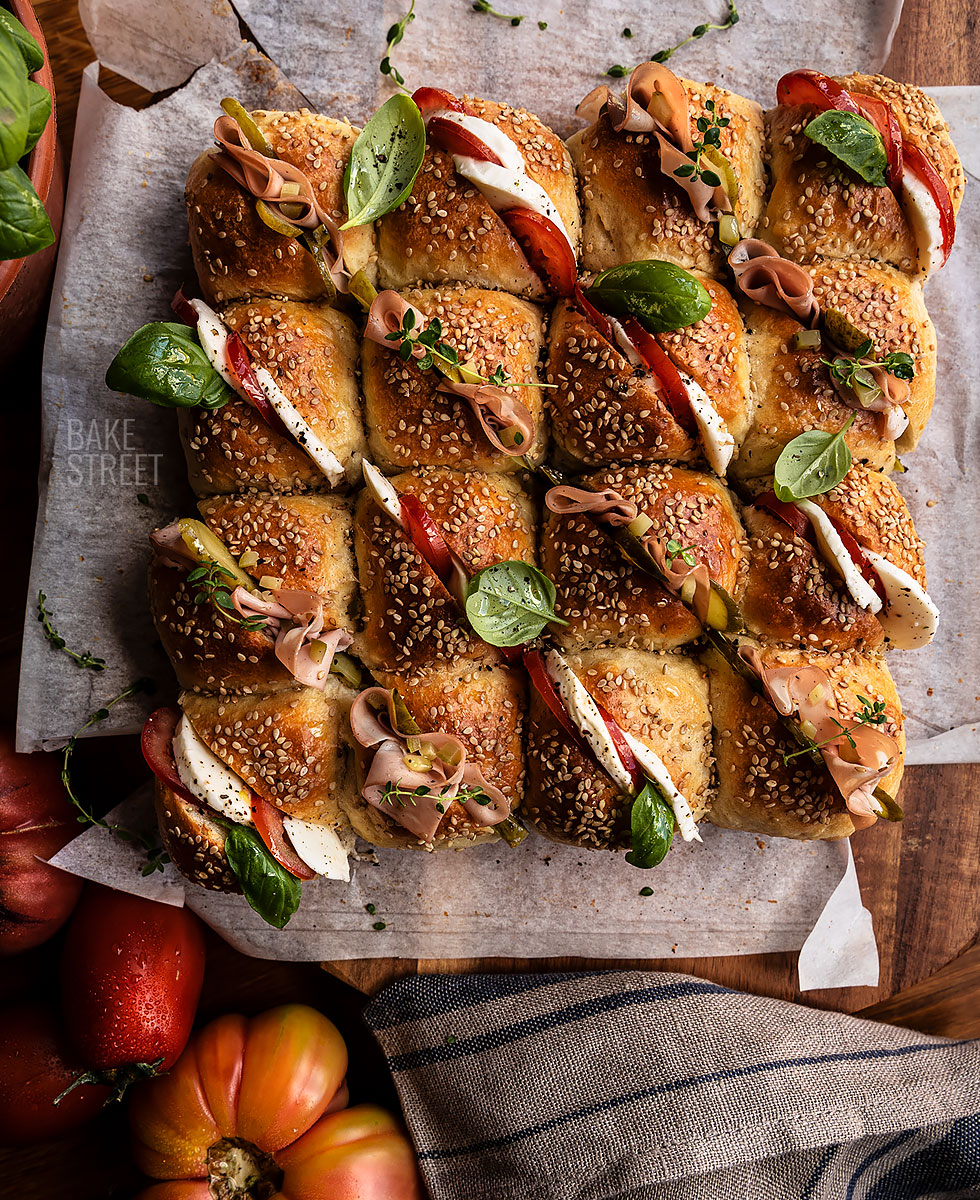 This term originated in haute cuisine.
The amuse-bouches are different from the classic appetizers in that they are not available on the menu and can be chosen by customers, but are served free of charge (something that in Spain is common in many restaurants or locals, without being an amuse-bouche, but by cordiality) and only following the chef's selection. These are served to the customer with the purpose of preparing the consumer for the meal (in starter format) or alone (in tapa format), to give the consumer an idea of the chef's culinary style.
So it could not be defined as an appetizer or starter as such, but rather as a gift from the chef to show his creativity and way of working to the customer.
Amuse-bouche literally means "fun in the mouth". The plural form can be amuse-bouche or amuse-bouches. This form is more commonly used in English-speaking countries where this concept was exported through the adoption of French haute cuisine.

Amuse-gueule; Gueule refers to the mouth in a broad sense, i.e. "snout". In France, amuse-gueule is traditionally used in conversation and literary writing, while amuse-bouche is a term that does not appear in most dictionaries as it is a euphemistic hypercorrection. It appeared in the 1980s on restaurant menus and is mostly only used in this context.
This definition or term emerged during the nouvelle cuisine culinary movement, emphasizing smaller dishes and intense flavors. The difference between these and other types of appetizers or hors d'oeuvres is their smaller format, usually one or two bites, and being chosen by the chef. Not to mention that it is a free service, unlike other starters or appetizers.
The variety of bites offered can vary in their complexity, being very simple services such as a tapenade to more elaborate elaborations. It is a service that allows the chef's culinary art to be expressed, which, in many cases, has created competition between restaurants.
According to Jean-Georges Vongerichten, a famous New York chef with several restaurants around the world, "amuse-bouche is the best way for a chef to express and transmit his big ideas in small bites".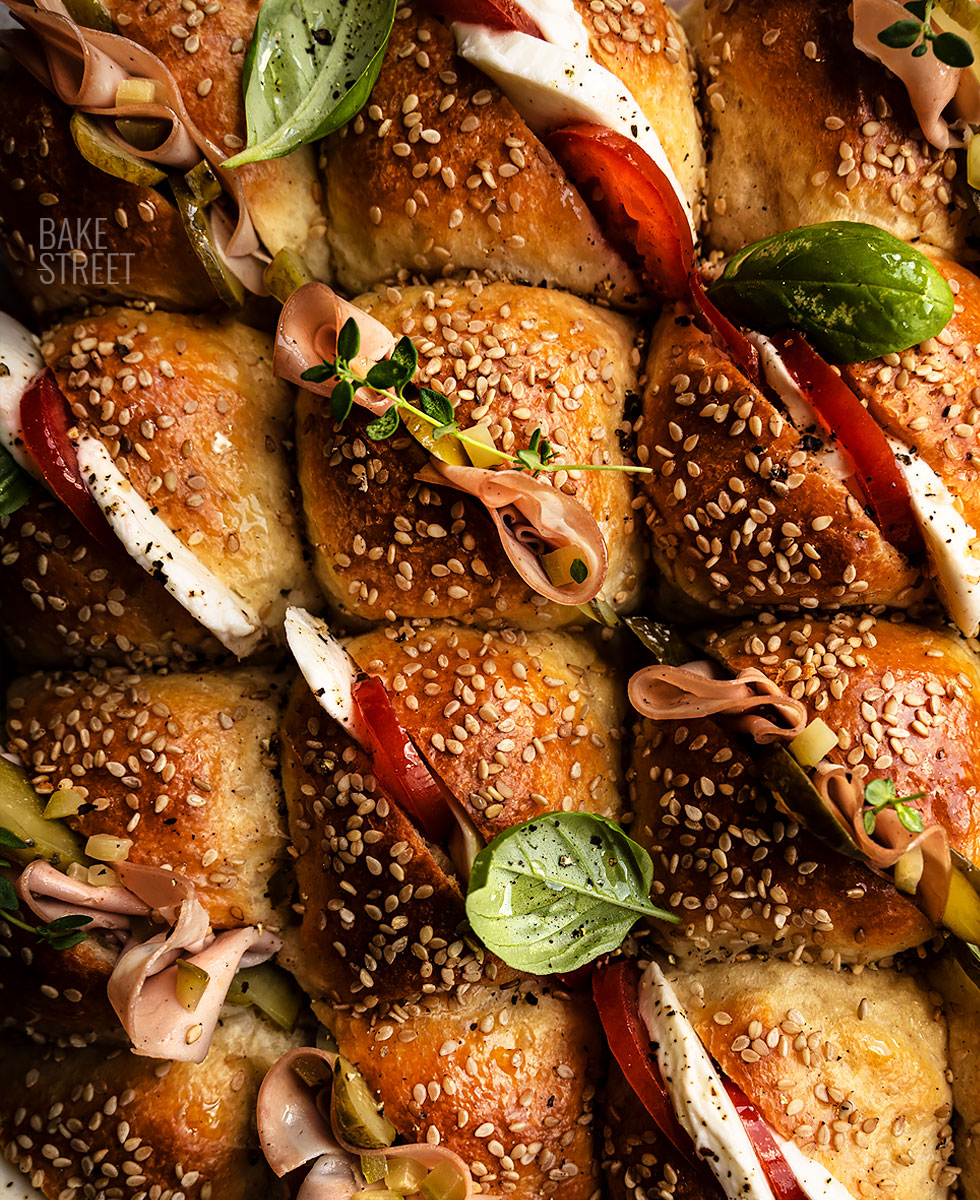 Amuse-bouche went from being an unexpected treat for the customer to a way to raise the status of Michelin-starred restaurants.
This, in turn, created a set of logistical challenges for restaurants as they had to prepare them in sufficient quantities to serve all customers, usually right after the order was taken or between the serving of the first course and the main course. This process may require a separate cooking station dedicated solely and exclusively to producing these small bites quickly and effectively. Not to mention the specialized tableware to serve this elaboration.
In our case, rather than preparing a delicatessen, we will focus on the term "fun in the mouth". Because that is exactly what we are looking for, enjoyment.
I know that this format can focus on more elaborate or sophisticated recipes, but we cannot deny that a good brioche with a fresh filling and carried out with good ingredients, is still equally a delicacy.
In our case we will carry out this Savoury brioche appetizer – Amuse Bouche Brioche with a brioche that I have already left you on another occasion. As in these Brioche French Toast. The recipe is based on, and slightly modified, from the brioche recipe from Yohan Ferrant and his amazing book "Oh La Lá".
The fillings that I leave you are simple, but exceptional… Dijon mustard, pickled gherkins with spices and Bologna mortadella. And, on the other side, tomato, fresh mozzarella and basil. We often get complicated, unintentionally, when we can enjoy delicacies by combining simple things.
Recipe Savoury brioche appetizer - Amuse Bouche Brioche
SOURDOUGH:
20 g of 100% hydrated sourdough
40 g water
40 g T45 flour
BRIOCHE:
300 g flour T45
300 g flour T65
230 g egg
110 g whole milk
80 g 100% hydrated sourdough
24 g fresh yeast or 8 g dry yeast
90 g sugar
240 g unsalted butter at room temperature
12 g salt
whole milk for brushing + sesame seeds
FILLING:
tomatoes
fresh mozzarella
basil leaves
pickled gherkins with spices
Dijon mustard
Bologna mortadella
fresh thyme sprigs
ground black pepper
olive oil
MATERIAL WE WILL NEED AND SHOWN IN THE VIDEO:
stand mixer or kneader
digital kitchen scale
square mold 23 x 23 cm
cooling rack
digital kitchen thermometer (optional)
pastry brush
wooden board + knife
serrated knife
*You have a 5% discount on the website Claudia&Julia using this code BAKESTREET. Delivers throughout Europe.
Instructions
FIRST DAY
Prepare brioche dough.
In the bowl of the mixer add the flour together with the eggs, milk, sourdough, yeast, salt and sugar. Knead at low speed for 5 minutes. We will have to have a semi-developed dough in which we observe that the ingredients are amalgamated.
After this time, we raise to high speed and knead for 12 minutes.
Stop the mixer and start adding the butter little by little. Allow the butter to fully integrate into the dough before adding more. During the whole process of incorporating the butter, we will knead at low speed.
Once all the butter has been added and incorporated, knead for 5 more minutes at low speed. The dough should be elastic, soft, smooth and not break.
Let it rest in the bowl, covered with film or plastic wrap for 45 minutes.
Remove the dough, fold and place in a bowl previously greased with olive oil.
Store in the refrigerator for 12-24 hours. In my case it was 14 hours at 39ºF/4ºC.
SECOND DAY
Shape.
Remove the dough from the refrigerator and turn it out onto a clean work surface.
Gently degas the dough. With the help of a scraper, divide the dough into 20 portions of approximately 53 g each. If necessary, sprinkle with a little flour to prevent the dough from sticking to your hands and/or work surface.
Roll each piece, remembering to always place the scraps of dough in the center of the piece before rolling.
Place 16 pieces of brioche in the mold, previously lined with baking paper. The remaining four pieces can be placed in a smaller mold or even individual brioche molds.
Cover with plastic wrap and let rise. The pieces should double their volume. In my case it was around 4 hours at 75º-77ºF/24º-25ºC.
Bake.
Preheat the oven to 355ºF/180ºC with heat up and down.
Brush the pieces again with whole milk and sprinkle the surface with white or golden sesame seeds, or any other seed of your choice. If desired, we can omit the seeds.
Bake in a medium-high oven for 18-20 minutes. Remember that the internal temperature must reach 190º-194ºF/88º-90ºC for the baking to be finished.
Remove from the oven, unmold and let cool completely on a wire rack.
Wrap in plastic wrap or store in a zip bag in case you are not going to use it until the next day.
Prepare the filling.
Cut thin slices of tomato and slices of fresh mozzarella. Slice the pickled gherkins and cut the mortadella into quarters, to make the process easier when it comes to stuffing the brioches.
These fillings are just a couple of suggestions, but you can fill the brioches with whatever you like.
Fill brioches.
With the help of a serrated knife, cut the brioches diagonally across the surface, but without cutting the base. We will cut just enough to fill them and to keep them together.
Alternate the fillings. On one side, spread a little Dijon mustard on the inside of the brioche and fill with slices of pickled cucumber and Bologna mortadella. Garnish with some diced pickled gherkin and a sprig of fresh thyme.
On the other side, fill with fresh tomato slices and fresh mozzarella, decorate with a basil leaf. If desired, we can spread a little pesto on the inside of this brioche.
Give a final touch with freshly ground black pepper on the surface of the stuffed brioche and, if desired, a thin drizzle of olive oil.
Serve immediately.
Notes
If we cannot find T45 and T65 flour, we can use a medium-strength flour W=280 approximately as a substitute. It is important to observe how the flour behaves, as we add ingredients, to know if it has enough absorption capacity. If you do not know the flour with which you are going to work, add the milk little by little.
If you do not want to use sourdough in the recipe, omit it and instead add 40 g of T45 flour and 40 g of milk. It will not be necessary to increase the amount of yeast.
If you wish, you can reduce the amount of sugar in the dough to 45 g. The result is less sweet, but it tastes great.
Respect all the steps, resting and rising times to obtain a good result both in taste and texture.
I recommend using a good quality butter because it will affect the final flavor of the dough.
Brioche will keep in perfect condition for 5-6 days wrapped in film or in a freezer bag. From this point on, it will begin to lose tenderness.
We can freeze it if we wish, well wrapped in film and inside a freezer bag. It can be left to defrost overnight or a few hours if it is very hot.
The fillings are optional, you can vary them to your taste without any problem.
I advise you to fill the brioches just before serving or shortly before to prevent the mortadella, cheese or tomato from drying out. As a tip, you can brush both the mortadella and the tomato with olive oil, once the brioches are already stuffed, to help them keep their freshness better. They can also be stuffed and covered with plastic wrap, but I advise not to let them sit too long before serving.
I hope you will try this Savoury brioche appetizer - Amuse Bouche Brioche before the hot weather arrives, since it will be a little more difficult to work with this type of enriched dough. The fillings can always be adjusted to your personal taste.
Nothing better than a good brioche, tender and aromatic, filled with fresh, crunchy, creamy and tasty ingredients. A perfect idea to enjoy and surprise during the weekend. And if we accompany it with a cocktail like a Bloody Mary or a Paper Plane, we raise it to another level ;)
I wish you a wonderful weekend!
Love,
Eva
Sources: Wikipedia, Innaturale
This post contains affiliated links.
Archivado en