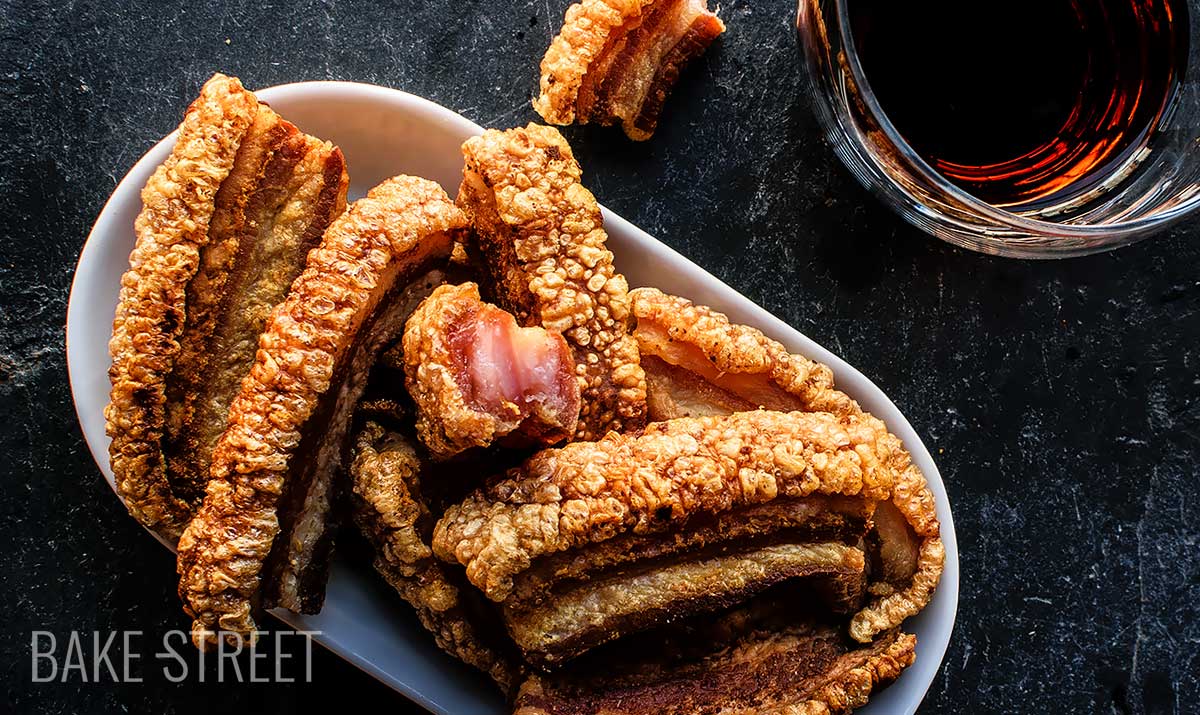 How to make perfect torreznos, fried bacon
Este post también está disponible en Spanish
Today's recipe may shock you a little for the type of preparation it is. I know that it is not very common that I leave you recipes of this type, but it is also true that if you are like me, people who enjoy eating, there are recipes that we should not let pass without knowing how to prepare them at home. We all like to go out and enjoy some good tapas, but we also like to know how to make them at home and enjoy them when we want. That's why today I let you how to make perfect torreznos.
How many times have we gone out to have a vermouth, fresh beer… And enjoy some good tapas. It's one of the things I like most about Madrid. The good thing about Madrid is that it is very common that when you order a drink they serve you a tapa. You can enjoy a lot of them, but some good torreznos... That's priceless!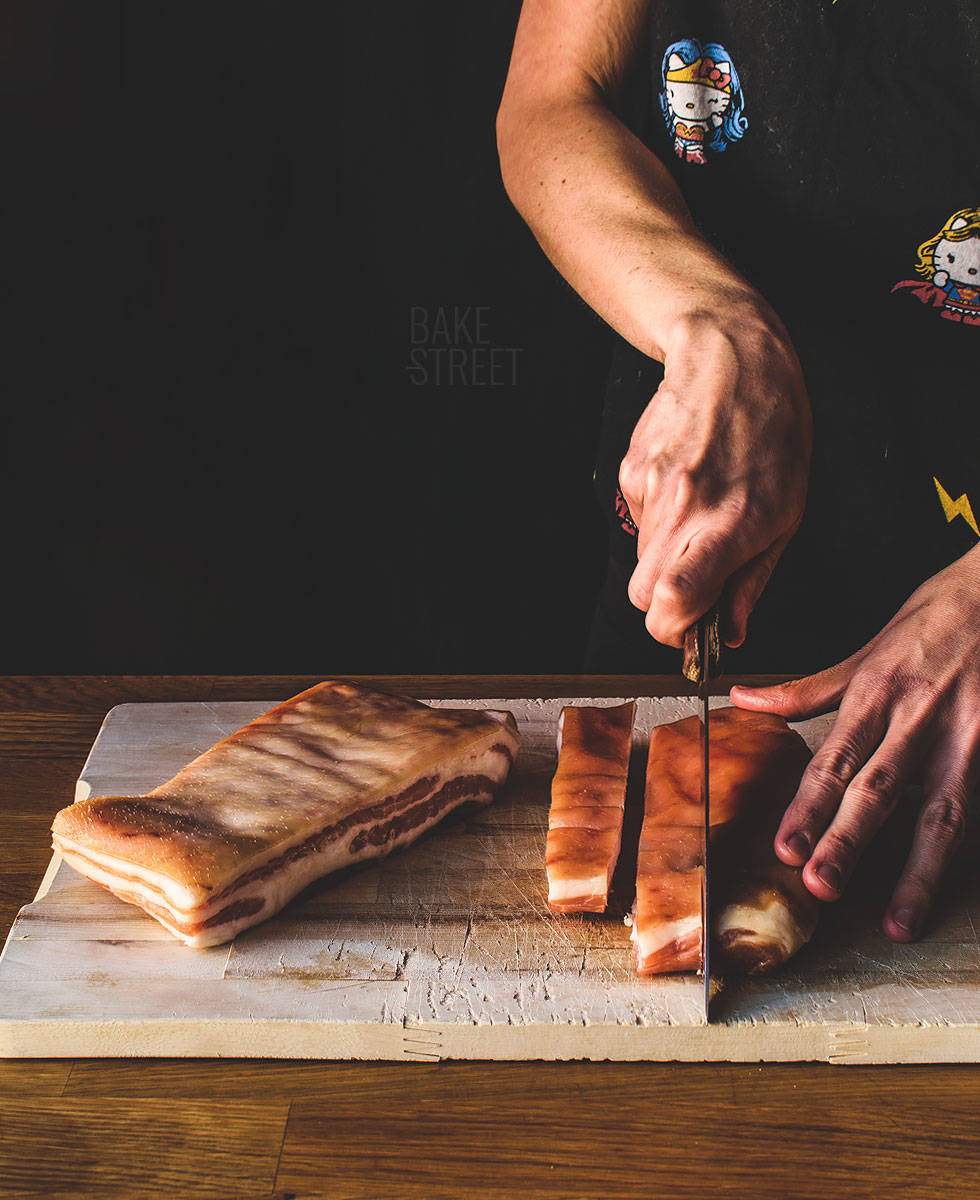 Torreznos from Soria.
I imagine you all know what torreznos are, but for those who may have doubts are thick strips of bacon or pork belly that are prepared traditionally fried in oil. The name of this preparation comes from the word torrar, which means roasting something close to the fire so that it browns.
When buying bacon we can find many types in the market, but it is said that the bacon of Soria is the best. In fact, torreznos of Soria are one of the most popular, as well as being considered one of the jewels of Soria's gastronomy.
Torreznos come mainly from the belly of pork. After frying over low heat they are characterized by having a crispy golden crust, covered with bubbles, with some lean meat and fat on the bottom to give it a lot of juiciness. A real delicacy that easily conquers any palate, isn't it? 😉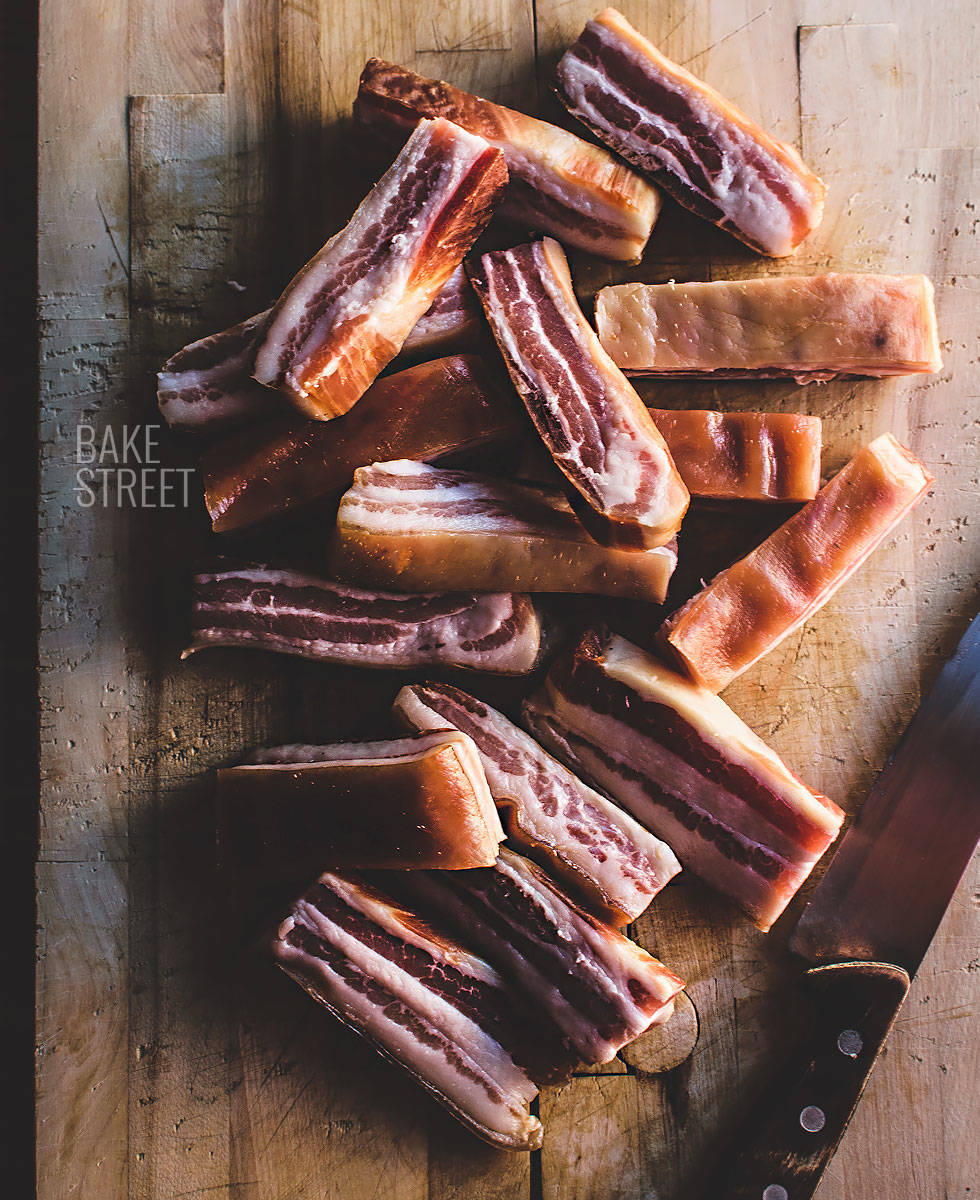 They can also be found under the name of "chicharrones" in the area of Andalusia.
They are most often served as a tapa or garnish, although you can also find dishes in which they are used as the main ingredient.
Making them at home.
By following the steps correctly, they are very easy to prepare. It is necessary to have a little patience because we must cook them to slow fire. There is one thing I have to tell you and that is that the smell that will stay in the kitchen… It will be a bit intense. We are not going to get rid of this, hahaha. But well, nothing that can't be solved by opening the windows, while we cook and then!
The result is well worth it, I assure you. They are spectacular. We can accompany them with a good Empanada gallega (Galician pie), cheese and a few other things 😉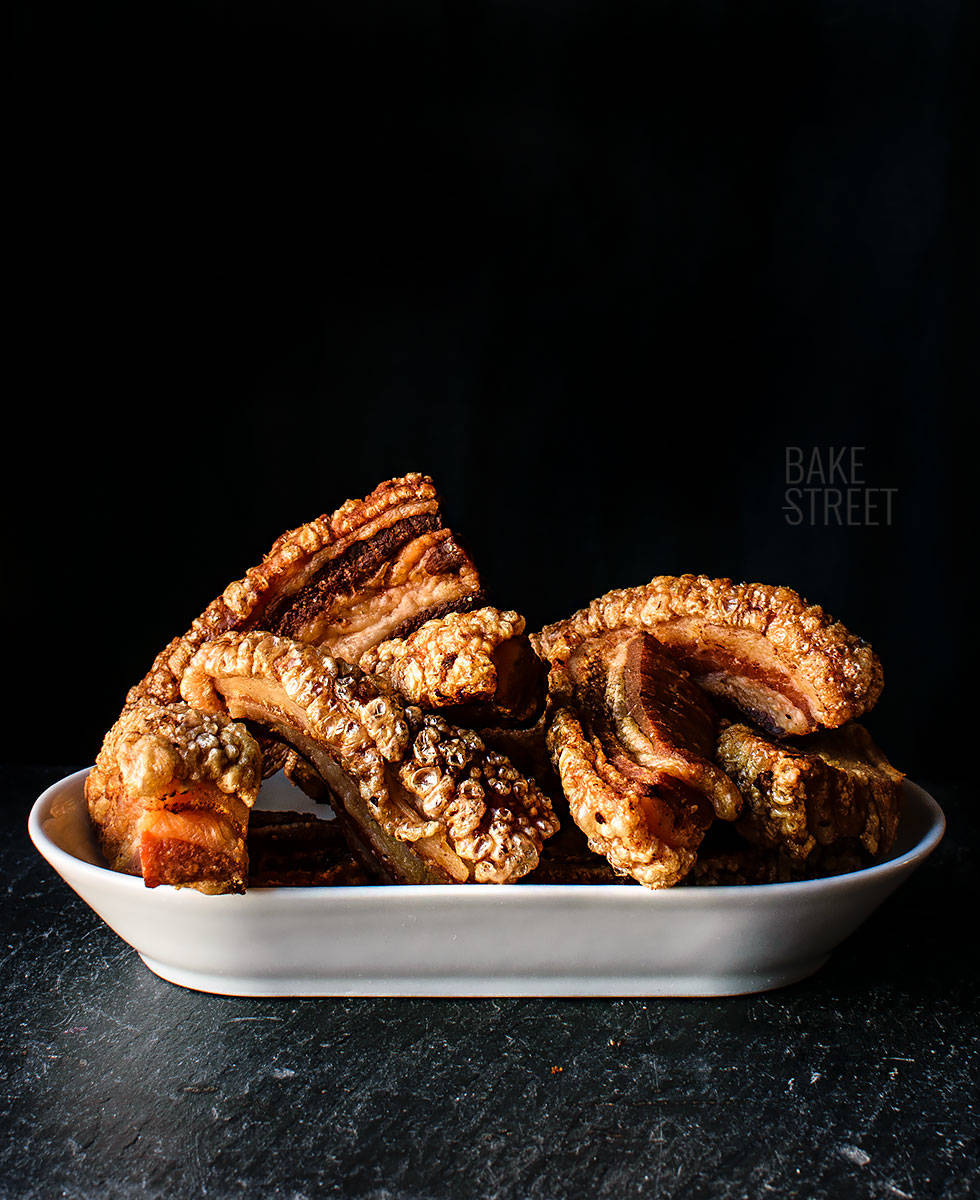 Ingredients
675 g marinated/adobo bacon (cured pork belly)
sunflower oil
Instructions
Let the bacon dry at room temperature for 24 hours. Cover it with a perforated bell to avoid that residues fall on it. You can also cover it with a little kitchen paper towel.
Pour sunflower oil into a large skillet. Enough to cover half of the bacon. Place on medium low heat.
While the oil is taking temperature, cut the bacon into 1 inch/2.5 cm thick strips.
Place the strips in the frying pan with the skin facing down.

Fry for 30-40 minutes over medium heat. The oil should cover half of the torrezno. If it doesn't, add a little more until it reaches that height.
After a few minutes, bubbles will begin to appear on the skin. Leave it upside down until they appear all over the surface.
Turn to cook the sides and encourage bubbles to form on the sides. The final cooking time will depend on the frying pan and the heat used, but this should not be high.

Once the skin is covered with bubbles and with a textured and golden crust, remove torreznos from the frying pan with a slotted spoon.
Place on kitchen paper or in a large strainer to drain.
Leave to cool for a few minutes before eating.
Enjoy!
Notes
In Spain bacon is sold in 3 formats: raw, marinated or pre-cooked. In any case, make sure it is a good quality bacon: 1. If using raw bacon, we recommend you to marinate it first. 2.If it is marinated, you will only have to follow the steps instructed in my recipe. 3.If it is pre-cooked, you'll only need to fry it in oil, ignoring the first step of drying out.
The most complicated part of this recipe is to achieve a crunchy, bubbly crust. For best results, let the bacondry at room temperature for 24 hours. The drier the crust is, the higher it will rise and the crunchier the result.
To make torreznos never fry the bacon straight from the refrigerator.
The torreznos should not be fried at a very high temperature, otherwise they will burn and the crust will not rise.
It is not necessary to use olive oil to fry them, sunflower oil will yield good results.
If you object to frying them, they can baked in the oven. Preheat to 480ºF/250ºC and place with the skin facing up, cook for 20 minutes or until crisp. Then, fry until they are perfectly cooked. However, to be honest, the best way to make torreznos is the traditional way.
Torreznos can be eaten warm or cold.
To preserve torreznosstore them in an airtight container once they are at room temperature. They'll be perfect for 2-3 days.
And what better way to start the week than with these torreznos. This makes a Monday even if you don't want it! Maybe we should wait until mid-morning, better. But when the time comes to take a break, around 12 o'clock in the morning, and enjoy a good torrezno with a fresh drink... That's happiness!
You've already seen that it's nothing complicated to do, just have a little patience. But cooking is love, affection, patience and dedication. From the simplest preparation to the most complicated, the main ingredient is that. Love and passion.
Enjoy the process and the results will be even more spectacular. I wish you a wonderful beginning of the week ;)
Big hugs,
Eva
Archivado en