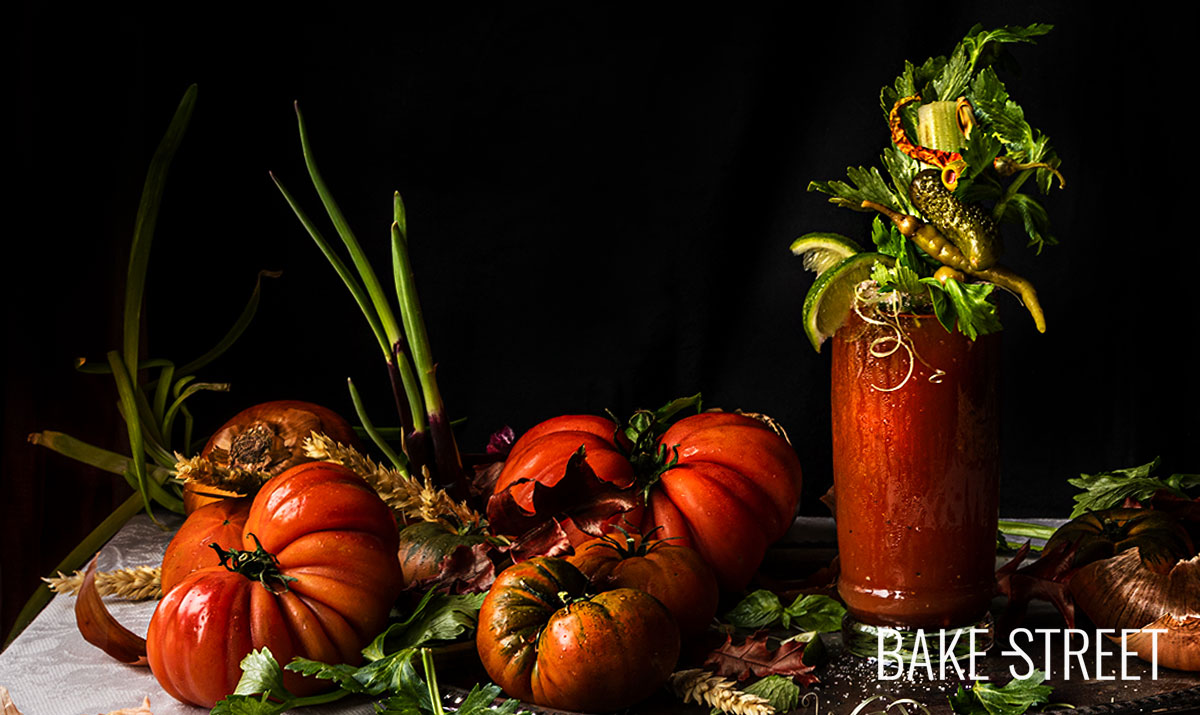 Bloody Mary Cocktail or Red Snapper
Este post también está disponible en Spanish
I have been wanting to share with you for some time how to make the famous Bloody Mary cocktail. It's true that I don't usually drink alcohol, in fact I only do so on rare occasions or more "special" moments. But, for some reason, this cocktail has always caught my attention. Possibly it is due to the use of tomato juice, spices and hot sauce… Yes, I think I should confirm that the main reason is that.
You will notice that there is a change in the preparation, the liquor used. Traditionally vodka is used to prepare this cocktail, but I have jumped on the "rebellious bandwagon" and varied this one for gin.
I decided to change one liquor for another after reading this article. Certainly the title caught my attention as soon as I saw it…. "You may be preparing your Bloody Mary cocktail wrong". Of course, I saw it and thought that something that was common and usual for us, was in discordance with obtaining a good result.
I know this may seem a bit nonsensical since vodka and gin are two very similar liquors.
But it is worth a try, especially if you have tried the classic and traditional Bloody Mary before. That way you can make an assessment of which of the two options is your favorite.
Vodka:водка in Russian, vodka in Slovak and Czech, and horilka in Ukrainian, is a distilled alcoholic beverage. It is generally produced by fermentation of grains and other starch-rich plants such as rye, wheat, potato or beet. Normally the alcohol content of vodka is between 37% and 50% by volume; Lithuanian, Ukrainian, Russian and classic Polish vodka contains forty degrees of alcohol.
Gin: It is also a distilled alcoholic beverage that has a predominant flavor of nebrinas, fruits of the juniper (Juniperus communis). Gin is one of the broadest categories of distillates, with diverse production regions, styles and flavor profiles, all of which have juniper berries or nebrinas in common. It has evolved from an herbal medicine to an object of commerce in the spirits industry. It is now produced in different ways and from a wide range of herbal ingredients. After juniper, gin tends to be flavored with botanicals/herbals, spices, flowers or fruits or often a combination of these.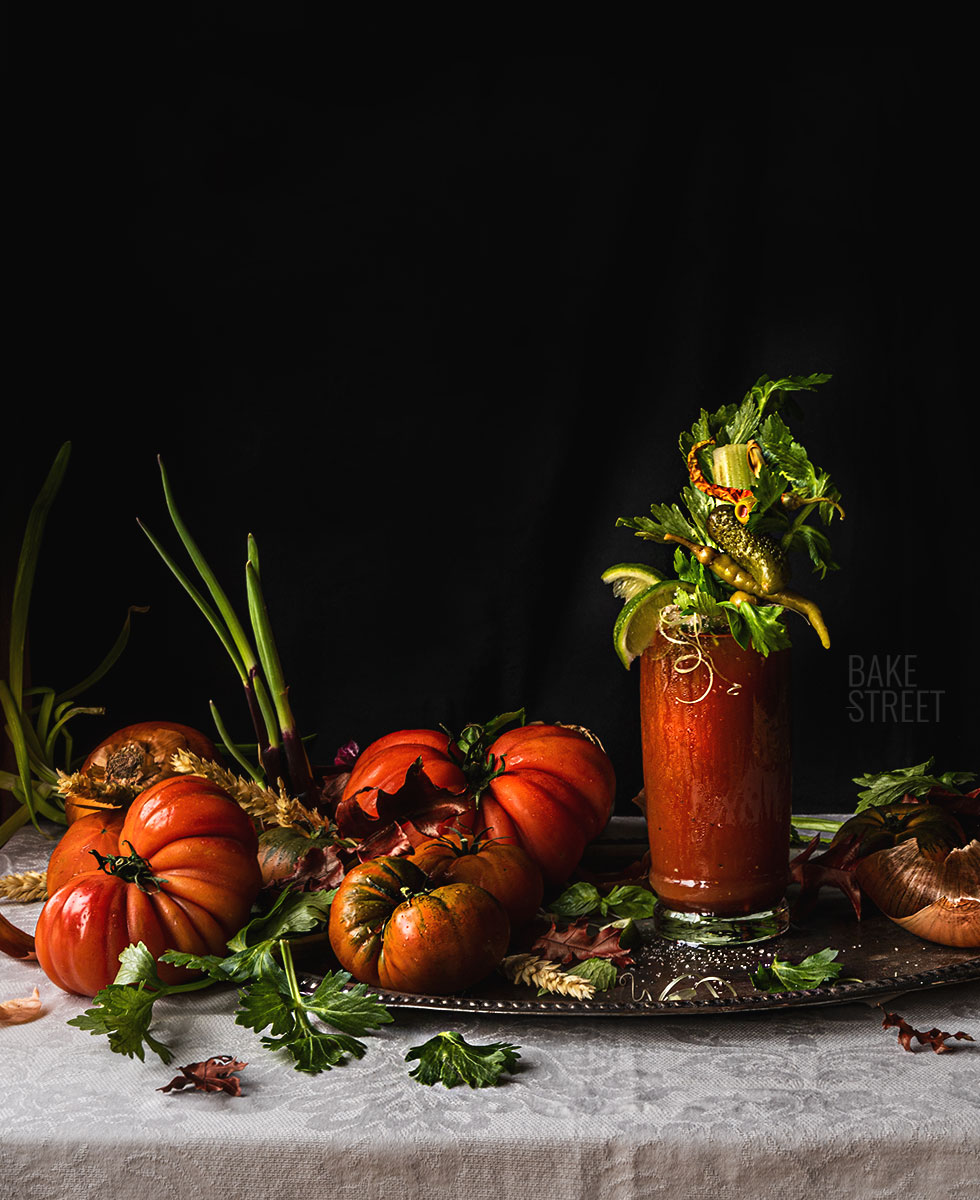 This photo is inspired in the incredible work from Greg Stroube.
Knowing this, in the article they share how both alcohols influence the final result of the cocktail.
Vodka is a spirituous neutral drinkthat only tastes like alcohol, it is designed to allow the other ingredients that accompany it to stand out. But the use of vodka can also have the opposite effect because it dilutes the drink with which it is combined. The higher the proportion of tasteless alcohol, the lower the proportion of flavors.
The use of vodka in the Bloody Mary can result in two situations; a weak and flavorful Bloody Mary or a strong and difficult to consume Bloody Mary.
So they argue that gin is the solution as it adds flavor and personality. It is an alcohol that blends easily and has a distinctive flavor.
In spite of being two cocktails alike, we can find them under one name or another depending on the liquor used. The famous Bloody Mary is made with vodka, while the Red Snapper is made with gin. Personally, I like it better with botanical gin than with vodka, but I am no expert or connoisseur on the subject… Just my two cents.
By the way, if we want to prepare the incredible Michelada, we only have to substitute the gin for lager, and if we use tequila instead, we will prepare the Bloody Maria cocktail. On the other hand, we have the Cubanito cocktail with the addition of rum, Bullshot made with concentrated beef broth, Bloody Joe with Scotch whisky, Bloody Bull with beef consommé and Asia Mary with wasabi, ginger and soy sauce.
And, if you do not consume alcohol, you can prepare a virgin Bloody Mary, which is basically the same cocktail, only omitting the liquor.
A lot of variants, each one more attractive, right?
Bloody Mary & Red Snapper origin.
Although it is believed that this cocktail originated with vodka, it is quite possible that the first Bloody Marys in the United States were made with gin.
Vodka was an alcoholic beverage that, at the time, was not as widespread. When the Bloody Mary arrived at the St. Regis King Cole Bar in New York, it seems that gin was used instead. Over time, gin fell into oblivion as vodka gained prominence among Americans who chose to hide the alcohol in their drinks, preferring utility over taste.
In the first decade of the twentieth century, the American lifestyle was consolidating. The nightlife scene was growing, swingwas booming, and cocktail bars were becoming popular.
In the United States, Thomas Woodrow Wilson proposed in the Treaty of Versailles the creation of the League of Nations, an organization that sought to avoid further misfortunes caused by war and that laid the foundations for the creation of the UN decades later.
However, the American Congress decided not to ratify the treaty, so the society was plunged into a couple of decades of isolation from the rest of the Western world.
This was compounded by a strong movement in favor of alcohol prohibition, which would lead to the famous Prohibition Act. This led the alcohol industry to continue operating underground. Some owners of these cocktail bars decided to emigrate to Europe.
An American jockey who owned a bar in Manhattan bought a Paris bistro and founded the New York Bar.
Eventually it was renamed Harry's Bar, an establishment that was a very popular place for personalities such as Ernest Hemingway.
It seems that it was there where the French bartender (in this post I explain the difference between bartender and barman) Ferdinand Petiot, known as "Pete", created the famous Bloody Mary, although it is said that previously vodka was already consumed with tomato juice.
In 1921, Petiot decided to mix equal parts vodka and tomato juice. This cocktail was originally called "Bucket of Blood". After tasting it, one of the bar's customers shared that it reminded him of a waitress in Chicago who was nicknamed Bloody Mary because of her character, giving rise to the name of this cocktail.
Another version defends that its inspiration came from Queen Mary I of England, Mary of Tudor, popularly known as Bloody Mary for the harsh repression she made in her attempt to restore Catholicism in the kingdom.
There are two other possible origins for its creation; one says it was invented in the 1930s by bartender Henry Zbikiewicz, who was in charge of mixing Bloody Marys. Another attributes its invention to comedian George Jessel, who frequented the 21 Club. In 1939, Lucius Beebe published in his gossip column This New York one of the first American references to this drink, along with the original recipe: "George Jessel's new drink, which is getting the attention of the city's journalists, is called Bloody Mary: half tomato juice, half vodka".
A 1939 publication…
The Floridita called "Floridita Cocktails" had a recipe called "Mary Rose" where the main ingredients of a modern Bloody Mary were listed. This booklet may be one of the earliest publications in which the name Mary appears, although the same ingredients were used in today's Bloody Mary.
Years later, the bartender returned to New York and continued to prepare this cocktail in the King Cole Room of the St. Regis Hotel. It was not as successful as expected on the palate of New Yorkers, who considered it to be a rather bland drink. So Petiot came up with the idea of adding pepper, Perrins sauce, lemon and Tabasco, giving a new twist to the cocktail, as well as the perfect cure for hangovers.
Fernand Petiotclaimed to have invented the modern Bloody Mary in 1934 as a refinement of George Jessel's original recipe, in the King Cole Room of the St. Regis Hotel in New York, according to the hotel's own history is what Petiot told The New Yorker in July 1964.
This cocktail was claimed as a new cocktail under the name "Red Hammer" in Life magazine in 1942, composed of tomato juice, vodka and lemon juice.
The origin of the Red Snapper, the gin version of the bloody Mary, also comes from Ferdinand Petiot.
The tradition of accompanying this cocktail with a celery stalk seems to date back to 1960 and was made fashionable by the bartender at the Ambassador Hotel in Chicago.
Bloody Mary cocktail is, without a doubt, a must when enjoying a brunch since it seems to be an ideal drink to whet the appetite.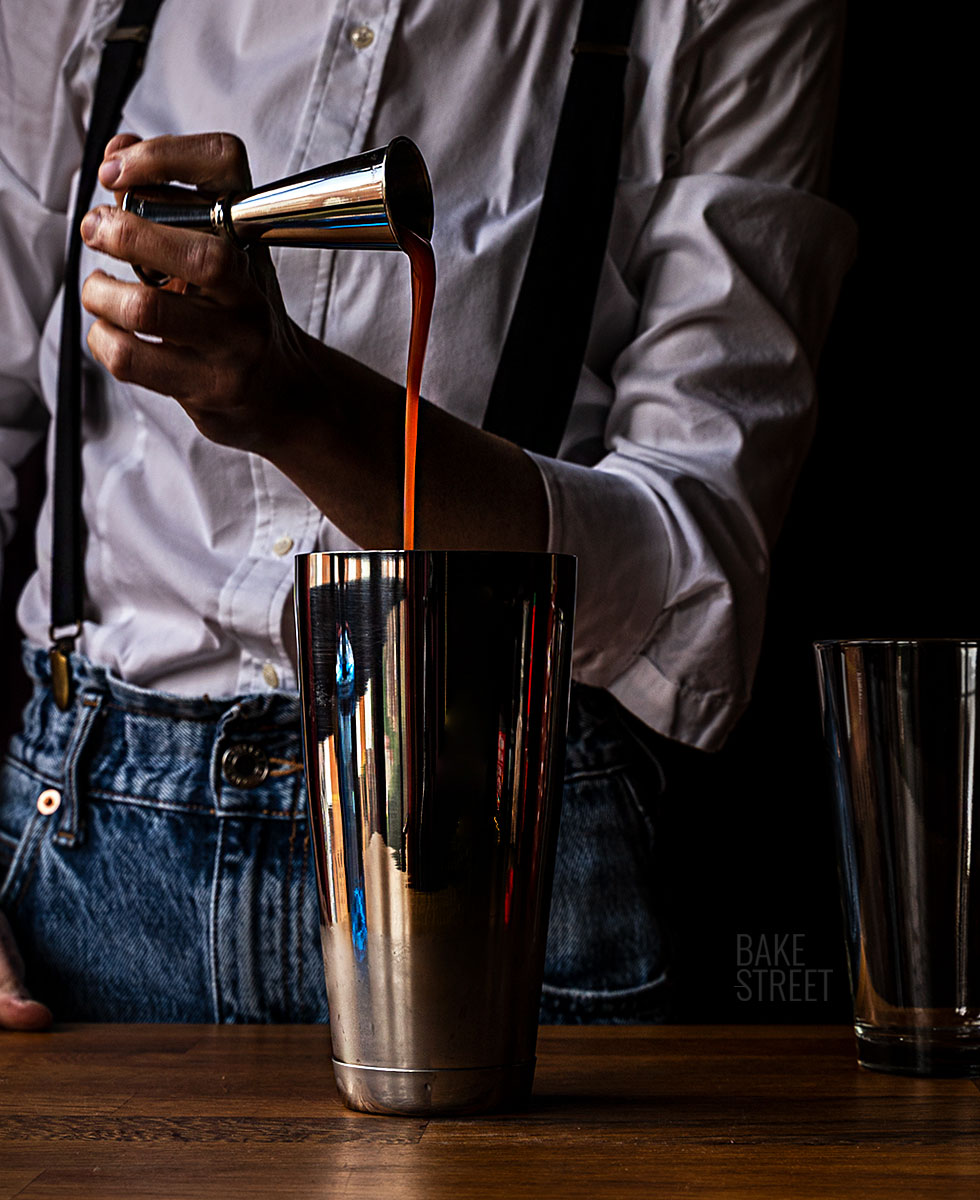 What does this cocktail consist of?
Bloody Mary cocktail or, in this case, Red Snapper, also called Bloody Margaret, has a moderate composition, it is not strong or very powerful making it a difficult cocktail to consume. I leave it up to you to decide whether to make it with vodka or gin, but I can tell you that having tried both, I prefer the one I am sharing with you.
Gin: As I mentioned above, it is a distilled alcoholic beverage with a predominant taste of juniper berries. It is currently produced in different ways and from a wide range of herbal ingredients. After juniper, gin tends to be flavored with botanicals/herbals, spices, flowers or fruits, or often a combination of these. For a drink to be called gin, it must be flavored with juniper. European Union legislation distinguishes up to four sales denominations in relation to nebrin-flavored alcoholic beverages.
Gin: It differs from the previous sales denomination in that it is not possible to use the nebrinas of Juniperus oxicedrius L. The alcoholic base cannot be an eau-de-vie, but an insipid alcohol. The nebrina flavor must be predominant, but it admits the addition of specific flavoring agents, carefully regulated, which give it a perfumed bouquet. Some gins of this type are presented as flavored.
Distilled Gin: This denomination also excludes gins that have a spirit as a base. The minimum initial alcohol must be 96°. Redistillation is the moment when flavors can be added. Flavorings are carefully regulated and are different from those of gin, but produce the same effect of a perfumed bouquet. Gin obtained solely by adding essences or flavorings to ethyl alcohol of agricultural origin is not a distilled gin, but rather a flavored vodka.
London Gin:It is a type of distilled gin. In addition to the aforementioned requirements, the absence of sweeteners and colorants is required. It may be accompanied by the term dry. It is the one that usually has pure nebrina flavor without the addition of perfumes, aromas or flavors from grain spirit. Generally, high alcohol content grain alcohol is used, without aromas or flavors, so that only those aromas from citrus and botanicals specified in the recipe are present.
Tomato juice: Natural ingredient that can be used store-bought or blended at home. The second option is always preferable.
Lemon juice: Natural ingredient that can be store-bought or squeezed at home. The second option is always preferable.
Horseradish sauce or fresh horseradish: Sauce made from horseradish, with a strong flavor that has a certain similarity to wasabi. If we do not find fresh horseradish to grate and add, we can use this sauce instead.
Tabasco sauce: A sauce created by Edmund Mcllhenny in 1868. It is made with chile pulp macerated for three years in white oak barrels, and then mixed with high quality vinegar and a small amount of salt from Avery Island. This unique aging process gives it an unparalleled and unmistakable concentration and degree of spice that has made TABASCO® the most famous hot sauce in the world.
Worcestershire sauce: Also known as Worcester sauce, Worcestershire sauce or Perrins sauce, it is a fermented liquid condiment used mainly as a sauce flavoring. It is made from vinegar, molasses, corn syrup, water, paprika, soy sauce, tamarind, anchovies, onions, shallots, wine (occasionally), cloves and garlic. It is considered a flavor enhancer used in a variety of dishes, both cooked and raw, and in English cooking it is applied to beef. Worcester sauce did not become popular until the 1930s.
Celery salt: Salt commonly used as a condiment for food and cocktails. It is made from a mixture of salt and crushed celery seeds. In some occasions, ground dried garlic is also incorporated.
Black pepper: A spice of the piperaceae family, this variety is harvested halfway through its ripening. It is the most used variety worldwide.
Smoked paprika: Paprika seasoning, which can be sweet, bittersweet or spicy, obtained by drying different varieties of smoked red bell pepper, usually with oak wood.
Preparing the Bloody Mary – Red Snapper cocktail at home.
When it is time to carry it out, we only need to add some ice in our Boston shaker along with the rest of the ingredients and mix vigorously.
Prepare a Collins glass in which we place a couple of ice cubes, having previously frosted the rim with celery salt or pink salt. Pour the contents of the shaker and garnish with a sprig of celery and all the garnishes you prefer.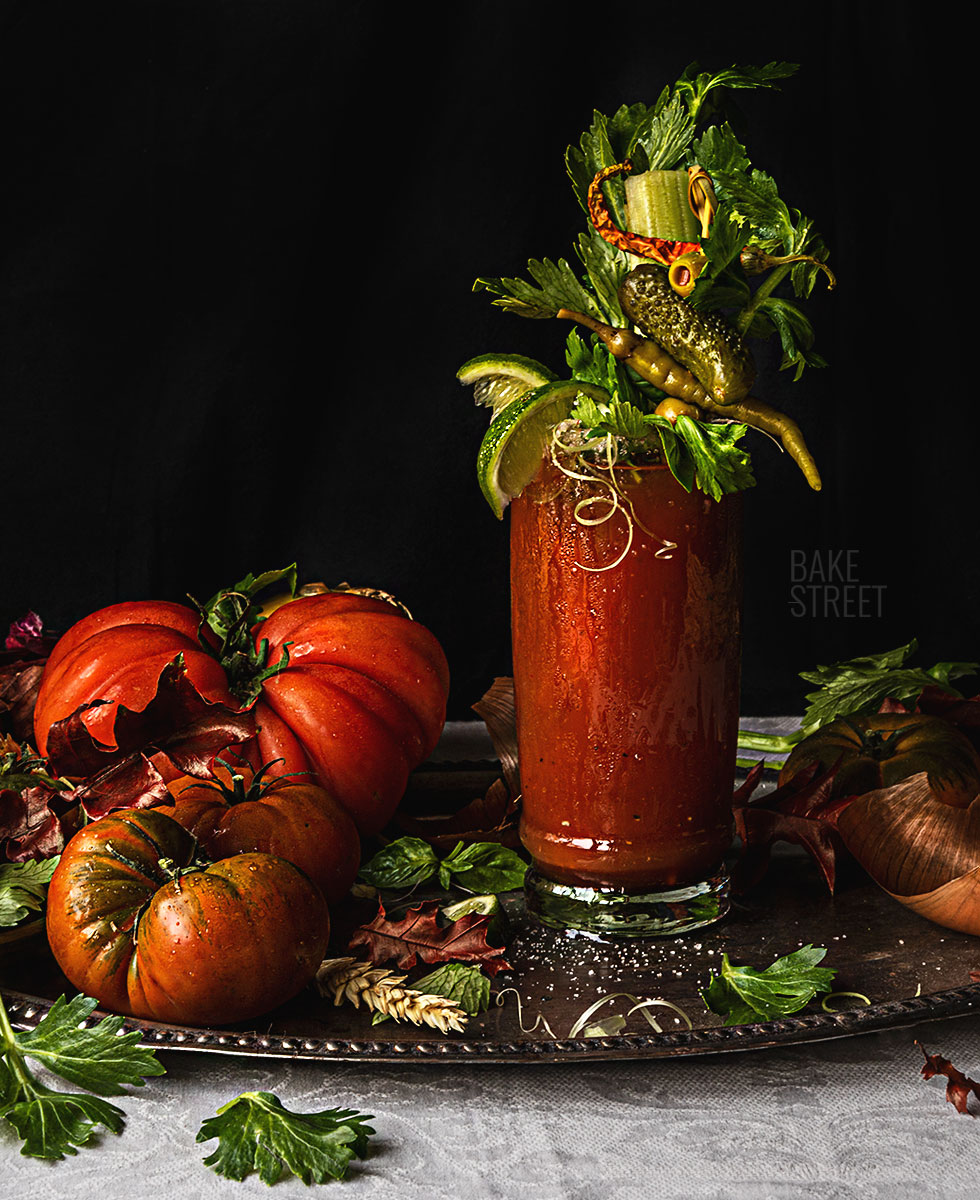 Recipe Bloody Mary - Red Snapper cocktail
Ingredients for 1 cocktail
60 ml or 2 oz of Gin* (I used Drumshanbo Gunpowder Irish Gin
botanical oriental gin)
120 ml or 4 oz tomato juice (homemade or store-bought)
15 ml or 1 oz freshly squeezed lemon juice
2 tsp Horseradish sauce (optional)
2-3 dashes** Tabasco sauce (adjust more if you like it spicy)
3-4 dashes** Worcestershire sauce
1/8 teaspoon smoked paprika
freshly ground black pepper, to taste
celery salt, to taste
*Originally made with Vodka, we can use this liquor instead of gin.
GARNISH:
celery salt or pink salt for the glass rim
celery stalk
lime wedges
skewer made with pickles: olives, gherkin, chili pepper or piparra (a type of pepper)
aromatic herbs, optional (I like to add a sprig of fresh basil)
ice
MATERIAL WE WILL NEED:
Boston shaker
jigger
cocktail strainer 
Collins glass or other type of glass of your choice with similar characteristics
* Make a responsible drinking
** Small portion, two bottle hits
Instructions
Prepare Bloody Mary cocktail.
Prepare a Collins glass or other similar elongated glass. In my case I have used this type of glass, but you can use another variety if you do not have it.
Rub the rim in lemon juice or gin and then add salt to achieve a frosted effect.
Add a couple of ice cubes. Set aside.
Fill a Boston shaker with a couple of large ice cubes.
With the help of a jigger, add the gin, tomato juice and lemon juice.
Incorporate Tabasco sauce, Worcestershire sauce, celery salt and freshly ground black pepper.
Close the shaker and shake vigorously to mix all the ingredients well. About 30 seconds of shaking would be more than enough.
Open the shaker, place a cocktail strainer over the shaker and pour the cocktail into the glass.

Garnish with one or more celery stalks, pickle skewers and a couple of thin lime wedges.
Serve.
Notes for a perfect Bloody Mary cocktail
The choice of the quality of the liqueurs as well as the rest of the ingredients is important for the final result to be good.
Originally, this cocktail is prepared with Vodka. But I decided to make it with gin after reading an article that caught my attention. In the end, both liquors are very similar distillates.
You can use a store-bought tomato juice, but if you make it at home with very good quality red tomatoes, the result will be much better.
When using paprika, we can choose whether to use sweet, sweet and sour or spicy according to our tastes. In my case I used the sweet variety and added the spicy touch thanks to the Horseradish sauce and Tabasco sauce.
The jigger is very convenient for making cocktails. In my case, one side measures 15 ml (1/2 oz) and the other 30 ml (1 oz). They are used in mixology and make the process much quicker.
The amount of tabasco can be adjusted to your taste. Personally I like spicy preparations, so I usually adjust to that side.
Once we add the ices along with the rest of the ingredients, we must shake vigorously to integrate them and cool it down. But we can't take too long, otherwise the ices will start to melt and water down the cocktail too much.
In case the cocktail shaker gets stuck after shaking, don't panic. This is normal due to the change in temperature and the gases. To open it, you can do two things; either give it a sharp blow on the side, near the rim, with the edge of your hand or pull the glass in the same direction it is facing.
This cocktail is usually presented with a celery stalk, but we can adjust this step totally to our personal taste. In my case I decided to use several elements for a more decorative purpose.
It is common to serve this cocktail with other garnishes such as crispy bacon, shrimp, small grilled cheese sandwiches, small hamburgers, cheese squares or even green asparagus.
Make a responsible drinking.
If you like to make and try cocktails from time to time, I invite you to prepare this Bloody Mary or Red Snapper at home and let me know what you think of it. Although you might be much more attracted to one of the other varieties, with other different liqueurs.
Undoubtedly, it is a perfect cocktail to get started in the world of cocktails, not only because it is so easy to make, but also because its ingredients are so accessible. We already know that in cocktails, many times, many liquors or ingredients are used that are more complex to obtain or expensive.
Let's hope that this cocktail will help us to give a good boost to the week.
Lots of love,
Eva
Make a responsible drinking
Sources: Vinepair, The Gourmet Journal, Wikipedia, La Vanguardia, Black Tail NYC
Archivado en