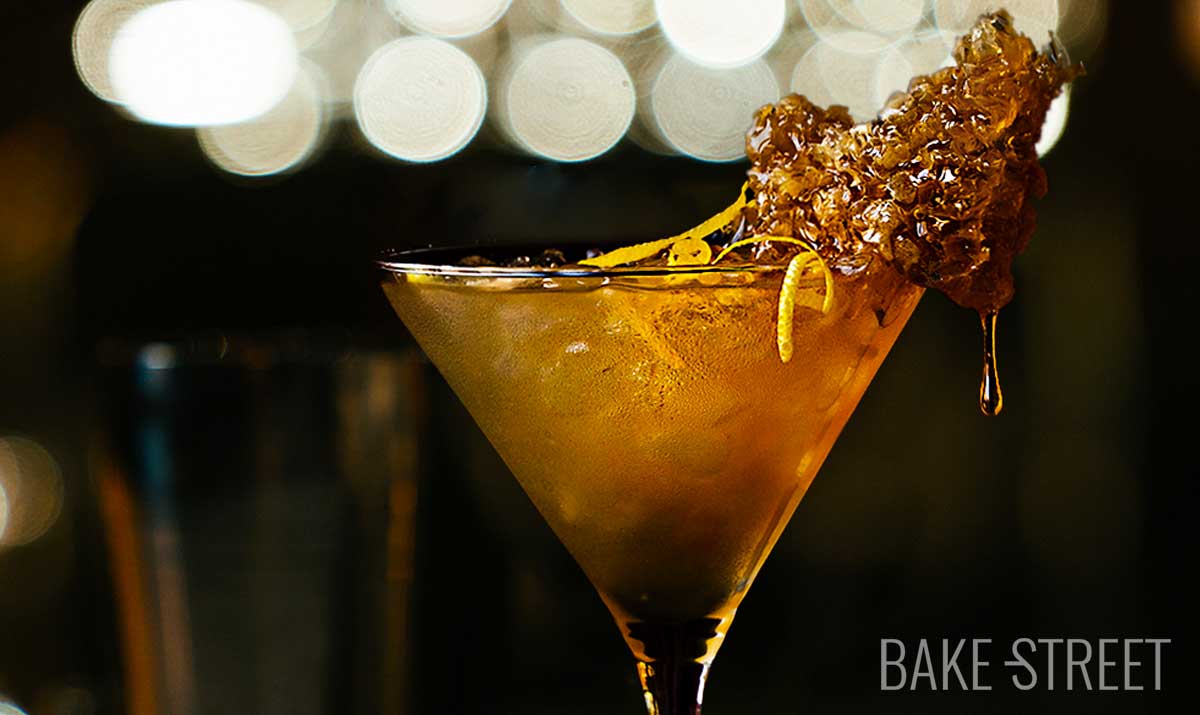 Tequila Honey Bee Cocktail
Este post también está disponible en Spanish
I had a little abandoned the cocktail posts and I have a huge list of cocktails to make. But it is also true that they are elaborations that as you make them, you have to consume them…. It is for that reason that they take a little longer between them (I usually prepare them on weekends and, I must admit, we do not consume many). The fact is that the day you decide to indulge, you do. Our last one has been this Tequila Honey Bee Cocktail that I had my eye on for a few months and, finally, I have been able to try it.
I have been looking for many cocktails made with mezcal. A while ago I was given a 400 Conejos bottle as a gift and I was really looking forward to using it. Because I'm not brave enough to drink it straight… hahahaha. I have saved many cocktails that make use of it and, to tell the truth, all of them captivate me for the attractive and different combination they use.
Today's cocktail combines two elements that go very well together; lemon and honey. In addition to this, I thought its name was fabulous. So it became the first on the list to share with you.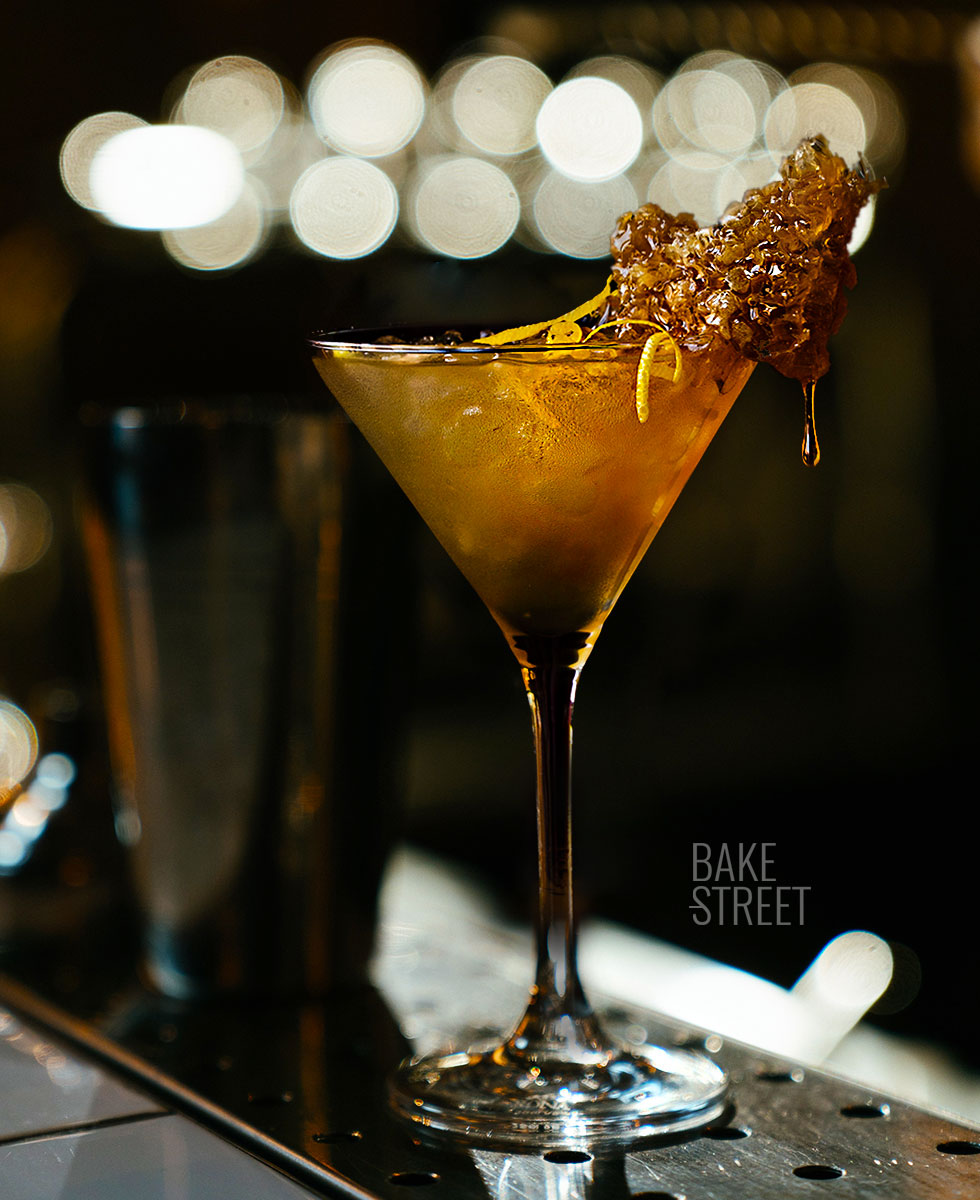 Tequila Honey Bee Cocktail Origin… Or rather, Bee's Knees Cocktail.
The cocktail I leave you with today is a version of the famous Bee's Knees Cocktail whose origin is not known for sure. The recipe supposedly appears in a 1930 edition of the cocktail compendium World Drinks and How to Mix Them by Bill Boothby from San Francisco, bartender and author. However, other evidence suggests that this cocktail was invented by Frank Meier, who was born in Austria but worked in Paris.
He was the first bartender (in this post I explain the difference between bartender and barman) at the Café Parisian at the Ritz Hotel when it opened in 1921. Meier created many cocktails, and one of them was this simple combination made with gin, lemon juice and honey syrup. This cocktail appears in Meier's 1936 edition of The Artistry of Mixing Drinks.
Another version of the origin of the Bee's Knees is attributed to a woman who has gone down in history as "the insubmersible Molly Brown". The nickname was given to her because she was one of the 712 people who survived the Titanic disaster in 1912.
Her real name was Margaret Tobin Brown and she was the wealthy widow of a gold miner. She lived in Denver and Paris. An article published in April 1929 in the Brooklyn Standard Union about the fashion for exclusive women's bars in Paris claimed that Mrs. Brown, who used to frequent these bars, had invented the Bee's Knees gin cocktail.
Was Bee's Knees a cocktail product of prohibition?
Many believe that Bee's Knees was invented during Prohibition in the United States. Lemon juice and honey syrup were used to mask the taste of cheap gin (bathtub gin). This version of the drink's history lends credence to the fact that Bee's Knees was used in Prohibition-era slang to refer to something that was "the best" perhaps a facetious version of the phrase "the business"
It was also around this time that other similar phrases began to be used, such as cat's pajamas and cat's whiskers, which mean more or less the same thing as bee's knees, so the cocktail may not have been Mrs. Brown's invention, but perhaps she took the recipe to Paris and introduced it there.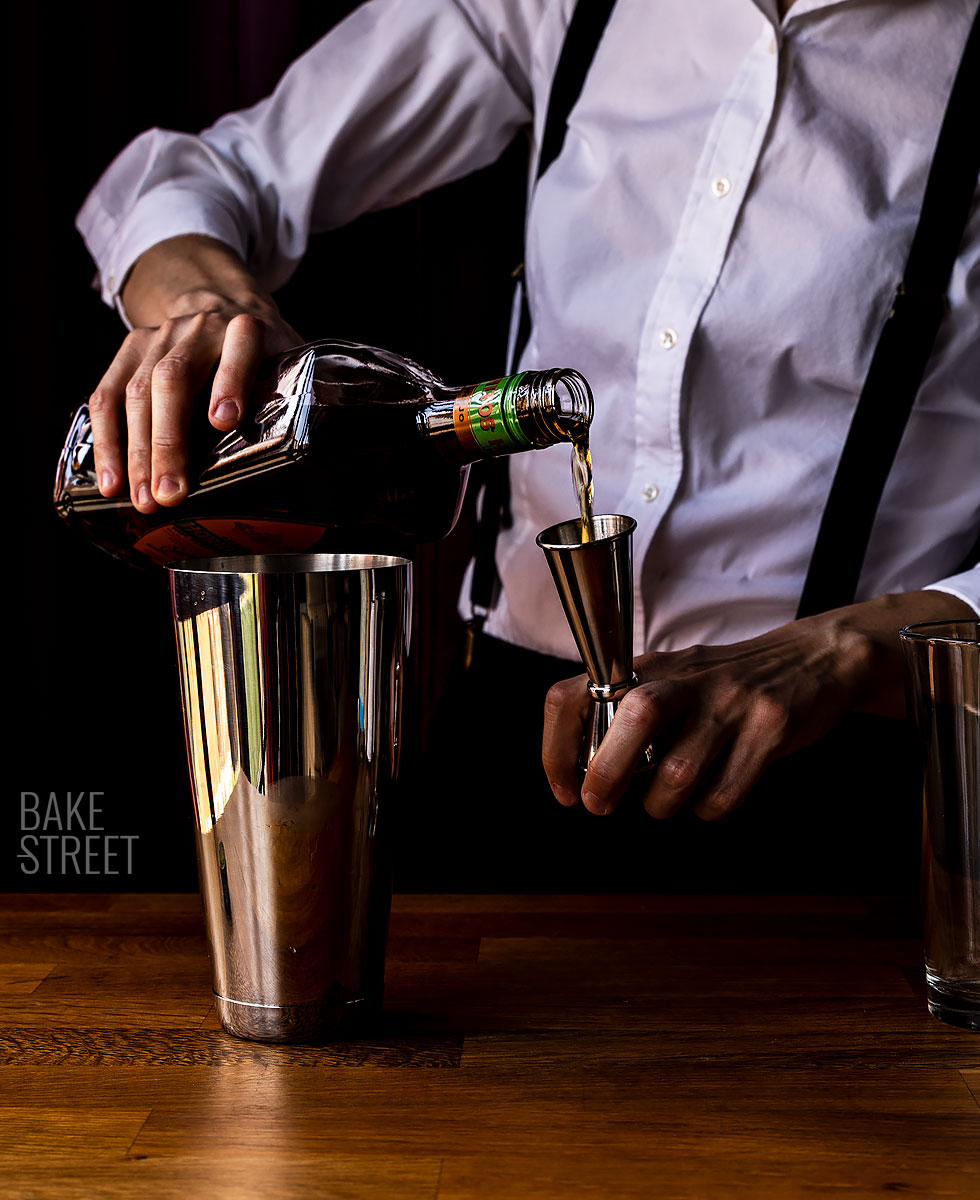 What is Bathtub Gin?
It is a term from the time of the great prohibition of the 1920s in the United States. During Prohibition, due to the shortage of alcohol, very low quality homemade spirits were distilled and diluted with water. Due to the size of the bottles, they could not be filled in the sink, so the bathtub tap was used for this purpose. This is how it got its name.
Where does the name "Bee's Knees" come from?
Do bees have knees? You could say yes, more or less, since their legs have several joints, but we don't call them knees. However, they function in the same way.
At first this phrase was used to indicate something small or insignificant, being long before the cocktail, almost more than a century. The usage later evolved and the idiom was applied to people or things that were considered the best or "the pinnacle of excellence".
During the 1920s Prohibition period, people began using phrases such as the bee's knees, the cat's pajamas, the snake's hips and the cat's whiskers to refer to exceptional and cool things. In fact, the phrase "a cool cat" came about at that time and not in the beatnik era of the 1950s and early 1960s. Supposedly people said these things when they had been drinking heavily.
This cocktail, Tequila Honey Bee, is the creation of Nick Korbee.
Executive Chef and Beverage Director of Egg Shop in New York and author of Egg Shop: The Cookbook. It combines reposado tequila with a touch of smoky mezcal, honey syrup, fresh lime juice and Angostura bitters.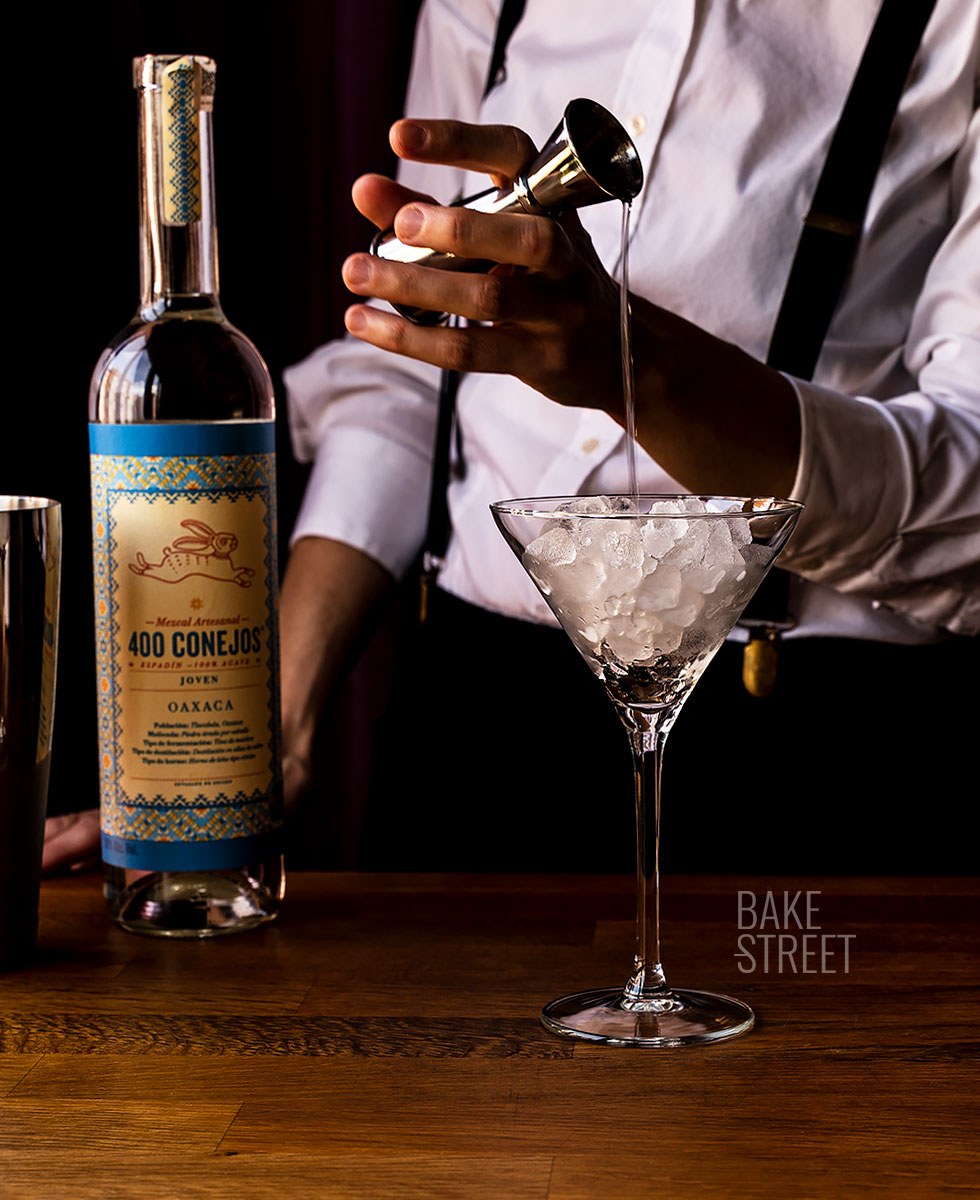 What does this cocktail consist of?
Tequila Honey Bee cocktail has a powerful and somewhat strong composition, but undoubtedly very surprising. Not being the original, I really liked this version and it is for that reason that I decided to bring it instead. Although I always like to share the real origin of what I leave you with.
Tequila: It is an alcoholic beverage obtained through a fermentation process distilled from the juice extracted from the agave, called "Agave Azul" (agave tequilana) with a denomination of origin in five states of the Mexican Republic. It is recognised as the most representative drink of Mexico. Being tequila a beverage different from mezcal, it is believed that both should not have any relation in aspects of elaboration or distillation, but it is of great importance to mention that tequila is considered as a specific type of mezcal, being obtained from the Agave tequilana of the variety Weber Azul, since mezcal in its different varieties can be obtained from fourteen different types of agave. Hence the popular phrase "it is called Tequila, but its name is Mezcal".The purity of a tequila is that it must be made entirely from agave. When a tequila does not specify on its label that it is 100% agave, it is a mixed tequila. This means that a proportion of the sugar obtained from the agave is mixed with other sugars during its production. Mixed tequilas can have a minimum of fifty-one percent agave and a maximum of forty-nine percent other sugars, according to Mexican law. In mixed tequilas, agave is mixed with corn or sugar cane syrup.
Mezcal: Alcoholic beverage created by the distillation of the heart of the agave or maguey. Agave comes from the Greek agave, which means "noble", "illustrious", "admirable" and "brilliant". There are many types of agave and each one contributes a unique flavor and aroma to mezcal. According to the Consejo Mexicano Regulador de la Calidad del Mezcal, there are more than 20 varieties that can be used to make mezcal, one of the most used and well-known is the agave angustifolia, better known as espadín. Its process begins from the moment the agaves are planted, these can take 6 to 8 years to mature, although some species can take up to 20 years. Afterwards, they are harvested and stripped until only the pineapple is left. These pineapples are placed in a bonfire, with a hole in the ground covered with stones heated over a fire, and covered with stalks of the same plant. After 3 days, during which time they have been cooking, they are crushed and left to ferment. Finally, they go through a distillation process in clay pots. When you are going to drink mezcal, remember to do it little by little or as Mexicans say "a besitos", that is to say, in small sips.
Angostura bitters: This is a liquid alcoholic compound (44.7% vol) made from more than 25 botanicals including fruits, roots, seeds, bark… its bitter taste is used to flavor and aromatize cocktail mixes, although it can also be used in gastronomy. Its creator was Johann Gottlieb Benjamin Siegert (1796-1870), a German doctor who served Simón Bolívar. It was known as "angostura" because it was located in the narrowest part of the Orinoco River in Venezuela.
Lemon juice: Natural ingredient that can be used purchased or squeezed at home. The second option is always preferable.
Honey syrup: Syrup made in the same way as the sugar syrup used to syrup sponge cakes in confectionery. It is carried out by cooking over low heat for a few minutes the same amount of water as honey. It is usually used to balance the acidity of citrus fruits.
Professional tip from the creator to prepare the Tequila Honey Bee cocktail: Prepare the honey syrup at the moment you are going to prepare the cocktail, that is to say, a few minutes before to allow it to cool. Originally it is made with equal parts of water and honey, but you can always adjust the amount of honey to achieve a sweeter cocktail. If you have surplus syrup, it can be stored in a glass container in a cool, dry place for 1 month.
Preparing Tequila Honey Bee cocktail at home.
When making it, we only need to add some ice in our Boston shaker together with the rest of the ingredients, except for the mezcal and the angostura, and mix vigorously.
Prepare a cocktail or Martini glass where we pour the mezcal to cover or rinse the glass, tilting it to make sure that the entire surface is impregnated with the liquor. Fill with crushed ice and pour the contents of the shaker. A couple of touches of angostura, lemon peel and honeycomb, if desired.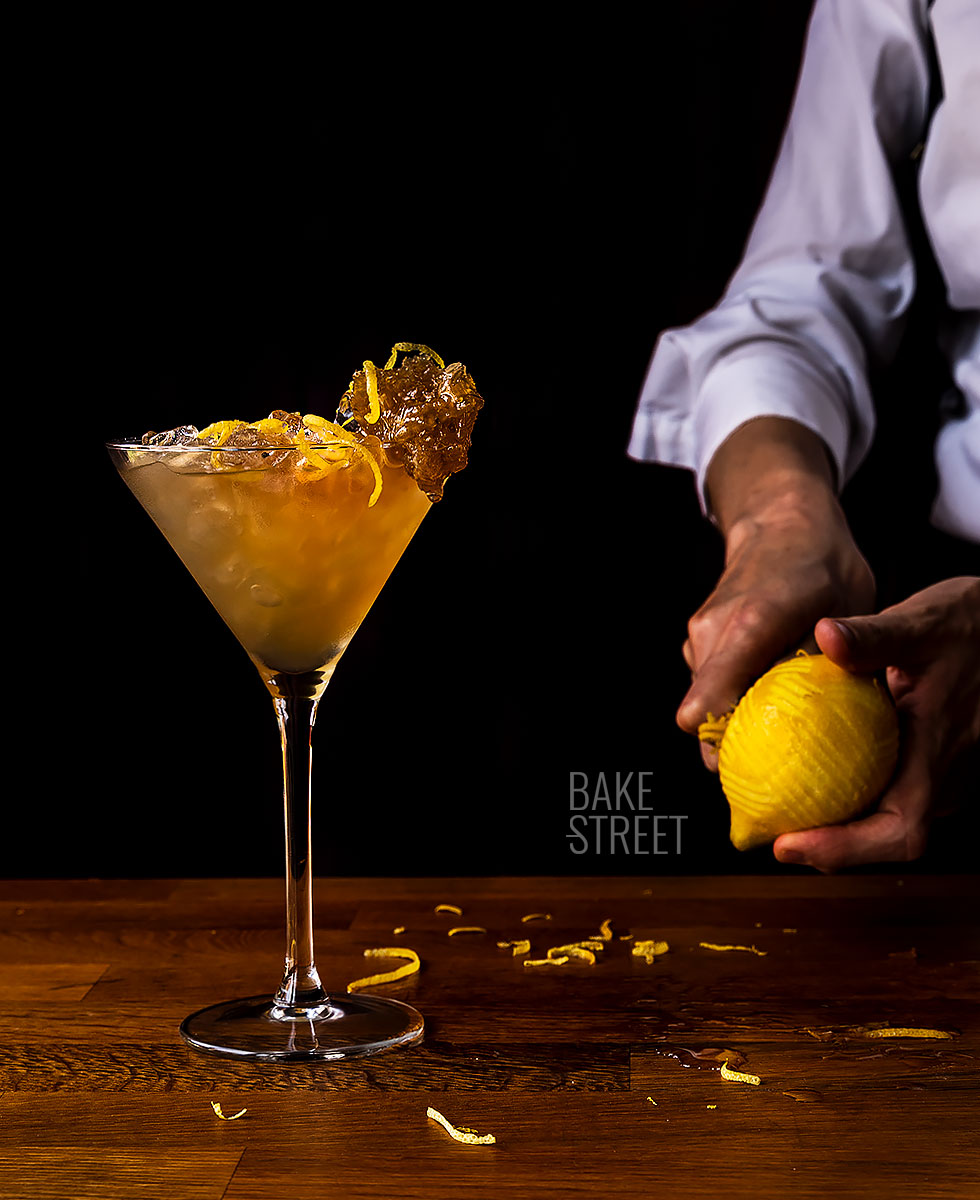 Tequila Honey Bee recipe
Ingredients for 1 cocktail
60 ml or 2 oz tequila, I used Sauza Hornitos añejo, but you can use another variety of tequila, the usual is tequila reposado
30 ml or 1 oz honey syrup (recipe below)
22 ml or 3/4 oz freshly squeezed lime juice
10 ml or 1/3 oz mezcal, I have used 400 Conejos
2 dash** of Angostura bitters
ice (regular and crushed)
lemon peel
honeycomb for garnish (optional)
FOR THE HONEY SYRUP (for 2 cocktails):
MATERIAL WE WILL NEED:
Boston shaker
jigger
cocktail strainer 
citrus peeler/grater
cocktail or Martini glass or other glass of your choice
* Make a responsible drinking
** Small portion, two bottle hits
Instructions
Preparamos honey syrup.
In a pot add the honey together with the water.
Place over medium high heat and bring to a boil.
Reduce heat to low and let it boil for 2 minutes.
Remove from heat and let cool completely.
Once cooled, store in a glass jar.
Prepare Tequila Honey Bee cocktail.
Prepare a cocktail or Martini glass. In my case I have used this type of glass, but you can use another type of glass if you do not have it.
Pour mezcal into the glass with the help of the jigger, tilting it to cover the entire surface of the glass.
Fill the glass with crushed ice, set aside.
Fill a Boston shaker with ice cubes.
With the help of a jigger, pour tequila, lemon juice and honey syrup.
Close the shaker and shake vigorously to mix all the ingredients well. About 30 seconds of shaking would be more than enough.
Open the shaker, place a cocktail strainer over it and pour the cocktail into the glass.
Add 2 dashes of Angostura bitters.
Garnish with lemon peel and a piece of honeycomb.
Serve.
Notes
The choice of the quality of the liqueurs as well as the rest of the ingredients is important for the final result to be good.
The jigger is very convenient for making cocktails. In my case, one side measures 15 ml (1/2 oz) and the other 30 ml (1 oz). They are used in mixology and make the process much quicker.
Once we add the ices along with the rest of the ingredients, we must shake vigorously to integrate them and cool it down. But we can't take too long, otherwise the ices will start to melt and water down the cocktail too much.
In case the cocktail shaker gets stuck after shaking, don't panic. This is normal due to the change in temperature and the gases. To open it, you can do two things; either give it a sharp blow on the side, near the rim, with the edge of your hand or pull the glass in the same direction it is facing.
This cocktail is usually served with lemon peel, but we can totally adjust this step to our personal tastes. In my case I decided to use this element together with a piece of honeycomb.
Make a responsible drinking.
This Tequila Honey Bee cocktail has sweet and acidic elements ideal for fans of the classic gin-based drink or for those who like to enjoy a good Margarita.
I think it is a perfect cocktail for those who have not tried mezcal and are making their first contact. The bitter touch, added at the last moment and on the surface of the cocktail, not only brings a touch of color, but keeps the aromatic notes of spices in the foreground.
I am sure you will surprise and amaze with it.
Happy start of the week!
Lots of love,
Eva
Sources: Travel Distilled, Novili, El Bartender, Liquor
Make a responsible drinking
Background bar template first photo, not cocktail, by cottonbro from Pexels
Archivado en