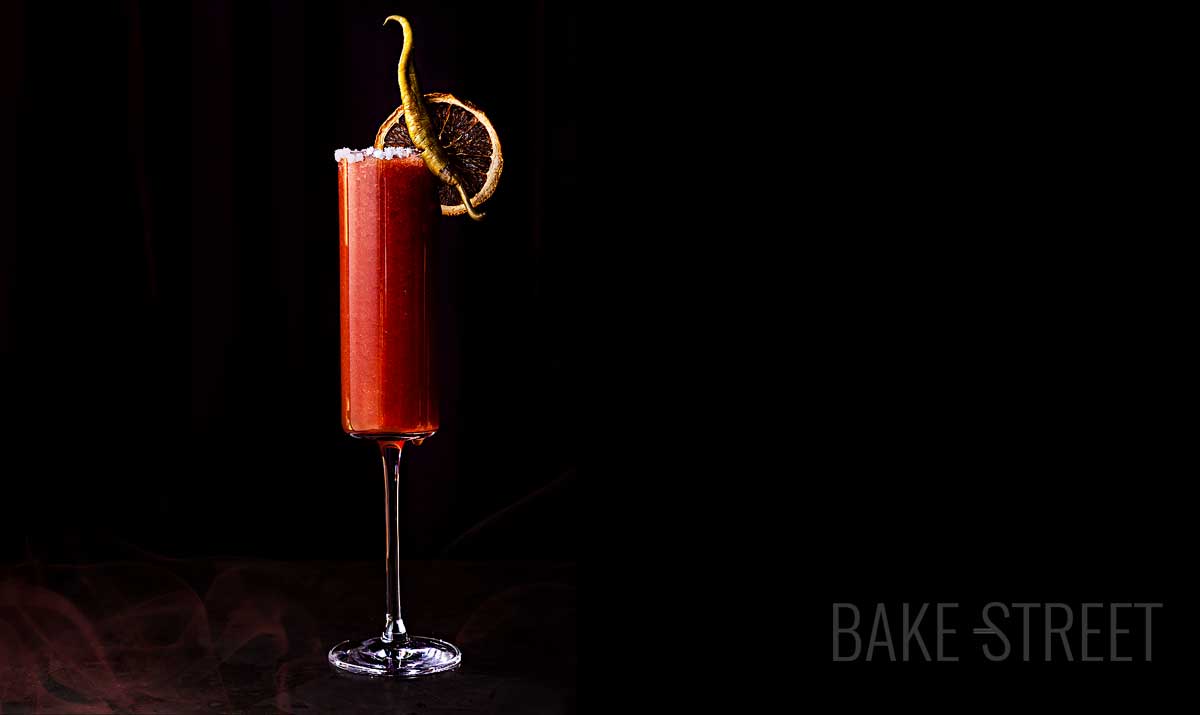 Vampire Cocktail
Este post también está disponible en Spanish
I've been wanting to share this Vampire Cocktail with you for a long time. But, given the festivities we have just gone through, it didn't seem like a suitable recipe to share at this time. But, as Easter is over, now is the time to share and enjoy this very different and peculiar cocktail.
You can imagine, but I'll tell you anyway. It wasn't just the look of this cocktail that completely caught my attention, it was the name. I love the name, I love the colour and I absolutely adore its entire composition. It's also true that those of you who are from my era (born in the 80's, or years up or down) will surely have consumed this cocktail in shot format. Two shots to be exact.
In Madrid, there is or there was, because I don't know if it is still open, an area in Argüelles where almost everybody used to go… "bajos de Argüelles". In fact, I spent most of my adolescence going out there. We also went to other places, but I recognise that where we went out the most was in that area. Those of you who hung out there will remember two bars (one opposite the other) that only served shots. Almost everyone used to go there as soon as they arrived and then we'd go to the places we liked the most. Well, there was a shot called "Satan's Blood".
Can you guess what the composition was? The two elements that make up this cocktail. You were served two shots; one with tequila and the other with a red drink that was very spicy. I didn't know it at the time, but now I do, "sangrita". First you had the shot of tequila and then the shot of sangrita. The combination was great!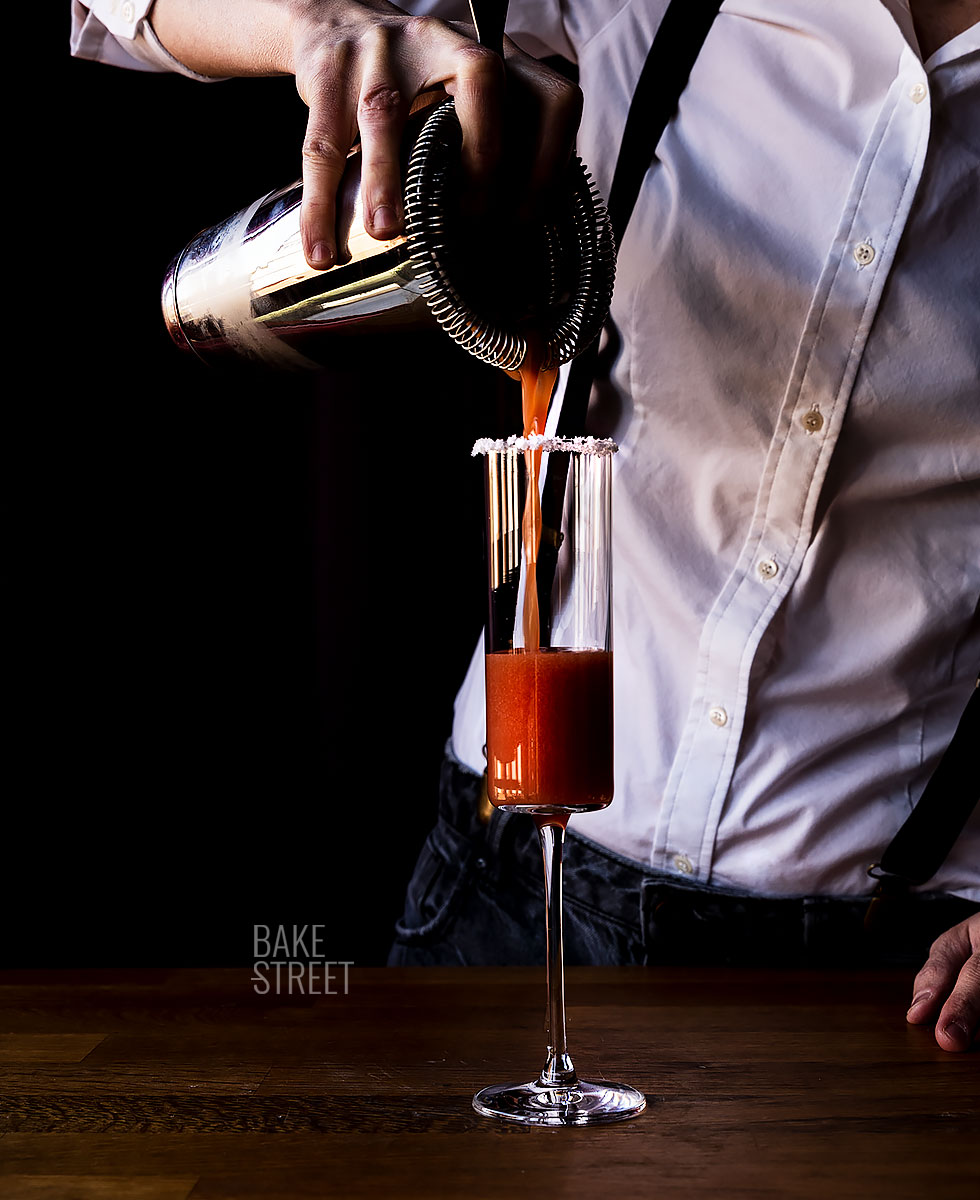 Vampire cocktail origin.
The origin of this cocktail is Mexican. It seems to have originated on the shores of Lake Chapala, Mexico's largest lake, located in the town of San Luis Soyatlán, in the state of Jalisco. In this part of the country, street vendors and street stalls selling food and drinks are very common.
Several decades ago, a fruit vendor named Oscar Hernandez made a drink with different fruit juices, hot chili peppers and tequila, the Mexican national drink. He decided to call it Vampire because of its intense red colour.
In a single glass he manages to combine two of the most characteristic flavours of this country; Tequila and chilli.
At first, Oscar prepared the drink for himself. But as customers watched him drink it, his interest in the red drink he drank grew. As a humble salesman, he decided to prepare this drink to sell it to his customers served directly in plastic bags with a straw.
The drink's fame grew until it became one of the most popular cocktails in Mexico.
Today, Oscar Hernandez still has his stall on the street, although he has reduced his fruit sales and specialised in Vampiros. He continues to serve them in plastic bags, as he did in his early days, except that nowadays there are long queues to buy one.
The original recipe is made with Sangrita.
Sangrita is a typical Mexican drink that usually accompanies tequila whenever it is served in a caballito. It originated in Chapala, Jal, in approximately 1958, at the hands of Mr. Edmundo Sanchez, owner of a restaurant in the tourist area of Chapala. He and his wife, besides being known for serving delicious antojitos, were also known for serving a tequila that he himself prepared in the style of the small stone ovens baking the agave pineapples.
As it was a rudimentary artisanal preparation, it was a strong tequila, so Mrs. Sánchez used to put fresh slices of orange, salt and red chili powder on the table to accompany it and counteract the burning effects of the alcohol and cleanse the palate.
Such was the success and acceptance of this concept that Mr. Sanchez asked his wife that instead of putting the orange slices to accompany the tequila, he should squeeze the juice into a pitcher and add salt and chili powder. In this way they would achieve a drink with an appetising reddish colour, which later became known as Sangrita, short for blood.
Nowadays, the sangrita served in most restaurants is far from the original sangrita of Mrs. Sanchez's widow, who, after the death of Don Edmundo and with the support of her son, decided to industrialise the popular and traditional drink. Today we find other versions of sangrita made with different combinations of elements, including tomato juice.
It is said that the San Angel Inn Restaurant in Mexico City prepares the best Sangrita. Although, apparently, its recipe is jealously guarded from the rest of the world.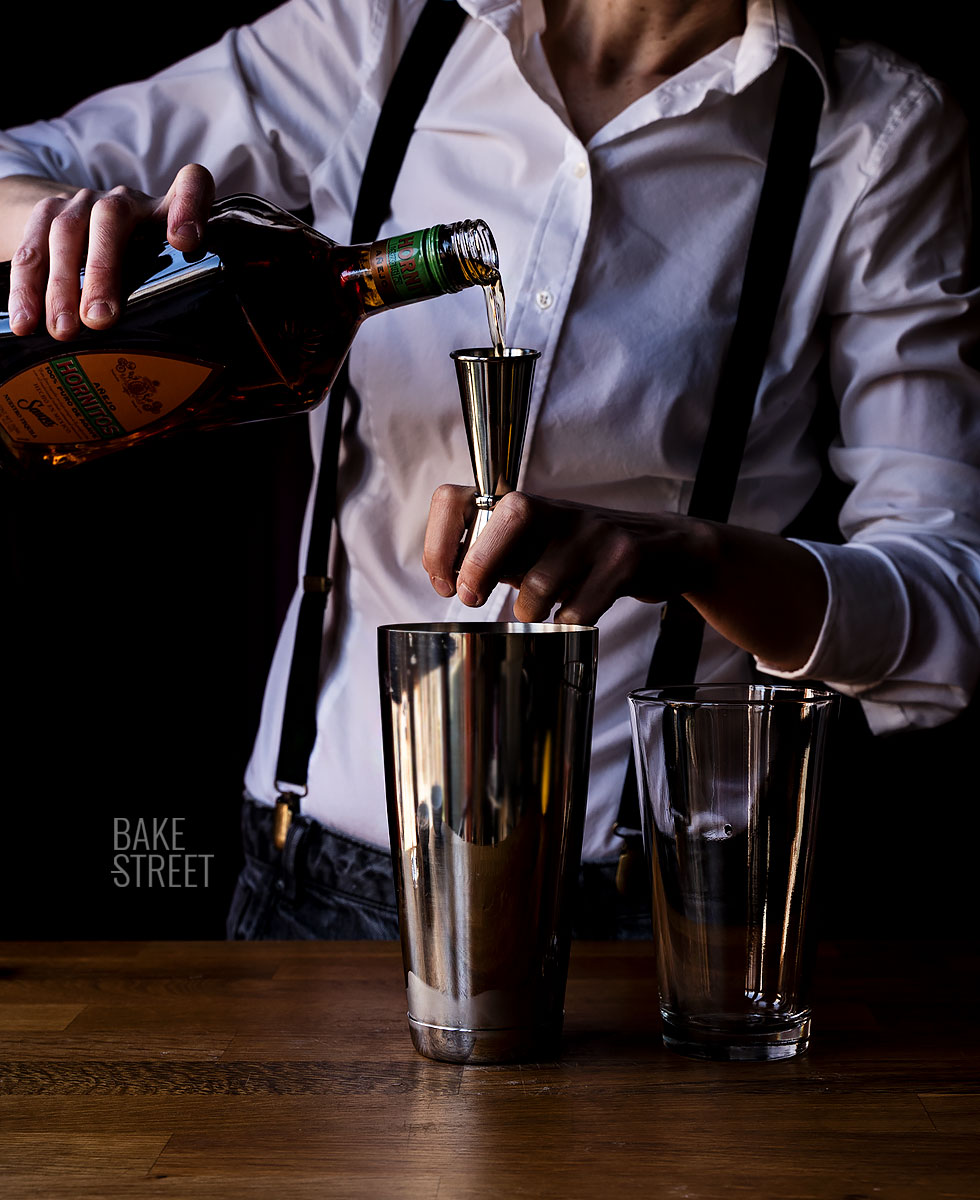 Some versions of Sangrita that we can find…
Classic or traditional: Ancho chilli powder, onion to taste (approx. 1 tablespoon), ½ litre orange juice, one squeezed lemon and salt.
With serrano chilli: 6 jitomates, 3 oranges (juice), 2 ½ lemons (juice), 1 small chopped onion, 4 tablespoons of sugar, 4 or 5 serrano chillies and salt.
Tabasco and simple syrup: ¾ litre orange juice, 1 oz lemon juice, 2 tablespoons simple syrup, 2 tablespoons tabasco and 1 teaspoon salt.
Tabasco and Worcestershire sauce: 240 ml tomato juice, 120 ml orange juice, ¾ oz lemon juice, 1 tbsp Worcestershire sauce, 1 tbsp finely chopped onion, ½ tsp Tabasco sauce and salt.
They all have one thing in common: they must be served very cold.
Caballito, What is this concept?
Caballito is the name given to the vaso tequilero (also known as shot), which is currently made of glass with a cylindrical shape and a certain angulation that makes the mouth wider.
The origin of the name 'caballito' dates back to the time of the haciendas where maguey or agave was produced in Mexico in the 19th century. From the maguey (or agave) different mezcals, such as tequila, are extracted. The local landowners used to supervise their lands on horseback. They carried two guajes (containers) with them, one for water and one for tequila. Interestingly, the name pony glass has also been registered in English since the 19th century, due to the small size of the glass. However, unlike the caballito, the pony is a glass, as it has a stem.
In the 18th and 19th centuries, a glass similar to the pony, called the whiskey tumbler, whiskey taster or whiskey glass, was developed in the United States, where whiskey was the first drink to be drunk in a pony. Nowadays it is preferred to use a shot glass or Old Fashioned glass to drink whiskey.
The oldest written reference to the shot glass dates back to 1913 in the book A History of Cass County Indiana. It is said that the name of this glass could come from the German glassmaker Friedrich Otto Schott (1884), owner of the glass factory Jenaer Glaswerk Schott & Genossen, where it is believed that the Schott glass was invented.
The current model of the glass caballito that we all know, emerged in the mid 70's. It is unknown who and where it was designed. It is not known who and where it was designed, although it quickly became popular and was adopted by practically all the glass factories on the international market.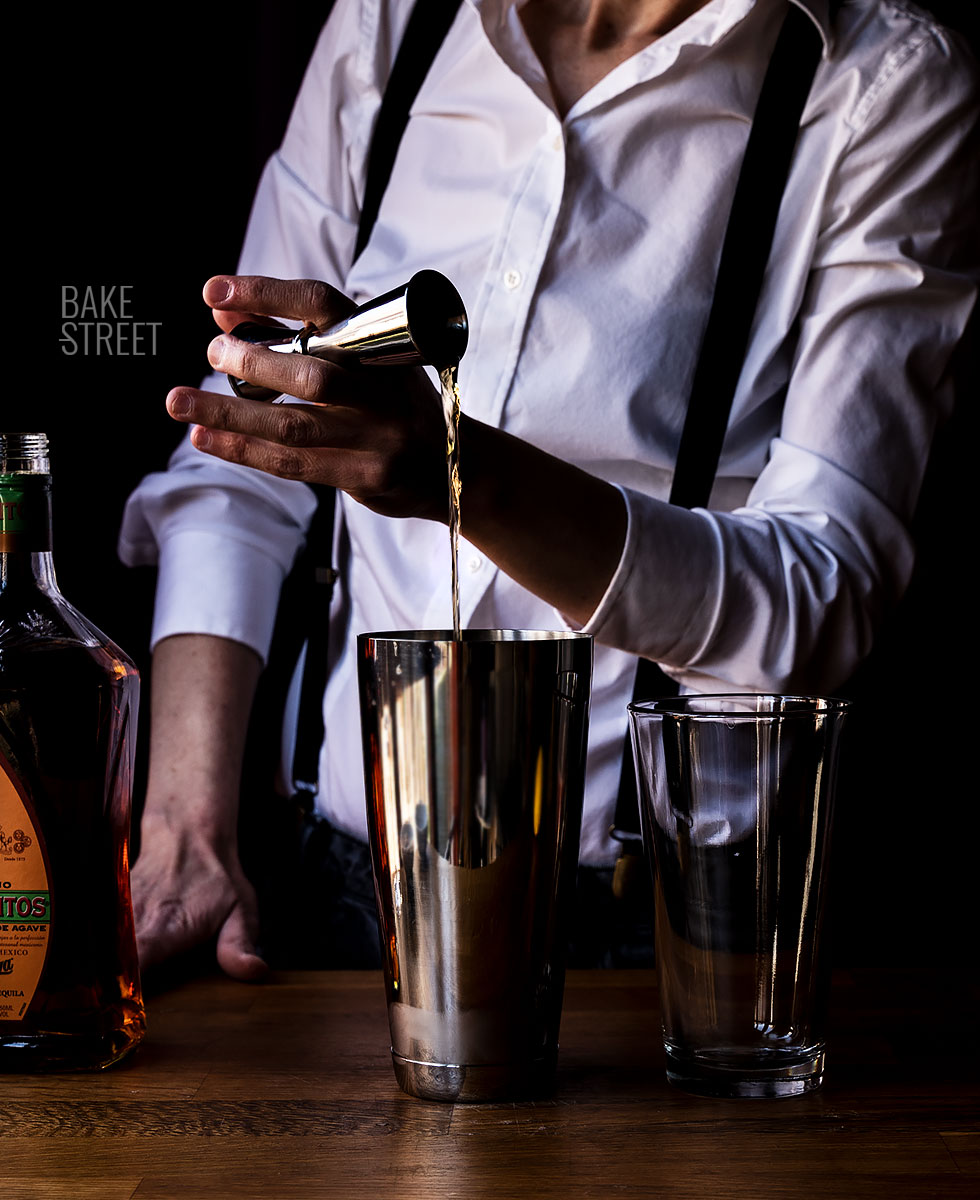 Where does the custom of drinking tequila, salt and lime come from?
This habit was acquired by tequila lovers practically from the very beginning. According to those in the know, there is a reason for it.
The artisanal process to obtain aguardiente from the agave honeys, which was obtained at the beginning of the 1800's, was extremely high in alcohol and distillation congeners, making it very aggressive to drink. To make it "softer", two elements were used: salt and lemon.
By placing a little salt in the mouth, more salivation is produced, which helps to diminish the fiery impact of the tequila. By swallowing it and immediately sucking on the lemon, the citrus flavour relieved the burning sensation in the throat.
In 1930, there was a terrible epidemic that affected the north of the country and more noticeably the state of Nuevo Leon and the city of Monterrey. A famous doctor in Monterrey had the habit of drinking his tequila with lemon and salt before his midday meals. He apparently withstood the onslaught of the epidemic and attributed it to his practice of drinking tequila. This led him to prescribe this "medicine" to his patients, resulting in a rapid decrease of sick people in his community.
Musical break.
If I could, I would leave with each of the posts a song that inspired me that elaboration, but I don't want to be tiresome, hahaha. You know I've been doing it for a few years now and you can find them all under the category "Posts with music".
I really wanted to accompany this cocktail with a song, I had my main idea clear and, after looking for several options, in the end I have chosen the one I had in mind.  I really like this composer, Abel Korzeniowski, his songs convey a lot of emotions. Maybe it doesn't have a lot to do with vampires per se… But it takes me back to that time and I think it suits him very well, that's why I leave you this song "Street. Horse. Smell. Candle".
What does this cocktail consist of?
The Vampire cocktail has a somewhat peculiar, exotic and attractive composition. In addition, only one of its ingredients has alcoholic content.
Tequila: It is an alcoholic beverage obtained through a fermentation process distilled from the juice extracted from the agave, called "Agave Azul" (agave tequilana) with a denomination of origin in five states of the Mexican Republic. It is recognised as the most representative drink of Mexico. Being tequila a beverage different from mezcal, it is believed that both should not have any relation in aspects of elaboration or distillation, but it is of great importance to mention that tequila is considered as a specific type of mezcal, being obtained from the Agave tequilana of the variety Weber Azul, since mezcal in its different varieties can be obtained from fourteen different types of agave. Hence the popular phrase "it is called Tequila, but its name is Mezcal".The purity of a tequila is that it must be made entirely from agave. When a tequila does not specify on its label that it is 100% agave, it is a mixed tequila. This means that a proportion of the sugar obtained from the agave is mixed with other sugars during its production. Mixed tequilas can have a minimum of fifty-one percent agave and a maximum of forty-nine percent other sugars, according to Mexican law. In mixed tequilas, agave is mixed with corn or sugar cane syrup.
Sangrita: Combination of citrus fruit and vegetable juices, mixed with tabasco (hot sauce), Worcestershire sauce (enhances the flavours of the cocktail), salt and pepper.
Lemon juice: Natural ingredient that can be used either bought or squeezed at home. The second option is always preferable.
Salt: Natural ingredient that accentuates the flavours and nuances of the cocktail.
Making Vampire cocktail at home.
When it comes to making this cocktail, there are no complications. The most "laborious" step will be to make the sangrita. Nothing that we can't do easily and quickly in a food processor.
To do so, we will need a shaker. As simple as adding all the ingredients in it, mixing and pouring into the champagne glass or glass (like the one I used in this cocktail), which we will have previously decorated with salt.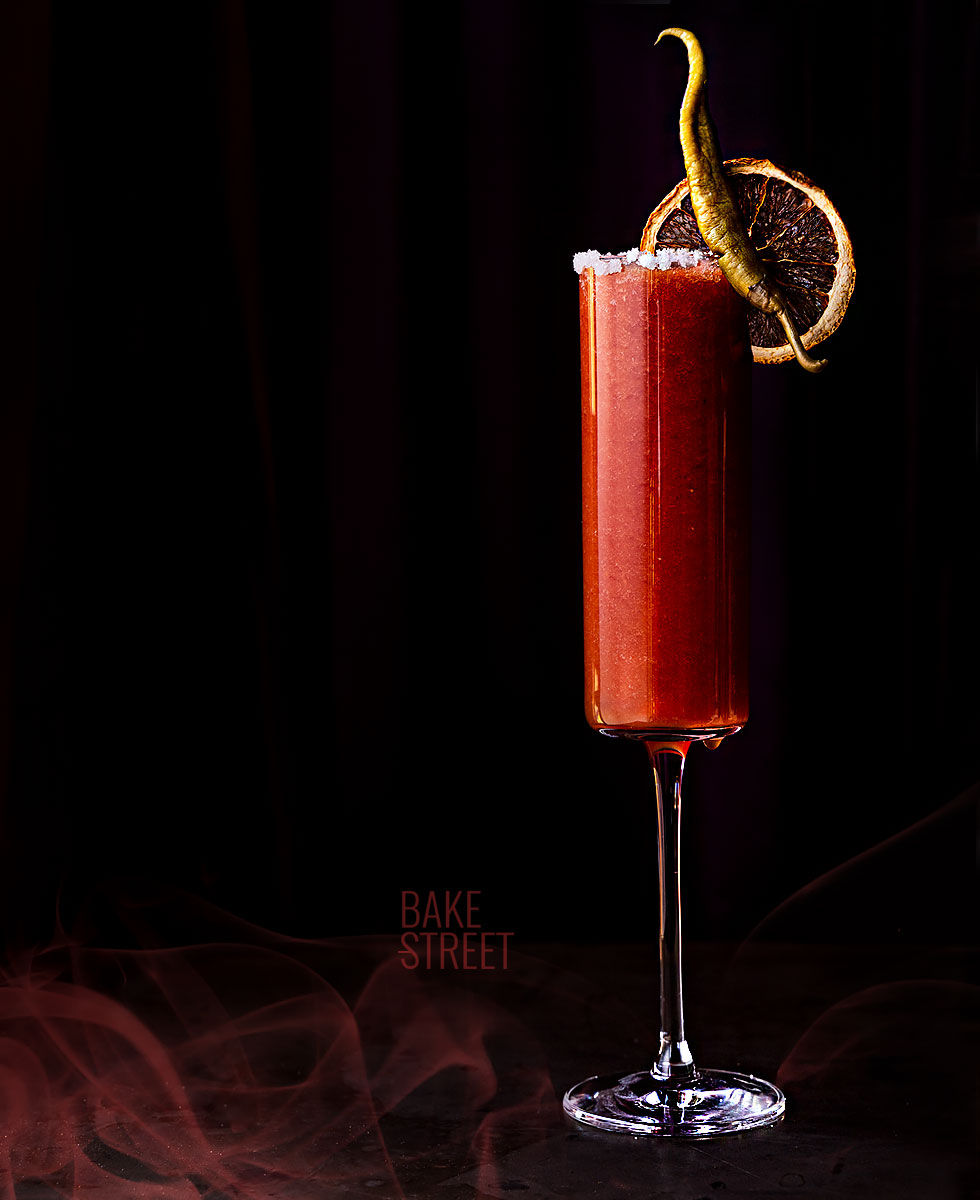 Vampire Cocktail recipe
Ingredients for 1 cocktail
Recipe adapted by El Charro Tequila
juice of half a lemon or lime
60 ml or 2 oz tequila, I used Sauza Hornitos añejo, but you can use another variety of tequila or even white tequila
120 ml or 4 oz Sangrita (recipe below)
pinch of salt
ice cubes
one slice of dehydrated blood orange and one chilli or piparra for garnish
SANGRITA:
1/2 chopped sweet onion (50 g)
240 g tomato juice, homemade in my case
80 g orange juice, in my case I have used blood oranges
35 g lemon juice
Tabasco sauce, to taste
2 tsp Worcestershire sauce
salt and ground pepper to taste
MATERIAL WE WILL NEED:
Boston shaker
 jigger
cocktail strainer 
straight champagne glass or other type of glass of your choice
food processor or blender
* Make a responsible drinking
Instructions
Make Sangrita.
In a food processor/blender, add chopped onion, lemon juice, tomato juice, Tabasco sauce, Worcestershire sauce and blend until smooth and homogeneous.
Add the blood orange juice and blend again.
Strain the mixture through a sieve to remove the onion flesh.
Season to taste with salt and pepper, stir and taste. Adjust salt, pepper and Tabasco to taste.
Set aside in the fridge for 2 hours.
Prepare Vampire cocktail.
Prepare a straight champagne glass. In my case I have used this type of glass, but you can use another type of glass if you do not have one.
Dip the edge in lemon juice and then in salt to achieve a frosted effect on it. Set aside.
Fill a Boston shaker with several ice cubes and add the freshly squeezed lemon juice.
With the help of a jigger, add the tequila, the sangrita and the pinch of salt.

Close the shaker and shake vigorously to mix all the ingredients well. About 30 seconds of shaking would be more than enough.

Open the shaker, place a cocktail strainer over it and pour the cocktail into the glass. If necessary, you can add more sangrita or blood orange juice. This is up to you.
Garnish with a slice of dried orange and a fresh chilli or piparra.
Serve.
Notes
The choice of the quality of the liqueurs as well as the rest of the ingredients is important for the final result to be good.
You can use store- bought tomato juice, but if you make it at home with good quality red tomatoes, the result will be much better.
The jigger is very convenient for making cocktails. In my case, one side measures 15 ml (1/2 oz) and the other 30 ml (1 oz). They are used in mixology and make the process much quicker.
The amount of tabasco can be adjusted to suit your taste. Personally I like my concoctions spicy, so I usually adjust to that side.
Once we add the ices along with the rest of the ingredients, we must shake vigorously to integrate them and cool it down. But we can't take too long, otherwise the ices will start to melt and water down the cocktail too much.
In case the cocktail shaker gets stuck after shaking, don't panic. This is normal due to the change in temperature and the gases. To open it, you can do two things; either give it a sharp blow on the side, near the rim, with the edge of your hand or pull the glass in the same direction it is facing.
This cocktail is usually presented with a serrano chilli, but we can totally adjust this step to our personal tastes. In my case, I decided to use dehydrated blood orange and a piparra (which I love and have that "devilish" touch, hahaha).
Make a responsible drinking.
If you want to enjoy a different, daring and explosive cocktail, don't hesitate to try this Vampire Cocktail which, I assure you, you're going to love.
What's more, I have to say that the Sangrita has not only been a discovery for me, but it has become an indispensable drink for me. The combination of flavours is absolutely exceptional, surprising and wonderful.
Of course, you can't drink too many of these.... At least in my case! I'm more than satisfied with one, hahaha!
I wish you a wonderful start of the week!
Big hugs,
Eva
Sources: Acamezxtemquila, Wikipedia, Crónica, Wikipedia, El Coctelero
Make a responsible drinking
Archivado en