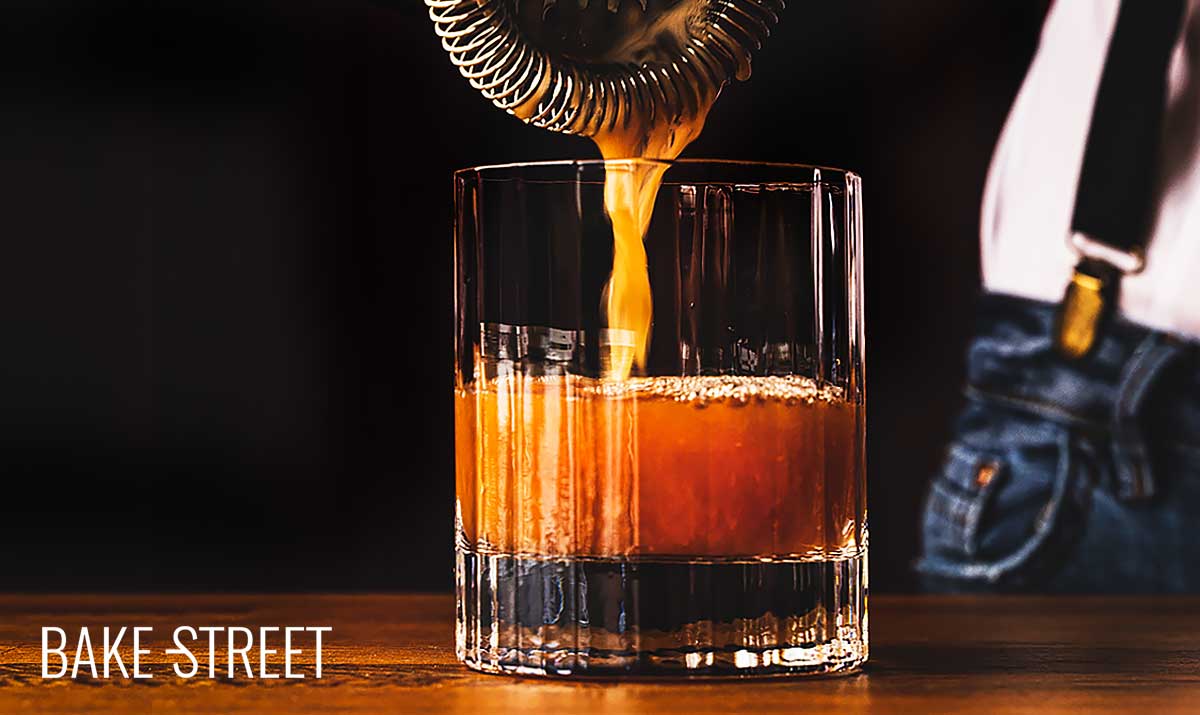 Paper Plane Cocktail
Este post también está disponible en Spanish
Today I'm opening another new section in the blog, after the one I "introduced" last week of "Old-Fashioned Desserts", which I wanted to add in my recipe book a long time ago. It is a section dedicated to cocktails in which I will be sharing with you all kinds of cocktails, combined and prepared drinks. I have always been very interested in this profession and, although I don't think I will ever have this spectacular art, I would like it to be part of everything I share with you. I start this new section with this Paper Plane Cocktail.
Well, as you can imagine everything that encompasses cocktails has many instruments and gadgets to carry it out. In my case I don't have many. I have bought a Boston shaker (my husband worked in a pub many years ago and took cocktail courses, he told me it was the best one to make cocktails), a cocktail strainer, a cocktail spoon and some other little thing.
In addition to some liquor, this is the most expensive part, and bitters. Anyway, I'm going to fill my house with more stuff, hahaha. As you can imagine, this is the part that my husband "liked" the most. Luckily I compensate with cocktails, bread and pastries, hahaha.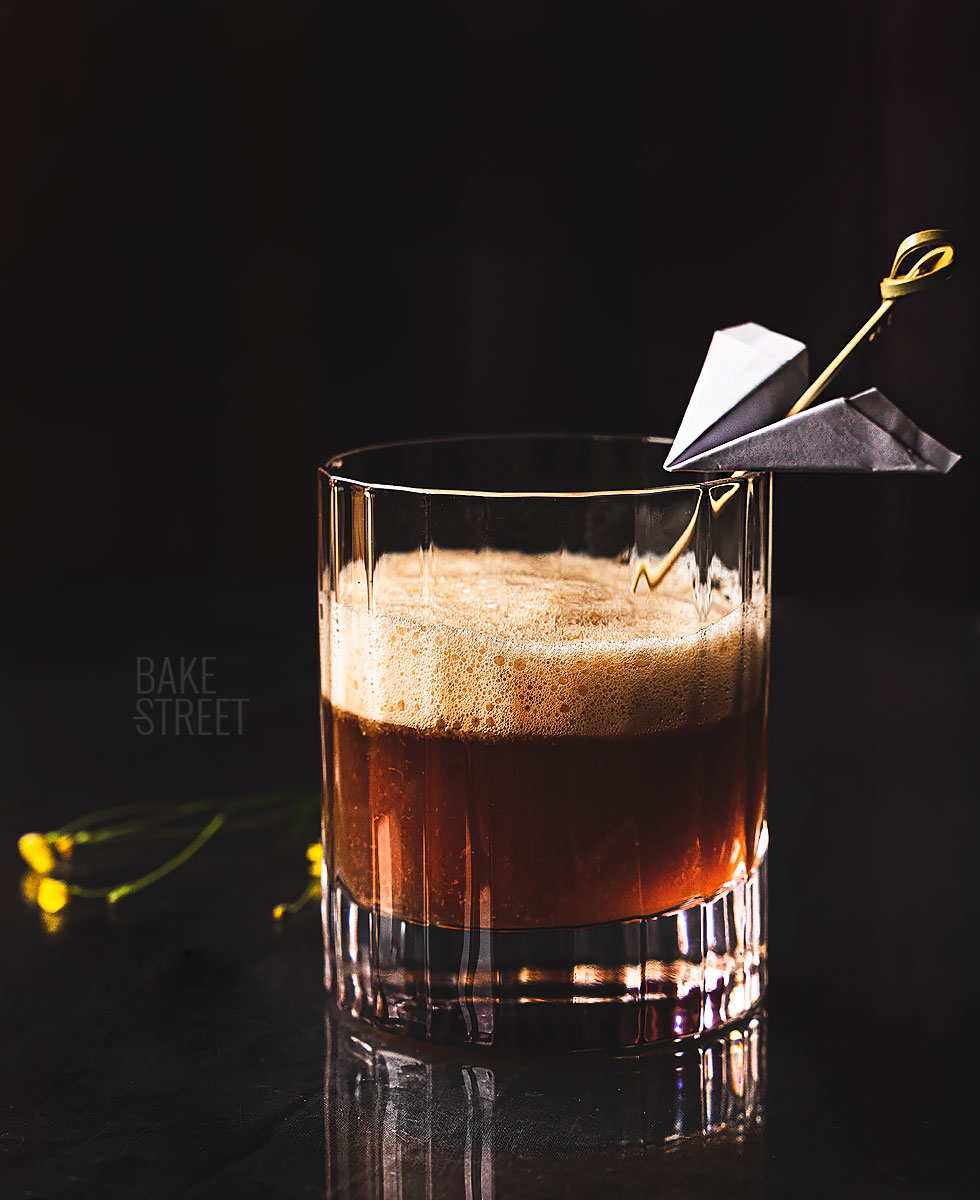 Paper Plane cocktail origin.
Apparently, the Paper Plane cocktail was created by Australian bartender, Sam Ross, while listening in the background to a song by British rapper M.I.A. entitled "Paper Planes". This is a cocktail made with Bourbon, Amaro, Aperol and lemon juice. All of them in the same quantity.
Originally Ross' recipe used Campari, but was eventually changed by Aperol. Nowadays it is the most used ingredient to prepare it since it gives it a beautiful red-orange color.
Sam Ross worked at Attaboy (formerly called Milk & Honey) and, the Paper Plane cocktail, was his second most requested and loved creation along with Penicillin. Although he doesn't know when it happened, he noticed that not long after he created this drink, it made its way onto the menu of every bar in Toronto.
It is said to be an excerpt from the "Last Word" cocktail, Seattle's most famous. And there is also speculation that it has gained popularity in the area because of its relationship to the "Last Word" cocktail.
Winning places.
The United States and Canada are not the only areas where Paper Plane has gained popularity, as its name has managed to capture the interest of people around the world (where I must include myself) and its fame has steadily increased over the years since it was first introduced.
As I mentioned above, after becoming the main drink in Toronto, Paper Plane became a popular drink in New York, San Francisco, Seattle and the rest of the United States. There were so many people requesting this cocktail that, not surprisingly, it was featured in the The Seattle Times, and in books like A Proper Drink by Robert Simonson and Shake, Stir, Sip by Kara Newman.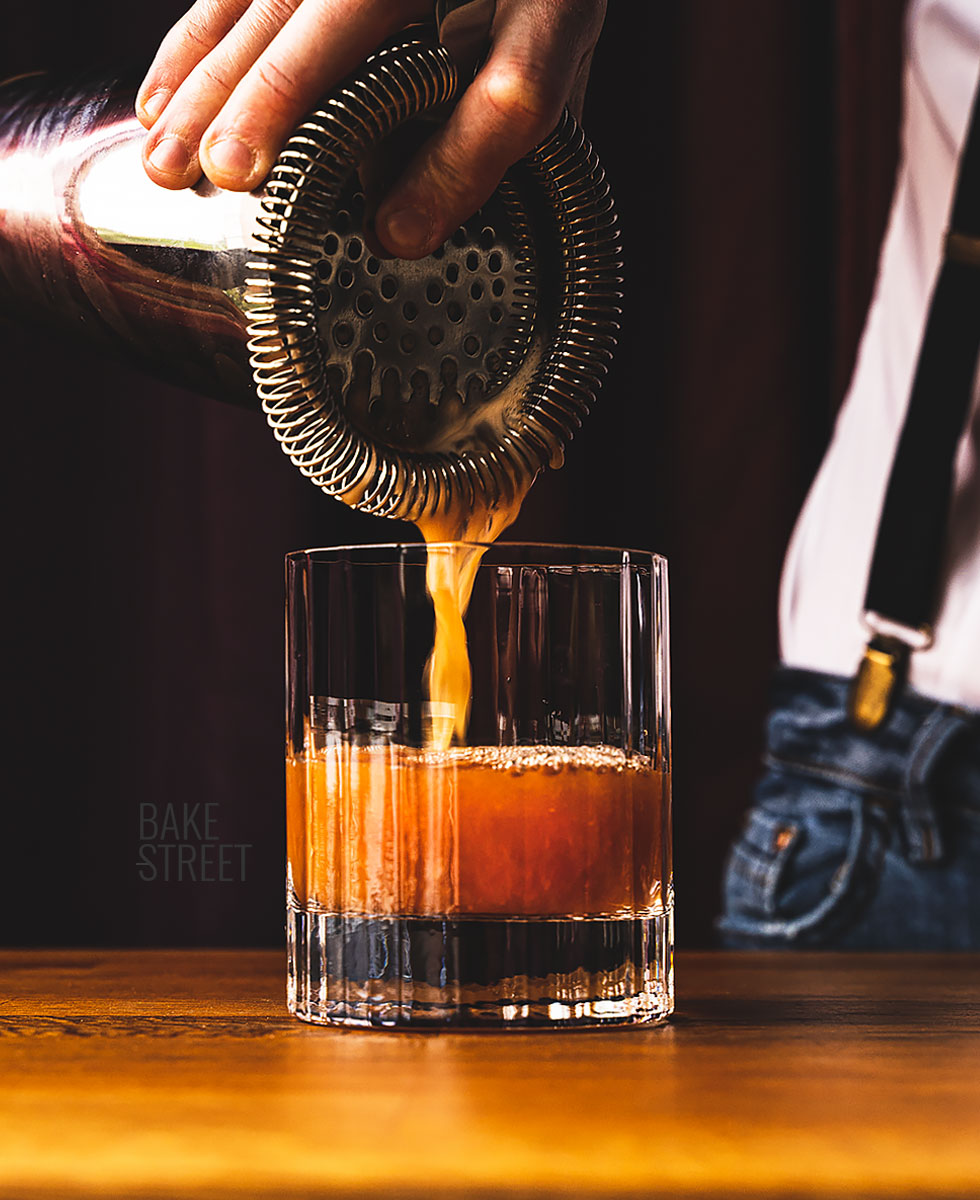 What is this cocktail made of?
Unless you like to make or drink cocktails, you will not know some of the liquors that are part of it. And that's normal. In my case, for example, I didn't know about Amaro. That's why every time I let you make one, I'll tell you a little about the liqueurs that make it up so that, in your head, you can get a slight idea of how the final flavor turns out. Let's see, it's not easy, but we do know some of the flavors, you can always guide us a little.
Bourbon Whisky: It is a type of American Whisky, a distinctive product of the USA. It is a distilled liquor aged in oak barrels (usually for 5 years), which is characterized by its high aroma and caramel nuances. According to the legislation, this liqueur is mainly made of corn and must have a concentration between 50-70%. Besides, wheat, rye or malted barley are usually added.
Amaro: Its name means "bitter" in Italian. It is an Italian herb liqueur that is usually consumed as a digestive after a meal. Its flavor is usually bitter and sweet. It is usually made by macerating herbs, roots, flowers and citrus peel, in neutral-flavored liqueurs or wine. There are many types of Amaro, the traditional ones are usually made with a large amount of herbs. It is said that many manufacturers of Amaro, trace their recipe back to 19th century productions that emerged in monasteries or pharmacies. In my case I have used a medium Amaro (Ramazzotti, bitter, sweet and citrus), although it is very common to use for this cocktail a light Amaro (Amaro Nonino, lighter in colour and with a much more citrus flavour).
Aperol: It is an Italian alcoholic drink created by the Barbieri company and its origin dates back to 1919. It is currently owned by the Campari group. It seems to have gained popularity after the Second World War.  It consists of bitter orange, rhubarb, gentian and cinchona. It is very similar to the Campari, but with a softer, less bitter taste and more orange color.
Lemon juice: One of the most widely used natural ingredients in cocktails.
Giving a different finish.
When I started to investigate this cocktail, I saw that some presentations had "egg white" on their surface. If you know Pisco Sour, you know what I mean. A smooth and creamy layer on the surface.
Ok, I fell in love with it. If I already like Pisco, I said… It's going to work very well here! So I decided to add that creamy layer on the surface that, I'm telling you, doesn't provide any egg flavor. In fact, you only feel the softness/foam when you drink it. But nothing else. Of course, in case you want to skip this step, you can do it without any problem! It is a merely decorative step 😉
To finish the cocktail you will only have to decorate it with a paper plane or with an orange or lemon peel, as you prefer.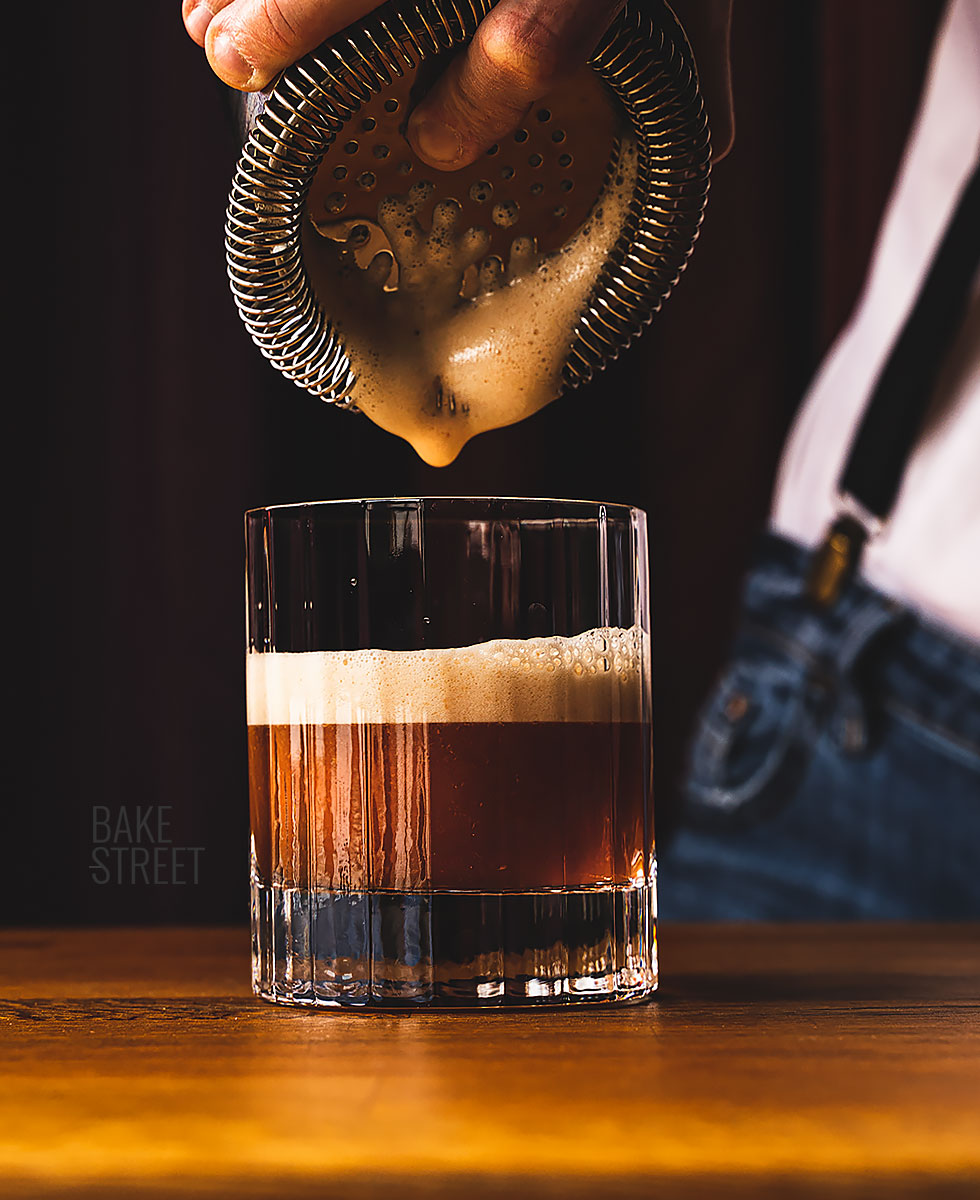 Recipe Paper Plane Cocktail
Ingredients for 1 cocktail
20 ml or 3/4 oz Bourbon Whisky
20 ml or 3/4 oz of Amaro or Amaro Nonino
20 ml or 3/4 oz of Aperol
20 ml or 3/4 oz freshly squeezed lemon juice
1 egg white
ice
1 paper plane
* Remember to consume responsibly
Instructions
Make Paper Plane cocktail.
Prepare a cold glass. In my case I used a whisky glass, but a  champagne flattened glass can also be used.
Fill a Boston shaker with ice along with all the liquor, lemon juice and egg white.

Close the shaker and shake vigorously to mix all the ingredients well. To emulsify everything with the egg white, we need it to be very cold so that a foam with a texture similar to meringue is formed. About 30 seconds of shaking would be more than enough.

Open the shaker, place a strainer over it and pour the cocktail into the glass.
Decorate with a paper plane and serve.
Notes
The choice of the quality of the liquors is important for the final result to be good.
Once we add the ice along with the liqueurs and lemon juice, we must shake it vigorously to integrate it and cool it. But we cannot delay too much, otherwise the ice will start to melt and water down the cocktail.
In case your shaker gets stuck after shaking, don't worry about it. This is normal due to the change in temperature and gases. To open it, you can do two things: either tap it on the side, near the edge, with the palm of your hand, or pull the glass in the same direction it is facing.
If the glass in which we serve the cocktail is previously chilled, it will help us to keep it fresh for longer.
Lemon juice can be replaced by natural orange juice, but if you want to enjoy the classic and original Paper Plane cocktail, you must use lemon juice.
This cocktail is usually served with a small paper plane, although it is also common to serve it with an orange or lemon peel.
You can add as much white foam as you like. In my case I made a format with more quantity and another with less. My husband prefers the second one, while in my case, I like it with more foam... I leave this to your choice.
Remember to consume responsibly.
I hope you like and lenjoyo this new section as much as I do. And, of course, that one day you'll dare to try this Paper Plane Cocktail. It's true that some time ago I thought about how to make the best Cuban Mojito, but now it's here to stay.
If you ask me what it tastes like, I'd say it's a mixture of bitter, sweet and citrus flavours. My husband, while drinking it, told me that he found it very refreshing. He liked it very much, but what surprised him most was that, in spite of having many liquors (some of them with a high alcoholic content), the taste was very pleasant.
With this cocktail I wish you a wonderful end to Sunday and the beginning of the week!
Big hugs,
Eva
Source: Advanced Mixology
Remember to consume responsibly
Archivado en