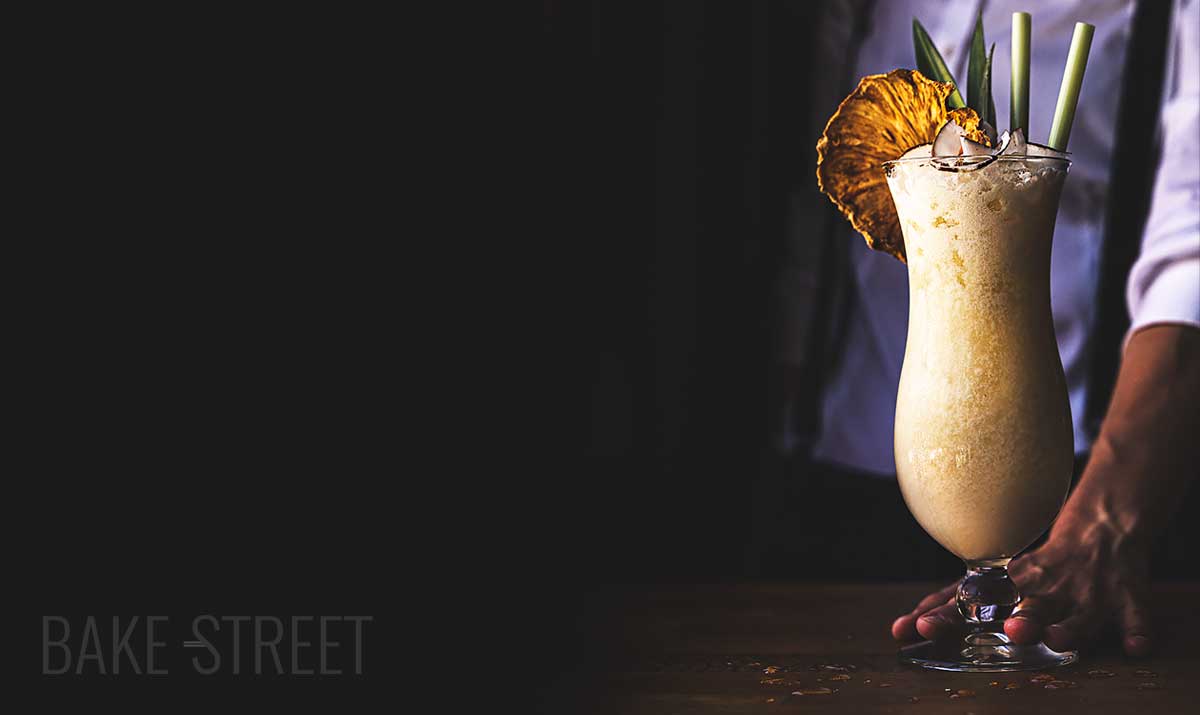 How to make Piña Colada
Este post también está disponible en Spanish
This week I was not planning to publish a cocktail again, but many times the circumstances are not so good and we have to adjust a little. The lack of time is sometimes higher than we would like, but we are not going to be overwhelmed either… Because ending a week with a Piña Colada cocktail is not a horrible thing either. Don't you think?
Besides, now that the good weather is coming, hot weather is on and summer is officially on, we are going to receive it as it deserves. With a cocktail well known by all of us and that, I think, is perfect to fight against hot days either on a terrace, the beach or in your living room.
Piña Colada cocktail origin.
It is not the first elaboration that has several suitors to boast of being its original creator. Piña Colada is one of them.
In spite of the countless stories and legends about its creation, the real origin of this tropical cocktail dates back to 1954. It was created in the Beachcomber bar, of the Caribbean Hilton in San Juan. Apparently, bartender Ramón "Monchito" Marrero received instructions from the hotel manager asking him to create a unique mix to delight and surprise their customers.
Ramón wanted the cocktail to have the island's tropical flavor, so the two main ingredients were to be pineapple and coconut. After 3 months of searching and tasting different cocktails, he managed to create one of the most popular Caribbean cocktails. The first Piña Colada. Ramón used a new product created at the University of Puerto Rico by Ramón López Irizarry, a coconut cream called "Coco López".
Brief musical break.
Those of you who have been reading me for some time know that I love to recommend music from time to time to accompany the post I have left you. In fact, you can see them all in this category "Post with music". I usually share music that I discover, songs that inspire me, that I like or that immerse me in beautiful stories. What would become of us without music? The truth is that I can't conceive of my life without it…
If you like Frank Sinatra, I love him, do not hesitate to accompany the reading of the post with this song of his "Summer Wind" and enjoy, a little more if possible, this cocktail.
Bartender is the same as barman?
No, not at all. They are very similar terms, but we must not confuse them.
A bartender is the evolution of a barman. It is a bar professional who has knowledge about cocktails, bar management, customer service and, in addition, has the ability to create experiences behind the bar. It is a more modern concept in which the person who develops this work, gets much more involved with the customer to give the best possible attention.
On the contrary, a barman is a waiter. It is a person who attends to customers behind a bar.
There is also another job that differs from these two, the mixologist. This professional is a designer and creator of drinks. That is, the bar chemist. Some mixologists are also bartenders.
Mixology could be defined as the bartender's specialization.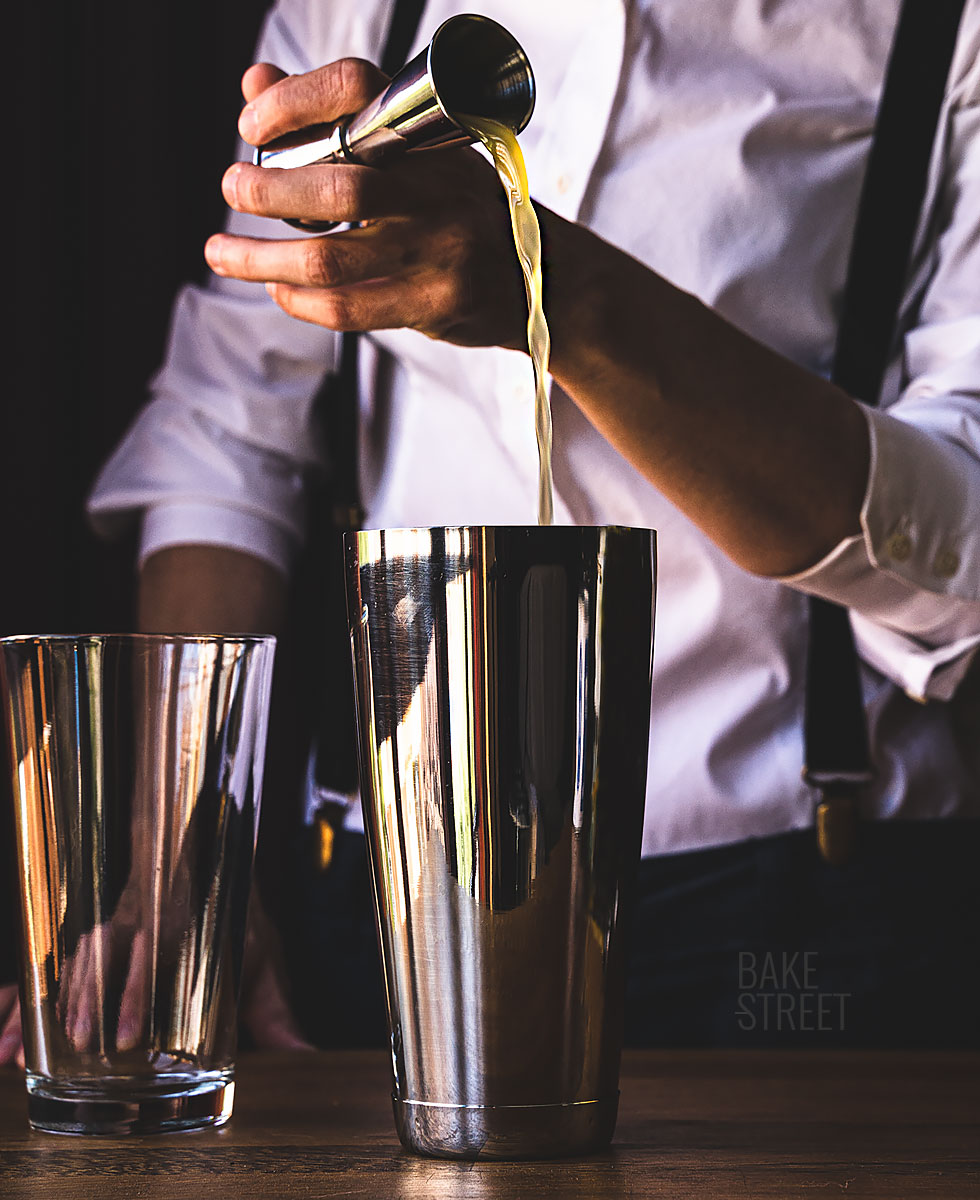 Stories of "pirates" surrounding this creation
Like a story that dates back to the beginning of the 19th century, "The Pirate Cofresí". It is said that the Puerto Rican pirate Roberto Cofresí invited his crew, from the ship "El Mosquito", with a drink that encouraged them to continue with their journey and thus raise their spirits. This one was made with coconut, pineapple and white rum. It is said that with his death after being executed in 1825, due to an accidental attack on an American ship, the recipe was lost at the bottom of the sea.
Another story tells of the Barrachina Restaurant which also boasts of its creation. Apparently, in 1960 "Casa Gallinares", in association with Pepe Barrachina, met the bartender Ramón Portas Mignot, who worked in the best bars in Buenos Aires, during one of his trips to South America.
Portas, moved to Puerto Rico and started working at the Barrachina Restaurant. Influenced by tropical products, he creates the popular cocktail in 1963. Many point out that this story is false since there were already written data about the famous Piña Colada 13 years before.
What does this cocktail consist of?
Piña colada have a fairly simple composition and only one of their ingredients has alcohol content.
White rum: This is an alcoholic beverage made from sugar cane or molasses by fermentation. It is then distilled at high temperatures using copper or stainless steel stills, which facilitates obtaining a high ethanol content. The resulting distillate is diluted with pure demineralised water to a concentration of 35-40%. Subsequently, in some cases, it can be subjected to a process of aging in oak barrels. This liquor, is mentioned for the first time in documents coming from Barbados in the year 1650. It was called kill-devil or rumbullion, meaning "a great tumult".
Pineapple juice: Natural ingredient that can be used store-bought or freshly squeezed.
Coconut milk or cream: It is made by boiling coconut pulp with water and then straining it. The same amount of water is used to make coconut milk as for coconut, and 4 parts of grated coconut to 1 part of water are used to make the cream. Ideally we should use the coconut cream for this cocktail.
Simple syrup: This is the same syrup that we use to syrup cakes in baking. It is made by cooking over a low heat for a few minutes the same amount of water as sugar. Or you can dissolve the sugar in hot water. It can be made in a 1:1 ratio, the same amount of sugar and water, or in a 2:1 ratio, twice the amount of sugar than water. It is usually used to balance the acidity of citrus fruits.
Preparing the Piña Colada at home.
There are two ways to make this cocktail: with a glass mixer or with a shaker. In my case I used the second option, but it is very common to do it in a blender. As simple as adding all the ingredients in it, process and pour into the glass.
Since my blender broke a few months ago, I have chosen this second option that also works very well. All we have to do is add a little ice to our Boston shaker along with the rest of the ingredients and mix it up energetically. Pour into our hurricane glass, decorate to our liking and serve.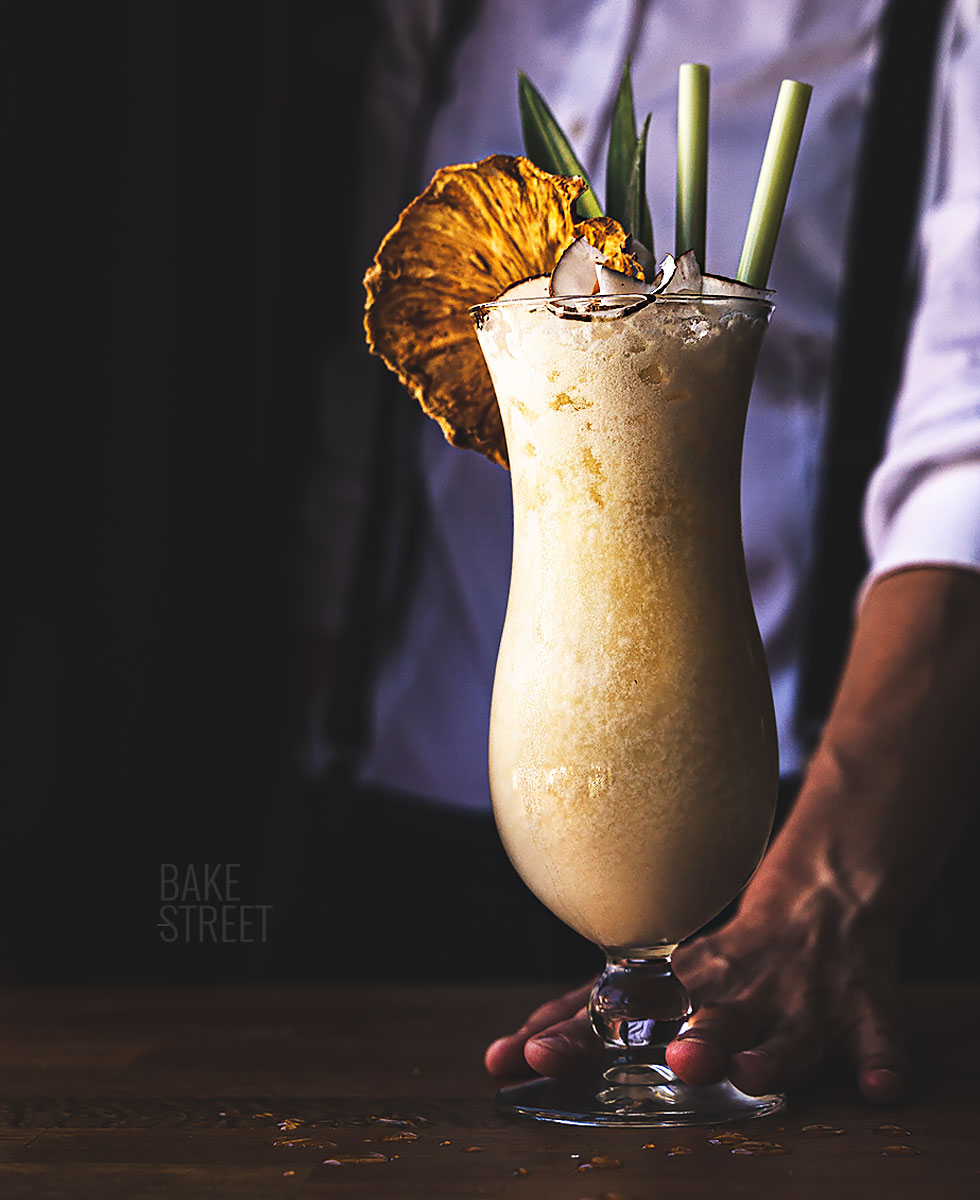 Recipe Piña colada Cocktail
Ingredients for 1 cocktail
90 ml or 3 oz pineapple juice
90 ml or 3 oz of coconut milk or cream
60 ml or 2 oz of white rum, I used Bacardi
30 ml or 1 oz of simple syrup or condensed milk if not available
 pebble ice
1 slice of dried pineapple, fresh coconut shavings and pineapple leaves for decoration
* Make a responsible drinking
Instructions
Prepare Piña Colada.
Prepare a glass with pebble ice, fill it about 3/4 full. In my case I have used a hurricane glass, but you can use another type of glass if you don't have this one.
Fill a Boston shaker with ice and add the ingredients by density. First the coconut milk, then the sugar syrup or condensed milk, the pineapple juice and finally the rum. For this we will help ourselves with a jigger.

Close the shaker and shake vigorously to mix all the ingredients well. About 30 seconds of shaking would be more than enough.
Open the shaker, place a cocktail strainer over it and pour the cocktail into the glass. If necessary, you can add more ice.

Garnish  with a slice of dehydrated pineapple, fresh pineapple leaves, fresh coconut shavings and a couple of straws.
Serve.
Notes
The choice of the quality of the liquors and coconut cream is important for the final result to be good.
You can use a store-bought pineapple juice, but if you do it at home with natural pineapple, the result is much better.
Simple syrup or condensed milk are completely optional. The original cocktail, it doesn't have it. If you use natural pineapple juice and the pineapple is sweet, it is not necessary to add it. However, if you like the cocktail to taste sweet or you use store-bought pineapple juice, in that case I do advise you to add it to give that pleasant sweetness.
The jigger is very convenient for making cocktails. In my case, one side measures 15 ml (1/2 oz) and the other 30 ml (1 oz). They are used in cocktails and make the process much faster.
Once we add the ice along with the rest of ingredients, we must shake it vigorously to integrate it and cool it. But we cannot delay too much, otherwise the ice will start to melt and water down the cocktail.
In case your shaker gets stuck after shaking, don't worry about it. This is normal due to the change in temperature and gases. To open it, you can do two things: either tap it on the side, near the edge, with the palm of your hand, or pull the glass in the same direction it is facing.
This cocktail is usually presented as I suggest, or with fresh pineapple and a maraschino cherry, with flowers, a paper umbrella... It's a step you can adjust to your personal taste.
Make a responsible drinking.
Without a doubt, one of the best options for a weekend break is this Piña Colada cocktail. I know well that it is not a rare, creative or too original cocktail like the Paper Plane cocktail. But many times the essence of wonderful things is found in simplicity.
This cocktail combines sweet, citrus and tropical flavours with a creamy touch thanks to the coconut cream.  Without a doubt a simple option that we know everyone will like.
I hope you had a fabulous week, but I hope next week is much better!
Big hugs,
Eva
Sources:Vix.com, Coctelería Creativa, Coctelería
* Make a responsible drinking
Archivado en