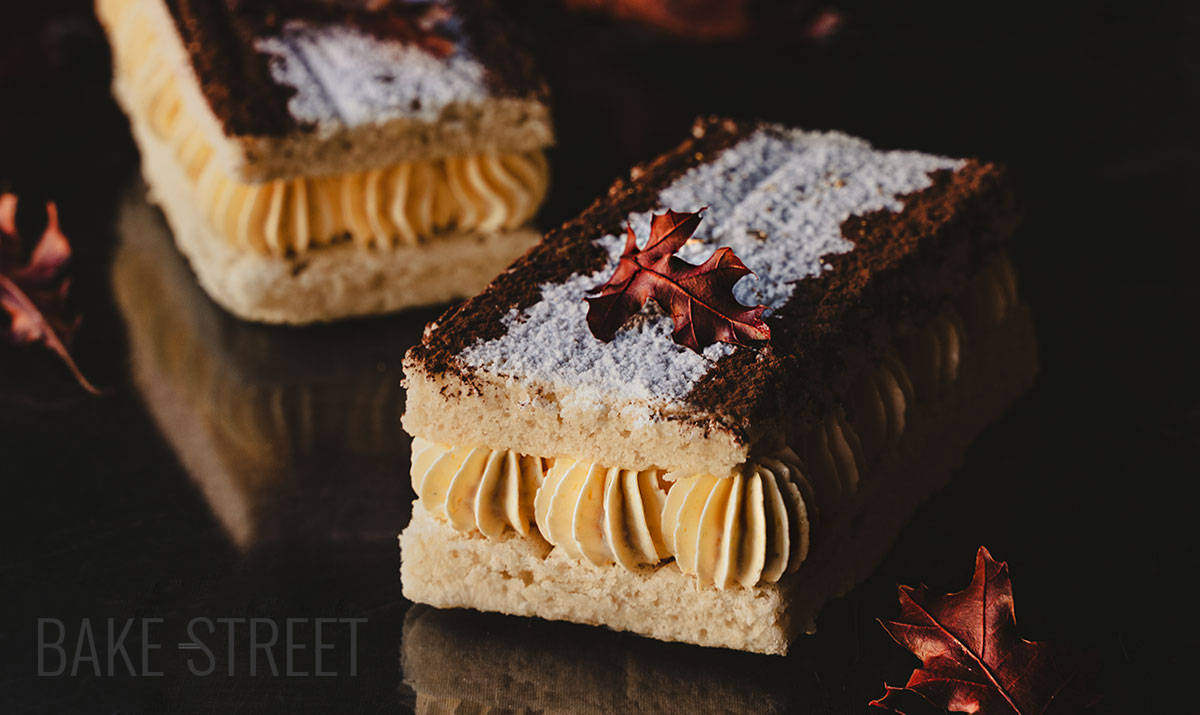 Le misérable, Belgian cake
Este post también está disponible en Spanish
Some of the recipes that I share with you come to me thanks to your messages, comments and emails. It's true that I find many of them by chance or while I'm looking for specific recipes. But, it is thanks to you that you send me cakes, desserts, sweets… Or you ask me about certain creations (that you have tasted on a trip, eaten a long time ago or even from your childhood) that I can know about their existence and share them here. Specifically, this Belgian cake called Le Misérable was requested by two people and, of course, I take good note of everything you send me.
It's true that some recipes take a while to share, not because they don't interest me, but because I may already have recipes prepared and organised for publication. On other occasions, as they are recipes that I don't know, I look for information, see different processes to make them and, after that, I test them at home. Until I get a result that I like or that I think is good, I don't share it here with you.
To make this cake I found recipes that, despite sharing the same elements, differed greatly in quantities and proportions. Especially when it came to preparing the French buttercream.
Although it is a very simple recipe to make, you will see that it is not very difficult, I do think that the quantity of each ingredient is important. In this way we will obtain a moist and spongy sponge cake or almond base, as well as a buttercream with a soft, delicate texture, with just the right amount of sweetness and very pleasant on the palate.
By the way, how the years go by! Today my website is 10 years old! Who was going to tell me that I was going to be sharing recipes for so many years, hahaha. Thank you so much to all of you who are part of this beautiful family, here's to many more years!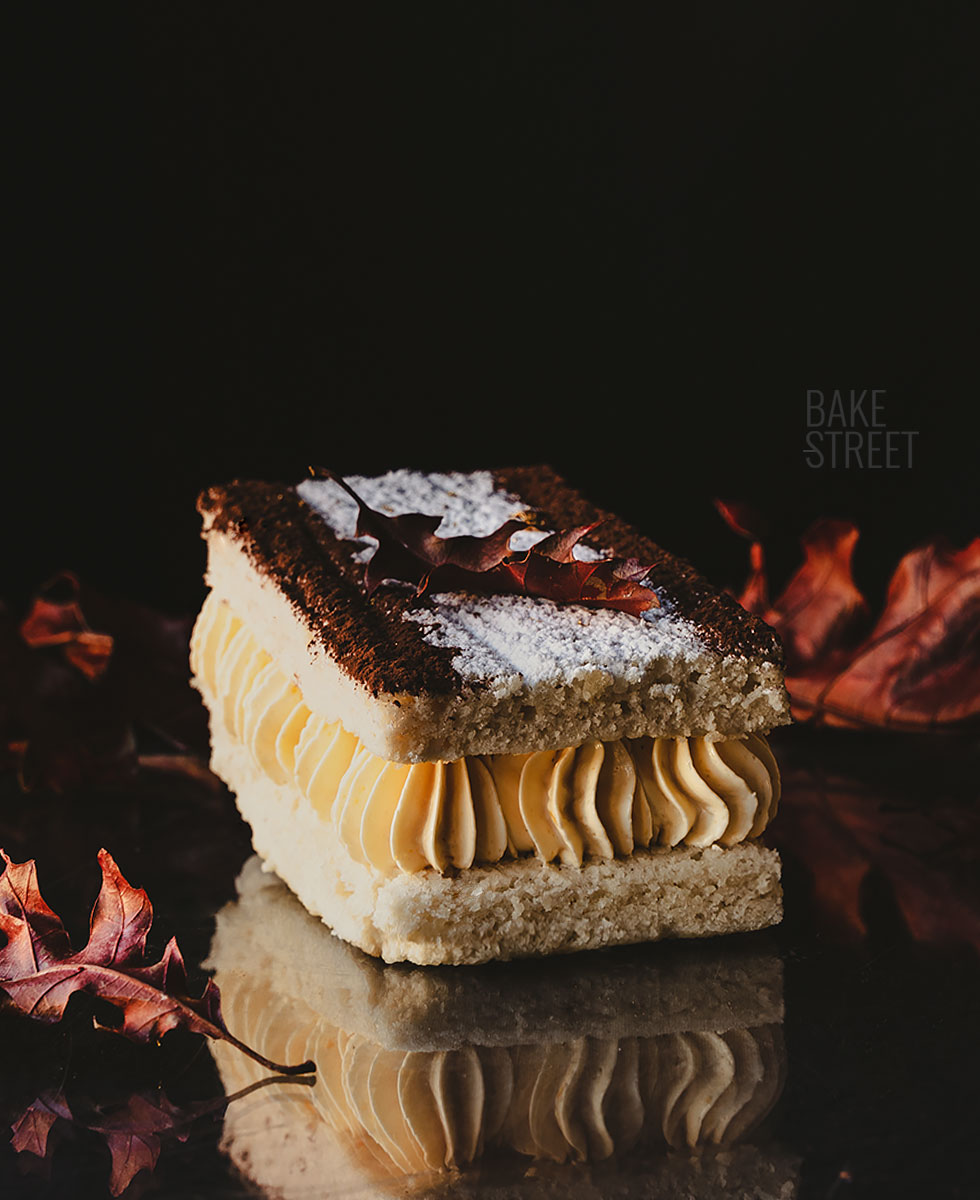 "Le misérable" origin, Belgian cake.
This cake with its unusual name, which translates as "wretched, unfortunate or unlucky", does not do justice to its name at all. Contrary to what it may sound like, it is a cake made with good quality ingredients and is far from being a humble sweet.
In 1920, Pierre Gaelens worked in Brussels in one of the most prestigious confectioneries in the country, Maison Jean Bol. This patisserie was run by two Swiss brothers. It was there that Pierre learned how to make this cake, Le Misérable.
Pierre took the recipe with him to Knokke and opened a bakery-pastry shop in Kustlaanin 1932. There he continued to bake the famous cake and named it "Misérable" after Victor Hugo, French romantic poet, playwright and novelist who was considered one of the most important French-speaking. He was also an influential politician and intellectual in the history of his country, which led to his being sentenced to exile during the 20 years of the Second French Empire.
In 1862 he published one of his most significant works, "Les Miserables", a work that pays homage to the people of Guernsey. This book was the inspiration for naming his creation after his novel.
Simplicity and elegance.
A cake made with an almond sponge cake, similar to the Joconde or Gioconda sponge cake (like the one I made for the Opera cake), accompanied by a French buttercream flavoured with vanilla. All sprinkled with icing sugar… Simple and sublime.
The grandson Paul Gaelens continues the tradition to this day. In the patisserie, small Misérables are also prepared in the form of a mignardise. Perfect to serve after a meal as a dessert, with a digestive, coffee or tea.
Mignardises, come from the French tradition, specifically from the word Mignard, which means something light, small, delicate and refined. They are small, elaborate preparations, with an attractive, eye-catching appearance and carefully decorated, making them appetising to eat just by looking at them. A small mouthful that anticipates the wealth of flavours and emotions it contains. 

This way of making small artistic creations in the kitchen arose when, in the past, confectioners used the remaining heat of the oven, once it had been turned off, to bake small pieces that could not be baked with other types of heat, thus giving rise to Petit Fours: small sweets that could be eaten in one bite when having coffee or tea.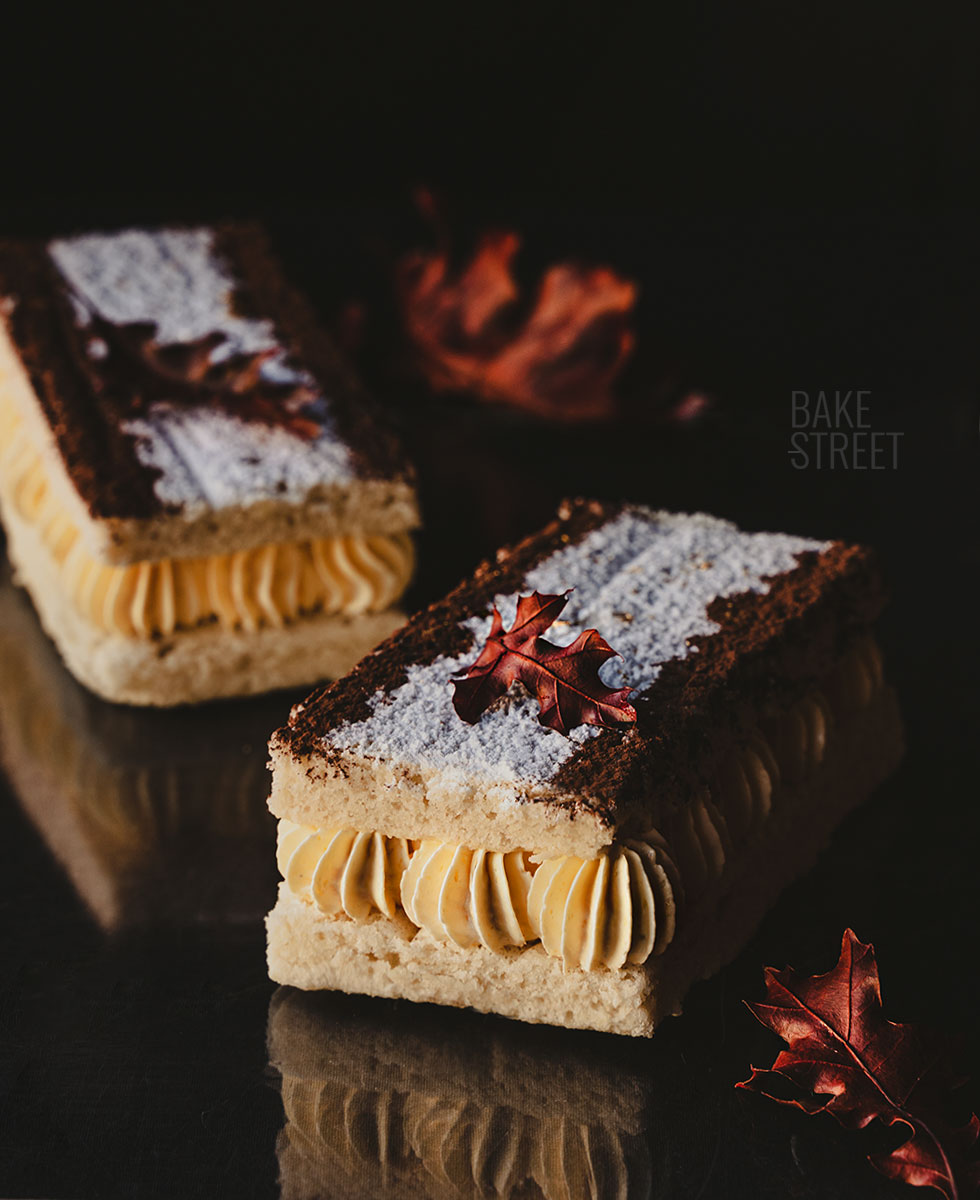 Carrying out the French butter cream for Le Misérable.
When we think of buttercream, the first thing that comes to mind is the famous buttercream made with Italian meringue. Of course, this buttercream has the same process, but instead of using egg whites to make it, we will use egg yolks.
To prepare it, the first thing we will have to make is a Patê à Bombe.
This is a very light base due to the way it is prepared, which incorporates a lot of air in it thanks to its high protein content together with the batter, but it is also rich in sugar. The combination of both elements results in a very light and fluffy mixture. It is used in all preparations that need to obtain an airy and light result such as semifreddi, butter creams, mousses, sponge cakes…
To whip the egg yolks, prepare a syrup and pour it over them. This step will ensure that the egg yolks are pasteurised and safe for consumption, making them more shelf life.
Once patê à bombe has cooled, proceed to add the butter, little by little, while whipping. The result will be a very airy, smooth cream with a velvety texture. It can be flavoured with vanilla or liqueurs, it works very well with these ingredients. As it is made with egg yolks, the cream obtained will have a yellowish colour.
Recipe for Le misérable, Belgian cake
Ingredients for 4 pieces
SPONGE CAKE:
250 g ground almonds
35 g cornstarch
150 g powdered sugar
200 g egg whites (about 6 eggs)
pinch of salt
FRENCH BUTTERCREAM:
Patê à bombe:
6 large egg yolks
150 g sugar
150 g water
1/2 vanilla pod
For finishing:
250 g unsalted butter at room temperature
FOR DECORATING:
icing sugar
unsweetened cocoa powder
gold leaf (optional)
MATERIAL WE WILL NEED:
Stand mixer or electric whisk
Bowls
Rectangular pan or perforated pan
Saucepan
Digital thermometer
Silicone spatula and scraper
Rectangular cutter (optional)
Pastry bag + 6B Wilton nozzle or other nozzle of choice
Instructions
Prepare sponge cake.
Preheat the oven to 355ºF/180ºC with heat up and down.
Line a baking tray with baking paper, to help it stick to the baking tray,  grease the surface with butter. Set aside.
In the bowl of the KitchenAid or our stand mixer, add the egg whites and begin to whip with the aid of the whisk at medium speed.
Once they start to foam, add a little icing sugar (of the 150 g we have prepared to make the sponge cake). Whip, increasing the speed gradually, until you have a firm meringue. Be careful not to overbeat the egg whites, otherwise you will obtain a very dry and porous meringue.
In a bowl, mix the ground almonds with the rest of the icing sugar, the cornflour and the pinch of salt.
Pour the meringue into a large bowl and begin to add, little by little, the mixture of dry ingredients. Mix in using gentle, encircling movements.
Once all the dry ingredients have been integrated, pour the mixture into the previously prepared pan.
Spread with the help of a spatula and then use a scraper to level the dough and achieve a uniform volume. The mixture is very sticky and does not spread easily. If you prefer, you can put it in a piping bag and pour it out. Ideally, it should be about 1 cm thick.
Place in the oven at medium heat and bake for 17-18 minutes.
Remove from the oven, remove from the pan, place on a wire rack (with the baking paper) and cover with a cotton cloth.
Leave to cool completely.
Prepare patê à bombe.
Pour the egg yolks into the bowl of the KitchenAid and beat with the whisk for a few seconds.
Meanwhile, prepare the syrup. In a saucepan, first add the sugar followed by the water and vanilla seeds.
Place over medium heat and allow to reach 250ºF/121ºC.
Whisk the egg yolks at medium speed while pouring in the syrup in a thin, continuous thread.
Once we have incorporated all the syrup, continue whisking at medium speed. When we observe that they begin to acquire volume, we will gradually increase the speed until we reach high speed.
The mixture should have the consistency, colour and volume you see in the video.
Finishing buttercream.
Before starting to add the butter, check that patê à bombe has cooled completely. This step is important so that the melting point of the butter is not exceeded when it is added.
Start adding the butter, little by little, while beating with the whisk at medium speed.
Once all the butter has been added, gradually increase the speed until you reach maximum speed. You will obtain a smooth and homogeneous cream.
Put the French buttercream into a piping bag with a star nozzle. In my case I used the Wilton 6B.
Set aside at room temperature.
Cut sponge cake.
We can cut the sponge cake to make individual cakes or cut it in half and prepare a single cake that we will later cut into portions.
In my case I have used a 12 x 6 cm cutter, but you can cut them in any size you prefer.
Place the cutter and with the help of a sharp knife, cut the sponge cake. We will need 2 rectangles for each cake, in total we will get 4 units and a smaller one (if we use these cutter measurements).
Decorate and fill.
Place the tops of the cakes on a wire rack.
Sprinkle the surface with icing sugar and decorate the edges with cocoa powder.
On the lower sponge cakes, which will be the base of the cake, pipe the French buttercream. You can do it as I show you in the video or in the way you prefer and like best.
Place the decorated sponge cake on top of the buttercream and adjust gently.
Finish decorating with gold leaf, if desired, and serve.
Notes
Originally, the sponge cake is made with almonds and 20 g of plain pastry flour + 15 g of cornflour. In my case, I have chosen to make it only with cornflour, thus making it suitable for coeliacs.
We must not overbeat the egg whites to prevent the meringue from being too dry, otherwise we will have to mix more to ensure that the dry ingredients are well integrated.
The sponge cake mixture can be spread out or piped, the second option will make the work much easier for you.
Another option for the batter is presented in a round format. To do this, the dough is piped into muffin or cupcake moulds (even silicone ones) and baked. It is then removed from the mould, left to cool and cut in half for filling. Depending on the thickness of the piece, it will bake for a longer or shorter time. In the case of a muffin size, the baking time can be around 30-35 minutes.
To make patê à bombe, the egg yolks must be at room temperature. Otherwise, when the syrup is added, lumps will form.
When preparing the syrup, do not exceed 250ºF/121ºC under any circumstances. Otherwise we will obtain a dense syrup which, when poured over the yolks, will easily solidify and form lumps.
The syrup should be added in a thin, continuous thread while beating at medium speed and always pouring it over the sides of the bowl, not over the whisk. If we do it this way, the syrup will cool and solidify. In contact with patê à bombe, it will create small lumps of sugar that will spoil the final texture of it.
The butter must be at room temperature or in an ointment texture before it is incorporated into the patê à bombe.
Before incorporating the butter, patê à bombe must have cooled down completely. Otherwise, it is very likely that we will reach the melting point of the butter and it will become liquid. The result will be a curdled cream.
If desired, this buttercream can be flavoured.
Excess buttercream can be kept refrigerated for 7-10 days.
The cake can be presented individually or in one piece.
Can be kept refrigerated for 8-10 days.
I must admit that despite its simple appearance and the few elements that make it up, this Belgian cake, Le Misérable, is an elaboration that is worth making and trying. Despite the fact that it may seem like a cake that may offer few nuances to our palate, it is a sweet that pleasantly surprises us.
The sponge cake is wonderfully tender and fluffy, the French buttercream is very smooth, creamy and just the right amount of sweetness. Something that makes it very pleasant to eat because it is not at all cloying. When it comes to decorating it, it is usually sprinkled with icing sugar and, optionally, cocoa powder. At this point it is up to us to control the amount to be used.
Simple and perfect to end a dinner or lunch. I assure you that you will fall in love with it.
Love,
Eva
Sources: Obumex, Gaelens, La Boscana, Le Soir Magazine
Archivado en