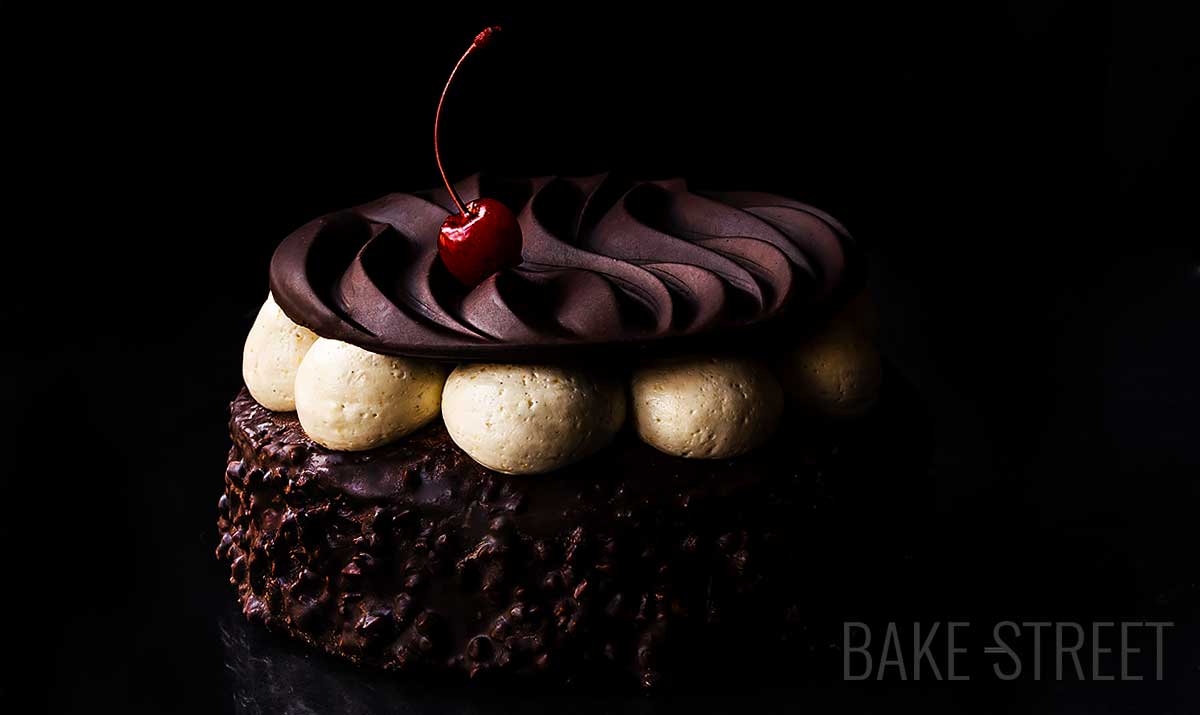 Donauwelle – Danube Wave Cake
Este post también está disponible en Spanish
I know that you tend to like simple, easy to make and, if possible, attractive and tasty recipes. Well, it seems that we ask a lot of a recipe, but in many occasions it is not like that. Today I am going to leave you with one of those elaborations that will take you very little time to make, with a spectacular result and that will make a lot of hearts sprout from your eyes. And of those lucky enough to try it. Donauwelle – Danube Wave Cake.
Many of you are probably already thinking about it and the answer is yes. I just fall in love with the beautiful names given to some bakery products. I find them so romantic and poetic, that it is almost impossible to say no to them. But seeing it confirms the need to make it. Its appearance is very striking and classic at the same time (you know that I'm a lover for anything vintage…). Besides, this kind of pastries never fail…. They are a guaranteed success with any palate.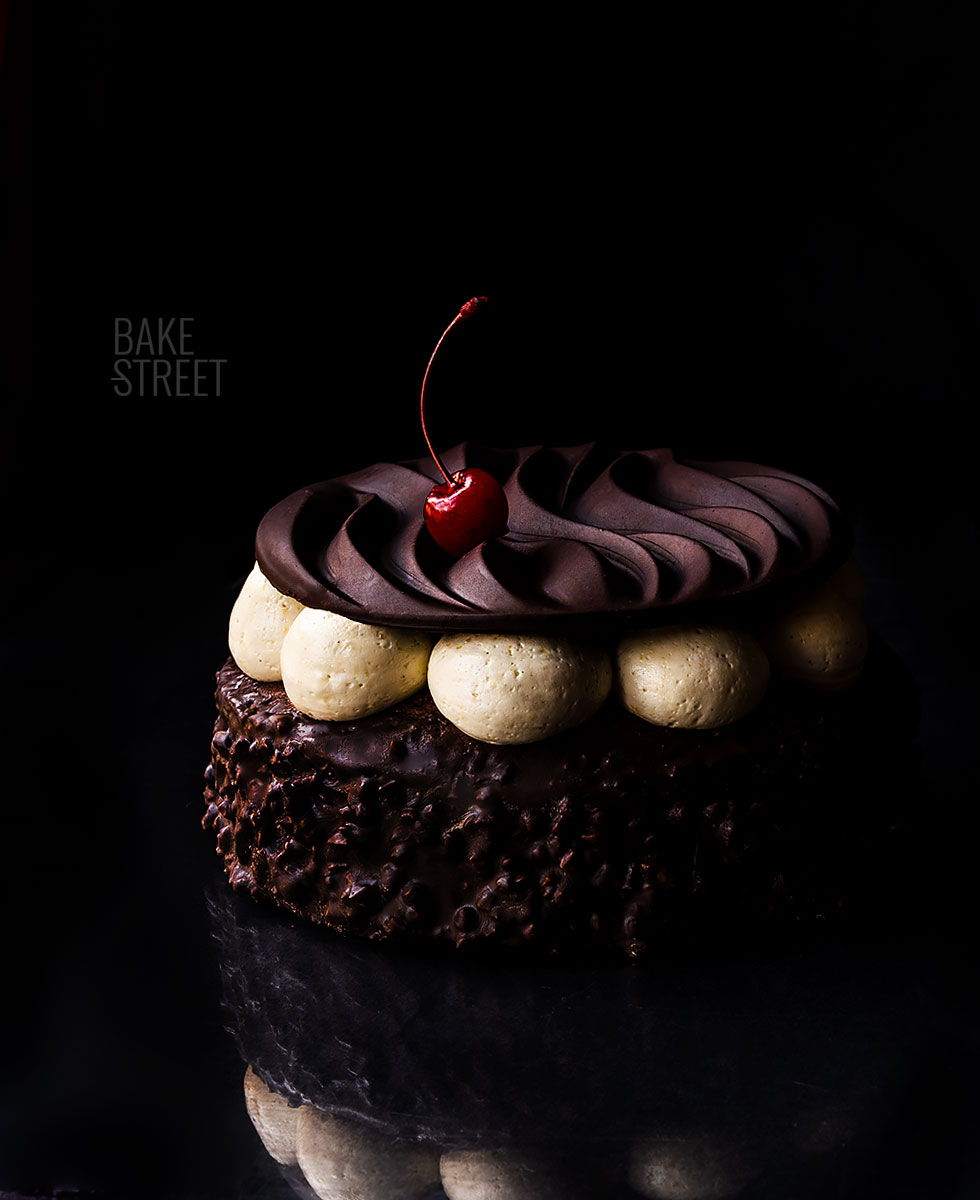 Donauwelle- Danube Wave Cake origin.
Donauwelle or Danube wave cake is one of the most famous desserts in the Germanic lands. In fact, it is very popular in both Germany and Austria.
It is said to originate in the Danube – Donauschwaben region, which comprises most of the German-speaking countries of south-eastern Europe. The river Danube rises in the Black Forest region and flows through many countries, moving eastwards and finally flowing into the Black Sea. Legend has it that Donauwelle originated in this area, most probably in Vienna.
It is now known that Donauwelle was a product introduced by immigrants from the region in the 18th century. They arrived here after the Ottoman Empire expelled them from their place of origin.
Some experts have found many similarities between the famous pound cake and the Donauwelle as they have practically the same ingredients and quantities.
The peculiarity of this cake is the appearance of its two-coloured batter, which is also reminiscent of marbled sponge cakes. Once the batter is mixed and ready, it is divided into two equal parts. Cocoa powder is added to one of them to colour it. Sour cherries are then placed on top of the dough and pressed gently, so that a wavy pattern is created on the inside of the sponge cake.
Once baked, it is covered with a mousseline (pastry cream + whipped butter) and a layer of chocolate to which waves are made. The wavy top finish is said to justify the name 'Danube wave' cake.
In Germany it is also popularly known as Schneewittchenkuchen or Snow White cake.
The name comes from the white, black and red colours that remind us of the character in the story. However, there is one detail that makes them not exactly the same.
They have the same process in all the steps except for the topping. Donauwelle or Danube Wave cake is decorated with a layer of chocolate, as we have seen above, while Schneewittchenkuchen or Snow White cake is covered with icing mixed with cherry syrup to achieve a deep red colour.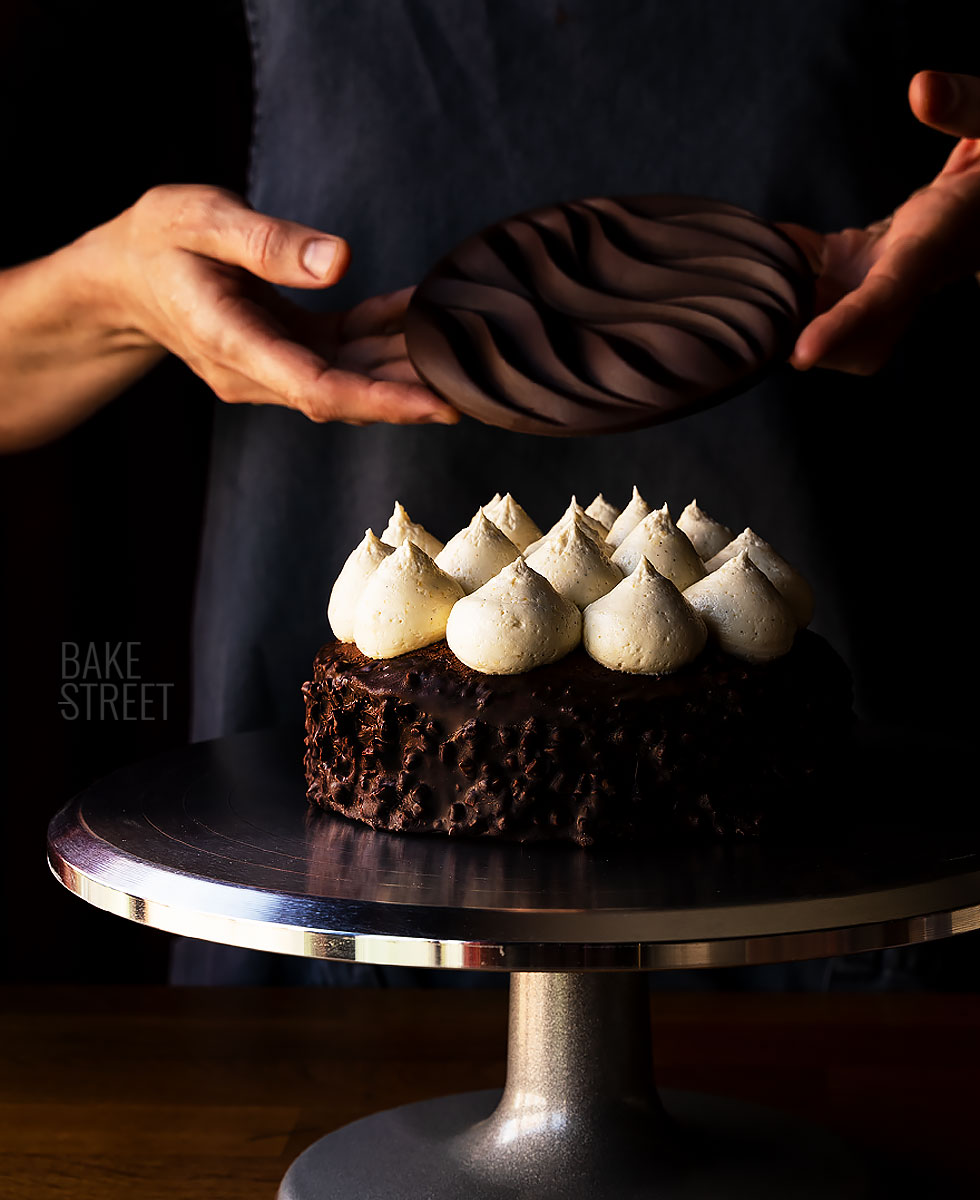 Making the Donauwelle or Danube wave cake.
When it comes to making the cake, there are no complicated steps to follow. We will have to make a sponge cake, a pastry cream that we will combine with whipped butter and a chocolate decoration on top. But all this combined, will result in an exceptional sweet.
The traditional format for this cake is rectangular in shape and in individual formats. In my case I have decided to change it to a round format.
To make the cake I have been faithful to the original recipe, but instead of using cocoa powder, I have added melted chocolate. I wanted to keep the tradition of German sweets, which are made with very little sugar, so I chose Millot 74% chocolate from Valrhona. This variety of chocolate giving us acidic and bitter flavours along with fruity notes and notes of grue (this is obtained by crushing cocoa beans, previously roasted, and from which the shells have been removed. It has a very crunchy texture and an intense dark chocolate aroma and flavour with hints of coffee).
You will find some versions that add a little cherry liqueur, but I have not done so in my case. Traditionally, sour cherries are used, but I have used cherries in syrup and a Maraschino cherry to decorate the top.
Regarding the mousseline cream, most of the preparations I have found use custard or envelope store-bought cream powder and then integrate it with whipped butter. I think that the final result is much better if we do the whole process at home (in fact, I already left you this cream to make Frankfurter Kranz), as well as using good quality ingredients, a fair amount of sugar and a good Madagascar vanilla.
Finally, and I hope the purists will forgive me, I have decided to change the chocolate decoration. Instead of spreading a thin, silky layer on the surface, where the waves are then created, I have decided to make a decoration with a silicone mould and chocolate. For this one, I have chosen one of my indispensable chocolates, Valrhona's Guanaja 70% variety. A slightly bitter and aromatic chocolate, the perfect choice to crown this cake and accompany the muslin.
This post is sponsored byValrhona.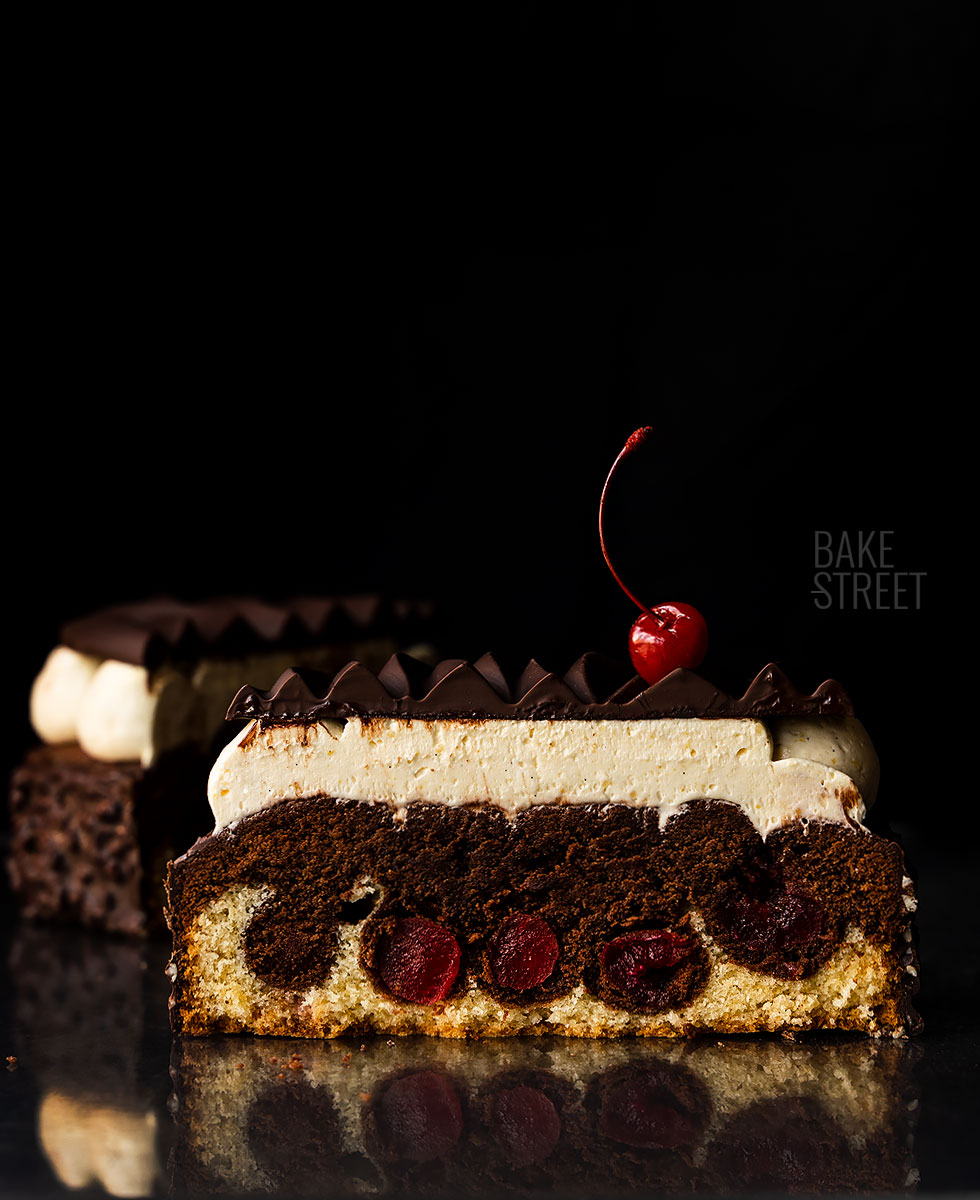 Donauwelle - Danube Wave Cake recipe
Ingredients for a 15 cm diameter mould
SPONGE CAKE:
Recipe adapted Gekleckert
120 g cake/pastry flour
100 g unsalted butter at room temperature
100 g sugar
2 large eggs
20 g whole milk
4 g baking powder
pinch of salt
50 g chocolate Valrhona 74 % Millot
candied or sour cherries
MOUSSELINE:
250 g whole milk
2 large egg yolks
60 g sugar
22 g cake/pastry flour
22 g cornstarch
half vanilla pod from Madagascar
125 g unsalted butter at room temperature + 25 g icing sugar
DECORATION:
165 g dark chocolate Guanaja 70% Valrhona (top decoration)
one Maraschino cherry, drained
rocher glaze:65 g chocolate Valrhona 74 % Millot+ 25 g toasted chopped almonds
MATERIAL NEEDED:
mixer or electric whisk
15 cm removable mould
piping bag + 2 cm smooth tip
silicone wave mould
digital thermometer (for tempering the chocolate)
rotating cake stand
Instructions
Prepare sponge cake.
Preheat the oven to 345ºF/175ºC with heat up and down.
Grease and flour a 15 cm diameter mold.
Sift the flour together with baking powder and salt into a medium bowl.
Beat the eggs together with the milk, set aside.
Melt 50 g of Valrhona 74 % Millot chocolate in a bain-marie. Set aside.
In the bowl of the KitchenAid, add the butter and beat on medium speed until the mixture is airy, creamy and whitish.
Add the sugar, little by little, as you continue mixing. This is done until all the sugar is incorporated.
Add dry ingredients alternating with liquid ingredients, in 3 batches, starting with the dry ingredients and finishing with the liquid ingredients.
We must not over beat the mixture, this is very important to obtain a fluffy result, we only mix until the ingredients are integrated.
Divide the dough into two equal parts.
One of them we incorporate it into the mould. With the help of a silicone spatula, spread it out (the mixture is rather dense). Gently tap the mould on a work surface with a cloth to settle the mixture.
Pour the chocolate into the other half that we had set aside. Mix the chocolate into the sponge mixture using gentle, enveloping movements.

Add the chocolate mixture on top of the mixture in the mould. Smooth the surface with the help of a silicone spatula and tap gently to set.
Place several cherries on top of the cake mixture and gently press them into the cake mixture. We should not press them all the way down, just enough so that they remain below the surface and we achieve a wave pattern after baking.
Place in the oven in the second position, starting from the bottom, for 40 minutes. If the surface of the sponge cake becomes too coloured during baking, we can cover it with a sheet of aluminium foil. Before taking it out of the oven, check that it is well cooked by pricking it with a toothpick, which should come out clean.
Remove from the oven and leave to rest for 2-3 minutes in the mould. After this time, remove from the mould and leave to cool, upside down, on a wire rack. Placing the sponge cake in this way will help to leave a surface without a dome.
When it is still warm, wrap tightly with cling film and leave to cool completely. Once it is cold, it can be refrigerated until the next day or kept at room temperature.
Prepare pastry cream.
In this link you can see how to prepare pastry cream. When you read the recipe, just bear in mind the quantities and ingredients listed in this recipe.
To add the half of vanilla pod to the custard, simply cut it in half, open it lengthwise and remove the seeds by sliding a knife inside.
Once ready, set aside at room temperature covered with cling film until completely cooled.
Prepare mousseline.
Add the butter to the bowl of the KitchenAid and beat on medium-high speed.
Incorporate  icing sugar and continue beating. You should get a fluffy, white and very airy butter. It will take about 10-12 minutes.
Stop the KA and with the help of a silicone spatula, we lower the butter from the sides of the bowl.
Remove the film from the cream and smooth with a spoon or whisk.
Add the pastry cream to the butter mixture, little by little while mixing.
Beat on medium-high speed until a smooth, creamy consistency is obtained. It will take about 4-5 minutes.
Transfer the mousseline to a piping bag with a 2 cm smooth tip.
Set aside.
Prepare chocolate top decoration.
Melt 165 g Guanaja 70% Valrhona dark chocolate in a bain-marie and temper to 86º-87ºF/30º-31ºC.
Pour the chocolate into a silicone mould, in my case I used one with a diameter of 13 cm.
Place the mould on a tray, tap it gently to help the chocolate to set and any bubbles to disappear.
Refrigerate for 1-2 hours to harden.
After this time, remove from the mould. Do this carefully to avoid breaking the piece.
Decorate the sides of the cake with a rocher glaze.
Melt 65 g of Valrhona 74 % Millot chocolate in a bain-marie in a medium bowl.
Temper the chocolate to a temperature of 86º-87ºF/30º-31ºC.
Add chopped almonds and mix to distribute them evenly in the chocolate.
Roll the edges of the sponge cake over the chocolate, making sure they are well covered.
Place on a wire rack and leave to harden. This can be done at room temperature or in the fridge.
Pipe mousseline and finish decoration.
Pipe mousseline over the surface of the cake. On this occasion I have done it this ways, but feel free to do it in another way or with another tip.

Place the chocolate disc on the mousseline and press gently to fit (do not do this with bare hands because the heat can damage the surface, ideally with gloves).
Finally, decorate with a Maraschino cherry.
Serve.
Notes for Donauwelle - danube Wave Cake
There are many chocolate sponge cakes in which cocoa powder is added. In my case I have chosen to make it with melted chocolate. The result is a much juicier sponge cake with much more flavour.
We can use candied cherries or preserved cherries, but pitted.
If you don't like cherries, you can use another fruit instead. Preferably candied.
Some preparations add a little Kirsch to the sponge cake, you can do so if you wish. The original recipe does not use this liqueur.
The custard can be made the day before if you wish.
I recommend  to use good quality butter, as this will influence the final taste of the mousseline.
We will have a little muslin cream left over.
Using good quality chocolate in the recipe is very important because the final result will have nothing to do with a cake made with low quality chocolates. Both in aromas and in taste and texture.
In my case I used chocolates with between 70-74% cocoa. The reason is that German desserts are not usually sweet. They are elaborations that stand out for making the most of the natural flavours and aromas of the ingredients we use. That is why I decided to use chocolates that were in keeping with the final result of the product.
It is very important to temper the chocolate well to achieve a good gloss and finish. It also helps the chocolate to unmould well and without any problems. Do not omit this step.
A poorly tempered chocolate will result in a streaky, grainy, weak, unstable and easily melted finish. Spending a few minutes tempering will make your final product spectacular; shiny, uniform and without streaks or striations, smooth, more resistant to melting and stable. The tempering temperature of the dark chocolate should be around 30º-31ºC. To find this out, use a digital kitchen thermometer.
I recommend roasting the almonds beforehand, as this will bring out the flavours of this nut much more than if we use them in their natural state.
To cut the cake, if the chocolate disc is fitted to mousseline, I recommend you to heat a knife with a blowtorch and cut only the disc to the desired portion size. Wait a couple of minutes for the chocolate to cool down and then cut the cake portions. Another option is to separate the chocolate, cut the portions on one side and the disc on the other. However, in this case, the slices may not fit together properly.
If the cake is refrigerated, it should be tempered for 1 hour before serving.
Can be kept refrigerated for 3-4 days.
I can't think of a better way to start the weekend than with this marvel from Germanic lands, Donauwelle - Danube Wave Cake. The texture of this cake reminds me very, very much of the traditional "Mildred" cakes. I don't know if you remember them, they were available in an infinite number of flavours, covered in chocolate...
The texture of this sponge cake is dense, but moist. The cherries bring freshness and an extra point of juiciness. It is quite possible that if we use sour cherries, the sponge cake goes even one level higher. The amount of mousseline, in my opinion, is perfect. It adds creaminess, smoothness and a wonderful buttery, vanilla flavour.
The best part is the top, a crunchy touch of intense chocolate (for those of you who like dark chocolate a lot) together with a Maraschino cherry. The flavour of these cherries is wonderful.... I have only put one cherry in the decoration, but when you serve this dessert, accompany each portion with one of these jewels.
I'm looking forward to hearing how you did with this cake, I wish you a wonderful weekend!
Lots of love,
Eva
Sources:Wiki.de, I like Germany
Sponsored by Valrhona
Archivado en