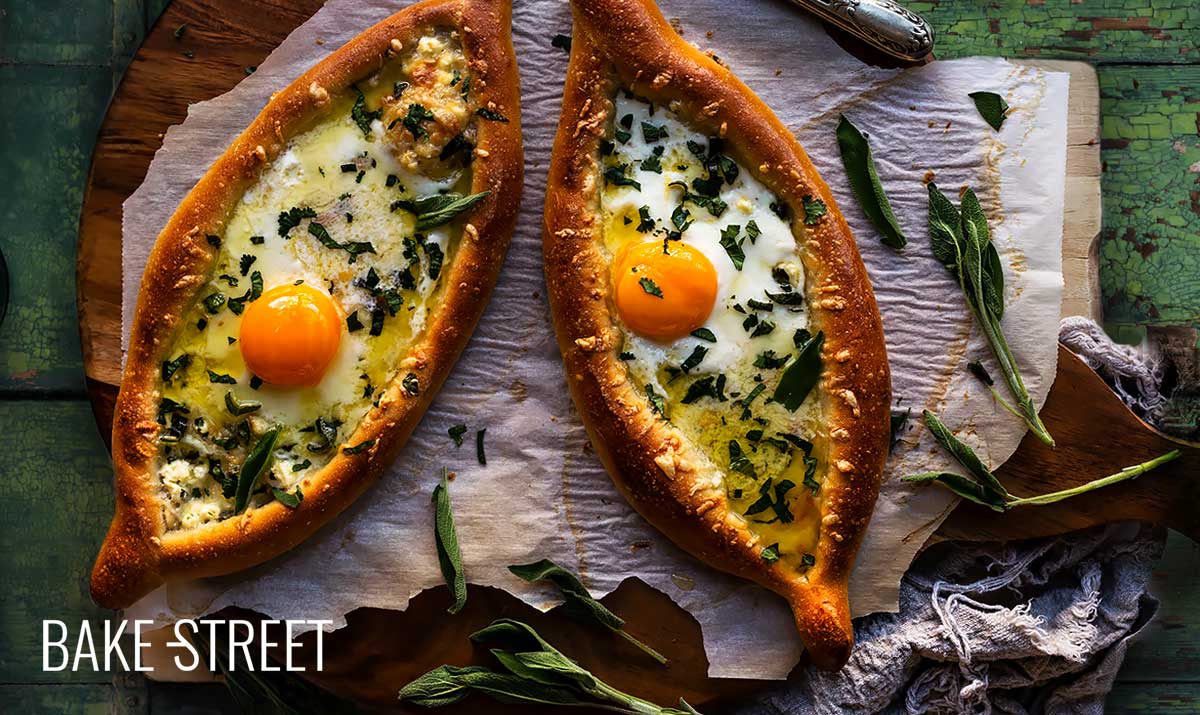 Khachapuri, Georgian cheese bread
Este post también está disponible en Spanish
Today I'm going to be unfaithful to my sweet & Cakes Friday and, instead, I'm going to leave you with a recipe that I've been wanting to try for quite some time. Khachapuri, Georgian cheese bread. I'm sure many of you already know it, have tried it or wanted to. Well I can only tell you that if you like bread and cheese, you will have no other choice but to try it at home 😉
You could say that khachapuri is very similar to a pizza, since they have many ingredients in common. But, when you try it, you will realize that they are quite different preparations.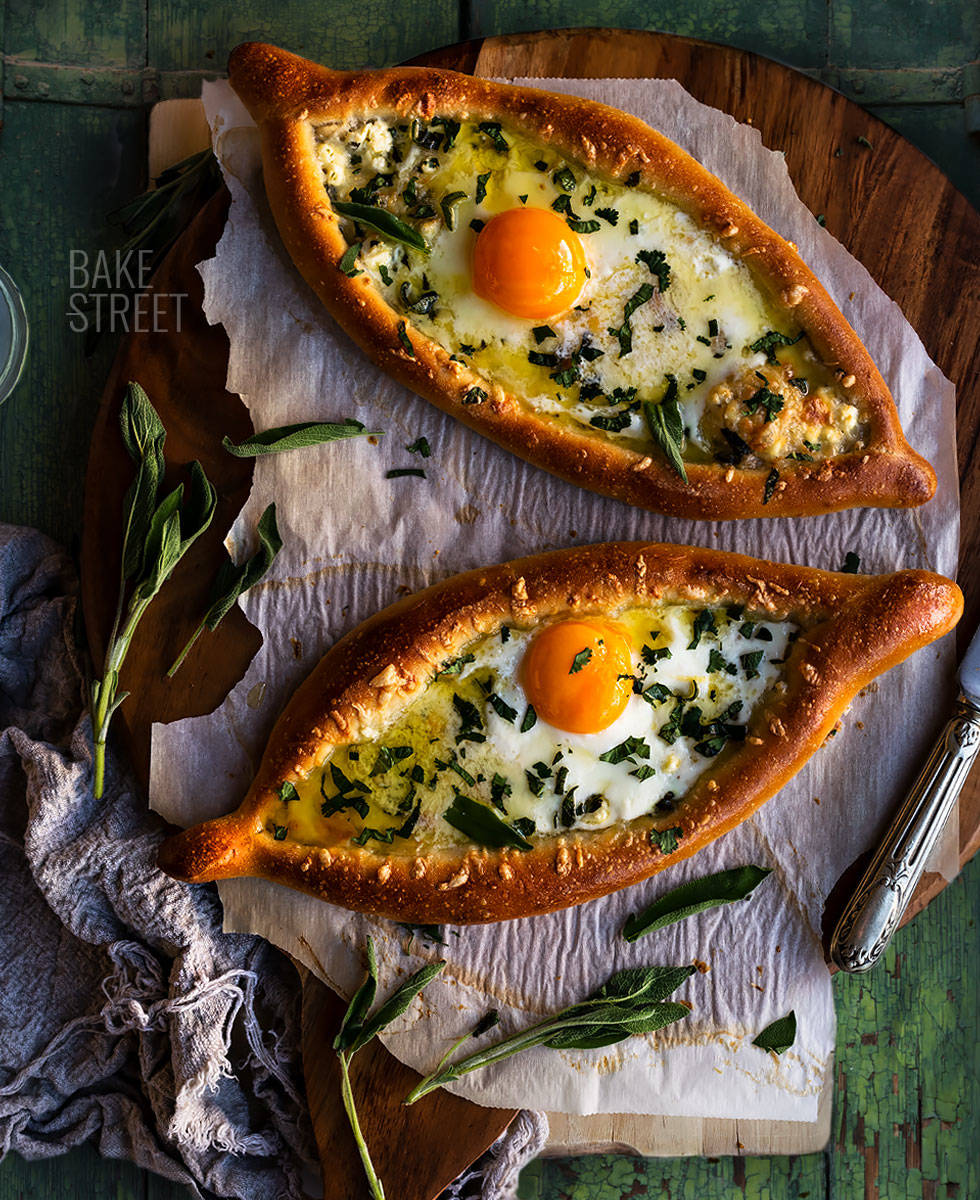 Khachapuri origin.
According to Darra Goldstein, author of "The Georgian Feast", it is difficult to pinpoint the exact chronology of this elaboration. It probably dates back to the 12th century when Georgia went through the Renaissance. The name connects two different cultures. The word "khacha" in Georgian means "curdled cheese" and "puri", which comes from India and means "bread".
According to Dali Tsatava, former professor of gastronomy at the Georgian Culinary Academy in Tbilisi, the khachapuri could be a "cousin" of pizza. He says that Roman soldiers passed through the Black Sea area and brought with them recipes, including one that might resemble a pizza.
Tomatoes did not exist in Europe until the 16th century, so it could only be made with bread and cheese.
Tsatava said: "You can guess the character of a baker who has made a khachapuri, it is a mirror for emotions."
If there is an important ingredient to obtain a good result, undoubtedly this is love and care.
Almost every region of Georgia has its own variety of khachapuri.
Traditionally chkinti-kweli cheese is used, which is a type of curd cheese. Very probably the success of khachapuri lies in the use of this cheese and the reason is that it remains soft and creamy even though it has cooled.
This production of bread and cheese has become very typical in Georgia, so much so that it is even considered an economic health measure of the country. In the twentieth century and thanks to Instagram, has received a more global recognition. Although this cheese bread is undoubtedly a symbol of its cuisine for a long time.
In 2014 during the Olympic Games in Sochi175,000 units of khachapuri were sold in restaurants in the Russian city, which has many gastronomic traditions in common with Georgia. In addition, New York has the largest Georgian population outside of Asia and Europe. All of these immigrants have raised a generation educated in American culture, but introducing Georgian traditions.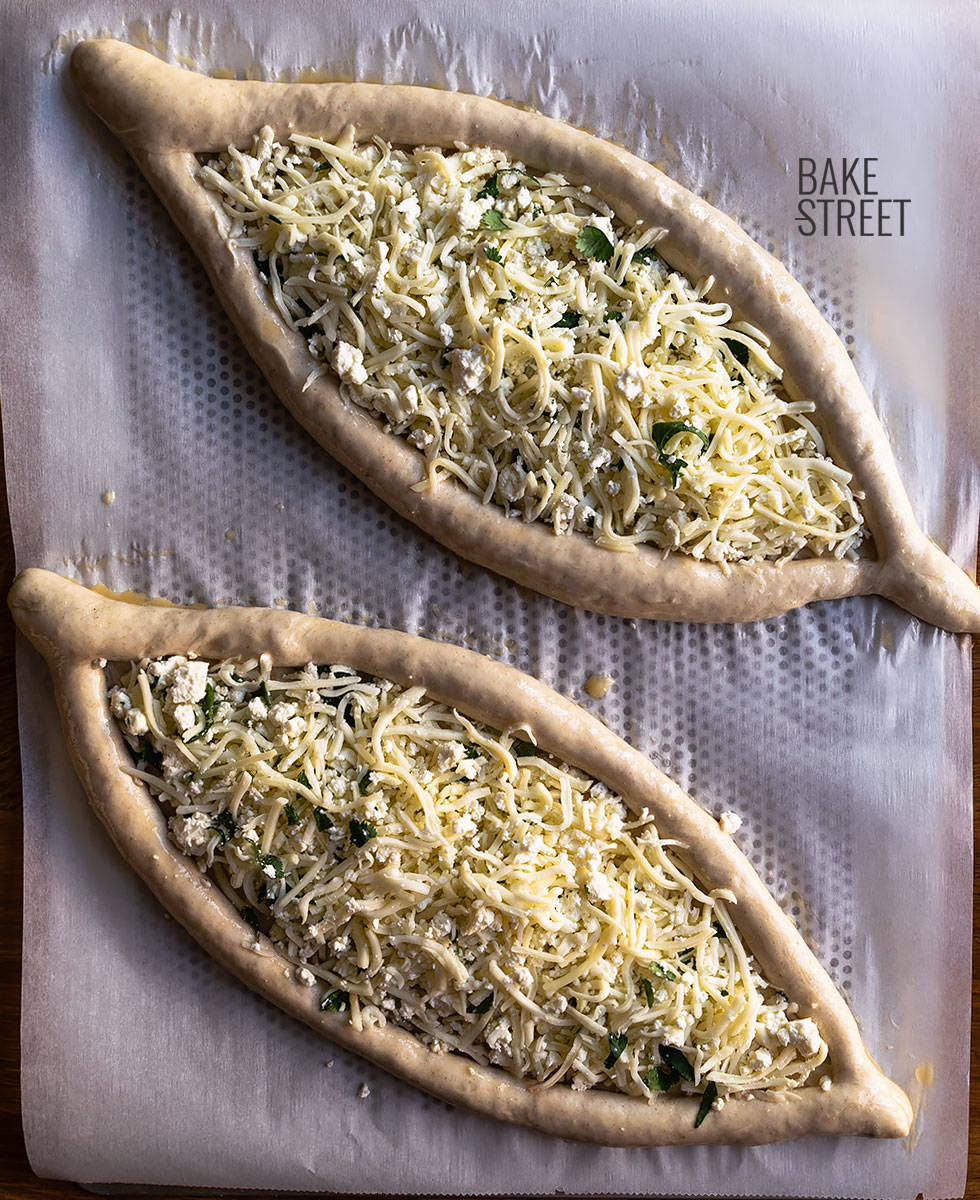 In Georgia there are many restaurants where you can enjoy this preparation.
Some still maintain their more classical and traditional production process and others have evolved the recipe to be able to serve more versions of this bread with cheese.
In my case I am going to show you how to make a version of khachapuri called "Adjaruli khachapuri". Apparently, the way in which it is shaped with a look that reminds us of a boat or ship, is not casual. This elaboration represents the geography and culture of the region.
"Adjara is in the Black Sea, and this is why bread is shaped like a ship. The egg represents the sun and the cheese is the sea. The people of this region were great boat builders.
To prepare it using ingredients as similar as possible, we will use mozzarella and feta cheese. If you want to add it, add 150 g instead of 75 g of feta cheese and 75 g of mozzarella (at home they don't like cottage cheese very much, but I have to try it with it). The dough may be the one you like the most, in my case I have used one based on these rolls. The yolk must be runny, so I decided to add it at the end and once it was out of the oven.
Ideally is to consume it as it comes out of the oven. Pour the egg yolk, place the butter and mix immediately with the cheese to obtain a melting and creamy mixture. Enjoy.
Ingredients for 4 pieces
FOR THE DOUGH:
300 g plain/AP flour
150 g bread flour
300 g water
1,5 g dried yeast
6,5 g salt
FOR THE FILLING:
350 g mozzarella
200 g feta cheese
fresh cilantro chopped, 1-2 Tbsp
fresh sage chopped, 1 Tbsp
4 large eggs
4 slices of butter 
1 beaten egg for brush
Instructions
FIRST DAY
Make the dough
In a bowl large bowl add to types of flour and mix.
Pour water and knead until combined. To knead you can use your hands o an electric mix using the hook attachment. Mix always at low speed for up 2 minutes.
Cover the bowl with a cotton cloth and autolysis for 60 minutes.
Add dry yeast and knead until combined making French kneading technique.
Incorporate salt and knead again until making sure it is completely incorporated.
Make 3-4 folds and put the dough into a grease bowl or recipient. Cover with plastic film and make a bulk proof and let it grow 1/3 of its volume. In my case it took 2 hours at 70ºF/21,4ºC.
Place in the fridge overnight.
SECOND DAY
Take the dough out of the cold 2 hours before working with it. It is very likely that the dough will triple in size.
Make the filling.
In a bowl add the mozzarella and mix with the crumbled feta cheese.
Add cilantro and finely chopped sage.
Mix with your hands to distribute evenly.
Set aside.
Preshape.
Sprinkle lightly with flour a counter and transfer the dough. Degas with care.
Divide the dough into 4 pieces, around 185 g, and preshape each into a ball.
Cover with film and let stand for 15 minutes. This time is essential for the dough to relax.
Shape khachapuri.
Prepare two trays and line with baking paper, set aside.
Lightly sprinkle flour on a work surface, stretch a piece with the help of a roller pin giving oval shape. The dough should be thin, but not too much.
Roll one end so that we form an edge. Repeat the same process with the other end. We must shape a boat with the dough.
Join the ends and turn to seal them. In my case I turned one end to one side and the other in the opposite direction. I liked the look better than that, but you don't have to do it this way.
Place it on one of the trays we had prepared. Repeat the same process with the other three pieces. In each tray you will fit 2 khachapuri.
Once they are formed, fill the inside with the cheese mixture.
Cover with film and leave to stand for 45 minutes at 68ºF/20ºC. You will notice that the edges grow, but without doubling.
Bake.
Preheat oven to 445ºF/230ºC.
Brush the edges of the khachapuri with beaten egg and place at medium height for 14 minutes.
Remove from the oven, being very careful not to burn ourselves, and with the help of a spoon form a hole removing the cheese.
Pour a egg white in the hole that we have formed and reserve the yolk in a small bowl.
Make the same step with the other piece and put it in the oven for 4-5 minutes or until the egg whites set.
Remove from the oven and carefully place the egg yolk on top of the egg white.
Put a rectangle of butter, sprinkle with more cilantro and serve.
Repeat the same process with the other 2 pieces.
Notes
The dough recipe can be the one you consider. It is important that you know that it will withstand the shape well and can contain the filling. I have versioned my recipe for these rolls.
It is not necessary to prepare the recipe in two days, but I like to do it this way to make it more bearable. You can do the whole process in one day, just let the dough rise a little more than double before forming the breads.
The edges can be brushed with egg or omit this step if you want a more rustic finish.
To prevent the yolk from sticking to the bowl, while baking the khachapuri, lightly grease it with olive oil. Also remember to cover it with film to prevent the surface from drying out. Otherwise it will look unappealing.
If you find cheeses more similar to the ones they use, don't hesitate to replace them.

If you prefer, you can add the whole egg instead of separating the white from the yolk. In this case you will get a yolk more curdled than the way I show you. I leave it to your choice.
Aromatic herbs can be adjusted to your tastes or omitted.
You must consume it as it comes out of the oven, otherwise it will cool down and the texture will not be so melting (as happened to me while recording the video...)
You can not fail to taste this marvel of Caucasian gastronomy, Khachapuri, Georgian cheese bread. Of course there are things you can vary, such as the recipe of the dough, for example.
In my case, I used the same recipe I showed you to make these bread rolls with marinated tomatoes, making some modifications. In the cheese mixture I omitted the cottage cheese, but I think it can give it a very creamy and smooth texture. Use it.
You can add the egg whenever you think you're going to like it better, but I certainly recommend you to pour the yolk just as it comes out of the oven. To season it you can use the aromatic herbs you like the most or even omit them if they don't convince you.
I hope you enjoy this recipe very much and that you tell me how well you've done with it. I wish you a wonderful weekend, see you on Monday!
Big hugs,
Eva
Archivado en