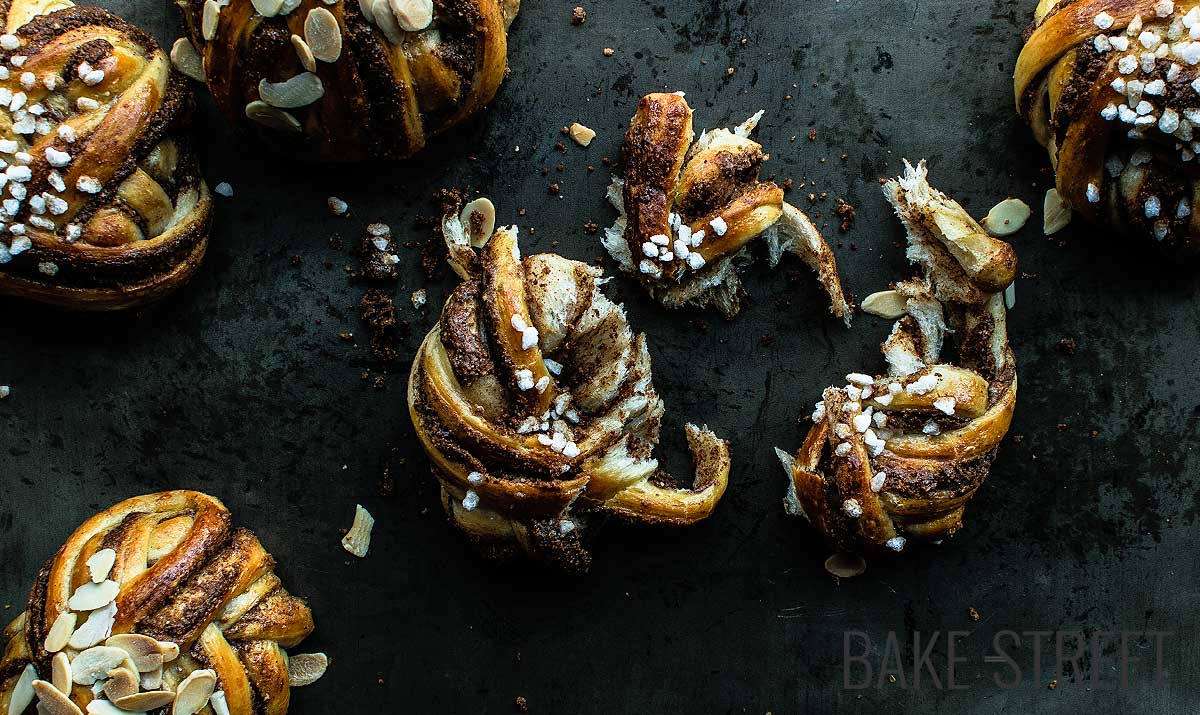 Kanelbullar, Swedish cinnamon buns
Este post también está disponible en Spanish
Believe it or not, I've been blogging for 6 years and I still hadn't prepared Kanelbullar or Swedish cinnamon buns to share with you. Of these things that you think almost everyone has in their recipe book, but when you look for them you realize that you don't.
In the last few months you have asked me why I didn't have the recipe for these sweets buns on my blog… And that's what I asked myself, why? Why?! How could it be that something I've prepared at home a thousand times I didn't have it here so that you could keep an eye on it? Well, most probably because it's one of those recipes that all of us have made a thousand times and you think no one will need it.
But as it is never too late to know a new recipe, I leave you my version of this wonderful that is always received with open arms. Why… who's crazy enough to say no to a cinnamon bun?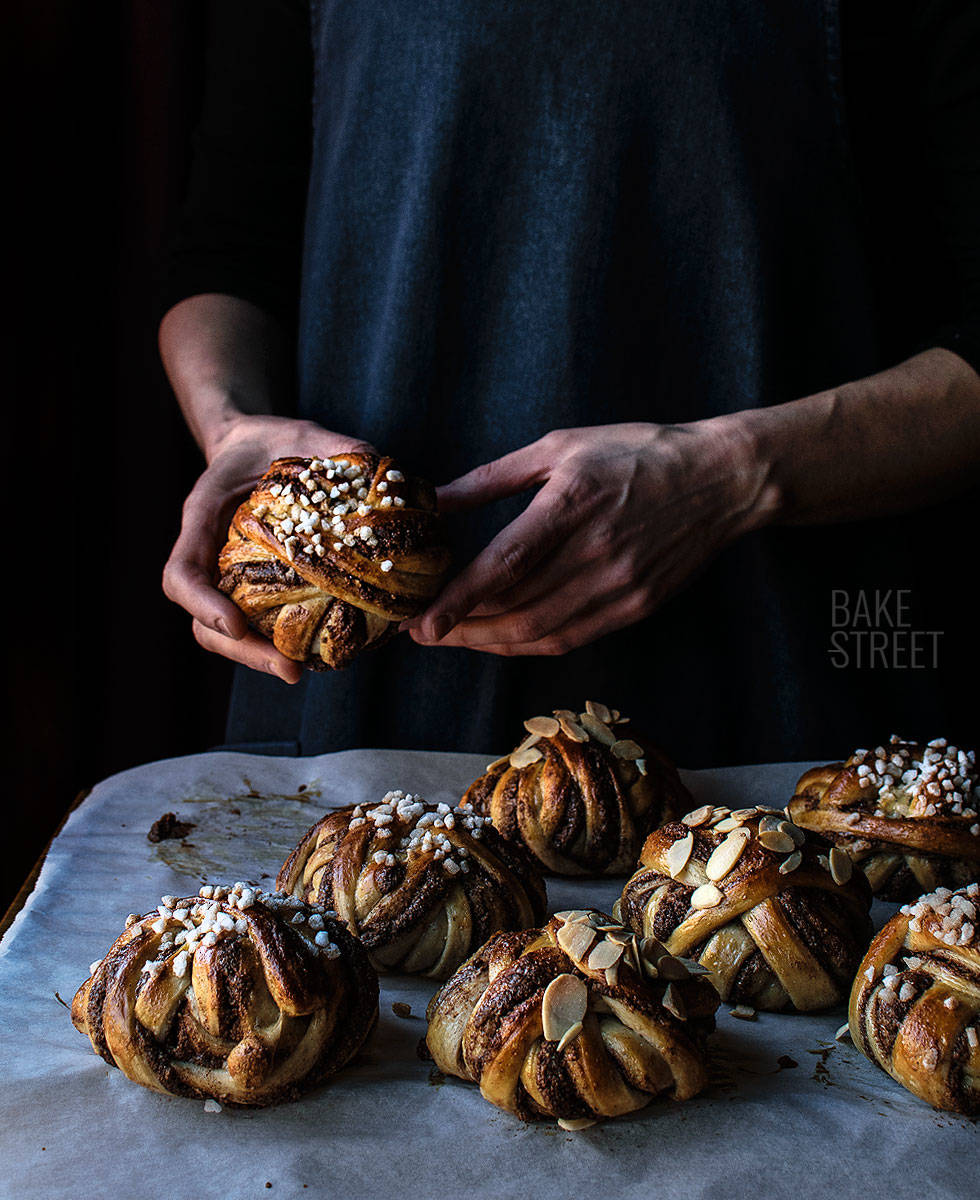 Kanelbullar or how to be happy for an instant.
This pastry doesn't need a preview introduction, everyone knows it and knows how immensely rich and rewarding it is to enjoy a bite like this.
In Sweden there is a social institution called "Fika", which could be translated as "rest for drinking, eating and talking" at work or in other activities. It's a time to disconnect from what we're doing, talk to friends and/or colleagues while enjoying a hot drink and a snack. Like, for example, these wonderful kanelbullar.
These are mandatory breaks that take place throughout the working day so that workers can disconnect for a while and relax. No fast, stressful coffee. In fact, it is considered to be one of the secrets of high productivity in Sweden. Considering that even the best ideas and decisions happen during fika.
If there's one good thing about working at home, it's the possibility of doing just that. Rest from time to time to disconnect, think, chat for a while, have a coffee… and one of these buns, of course! Although it is also true that when you work at home, you dedicate "more hours than the doors". But always with pleasure, everything is said.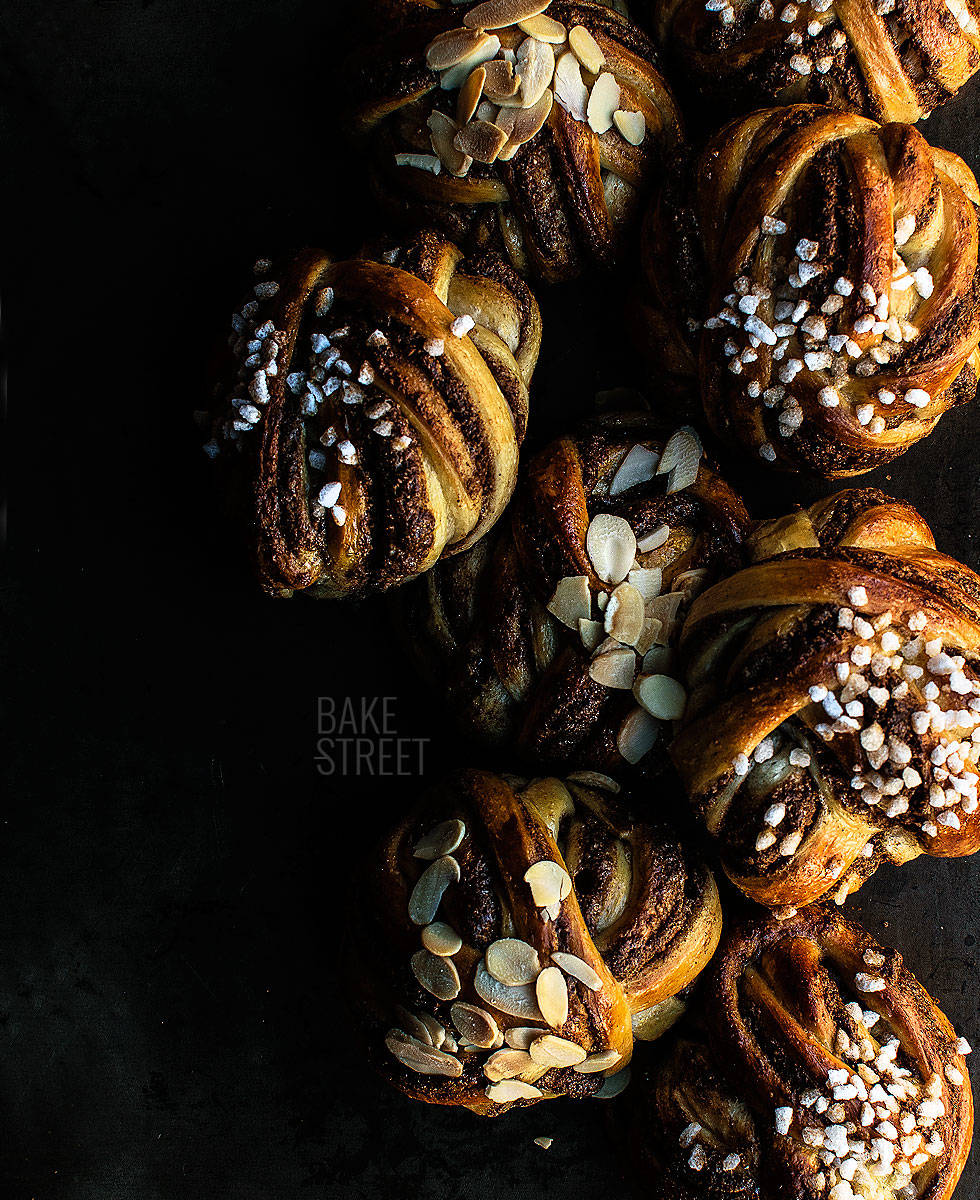 These buns are incredibly tender, aromatic, tasty and delicious.
Traditional, yes, I won't deny it. But that doesn't mean they're not still amazing. Many times we leave aside this type of sweets treats that we are more accustomed to consuming or that call us less attention in front of other more novel ones. But when we eat them, aww, a marvelous world opens in front of us 😉
The traditional never fails.
Since I was going to share my recipe with you, I decided to improve it a bit.
I enriched the dough a little more than usual and subjected it to a fermentation process divided in 2 days. Although this is something I've been doing a lot lately.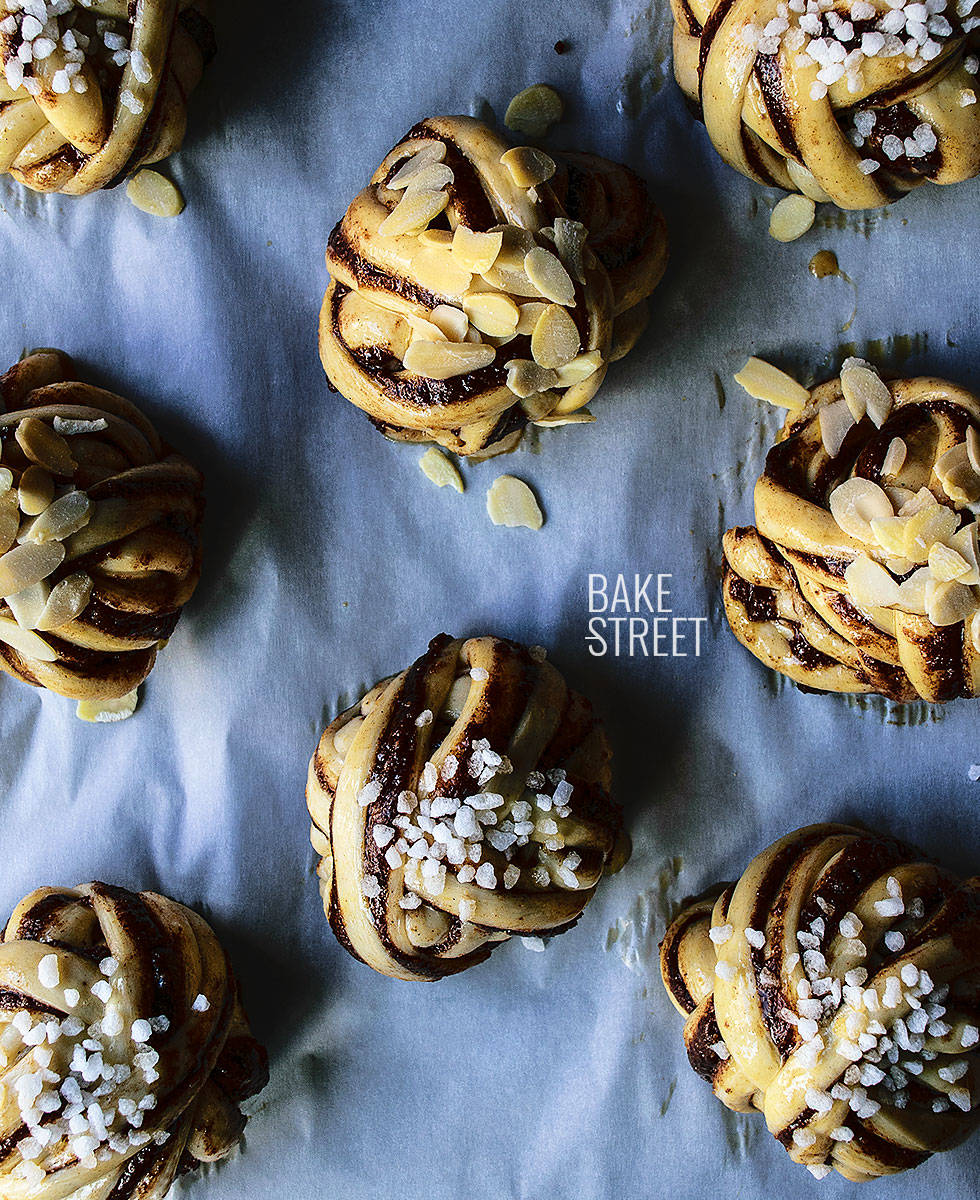 The filling I make is not just butter, sugar and cinnamon. There are versions of kanelbullar that have part of ground almonds in their filling and, at home, it is as they like best. So we'll do it this way.
Finally, I thought of shaping it different from the way we are used to seeing them. Whether in roll format or how they are traditionally shaped. I've always loved Feldts shaping, a Swedish bakery/pastry shop that I'll have to visit someday :).
They resemble balls of wool and I find them beautiful! So this time, I decided to make them like that. I hope you enjoy them immensely.
Ingredients for 15 pieces
FOR THE DOUGH:
21 oz (600 g) bread flour
9,7 oz (275 g) whole milk
1 large egg
4 oz (115 g) sugar
5 oz (140 g) unsalted butter at room temperature
0,14 oz (4 g) cardamom pods
0,15 oz (4,2 g) dried yeast
0,2 oz (5,5 g) salt
FOR CINNAMON ALMOND FILLING:
3,5 oz (100 g) ground almond
5,3 oz (150 g) unsalted butter at room temperature
3,2 oz (90 g) sugar
1 oz (30 g) cinnamon powder
BRUSH + SPRINKLE:
1 beaten egg + pinch of salt
pearled sugar
laminated almond
Instructions
FIRST DAY
Make the dough.
Mash the cardamom in a mortar, remove the pods and grind the seeds. Set aside.
Keep 2 tablespoons of milk.
In a bowl add the flour together with the egg, milk, salt, cardamom and half of sugar. Mix with your hands to amalgamate the ingredients.
Start to integrate the butter into the mixture and work to start mixing it. We will alternate the addition of butter with part of the reserved sugar, kneading after each addition so that the ingredients begin to amalgamate.
Dissolve the yeast in the milk we had reserved and pour it to the dough. Knead again until it is completely integrated.
Once we have added all the butter, knead until you get a good gluten development. The dough must be elastic and not cracked. It will take us a long time to reach this point, we must make an intensive kneading. About 40 - 50 minutes.
Make bulk fermentation.
Once we have a perfect gluten development, make a ball with the dough.
Grease a tupper or hermetic container, place the dough inside and let it rise until it has grown 1/3 of its volume. In my case it took 3 1/2 hours at 71,6º F (22ºC).
Place it in the fridge and let it stand overnight.
SECOND DAY
Make the cinnamon and almond filling.
In a bowl add all the ingredients and mix until you get a homogeneous mixture.
Cover with film and reserve at room temperature until use.
Warm the dough and stretch.
Remove the dough from the cold 2 hours before stretching.
Dump the dough over a clean, flour-free surface. Degass gently and stretch with a roller. We will shape a rectangle of approximately 16.5 x 20 inches (42 x 50 cm).
Spread the cinnamon and almond filling over the entire surface, using a spatula.
Once we have the filling spread over the entire surface, fold the dough on itself as if we were closing a book.
Cut strips of 0.4 inch (1 cm) wide, we will cut about 30-32 pieces.
Shape kanelbullar.
Take one of the strips and stretch slightly.
We began to roll between 2 fingers and, before we finished rolling it completely, pass the strip through the center trying to close it at the base.
Take another strip and stretch like the first one. We began to roll over the first piece in the same way as if we were rolling a ball of wool.
To hold the end of the strip, pass it underneath another to hold it.
Place on a tray lined with baking paper.
Repeat the process with the rest of the pieces. We'll need two trays to place all the kanelbullar.
Once they are shaped, cover with film and let them rise until they double in size. In my case it took 4 1/2 hours at 80º F (27°C).
Bake.
Preheat oven to 365º F (185ºC).
Brush the kanelbullar with beaten egg and sprinkle with pearl sugar or laminated almonds.

Bake at medium heigh for 18 minutes, the buns will take a light golden color. Remember that the internal temperature must reach 190º-194ºF (88-90ºC) for baking to be complete.
Remove from the oven and allow to cool completely on a rack.
Repeat the process with the other batch.
Notes
Can I use fresh yeast instead of baker's dry yeast? Yes, of course. In this case remember that the proportion is 3 g of fresh yeast for every 1 g of dry yeast.
Knead a lot and very well, developing well the gluten you are guaranteed to get a very spongy crumb bun.
I don't like almonds, I'm allergic or hard to find. That's all right. In this case you can make the filling without it, using only butter, cinnamon and sugar.

Respect the rising times so that the pieces acquire the correct volume, do not explode creating a crack and their texture is very spongy.
Can I speed up the rising process in any way? I have never been in favor of placing dough into the oven at low temperatures, for example 86ºC (30°C). This will always tend to be higher and we run the risk of spoiling the taste of our dough. If you want to help the dough in a very cold season, you can place the dough inside the oven only with the light on, nothing else. In my case I manage to reach 75º-82º F (24-28ºC).
Is the mandatory to make the process in 2 days? No, not at all. But it is much more comfortable and practical so that you don't have to worry about the dough all day long. And baking at dawn...
Try not to exceed the baking time of the buns, otherwise they will be dry and not very soft.
Once they have cooled completely, we can store them in a large zipper bag. They will be kept in perfect condition for 3-4 days.
If you wish, you can also freeze them wrapped individually with film.
These kanelbullar or Swedish cinnamon buns are a fantastic option to brighten our day. Whatever the moment, it's fine all the time.
I hope you like the idea of using almonds in the filling, although many of you probably already do. In addition to trying to shape them differently, it's not wrong to change from time to time ;)
I wish you a wonderful Wednesday!
Big hugs,
Eva
Sources: BBC
Archivado en