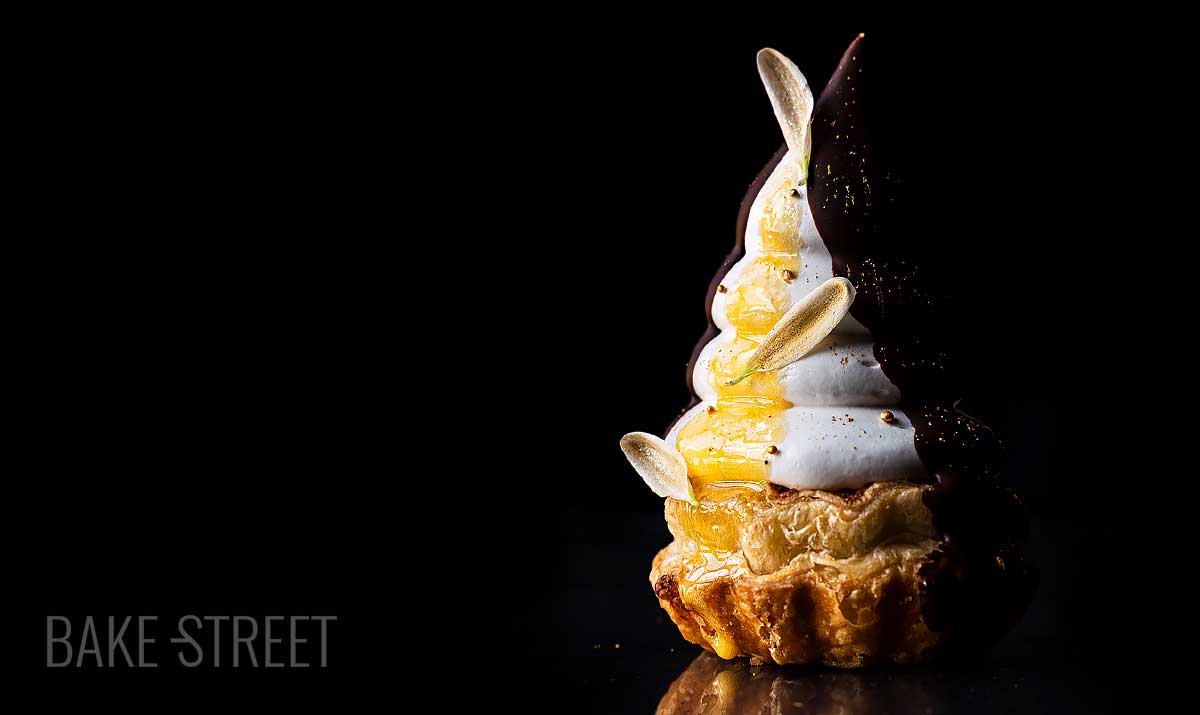 How to make Carolinas from Bilbao
Este post también está disponible en Spanish
Today I come to you with an improved version of a recipe I left you some time ago… Seven years, no more, no less. I don't usually like to repeat recipes, but it's true that there are some of them that can be improved and achieve better results in every way. That's why I decided to bring you a post about How to make Carolinas from Bilbao.
If you ask me what is the difference between today's recipe and the one I left you almost at the beginning of my blog, I will tell you that there are many. The most important one is the elaboration of homemade puff pastry. At that time, I didn't have much experience and I made them with store-bought puff pastry. But, those of you who have already made homemade puff pastry at home, you will know well that it has nothing to do… So that's where we'll find the first difference that will undoubtedly make it a completely different recipe.
Also, I've varied the filling. At that time I made a variety with grated coconut, which was very delicious. But this time I decided on the classic "pastel  de arroz"/"rice cake" filling.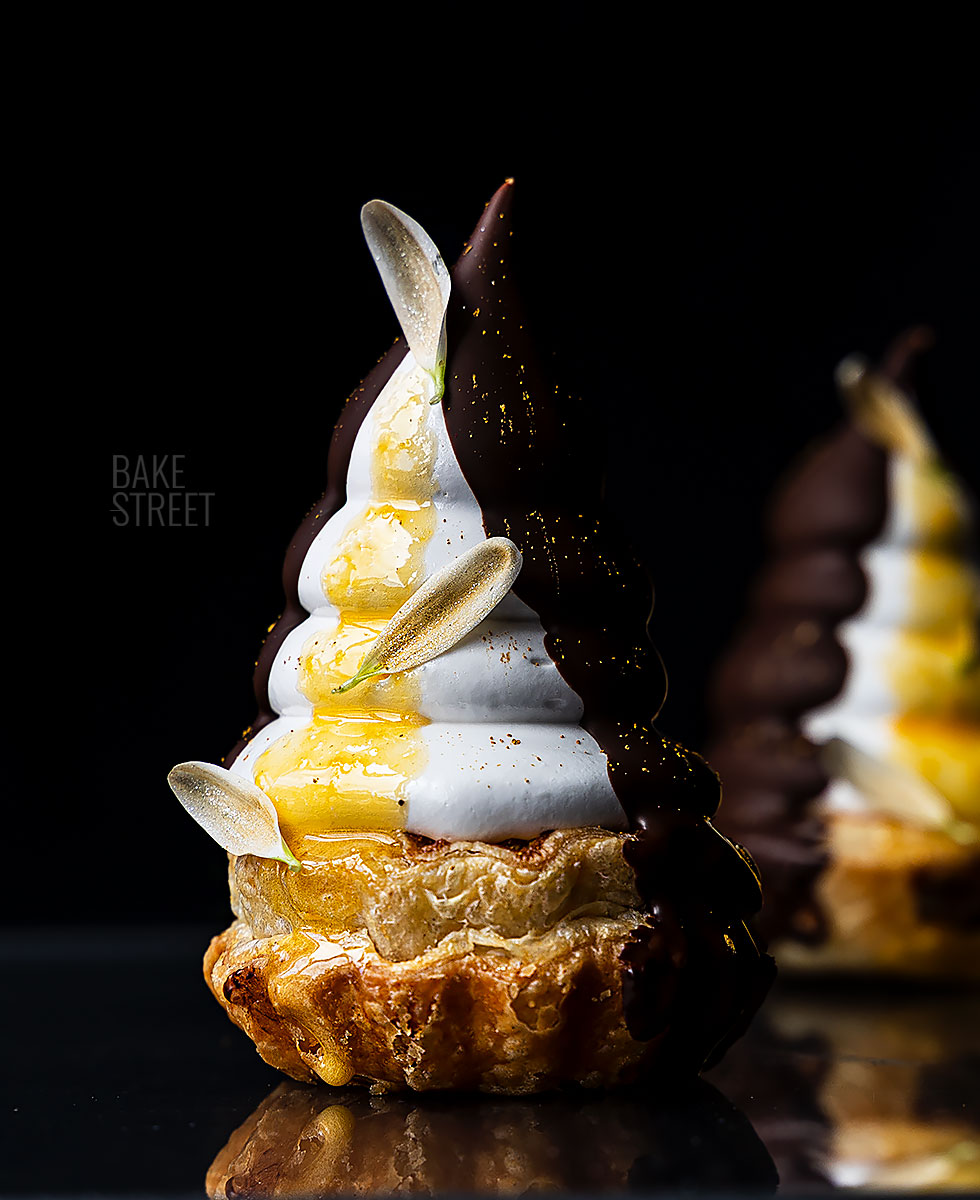 Why are they called rice cakes if they don't have rice in them?
There are two versions of the supposed origin of the name of these cakes.
One of them says that the name of these cakes comes from a recipe that women used to make in the past with the leftovers of rice pudding (arroz con leche). In order not to discard it, they made a cream with it and baked it on top of some pastry dough.
There is another possible origin which would be the cakes from the Philippines made with rice flour. This recipe was brought by the sailors who came from the Indies. Once this recipe reached Bilbao, rice flour was replaced by wheat flour, but its original name, "pastel de arroz"/"rice cake", was not changed.
The rest of the recipe is kept as it is, that is; the Italian meringue, chocolate and yolk. You may think that only two elements cannot change much in the final preparation, but I promise that they have nothing to do with the final taste and texture.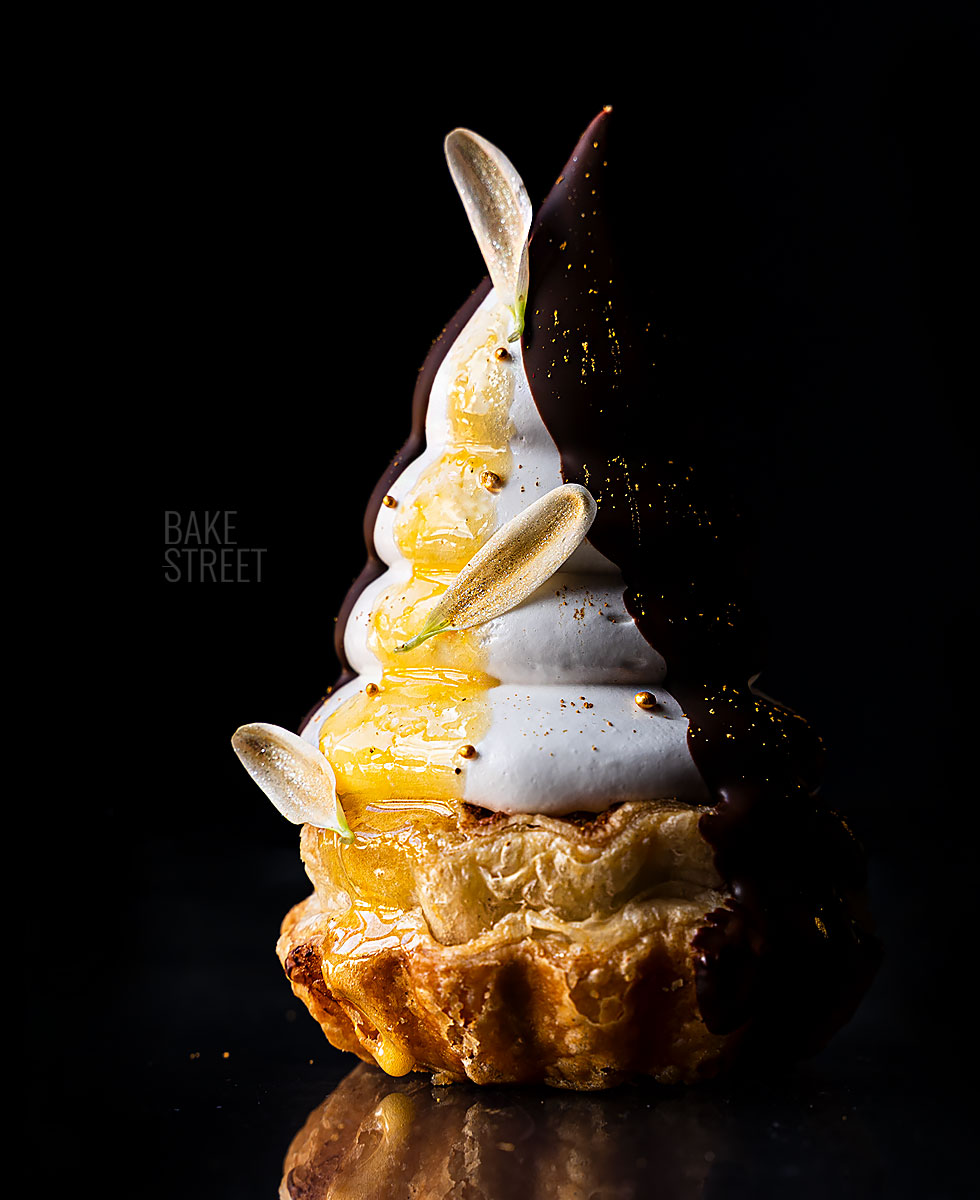 Carolinas from Bilbao origin.
Legend has it that the origin of this sweet pastry, so popular in Bilbao (and, I dare say, the rest of Spain), dates back to the beginning of the 20th century when a baker from Bilbao wanted to surprise his daughter for her birthday.
His daughter, whose name was Carolina, loved meringue, but it always got dirty when she ate it. For that reason, her father came up with the idea of assembling it on a small base of puff pastry giving it a pyramid shape, so that it would be possible to eat it and be clean at the same time.
His daughter liked it very much. So much so that, in his honor, her father decided to name the pastry in her honour. Carolina.
It is not known how much truth there is in this legend, which by the way is the most extended and known by all of us. But what we do know and can assure you is that the Carolina became present in all the bakeries of Bilbao and became very popular. So much so that, nowadays, it is very difficult to find a birthday party or a celebration that does not include at least one carolina in the range of cakes.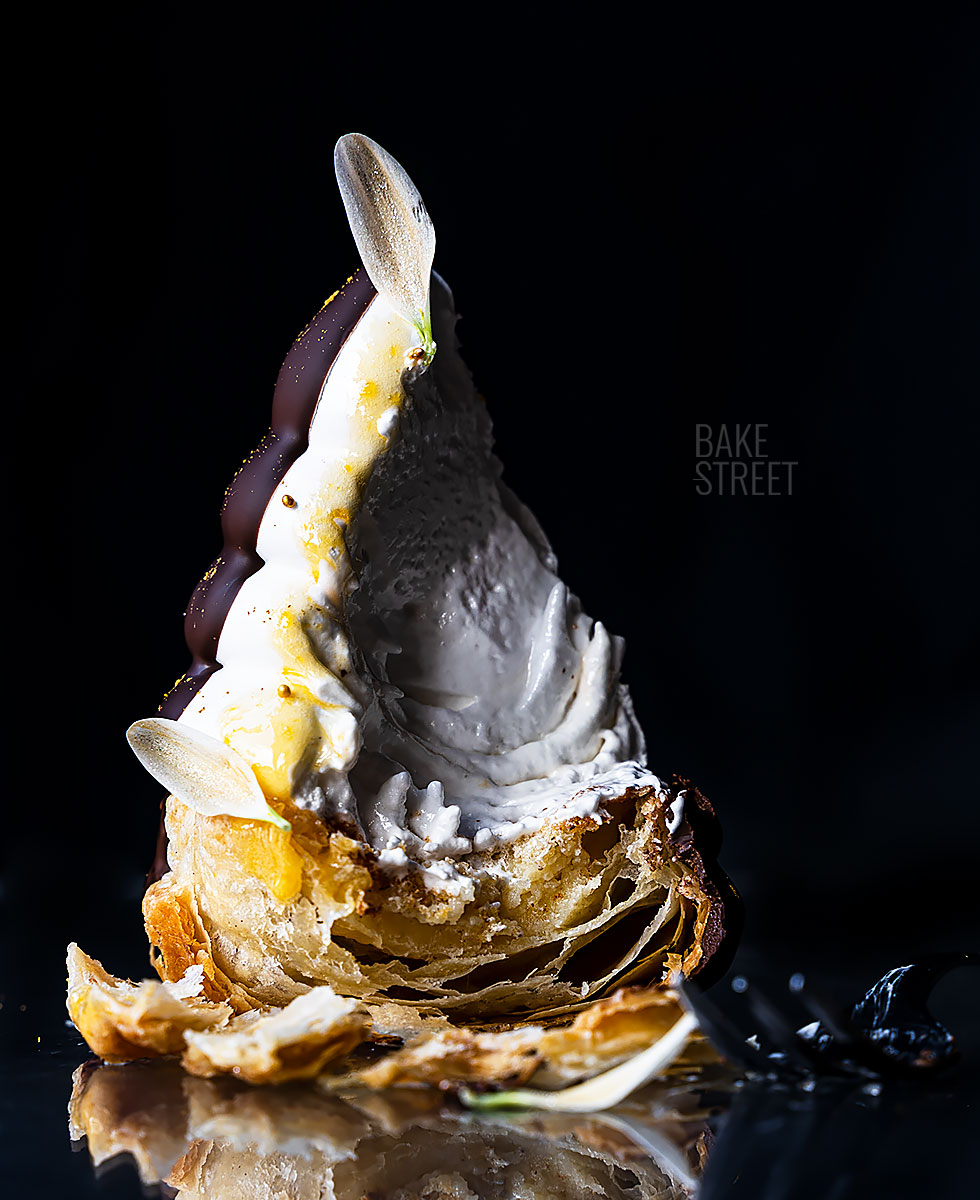 "Señor Carolino".
Jokin de Cerio Millón, was the creator of "Señor Carolino". A character based on the traditional Carolina, accompanied by a luxuriant moustache, mouth, nose, eyes, eyebrows and ears (he remembers Mr. Potato very much) who was the protagonist of the poster announcing the 2009 Carnivals.
The creator explained in an interview that he was looking for something typical of Bilbao other than its tile or the Guggenheim Museum. It was then that he thought of the carolina. The good memories it brought back from his childhood, since it was a sweet that his parents bought for him when he was little, and how much he had missed it the time he had lived outside.
From then on it is typical to find "Señor Carolino" in many pastry shops. It is also common to find the famous carolina transformed into another type of personality, with another type of face. For example, when Athletic plays a game in the city, the pastry is dressed in red and white and the famous Basque "txapela" and the team's scarf are added.
I think I don't need to encourage you much to try to convince you to make these carolinas from Bilbao… Puff pastry base, a creamy filling with a sponge cake texture on top, covered by a creamy meringue decorated with dark chocolate and yolk.
And if we get into Bilbao mode, we can also cheer up with these "Bollos de mantequilla". And we make a round weekend. I can't help it, I hope you can't either 😉
Ingredients for 18 units
FOR BLITZ PUFF PASTRY:
230 g cake/pastry flour, cold + 20 g for sprinkle
230 g unsalted butter, cold
100 g very cold water, from the fridge
5 g sugar
4 g salt
FOR "PASTEL DE ARROZ" FILLING:
250 g whole milk
40 g unsalted butter at room temperature
65 g sugar
65 g pastry/cake flour
2 large eggs
cinnamon powder, to taste
FOR ITALIAN MERINGUE:
6 large egg whites (about 210 g)
450 g sugar
 102 g water
DECORATION:
4 large egg yolks + same weight of sugar
100 g black chocolate 70%
golden sprinkles
edible gold dust
edible petals
Instructions
Make blitz/quick puff pastry.
To see the detailed process accompanied by a video to make the blitz puff pastry, you can do so by clicking on this link.
Once we have done it we can leave it in the freezer for 30 minutes, covered with film, and proceed to shape the cakes or leave it in the fridge until the next day.
Stretch the dough and place it in the molds.
Lightly sprinkle a work surface with flour.
Stretch the dough, on this occasion we will do it until we achieve dimensions about 21,6 x 11,8 inches /55 x 30 cm.
With the help of a round cookie cutter and with a diameter slightly larger than that of the mould, cut the puff pastry.
Place the dough on the hollow of the mould, in my case I have used a muffin mould and curly brioche moulds of 3,9 inch / 10 cm diameter, and we carefully adjust it.
Repeat the same process with the rest of the molds.
The dough leftovers are kept wrapped in film and inside a bag, they can be used to make a base for a cake, small tarts ...
Refrigerate the molds while preparing the filling.
Make pastel de arroz filling.
In a bowl, add the butter and sugar and beat. We must integrate both ingredients.
Add the eggs, one at a time and wait until the first one is completely integrated before adding the next one.
Incorporate the flour, we will do it by batches. We will mix only until it has been integrated.
Finally, pour the milk. We will do it in 2-3 batches and mixing after each addition to favor its complete integration.
Fill the moulds and bake.
Preheat oven to 374ºF/190ºC.
Pour the filling into the moulds with the dough. We must not reach the edge, leave about 0,2 inch / 0.5 cm without filling because it grows during baking.
Place in the oven at medium height for 25 minutes.
Take it out of the oven, let it rest for 1 minute and remove from the mold.
Let them cool completely on a rack.
Make Italian meringue.
Incorporate water and sugar in a saucepan. Place at medium heat.
We will use a kitchen digital thermometer to know the temperature of the syrup. When it reaches 244ºF/118ºC, remove it and add it to the semi-whipped egg whites.
Add the egg whites in a bowl or KitchenAid bowl and begin to whip them.
Beat until they are quite firm, but not too much or dry.
The syrup will be ready as soon as we reach this point.
Incorporate the syrup in a fine continuous thread over the egg whites beating at the same time.
We will continue until a firm consistency is achieved and a very brilliant meringue.
If we check the temperature, we must whip at high speed until the temperature falls to 104ºF/40°C.
Let it rest for 2 minutes before using.
Pipe meringue.
Put the Italian meringue in a piping bag with a 0,8 inch /2 cm diameter tip.
Pipe the meringue the way I show you in the video.
Cover the base of the cake with the meringue, raise it slightly while we continue pressing the piping bag to create another mound and so on until we create four meringue discs. When we finish piping, the meringue will form a peak.
If you find it easier, you can create a spiral instead of discs.
Mel the chocolate.
Melt the chocolate, we can do it in a bain-marie or in small batches in the microwave.
Set aside.
Make the yolk cover.
In a saucepan add the yolks along with the sugar.
Place at medium-low heat and cook, mixing constantly, until it reaches 165ºF/74ºC.
We must reach that temperature to cook them, but we must not exceed it so that they do not thicken excessively.
Set aside.
Decorate.
Take a Carolina and put a side in the melted chocolate.
Let it drain slightly and insert the opposite side. We must create two strips of chocolate.
Repeat the same process with the rest of the Carolinas.
Now we go on to decorate with the yolk. With the help of a brush, create two strips by brushing with the yolk. We must do it carefully to avoid spoiling the meringue.
Let them drain on a rack.
If we wish, we can finish decorating with golden sprinkles, edible golden powder and some petals brushed with golden powder.
Serve.
Notes
To make quick/blitz puff pastry, ideally, all ingredients should be cold. With the mixing the temperature rises and we want to keep the dough cold, as much as possible.
Butter brings a lot of flavor, I recommend you to use a good one quality.
Do not overmix the ingredients more than I detail in the process and show you in the video.
Respect all the rest times to achieve a good result.
In case you don't want to make puff pastry, you can buy it... But the homemade one is very good!

If you want to make a laminated puff pastry, you can do it following this recipe.
This time I have used the classic filling of the "rice cakes", but if you prefer, you can use this filling with coconut which is also traditional from the Carolinas.
I have used an Italian meringue to decorate them, a French meringue would not give us good results. If you wish, you can also use a Swiss meringue. In this post you can see how to do it.
It's important to cook the yolks well to avoid problems when preserving the Carolinas. Remember that they must reach 165ºF/74ºC.
The whole process can be carried out in one day without any problem. In my case, I divided it into two days. The first one I made the puff pastry and the second, I baked and decorated them..
They can be kept in an airtight, refrigerated container for 2-3 days.
If there's a good way to start the weekend, it's these Carolinas from Bilbao. Nothing better than to return to our childhood, or our adolescence or to the past holidays, to be able to remember in our palate the immense happiness of enjoying this sweet.
There are things that remain engraved in the memory. One is the smells and others the tastes. There are so many things that, when we taste them, they take us to certain places, people... We associate what we eat with situations or stages of our life. Without a doubt, exceptional markers in our life's diary.
I hope that with today's recipe you have remembered good moments and experiences, in case you have never tried them, do it in order to create that good memory on your way. There are things that we must not let go!
I wish you a wonderful weekend!
Big hugs,
Eva
Sources:Wiki, Cosmov Bilbao
Archivado en