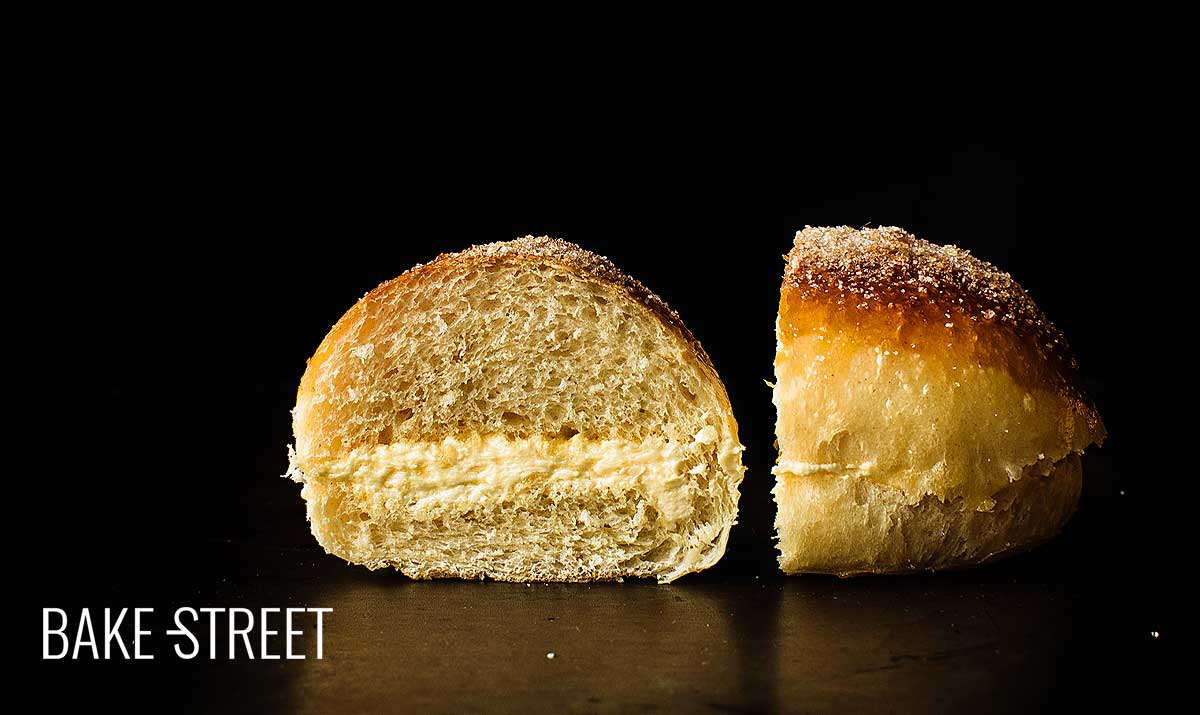 Bollos de mantequilla from Bilbao
Este post también está disponible en Spanish
Whoever has been in Bilbao and has not enjoyed bollos de mantequilla or butter buns, has not made the trip as it should be done. In that case, you will have no choice but to go back there and enjoy one of them ((two or as many as you need) accompanied by a brewed coffee. If it looks very bad for you, the other option you have is to encourage yourself to prepare the recipe I leave you today and enjoy them at home.
The smell and flavor of this bun is impossible to compare with other sweets. It is true that there are many similar recipes that make a very tender, soft and spongy bun. But if I'm honest with you, besides the bun, the secret lies in the filling. A butter cream that makes the eyes close by themselves to enjoy it 100%.
Origin bollos de mantequilla from Bilbao.
Bollos de mantequilla were not an invention in itself, but an adaptation of another recipe.
In 1813, two cousins arrived to Bilbao, Bernardo Pedro Franconi and Francesco Matossi, from Poschiavo, a small Swiss village. They were selling goat's milk, even though this was no longer a big business.
They opened a small bakery on Correo Street around 1830. It was joined with a cafe in the back open to Plaza Nueva.
The pastry shop was inspired by a shop they had met in Venice and Milan.
They specialized in pasteles de arroz (rice cakes), Russian cakes, rum triangles… and milk buns that eventually became known as "Suizos" – "Swiss". Butter cream filling in these Swiss bun gave rise to what was called "El Bollo".
Their success was such that, around 1871, they opened a second establishment in the Arenal. Over time, many franchises were opened under the brand name "Matossi & Franconi y Cía" in different cities such as Santander, Burgos, Pamplona and Madrid. This brand was specialized in coffee, haute pastry, ice cream and liqueurs.
Imagine this moment. You are sitting in a cafeteria in front of an immense glass window where we can see daily life unfolding. Your freshly brewed, steaming coffee on a marble table. And next to it is a small white plate on which you have just been served a tender bollo de mantequilla… What more can you ask for?
Well, you can always ask for something else. If in the background we have good music to go with it, as a whole it will be completely round. For example,"Si tu vois ma mère" by Sidney Bechet.
The recipe.
Looking for information and recipes about bollos de mantequilla I found a great variety of them. Finally, I decided on the one that Biscayenne shares, (who I saw in countless blogs), thank you Ana!
I decided to adapt and adjust some amounts more than anything else to work according to the needs of the flour I have used. In addition to changing the fermentation process for better taste and texture, as well as a more comfortable and user-friendly process.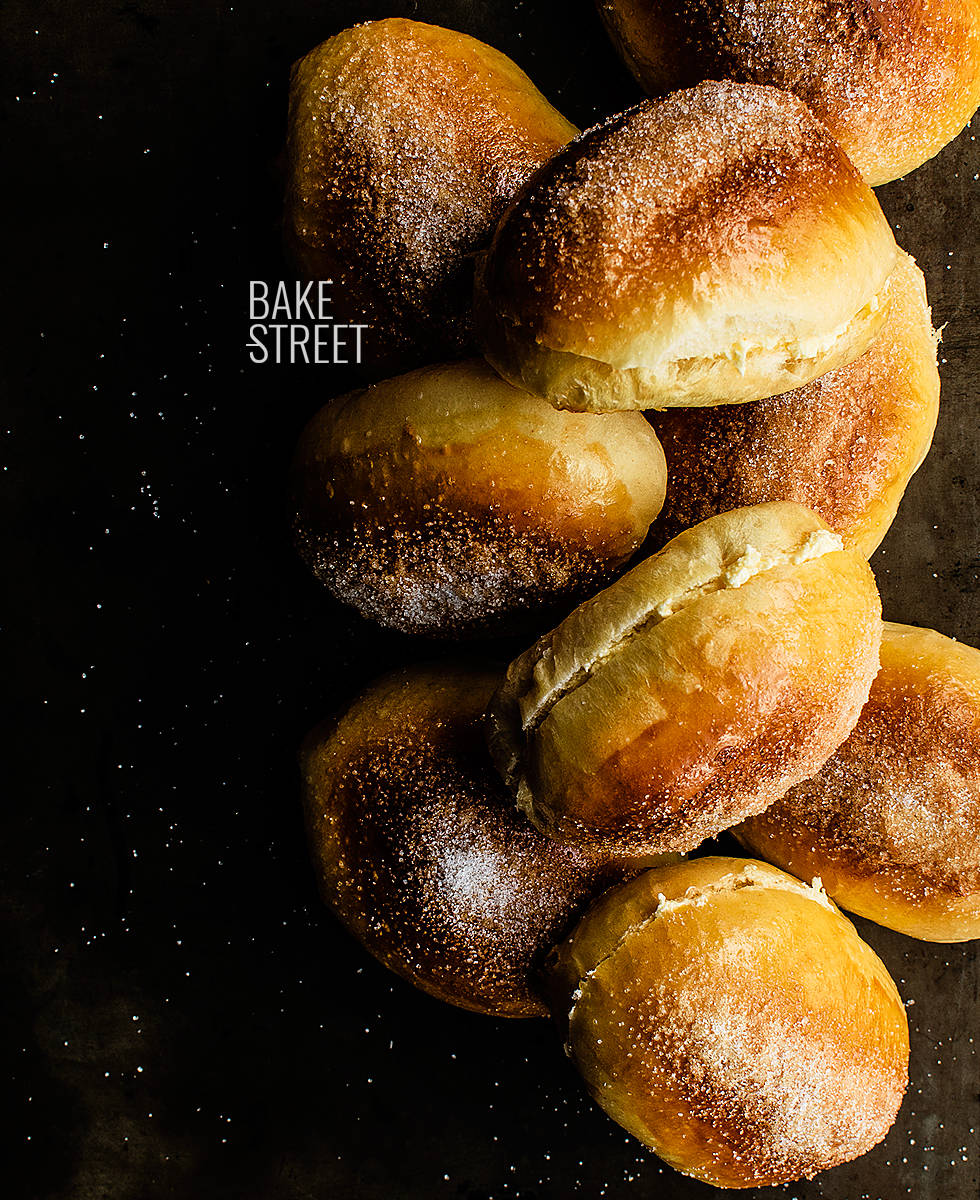 Ingredients for 19-20 pieces
FOR THE DOUGH:
17,6 oz (500 g) bread flour
3,5 oz (100 g) sugar
3,5 oz (100 g) unsalted butter at room temperature
4,4 oz (125 g) whole milk
3 large eggs
0,12 oz (3,5 g) dried yeast
0,14 oz (4 g) salt
FOR THE BUTTER CREAM:
3,5 oz (100 g) sugar
1,76 oz (50 g) water
2 large egg yolks
3,5 oz (100 g) unsalted butter at room temperature
FOR BRUSH:
beaten egg + pinch of salt
sugar
Instructions
FIRST DAY
Make the dough.
Keep 2 tablespoons of milk.
In a bowl add the flour together with the eggs, milk, salt and half of sugar. Mix with your hands to amalgamate the ingredients.
Start to integrate the butter into the mixture and work to start mixing it. We will alternate the addition of butter with part of the reserved sugar, kneading after each addition so that the ingredients begin to amalgamate.
Dissolve the yeast in the milk we had reserved and pour it to the dough. Knead again until it is completely integrated.
Once we have added all the butter, knead until you get a good gluten development. The dough must be elastic and not cracked. It will take us a long time to reach this point, we must make an intensive kneading. About 40 - 50 minutes.
Make bulk fermentation.
Once we have a perfect gluten development, make a ball with the dough.
Grease a tupper or hermetic container, place the dough inside and let it rise until it has grown 1/3 of its volume. In my case it took 2 hours and 20 minutes at 71,6º F (22ºC).
Put it in the fridge and let it stand overnight.
SECOND DAY
Warm the dough and preshape.
Remove the dough from the cold 2 hours before preshaping.
Dump the dough on a clean surface and divide it into 19-20 equal pieces, about 1,75 oz/piece (50 g).


Preshape, remember to place the dough pieces always in the center of each piece before preshaping. Make a ball and let it rest for 20 minutes covered with a plastic film.

Shape the rolls in the same way that we would shape a bread batard.
Exert tension to the roll and place it on a baking sheet lined with baking paper.

Repeat the same process with the rest of the pieces.

Remember to leave space between them as they will grow during the rising and baking. In my case, I've divided them into two trays.

Cover with film and let rise until 

the volume is tripled

. In my case it was 

5 hours at 82,4ºF (28º C)

.
Bake.
Preheat oven to 375ºF (180º C).
Brush with egg beaten with a pinch of salt, sprinkle sugar on the surface and place the tray at medium height.

Bake for 12-14 minutes, they should take a light and beautiful golden color. Remember that the internal temperature must reach 190-195ºF (88-90ºC) for baking to be complete.
Remove and allow to cool completely on a rack.
Repeat the process with the other batch.
Make the butter cream.
Dump the yolks in a medium bowl, set aside.
Pour the water in a saucepan along with the sugar and place it in over medium heat.
Leave, without stirring, until it reaches the thread point. If you have a digital thermometer, leave until the syrup reaches 244º F (118ºC).
Remove from the heat and start to pour the syrup, in a thin and continuous thread, on the yolks while beating it with a hand mixer or electric hand mixer.
Whisk, increasing the speed progressively, but without reaching the maximum. We will do it until they increase their volume and acquire a spongy texture.
Let them cool completely.
Add the butter, little by little, and beating at the same time until obtain a soft cream.
Fill the bollos de mantequilla.
Cut the bun in half lengthwise and fill generously with butter cream.
Cover with the other half of bun and enjoy with our eyes closed. Yeah, closed. you'll get the same feeling as when you're dreaming something wonderful.
Notes
Can I use fresh yeast instead of baker's dry yeast? Yes, of course. In this case remember that the proportion is 3 g of fresh yeast for every 1 g of dry yeast.
Knead a lot and very well, developing well the gluten you are guaranteed to get a very spongy crumb bun.

Respect the rising times so that the pieces acquire the correct volume, do not explode creating a crack and their texture is very spongy. Don't be anxious! :D
Can I speed up the rising process in any way? I have never been in favor of placing dough into the oven at low temperatures, for example 86ºC (30°C). This will always tend to be higher and we run the risk of spoiling the taste of our dough. If you want to help the dough in a very cold season, you can place the dough inside the oven only with the light on, nothing else. In my case I manage to reach 75º-82º F (24-28ºC).
Is the mandatory to make the process in 2 days? No, not at all. But it is much more comfortable and practical so that you don't have to worry about the dough all day long. And baking at dawn...
Try not to exceed the baking time of the buns, otherwise they will be dry and not very soft.
I recommend you fill the buns as soon as you are going to eat them. This way you can keep the buns stored in a large zip bag and butter cream inside an airtight glass container in the fridge. Otherwise the butter will get very hard and so will the bun.
The butter cream can be kept refrigerated for 3-4 days. Keep in mind that the yolks will be cooked when you pour the hot syrup on them. There is no risk of salmonella since it dies at 158º F (70ºC).
Warm the butter cream before filling the buns to make it easy to spread.
In these cold and rainy days that we are having, I can't think of a better plan than to take a bollo de mantequilla accompanied by what you like best, sitting on the sofa with a blanket and watching a series of...
You'll thank me very much for my insistence. Few things taste like blessed glory and I guarantee you that this is one of them ;)
Big hugs!
Eva
Sources: Biscayenne
Archivado en