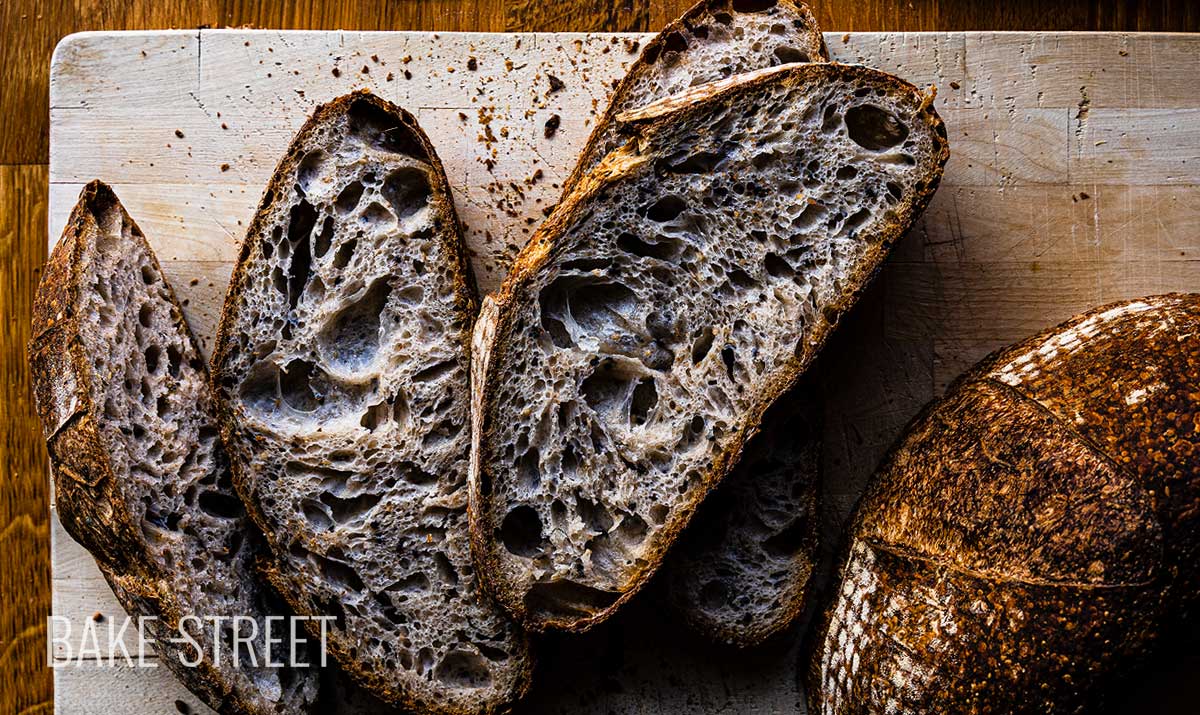 How to make a sourdough French boule
Este post también está disponible en Spanish
We continue with bread recipes and, on this occasion, I am going to show you how to make a sourdough French boule. I have a lot of e-mails, comments, messages… Asking me doubts, asking me advice to make bread and solve problems with it, during the last weeks. I hope to be able to answer everything little by little because, even though I want to do it, I don't have enough time to answer them every day. I hope you can understand and I apologize for that.
Today I want to let you know how to make a boule for many reasons. But the main one is how simple and easy it is to do. It's not that forming a batard is complicated (example 1, example 2), not at all, but it seems that you dare a little more with this format of bread since it is as simple as bowling a dough.
First of all.
To make our boule, since the element that we will use to carry the dough is sourdough, we will have to have it ready. In case you haven't made your sourdough yet, you can see how to do it in this post (by the moment only available in Spanish). In it I detail the whole process explained step by step so you can make it at home. Also talking about some of the problems or issues that may arise during its preparation.
Another method to make sourdough is with fermented fruit water, if you are interested in this topic, I explain you how to do it in this post (by the moment only available in Spanish).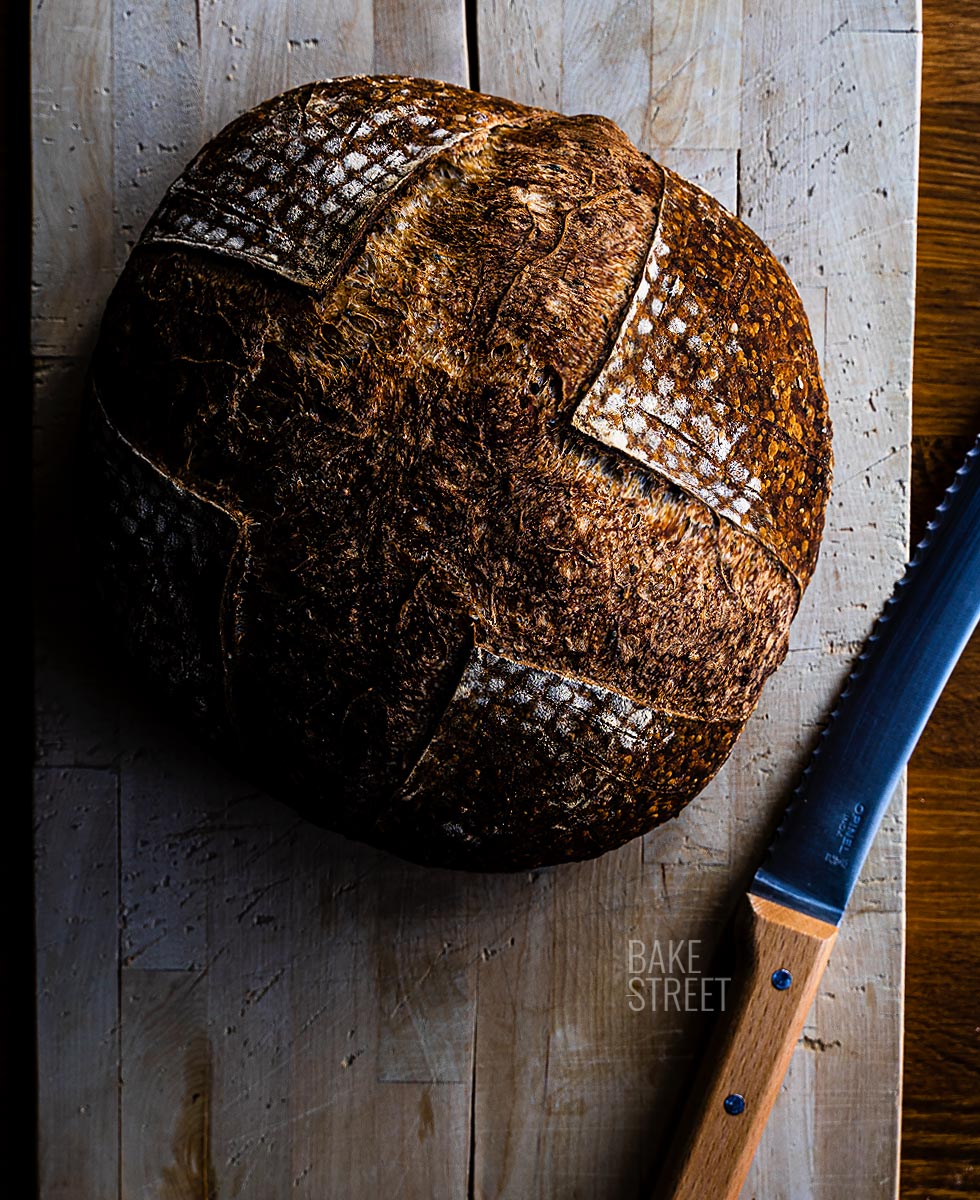 What do you mean, the sourdough is ready?
By this I mean that, no matter what condition it is in, the dough will rise, but you will not get the same result if you take care of its maintenance on a continuous way as you do only when you go to make bread. Let me explain.
Taking care of a sourdough is the same as taking care of a relationship with a person. If you look after it, worry about how it is, if it needs something… In a disinterested way (in the case of bread, when we are not going to use it), it will give us better results when we are going to use it than if, on the contrary, we only pay attention to it when we want something from it. I'm sure this way you will understand it better.
Does that mean I have to feed it every day?
I'll leave this up to you. I am going to speak to you from my experience since it is what I can really speak about knowing what I am saying.
In my case, I refresh it religiously every day. I do it twice a day and I calculate the proportion that it needs to last 12 hours. I make these refreshments according to the outside temperature, which is what determines the proportions of each food cycle (1:3:3 or 1:5:5 or 1:10:10…) You know that the higher the temperature, the faster the fermentation.
In this way I ensure that it remains active, happy, strong, vigorous and cared for. But on top of that, I keep the acidity in check. Point about which you write to me and ask me a lot.
A bread made with sourdough will always have a different taste and aroma than a bread made with yeast, as well as a slight point of acidity (subtle). But it must not be a strong and unpleasant taste, at all. In fact many breads I make even have a sweet taste, without any acidity at all.
This can only be achieved by taking care of your sourdough, refreshing it when it is due and taking care of it as you would take care of that person you love so much. Love is earned with love.
So what do you do when you go on vacation?
I'll leave it in the fridge. But there are times when I can't be with it and keep it. When I come back, I start the refreshing cycles and activate it again before baking again.
How long do I need to refresh it before I use it again? Well this will depend on how long you have been in the cold, but normally in 2-3 days, it should be at full strength again.
The "health" of your sourdough is of vital importance to obtain the results you are looking for. Not only using flour brought in by a wizard from the Elven Highlands or developing gluten into a bridal veil… In the end making bread is the union of many elements, but the main one of all (referred to sourdough bread) is the state of our/your sourdough.
So take care of it, a lot. Because then you demand a lot from it, but if you don't give it anything in return… what do you want?
Flours for sourdough French boule.
In my case I have made the bread with Multicereali flour which has a strength W=290 and bread flour strength W=200. But this does not mean that if you do not have exactly those flours, you cannot make this bread. We assume that no bread that you make yourselves, following the same recipe, will be the same. Every bread you make will be a new bread, and this makes it invaluable.
Conditions will always change; temperature, sourdough, flour (despite being the same type from the same mill, the grinders and the grain are not always the same), handling of the dough (we have days for everything and the bad ones count too…). So a bread recipe can be considered a guide or starting point to do what we want, but it can always be modified.
What should I look out for?
Like everything else in this life, we must take into account what we are working with.
Is it the same to fix a garden with a gardening rake as with a gardening hoe? No, not at all. For that very reason we must know what we have and what we can get out of it. In this case it's the same for us.
We know that bread is made with two flours, we can look for similar substitutes or simply work with a flour with less strength, but modifying the recipe accordingly. If we have weak flours, let's suppose W=220 strength, in that case the first thing we must do (out of precaution and common sense) is to reduce the final amount of hydration in the recipe. Which, mind you, has nothing to do with that of the sourdough.
Once we have done the autolysis and added the water, observe how the dough is and evaluate if it would tolerate more hydration. The rest of the process can be practically the same unless we integrate wholemeal flours or rye, which we already know revolutionize the dough and the fermentations go faster.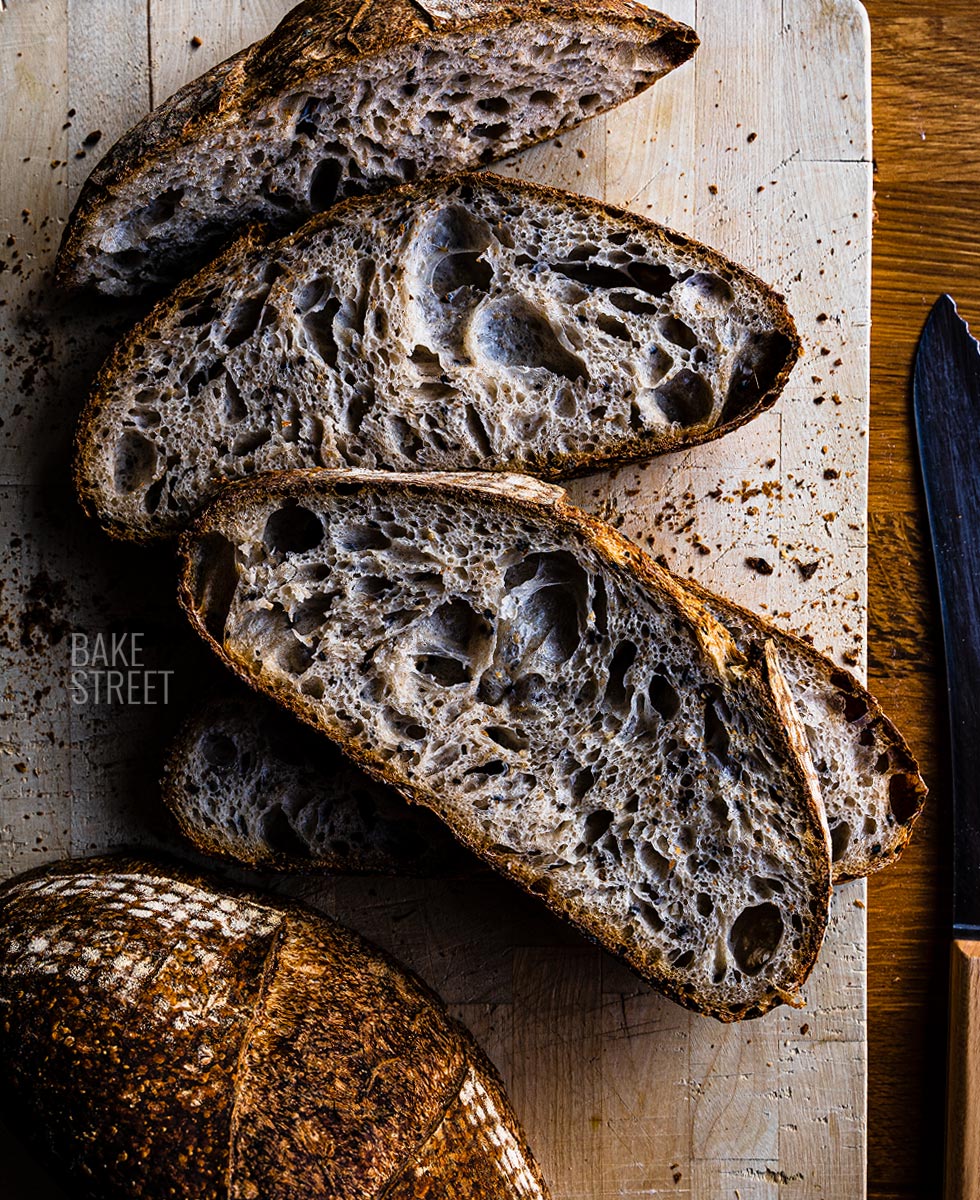 Once we are clear on these concepts…
Now all we have to do is make bread. We can do better or worse, nothing happens and this is perfectly normal. What we must not stop doing is bread, every day. The only way to learn, improve and perfect is by being persistent and not giving up in the face of difficulties (sealed breads, dense crumbed breads, over-fermented breads, breads without a beautiful overspring…)
Even from the most disastrous and horrible bread, something can be learned. And, besides, we can eat it. A bread made with our hands, that's not something everyone can say.
Moreover, even those people who make truly perfect and wonderful breads, make mistakes and have days when they make breads with mistakes. Or awful breads. Why? Because we are humans, not machines of creation and production.
Don't be hard on yourselves and trust that you can do what you want to do. But of course it won't fall from the sky… It has to be worked on.
In this case we will make a boule with seeds.
As you will see both in the recipe and in the video, the seeds I add are dry (previously toasted). I like them that way, but of course you can make a soaker.
If you want to know what is a soaker, how to make it when you are making bread and what you have to take into account, don't forget to take a look at this post where I tell you everything detailed.
You will see that it is a very easy bread to make, both in the kneading and in the handling. Finally, we will shape the bread with the shape of a boule and, in my case, I retard it in the final proof. I like to do it this way because it is a comfortable process and compatible with my schedule. But you can retard the first one or do the whole process in a continue way if you prefer.
In the end it is a question of understanding the doughs and adjusting them to our rhythm of life.
If you are going to start with sourdough bread, I advise you to take a look at this post "Basic bread, my first sourdough bread". In it I give you very useful advice to carry out your first bread made with sourdough, as well as giving you some answers to many doubts you usually have.
| INGREDIENTS | % BAKER | SOURDOUGH | REST | TOTAL |
| --- | --- | --- | --- | --- |
| Bread flour | 44,6 % |  67,5 g | 200 |  267,5 g |
| Multicereali flour | 51,65 % | | 310 g |  510 g |
| Rye flour | 3,75% | 22,5 g | | 22,5 g |
| Water | 70% | 90 g | 330 g | 420 g |
|  Salt | 1,8% | | 10,8 g | 10,8 g |
Recipe for sourdough French boule
SOURDOUGH:
180 g sourdough, 100% hydrated and refreshed with 75% bread flour and 25% rye flour
BREAD DOUGH:
310 g Multicereali flour
200 g bread flour, W=200
330 g water
180 g sourdough, 100% hydrated
10,8 g salt
30 g seeds (I used black and golden sesame)
Instructions
FIRST DAY
Make bread dough.
In a large bowl add flour along with potato flakes and water, mix with your hands (in my case I used my KA for 4 minutes) until it is well hydrated and looks smooth. Cover with  plastic wrap or cotton cloth and allow to make autolysis for 2 hours.
Add sourdough and mix to speed 1 for 15 minutes. If we do it with our hands, we will knead and fold the dough until it is completely integrated into the dough.
Once it is fully integrated, add salt and continue kneading.
Transfer to a work surface, without flour, and knead by hand to finish in case we've done the first part in kneading.
Combine kneading with resting time. Knead 2-3 minutes and let rest 5-6 minutes. 
To check the gluten mesh, we must always do it after a rest.
Once the dough has a good gluten development, add the seeds (30 g), toasted or raw but without soaking.
Stretch the dough and sprinkle the seeds on the surface.
Begin to fold the dough to make it easier for the seeds to get trapped inside.
Knead gently to facilitate them to be distributed evenly across the surface. It is important to fold the dough gently so as not to damage the gluten mesh with the seeds.
Make bulk fermentation.
Grease with olive oil a bowl or recipient and put the dough inside. Cover and make a bulk proof for 5 hours at room temperature. My home temperature was 70ºF/21ºC. Turn and fold after 30 minutes during the first 3 hours.
Let rise until almost double in sized.
Prepare a banneton, sprinkle with flour and set aside.
Make pre-shape and shape.
Preshape into a boule (ball), be careful not to degas too much, and allow to bench rest for 20 minutes cover with a cotton cloth.
Shape a boule, in the video I show you how to make it.
Place seam-side up in banneton, cover with a film or shower cap and put in the fridge for 16 hours.
SECOND DAY
Bake sourdough French boule.
Preheat oven 428ºF/220ºC at least 30-40 minutes prior to baking with your stone or steel sheet on it positioned on final rack. Put inside a pan with volcanic stones, this helps to get steam in the baking.
Transfer the bread from the banneton over a wooden board cover with parchment, seam side down. Score the bread.
Place the bread into the oven and pour boiling water over the pan with volcanic stones. Close the oven door immediately to trap the moisture.
Bake for 20 minutes at 410ºF/210ºC.
After first 20 minutes, open the oven door to allow steam goes out, remove the track with volcanic stones with kitchen gloves and reduce oven temperature to 390ºF/200ºC. Bake for 10 minutes.
Reduce temperature to 375ºF/190ºC and bake 10 minutes more. Finally bake with convection at 375ºF/190ºC for 10 minutes. Bread will get a better crust this way.
Total bake time is 50 minutes.
Ending the bake...
Once bake has ended, turn off the oven and let sit the bread inside the oven with the door ajar for 15 minutes. Remove from the oven and let cool over a rack.
PRESERVATION:
Bread can be stored for up 3-4 days cover with cotton cloth. If the beginning is dry, cut the first slice and inside will be still tender.
You can cut the bread into slices, cover with plastic film and freeze. This way is the better to make perfect toast each morning.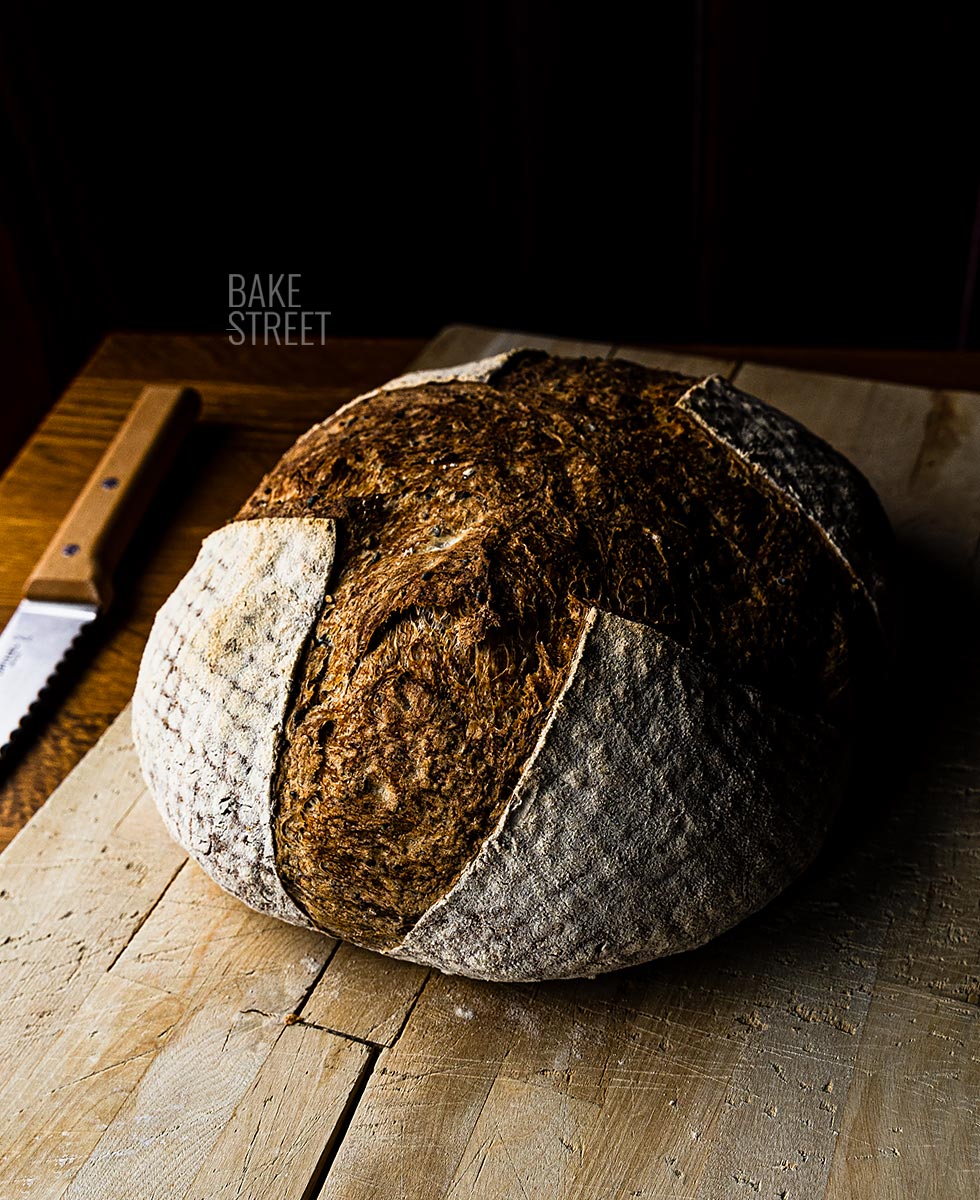 Notes
Flours can be adapted and modified, we just have to keep in mind what we are working with and adjust it according to your needs.
The seeds can be a mixture of your choice. In my case I have used sesame, but you can use instead sunflower seeds, millet, poppy, golden and brown linseed...
Respect the resting and fermentation times and take great care in the handling process.
Don't be afraid to get started on bread. Whoever says their first loaf came out well is lying, hahaha. Bread is not easy to make, but it's not impossible either. Nothing we can't achieve if we put our minds to it and pay attention to what we're doing.
That's why I hope that with this post about how to make a sourdough French boule, will help you to take a little step forward and lose your fear. But not only that, but also that you start taking care of the little details. Because these are just the ones that make the result magnificent. The union of small details together.
It's all right to do it wrong... I always tell my students and I will always tell you too "The only way we can learn and improve is through our mistakes". They teach us what not to do and what to improve. So, go ahead and make bread at home!
I wish you a fantastic Sunday!
Big hugs,
Eva
Archivado en