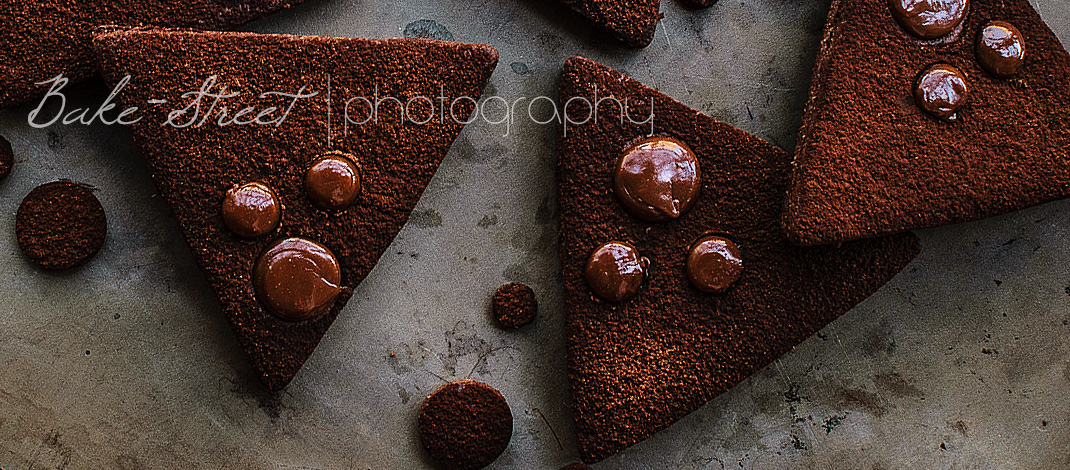 Chocolate biscuits "Le Goûter"
Este post también está disponible en Spanish
This recipe for chocolate biscuits "Le Goûter" is one that I had kept for I don't know how many months…. A long time ago I found these cookies from Christophe Felder  by Pinterest and they were so simple and elegant that I kept them for myself to make them in the near future (which was not the case).
From his recipe I was only able to follow guidelines for the presentation since I couldn't find how to make them, I imagine it will be from some of his books (but not the one I have at home). So I had to look for alternatives to carry it out.

This is where I make good use of my book Le Grenier à Pain, which as you know I love. In it there is a recipe for chocolate sablé biscuits called "Le Goûter" (The Snack) and they would help me to carry out my idea. Besides naming them the same way, I loved it.
The cookie dough is basically made with flour, almonds, butter and cocoa. Its texture is rather sandy, it breaks easily but is very pleasant to eat. The filling is a ganache made with two types of chocolate, dark and milk, the latter being the main protagonist. As it contains a little honey, its final finish is very shiny and with a caramel texture. Sensational
The holes in the image of Christophe F. are filled with a candy or caramel ganache. In the book they make a toffee, which is also very good, but I decided to use a chocolate and caramel ganache that I showed you how to make in my chocolate, raspberry and beetroot tart. (the recipe is only available in Spanish by the moment) It seemed incredible to me at the time and is now part of my essentials.
With the amount of this ganache you will have a little left over, but you can keep it in the fridge for about 10 days or freeze it. You also have the option to make more if you are going to need a filling for some preparation such as macarons.
To finish them off, we generously sprinkle the cocoa powder on top. The shapes can be how we like them best. Christophe F. makes them square, in the book by Le Grenier à Pain they are rectangular and, in my case, I decided to make them in a triangular shape.
The finish and/or presentation I use is that of Christophe but if you don't like cocoa powder, you can present them as they suggest in Le Grenier à Pain. Before baking the biscuits brush with egg and sprinkle with pistachio only the lids. This way they achieve a glossy finish, which is also very nice.
The biscuits are spectacular both at room temperature and fresh from the cold. They're a real wonder, especially if you're a chocolate lover.
Ingredients for 20 doubled pieces
FOR THE CHOCOLATE SABLÉ DOUGH:
7,4 oz (210 g) pastry flour
4,75 oz (135 g) ground almond
1,23 oz (35 g) unsweetened cocoa powder
8,45 oz (240 g) unsalted butter at room temperature
1,23 oz (35 g) egg*
3,7 oz (105 g) icing sugar
0,42 oz (12 g) baking powder
0,07 oz (2 g) salt
* To add 35 g of egg, beat one egg in a small bowl so that you can add the amount you need for the dough.
FOR CHOCOLATE GANACHE:
3,5 oz (100 g) cream
6,35 oz (180 g) milk chocolate
1,4 oz (40 g) black chocolate
0,52 oz (15 g) butter
0,52 oz (15 g) honey
0,17 oz (5 g) vanilla extract
FOR THE CARAMEL GANACHE AND MILK CHOCOLATE.:
1,75 oz (50 g) milk chocolate
1,75 oz (50 g) cream
1 oz (30 g) sugar
1/2 Tbsp Corn Syrup
1/8 tsp salt
FOR DECORATE:
Instructions
Make the chocolate sablée dough.
Sieve the flour together with the cocoa powder and the baking powder. Set aside.
In the bowl of the KA, or your stand mixer, add the butter together with the salt and icing sugar. Mix with the help of the flat beater at the lowest speed until it is integrated.
Once it is integrated, we continue beating at speed 1 until it whitens and acquires volume.
Add the egg and beat until it is fully integrated.
We began to incorporate the mixture of flour and the ground almond alternating it. Add a part of flour, wait for it to integrate, repeat with the almond and so on until both are completely integrated.
Pour the dough onto a clean surface, form two discs and wrap them in film. Refrigerate for a minimum of 3 hours. In my case, I left them overnight.
Make the chocolate ganache.
Chop the two types of chocolate, set aside.
Pour the cream together with the honey and vanilla into a small saucepan and place over medium heat until it acquires some temperature, without reaching boiling point. Set aside.
In a medium bowl add the chocolates together with the butter, place in a water-bath with medium-low heat. The water should not touch the base of the bowl, nor should it come to a boil. We leave it until it melts completely.
Pour the cream slowly and without stopping stirring over the chocolate. Mix until completely homogenized.
Pour the ganache into an airtight container and leave to cool to room temperature. Refrigerated until the next day.
Make the caramel and chocolate ganache.
Chop the chocolate, set aside.
Pour the cream into a small saucepan and heat it slightly to get some temperature, without reaching boiling point. Set aside.
In a medium saucepan add the sugar and place over medium heat, leave until it begins to melt. Begin to stir with a spoon without exceeding the time exposed to the heat or else we will get a bitter taste. We'll get a golden candy cane.
Pour the cream slowly and without stopping stirring, once the mixture has been homogenized, remove from the heat and add the Corn Syrup. Mix well until the ingredients are completely integrated.
Add the chocolate, previously chopped, and mix until completely homogenized.
Pour the ganache into an airtight container and leave to cool to room temperature. Refrigerate until the next day.
Prepare the dough for baking.
Take the dough out of the cold 15-20 minutes before stretching it, it depends on the temperature of our house.
We place between the Teflon sheets and with the help of an adjustable roller with a measure of 3 mm we stretch the dough.
Once it is stretched, refrigerate it again (placed on an oven tray) and leave it to harden completely. About 30 minutes.
We join the dough left overs together, stretch them again and refrigerate them to make as many biscuits as possible.
Before cutting the biscuits we must make sure that the dough is too cold to make clean cuts. Cut the biscuits with a triangle cutter 3 x 3 inches (8 x 8 cm) on each side.
In the middle of them we will cut some circles, these will go in the superior part, to fill them after the baked one. I used a 0,75 inch (2 cm) cutter and a 0,4 inch (1 cm) cutter. We reserve the circles we've cut off, they'll come in handy later.
Refrigerate again until the dough is very firm.
Bake the cookies.
Preheat the oven to 335ºF (170ºC).
We'll have to bake the cookies in several batches, in my case they were three.
Bake at medium height for 10 minutes.
Remove, place on a rack and bake the following ones.
Before stuffing the cookies, let them cool completely.
Assemble the chocolate cookies.
Remove from the fridge the ganaches 30-40 minutes before working with them to make them easy to handle. It depends on the outside temperature.
Put the ganaches in pastry bags with smooth tips of 0,4 inch (1 cm) in diameter.
Place some chocolate ganache on a smooth cookie base, without holes.
If you wish, spread the ganache over the entire surface of the cookie to ensure that it is completely covered and that it does not overflow when you place the other cookie.
Place another cookie to cover, in which we make holes.
Before filling with the caramel and chocolate ganache we will have to sprinkle the surface with cocoa powder, otherwise we will cover it... and we do not want that. For this purpose, we use cookie circles.
We'll fill the holes with circles of the same size. Sprinkle with cocoa powder and remove the circles. To do this, I used some tweezers, so that we don't remove the cocoa by rubbing it with our hands. We do this to make sure they don't fill up with cocoa powder and then we slip the caramel and chocolate ganache.
Finish decorating the cookies.
Fill the holes with the caramel and chocolate ganache.
Once you finish filling in the holes, the ganache will have dried a little on the outside. Using a spoon, flatten the tips to give a smooth finish.
Finally, if we wish, we can use some of the circles to decorate the cookie as shown in the pictures.
We can decorate some of them and not others. Don't worry about the leftovers, they eat very well as they are.
Notes
Why do I recommend forming two discs? Because it's a lot of dough, it'll come out of the surface of a tray. We must bear in mind that it must be cooled again after stretching. Otherwise we would have to stretch and cool several times...
I recommend stretching the dough between two sheets of Teflon or baking paper. The reason for this is that it is a dough that softens very easily and adheres to all surfaces. In this way we will avoid using flour in excess, maintaining its original texture.
I don't have a triangle cutter... But I'm sure you have a lot of beautiful cutters that you can use to create your own pattern. In fact, they also look very good in square.
The cookie dough must not be too thin. Why? Because it is very brittle and the thinner it is, the easier it will be to break. Even when we spread the ganache. A minimum of 3 mm is ideal and I would recommend a maximum of 4 mm thick. And this last one is a lot for me, keep in mind that they will be doubles.
This dough is very delicate, we must handle the cookies very carefully because when they are hot they break very easily.
If I have some ganache left over, can I freeze it? Of course. It is very well preserved and when we want to use it, we only have to take it out the day before and let it defrost in the refrigerator.
PRESERVATION: We will keep them in an airtight container in the refrigerator, we can keep them up to 10 days. I'm warning you, if they come from the second or third day, it's a miracle.
And this is how the most tempting and delicious Chocolate cookies "Le Goûter" that you can imagine are made. They're not the kind of cookie "I eat only one", impossible, you can't. They are cookies to enjoy in all their splendor and tomorrow will be another day.
So I'm going to leave you, go to the kitchen for a coffee, a cookie (or two) and see how the day goes.
Have a nice weekend!
Big hugs,
Eva
Archivado en