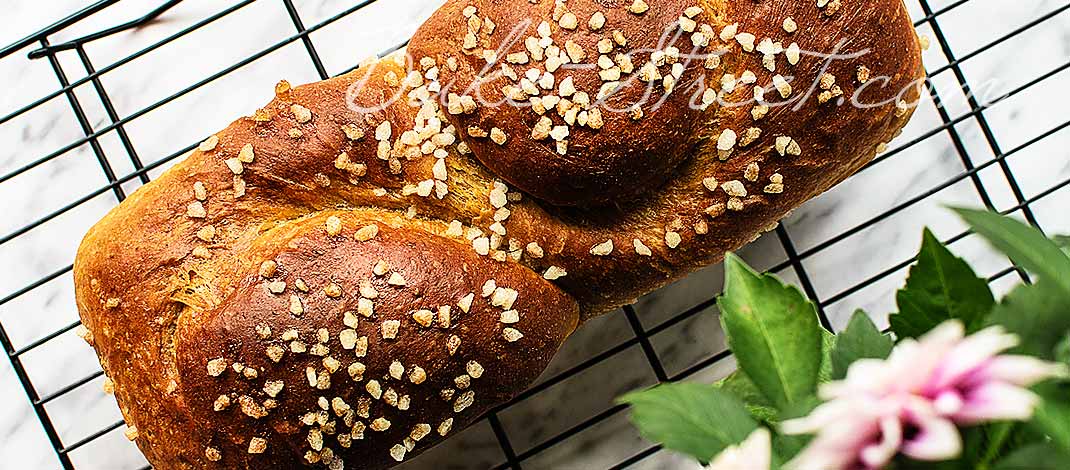 Carrot tin loaf
Este post también está disponible en Spanish
During the last weeks, tin loafs I make, lasts short time at home … I do not know what they do with them! From the moment it leaves the oven, it does not last more than 2 days and I always make the 35 oz format! It is clear that they have moments that the eat more from one elaboration than others, and this time it has been the turn to the tin loaf. Nor is it something that I care about because it allows me to try a lot combinations and, besides, I love to work with doughs. One of the last ones I prepared was this carrot tin loaf.
The truth that was my fancy, I had been thinking for a long time about a tin loaf made with carrot and spices spices, and finally it made it. I had prepared it in a very similarly format but with sourdough, which I called Carrot Bread (only in Spanish), and is inspired by the traditional Carrot Cake.
This bread, it could be said, is the simple elaboration of the previous bread. I say simple because it is made with baker's yeast instead of sourdough and, therefore, its process and proof times are much reduced.
To elaborate it we will need to make a natural carrot juice, do not use commercial juice packaged. We already know that these are always very modified and they usually carry a lot of sugar, little amount of fruit (which is what we are interested in) and a lot of more things that are not necessary at all.
As the carrot does not have a lot of water, we will need to add it to facilitate its processing.
But there is one thing we must keep in mind …
Do not trust the initial density of the dough, it will be more firm of how it will end at the end of the kneading time. The reason is the time that the flour takes to hydrate and the time the carrot expels its fluids. So that you do not rush and add more quantity until the dough has undergone the kneading and resting time.
In addition we will moisturize the dough with a little more water and cream cheese. And what is the reason for this ingredient? Sincerely, I wanted to try and experiment … Everything goes well 😉
Substitute the addition of sugar for honey.
And how does this benefit me? In addition to being a slightly healthier type of sugar, we will take advantage with the doughs. Honey is a type of inverted sugar, and as such, has the ability to increase the speed of fermentation of the doughs.
This is because the yeast digests glucose and fructose better rather than sucrose.
The truth that in the summer is not necessary … but it is good to know it and keep it in mind when the temperature drops.
The rest is a process as you have done hundreds of times, mixing, kneading very well, proofing, baking and enjoy: D
CARROT TIN LOAF
A pan 12 x 4 x 3 inches  (30 x 11 x 7 cm)
35 oz
21 oz (600 g) plain/AP flour
6,5 oz (185 g) carrot juice*
5,8 oz (165 g) water
4,2 oz (120 g) cream cheese
0,10 oz (3 g) dry yeast
1,5 oz (42 g) honey
0,12 g (3,5 g) cinnamon powder
0,02 oz (0,6 g) nutmeg
0,04 oz (1,2 g) ginger powder
0,28 oz (8 g) salt
* To make carrot juice we will need 4,75 oz (135 g ) carrot + 2,1 oz (60 g)  water + juice of 1/4 lemon
FOR BRUSH:
whole milk + a pinch of salt
pearled sugar
INSTRUCTIONS:
Make carrot juice.
In a blender add the carrots, previously peeled and washed, into pieces.
Add the water together with the lemon juice, blend until obtaining a very fine texture. Set aside.
Preparamos la masa del pan de molde.
In a bowl add the flour along with the spices, water, carrot juice and cream cheese, mix in a stand mixer or mixing bowl with a scraper if you are going to knead by hand.
Add dry yeast, salt and mix again.
Knead the dough, we must work it well to get an homogenous dough. It is important not to be hard with the dough if you knead by hand, because it will become a dense dough and texture won´t be fluffy. Transfer the dough to a work surface and start kneading the French kneading. It is better to let stand dough 5-7 minutes  after 4-5 minutes kneading. When you do that, cover the dough to keep it from drying.
Or fit your mixer with a dough hook attachment and knead the dough at low speed for 8-10 minutes.
Add the honey and knead until completely homogeneous and gluten is fully developed.
Make bulk fermentation.
Grease a bowl or container, put the dough inside, cover with film and let rise until become nearly to double size, about 2 or 3 hours. It will depend from room temperature.
In my case the dough took 1 hours and 15 minutes at 80ºF to double size.
Preshape the tin loaf.
Dust lightly table or counter with a little flour and put the dough on top. Press lightly to degas.
Make a boule, cover and let stand for 15 minutes.
Turn the dough with the aid of a scraper, and flatten slightly with the hand giving soft claps. To shape it we must only roll it on itself trying to exert tension at the same time with the help of our thumbs.
Roll the dough, with both hands, to give length. We must give a length of 35,4 inches.
Shape the bread in the same way that a bun of St. Lucia is shaped. Roll one end halfway and do the same with the other end but rolling towards the opposite side.
Place into the pan, cover with film and let rise until doubled its size. In my case it took 1 hours and 15 minutes at 82ºF.
Bake the tin loaf.
Preheat oven 355ºF.
Brush with milk and sprinkle with pearled sugar. Bake for 40 minutes a medium heigh or until its temperature reaches 186-194ºF.
Remove from the oven and brush the surface with the melted butter. Remove from the pan and let cool completely over a rack.
NOTES:
If you prefer you can brush the bread with beaten egg and a pinch of salt to achieve a more golden and shiny finish. In that case you will have to cover the bread in the middle of baking, more or less, to avoid over-browning.
This tin loaf does not need to be covered with baking paper at mid-cooking if you follow the baking process that I specify.
PRESERVATION: Once it is completely cool, store in a zip lock bag/freezer bag/airtight container around 6-7 days.
This carrot tin loaf is perfect for breakfast, ok and at any time of the day really. When you toast all the aromas come out and it is a true wonder. The crumb is very soft and fluffy, in addition to appreciating an incredible juiciness.
It can be an ideal bread to enjoy during this weekend 😉
Big hugs and see you on Monday,
Eva