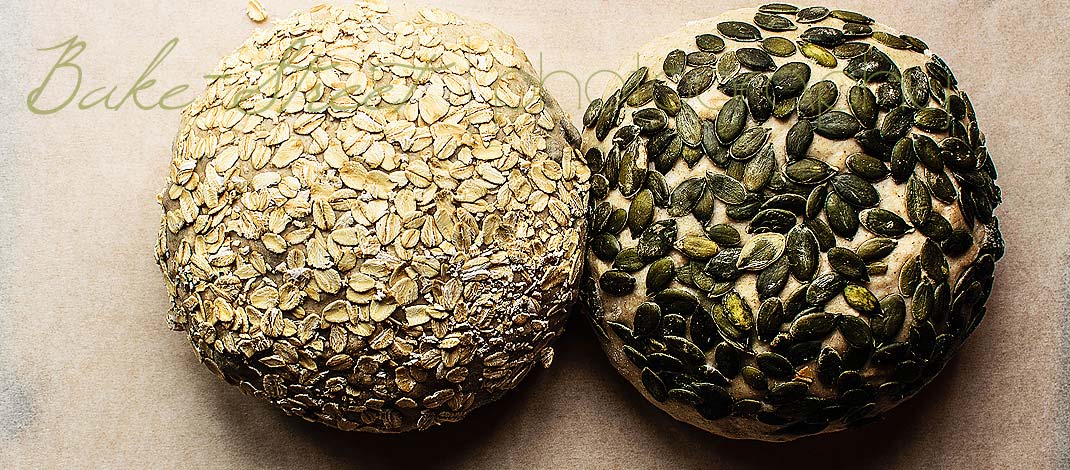 Two Castle Rye {A bread with legend}
Este post también está disponible en Spanish
The first thing I fell in love with this bread was its beautiful name and its legend, we usually get carried away by sight rather than by other factors (in terms of food), but this time was completely different. One day I was looking through my book of the Advanced Bread and Pastry and I found this bread, Two Castle Rye.
Just the name already made me stop on that page, is one of those recipes that does not have a photograph. We only find the formula to make it out and a summary of the process. I honestly was very angry because "I needed to see that bread".
So I went to Google, our big "doubts solver" and it showed me several pages but one of them specified "The Legend of Two Castle Rye". What to say that I quickly click in that page and read the post completely. After reading, this bread, I liked it even more.
The look is very peculiar, two boules covered with different seeds joined together by a side, which will give us a single piece at the end of baking. Its history is associated to its appearance.
The legend tells of those days in which the Feudal Lords were constantly at war with each other, there was a poor baker who was trapped between them. Its village was located at the bottom of a very fertile valley between two hills, in which each one of them perched over a castle governed by a Lord. The baker was always subjected to different pressures to choose one or the other.
Finally, at time goes by, both Feudal Lords decided to end the wartime. The baker could not believe it, for that he made a special bread in the way of gratitude. A dark bread, made with rye, and accompanied by seeds.
Then he made two small loaves and decorated, individually, with the colors that formerly represented each of the Feudal Lords. He baked both breads together, giving rise to a single bread that symbolized the peace and harmony between them.
There can be no more beautiful and wonderful way of thanking the end of difficult times. Joined at the same table and enjoying together.
No doubt this story is a legend, but precious, it captivated me and awakened in me the need to prepare this bread. I guarantee that you will love it. Its flavor is extraordinary, a crumb super spongy and tender despite carrying a significant amount of rye. Toasted pumpkin seeds bring incredible shades.
Besides that the shaped is very simple to make and, in this time, we will not have to score the bread. We will let it happen 😉
TWO CASTLE RYE
Recipe adapted Advanced Bread and Pastry
SOURDOUGH 100% HYDRATION:
6.34 oz (180 g) 100% hydration starter refreshed with 75% Shipton Mill rye flour and 25% Shipton Mill wheat flour
Here you can read how to make water yeast fruits or here how to make common sourdough (By the moment, both are only available in Spanish)
FOR THE DOUGH:
7.23 oz (205 g) bread flour
7.23 oz (205 g) wheat flour
3.52 oz (100 g) rye flour
0.5 oz (14 g) honey
 10.6 oz oz (300 g) water
0.38 oz (10,8 g) sea salt
1.75 oz (50 g) pumpkin seeds + for cover
1.75 oz (50 g) oat flakes + for cover
| | | | | |
| --- | --- | --- | --- | --- |
| INGREDIENTS | BAKER´S % |  SOURDOUGH | REST |  TOTAL |
| Wheat Shipton Mill | 3,75% | 22,5 g | |  22,5 g |
| Bread flour | 34,12% | | 205 g | 205 g |
| Rye flour Shipton Mill | 28% | 67,5 g | 100 g | 167,5 g |
| Wheat flour | 34,12% | | 205 g | 205 g |
| Honey | 2,3% | | 14 g | 14 g |
| Water | 65% | 90 g | 300 g | 390 g |
|  Salt | 1,8% | | 10,8 g | 10,8 g |
INSTRUCTIONS: 
FIRST DAY
Make the dough.
In a large bowl add flours with water, mix with your hands until it is well hydrated and looks smooth. Cover with  plastic wrap or cotton cloth and allow to make autolysis for 60 minutes.
Add sourdough and mix in the bowl helping us with a flexible scraper.
Pour the honey and mix again until combined.
Transfer to a work surface, without flour, and knead. Combine kneading with resting to get almost a complete developed dough. It is a very sticky dough due to the presence of rye, so be patient. If you prefer, you can use the dough mixer, this will do the hard work 😉
Knead 2-3 minutes and let sit 5-6 minutes. Total time kneading will be roughly 10 minutes without time resting.
Before the first rest, add salt and mix with your hands making sure it is completely incorporated.
Alternate short kneading with rest until the dough is developed. In total knead about 10-12 minutes, not counting the resting time.
Add seeds and oats in batches, kneading with care not to damage the gluten.
Make bulk fermentation.
Grease with olive oil a bowl or recipient and put the dough inside. Cover and make a bulk proof for 5 1/2 hoursat room temperature. My home temperature was 72ºF. Turn and fold one time after 90 minutes.
Let rise until almost double in sized.
Prepare two bannetons or baskets (500 g)
Shape the dough.
Divide the dough into two equal pieces, about 550 g each.
Preshape into a boule (ball) and allow to bench rest for 15 minutes cover with a cotton cloth.
Shape a boule, following the same process as when preshape a bread.
Spray the boule with water and cover the surface with pumpkin seeds.
Place seam-side up in banneton, cover with a cotton cloth or film and put in the fridge.
Repeat the process with the other piece but this time, cover with oat flakes.
Final fermentation was 16 hours in cold + 1/2 hour at room temperature.
SECOND DAY
Bake…
Preheat oven 450ºF at least 30-40 minutes prior to baking with your stone or steel sheet on it positioned on final rack. Put inside a pan with volcanic stones, this helps to get steam in the baking.
Turn both pieces on a table previously lined with oven paper placing next to each other *. Be careful not to over touch the parts to avoid degassing them.
This time we will not need to score the loaves, they will do it naturally.
Place the bread into the oven and pour boiling water over the pan with volcanic stones. Close the oven door immediately to trap the moisture.
Bake for 20 minutes at 430ºF.
After first 20 minutes, open the oven door to allow steam goes out, remove the track with volcanic stones with kitchen gloves and reduce oven temperature to 410ºF. Bake for 10 minutes.
Ending the bake…
Reduce temperature to 375ºC and bake 10 minutes more. Finally bake with convection at 375ºC for 10 minutes. Bread will get a better crust this way.
Total bake time is 50 minutes.
Once bake has ended, turn off the oven and let sit the bread inside the oven with the door ajar for 15 minutes. Remove from the oven and let cool over a rack.
*If you want to make sure that both pieces are joined during baking, spray some water between the two pieces.
PRESERVATION: Bread can be stored for up 3-4 days cover with cotton cloth. If the beginning is dry, cut the first slice and inside will be still tender. You can cut the bread into slices, cover with plastic film and freeze. This way is the better to make perfect toast each morning. You can use the bread slice from the freezer and put into the toaster, they will be perfect 😉
What I said, this bread called Two Castle Rye has left a mark on me … Not only its history, its appearance and its peculiar way of shaping and baking it. Its flavor is simply fantastic, do not forget to try it because I am sure you will love it.
Big hugs,
Eva