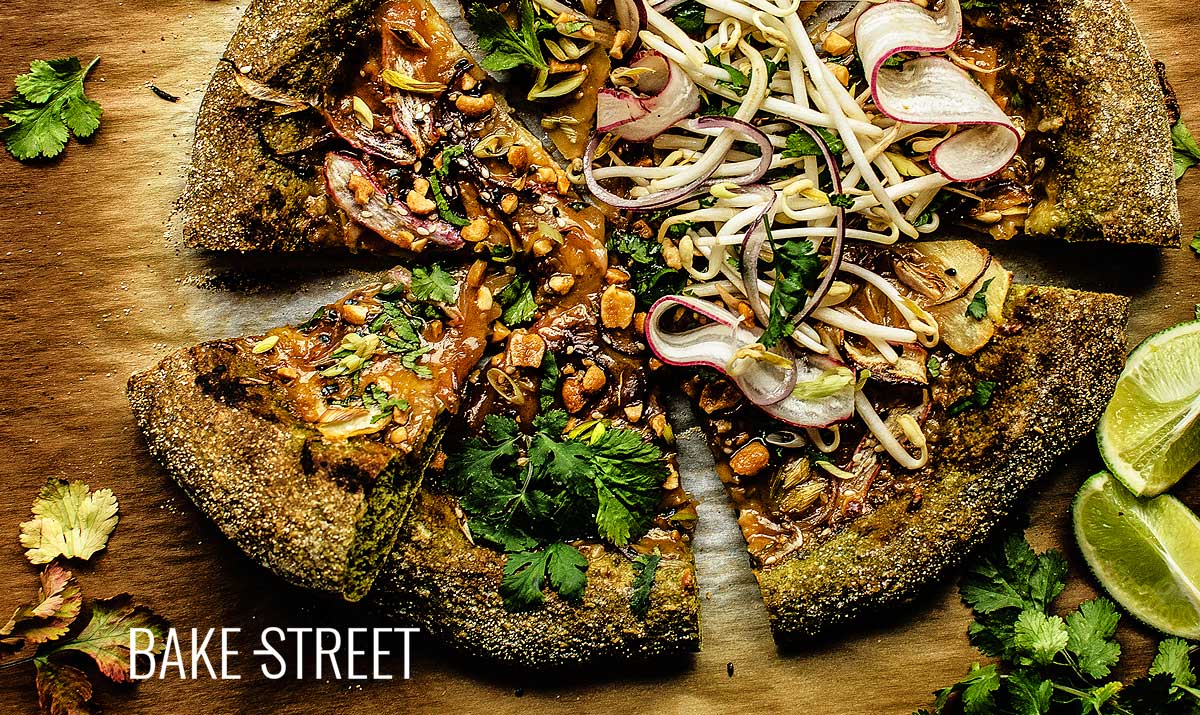 Thai Pizza with spinach and basil dough
Este post también está disponible en Spanish
One of the most common questions you ask me is how to shape a pizza, getting a swollen and alveolated edge. You have doubts about how to manipulate the dough, how to stretch it, how long should you let it rest between division and preshaped… Well, today I will try to solve all your doubts about it with a video in which we will see the whole process to make a pizza. In this case a Thai Pizza with spinach and basil dough.
Since the elaboration of the dough is very simple, because it does not require kneading or complex processes, I decided to hydrate the dough with an ingredient that gives it color and flavor. Some time ago I left you a pizza hydrated with water and ingredients: a dough of beet (only available in Spanish) and another of red peppers (this last one is outstanding!). So this time I thought I'd make a dough with spinach and basil to get a bright green dough.
And in this way show you in the video how to add this type of ingredients to a dough and make it useful for future elaborations. Whether it's pizza dough, bread or other dough that pops into your mind.
A dough made with spinach and basil.
As you can imagine, spinach not only brings color but also flavor. And a lot. For that reason those of you who dare to prepare this pizza will have to like this ingredient. Otherwise you will find the dough, especially the edges that is where we appreciate its taste, unpleasant. If you like it, of course it won't be more inconvenient.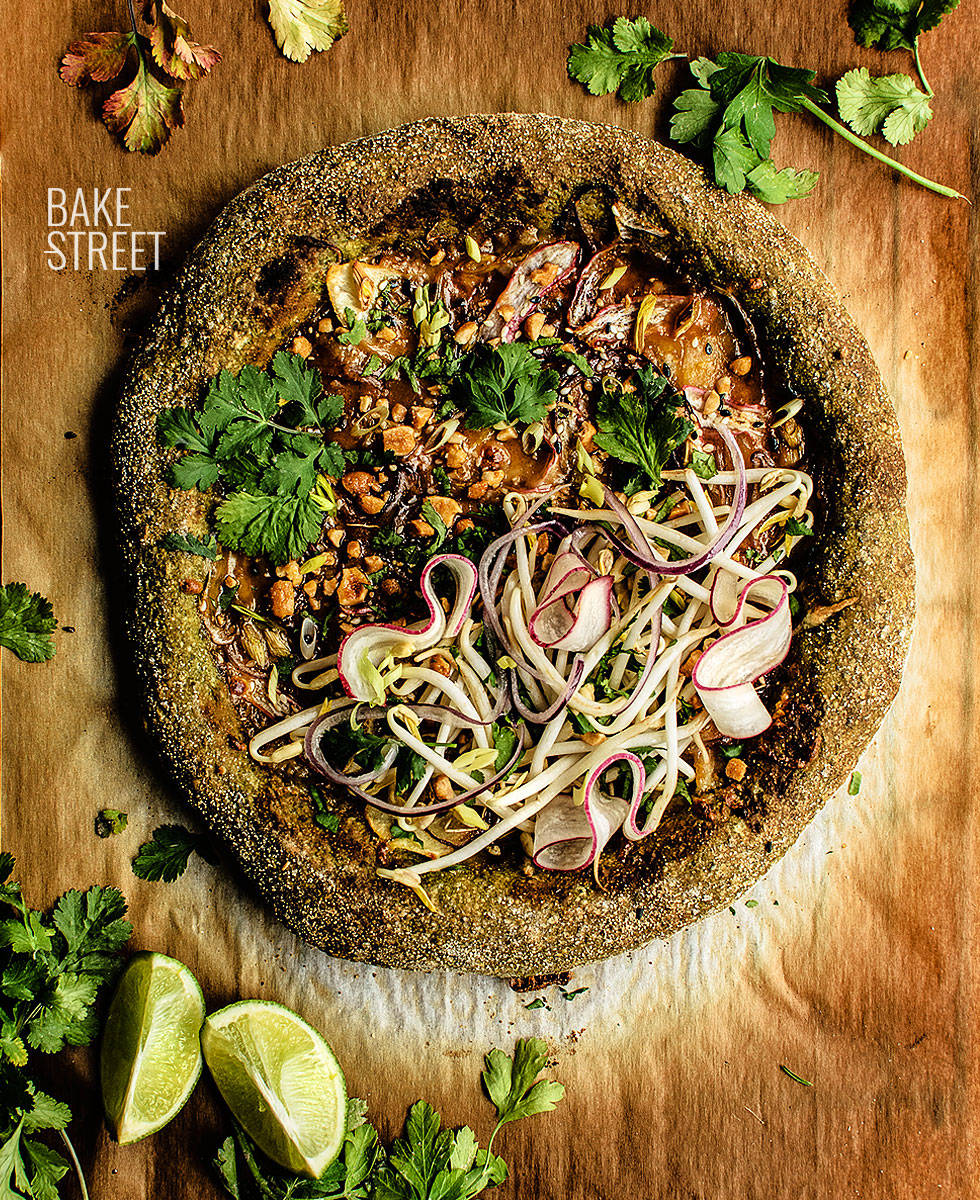 What important points should I keep in mind when making this pizza?
One factor that you should take into account when using spinach to hydrate doughs is that these have approximately 92% water, so the amount of water to add to the dough should not be the totality we need. Do not forget this because otherwise you will get an excessively hydrated dough.
Another point to keep in mind is that the dough hydration will not be visible immediately after mixing the ingredients. Flour takes a long time to absorb the water and therefore to hydrate. When you have finished mixing all the ingredients, you will obtain a dough apparently less hydrated than expected. Let the dough rest and you will see how it begins to hydrate and change its appearance. Do not rush and add more water thinking that the dough is dry….
And the penultimate point, because I'm sure that more things will come up during the post, is to be patient with the rising time. When you make this dough take into account the time it takes to rise (14-16 hours) and organize well. Do not make the mistake of wanting to speed up the process by introducing the dough into the oven with heat… This will lead to a dough with bad taste.
Looking for the ideal stuffing.
When we make pizzas at home, my family (my husband and son) want pizzas with classic and traditional flavors. They usually taste mine, but they make theirs with simpler mixtures. I love trying different combinations and flavors, even with those things we would never have thought of using for this recipe.
A long time ago I found in Pinterest, that fascinating place where you always discover something new and to which I must admit I am hooked, an illustration (from the SheKnows website) in which they suggested different combinations of stuffing to make a pizza. To say that I liked them all and I kept it to put it into use at some time.
Well, today is that moment, and I chose the ingredients that make up the pizza they call "Thai Wonder". Just adjusting it to my taste and changing some things… I thought it was perfect for my spinach and basil base.
Organizing our Thai stuffing.
To make the pizza we'll need a peanut sauce (the recipe I used is the same one I made for the Vietnamese spring rolls) for the base instead of the traditional tomato or pesto sauce). Mozarella, parsnips, radishes, red onions, honey peanuts, soya bean sprouts, coriander, garlic and sesame. Very tempting!
To preserve the texture of some of them, we will add them at the end of cooking. They will also bring a lot of freshness to the pizza, something that should be highlighted (among many other things) in Thai preparations.
Ingredients for 2 medium pizzas
FOR THE SPINACH BASIL DOUGH:
8.8 oz (250 g) bread flour
0,02 oz (0,6 g) dry yeast
0,7 oz (2 g) sugar
0,3 oz (8 g) salt
oz (100 g) spinach
5 large basil leaves
4,4 oz (125 g) water
FOR THE FILLING:
smashed honey peanuts
a bunch of chopped fresh cilantro
fresh soya bean sprouts
2-3 green garlics finely chopped
1/2 purple onion
2-3 parsnips finely cut with mandolin lengthwise
2-3 long radishes, cut lengthwise with mandolin
olive oil + Utah sweet salt* for the vegetables
mozarella
white and black sesame unroasted
peanut sauce (recipe below)
* You can use the kind of salt that you prefer
FOR THE PEANUT SAUCE (FOR TWO PIZZAS):
2,1 oz (60 g) peanut butter
1.4 oz (20 g) Hoisin sauce
1 tsp soya sauce
2 tsp moscabado sugar
1/4 tsp Sriracha sauce (recipe in the link)
1 Tbsp lime juice
Instructions
FIRST DAY
In a food processor blend the spinach, only the leaves previously washed, together with the basil and water to obtain a very light paste. Set aside.
In a medium bowl add the dry ingredients and mix.
Add the spinach mixture and mix until obtaining a homogeneous dough.
Cover with film and let rest for 18-24 hours at room temperature. Observe it to see its evolution after the first 16 hours, if you observe that it grows faster than it should, place it in the refrigerator so far that we will use it.
In case you do not want to use it after the first 24 hours, place it in the refrigerator until its use. You can keep it, obtaining good results, until after 5 days.
SECOND DAY
Our intense and colorful dough will be bubbly and will have increased its size considerably.
Sprinkle generously on a work surface with flour, place the dough over it and proceed to divide the dough into two pieces with the help of a scraper. It is a dough with a high hydration, ideally to work with it is to moisten your hands with water or sprinkle with flour.
Fold each portion by taking each of the four ends towards the center, turn the dough and make a boule trying to apply tension.
Place the dough into a bowl, cover and let rest for 45-60 minutes.
Make the sauce.
1. In a small bowl, mix all the ingredients together.
2. Cover with film and refrigerate until we need it.
Prepare the vegetables.
In a medium bowl add the parsnip, finely sliced, along with the radish and onion.
Drizzle with olive oil and salt.
Toss with your hands and let rest while we prepare the dough.
Shape the pizza.
Preheat the oven 30 minutes before bake the pizza to 520° F (270ºC). If your oven does not reach so much temperature, it doesn´t matter, use the maximum temperature with which allows you to work.
Turn the dough on a floured surface so that it maintains the rounded shape, where possible.

With the fingertips press the surface of the dough without touching the edges so that they remain swollen and we do not lose the gases of its interior. This will give us an airy and swollen edge after cooking.
Flour the dough on both sides, depending on the final hydration of our dough we need to use more or less. It is important that we can manipulate the dough without it adhering to our hands.
We take the dough with both hands and begin to turn it over our fists, while turning the dough gravity will help us to stretch it. If you are afraid to do it this way or you do not feel completely sure, you can stretch the dough on a work surface using the fingertips. Gently slide these to go stretching the dough, remembering not to touch the edges.
Stretch the dough to form a disc about 10 inches in diameter approximately.
Place the dough on a baking paper or a well floured wood and proceed to fill it.
Fill the pizza.
Spread the peanut sauce over the base of the pizza.
Sprinkle some mozzarella, part of the vegetables mixture, sliced green garlics and sesame.
Bake the pizza.
Before placing the pizza in the oven, turn on the grill at full power. Depending on what type of oven we have, it will have several options in terms of heat output. In my case I use the maximum.
Bake about 10 minutes or until the pizza has a nice golden color, with the edge swollen and toasted. Maybe in your oven it needs less cooking time, watch it to find the exact time. It can be around 7-12 total minutes.
Two minutes before removing the pizza from the oven, place the eggplant slices over the pizza and finish the baking.
Remove the pizza from the oven and finished decorating with bean sprouts, fresh cilantro and smashed peanuts. We can add more parsnips, radishes, onions and fresh green garlic if you wish.
Notes
This dough does not need to be kneaded to develop gluten, it will be enough to integrate the ingredients well and let it proof with calm.
How will I know when my dough is ready to make my pizzas? Besides appreciating the remarkable development of the dough, triples or more its volume, we must observe its surface. When is rising the top is slightly bulging, a sign that it is fermenting and creating gas inside. We need the dough to collapse, that is to say, to reach its maximum fermentation point. We will observe that the surface will become flat. At this point we can do two things, divide and preform to enjoy the pizzas or refrigerate it.

To bake it you can use as much steel sheet as stone, place it in the central part of the oven and remember that we must preheat with her inside.
If the dough opposes some resistance and shrinks, it is because it has tension. Let it relax for about 5-10 minutes and continue shaping. Although it is very rare that this happens to you unless you touch the dough in excess.
HOW TO BAKE WITH GRILL on the web where I have followed the recipe, they put a lot of emphasis on the baking distance of the pizza (especially if we use baking parchment in the base) and the grill. They recommend that this is not less than 8 inches because there is a risk that the paper will burn. In case your oven does not respect this distance it will be better to proceed with the baking without the grill.To get a toasted edge, just prolong the final baking time and the result will be very good as well.
I have used a variety of salt called Utah sweet salt (I have a strange addiction to buying different types of salt). Comes from the Bonneville mines in Salt Lake City, Utah, USA. It is one of the largest sources of salt on the North American continent and is extracted by evaporation from the lake's water.
This pizza dough is ready to use from 18-24 hours but after this time, we can refrigerate it and keep it there for 5 days.
If we refrigerate the dough we will have to let at room temperature for 2 hours before proceeding to work with it, otherwise it will be more complicated to manipulate it and the rising will not be properly.
We can refrigerate the dough in bulk and divide it, after the tempered one, to prepare the pizzas.
Do not place the sprouts, cilantro and peanuts before baking the pizza, reserve them for the end. Otherwise, there is a risk that the nuts will become bitter and the sprouts and coriander will become toasted and unappealing in color and texture. It is best to reserve your fresh, crunchy flavor to finish the pizza.
This Thai Pizza with spinach and basil dough is the most wonderful recipe I have prepared at home in the last few days. Maybe I'm exaggerating, maybe not, I think it would be best if you try it and we'll talk about it ;)
What I can tell you is that its flavor is extraordinary, especially if you like this type of sweet/spicy/fresh flavor. A pizza very different from the ones I've tasted so far and that, without a doubt, I will repeat on many other occasions.
I wish you a great weekend, see you back on Monday!
Big hugs,
Eva
Archivado en