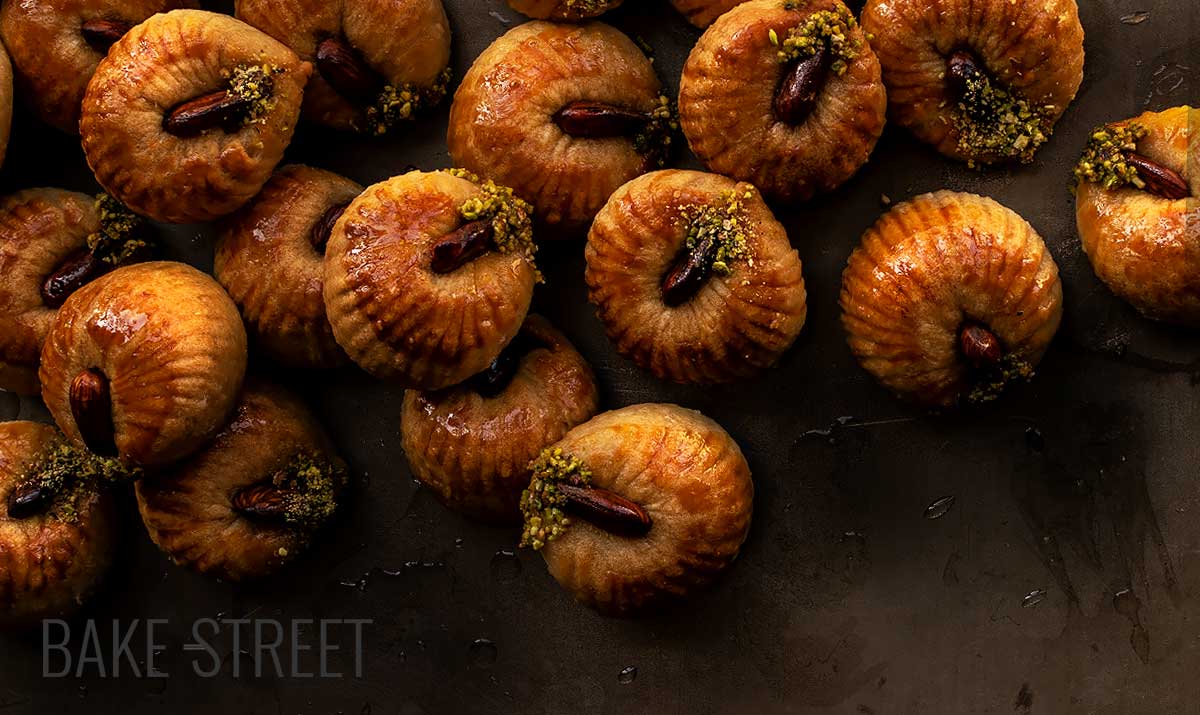 Tarak tatlısı, Turkish pastries
Este post también está disponible en Spanish
I know you'll think I must be crazy leaving a baked recipe with this warm weather we're having… Anyway, these high temperatures upset me a bit, hahaha. But well, we already know that "scabies with desire does not itch" (Spanish proverb). So if you are like me, you can not be without baking even if it's hot like the hell, you have to try to make these Turkish pastries, Tarak tatlısı.
When it comes to translating their meaning, I find two variants; Scallop Dessert or dessert comb (the latter makes the pastry lose all glamour). The truth is that given the process you have to follow to do it, the correct one would be the second one. But taking into account its external appearance, the first translation could also be worthwhile. So I leave you both and use the one you consider most appropriate. Although if you are able to reproduce its original name, much better.
Tarak tatlısı.
You know that I am a lover of Turkish and Arab sweets pastries, for me are a symbol of dedication, love and elegance. I have said it many times, but I really think about it whenever I taste one of its sweets or I make them at home. They have my deepest admiration.
This sweet is also known as dessert Cahide Sultan, has its origin in Kastamonu, a city founded in the eighteenth century BC and located in northern Turkey.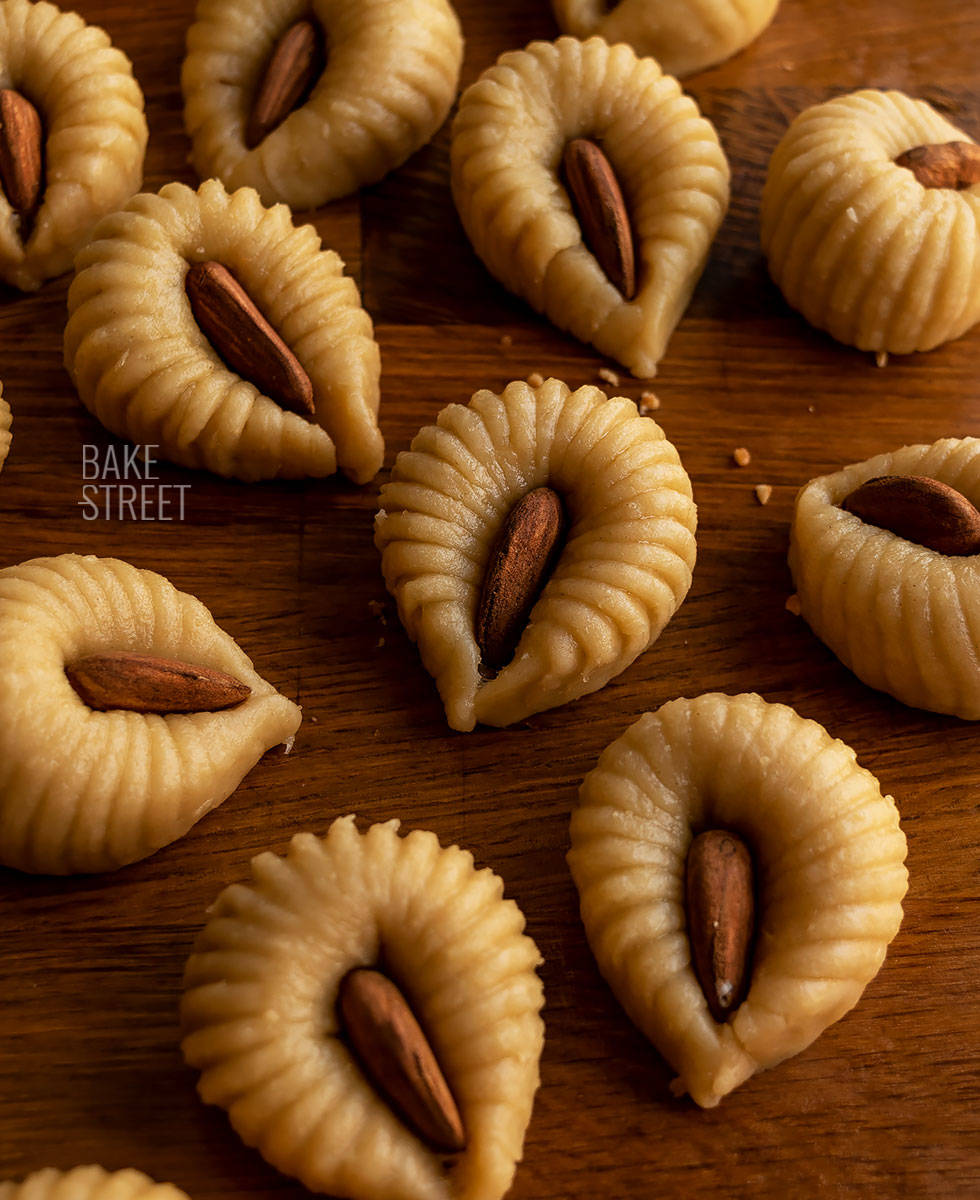 These are cookies, but with a more spongy result than you would expect, filled with nuts, textured with a comb (new) and formed simulating a shell. Then decorate with an almond or pistachio in the middle, brush with yolk and bake. Once they are out of the oven, they are bathed in syrup and left to rest so that they absorb a large part of it. The result is a spectacular and very juicy sweet.
In my case I have used salted honey peanuts to fill them, I wanted to give them that flavor inside. But the usual thing is to use walnuts, hazelnuts, pistachios… Or whatever you like.
Surely you remember the Kalburabasti, a recipe I left last year by these same dates … What a coincidence.
Tarak tatlısı elaboration process.
It is a very simple recipe to carry out, only requires a little kneading to amalgamate the ingredients and homogenize the dough, shape and bake. Adding the rest time in the syrup, this should not be omitted. Now, I do want to tell you that the shaping process is a little laborious. It won't take long, but it does require love and time to ensure that the result is good.
To make them, I did the recipe from Bera Tatli. Thank you so much! 🙂
We will be able to have them ready on the same day we prepare them. And enjoy several breakfasts, coffees and teas well accompanied for a few days 😉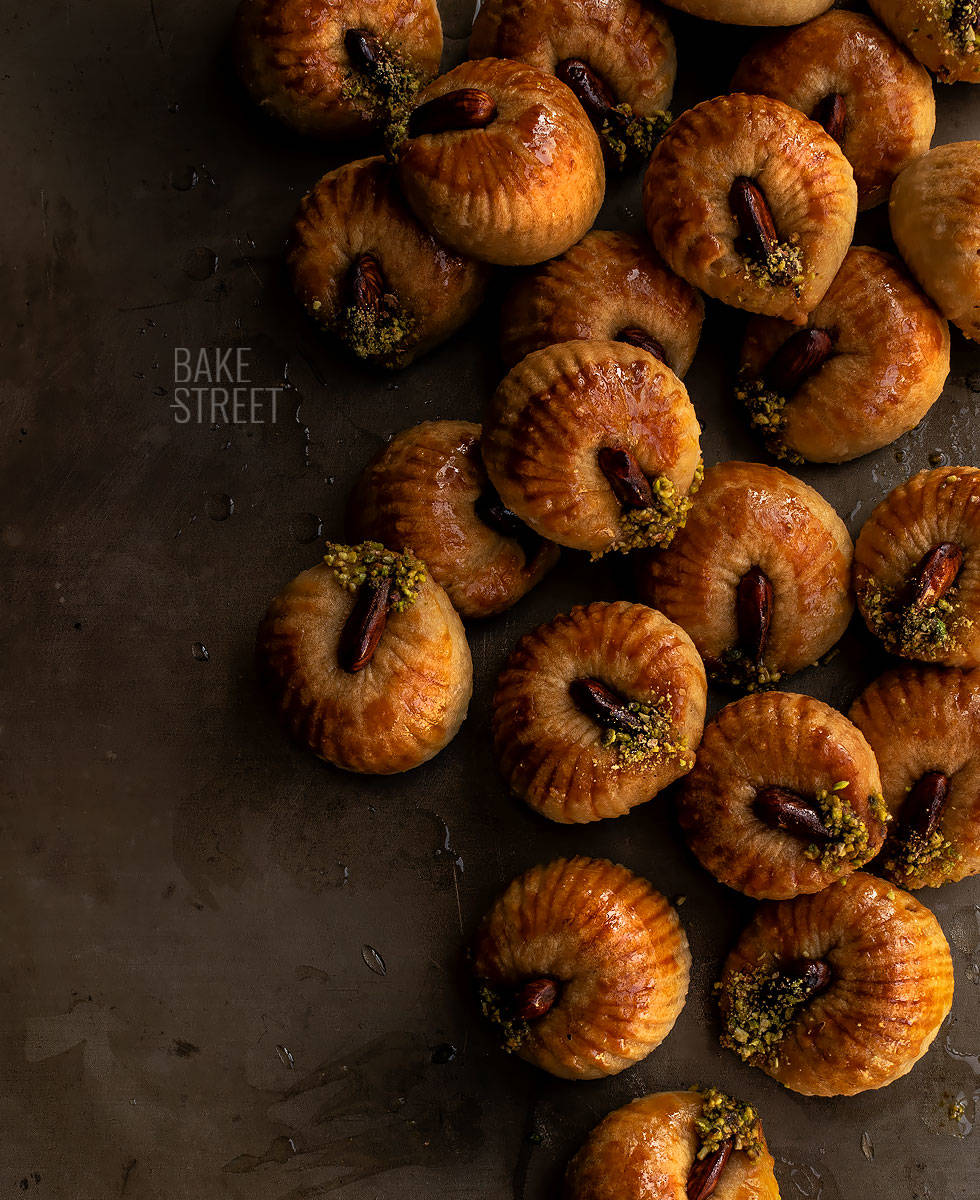 I'll see you back in the summer.
This summer I say goodbye before you than in previous years. Normally I usually go for publications for a month, but this year it will be two months. I have many projects that need time and I would like to take them out throughout the summer. Also, that we are not going to fool ourselves, I need to rest a little and recharge batteries to face a whole new year 😀
Let it be known that I will miss you a lot, because whenever I make a stop I miss to share things with you. But the body and mind also need to disconnect and enjoy a little. I need to spend time with my family and friends. I will share things from time to time on social networks, especially on Instagram, so we can stay in touch there and bore you with nonsense, of course, hahaha.
Well, let´s go to the recipe!
Ingredients for 28 serves
FOR THE COOKIE DOUGH:
450-460 g pastry/cake flour
150 g unsalted butter at room temperature
10 g grated coconut
20 g semolina
100 g natural yoghurt
35 g icing sugar
1 large egg + 1 large egg white
15 g baking powder
1 tsp vanilla extract
pinch of salt
FOR THE FILLING:
4 Tbsp honey salted peanuts
FOR SYRUP:
600 g water
450 g sugar
2 lemon slices
TO DECORATE:
1 large egg yolk to brush
whole natural almonds
chopped pistachios
Instructions
Make the syrup.
In a saucepan pour the water together with the sugar.
Place at medium heat and let it boil. Then reduce the heat and leave for 20-25 minutes. We'll get a syrup that's not too dense.
Add the lemon slices and leave to stand until completely cool.
Make the dough.
In a large bowl add the butter, yogurt, coconut, semolina, vanilla extract and the egg plus the white.
Begin to add the flour, previously sieved, little by little and mix with the help of a silicone spatula. I recommend you to do it little by little, so that it is easier to integrate all the ingredients as well as to observe the consistency.
Incorporate the baking powder together with the salt and mix again.
Add the rest of the flour and mix again until you get a homogeneous dough. I detail you in the ingredients 450-460 g of flour because it will depend on the absorption of this. In my case it was 460 g, but it may be the case that I need a little less. Note that it is easy to handle and soft to the touch, not sticky, but not dry either.
Once we have a compact dough, dump over on a clean work surface and knead until completely homogenized. We must obtain a dough soft to the touch and modelable.
Make a ball, cover with a bowl and leave for 15 minutes.
Shape the cookies.
Divide the dough into 28 equal pieces, about 30 g/each. Make balls.
Take one of the pieces and flatten it gently, trying to give it an oval shape.
Place on a new comb and flatten with the palm of your hand. Ideally, the dough should cover the entire surface of the comb's tines.
Fill with ground honey peanuts and join the ends to seal them.
Roll to the side, taking care not to lose the drawing, and join the ends pressing to be sealed. In case they come off, we can moisten the ends of the piece slightly with water and press again.
Repeat the same process with the rest of the pieces. Patience.
Once they are all shaped, place an almond in the central fold.
Place on a perforated tray lined with baking paper and refrigerate for 30 minutes. In this way we favor that they maintain better the shape.
Bake.
Preheat oven to 345ºF (175ºC).
Brush the pieces with egg yolk, it is not necessary to brush everything. The upper central part will be enough.
Bake at medium height for 28-30 minutes. They will turn a light golden colour.
Remove from the oven and place the tray on a rack.
Brush each piece with a little syrup and leave to cool for 30 minutes.
Place the Tarak tatlısı inside a baking dish and pour the syrup over them. Let them stand in the syrup for 2-3 hours.
Serve.
Remove the pastries from the syrup and drain lightly.
Place on a serving dish or plate and sprinkle with ground pistachios.
Serve.
Notes
The dough will be a little granular due to the addition of grated coconut, bear this in mind.
To texture the surface you must use a new comb. If you have another similar tool that can do the same function, great.
If the cookies, once they are shaped, are separated, you must moisten the ends with water and press them again. This will keep them together.

The yolk that we separate from the egg white (which will go into the dough together with the egg) and that we will use later to brush, we must place it in a small bowl, cover it with film and keep it in the refrigerator until the moment of its use.
Before baking the cookies, I refrigerate them for 30 minutes. In this way we help them to keep their shape better after baking.
The original and traditional filling is walnuts, hazelnuts or, in some cases, pistachios. But if you want to vary the nut, do it without problems. In my case I used salted honey peanuts, I like them a lot and I thought they would look good :)
I recommend you not to omit the resting time of the pastries in the syrup. They absorb large amounts and the result is incredible.
They can be kept in an airtight container for several days. If it's very hot and you prefer to refrigerate them, no problem. However, temper them before consuming them.
What can I tell you, that if one day you have the madness to turn on the oven, even if it is when this heat wave passes, encourage you to prepare these Tarak tatlısı. They will make you fall in love, both in taste and texture.
A juicy mouthful, tender, syrupy, with nuts... Come on, I can't say no!
I wish you a WONDERFUL summer. Enjoy it a lot, bathe a lot (either in the beach or in the pool), eat better and rest as much as you can. Have a great time! See you on the way back :)
Big hugs!
Eva
Source: Millyet
Archivado en