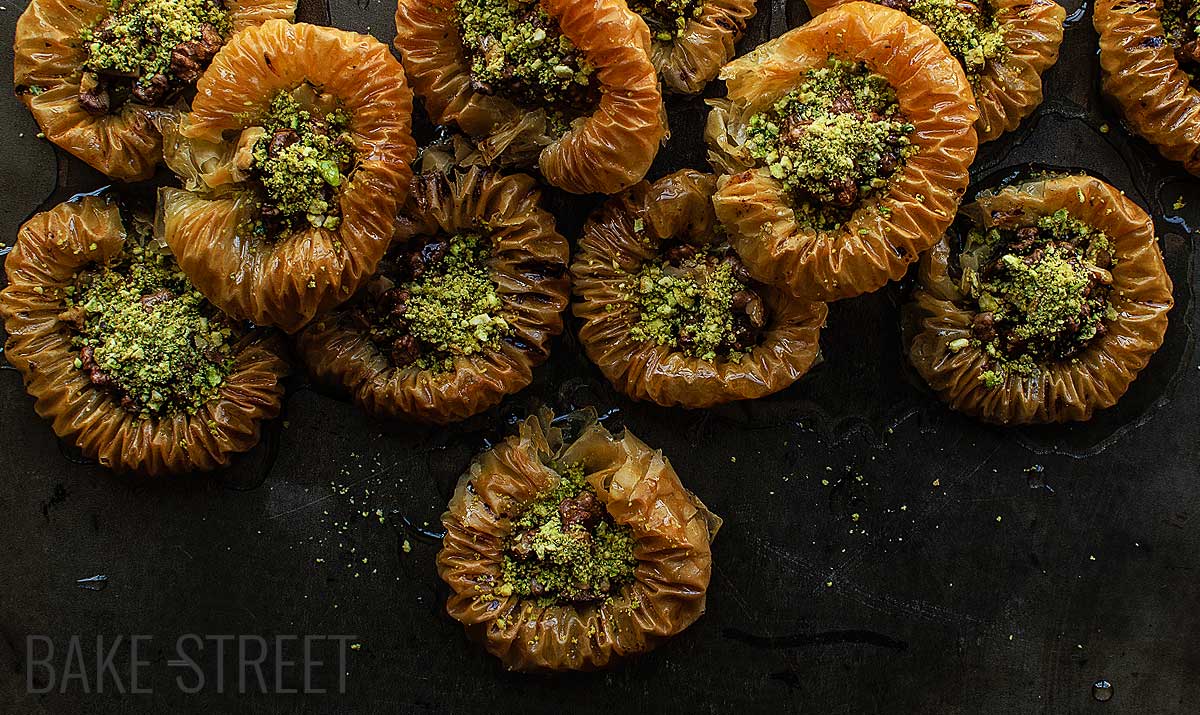 Kuş Gözü Baklavası – Baklava Bird Eye
Este post también está disponible en Spanish
I haven't been able to stop making Turkish sweets for a few weeks. I'm totally fascinated by their elegance and, of course, their spectacular taste. I have prepared many recipes of its exquisite gastronomy and, to this day, I continue to fall more and more in love with each and every thing I try. Today I want to leave you a new version to prepare baklava, Kuş Gözü Baklavası or Baklava Bird Eye.
These are cakes with a fairly simple preparation process if we use purchased phyllo pastry. Of course, the ideal would be to do homemade dough. But since the hot weather doesn't usually go along with being in the kitchen for too long, we'll see how to make a simple, but equally incredible, version.
Exhibitor sweet pastries.
In my humble opinion, Turkish, Arab cuisine… Can boast of making the most elegant and eye-catching sweets. Of course there are great bakers and pastry shops that make true works of art. But I don't know why, I've always seen this kind of pastry different. I think it is very artisan, delicate and requires a lot of time and love to carry it out.
I know this happens and it happens every time we do something we like. Either on a personal or professional level. But it's what they make me feel and that's how I have to tell it. When I see them I see delicate hands preparing a great quantity of sweets, with great love, so that they can be consumed later by their loved ones.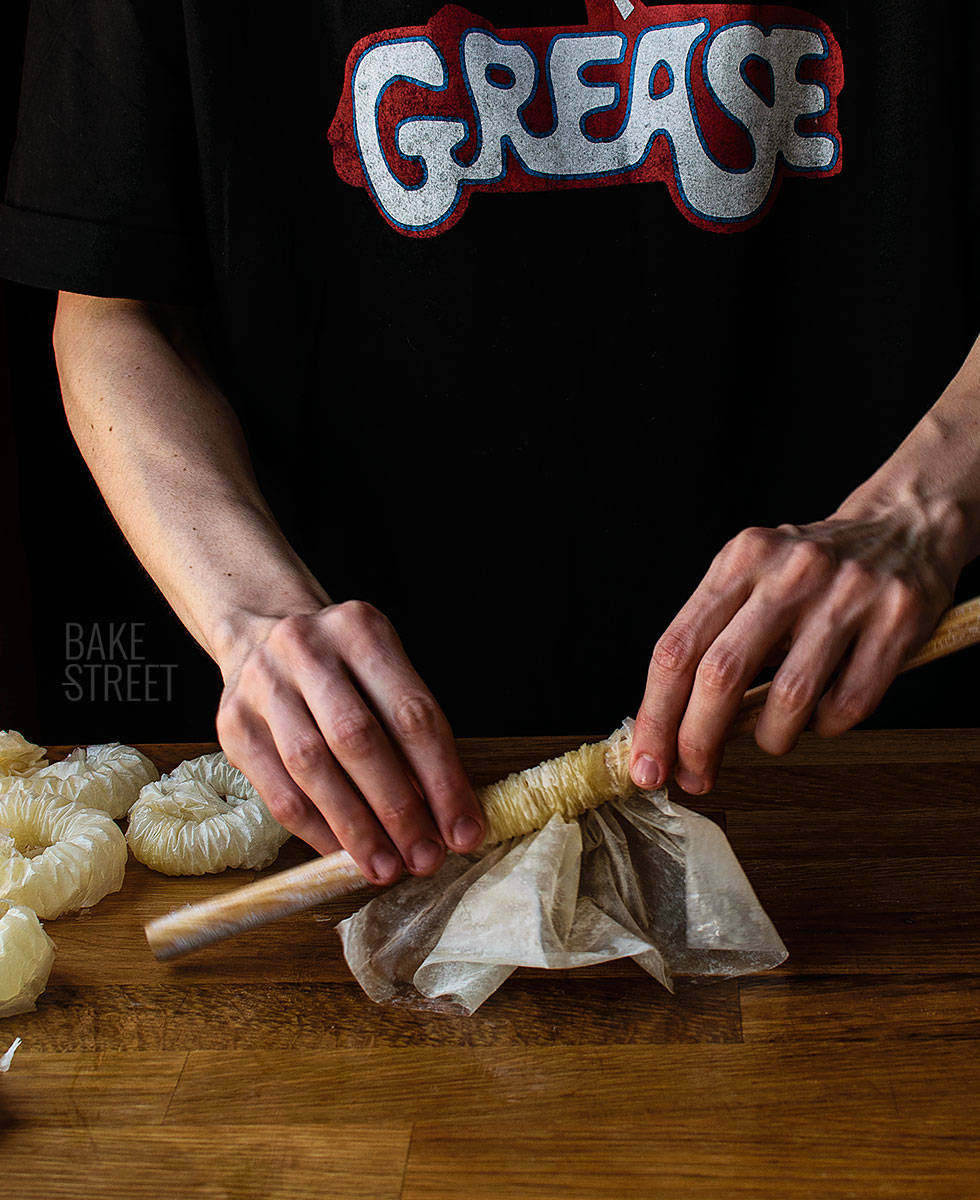 Kuş Gözü Baklavası or Bülbül Yuvasi.
This variety of pastry can be found under these two names, Kuş Gözü Baklavası or Bülbül Yuvasi. Their translation would be Bird's Eye or Nightingale's Nest.
As it is a sweet that could be included in the term "baklava", we will find many similar versions of today's recipe, but with different shapes.
We already know that baklava is a Turkish cake made with phyllo pastry, filled with nuts and pistachios, bathed in syrup or honey. Traditionally we find it in a format created by layers that alternate phyllo pastry and nuts. But you can also find another type of shape and even using different ingredients such as kataifi paste.
Some time ago I left this recipe for Nightingale's Nests or Ouch El Boulboul (only available in Spanish), which is very similar to today's recipe. The nests were made with kataifi paste, unlike today's sweets, which are made with phyllo pastry. That's why I've decided to bring you this version so that you can learn a new way to prepare and serve them.
I have followed Cahide Sultan's tutorial to make them, although she makes them with a homemade dough. The result is simply spectacular.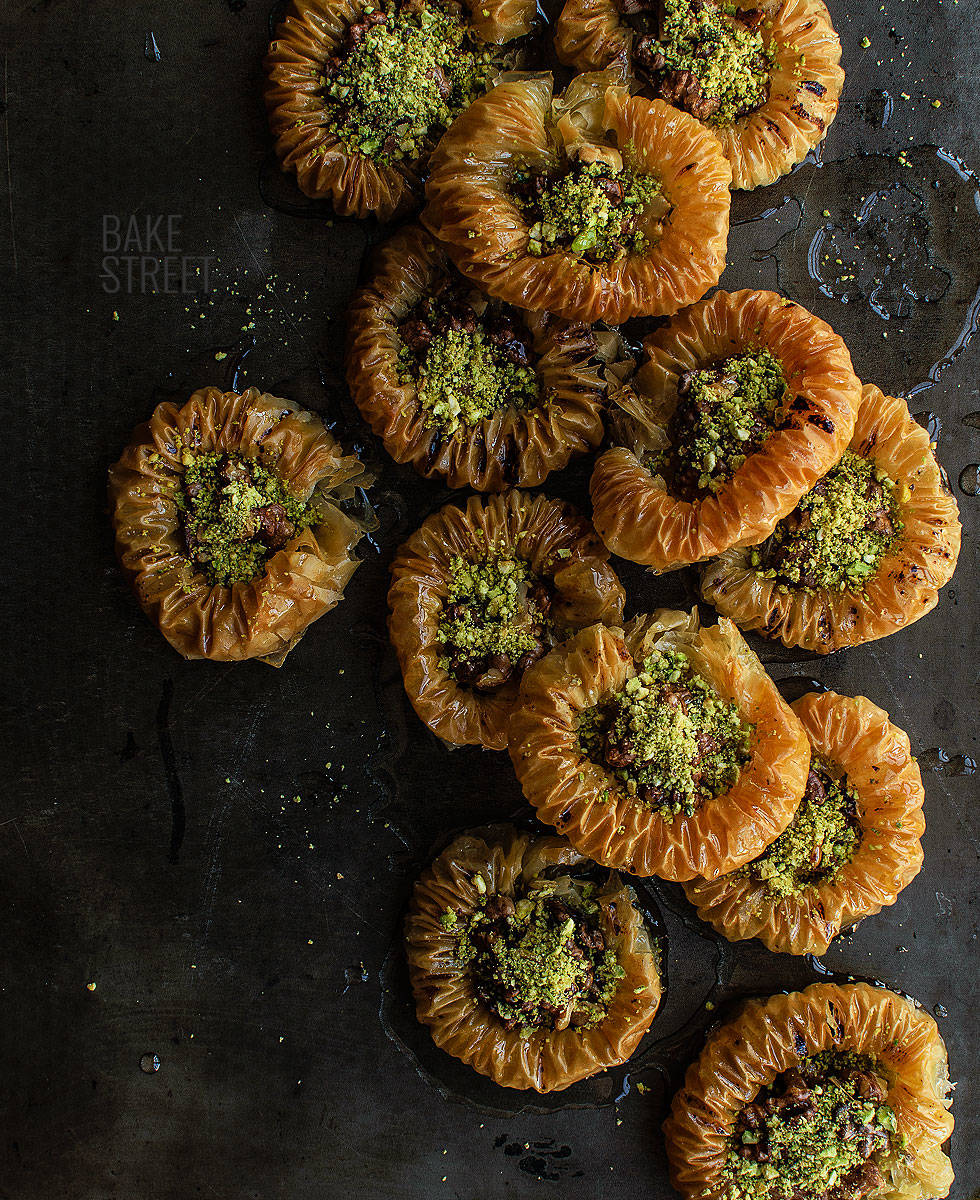 Ingredients for 14 pieces
FiloFOR BAKLAVA:
7 sheets phyllo pastry
100 g unsalted butter, melted and cooled
FOR THE SYRUP:
325 g sugar
400 g water
few drops Orange blossom water
FILLING:
Instructions
Shape Kuş Gözü Baklavası.
Cut a sheet of phyllo pastry in half. Two pieces will come out of each sheet.
Brush it, generously, with melted butter.

Turn the sheet over, so that the part brushed with butter is on the bottom, and roll it up in a very fine roller. Do not roll the dough up tightly, the dough should be slightly loose.
We will not roll up the whole sheet, we must leave a fold that will be part of the central base of the piece.

Shrink the dough by pressing from both ends to form an accordion with it.
Push it to one side to remove it from the roller.

Join both ends leaving the fold, which we do not roll, in the central part forming the base of the piece.
Carefully place on a baking sheet and repeat the process with the rest of the pieces.
Fill and bake.
Preheat oven to 355ºF (180ºC).
Fill the inside of the pastries with nuts.

Bake for 20 minutes or until they are golden brown.
Remove and let cool completely.
While the pastries are baking, make the syrup.
In a saucepan pour the water together with the sugar and orange blossom water.
Place at medium heat and let it boil. Then reduce the heat and leave for 20-25 minutes. We'll get a syrup that's not too dense.
Remove from the heat and let stand.
Cover with the syrup.
Once the pastries have cooled down, pour the warm syrup over them.
Let stand in the syrup for 3-4 hours. The more hours we leave them at rest, the juicier they'll be.
Serve.
Remove the pastries from the syrup and drain lightly. They must have absorbed most of it.
Place on a serving dish or plate and sprinkle with ground pistachios.
Serve.
Notes
Originally, the dough of these sweets is made by hand, but I have left you this version with a store-bought phyllo pastry. It is much faster and gives good results. Of course, they will always look better with the dough made by us. I'll leave it for another time.
Brush the entire surface of the dough without leaving any dry areas. Otherwise, when the dough is wrinkled, it may have dried and broken. It is important that you are hydrated to handle it without problems.
They are filled with walnuts and pistachios, but you can choose another variety of nut if you wish.
I recommend you not to omit the resting time of the pastries in the syrup. They absorb large amounts and the result is incredible.
They can be kept in an airtight container for several days.
Kuş Gözü Baklavası - Baklava Bird Eye is one of those sweets that you should try to make at home at least once in your life. I think there will be many more.... Because you're gonna love them.
They are perfect to prepare at any time of the year. They only need 20 minutes of baking time, we can be anywhere in the house fresh while they are cooking, and eat them even cold. I assure you that they are wonderful to accompany your coffee or even a cold tea.
Without forgetting that they are very simple to do and we will surprise everyone at home ;)
I wish you a wonderful Wednesday!
Big hugs,
Eva
Archivado en