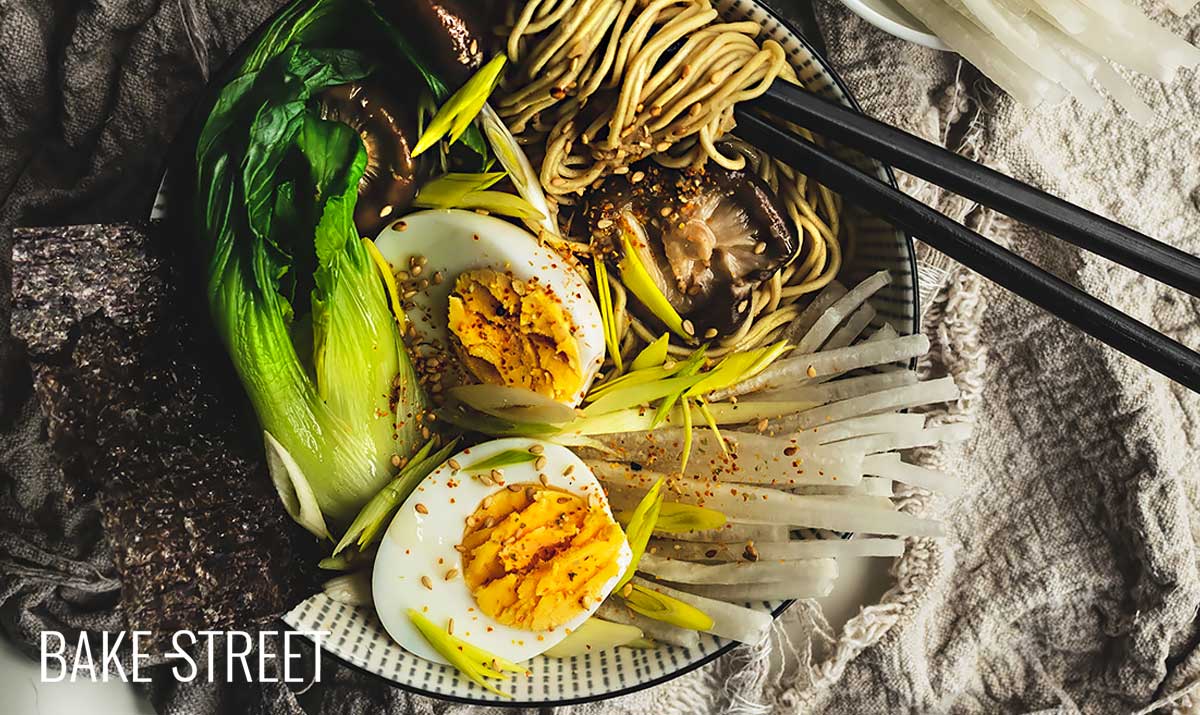 Spicy Miso Ramen
Este post también está disponible en Spanish
I know ramen is a dish we normally eat when we have cold weather. But before the real hot weather comes, we can continue to enjoy this wonderful preparation with that addictive combination of flavors. At home we like it a lot and it's one of those recipes that I prepare every week. Religiously. I make many variants as well as more or less complicated elaborations, but the one I share with you today is one of the ones I usually make the most. Spicy Miso Ramen.
It is true that it is not the most complicated or elaborated variety of ramen. If we go deeper into this recipe, we will find much longer processes, but they will also give us better results. I promise to bring many more versions, but still you prefer last summer and entering the fall, hahaha. Today's recipe is much simpler, but I can assure you that the result is absolutely wonderful.
The recipe of spicy miso paste I leave with you is based on the amazing recipe by Mandy Lady & Pups.
Spicy Miso Ramen.
To make our ramen, the first thing we'll have to do is make a good basic broth. In my case, I almost always use a Dashi broth. This broth is made with konbu seaweed and katsuobushi, in this post I tell you how to do it at home.
Then we will enhance its flavor with a paste that we will prepare at home with white miso, red miso, ginger, onion, garlic, mirin, Toban-Djan paste, among other ingredients. This will be the key element to achieve a broth that guarantees us to obtain a ramen with a lot of flavour. Don't worry if you don't like any of the ingredients, because you can always omit it or replace it.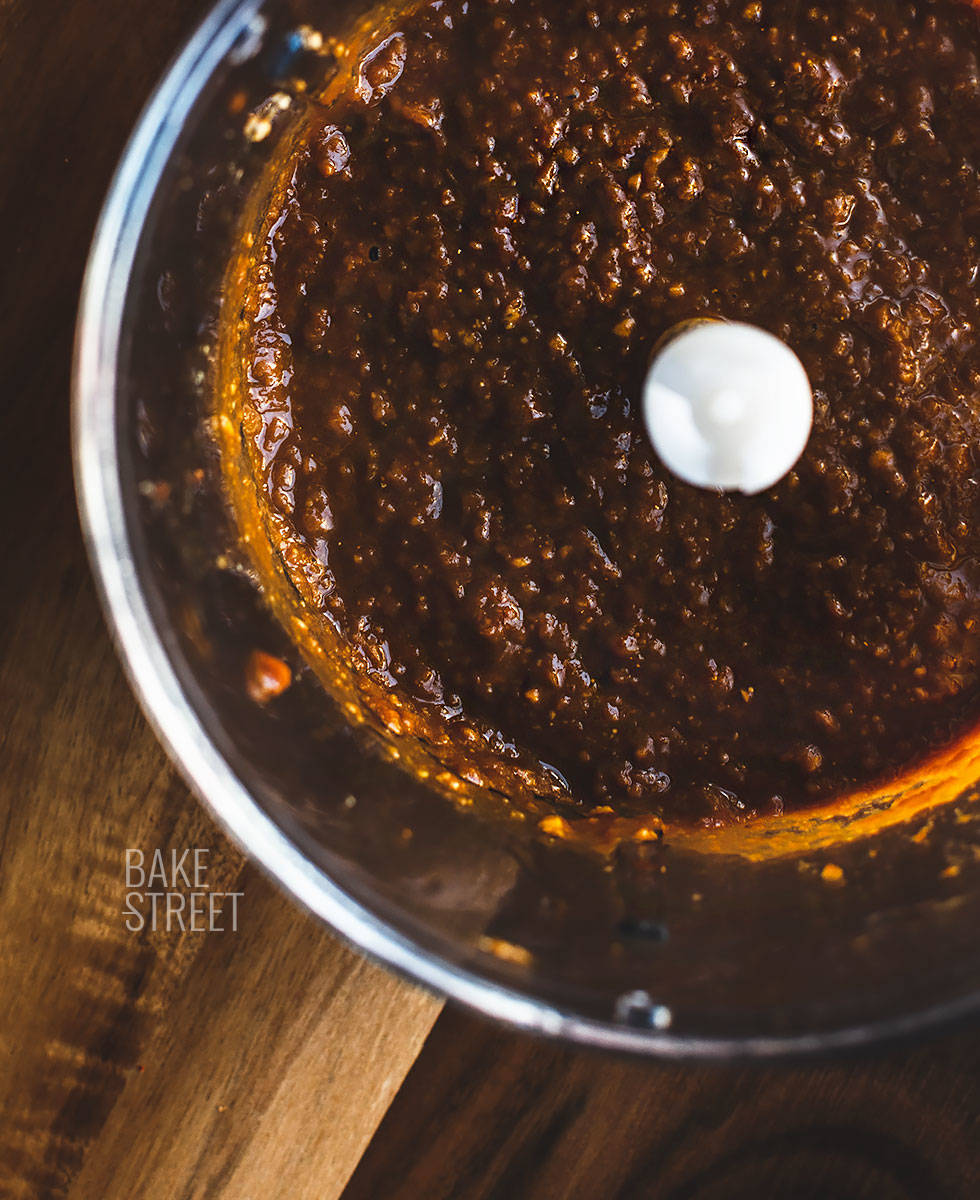 Once we have our broth and the spicy miso paste, we will only have to choose the variety of noodles that we like the most as well as the ingredients with which we are going to serve it. In this last case I can tell you that every time I prepare them I choose different ingredients or combinations of ingredients.
Dressing the spicy ramen with miso.
My son, for example, likes simple things. Noodles, broth and lots of chopped chives. That's his favorite combination and few times you can get him out of there… Something similar happens to my husband. He adds shiitake mushrooms, omits the chives and doesn't mind accompanying them with meat or eggs. But little more.
In my case I am much more receptive when it comes to adding ingredients. Everything seems fine to me, hahaha.
I love to add shiitake (always), chives, garlic, fresh soy sprouts (this drives me crazy, that crunchy touch fascinates me), meat, eggs, daikon, pak choy, other types of mushrooms like shimeji … Love everything! In fact I like to vary with what I accompany it so that it is not always the same way to serve it.
What I like best is to find contrast of textures, so I advise you to add some raw ingredient such as daikon cut into strips, soy sprouts or even some tempura.
If you like tofu, which I don't like too much, I left a spicy ramen with tofu on the blog some time ago. I'll tell you because you might want to add sautéed tofu as an ingredient for those who like it. I don't know why, its texture… doesn't convince me.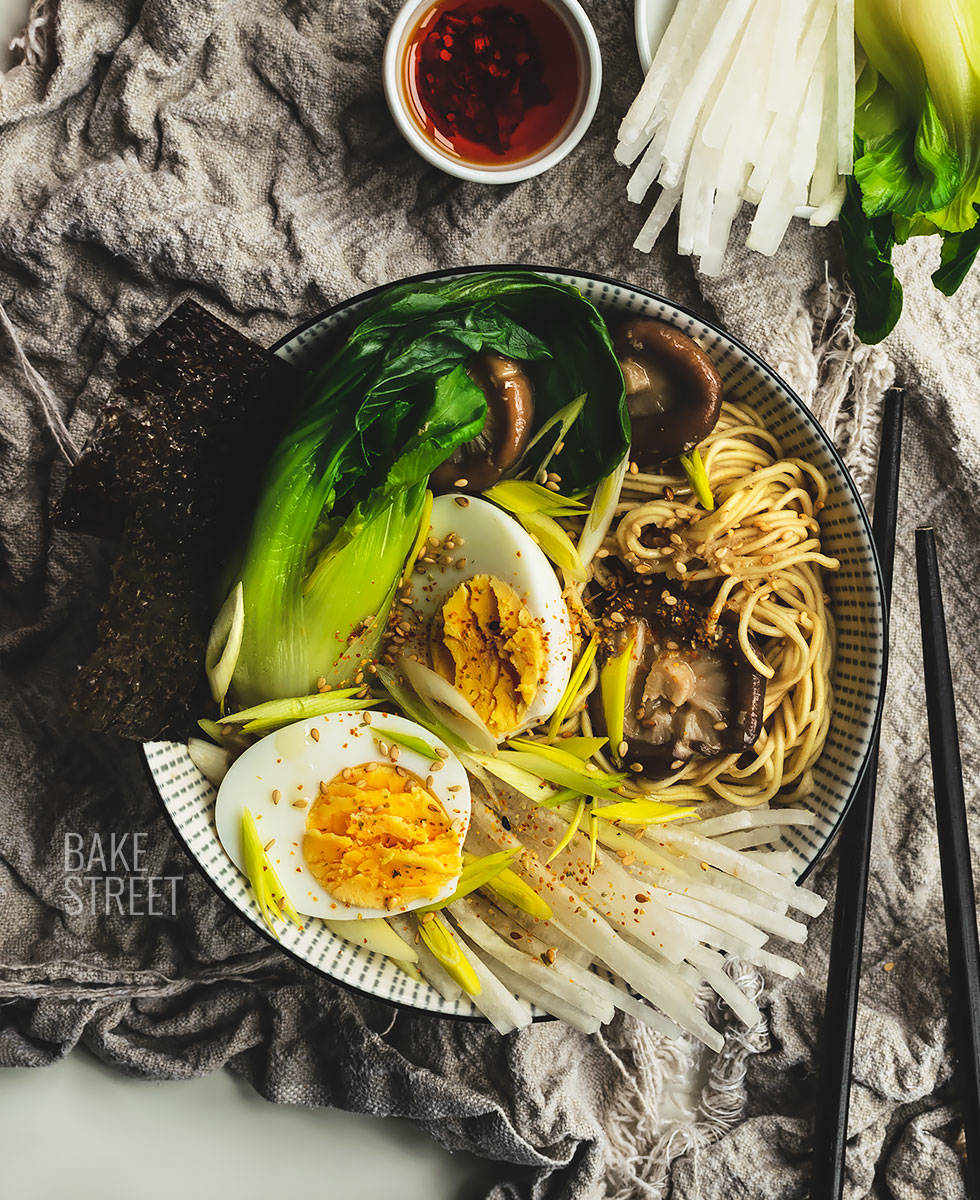 Ingredients for 2 serves
FOR SPICY MISO PASTA:
65 g red miso
130 g white miso
2 Tbsp Toban-Djan sauce or 1-2 Tbsp Sriracha (you can do it homemade, link here)
6 large garlic cloves, chopped
40 g fresh ginger, peeled
3 Tbsp Mirin
2 Tbsp olive oil
1 Tbsp sesame oil
2 Tbsp tahini
FOR RAMEN:
600 g Dashi broth (recipe link)
6 fresh Shiitake
3-4 Tbsp spicy miso paste (taste and adjust)
120 g high-fat coconut milk
90 g dried noodles
2 large eggs
4 green garlics, sliced
roasted sesame
nori seaweed
daikon cut into strips
2 pak choy
sesame oil
pinch of schichimi togarashi
Instructions
Make spicy miso paste.
In a food processor add all the ingredients and blend until a homogeneous paste is obtained.
Pour into an airtight container and keep in the fridge until needed.
Make ramen broth.
In a medium saucepan add the broth together with the shiitake, washed and whole.
Place at high heat and let it boil, then reduce to medium low heat and leave in a gentle cooking for 20 minutes.
Add miso paste and leave in low heat for 5 minutes.
Remove from the heat, add the coconut milk, stir well and let the covered soup rest for 10 minutes.
Meanwhile, we prepare the eggs for the ramen.
Place the eggs in a saucepan with water over high-heat.
Once the water comes to a boil, quickly reduce to low heat and leave for 7 minutes.
Remove from heat and pass through very cold water or put in a bowl with water and ice.
Let it rest for a few minutes.
Cook pak choy.
Prepare a medium saucepan, fill with water and place over high heat. Let it boil.
Prepare a bowl with cold water and ice, we will use it to place the vegetables when leaving the boiling water and to cut the cooking. Set aside.
Once the water comes to the boil, put the pak choy in the saucepan and leave for 1 minute.
After this time, take it out with the help of a slotted spoon, and place in the bowl of water with ice.
Leave for 2 minutes. Remove, drain well and set aside on a plate.
Cook noodles.
Fill a medium saucepan with water, place at medium-high heat and leave until boiling.
Once it comes to the boil, remove from the heat and place the noodles inside. Leave for 4 minutes.
Drain and set aside.
Serve the spicy ramen with miso.
Carefully remove the eggshells, wash with water to remove any adhering pieces.
Divide the noodles into two bowls.
Strain the ramen broth, reserving the shiitake, and serve over the noodles.
Decorate with chopped green garlics, sesame, shiitake mushrooms, pak choy, strips of fresh daikon, rectangles of nori seaweed, schichimi togarashi and a teaspoon of sesame oil.
Finish by cutting the egg, place on top of the ramen and serve immediately.
Notes
If you don't like spicy flavors, you can make this variety of ramen by omitting the spicy paste.
Make sure the soup doesn't boil when adding the miso paste, so we'll keep all its benefits as well as the taste.
I used fresh shiitake mushrooms, but you can use it dehydrated. Dehydrated mushrooms provide much more flavor than fresh ones. In my case always dehydrate at home, in this post I tell you how to do it.
If you don't like pak choy, you can use other elements such as soya sprouts, other varieties of mushrooms...
Use the variety of noodles that you like the most or have at hand.
We don't need to add salt because miso is pretty salty by itself.
Seaweed can be used or not when serving ramen. I love them, but for example my family don't usually like them this way (they prefer in rolls, onigiri or onigirazu).
Usually ramen is served with meat, but at my house they prefer it this way. You know that you can adjust the recipe to your personal tastes.
You'll have miso paste leftovers, but don´t worry. It can be refrigerated for 4-5 days without problems.
If you like ramen, then don't stop trying this version that I leave you today, Spicy Miso Ramen. I assure you that it is really addictive, has something that does not allow you to stop taking one spoonful after another accompanied with noodles, vegetables ...
I tell you that at my home, even though the hot weather is already coming, we still do it. We like it very much and I believe that when something is enjoyed so much, there is no warmth that cannot be supported! hahaha.
I wish you a wonderful beginning of the week!
Big hugs,
Eva
Archivado en