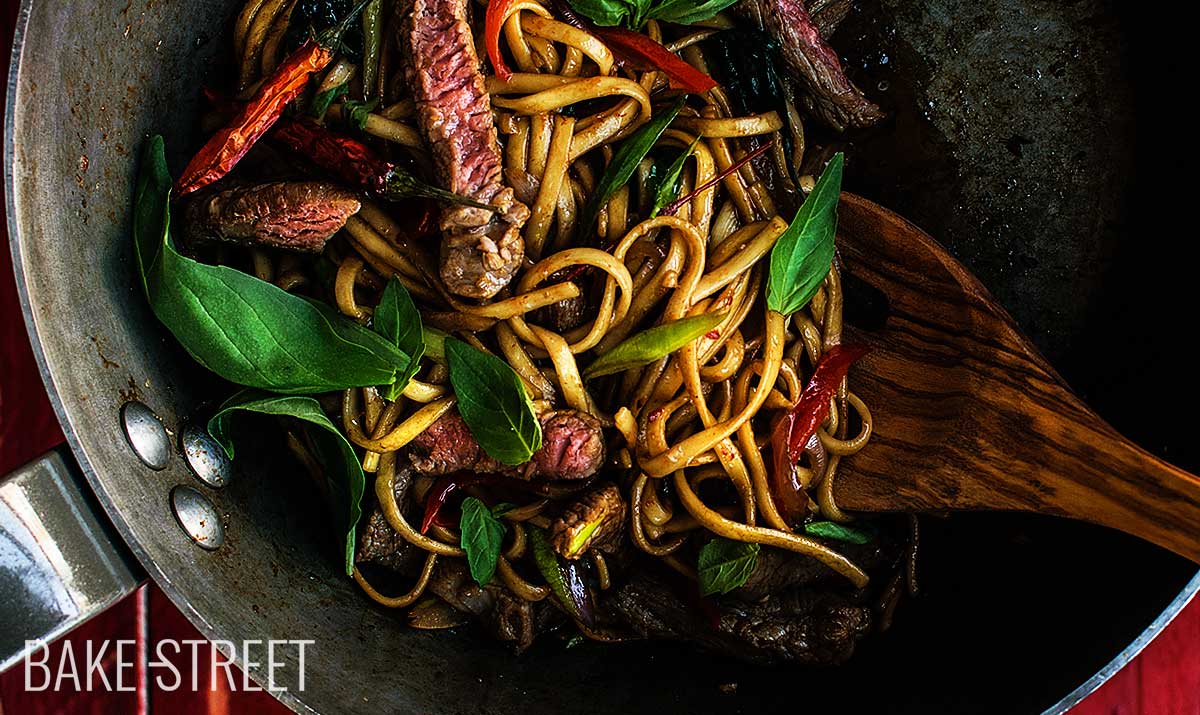 Pad Kee Mao – Drunken noodles
Este post también está disponible en Spanish
I'm sure when you see the title you will have thought… Drunken noodles? But what is this? Yes, Drunken noodles or Pad Kee Mao which is how they are mostly known. This original Thai dish is not only absolutely delicious, but we can also enjoy it in a few minutes.
No doubt that perfect dish and ideal for the days that we do not have much desire to cook, but eat well or for the days that we do not have too much time. That these are usually the most common. Or, why not? For those days we come back to have a drink with our partner, friends … we arrive home hungry.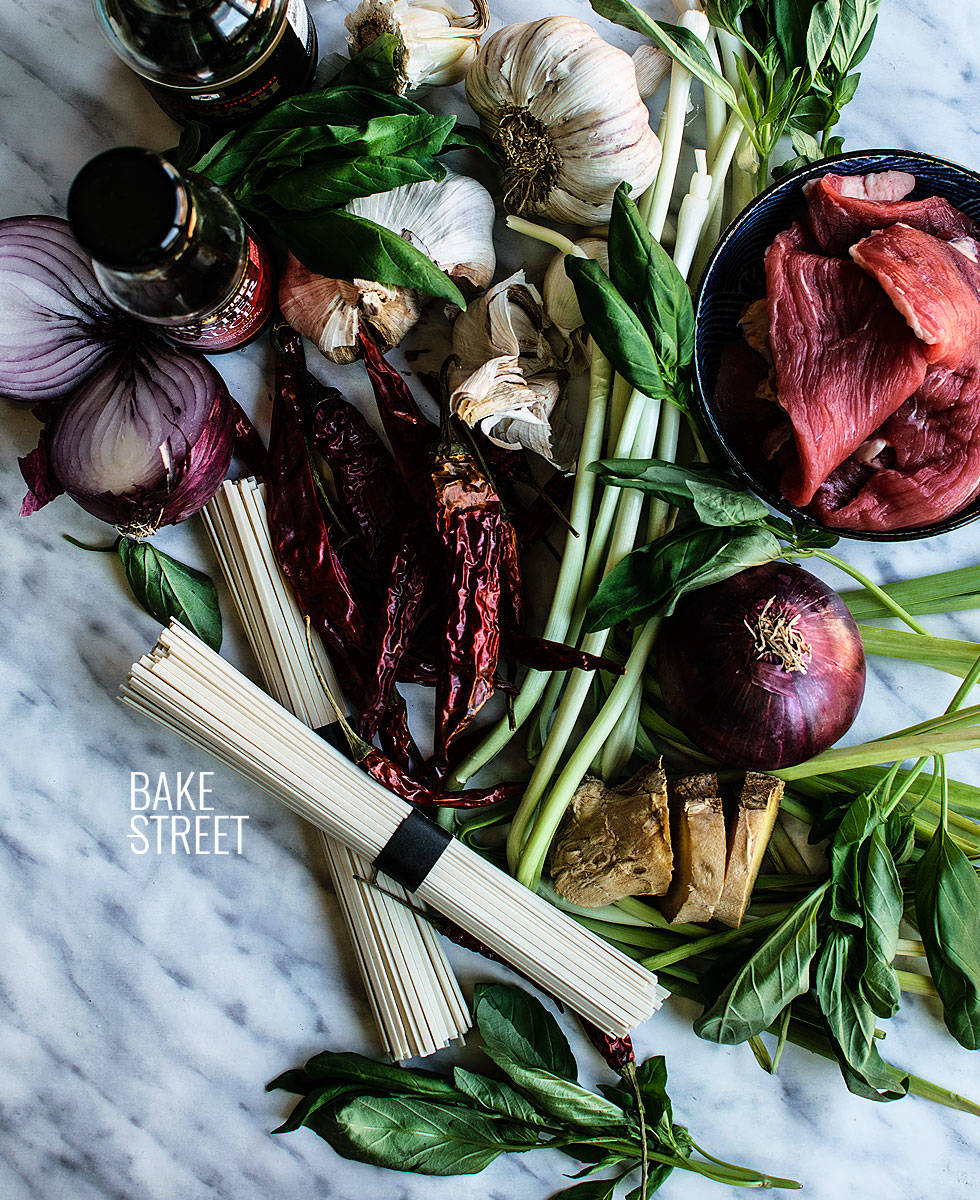 Pad Kee Mao origin.
Just like the last thing I said may sound strange … But, apparently, the origin of these noodles is that or others with a very similar purpose. There are several theories around this elaboration and the way in which it could be created.
Pad Kee Mao or less commonly called, but also known as pad ki mao or pad kimao ("ผัดขี้เมา" in Thai, "ຜັດຂີ້ເມົາ" in Laotian) are fried noodles, traditionally wide and rice, very similar to phat si-io, but with a different flavor.
In Thai khi mao means "drunk". They are prepared with soy, fish and oyster sauce, as well as garlic, meat or seafood, chili, freshly ground pepper and sacred basil.
One of them said that its origins go back to the use of rice wine, an ingredient that is part of this dish, although no original Thai recipe is made with alcohol. Another shares that this dish was created by someone who came home drunk and prepared something to eat with the ingredients he had available at home (this option may be very feasible) and, finally, the possibility that this recipe arose to be served while consuming alcohol.
These noodles will fascinate you.
It's actually a recipe that doesn't have much of a mystery, but what makes it so absolutely incredible is the right combination of ingredients. You'll find many flavors that will hook you and make you fall in love without a doubt.
I have followed the recipe of The Woks of Life, a blog that I love and I recommend you if you don't already know it. In my case I've adapted some quantities and ingredients because I didn't have them at the time and others because I haven't found them. Like the holy basil. I know, because I've read it a lot, that this kind of dishes should be made with this variety of basil and, failing that, with Thai basil.
Believe me, it wasn't for lack of desire or interest. But there has been no human way to find any other type of basil than the common one. I hope to find it at some point and, of course, I will prepare this dish again one and a thousand times more. But so far we will have to conform and enjoy them with more common or nearby elements.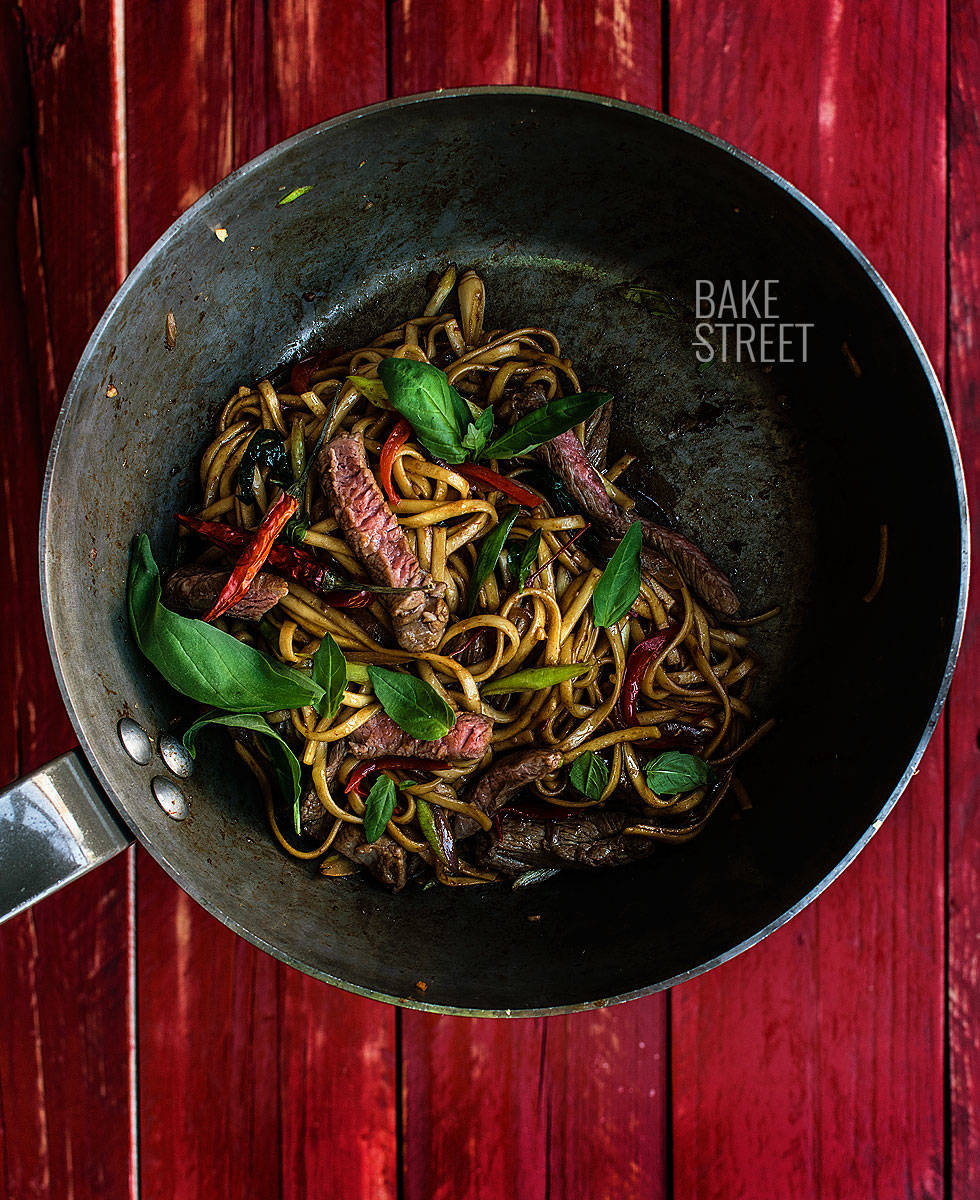 Ingredients for 2 servings
140 g wide noodles, preferably rice
1 y 1/2 tsp dark muscovado sugar + 1 Tbsp hot water
3 Tbsp olive oil
2 tsp Tamari or soy sauce
1 Tbsp fish sauce
2 tsp Oyster sauce
white pepper to taste
2 tsp Shaoxing wine
3 garlic cloves finely chopped
1/2 tsp fresh ginger, grated
1/2 large red onion or 2 shallots, finely sliced
3-4 red chilis, finely sliced
6-8 green garlics
a bunch of fresh basil
300 g veal or beef
Instructions
Make the sauce.
In a bowl mix the Tamari with fish sauce, Oyster sauce, white pepper, water and sugar.
Stir until a homogeneous mixture is obtained.
Cook the noodles.
Fill a pot with 50 fl oz  (1,5 l.) of water, place over high heat to boil.
Once the water is boiling, add noodles. Cook for 4 minutes.
Drain and set aside.
Cook the meat along with the vegetables.
In a wok or a high iron frying skillet add 2 tablespoons of olive oil and place at medium-high heat. It will take temperature very quickly.
Add the veal, previously cut into strips, and cook for about 1 minute. We should not cook the meat at all.
Remove the meat from the skillet and set aside.
Add the other spoonful of olive oil together with the garlic and grated ginger. Cook for a few seconds stirring constantly, add the red onion, chopped chili, garlic and most of the fresh basil.
Stir, pour the wine and stir again. Cook for 20-30 seconds.
Add the noodles and stir constantly for about 40 seconds or so, sautéing, to acquire temperature.
Pour the sauce and mix, even over the heat, so that it is distributed evenly.
Finally add the meat and cook for about 1 minute more. Remember to stir the mixture constantly to prevent it from sticking to the base.
Serve immediately decorated with fresh basil and chili oil (link recipe).
Notes
Traditionally flat and rice noodles are used, which are usually wider than the ones I have used. In my case they were wheat noodles. But they are exquisite in both ways.
Veal can be replaced by chicken if you wish. In both cases, be careful not to exceed the cooking point so that the meat is not too dry.

If the wok or skillet has been heated enough and correctly, no ingredients will be stuck on it.
Small or baby cobs are also usually added to this dish. This time I didn't have any, but I recommend you to use them if you like them.
To make homemade chili oil you can see in this post how to do it.
This recipe should be eaten immediately after cooking, is the time that best flavor and texture has.
I assure you that this Pad Kee Mao will become part of many of your dinners or even weekend lunches. You know that even though we like to cook, many days we are running out of time or tired. But that doesn't mean that we have to eat a sandwich.
These kinds of recipes are great for having them in mind. Also it is perfect for an unexpected gathering of friends, these things happen many times.
Tell me how it went and what you thought.
Big hugs,
Eva
Archivado en