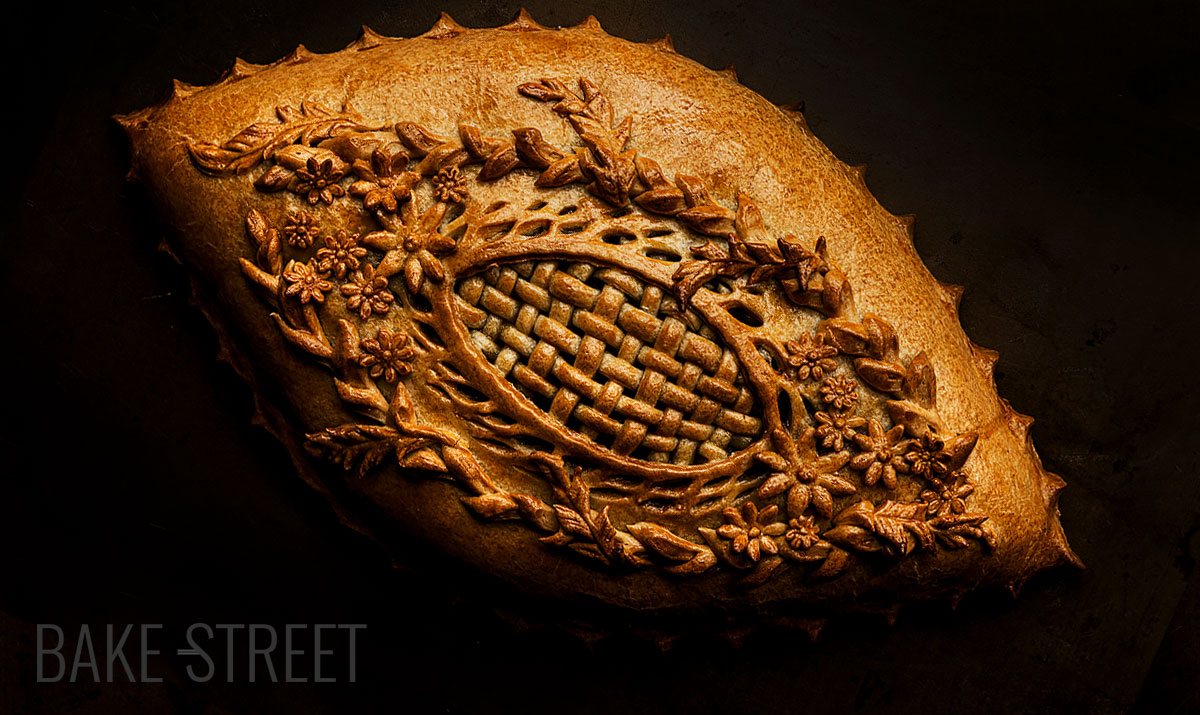 Savoury curried potato and spinach pie
Este post también está disponible en Spanish
Today I bring you a recipe, a little laborious I'm not going to lie to you, but which I assure you will enjoy a lot. This is a Savoury curried potato and spinach pie which, when you see its name, may not attract much attention. But I guarantee you will love it, not only for its outside, but also for the amazing taste of its filling.
I am in love with Pâté en Croûte and everything that has to do with this type of savoury pastry or pastry wrapped in decorated dough. I've been fascinated by them for a long time, I just haven't been able to delve into them as much as I would have liked. Some time ago I left you with my first pâté en croûte, with an impressive vegetable and meat filling.
I still have a lot to learn, perfect and improve. It is a very technical world that requires a lot of practice and many elaborations to achieve good results. In addition to a very careful and meticulous work in every step and detail.
As for me, I am already doing my first tests, and I have bought two books (one of them relatively recently) and I am studying them in depth. When I have more knowledge on the subject, I will go into more depth and I will write more about, of course.
The pie that I leave you with today is a pie that when it comes to eating it can remind us of an empanada, due to the texture of the dough (although this one is much more delicate) and the way it is made. A dough is wrapped around a filling and decorated (in this case, the process of decorations is much more laborious than in a Galician empanada). But I love decorating, making crafts and creating things that can be eaten afterwards. That's why I've been looking for a recipe of this kind for a long time and, at last, I can give it to you.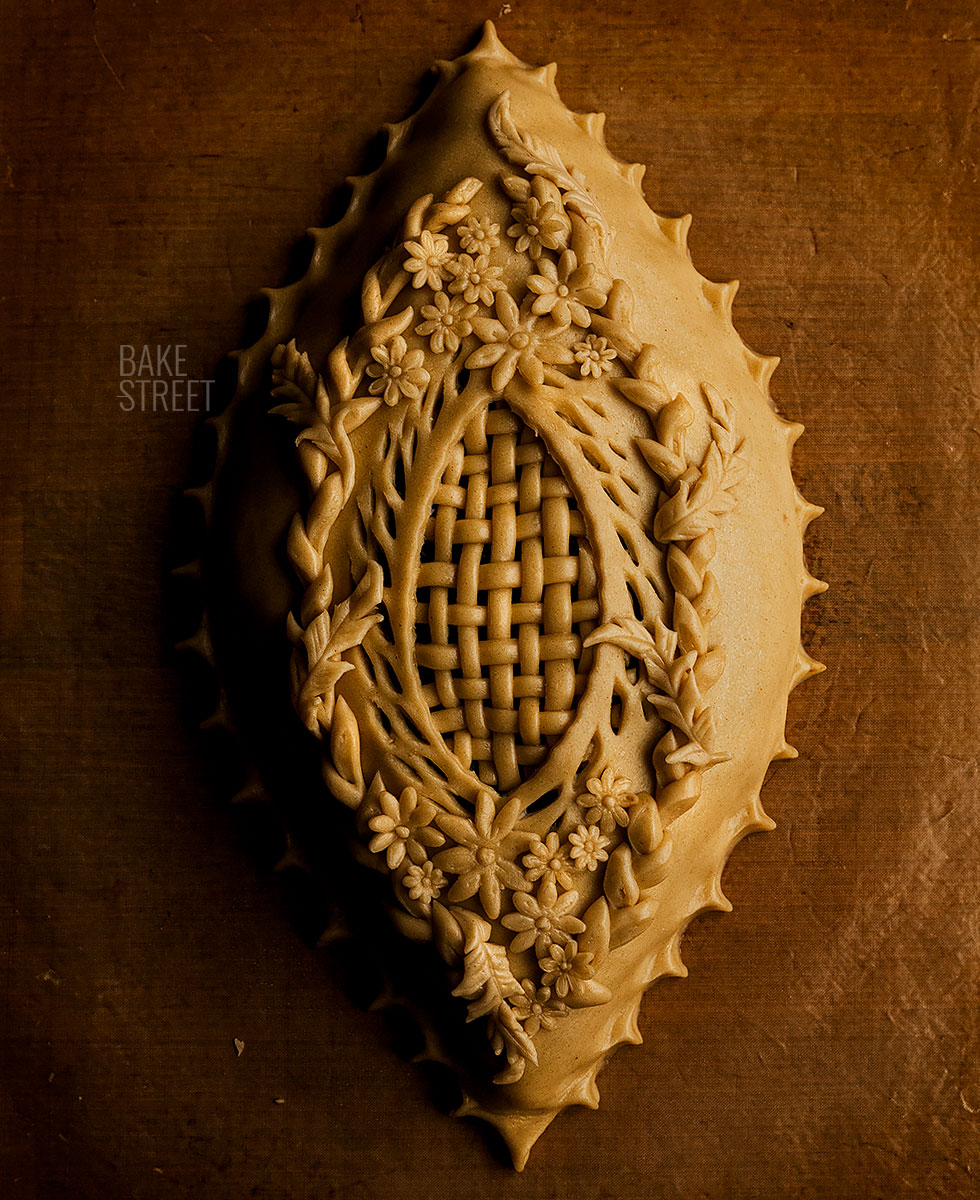 Savoury curried potato and spinach pie.
To make the formula for this dough I decided to mix or combine two of the doughs that I have already left on the blog; pâté en croûte and empanada. For this savoury pastry I needed a dough that would keep its shape, but would be easy to work with so that I could model it. I was very tempted by the empanada dough, but I decided to combine it with the pâté dough to achieve a more delicate and soft dough. Really liked the result.
I do recommend that you do not skip any of the steps that I detail because each and every one of them has a reason to achieve the desired and expected result. Also warn you that this type of preparation is not suitable for making in a hurry, because it will surely turn out badly. You will need two days to make it because the pie, once filled, must rest overnight in the fridge.
The filling.
This type of pastry allows for an infinite number of fillings, the important thing at this point is to work with a filling that does not release liquids or add a lot of moisture to the dough. Ideally, in many cases, it should be previously cooked, to avoid this. In addition, we need a filling that we can "shape". Typical empanada fillings would also work very well in this type of pie.
I love curry, and curry with potatoes and spices. That's why I chose this filling, which I combined with some fresh spinach to add juiciness, freshness and colour.
I know that the cut of the pie is reminiscent of a moist Spanish potato omelette (tortilla de patatas española) … But it has nothing to do with it, I assure you!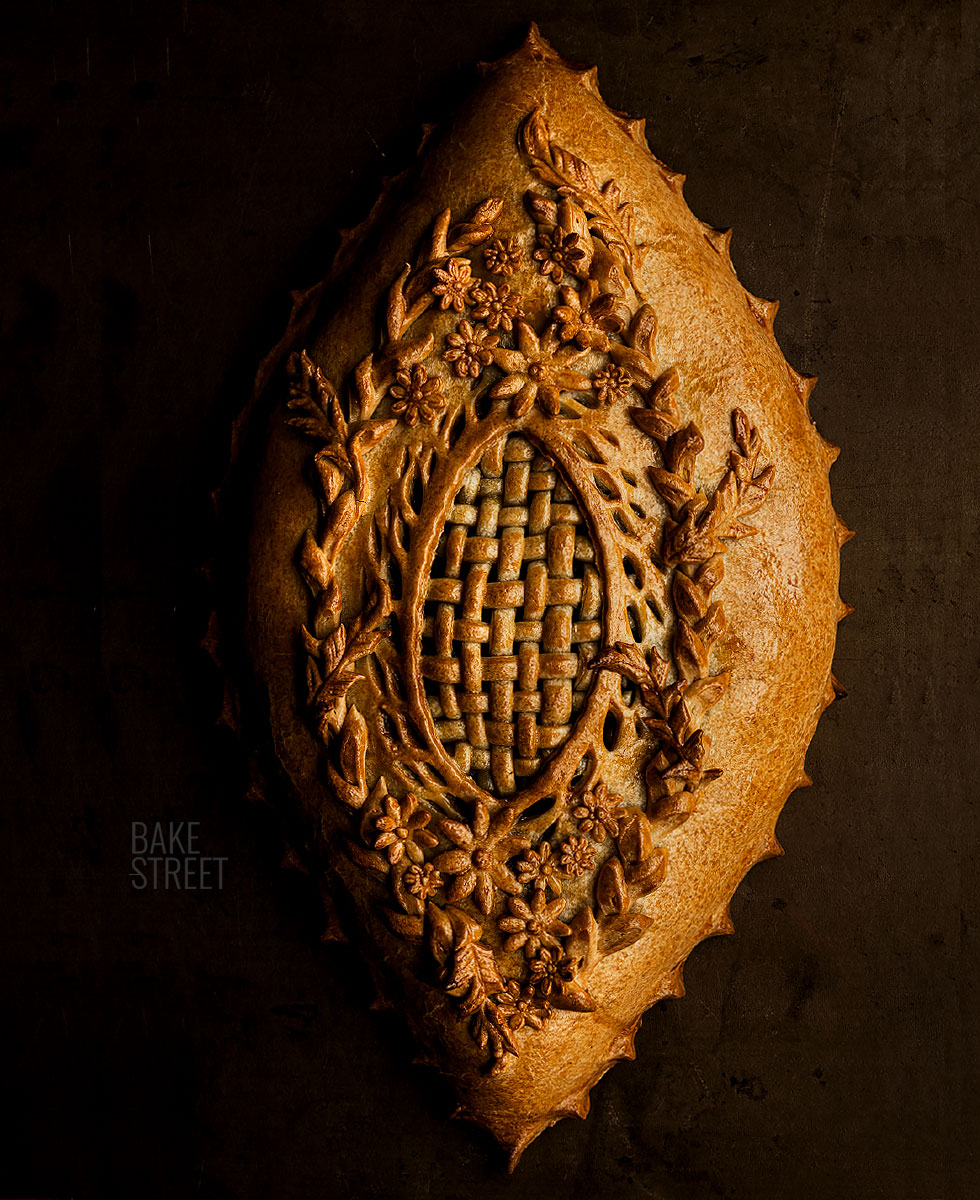 Decoration for the pie.
Here I must make a special mention to the person who inspired me to make these pies, Kanstantsin Larkou. I came across his pies thanks to Pinterest, looking for this type of elaborations, and from there to his Youtube channel. It's true that he doesn't share the recipes themselves, but shows in a few minutes how he makes his pies.
I loved them, I found them really elegant and delicate. In fact, I was fascinated by this design and tried to replicate it by adding a few more details.
This is where my dear and admired Julie Jones comes in, a wonderful woman who has a wonderful elegance and creativity when it comes to her cakes. Her designs have inspired many people and, in this case, me too. From here I send you lots of love!
I'm not going to deny that the decorative process requires time and a lot of love, but if you like cooking, creating, crafts and transferring your emotions and feelings to everything you do, you will undoubtedly enjoy it a lot. A lot.
Recipe Savoury curried potato and spinach pie
DOUGH:
525 g traditional French flour, a flour with 11-12% protein can be used
150 g cold water
65 g egg
125 g unsalted butter, room temperature
10 g sugar
10 g salt
FILLING:
125 g fresh spinach, leaves (cleaned and washed)
745 g boiled potato with peel
1 large sweet onion, cut into small cubes
2 large garlic cloves, chopped
5-6 tablespoons olive oil
1 tbsp red curry paste (in my case it is homemade, but you can use store-bought curry paste)
1 teaspoon yellow mustard seeds
1 teaspoon cumin seeds
about 120 g water
salt to taste
FOR BRUSHING:
beaten egg + pinch of salt
MATERIAL WE WILL NEED:
kneader
roller pin
scraper
sharp knife or pizza cutter, scissors
pasta cutter (optional)
flower cutters with ejector (these are which I used)
perforated tray
silpat, teflon or baking paper
pastry brush
large frying pan
colander
Instructions
Prepare the dough.
Beat the egg in a bowl.
Dissolve, more or less,  the salt and sugar in the water, pour into the egg and beat again. Set aside.
In the bowl of the stand mixer, add the butter and smooth with the flat beater.
Add the egg mixture together with a third of the flour and mix.
Once it has been integrated, continue adding the rest of the flour while mixing.
Switch to the hook and knead until a homogeneous dough is obtained.
We can continue kneading in the mixer until we have a smooth and soft dough or we can transfer it to a work surface and finish kneading by hand.
Once we have the dough at this point, flatten it slightly, cover it with film and leave it to rest for 2-3 hours.
Prepare spinach.
Place a large frying pan over medium heat, and once it is warm, add the spinach.
Cook for 3-4 minutes, stirring from time to time, to help the spinach soften and release the water.
Transfer to a colander and leave to drain until ready to use.
Prepare potato filling.
Clean the same frying pan we used for the spinach. Place over medium heat and pour in the olive oil.
Once it is warm, add mustard seeds and cook until golden brown.
Incorporate the onion and garlic and cook for 8-10 minutes. We should not brown it, but soften it.
Add the cumin seeds and mix to distribute. Cook for a further 2-3 minutes.
Finally, incorporate the potato, previously cooked, peeled and cut into pieces together with red curry paste, salt and some water. Mix while mashing until a slightly lumpy or chunky paste is formed. If necessary, add more water. The result should be a moist filling, not too runny, but not dry either.
Transfer the filling to a bowl and leave to cool completely before filling the savoury pie.
Roll out the dough to shape the first part of the pie.
Divide the dough into two equal parts. Leave the half we are not going to work with covered with film.
Stretch one of the pieces on a Teflon sheet, trying to give it a rectangular or elongated shape with dimensions of approximately 40 x 25 cm. The thickness of the dough should be about 2 - 2.5 mm.
Place potato filling in the central part of the stretched dough. Flatten it a little and shape it into a leaf or any other shape of your choice. The size of the filling is approximately 20-25 cm in length.
Arrange the spinach leaves, cooked and drained, on top of the potato filling.
Cut off the ends of the dough and set aside, as they will be used to make the central lattice for the decoration.
Make the lattice.
Cut strips from the dough pieces we have removed. We will need 10 strips of dough for one side and 6 for the other.
Create the trellis/lattice as shown in the video.
Cut off the excess dough from the sides and place the lattice in the middle of the pie.
Roll out the other piece of dough and cover the pie.
Roll out the other piece of dough in the same way as the first one.
Cut an eye-shaped portion in the central part, this will allow the lattice we have created to show. In my case I have cut it with a pasta cutter, but you can do it with a knife or even a cookie cutter.
Make some decorative cuts around the hole we have created in the dough. These will serve as decoration, as well as allowing the pastry to "breathe" during baking.
Carefully place the dough on top of the pie and adjust to centre the centre and edges. Be careful when holding the dough, ideally distribute the weight between both hands, otherwise the dough will stretch and lose its shape.
Cut off the excess dough from the edges, taking care to leave a little dough so that the filling does not leak out and the pastry is well sealed.
Seal the sides and, if we wish, we can create a decorative pattern with the one I show you or another to your liking.
Decorate the top of the pie. In my case I have used cutters with an ejector to make flowers, I have made the leaves by hand and, in addition, I have created two strips to create two spikes.
If any of the pieces do not stick to the dough, instead of pressing the piece to glue it, we will use water as glue.
Once the pie is decorated, refrigerate it uncovered until the next day. In my case it was around 17 hours to 39ºF/4ºC.
Bake.
Preheat the oven to 374ºF/190ºC with fan.
Brush the savoury pastry with egg beaten with salt. Try to cover the entire surface of the pastry, but avoid getting too much egg in the holes. The final result would be unattractive.
Bake at medium height, preferably on a perforated tray, for 5 minutes. Reduce to 355ºF/180ºC with fan and bake for a further 45 minutes.
Remove and leave to cool completely on a wire rack.
Serve.
Notes
The flour I used is a traditional French flour, so I can't tell you how strong it is because it doesn't specify it. It is a flour with 11-12% protein, so you can use a flour with similar characteristics.
The amount of water in the dough will have to be adjusted according to the flour you use, it is possible that in some cases it may require a little more water. The dough should be pleasant to the touch, not dry or hard.
Beat the egg with the water, salt and sugar, which helps these elements to integrate into the dough and not form lumps (the latter due to the egg's texture).
We must let the dough rest so that the gluten relaxes and, in this way, we can stretch it and work with it without any problems.

I recommend using fresh spinach, in bunches, not from a bag. The result is not the same. Fresh spinach has a firmer leaf. Bagged spinach loses a lot of water and the leaf is extremely soft and shapeless.
The decorations can be to your liking, I have left this suggestion, but you can change them if you wish.
To cut the flowers with the cutter with ejector, you must press them very well and press the ejector several times so that the dough comes out on its own. If you pull them out by hand, you can unintentionally make them lose their shape.
It is VERY IMPORTANT to leave the filled and decorated pastry in the refrigerator overnight. That way the dough will be very hard the next day and will not lose its shape during baking.
Adding a little salt to the egg for brushing will help it to liquefy a little, which will allow us to brush the pie and decorations much better.
Be careful not to brush too much egg into the hollows or flowers, or the end result will not be as attractive.
Baking with fan helps the surface to dry faster, which is another plus point for our pie to keep its shape after baking, as well as achieving a beautiful uniform colour.
The filling can be changed to your liking if you wish.
The amount of red curry paste can be adapted to your taste. In my case it is homemade and it is very spicy, it is possible that store-bought is less spicy and you should add more. Add a little, taste and rectify if you consider it necessary.
The pie should be left to cool before eating, or at least let it temper.
It can be kept in an airtight container or wrapped in aluminium foil, always refrigerated, for 3-4 days.
You can't imagine how much I enjoyed making this Savoury curried potato and spinach pie. If there is something that I like and makes me immensely happy, escaping from everything, it is modelling, designing and creating. As well as cooking, shooting, photographing and editing, of course.
I can say that this post has allowed me to express myself in almost all the fields I enjoy most in my life. I don't always prepare recipes that fill me in so many aspects, it's true that I enjoy them all, but some of them are far above the others. And that is full happiness.
To all this I can share it with you and show you how to do it so that, in case you are as crazy as me, you can do it too.
I wish you a wonderful weekend!
Lots of love,
Eva
This post contains affiliate links.
Archivado en