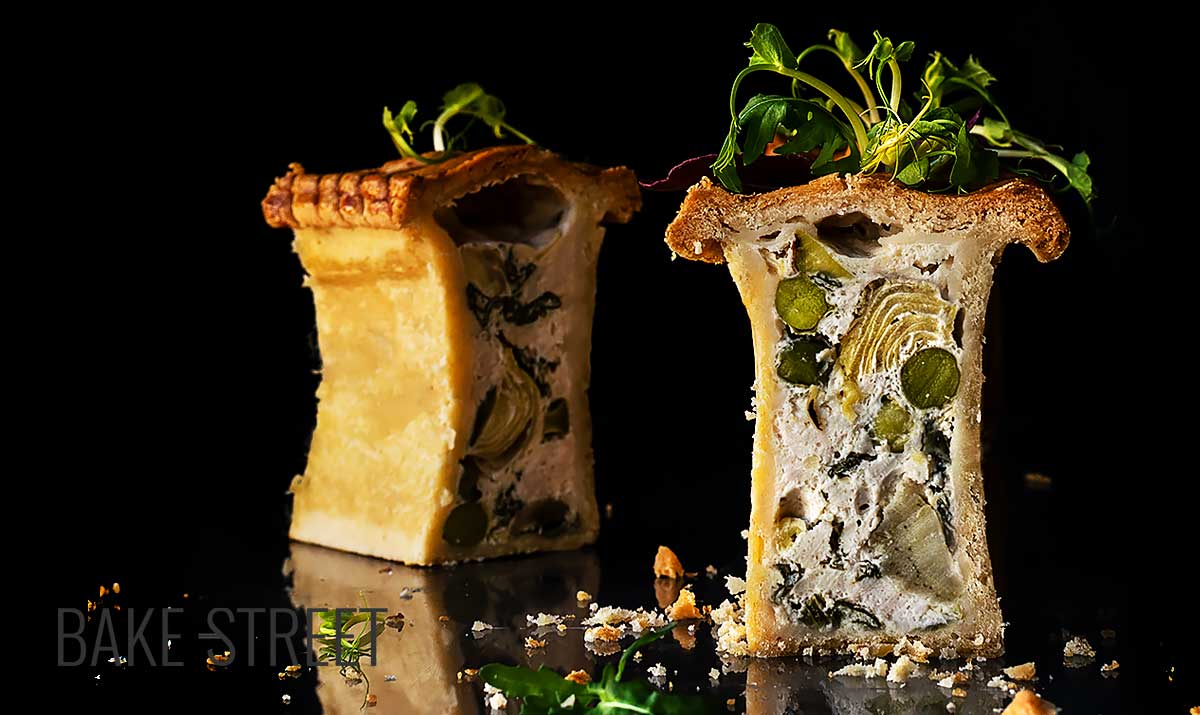 Pâté en Croûte with vegetables and meat
Este post también está disponible en Spanish
I have to tell you something. I have recently discovered a new world for me, wonderful, it has me completely fascinated and excited. And it's the world of homemade charcuterie. I'm sure you'll come up with mortadella, chopped, ham … But no, it's not that at all. It goes much further in terms of ingredients, processes, elaborations and elegance. Ok, I'm totally in love with it. And today I'm going to take my first step with this Pâté en Croûte with vegetables and meat.
And how did I get to all this? Well, one day looking for books on Amazon suggested a book related to recipes from "Pâté en Croûte", because I had already been looking at related things. I clicked to see it and what came out as suggested? A book that took me minutes to buy after seeing it, looking for reviews and opinions about it. "Le Grand Livre de la Charcuterie" is truly SPECTACULAR.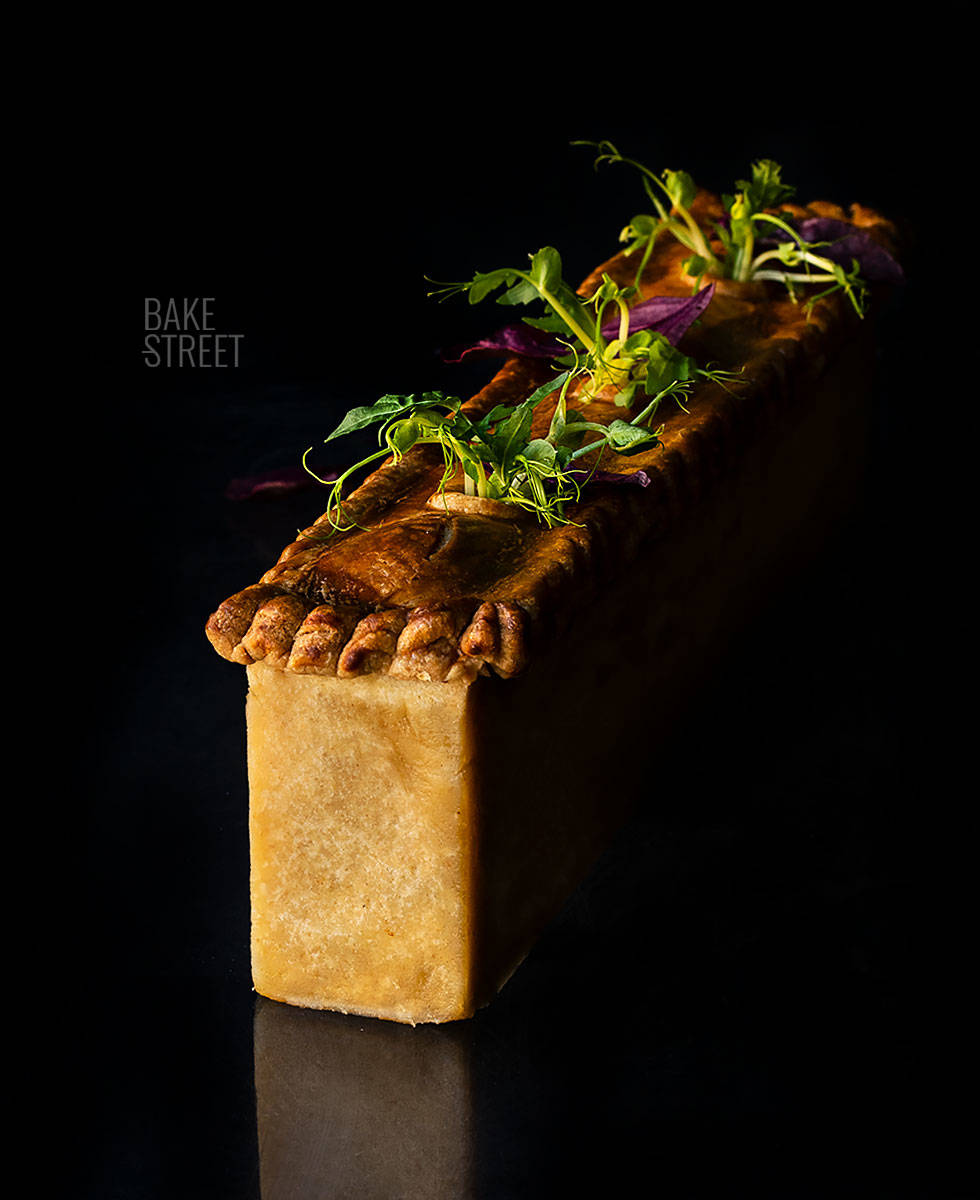 In case I already had little with bread, cakes and pastry recipes in general (well, traditional cuisine too), good thing I went to discover… I have not enough hours for doing everything I want from the book! And space, because I have already bought the first mold for pâté en croûte, but I see that with time more things will arrive…
I never thought that this theme would captivate me so much. I suppose I've always related charcuterie to what we're used to seeing when we go shopping at the market. But, really, it's a new, broad world, full of flavors and textures. Who was going to tell me that I would end up making sausages, black puddings, pâté? Yes, and I'll share it with you!
Pâté en Croûte with vegetables and meat
Since it was going to be my first time, I wanted to make an introductory presentation recipe to this new section of the blog. Both for you and for me, because I tell you that I still surprise myself, hahaha.
The fact is that I had been thinking of making a pâté en croûte for some time, but I never thought of a version that incorporated vegetables. And in this book I found it. When I saw it, I knew that it was perfect for making an initial contact with this type of recipe and for starting this journey. So it was my choice.
The recipe is taken from the book, although I have made some modifications to the ingredients. But it can be said that 90% of it is faithful to the book.
What is Pâté en Croûte?
Pâté en Croûte (in French "pâté with crust") is, as its name suggests, a pâté baked with pâte brisée or puff pastry. Its production process is quite similar to a terrine. The result is a crunchy outsider and a juicy inside.
There are many variants, including regional ones, which differ mainly by the filling which is usually pork, veal, sometimes poultry or game meat. It can also be seasoned with some vegetables, mushrooms or nuts. It is usually served as an aperitif or as a starter.
In the Middle Ages, savoury cakes and terrines were one of the main bases of medieval cuisine with respect to meat dishes. These two methods of preparation made it possible to preserve meat for much longer because at that time there was no way to refrigerate it.
Louis XIV was very fond of this preparation and, thanks to him, it became very popular. At first it was a dish of the Versailles bourgeoisie, but it did not take long for it to spread to the countryside, from which many regional variants emerged.
Originally, the outer crust was not designed to be consumed, but to favour and help with cooking and storage. As time went by, the bakers decided to make an edible crust. Today, in France, more than 6500 tons/year of pâte en croûte are consumed.
The origin of this recipe cannot be identified, but today Lyon is the renowned capital of pâté en croûte. This preparation accompanies the showcases along with sausages, terrines, hams…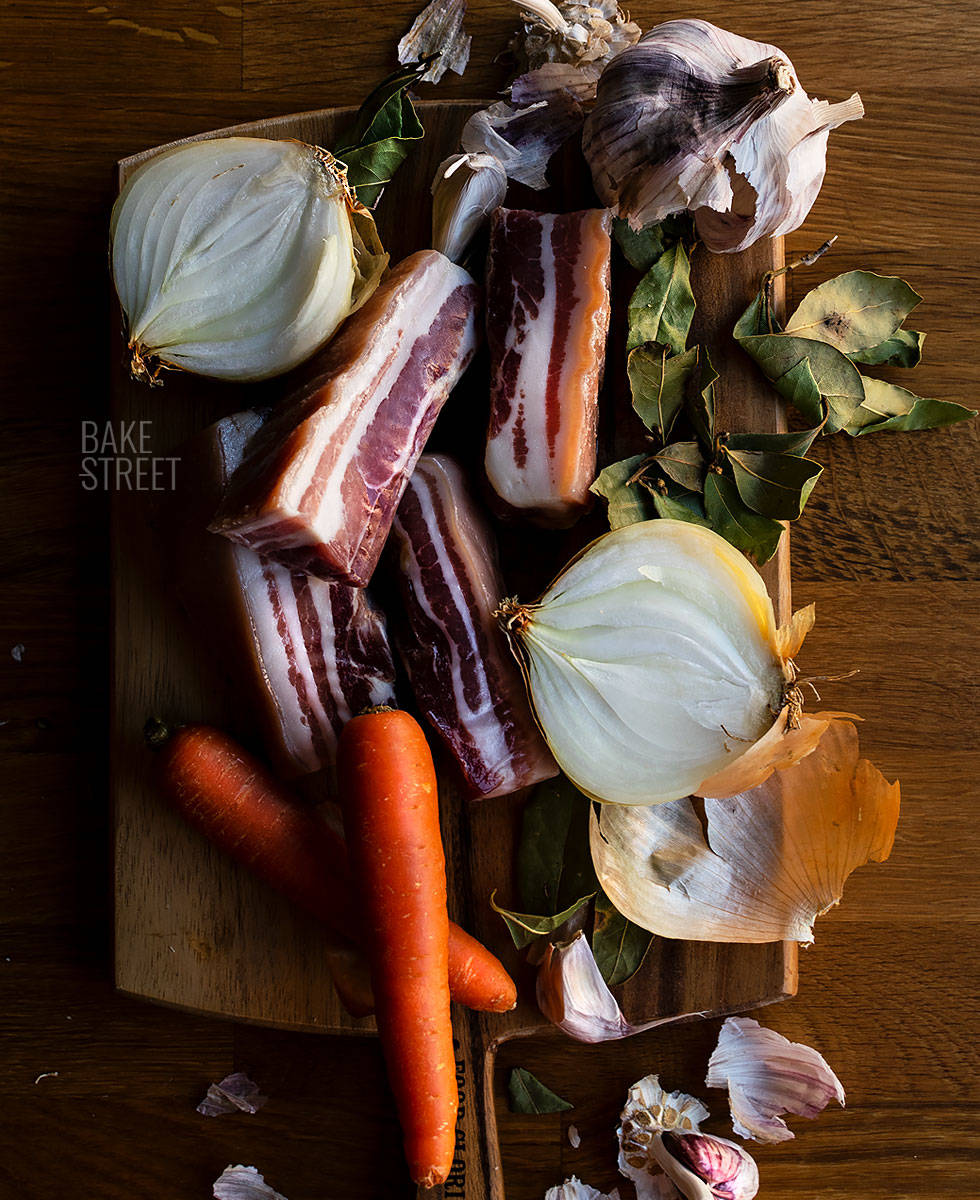 Preparing the Pâté en Croûte with vegetables and meat.
To make this recipe we need to be patient. Really patience.
It is not a complicated process, but if it is long as far as elaborations are concerned, since we have to prepare several. But to make it more bearable we can divide it in two days if you prefer.
To prepare the pâté en croûte we will have to make a pâte brisée, a pork juice, filling mixture and cook all the vegetables. But if we organize ourselves well, we will not become boring.
The stuffing consists of meat, vegetables, nuts, pork juice, cream and egg whites. At this point it is important to cook the vegetables very well and individually so that each one has its stage of cooking. For this we will use a technique called "English cooking Technique". We named it this way in Spanish, please let me know the way to name it properly in English.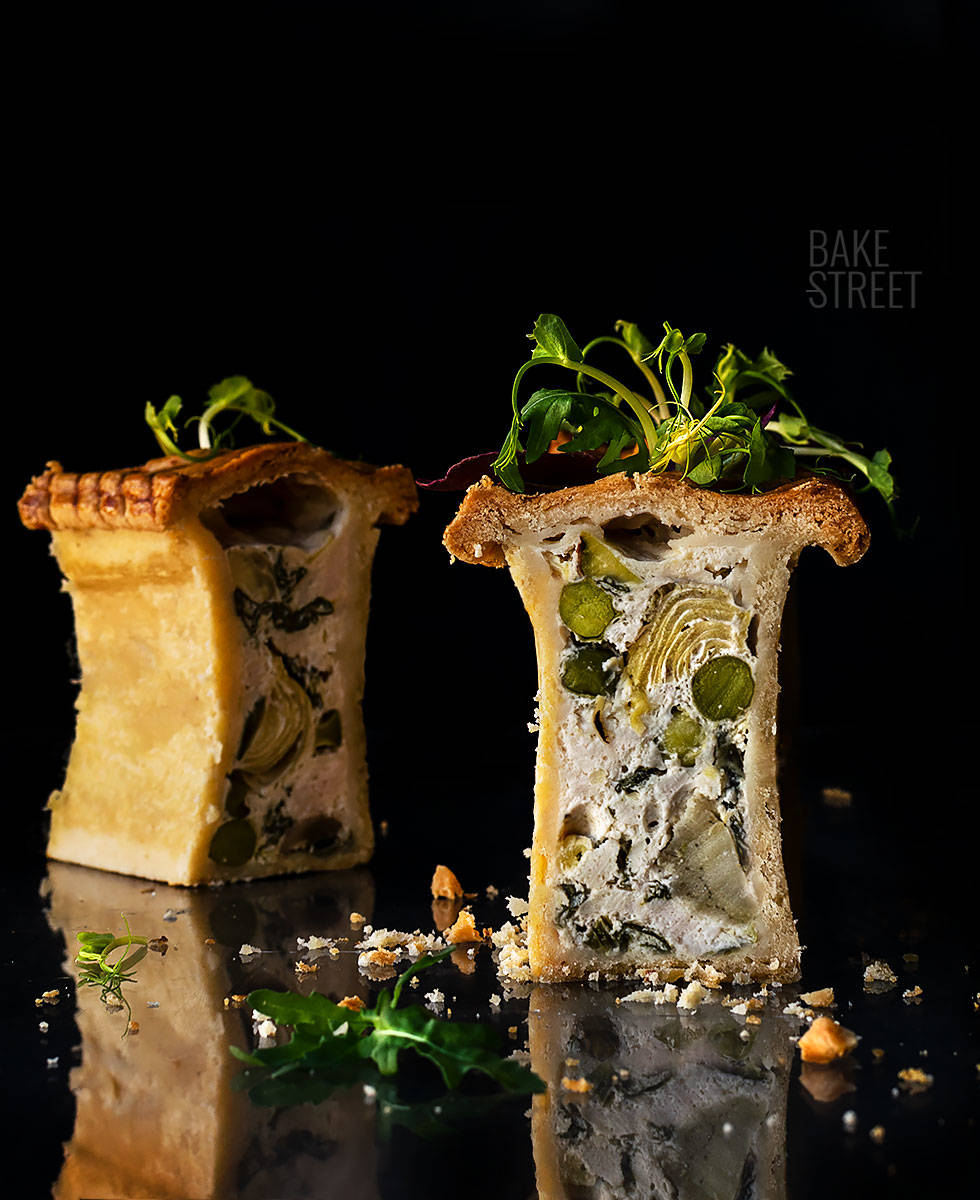 English cooking Technique.
This cooking technique is usually used to cook vegetables. It consists of boiling these, individually depending on the type, in plenty of salted water. The harder the vegetables are, the more salt we have to add.
The process is very simple, fill a large pot with water and place in the heat. Let it boil. Then add the salt, wait a few seconds for it to dissolve and add the vegetables you want to cook.
Some tips for English cooking technique:
We must cut the vegetables with the same size so that the cooking is equal.
We should not cover the pot while cooking food since in the steam some toxins are eliminated from the food itself.
In the case of cooking white ingredients, such as cauliflower, it is advisable to add a dash of vinegar to intensify its flavor.
The cooking time should not be too long, so we can retain their nutrients, flavor, texture and color. It will depend on the vegetable that we prepare to cook.
To stop the cooking process, the ideal is to remove the vegetables from boiling water and transfer them to a bowl with very cold water and ice.
Ingredients for 4 pieces
FOR PATE BRISÉE (1 KG):
500 g plain flour
330 g unsalted butter at room temperature
65 g egg (about 1 egg)
85 g very cold water
10 g sugar
10 g salt
FOR MIXTURE FILLING:
400 g poultry meat (I have used turkey)
50 g pork juice (recipe below)
5 g fresh marjoram (to infuse with pork juice)
350 g cream
90 g egg whites
pepper to taste
9 g salt
FOR PORK JUICE:
500 g cured pork belly
375 g homemade vegetable broth or water
65 g sweet onion
45 g carrot, peeled
2 large garlic cloves
1 celery stick
20 g unsalted butter
2 bay leaves
a few branches of fresh thyme or 1/2 tablespoon of dried thyme
VEGETABLE FILLING:
110 g peas
100 g artichokes hearts
100 g zucchini
140 g fresh beans or edamame
70 g green garlic
110 g chard leaves
140 g Portobello mushrooms
35 g pistachios
4 g Parmesano cheese
4 g fresh marjoram
40-50 g olive oil
FOR BRUSH:
1 beaten egg + pinch of salt
Instructions
Make pork juice.
Cut pork belly into squares of approximately 5 cm. Set aside.
In a medium saucepan add the butter and place over medium heat.
Once it has melted, add the chopped pork and cook for about 5 minutes stirring from time to time. It will lightly brown.
Add the onion cut in segments together with the carrot cut in slices of approximately 2 cm, garlic cloves, bay leaf and marjoram.
Cook for 3 minutes stirring occasionally.
Add the broth and cook at low heat for 2 hours. We will remove the foam and fat that goes up to the surface.
After 2 hours, strain and reduce it. In my case, after straining it I had 100 g of juice and I reduced it to 60 g.
Add the 5 g of marjoram and let it infuse.
Let it cool down completely.
Before using it to mix the filling, strain again.
Make pate brisée.
In the KitchenAid bowl add the butter and mix with the flat beater until a consistency of pomade is achieved.
Meanwhile, dissolve the salt together with the sugar in the cold water.
Beat the egg and mix with the water mixture.
Add the egg mixture in the butter and beat for a few seconds.
Incorporate the flour, we will do it in two batches and without over-beat or mix in excess. Only until the flour has been integrated.
Transfer to a clean work surface, knead for a few seconds and form a disc.
Cover with film and refrigerate for 2-3 hours.
Prepare the meat for the filling.
Cut the turkey fillets into pieces, freeze for 1 hour. We need them to be very cold to chop them.
In a food processor, Thermomix, Monsieur Cuisine... Add the pieces of meat and chop at  speed 5 for 10 seconds.
Transfer the meat to a bowl and add the salt and pepper. Mix.
Pour the cream together with the egg whites and mix again until homogenized.
Finally, add the pork juice together with the Parmesan cheese and mix again.
Cover with film and refrigerate until ready to use.
Cook the vegetables.
Cook all the vegetables with English cooking technique (as I detail you in the intro of the post) except the Portobello mushroom, green garlic and chard.
Cut the courgettes in brunoise and cook for 2 minutes.
Cook the peas for 3 minutes, the edamame for 2 minutes and the artichoke hearts cut into quarters for 4 minutes.
Place a large frying pan with olive oil, enough to cover the base well. Place at medium low heat.
Cut green garlic into pieces and cook for 3 minutes. Remove and let it drain.
Laminate the mushrooms, not very fine but rather thick, and cook in the frying pan at medium low heat for 3-4 minutes. They will lose water during the cooking process, but we should not toast them. Take them out and let them drain.
Finally, cook the chopped chard leaves in the frying pan until they lose the water. It will take about 3-4 minutes. They will be reduced in volume and will have an intense green color.
Remove, place in a strainer and let them drain.
Mix all the fillings.
In a large bowl, mix the filling mixture together with all the vegetables we have previously cooked.
Mix very well until completely homogenized.
Cover with film and keep in the fridge.
Stretch pâté brisée.
Sprinkle a work surface with flour and stretch the dough taken directly from the cold. It will be hard to work with it, but as it begins to reduce the thickness, it will be easier for you.
The thickness can vary between 0,3-0,5 mm, I recommend that it is as thin as possible. In my case, I should have stretched it a little more.
Cut the dough to adjust it in the mold, in the video I show you how to do it.
Place inside the specific mold to make pâté en croûte and press the corners carefully to seal the dough.
Fill in and finish covering.
Pour the filling to the edge. Brush the edges with beaten egg.
Cover with another layer of dough and join to seal well.
Using a pair of scissors or a knife, cut off the excess dough.
Decorate the edge making inclined cuts.
Refrigerate for 1 hour.
Repeat the same process with the rest of the dough and filling. In my case I filled this specific mould, two rectangular moulds 8 x 15 x 5 cm and one round one 12 cm in diameter.
Bake.
Preheat oven to 355ºF/180ºC.
With the help of a tip, make 3 holes in the surface of the dough so that they function as a chimney.
Decorate to your liking and brush with egg beaten.
Place in the middle of the oven and bake for 50 minutes. With the exception of the round that bakes during 60 minutes.
Remove and leave to cool completely on a rack.
Once they have cooled, refrigerate until the next day. Ideally, it should rest for 24 hours in the refrigerator.
Serve it, we can decorate it with asparagus peas sprouts and red sage leaves or with other types of sprouts that you like more.
Notes
We can divide the process in two days to make it more bearable. The first one we will prepare pork juice and pate brisée, and the second one the rest of the elaboration.
If you don't want to make homemade dough, you can use it store-bought. But you know that I always recommend doing everything at home, the results have nothing to do with it.
You can choose the meat to your liking. In my case I have used turkey, but you can use chicken or another variety of poultry.
The vegetable combination is wonderful, but in case you don't like one you can omit it and substitute it with another one that is in the elaboration or another one of your choice.
We can use canned artichoke hearts if you wish.
In my case I have used pistachios, but you can use pine-nuts if you wish.
The mold that I have used is this one, you can use one equal of another size or adjust it to molds that you have at home.
If the moulds are not removable, I advise you to put baking paper on the base in order to remove them more easily.
If one day you want to surprise your family and leave them with their mouths open, then don't hesitate to prepare this Pâté en Croûte with vegetables and meat. The effort is worth it, I promise. The texture, the taste, the combination of aromas... It is just perfect.
In addition another point in favor that it has is that it is of those recipes that we can (and must) do in advance. So the day we need to serve it, it will be as simple as taking it out of the fridge. We can serve it as a starter, aperitif, it could even be a main dish.
I hope you liked this new section and tell you that I can't wait to share more of this type with you. Wishing to know what you think!
I wish you a wonderful weekend, see you on Monday!
Big hugs,
Eva
Sources: France agroalimentaire
This post contains affiliate links.
Archivado en