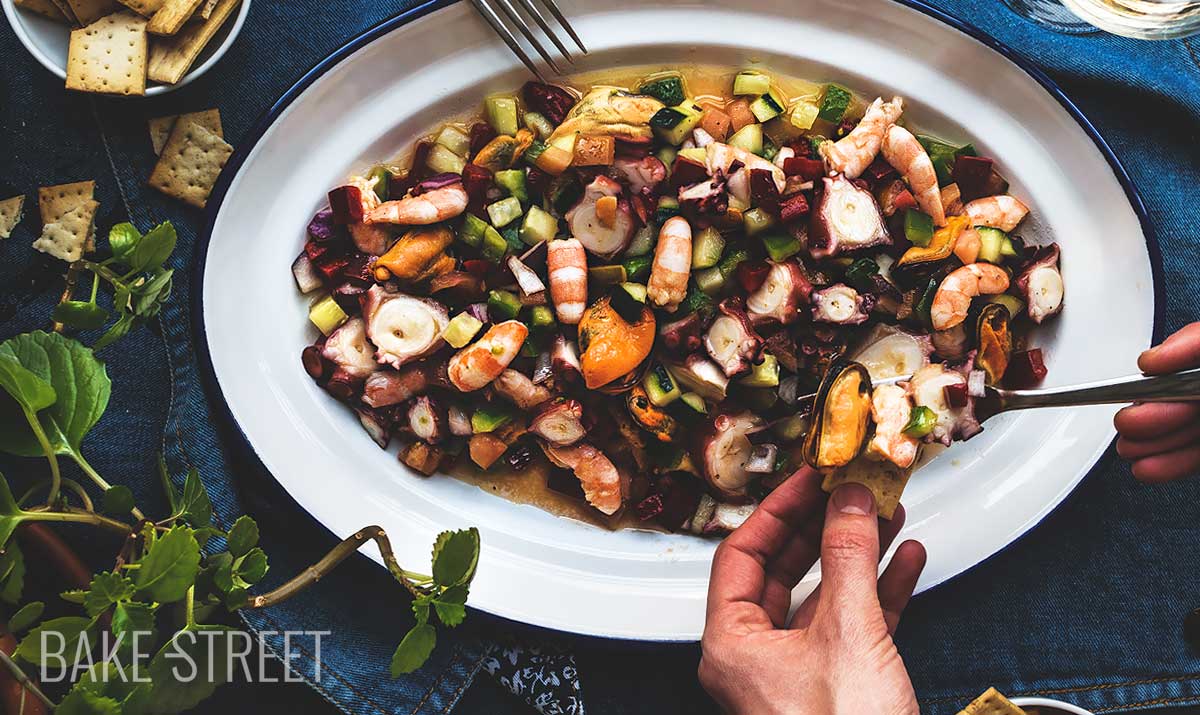 Salpicón de marisco – Seafood Salad
Este post también está disponible en Spanish
When the good weather comes, you want to enjoy simple, fresh and light recipes. At home we usually consume many salads during the summer, which do not have to be boring or limited to lettuce, tomato, cucumber … In fact, I always try new ideas and many of them stay forever. Today I'm going to leave you a classic from Spanish cuisine, but one of those that always likes to eat and it's good how to know how to do. Salpicón de marisco or Seafood salad.
Also, I think it's very good to know how to cook seafood at home. I know it's very convenient to buy it cooked, as simple as taking it out of the package, cutting it and serving. But this way there is something that is totally out of our control and that is the amount of salt in each food and the cooking time.
I'm sure many times you've eaten super salty and very tender prawns… So, you can not enjoy them properly in any case. That's why today, in addition to learning how to prepare a traditional and classic recipe, we'll learn how to cook octopus, prawns and mussels. Indispensable all year round, but even more so in summer.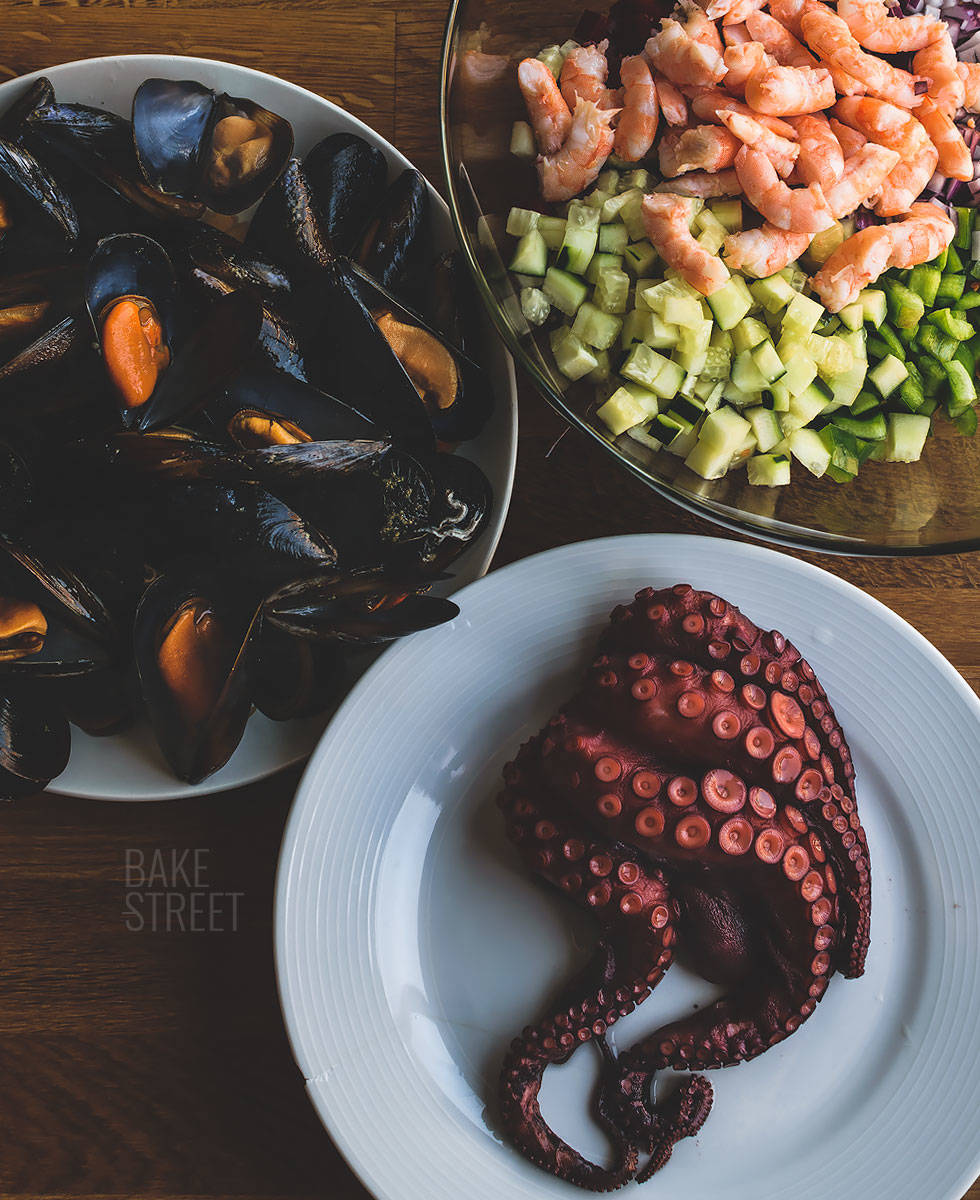 Musical break.
Long time no music, but what's this?? What a thing like that to happen, with how musical I am. Anyway. Today I want to leave you a song that I love and I have met thanks to my half lemon that I must admit has a wonderful musical taste.
Did I ever tell you that he was a DJ in a pub? Yes, he was! What's more. He was one of those very serious that you asked for a song and he always told you no or didn't pay any attention to you, hahahaha. I met him quite a bit later, although I would have loved to have met him in that moment! The song I leave you today is from the group My Dear and it´s called "Standing in this Dream" (link to YouTube) 🙂
Salpicón de marisco or Seafood salad.
Today's recipe is nothing new. It is a very fresh tapa made with seafood such as octopus, mussels and prawns accompanied by vegetables of our choice. In my case I use green and red peppers, tomato, red onion and cucumber. All this accompanied with a vinaigrette. Simple and delicious, isn't it?
Salpicón de marisco, originally, was a very humble dish made with easily accessible and inexpensive chopped meats. It used to be accompanied by a vinaigrette and some vegetables.
But, over time this recipe has changed or evolved a lot from its origin that is believed to have begun in the late sixteenth century. In fact, it is more common to find a seafood salad than a meat salad.
The recipe for this seafood salad can vary greatly depending on the area in which it is prepared or the person who makes it. The most commonly used ingredients are octopus, mussels and prawns. Although it can also be found elaborated with monkfish and spider crab.
Without a doubt it is a perfect recipe to prepare and take into account in summer. It is ideal to serve it as a starter or even as a tapa with cold beers. Yeah! In fact, it is one of those elaborations that we can prepare in advance (I recommend it because the flavors mature and improve) and take it out just when we are going to consume it.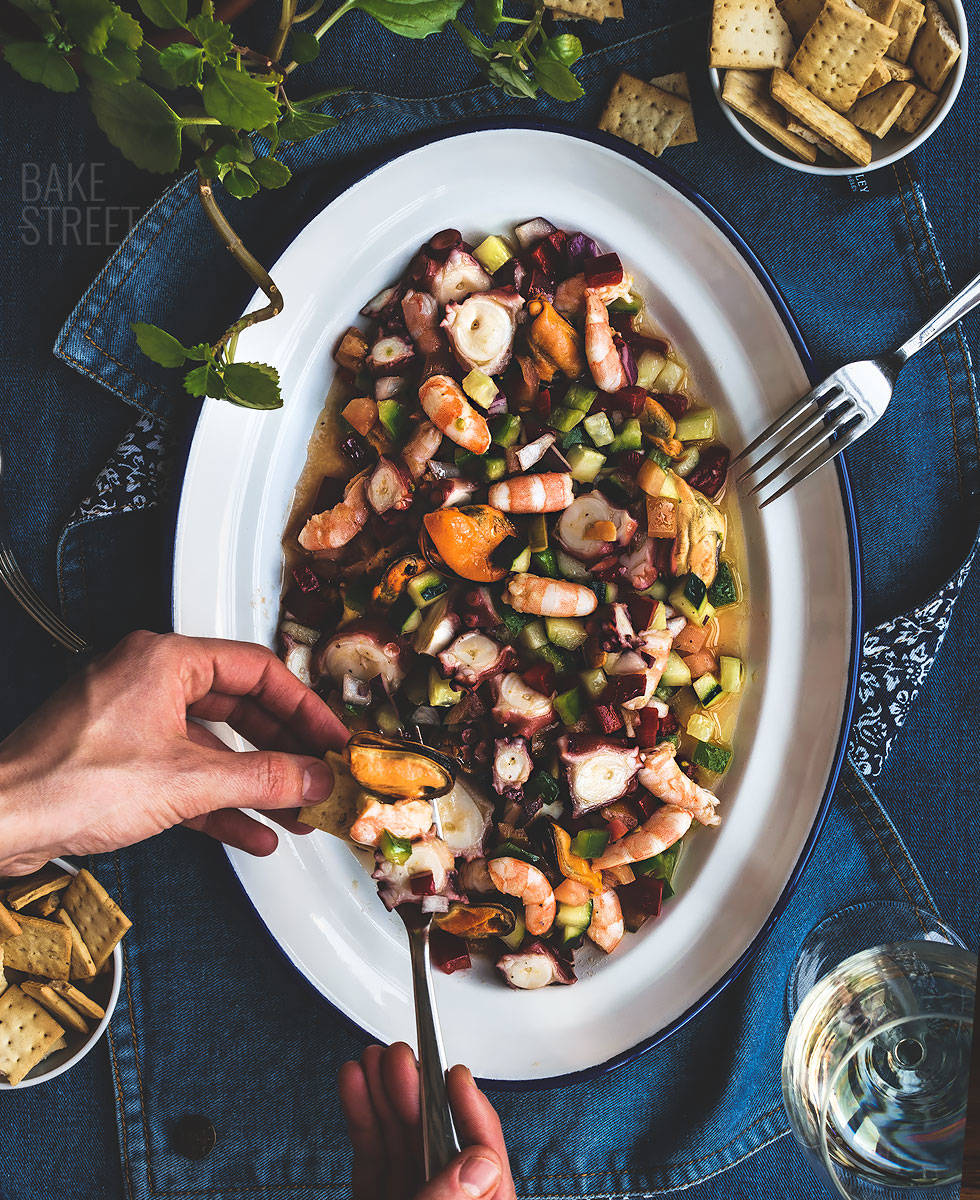 Ingredients for 4 serves
350 g cooked octopus, about 3 legs
1 Kg raw mussels
450 g of medium prawns
2 Raf tomatoes, firm
1 medium green pepper
½ red pepper
½ red onion
1 cucumber
100 g of olive oil
50 g apple vinegar
salt and black pepper to taste
Instructions
Cook the octopus.
Buy a whole fresh octopus, weighing approximately 2 kg. Take in mind that when cooking, it will lost weigh. About half.
Before cooking the octopus, if it is fresh, we must soften its meat which is very firm. We'll have to freeze it for 48 hours.
The day before cooking, we take it out in the freezer, place it in a bowl (it oozes a lot of water) and keep it in the fridge until the next day.
Fill a large pot with water, pinch of salt and 2 bay leaves and place over medium high heat.
Once it starts to boil, we have to "scare the octopus" before leaving it in the water. This technique consists of taking the octopus by the head and introducing it and removing it from the boiling water 3 times. This will help to keep the meat very firm and prevent the skin from falling off during cooking.
After the last "scare", leave the octopus in the water and cook for 25-30 minutes. We'll prick it once in a while to see if it's tender.
Once cooked, remove from heat and let stand in water for 10 minutes.
Remove from the pot, place in a bowl and let cool completely.
Cook the prawns.
Fill a large bowl with water and add 4 tablespoons of salt.
Dissolve well and add a lot of ice cubes.
On the other hand, fill a large pot with water and place it on high heat.
Once the water comes to the boil, add all the prawns at once. The boiling will be cut, but it's okay.
Cook about 1- 1 ½ minutes, you will notice that the prawns change color.
At that moment, take out the prawns with a slotted spoon and put them in the bowl with ice.
Leave submerged for 15 minutes.
Remove, drain well and set aside.
Cook the mussels.
Discard all those with broken shells and clean the mussels. Remove beards and other crustaceans that may have adhered to the shell.
Wash very well under cold water.
Prepare a large pot and fill with a little more than a finger of water.
Add the mussels together with a bay leaf and cover the pot.
Place at medium high heat and let it boil. Once at this point, cook for 7-8 minutes, all the shells should be opened. Discard any mussels that haven't opened.
Remove from heat, drain and leave to cool.
Make the salpicón de marisco.
Wash all the vegetables and cut into small squares.

Place them in a big bowl.

Peel the prawns and cut in half, place in the bowl.
Remove the shells from the mussels and put them in the bowl.

Finally, cut the octopus into slices and add with the rest of the ingredients.
Make the vinaigrette.
In a jar pour the oil together with the vinegar, salt and a pinch of freshly ground black pepper.
Cover and shake with force to favor that it mixes well.

Pour this one over the salpicón de marisco and mix.
Cover with film and refrigerate for 3-4 hours.
Serve in a wide serving dish or individual bowls.
Notes
The octopus can be used fresh, frozen or cooked. If we buy it fresh, we must proceed to make it as specified in the recipe. If you have more than enough, you can freeze it once it is cooked in a zip bag. An octopus frozen, you only have to unfreeze the day before and cook it. But, if you don't want to make it so complicated, you can always buy it already cooked.
The cooking time of the octopus will always depend on the size of the octopus.
Shrimps or prawns can be bought fresh, frozen or cooked. We'll proceed in the same way as I was telling you about with the octopus.

It is very important that, so that our prawns are left with the hard meat, follow the steps of the process. Cook in boiling water and cut off cooking with ice water. If you add the prawns to the water with ice, notice that it gets hot, add more ice.
The same thing happens with mussels, we can buy them raw or cooked. I leave this to your choice, but you know that we always recommend you to do the whole process at home to control well the amount of salt and cooking point.
The octopus is traditionally cut with scissors, not with a knife. But if the kitchen scissors you have at home don't cut very well, it's best to use the knife to avoid destroying it.
All vegetables are optional, although I recommend you not to omit any because the result is exceptional.

The tomatoes must be of very good quality, Raf or Tigre, with very hard meat and very good taste.
Some people usually add crab surimi or hard-boiled egg, in my case I prefer to omit them, but feel free to add it if you wish.
The best thing to do is to eat very fresh this salpicón de marisco, but at room temperature it is also a delight.
This Salpicón de marisco or Seafood Salad cannot be missing from your summer menu, not only is it fresh and light, but it is also an absolute marvel in terms of ingredients.
If someday you decide to do it at home as a tapas, you can accompany it with some good croquettes, an empanada or even a gazpacho. At home we make several versions, including salmorejo, but undoubtedly my favorite is this green gazpacho with nuts.
I wish you a wonderful start to the week!
Bi hugs,
Eva
Archivado en