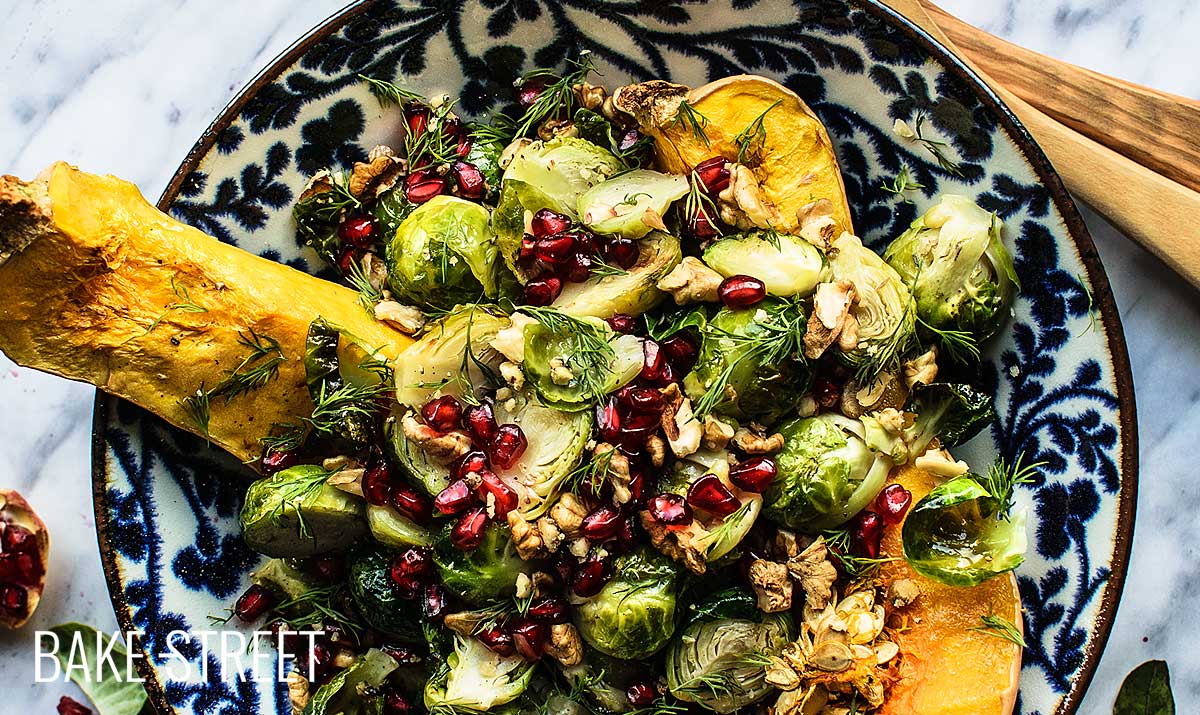 Brussels sprouts, pomegranate and apple vinaigrette warm salad
Este post también está disponible en Spanish
Today I bring you an ingredient that I know is not very beloved, but I love them. I recognize that they have a very particular flavor and, depending on how we have cooked them, they can attract us more or less. Today's recipe is super simple, it is prepared practically on its own and it will be perfect for us to enjoy as much as a starter, accompaniment or dinner. I assure you that you will fall in love with this Brussels sprout, pomegranate and apple vinaigrette warm salad.
In winter, generally speaking, salads are not much appettizing to eat. Although there are some that are never missing at home no matter what the weather.  Is there anything better in the world than a salad of tomatoes and roasted red peppers? No. In winter we also eat a lot of escarole and pomegranate salad, I can eat literally tons of it, I love it.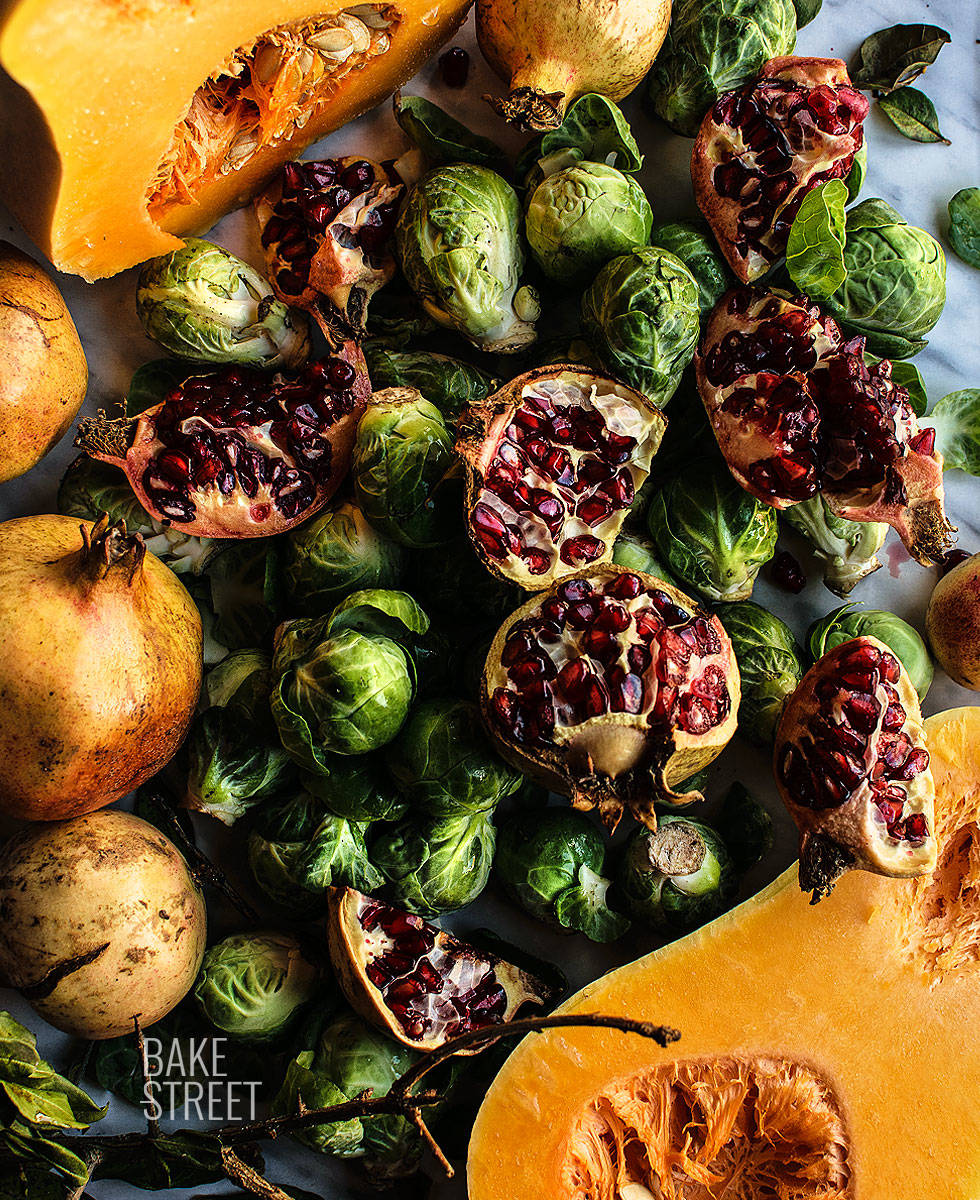 A very versatile dish.
Today's recipe, in addition to being of that type of elaboration that is prepared in a short time and cooked practically alone, are of those recipes that can serve us for several occasions. When I say that they cook themselves, it seems that they prepare themselves in the kitchen, hahaha. But by this I mean that it's that kind of preparation that you put in the oven and forget until you take it out. Moment when they will be ready to mix with the rest of ingredients and serve.
It can perfect as dinner, a starter for a weekend meal or an accompaniment of meat or fish. The ingredients and flavors of this dish, being so light and refreshing, combine perfectly well with almost everything.
Combining seasonal ingredients.
I wanted to make a salad with seasonal ingredients. The Brussels sprouts along with the pumpkin and pomegranate, seemed to me a perfect combination in both flavors and textures. I don't know if I've ever told you, but I love pomegranates.
To dress the salad we can do it with the vinaigrette that I propose you or with some other that you prepare at home and you like. Feel free to dress it as you like.
In my case I propose a vinaigrette made with Bourbon apple butter, tangerine and honey. We will also garnish the salad with walnuts and fresh dill. The final result is really surprising. Perhaps today could be the day when you decide to give Brussels sprouts a chance 😉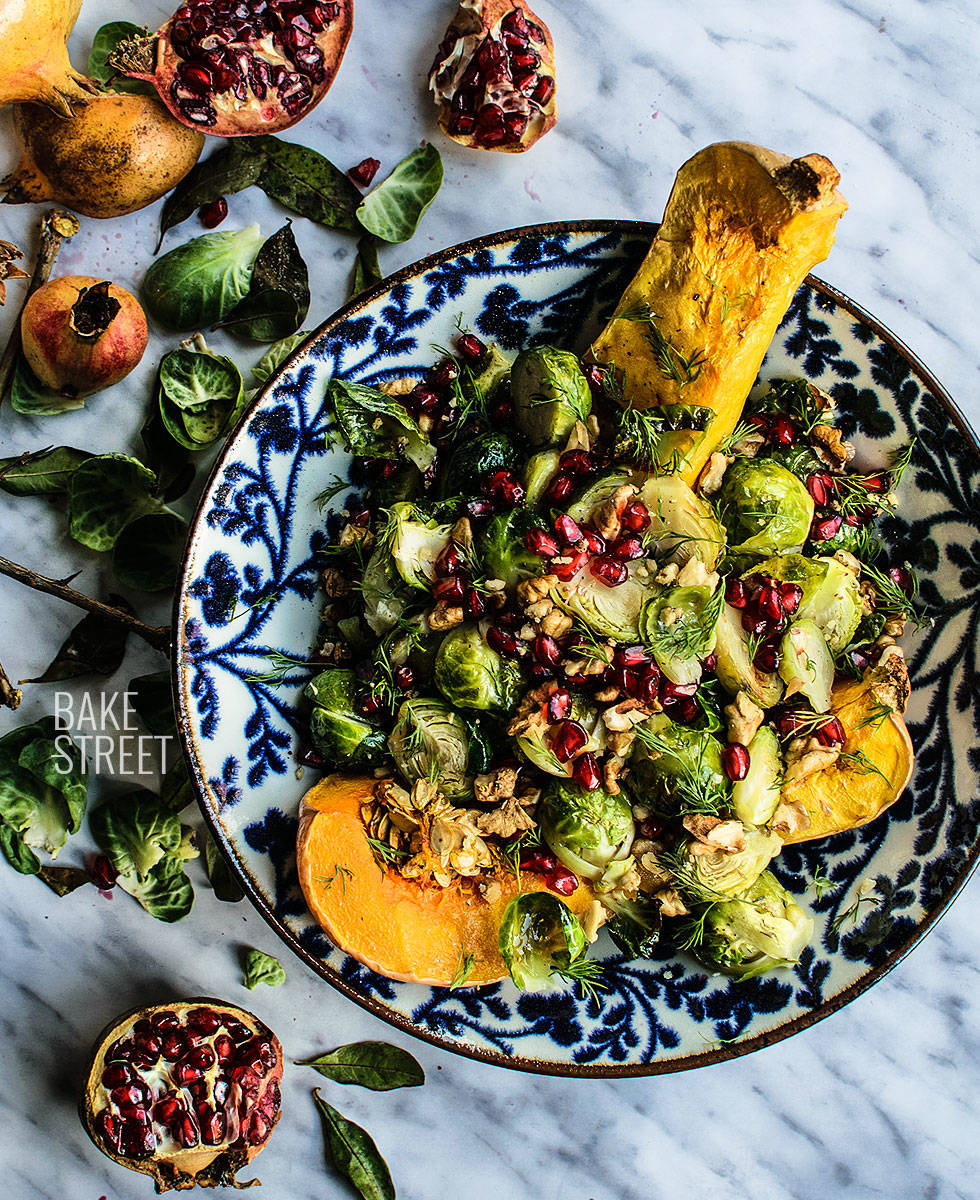 Ingredients for 2 serves
FOR THE WARM SALAD:
500 g Brussels sprouts
1/2 Butternut pumpkin
olive oil + salt + black pepper freshly ground
pomegranate arils
a handful of peeled walnuts, lightly chopped
fresh dill
schichimi togarashi (optional)
FOR APPLE HONEY VINAIGRETTE:
45 g olive oil
1 Tbsp Bourbon apple butter (link recipe)
1 y 1/2 Tbsp apple cider vinegar
one tangerine zest
2 tsp honey
salt and black pepper to taste
Instructions
Bake the pumpkin.
Preheat oven to 390ºF. Line a large tray with baking paper, set aside.
Wash and dry the pumpkin.
With the help of a sharp knife, and very carefully, cut the pumpkin in half lengthwise and, in turn, these again in half. We'll get 4 portions.
Line a baking pan and place the pumpkin along with onion. Drizzle with olive oil and season to taste.
Bake for 1 hour or until pumpkin is tender.
Remove from the oven and let cool.
Place on a tray. Leave a space on one side to put the Brussels sprouts later.
Drizzle the surface with olive oil, season with salt and pepper and place at medium height for 45 minutes or until they are tender when pricked.
Remove and leave to cool slightly.
While we prepare the Brussels sprouts.
Fill a large pot with salt water and place a high medium heat to boil. While, fill a large bowl with water and ice. Set aside.
With a sharp knife remove ends from Brussels sprouts and pick the out leaves. Wash well, drain and cut in half.

Once water is boiling, add the Brussels sprouts (in batches) and cook for 20 seconds. Remove with a slotted spoon and transfer to the ice bath for a few seconds. Transfer them to a colander.
Repeat with the remaining Brussels sprouts.
Once we have all the Brussels sprouts scalded, put them in a large bowl.
Pour the olive oil over them, salt and pepper and mix with your hands to distribute over the entire surface.
Place in the oven, together with the pumpkin that we already have inside, and bake for 20 minutes.
Take it out of the oven and let them cool down slightly.
Make the apple honey vinaigrette.
In a glass jar, of those with a lid (jam, preserves ...) pour the oil along with apple butter, vinegar, tangerine zest, honey, salt and pepper.
Close the jar with the lid and shake with energy. In this way we will obtain a perfectly homogeneous mixture.
Set aside.
Assemble the Brussels sprout warm salad.
In a bowl, salad bowl or where we are going to present it, place the quarters of roasted pumpkin in the base.
Arrange the roasted Brussels sprouts and decorate with pomegranate arils, walnuts slightly crushed, some dill leaves and sprinkle with schichimi.
Serve with apple vinaigrette and honey.
Notes
I have specified a variety of pumpkin, but of course, you can use the one you like best or have within your reach.
I suggest you start roasting the pumpkin and when there are about 20 minutes left to finish cooking, add the Brussels sprouts. In this way we will make the most of the yield of the oven and we will be able to enjoy both ingredients with the desired temperature.

All garnish ingredients are optional. You can use another nut, another aromatic herb... But if possible do not omit the pomegranate, it is wonderful.
If you don't have Bourbon apple butter, you can try to make it by reading this post I left you some time ago. But, if you've been caught wanting to try the recipe and you don't have time to make it, you can replace it with a concentrated apple puree. It's not the same thing, but it can help us get out of the way. You could also use an apple or quince jam... I can even think of fig jam!
This Brussels sprout, pomegranate and apple vinaigrette warm salad is also perfect to prepare in advance and take to work. We can leave everything ready in an airtight container, and pour the dressing in a small airtight plastic jar.
At home I am the only one who likes this vegetable, but they recognized that the combination was delicious... They told me that if it wasn't for the taste of Brussels sprouts which bored them, they wouldn't have left me anything, hahaha
I wish you a wonderful beginning of the week.
Big hugs,
Eva
Archivado en