Sweet potatoes stuffed with Kung Pao Brussels sprouts
Este post también está disponible en Spanish
I like Brussels sprouts very much, although I am aware that it is an ingredient with few followers… I think many times it is not the ingredient itself, but the way we prepare it. So today I bring you these sweet potatoes stuffed with Kung Pao Brussels sprouts to give them another chance.
As you can see, there's nothing more versatile than a roasted sweet potato. It can be filled with countless ingredients or served with sauces. Personally, I like them just like that. But it's true that if we dress it with some ingredient, they look much better.
Kung Pao Brussels sprouts.
I'm sure by reading Kung Pao Brussels sprout, it will have happened to you as it did to me. My eyes were like plates! Both for the ingredients and originality. A lot, I thought it was a great recipe. Thanks to my dear Pinterest, whom I am hooked on, I have to admit, I discover many wonders like this.
I immediately clicked to the blog where the recipe came from and it took me to the website of "Delish" and these wonderful Brussels sprouts made by Lauren Miyashiro. Thank you so much for this amazing recipe.
She suggests we eat them like this, like an incoming dish. But in my case I decided to use them as a filling for these sweet potatoes I had at home. And before the season is over… we have to make the most of it.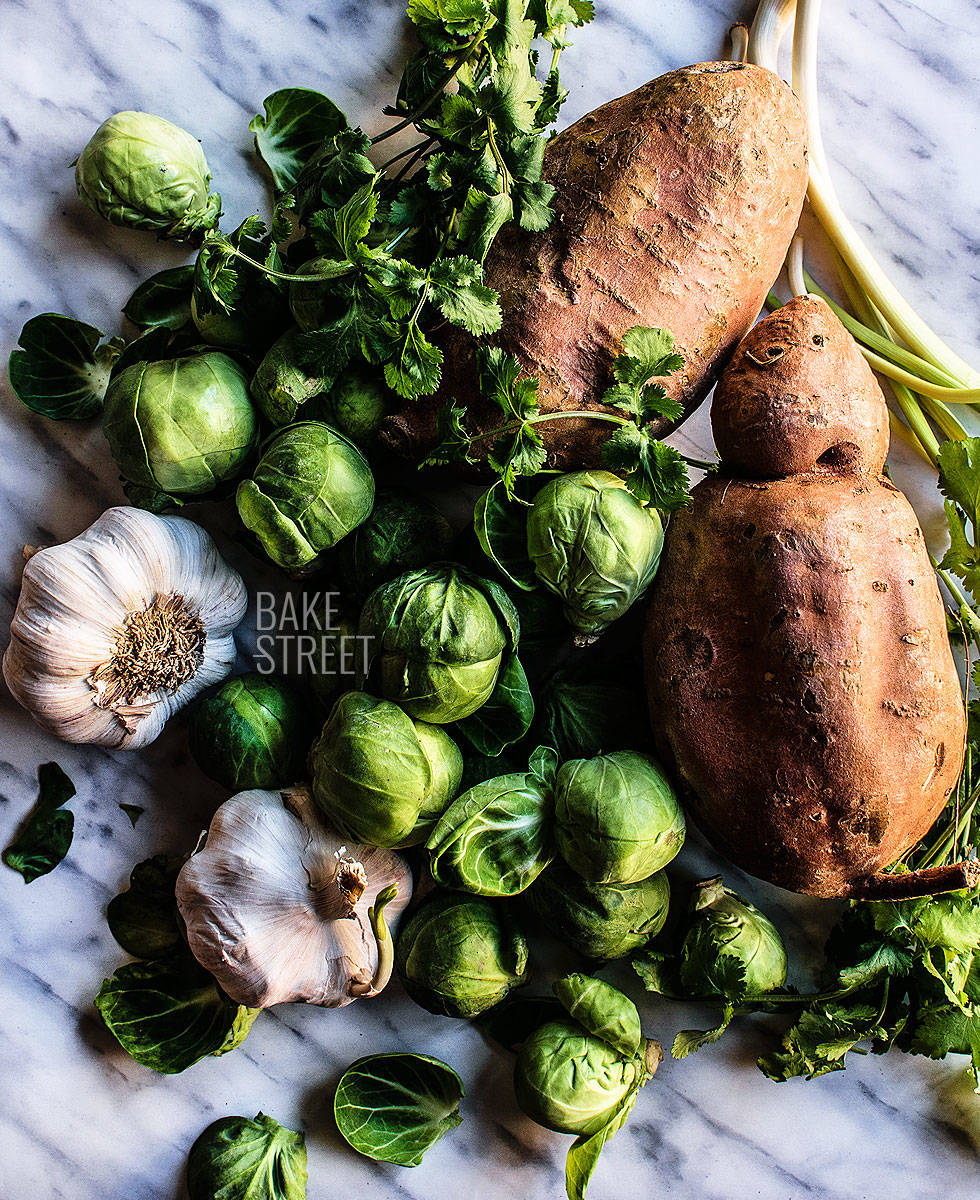 Kung Pao.
Many of you will know the classic Kung Pao chicken. It is a classic preparation of Sichuan cuisine made with marinated chicken, a fried chilli peppers and Sichuan pepper to which vegetables, peanuts or cashew nuts are later added.
The dish is named after Ding Baozhen, governor of Sichuan province who was awarded the title ofGōng Bǎo (宮保), from which the name of this elaboration derives.
The version we are going to prepare is Westernised, since we add ingredients such as Hoisin sauce, vinegar… and there are even preparations that add oyster sauce.
Choosing the presentation.
Filling the sweet potatoes with Brussels sprouts alone seemed to me that the dish could be a bit dense in texture. That's why I thought of adding aromatic herbs to help soften and refresh the whole thing.
My choice was cilantro, which I adore to the full, and peppermint. I like very much the fresh point that contributes to dishes with sauces of this type. It makes all the elements stand out much more. I'm sure that adding sprouts will also produce very good results, but this time I was looking for fresh flavors.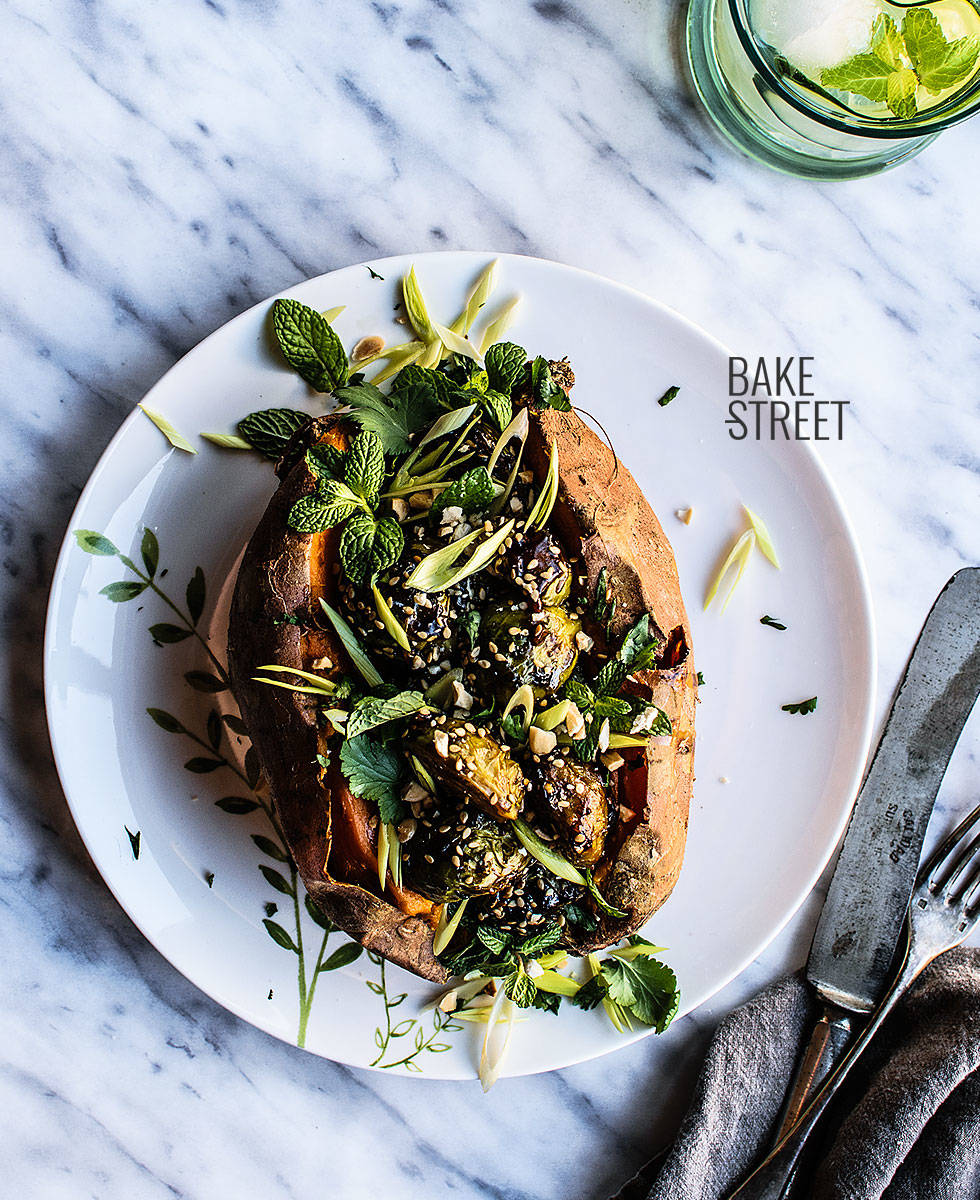 Ingredients for 4 pieces
4 large sweet potatoes
32 oz (900 g) Brussels sprouts
2 Tbsp Thai oil
2 garlic cloves minced
1 Tbsp cornstarch
4 oz (115 g) soy sauce
4 oz (115 g) water
2 tsp apple cider vinegar
1 Tbsp Hoisin sauce
1 Tbsp dark muscavado sugar
1/2 tsp homemade Sriracha sauce (link recipe)
sesame
3-4 green garlics
roasted peanuts smashed
a bunch of fresh cilantro
a bunch of fresh peppermint
salt and Sichuan pepper to taste
Instructions
Bake sweet potatoes.
Preheat oven to 375ºF (190ºC).
Line an oven tray with aluminum foil.
Wash sweet potatoes very well underwater to remove all the mud on the surface. Dry with paper and place in the tray.
Bake for about 1 hour. The baking time will depend on the size of the sweet potatoes, it can be around 45-75 minutes. To find out if they're roasted, we'll prick them with a knife, this one should come out easily.
Remove and allow to temper slightly.
Prepare Brussels sprouts.
We will leave the Brussels sprouts ready to put in the oven when there are 20 minutes left to finish cooking the sweet potatoes.
Using a sharp knife, cut the Brussels sprouts stalks and remove the leaves from the outside. Wash well, drain and cut in half.
Place in a bowl and pour the olive oil, season with salt and pepper, toss and place in the oven together with the sweet potatoes (these will be finishing their cooking).
Bake for 20 minutes. They must be so tender when you prick them.
Remove from the oven together with the sweet potatoes.
While the cabbages are baked, prepare the Kung Pao sauce.
In a small bowl mix the soy sauce together with water, apple vinegar, muscavado sugar, Sriracha sauce and Hoisin sauce. Mix until a homogeneous mixture is obtained. Set aside.
Pour the Thai oil into a medium saucepan and place over medium heat.
Add the garlic and cook for 3-4 minutes.
Add the cornstarch together with the soya mixture. Stir well until completely homogenized.
Cook to medium heat for 4-5 minutes stirring occasionally. The sauce should thicken slightly.
Remove from the heat.
Prepare Kung Pao Brussels sprouts.
Remove the roasted sweet potatoes from the baking tray, reserving the Brussels sprouts.
Raise the temperature to 390ºF (200º C).
Pour the sauce over the Brussels sprouts and toss to distribute evenly over the entire surface.
Sprinkle with sesame and bake in the oven for 3-4 minutes.
Remove and stuff sweet potatoes.
Stuff the sweet potatoes.
Cut sweet potatoes in half and place on individual plates.
Place, generously, fresh chopped cilantro base.
Stuffed with Kung Pao Brussels sprouts.
Garnish with peppermint leaves and fresh cilantro. Sprinkle with mashed peanuts, laminated green garlic and a little more chopped cilantro, if desired.
Serve immediately.
Notes
I used homemade fermented Sriracha sauce to make Kung Pao sauce. It is very hot, that's why I only add 1/2 teaspoon. In case of using it store bought, you must add 2 teaspoons.
I have used Thai oil which is made from Thai basil, but you can use sesame oil if you want.
Coriander and peppermint provide a very fresh flavor that combines well with the other ingredients, but you can omit some of them if you don't like it.
We can use rice vinegar instead of apple vinegar, the flavor is incredible too.
These sweet potatoes stuffed with Kung Pao Brussels sprouts are one of those dishes that creates addiction. The combination of flavors is surprising; sweet, spicy, fresh, smooth... A wonderful combo that I am sure will surprise you.
And, as you will suppose, it can be served as a unique dish and that's it... Because it fills a lot. But fill with satisfaction. Of those dishes that, once you've tasted it, you know you're going to do it many more times. I hope that for all those of you who do not yet love this ingredient, you will finish with this elaboration.
I wish you a great Monday ;)
Big hugs,
Eva
Archivado en