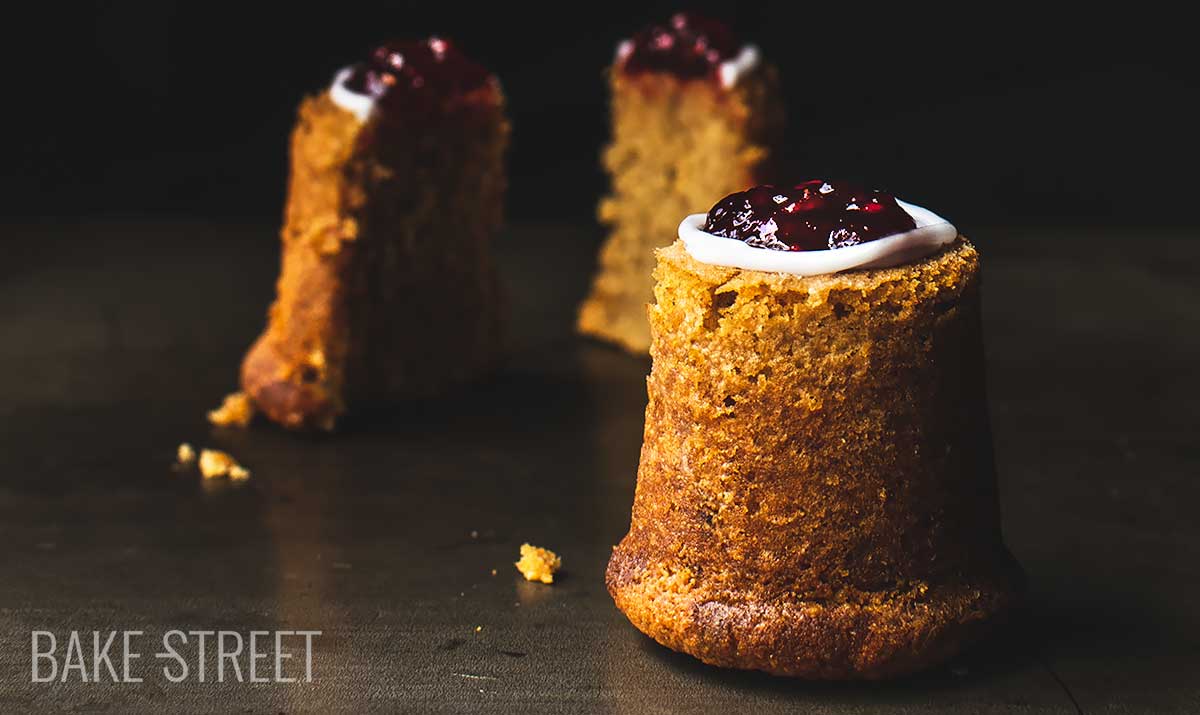 Runeberg Cake – Runebergin Torttu
Este post también está disponible en Spanish
The recipe I share with you today came to me unexpectedly. A few days ago, a girl who follows me on Instagram recommended me this recipe, Runeberg Cake or Runebergin Torttu. She told me that since I liked Finnish gastronomy so much, I would surely like to get to know this sweet pastry from Finland. And I really loved it! So I thank you from the bottom of my heart for bringing me this wonderful cake.
I have to admit that as soon as I saw the comment, I didn't have time to look for information about them. Their appearance is quite simple, but with a very particular decoration. This was something that frankly made me fall in love, added to all the ingredients that are part of it. It's an explosion of incredible aromas and flavors. With a strong Finnish personality.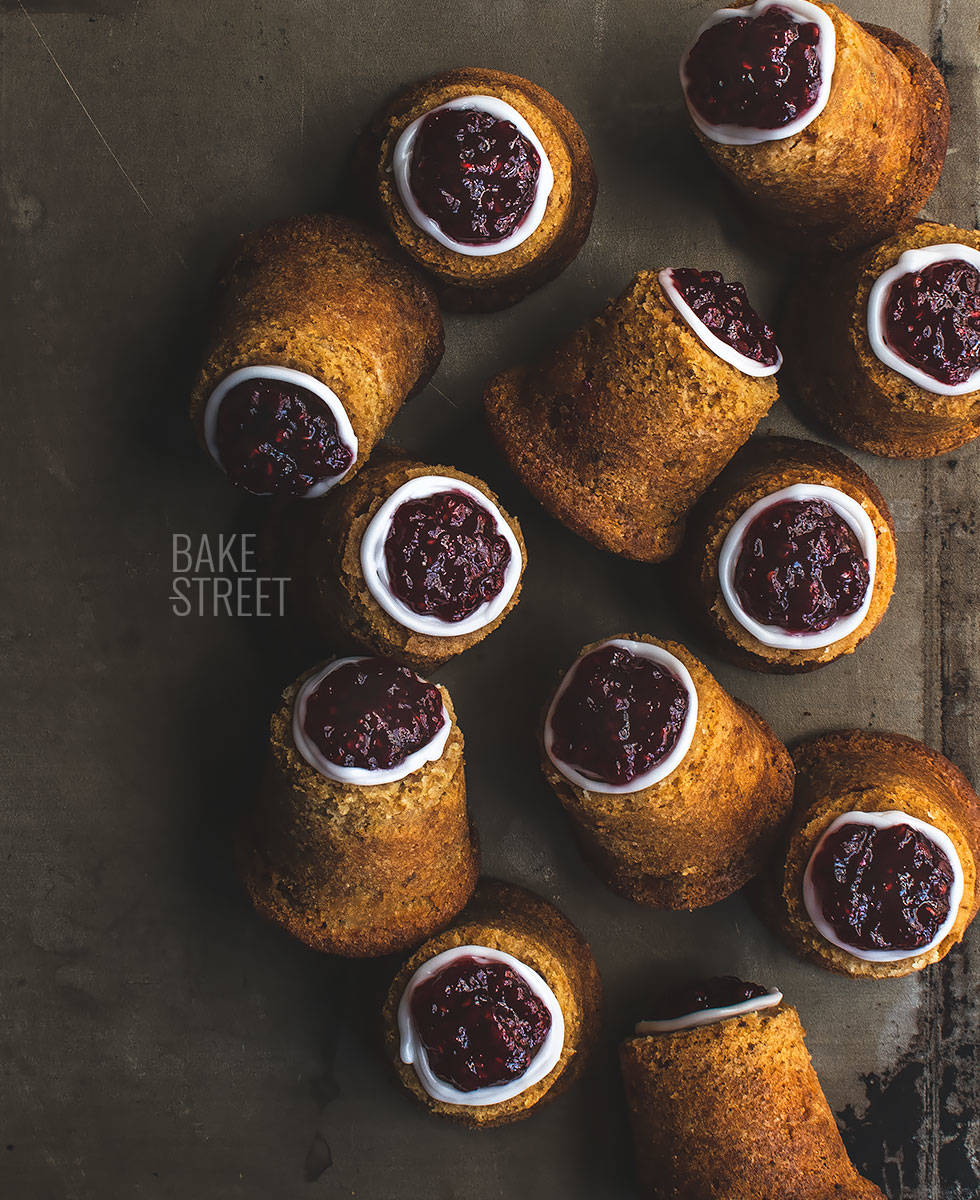 By the way, before continuing I wanted to share with you that my blog is 7 years old today! My goodness. I can't believe who was going to tell me that I was going to turn a passion into my daily life. The truth is that I am very happy about it and I hope it will be many more years 😉
Thank you for being by my side all these years, you are a very important part of all this and I am eternally grateful. Thank you!
Origin Runebergin Torttu or Runeberg Cake.
Runeberg cake, Runebergintorttu in Finnish or Runebergstårta in Swedish is a traditional Finnish gastronomic cake named after the famous Finnish poet Johan Ludvig Runeberg (5 February 1804 – 6 May 1877). He was one of the most important poets in Scandinavia.
Apparently these cakes were invented by his wife Fredrika Runeberg. Writer and one of the pioneers of the Finnish historical novel.
Runeberg, his wife and eight children lived in Porvoo,, a small and beautiful coastal town 50 km from Helsinki. It is said that the Runeberg family used to have a very tight economy, but Fredrika managed very well to get by at home and satisfy her husband's sweet tooth, as well as withstand his periods of bad mood.
She made a cake out of what she had at home. She used flour, breadcrumbs from the previous day moistened with punch (Punsch), crash cookies, almonds and decorated it with raspberry jam from her garden. From that moment on, this cake became the poet's favourite and daily breakfast.
Every 5th of February Finland celebrates this day, the birth of the poet, by consuming this cake. The recipe is found in Fredrika Runeberg's book of recipes from the 1850s, but is probably adapted from a recipe created by Porvoo baker Lars Astenius in the 1840s.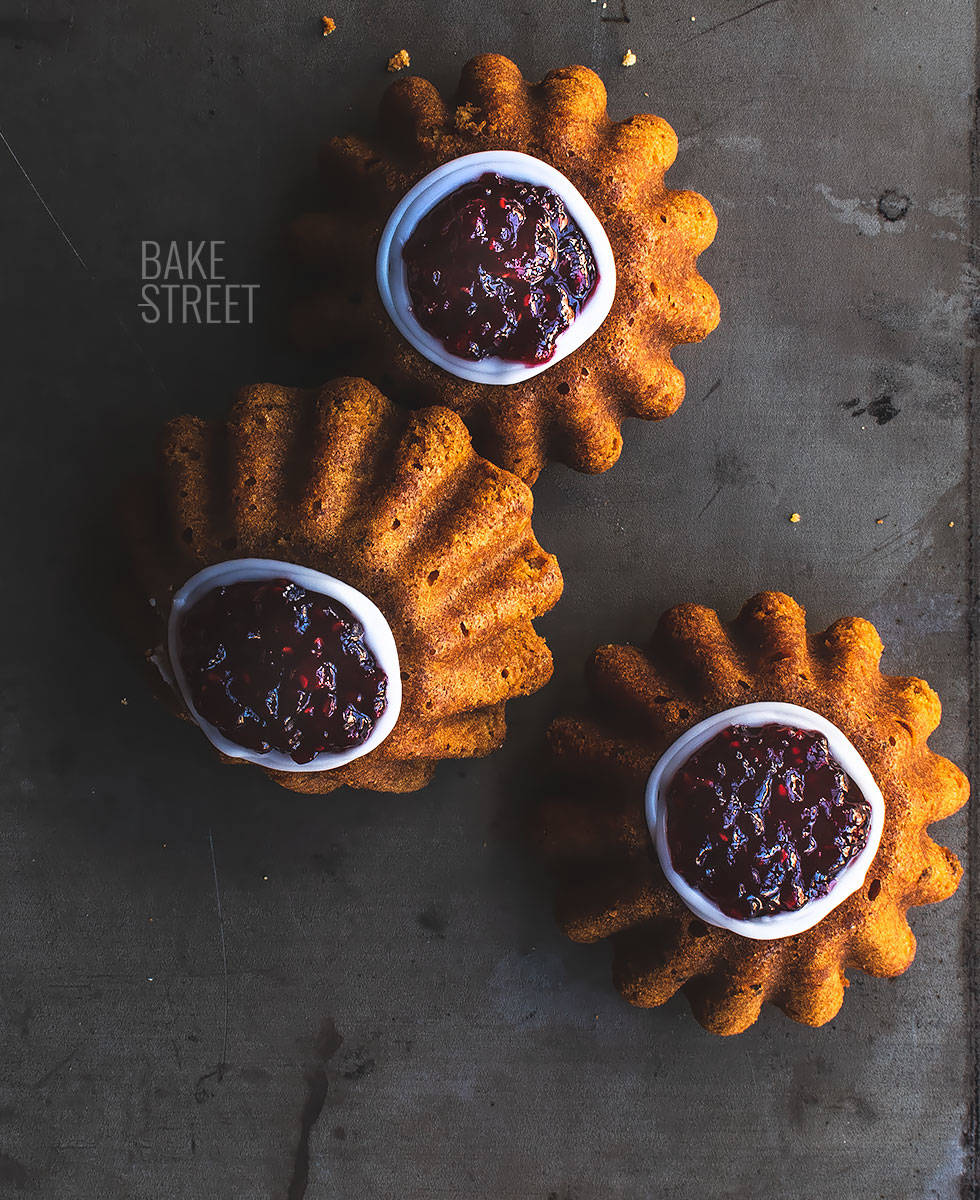 Johan Ludvig Runeberg.
In 1846 Runeberg wrote a poem describing the Finnish War, in which Sweden lost what is now Finland to the Russian Empire. Its greatest success is the poem "Fänrik Stål" (Vänrikki Stoolin tarinat, in Finnish), translated into Spanish as "The Tales of Ensign Ståhl". This poem helped shape Finnish identity.
Runeberg's aim was to stir up the Finnish patriotic spirit. That is why he is considered the First Great Finn and became our "national poet".
The first chapter of Fänrik Stål is the lyrics of Finland's national anthem, "Maamme" (Our Land). A song that became very popular until it became the Finnish anthem. According to legend, Fredrik Pacius,, Runeberg's friend, composed the music for the poem in fifteen minutes.
All of Runeberg's works express the patriotic spirit of his countrymen. His poetry is often compared to that of the great European Romantic authors.
Making the recipe.
The recipe is simply spectacular, as well as being very easy to carry out. In my case I followed the recipe of Desserts for Breakfast changing a little, but very little things.
Of all the recipes I've looked at, gingerbread crumbs or gingerbread crumbs are always used. It is probable that you don't have it at home… in that case you can make them following this recipe, buy them made or using breadcrumbs as the author of the recipe did. In this case I would recommend you to add a little ginger powder to the batter to bring that peculiar aroma and flavor.
The original format is a cylinder of 2,35-2,75 inches / 6-7 cm in diameter (approximately), but of course we can always adapt it to the molds/pans you have at home. In my case I made more batter than I could bake in the tray. So I used some brioche pans of 4 inch/10 cm in diameter and 2 rectangular pans of 3 x 6 x 2 inches / 8 x 15 x 5 cm.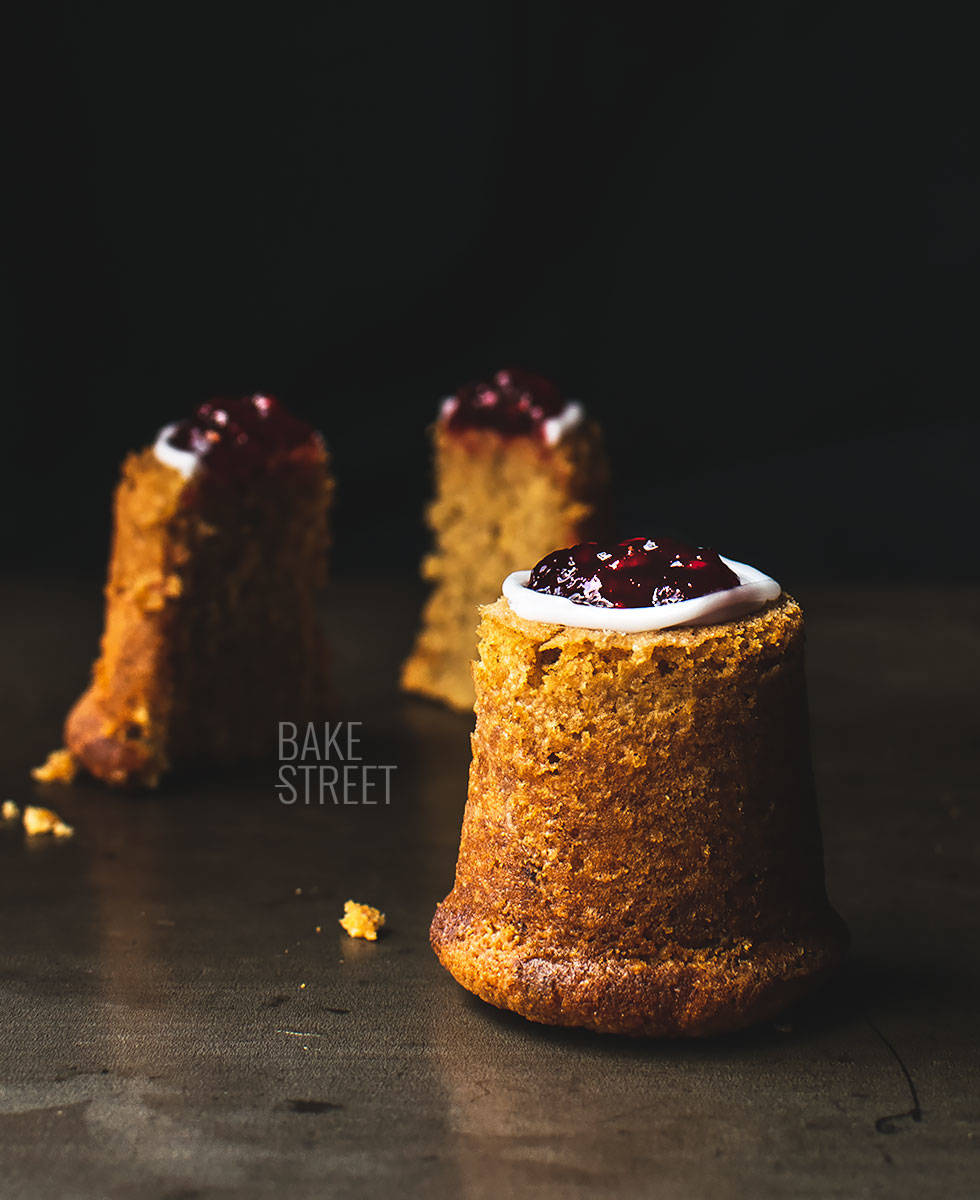 Ingredients for 17 pieces
Recipe adapted Desserts for Breakfast
FOR THE BATTER:
280 g AP/plain flour
90 g crushed gingerbread cookies 
60 g ground almonds
3 large eggs
125 g whole milk
200 g unsalted butter at room temperature
80 g sugar
130 g dark muscovado sugar
2 Tbsp molasses
110 g freshly squeezed orange juice
one orange zest
15 cardamom pods, crashed
1 tsp natural sweet almond extract
2 tsp baking powder
1 tsp salt
FOR THE SYRUP:
115 g water
115 g sugar
2 Tbsp rum
FOR THE SUGAR ICING:
75 g icing sugar
12 g milk
few drops natural sweet almond extract
PARA DECORAR:
Instructions
Make the syrup.
Pour the water  with the sugar in a saucepan. Place at medium heat and let it boil. The sugar should be completely dissolved.
Once it comes to the boil, turn off the heat and let it cool completely.
Place the syrup in a bottle with the help of a funnel, add rum to taste, close and shake to mix well.
Set aside at room temperature.
Make the sponge cake.
Grease a muffin tray (in my case I used the one you see in the Ikea image, but I found this one by Amazon which is high and similar format) with butter, sprinkle with flour and turn to remove the excess. I also used 3 brioche moulds and two 8 x 15 x 5 cm rectangular pans.
Preheat oven to 355ºF/180ºC.
Sieve the flour into a bowl and add the ground almond together with the baking powder, the crushed gingerbread cookies, orange zest, crushed cardamom (pods removed) and salt. Mix with a spatula and set aside.
In another bowl, mix the milk with the orange juice, almond extract and molasses. Set aside.
In the bowl of KitchenAid add the butter together with the two types of sugar.
Mix at medium speed with the flat beater until it acquires a creamy and aerated texture. In my case I left it for 10 minutes. The texture will remind us very much of an SMBC.
Begin to integrate the eggs 1 by 1 and mixing at the same time at speed 1. We won't add the next one until it's completely integrated into the mix.
Once we have the eggs integrated, we begin to add the dry ingredients and liquids while mixing. We add a small amount of dry ingredients, once they have been integrated, we add a little liquid ingredients.
Repeat this process until all the two ingredients have been added. Remember not to over-beat the mixture, just mix until they have been integrated. Otherwise the result will be much more compact and not so spongy.
Divide the mixture into the molds filling only 3/4 of them. Smooth the surface with a spoon and place in the oven.

For the muffin pan, bake in a first batch for 20-22 minutes. For the rest of the pans, bake them in a second batch for 25 minutes.
Before removing the pans from the oven, prick the cakes with a toothpick. This should come out dry and without adherent remains.
Take out of the oven, let it rest for 2 minutes in the pan, then remove it from it and place on a rack.
Soak with the syrup.
Under the rack, place a tray or bowl to collect excess syrup.
Using a bottle, soak the cakes in the syrup while they are still hot.
Be generous.
Let them cool completely on the rack.
Make the icing.
In a bowl mix the icing sugar with the milk and almond extract.
In my case this is the consistency that I like to decorate the cakes, but adjust it to your taste.
Place the glaze in a piping bag to prevent it from drying out.
Decorate the cakes.
Put the raspberry jam in a piping bag. Set aside.
Cut the tip of the piping bag with the icing, do not make a very large cut, and pipe a cord around the edge of each cake. In my case I piped twice to make them thicker.

Cut the tip of the piping bag with the jam, in this case we can make a slightly larger cut, and fill the inside of each glazing circle.
You can decorate rectangular cakes as you like.
Serve.
Notes
In this case I have not used pastry/cake flour to make the cakes, I followed the steps of the recipe that I link you above. I have used AP/plain flour.
It is important to obtain a very creamy and aerated mixture by beating the butter with the sugar.

If you don't have gingerbread cookies, you can use breadcrumbs with a little ginger powder.
The syrup of this cake is made with rum, but you can omit the alcohol if you wish.
It is always decorated with raspberry jam and icing. If you don't like it or you can't consume it, replace it with the jam you prefer.
You can keep them refrigerated for 10 days or in a glass bell or air-tight container for 4-5 days.
Runebergin torttu or Runeberg cake, has been for me a new discovery of the gastronomy of the Scandinavian countries. If I already loved their culture, countries, gastronomy, people... Now I do it a little more!
I love the aromas of their sweets thanks to the spices they use. Their pastry is usually (but not always) quite simple, but it has a charm that few others have. I fall in love... a lot.
In fact I don't see the day to be able to go back and be there enjoying its wonderful landscapes, its charming and kind people (when I was there everyone was incredible with us) and its gastronomy. I like it, I like everything. And I hope to be lucky enough to come back soon.
Until then, I will not stop preparing its wonders at home.
I wish you a wonderful start to the week!
Big hugs,
Eva
Sources:Finland.fi, El blog de Finlandia, Visit Porvoo
This post contains affiliated links.
Archivado en