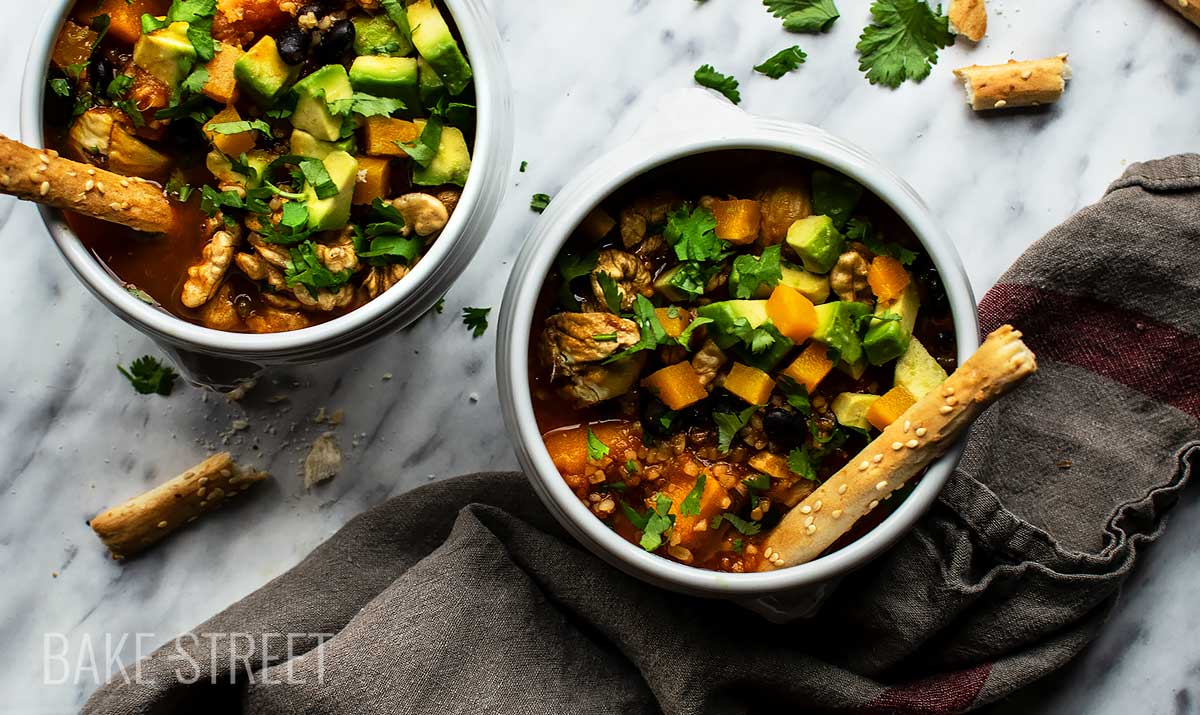 Pumpkin, chestnuts and bulgur chili
Este post también está disponible en Spanish
I'm a chili freak, I love to try different versions of this dish whether with meat, vegetables, nuts, different types of spices … And this time I bring you a version of what you are going to love! We'll use seasonal ingredients to adjust it a little to the time of year like pumpkin and chestnuts. Today we'll see how to prepare Pumpkin, chestnuts and bulgur chili.
Of course, as a chili recipe, it also has black beans. But many times it's difficult to name recipes because, despite wanting to say everything in it, you can't. Otherwise it becomes a super long title! Well, as far as I was concerned, today's recipe is prepared in a while, but the result is wonderful.
When I say for a while, don't panic, I don't mean many hours. But since we have to roast tomatoes and pumpkin, in that process we can go 1 1/2 hours easy… Time in which we can bring forward the cooking of black beans and bulgur, for example. If we organize ourselves well, it will pass in a jiffy.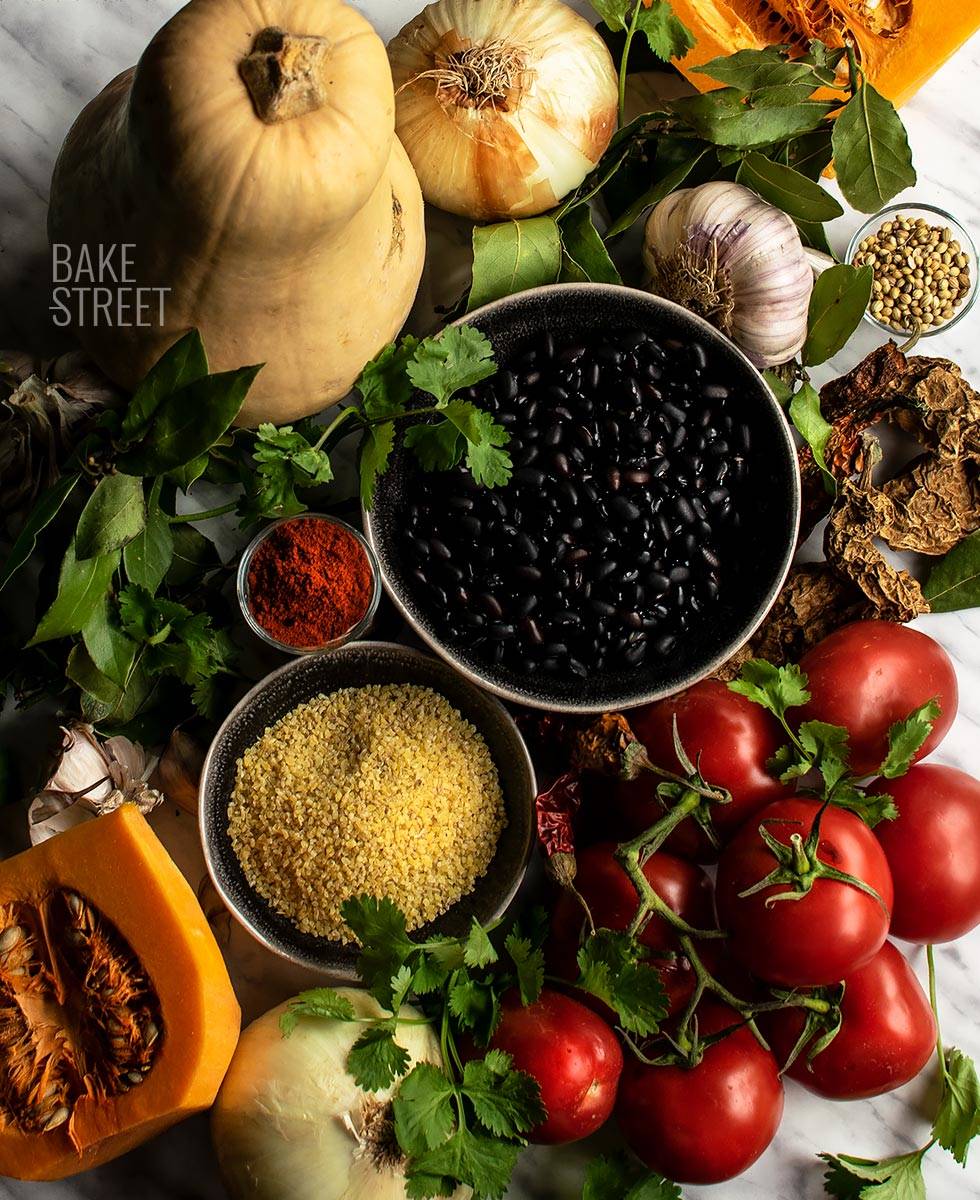 A very simple dish to prepare that can be taken to work.
Yeah, the way you read it. Maybe you think that because it contains bulgur, it's a dish that we'll have to eat practically during the day. Well… no.
Surprisingly the bulgur keeps very well with the passing of days. Let's see, we're not going to leave the chili 4 days in the fridge, but if you want to do it from one day to the next, even two, it holds up very well. The texture does not vary and the taste is absolutely wonderful.
At home, I don't know why, they don´t like to to eat this type of dishes. They taste them, like them, but they are not able to eat a whole bowl… However, I can eat three bowls in a row. I love these kinds of flavors, textures and combinations. For that same reason I can guarantee you that it keeps very well to the passing of days.
Some music for today.
This Monday I want to remind you of a song that I'm sure you've heard a thousand times, but I still like it the same! "Dreams" by Gabrielle . I can't believe it's been 25 years since I first heard it when I was 13! 😉
Maybe you don't like bulgur.
I declare myself an unconditional fan of bulgur, I like it very much. On the blog I have several recipes elaborated with it because it is a very versatile and interesting ingredient. It combines great either in a salad, like this one with roasted carrots, with chipotle ginger sauce, or in quesadillas. I love it.
If you don't like it or you can't eat it, just omit it. You can also add quinoa or even another legume. So do not worry, there is always some option that may be worth 😉
When serving chili, choose the toppings or dressings you like best. In my case I have opted for avocado, fresh cilantro (which would be mine without this aromatic herb!), walnuts, roasted chestnuts and squared pumpkin. But it can be served with whatever you want, even pumpkin seeds go very well.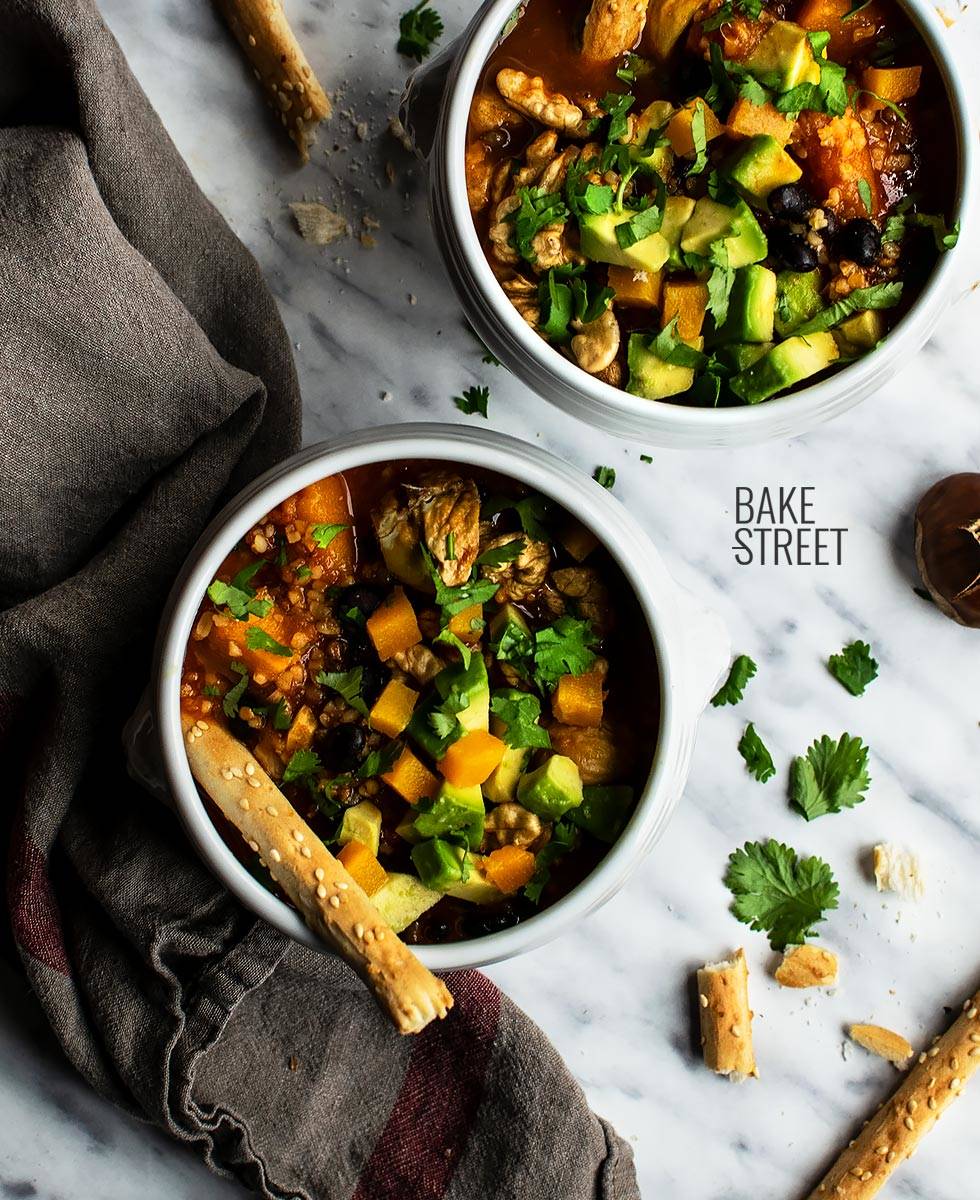 Ingredients for 4-6 serves
FOR PUMPKIN, BULGUR CHILI:
100 g black beans
800 g roasted tomatoes (here you can see how to roast them)
1 medium sweet onion chopped
4 garlic cloves
2 guajillo chilies
1 large chipotle chili
3 bay leaves
1 y 1/2 tsp sweet and sour paprika
560 g water or vegetable broth
395 g roasted pumpkin (here you can see how to roast it)
2 tsp cumin powder
1 tsp coriander seeds
1 Tbsp muscovado sugar
4 Tbsp olive oil
salt to taste
FOR THE BULGUR:
120 g bulgur (1/2 cup)
2 measures of boiling water for 1 bulgur, in my case 1 cup
pinch of salt
GARNISH:
chopped walnuts
roasted chestnuts
fresh cilantro
avocado
Instructions
THE NIGHT BEFORE
Soak the black beans.
Soak the black beans in water. Cover them completely with water, cover with film and leave for 12 hours at room temperature.
NEXT DAY
Drain the beans and wash them in cold water.
In a large po add the black beans along with the water, enough, and place on medium high heat. Once it comes to the boil, add a pinch of salt.
Cook over medium heat for 1 1/4 hours or 1 1/2 hours, until tender, but not longer than the cooking time. We don't want them to fall apart.
Drain well and set aside.
Prepare bulgur.
Add the bulgur in a bowl, set aside.
Fill a pot with a little more water than we need. Place over medium heat and leave to boil.
Remove from the heat and pour over the bulgur.
Add the pinch of salt, cover with a plate and leave to stand for 30 minutes.
After this time, the bulgur will have absorbed all the water.
Make the chili.
Cut the onions into medium pieces and set aside.
Mince garlic cloves and set aside.
In a mortar, mash cilantro seeds. Set aside.
In a big pot add olive oil and place at medium heat. Add crushed cilantro, let cook for 2 minutes stirring from tome to time.
Incorporate chopped onions and cook for 7-8 minutes or until softened stirring from time to time. It would be tender.
Add minced garlic and cook 2 minutes more.
Stir in the roasted tomato, previously peeled, along with the spices, halved chiles, muscovado sugar and cook for 5 minutes stirring occasionally.
Add boiled black beans along with bay leaves and water or vegetable broth. Cover and bring to boil.
Reduce the heat and simmer, stirring often, for 25-30 minutes.
When there are 10 minutes left to finish cooking, add the roasted pumpkin cut into squares. Set aside some to decorate when serving.
Add the bulgur, mix, taste and rectify salt if necessary.
Remove from heat and leave covered for 5 minutes.
Serve.
Ladle in serving bowls the chili. In my case I have used these Revol porcelain bowls.
Garnish with chopped fresh cilantro, avocado, crushed walnuts, chopped roasted chestnuts and a few squares of roasted pumpkin.
Serve immediately.
Notes
Can I use canned beans? If you wish, yes you can. In my case I prefer to choose the variety and cook them at home, but feel free to do it this way if you wish.
In my case I have used small black beans, but you can use larger black beans.
Can I use canned tomatoes instead of cooking them at home? Yes, you can, of course. But the taste has nothing to do with what you get at home.
The bulgur doesn't need to be cooked, it just needs to rest in boiling water. This step will allow us to advance the rest of the ingredients while hydrating.
In spite of roasting the pumpkin and cutting it in squares, it keeps very well the cooking time that we will give it with the rest of ingredients.
If you don't like pumpkin you can use sweet potato instead, like in this chocolate chili.
The chilies that you use can be of the variety that you want, but I would recommend you not to omit the chipotle. The taste is sensational.
This Pumpkin, chestnuts and bulgur chili is an ideal dish to fight the cold weather. In addition to an explosion of flavors and textures. At home I usually try many recipes because I love it, as I mentioned above, I really like this recipe. And this version that I leave you today is fantastic.
I remind you that this week there are public holidays that begins on Thursday, so the next publication will be for next Monday. But I will continue on social networks! Also, for those of you who don't follow me by IG, I'm teaching you how to prepare Panettone SD day by day. We've been working on it for 10 days now, but don't worry because I'm leaving everything to you so you can access it whenever you want or need it ;)
Happy week!
Big hugs,
Eva
This post contains affiliated links
Archivado en