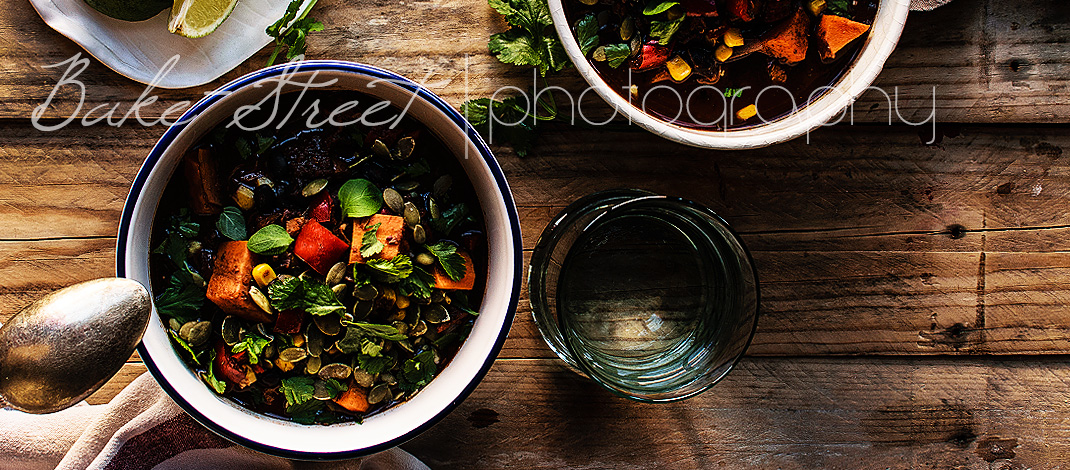 Chocolate vegan chili
Este post también está disponible en Spanish
If you want to fight the cold weather these days with a not boring dish, I recommend you try this chocolate vegan chili. Yes, with chocolate! As you have imagined, this element was the main responsible to make this recipe. Ok, and spicy taste.
I really like very spicy dishes, you know it, it is strange that I had not yet given a chance to try a homemade chili. I have tasted a lot of very good ones and it was time to get encouraged to prepare it homemade. The recipe is by Sarah Britton from her book "My New Roots".
Chili is common to make it with meat but, this time, I decided to try this vegan option. Many of you write me ask for vegan recipes and I thought this would be a great option.
This is a dense soup seasoned and really spicy serve with black beans and chili. In this recipe we will serve it with some vegetables and seeds to make it more tasty and healthy.
Chili origin is unknown, there are discussions about it. The American recipe consisted of dried meat, lard, dried chile and salt. One of the options, argues, that meat with chili was born in Ensenada, Mexico in the 1880s with the aim of increasing rations due to the meager amount of meat available.
Its developing was in Texas and southeast of United States. One of the most populars legends tells that a Spaniard Sister spirit gave the recipe to the Indians from north of Mexico.
Despite of meat with chili has American influence, there are evidence that the original recipe comes from Spanish conquerors who went to Mexico in the seventeenth century.
The Chili Queens arrival.
In 1880 the famous "Chili Queens", pioneers in the region when using their culinary skills to survive in the streets of Texas, already sold Mexican food in the public squares of San Antonio. On the other hand, the historians, ensure that chili was not among the plates that were sold in San Antonio. The Americans did not distinguish flavors, apart from the itch of chili, which made them call generically all that was sold as "chili."
It enjoyed a very bad reputation and looked like a dirty meal, which led to the eventual disappearance of the Chili Queens.
The recipe that I leave little or nothing has to do, unless we take into account the black beans and the spicy. Otherwise it could be considered a stew, somewhat special, and very well seasoned. What I'm sure is that it will help you fight these winter days 😉
CHOCOLATE VEGAN CHILI:
6 serves
FOR THE CHILI:
5.3 oz (150 g) dried black beans (beans cooked will weigh 12.3 oz (350 g))
28 oz (800 g) fresh tomatoes
2 medium sweet potatoes
4 Italian red peppers
2 large onions
4 large garlic cloves
8.8 oz (250 g) canned unsweetened corn
ground cumin, 1 Tbsp
coriander seeds, 1 Tbsp
1/4 cup (30 g) unsweetened cocoa powder
3 Cobán chilies (you can use chipotle)
1/2 tsp ground cinnamon
3 cloves
1 Tbsp dried thyme
1/2 tsp freshly cracked black pepper
1 Tbsp freshly oregano leaves or 1 tsp dried oregano
4 bay leaves
pinch of ground cayenne
1 tsp salt
2 tbsp olive oil
1 1/2 cups (340 g) water
fresh juice from one lime
1 Tbsp Maple syrup
TO SERVE:
1/3 cup (50 g) toasted pumpkin seeds
fresh cilantro leaves
fresh oregano leaves
1 lime sliced
INSTRUCTIONS:
Make black beans.
THE NIGHT BEFORE
In a large bowl place black beans and cover them with water.
Cover with plastic film and soak 12 hours at room temperature.
THE NEXT DAY
Drain well black beans and wash with cold water.
In a large pot place soaked black beans, cover with water and place at medium heat. Once water is boiling, add a pinch of salt.
Let cook medium low heat for 1 1/4 – 1 1/2 hours or until black beans are tender.
Remove from the heat, drain and set aside.
Blanch tomatoes.
Fill a pot with water and place at medium heat until water boils.
While, wash tomatoes and with a knife make a cross in the peel, not deeper.
Once water is boiling, place inside tomatoes and cook for 2 minutes.
Remove with a slotted spoon and place them under cold water.
Now you can remove the peel easily and chopped them. Set aside.
Make chili.
Wash well sweet potatoes to remove remains of mud.Wash red peppers, set aside.
Chopped onions and red peppers. Peel sweet potatoes and chopped too.

Mince garlic cloves and set aside.
In a mortar, mash cilantro seeds. Set aside.
In a big pot add olive oil and place at medium heat. Add cumin along with cilantro, let cook for 2 minutes.
Incorporate chopped onions and salt, cook for 7-8 minutes or until softened stirring from time to time.
Add minced garlic and cook 2 minutes more.
Incorporate spices along with cocoa powder and cool for 2 minutes, stirring constantly. Maybe mixture gets dry, add some water (it could be water from the blanched tomatoes).
Add red pepper along with sweet potatoes, black beans, blanched chopped tomatoes, maple syrup and water. Cover and bring to boil.
Reduce the heat and simmer, stirring often, for 20 minutes or until vegetables are tender.
Add fresh lime juice, corn and mix. Taste and season with more salt if desired.
Serve.
Ladle in bowls the chili.
Decorate with some fresh cilantro and oregano leaves, pumpkin seeds and some slices of lime.
Enjoy!
NOTES:
You can change the olive oil for Ghee, but it won´t be vegan. The aroma from butter and dried fruit give an interesting flavor.
I haven´t got Maple syrup. Don´t worry, you can use honey instead.
Can I use canned beans? If you wish, yes. I prefer to choose the black beans and cook them at home.
Can I use natural canned tomatoes? If you want, you can, but I do not how it tastes.
I am sure that this chocolate vegan chili does not leave you indifferent, both for its flavor as a combination of ingredients. I loved it, I hope you get excited about it and tell me how it has gone 😉
Hugs!
Eva
Sources: Chili Cook Off, Las Ficheras.