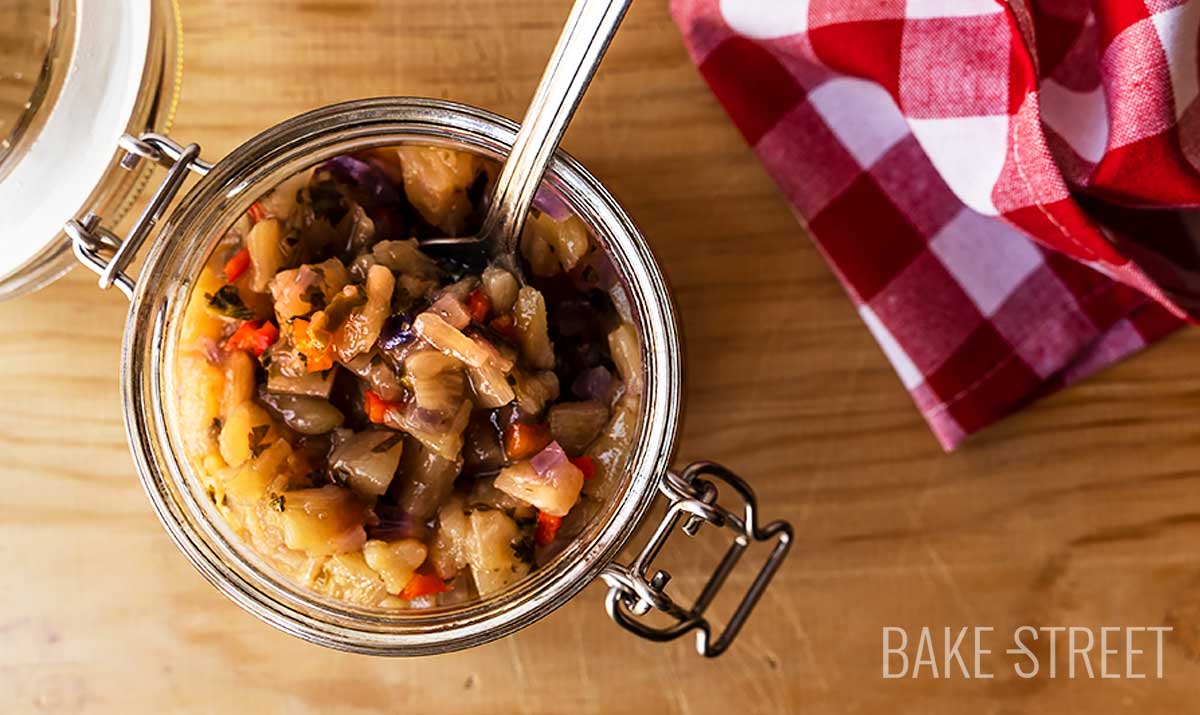 Pineapple jalapeño relish
Este post también está disponible en Spanish
I must confess a new vice that I have acquired this summer…. Pineapple jalapeño relish. I think that, after kimchi, it is one of those things that I can't stop preparing and eating all the time. It fascinates me, plus it goes well with everything; be it meat, fish or even vegetables. It all started one day when I bought a jar of Sweet Relish, I had never tried it before and it really caught my attention. Well, we loved it at home. The jar didn't last very long because we used it for hamburgers, sandwiches, toast…. For anything that was inside a bun basically.
That's when I decided I had to make it homemade (I'll leave the recipe for cucumber sweet relish for you soon, don't worry) and I started to do some research. I found relish made with an endless number of ingredients, but there was one that hooked me more than the others, the one I'll leave you with today. A relish made with pineapple, my God!
It didn't take me long to prepare it from the moment I saw it, because it is one of those recipes that you can make in a jiffy and it looks great with whatever you decide to accompany it with. From the first preparation, I kept modifying details until I came up with this one, which is more in line with my tastes. Of course, you can always modify any element that doesn't suit you or that doesn't convince you. The reason why I have left the pineapple and jalapeño relish before instead of the gherkin relish is because, briefly, I will leave you a recipe in which I use it. That way you can prepare it in advance, as well as taste it and adjust it to your own tastes.
What is relish?
Relish is a preserve made by cooking vegetables, fruits, pickled foods, herbs and spices in a mixture of vinegar and sugar. It could be classified as a condiment, in fact, it is used to accompany preparations, but above all, to enhance them. Its texture is not like the usual sauces we know, but it is thicker, and it is usual to find chunks or small pieces of the foods that are part of it.
In North America, the word "relish" is often used to describe a single variety of finely chopped "pickled cucumber relish".
What ingredients are used to make relish?
When it comes to preparing a relish, I think we can use almost any fresh ingredient we can think of. Certainly there will be some that are more suitable than others for this use, for example I find it hard to imagine a watermelon relish. But as long as it is an ingredient that does not contain an excess of water, I am sure it will give good results. Another point to bear in mind is to combine it with other elements that go well, as well as spices.
Vegetables: We can prepare relish with vegetables, in fact I'm sure you already know one of the most popular ones; cucumber relish or sweet relish, it is the most famous version in the United States. The vegetables are cut into small pieces and these will remain intact once the relish is finished.
Fruit: This may be less common than vegetables, but there are many amazing fruit relishes (such as pineapple). Some of the most popular fruits include blueberry relish or relishes made from tropical fruits such as mango.
Vinegar: If there is one thing that differentiates a relish from other condiments, it is its acidity, just like pickles. Vinegar, which can be apple or white wine vinegar, is used to give the relish a strong point of acidity, as well as helping to preserve the food for a long period of time. It adds a strong flavour to the final product and preserves it for long-term storage.
Sugar and spices: Sugar is used not only to balance the acidity of the vinegar, but also to help preserve ingredients by removing moisture of fruits and vegetables, thereby helping to preserve them. Spices and aromatic herbs are incorporated to enhance the flavours and add a distinctive touch to each of them. Ideally, they should be used in a way that works together.
Thickeners: Although it is true that it does not have to be an essential ingredient, if the amount of sugar we use is low (as in the recipe I leave you with), this ingredient will help us to obtain a denser and thickertexture. There are many ingredients on the market that can be used for this purpose such as corn starch, arrowroot, xanthan gum…
Chutney and Relish… Are they not the same thing?
Although they are very similar, there are some differences that make them two completely different recipes.
Chutneys have their origins in India. They are condiments or sauces made mainly with fruits and spices, although vegetables are also used. To make them, they are cooked for a long period of time, resulting in a smooth texture and consistency, as well as being thicker. They are made with a lot of spices and, above all, spiciness. The word chutney refers to an Indian term, "chatni", which means very spicy. Chutney is usually served fresh or prepared to be eaten within a short period of time.
Relish is a condiment that originated in England and is likely to have originated or grown out of chutney. It is usually cooked for a short period of time so that all the elements that are part of it keep their shape. Its main purpose is to enhance the flavour of the dish with which it is accompanied. However, it is believed that the main purpose of relish, originally, was to preserve excess vegetables for use during the winter. Most relishes are usually sour, although there are many sweet varieties in which fruit is also used. Relish can be considered a preserve, so it can be served as it is made, or it can be canned and preserved for many months for future use.
Now let's see how to prepare this pineapple jalapeño relish 😉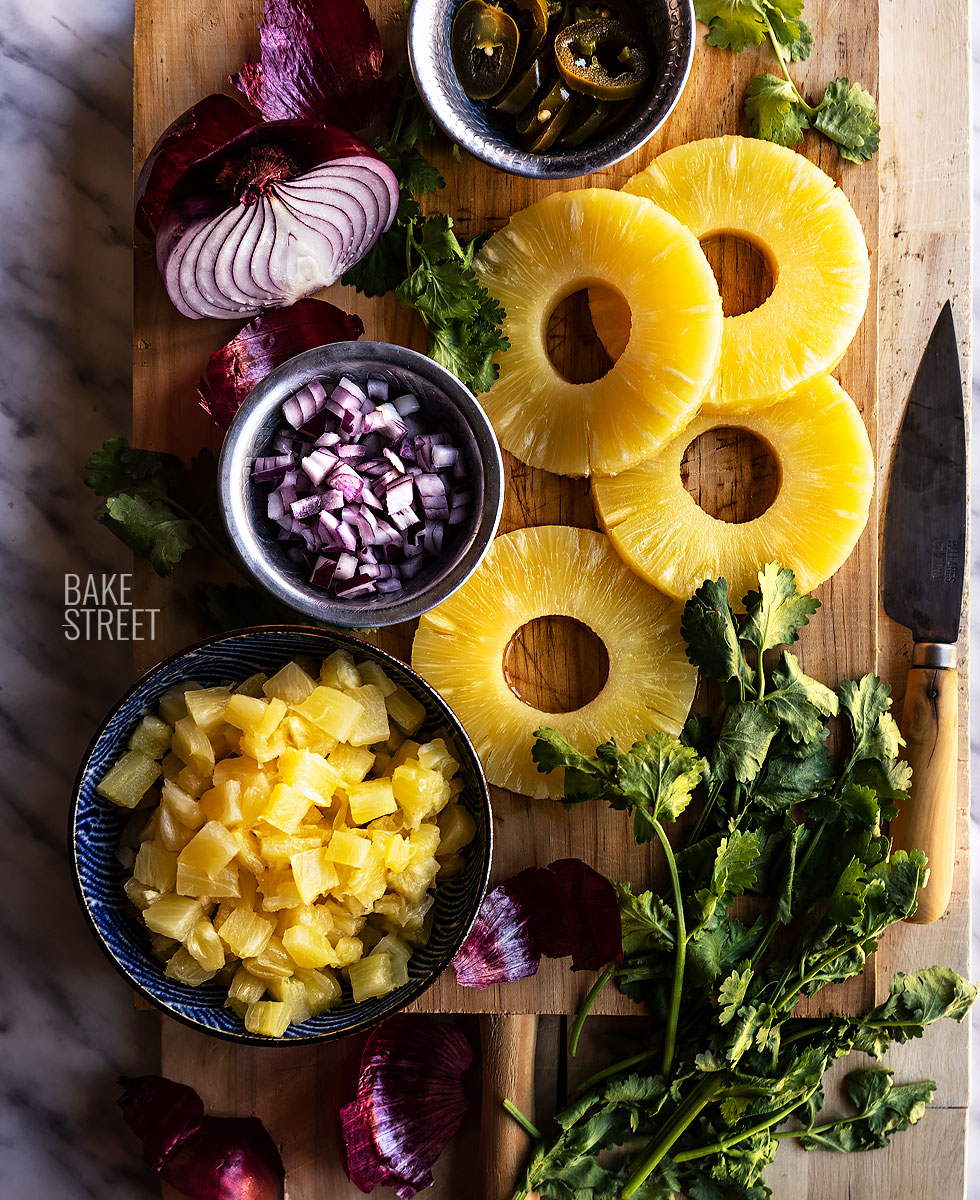 Recipe pineapple jalapeño relish
465 g pineapple, peeled
25 g jalapeño (can be fresh or pickled)
40 g red onion, finely chopped
40 g red pepper, finely chopped
10 g fresh cilantro, leaves only
60 g apple cider vinegar
65 g honey
1/8 tsp lemongrass powder (citronella) (optional)
1/8 tsp galangal powder (Thai ginger) (optional)
1/4 teaspoon salt or desired amount to taste
6 g cornflour + 17 g water
Instructions
Chop ingredients.
Wash all the ingredients to be chopped with cold water and dry with kitchen paper.
Cut the pineapple into small cubes and set aside in a bowl.
Cut the red onion, red pepper, jalapeño and chop the cilantro. This last one set aside.
Cook pineapple jalapeño relish.
In a saucepan, incorporate the pineapple along with the onion, red pepper and jalapeño.
Add the apple cider vinegar and honey.
Place over medium-high heat and bring to the boil. Once it comes to the boil, reduce to medium-low heat and add the lemongrass and galangal. Cook for 15-20 minutes, stirring occasionally.
Meanwhile, dissolve the cornflour in the water.
Once the 20 minutes have elapsed, add the cornflour mixture and cook for a further 3-4 minutes. You will notice that the relish thickens slightly.
Remove from the heat and add the salt and chopped cilantro. Mix to distribute evenly.
Taste and, if necessary, correct the salt.
Transfer to glass containers and leave to cool completely.
If we vacuum the jars, we can keep them for several months. Otherwise, they should be kept in the refrigerator.
Notes
We can use natural pineapple or canned pineapple in its juice, I leave it up to you. In my case I have used canned pineapple in its juice, but the result will be much stronger and sweeter if we use fresh pineapple at a good point of ripeness.
Jalapeño can be added fresh, if you can find it, or pickled. In my case I used the latter option because it was impossible to find it fresh at this time of the year (although I have already located an online shop).
Red onion can be replaced with sweet white onion.
In my case I used honey, but you can use the same amount of sugar if you prefer.
Galangal can be replaced with powdered ginger or omitted if you don't like it. Like the citronella or lemongrass, if you can't find it or you don't like it, you can omit it.
Cornflour is added to slightly thicken the pineapple relish, instead we can use arrowroot powder or xanthan gum.
It can be stored in vacuum-packed glass containers for several months. Once opened, store in the refrigerator for up to two weeks.
You can see how easy it is to prepare this Pineapple Jalapeño Relish, a perfect condiment for your hamburgers, hot dogs, meats, fish... Or even to eat it by the spoonful. In my case, that's how I do it, I can't help it.
You can always make more, if you wish, and store them in vacuum-packed glass containers in your pantry. It is often worth spending more time on the preparation process, in this case it would be investing more time in cutting more ingredients, but then enjoying it for several months.
If you like to prepare preserves and fermented products at home, here you can see several recipes to prepare at home such as preserved lemons, pickled radishes, fermented green tomatoes... or even marinated sardines.
I can't wait to hear what you think, and I wish you a wonderful start to the week!
Lots of love,
Eva
Archivado en