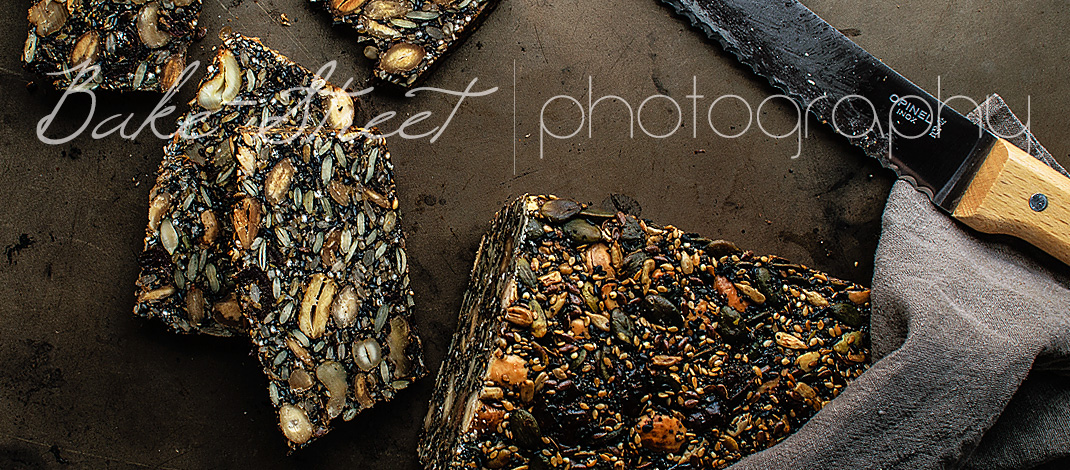 Nordic Stone Age Bread
Este post también está disponible en Spanish
The recipe I share today was very shocking and attractive when I saw it, first of all its name and second its appearance, which is very peculiar. Nordic Stone Age Bread, is it cool or not?
The first thing that you have thought is that it is not a bread as we know it, perhaps it would be more correct to classify it as a nuts bread or nuts and seeds bread since the closest thing to this is its format. It is a "bread" you only need to make nuts, seeds, eggs, oil, salt and some spice in case we want to season it. Mix and bake. Easy peasy.
No flour, yeast or sourdough, kneaded or proofed… the processing will not take more than 10 minutes. The most "complex" work will be to line our mold where we will bake it.
This bread will also be known as "Paleo Nut Bread".
What does Paleo or Paleo diet mean?
The Paleolithic diet (or Paleo, as we mostly find it) rather than a diet is a much healthier way of eating, as Paleolithic men supposedly did. It was popularized by Dr. Walter L. Voegtlin in 1975 when he published his book "The Diet of the Stone Age".
We start from the fact that this aspect is quite complicated, at the point of life in which we are, since most of the foods we consume are already chemically treated. Unless we have our own urban or home garden, farm … where we can grow fruits/vegetables without having to use anything chemical.
This diet is based on what the human being ate at that time; Meat, fish, fruits and nuts, seeds, roots, flowers … no processed foods, legumes, cereals, dairy products or refined sugars.
Regardless of the type of diet you follow, this nut bread is really amazing.
Nordic Stone Age Bread origin
This bread variety originated in Thomas Rode Andersen's restaurant, Kong Hans in Copenhagen, when the team decided to turn to a Paleo diet. They came up with this variety of bread that has become the great star and today, many people do in their homes.
Its flavor is aromatic, with many nuances thanks to the great variety of different nuts, and its texture is dense. A single slice will be more than enough, I assure you. As you can imagine is a variety of bread that will provide us with a lot of energy, nutrients, fibre and a high satiating power.
In my case I decided to add a few dates to give a little sweetness, but of course you can omit them if you want. It is perfect to accompany some fresh cheese or cream cheese with jam (ginger jam is superb!), fresh fruit, sprouts … in salty version looks great too. Gorgonzola, parmesan with cherry tomatoes, ham, anchovies … here you should follow your personal tastes.
NORDIC STONE AGE BREAD
Bread pan 12×25 cm (5×10 inches)
Recipe adapted The Family Dinner Book
roasted almonds, 3.5 oz (100 g)
hazelnuts or cashew nuts, 3.5 oz (100 g)
pumpkin seeds, 3.5 oz (100 g)
3.5 oz (100 g) diverse seeds (millet, flax seeds, sesame, sunflower seeds…)
gold sesame, 3.5 oz (100 g)
dates, 1.7 oz (50 g) – (optional)
black sesame, 1.7 oz (50 g)
poppy seeds, 1.7 oz (50 g)
nuts, 1.7 oz (50 g)
sunflower seeds, 1.7 oz (50 g)
5 large eggs
1.7 oz (50 g) olive oil (you can use coconut oil)
2 tsp salt
1 tsp cinnamon powder (optional)
1/2 tsp caraway seeds (optional)
INSTRUCTIONS:
Preheat the oven 330ºF.
Line a bread pan, set aside.
In a large bowl add the eggs and stir with a spatula.
Add seeds along with nuts, salt, olive oil and spices.

Mix until combined.
Pour the mixture into the bread pan, press the batter and bake in the middle of the oven for 1 hour.

Remove from the pan and let cool completely over a rack.
PRESERVATION:
This bread can be kept in a zip-type bag or airtight container for up 5-6 days. If you prefer, you can cut it into slices and freeze them cover in plastic film. That way you only have to take out the one you need and heat it in the toaster (it's absolutely delicious!)
NOTES:
Both seeds and nuts can be chosen to your taste, there is no reason to use the ones I have left in the recipe. Just keep in mind that you must use a final amount of approximately 23 oz (650 g).
In my case I wanted to give a little sweet touch and for that reason I used dates, which you can omit if you wish. You can also use raisins, dried apricots or dried prunes instead.
You can aromatize it, if you wish, with spices that you like; Cinnamon, cardamom, turmeric … or even citrus zest like orange, mandarin or lemon.
If we completely leave the original idea of this bread we can add bits of dark chocolate, candied orange or lemon, dried figs … I have a lot of ideas that I will try in the next.
This Nordic Stone Age Bread has really made me to fall in love. The first bite was not what I expected, but it has something really interesting that makes you go to the kitchen to prepare a toast with it. It is certainly a different way to enjoy a healthier and different snack.
Now I leave you the duty to enjoy a slice of this bread, it is calling me 😉
Big hugs,
Eva
Sources: Juan Revenga