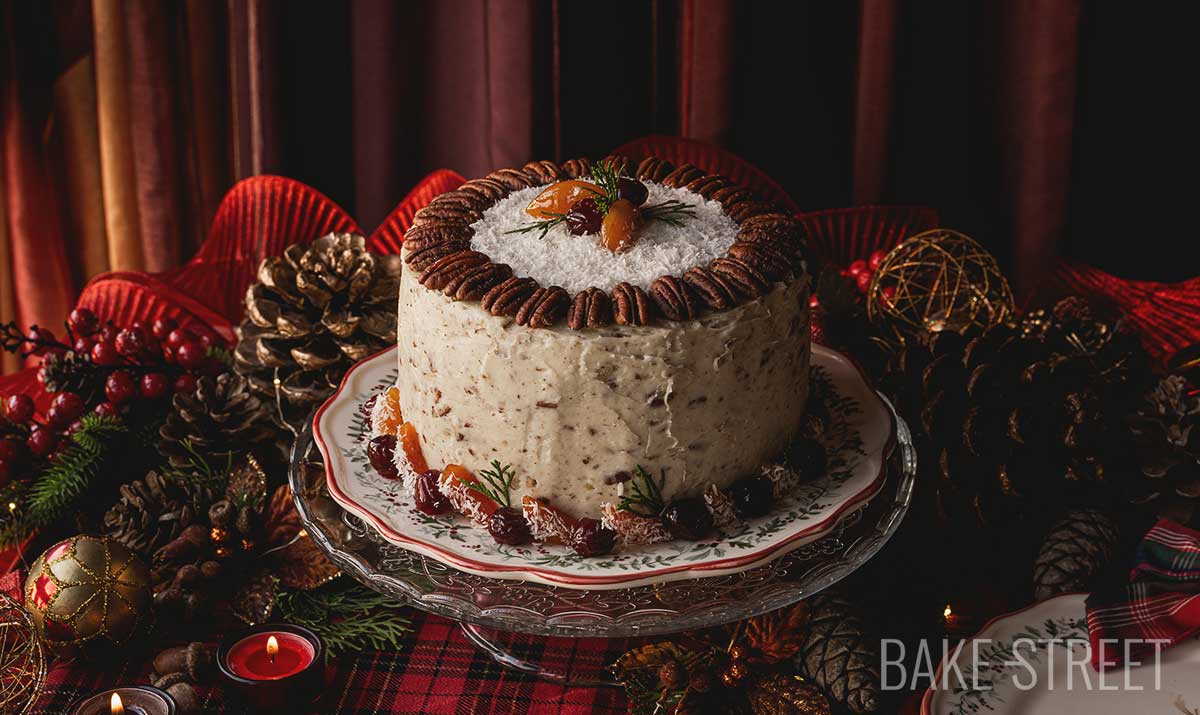 Italian cream cake
Este post también está disponible en Spanish
I think it's a good time to start with Christmas recipes. I'm not going to say anything that you don't already know… I love Christmas! It is an enchanting time for me that goes beyond exchanging gifts. I like the magic and the emotions that unfold during these days. But I must also tell you that I am a child in an adult's body and I live every situation as if it were the first time I discover it. I am very excited and eager to share experiences and create unique moments and memories with the people I love. We start this marathon of delicacies for our palate with this Italian cream cake.
This cake is not originally made for these specific dates. But, if we give it a touch here and there, we can turn a wonderful recipe into a perfect dessert for the holidays. I came across this recipe thanks to this Christmas-oriented publication, so I decided to continue with this wonderful idea. It's also very retro, so how could I not like it?
Before I continue, I would like to specify that I have modified the original recipe, but kept the essence of the cake. If what you are looking for is the original recipe, the one I leave you is not the candidate. I often like to bring you the recipe as it is, but sometimes I like to make changes that I think, in my humble opinion, improve the final result a little.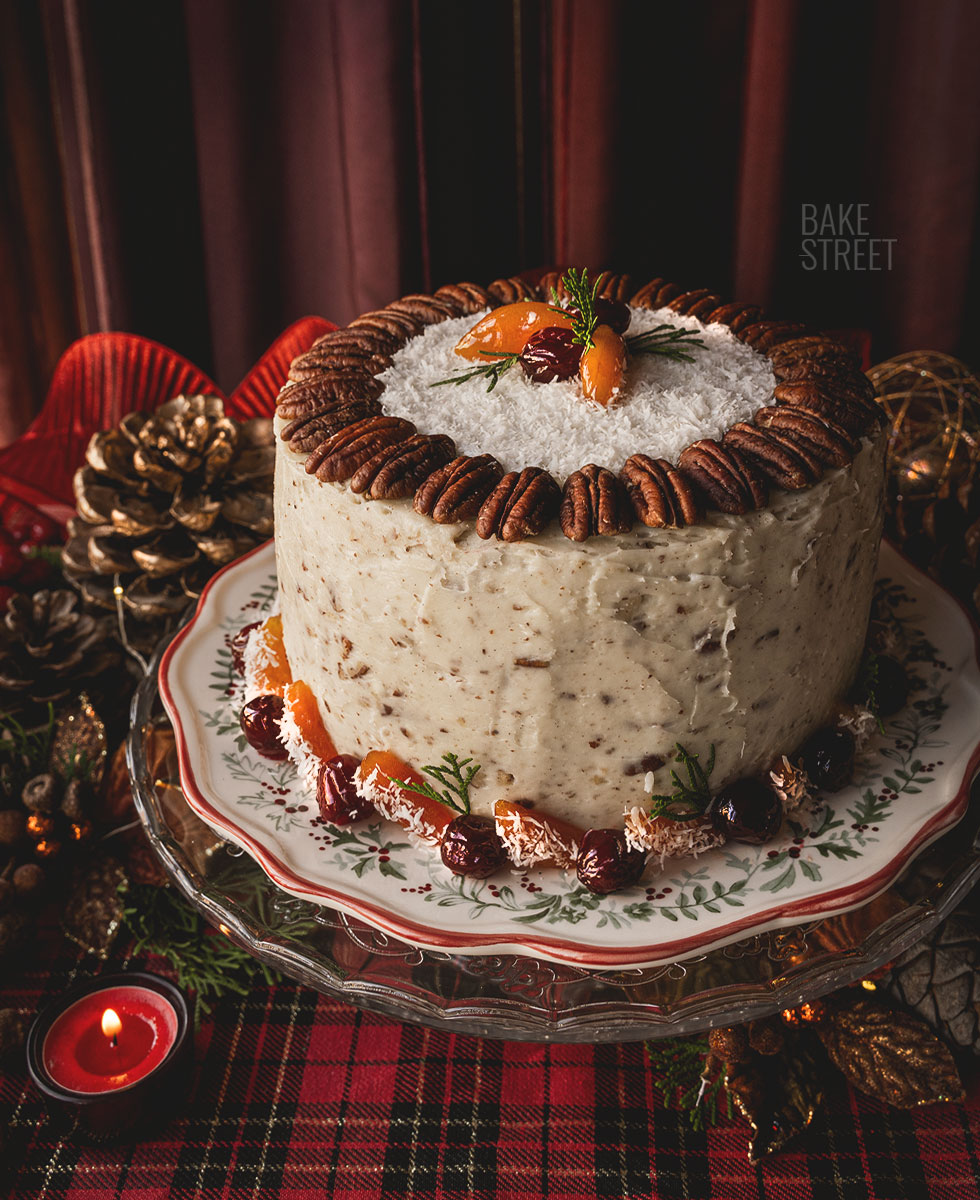 The Italian cream cake is made with a sponge cake with grated coconut and pecans, in my case I omitted the nuts in the sponge cake. I also reduced the amount of sugar in it, originally it has 400 g of sugar and in my case I use 250 g of sugar. It reduces the sweetness a lot, which is important considering the topping of the cake. But it also affects the final fluffiness. In our case we will obtain a plum cake style sponge cake, denser, less airy, but very moist.
Sugars have different functions when it comes to working with them, which is why we must take them into account when formulating a recipe. Sugar is responsible for the moist, airy texture of sponge cakes. Don't forget that it is hygroscopic, i.e. it absorbs moisture from the environment. If we reduce it, we are likely to obtain a denser or, in some cases, dryer texture. In this case, we also have grated coconut, which adds moistness.
The filling is originally the same as the topping, a cream cheese frosting. Here I have also touched things… For the filling, with the idea of giving it a more Christmassy touch, I decided to prepare an orange and Bourbon pastry cream. Heavenly, I can't define it in any other way. And for the frosting I decided to give it a little touch too. I reduced the final amount of icing sugar and added white chocolate instead. We achieved a firmer texture and, of course, an unbeatable taste.
The final decoration is inspired by the recipe I linked above, I really like that style. I'm in love with retro/vintage style.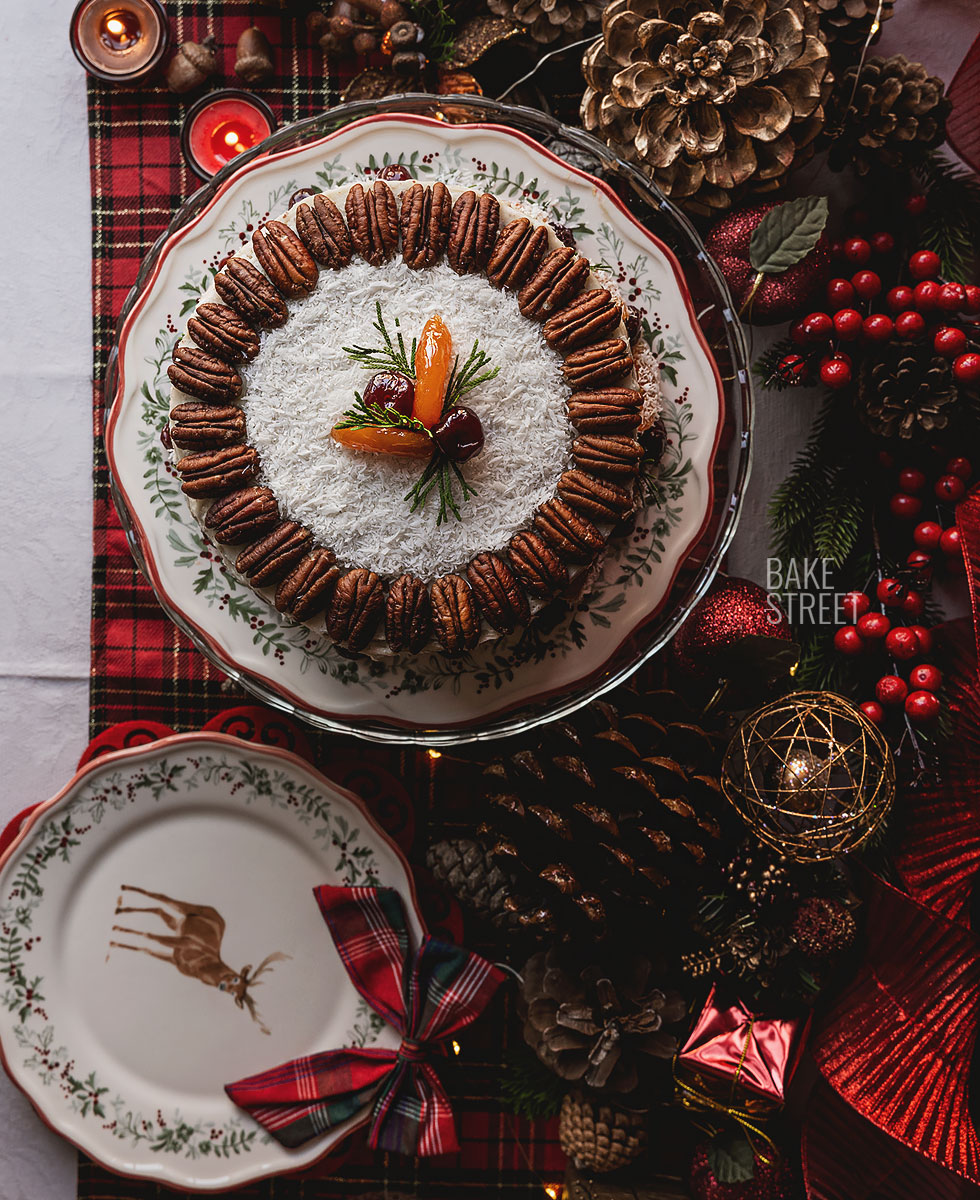 Origin Italian cream cake.
When we read "Italian cream cake" we probably think that its origin comes from Italy. Something that is completely normal and natural. But, when we see that the topping is a cream cheese frosting, it is quite possible that we cross our minds because it is not an elaboration that fits in with Italian gastronomy. So, what's the deal with this preparation?
Although the Italian cream cake has its roots in Renaissance Italy, the first written record of it appears for the first time in Canada in 1913. It wasn't until 1937 that the first recipe for Italian Cream Pie appeared in the Plano News of Texas. Over the years, the recipe has evolved, but it remains beloved for its endless flavour combinations.
Unfortunately, not much is known about the origin of Italian Cream Pie. Apparently, the recipe was first made in the southern United States and was the creation of an Italian pastry chef who had moved to the United States.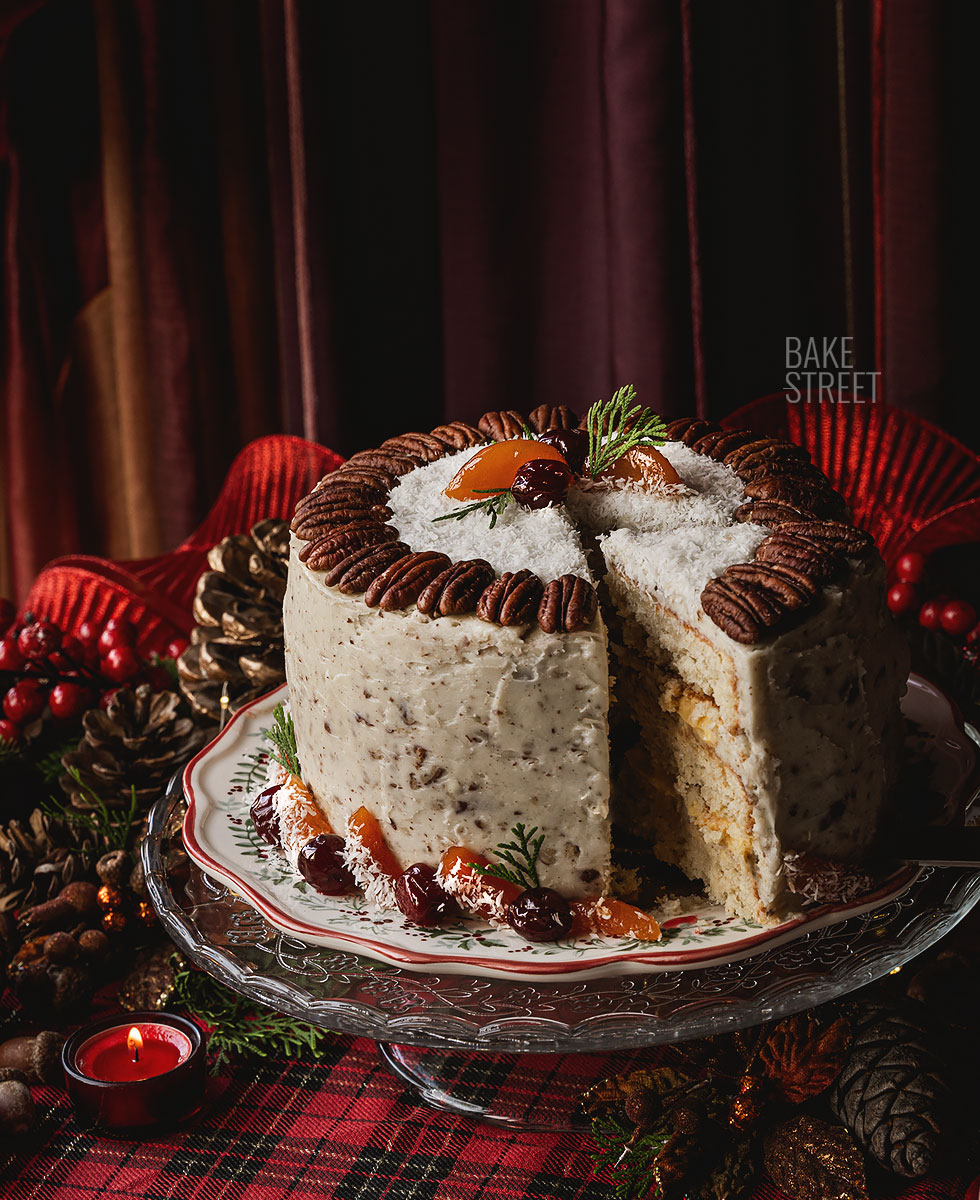 Varying the filling.
As I mentioned before, I decided to give the filling a twist. The recipe on which I based the decoration of this cake had an orange curd filling. Personally, I thought that a custard would add more creaminess and smoothness to the whole thing. But I kept the idea of incorporating orange because it is also a very Christmasy flavour.
Since the recipe has its roots in the United States, I thought a touch of bourbon would be perfect to go with the orange for this Italian Cream cake recipe.
Bourbon, a liqueur produced since the late 18th century, is a uniquely American spirit renowned for its quality and craftsmanship. Thanks to rigorous production standards, bourbon offers a distinctive taste compared to other types of whiskies, such as Scotch, Irish, Canadian or Tennessee. It is made in the United States using mainly corn, which sets it apart and makes it unique among the different styles of whiskey.
It is important to note that all bourbons are whiskies, but not all whiskies are bourbons.
Also, it is never stored in used barrels; new oak barrels allow the bourbon to age slowly over time, developing a deep amber colour and intense flavours as it matures. No additives or artificial colouring are added. It has flavours of vanilla, oak, fruit, spice and honey. The final taste is subtle and complex, but not overpowering to the palate.
Recipe Italian Cream Cake
Ingredients for a cake 18 cm in diameter
COCONUT SPONGE CAKE:
240 g unsalted butter, room temperature
250 g sugar
5 large eggs, separated
240 g cake flour
7 g baking powder or baking powder
245 g buttermilk
100 g grated coconut
2 tsp natural vanilla extract
pinch of salt
ORANGE BOURBON PASTRY CREAM:
250 g whole milk
85 g créme fraîche
3 egg yolks, large
55 g sugar
30 g cornflour
1 teaspoon vanilla extract
10 g Bourbon
20 g unsalted butter, room temperature
15 g orange paste concentrate
WHITE CHOCOLATE & MASCARPONE FROSTING:
Recipe Passion for baking
200 g unsalted butter, cold
200 g icing sugar
200 g white chocolate, melted and cooled
2 tsp natural vanilla extract
250 g mascarpone cheese, cold
100 g pecans, chopped
pinch of salt
DECORATION:
Pecan nuts
10 dried apricots + 1 tablespoon of honey + 1 tablespoon of apricot jam + 1 tablespoon of water
Maraschino-style cherries (recipe here) or candied cherries
grated coconut
MATERIAL WE WILL NEED AND SHOWN IN THE VIDEO:
*In these products you have a 5% discount on the website Claudia&Julia using this code BAKESTREET. Delivers throughout Europe.
Instructions
FIRST DAY
Prepare coconut sponge cakes.
Preheat oven to 350ºF/175ºC, heat up and down.
In the bowl of the KitchenAid, add the butter and sugar and whisk until the cream is whitish, creamy and airy.
Add the egg yolks together with the vanilla and mix again until smooth.
Mix in baking powder together with flour.
Alternate the mixture of dry ingredients with the liquids. While mixing with the paddle, add a little flour and once it is integrated, add a little buttermilk. Continue this process until both elements are incorporated, remember to mix only until there is no flour left.
Add grated coconut and mix just until combined. Set aside.
Whip the egg whites until stiff.
Fold the egg whites into the cake mixture. Gradually fold in the egg whites before adding more.
Divide the mixture into 3 baking tins of 18 cm in diameter lined with baking paper. In my case, the mixture in each cake tin weighed about 430 g.
Bake for 30-35 minutes or until a toothpick comes out clean.
Leave to stand in the tin, on a wire rack, for 5 minutes. Remove from the mould and allow to cool completely.
Wrap in cling film and refrigerate until the next day.
Prepare orange Bourbon pastry cream.
In a medium saucepan pour the milk together with créme fraîche and vanilla. Place over medium heat and bring to a gentle boil.
Meanwhile, in a large bowl, whisk the egg yolks with the sugar and the previously sieved cornflour until completely homogenised.
Once the milk has come to the boil, pour some of it over the egg yolk mixture.
Whisk quickly to temper the yolks and prevent them from curdling into lumps.
Stir in the rest of the milk little by little, mixing very well each time.
Pour the mixture back into the pan and place over medium-low heat, stirring constantly. You will notice that the texture will gradually become thicker, but it will take a while. Patience.
Once it has a creamy texture, add the Bourbon and cook until it returns to the same density as before you added it. Once at this point, remove from the heat.
While still hot, add the butter and mix with the whisk until homogeneous. Finally, add the orange paste and mix again until homogenised.
Pour into a tray/tupper/bowl (the larger the better because it will cool faster).
Cover with cling film to prevent it from setting and leave to cool completely.
Refrigerate until the next day.
SECOND DAY
Prepare mascarpone & white chocolate frosting.
Melt white chocolate in a bain-marie, set aside to cool while you prepare the frosting.
In the bowl of the KitchenAid, add the butter and a pinch of salt.
Beat with the paddle on medium speed for 3 minutes.
Lower the butter from the sides and add the icing sugar. Cover with a cotton cloth, to avoid a sugar cloud, and mix with the paddle on medium speed for 5 minutes.
Add mascarpone cheese together with the chocolate, melted and cooled, and the vanilla.
Beat for 2-3 minutes at medium speed.
Finally, add the pecans (chopped or crushed in a mortar) and mix on medium speed for 1 minute. Set aside.
Assemble the cake.
Put the frosting into a piping bag with a 1 cm diameter plain nozzle.
Pipe a small amount of frosting onto a cake base that you have previously placed on a rotating stand with a non-slip surface.
Place the first sponge cake on top and pipe a bead of frosting around the edge of the cake. This will help to contain the custard filling.
If you wish, you can also pipe another circular bead in the middle of the sponge so that you have two rings of cheese frosting, filled with custard.
Place the second sponge cake and fill it in the same way as the previous one.
Finally, place the third sponge cake and gently adjust.
Cover the entire outside and surface with the remaining cheese and white chocolate frosting.
Smooth, as far as possible, the sides of the cake and the surface.
Prepare dried apricots.
Give the dried apricots a bath to make them very moist and shiny. In a saucepan, add the honey, jam and water and place over medium heat.
Once it comes to a gentle boil, add the dried apricots. Cook for 3-4 minutes to coat them well with the mixture. Set aside.
Decorate the cake.
Decorate the top with pecans, shredded coconut, chopped dried apricots and homemade Maraschino cherries.
If you wish, you can also decorate the bottom edge or base of the cake. In my case I have used dried apricot halves topped with shredded coconut and maraschino cherries.
Refrigerate the cake for 2 hours before serving, if you wish. If you have prepared it the day before, I recommend tempering it for 2-3 hours before serving.
Notes
To make the cake I decided to reduce the original amount of sugar. I thought it was too high, it used 400g. In terms of flavour it has turned out wonderfully, but it is true that it is slightly less spongy. The resulting sponge cake is slightly denser, but not dry. It is very moist thanks to the butter and the grated coconut (more like a plum cake in consistency), but it loses air and, therefore, that cloud-like texture or fluffiness.
Originally the sponge cake also contains finely chopped pecans, you can add them if you wish.
If you don't have buttermilk, as was my case, weigh out 245 g of whole milk and add a splash of natural lemon juice. Let it rest for about 10 minutes and then you can use it.
If you do not have 3 moulds of the same size, you can use a single mould and then divide the cake into three parts. In this case, you will have to increase the final baking time.
For this recipe I decided to make the custard I made for the Flan Pâtissier or Tortas Locas Malagueñas, but if you wish, you can make the traditional custard (recipe in this link). The cream I leave you with is softer in texture and much more delicate, but it also takes a little longer to be ready.
On this occasion, for pastry cream, I have replaced the cream with créme fraîche. The result is wonderful. But if you can't find it, you can use whipping cream instead.
Bourbon can be omitted if you wish or replaced with another liqueur of your choice.
I recommend using concentrated orange paste instead of orange juice because we achieve a more intense and powerful but pleasant flavour.
Don't forget to temper the egg yolks to prevent them from curdling and forming lumps.
Be patient when you are making the custard, it takes a little while to set and gain consistency. Don't be tempted to increase the heat as you run the risk of burning some of the base and transferring the flavour to the custard.
The original cake uses cream cheese frosting on the outside. Of course, you can make this version if you prefer. In my case, I decided to vary it and use a mascarpone and white chocolate frosting for a more consistent finish.
The original decoration is much simpler, just the cream cheese and in some cases, chopped pecans. To make this decoration, I was inspired by this image that I fell in love with.
I used dried apricots and Maraschino cherries, but you can use whatever fruit you prefer.
It can be kept refrigerated for 2-3 days after assembly.
I can only encourage you to try this Italian cream cake, though in a slightly different version. The whole thing is marvellous. Coconut sponge cake with an orange and Bourbon custard filling and a cream cheese and white chocolate frosting topped with pecan nuts.
I must tell you that the orange custard is extraordinary. It has an unbeatable smoothness and creaminess, in addition to the citrus notes of the orange and the aromas that the Bourbon contributes such as oak, fruits, spices and honey. A combination that will steal your heart.
The decoration is a suggestion, you can always vary it and adjust it to your tastes or needs. But, in this case, I wanted to give it a Christmas feel to include it in our menu this year.
I wish you a wonderful Sunday!
Lots of love,
Eva
Sources: Oklahoma Pastry Cloth, Great Bourbon
Este post contiene enlaces afiliados.
Archivado en