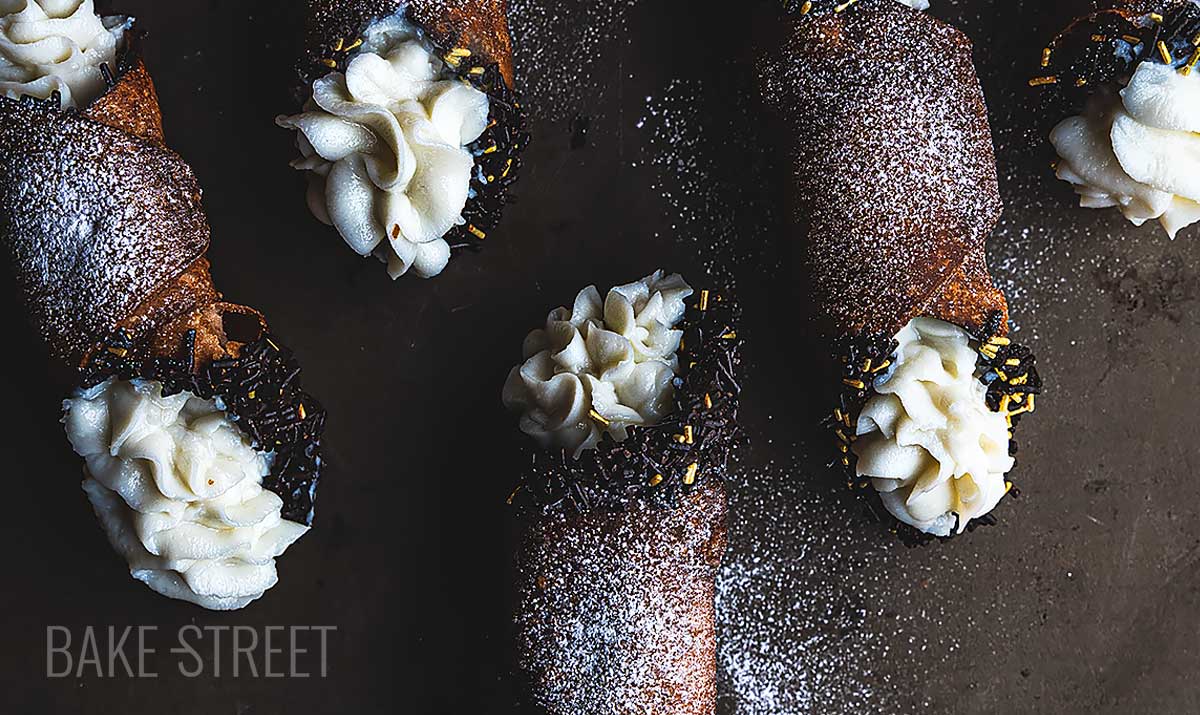 How to make Sicilian Cannoli
Este post también está disponible en Spanish
I don't know how long, years I would say, I want to make the famous and classic Sicilian Cannoli. What's more, my partner who loves "The Godfather" movies, whenever he sees it, says to me – Hey, why don't you make cannolis? -. Well, it's never too late if the bliss is good and I've fulfilled his wishes. So today I leave you with how to make Sicilian Cannoli so that if any of you have been or are in the same situation as me, you can finally get rid of that wish away.
And enjoy them. Because they are so good. It's one of those pastries that's a little tricky on the eyes. It may seem like a classic pastry and even boring, but not at all. From the taste, aroma and texture of the dough, to the filling, the whole thing is a real pleasure.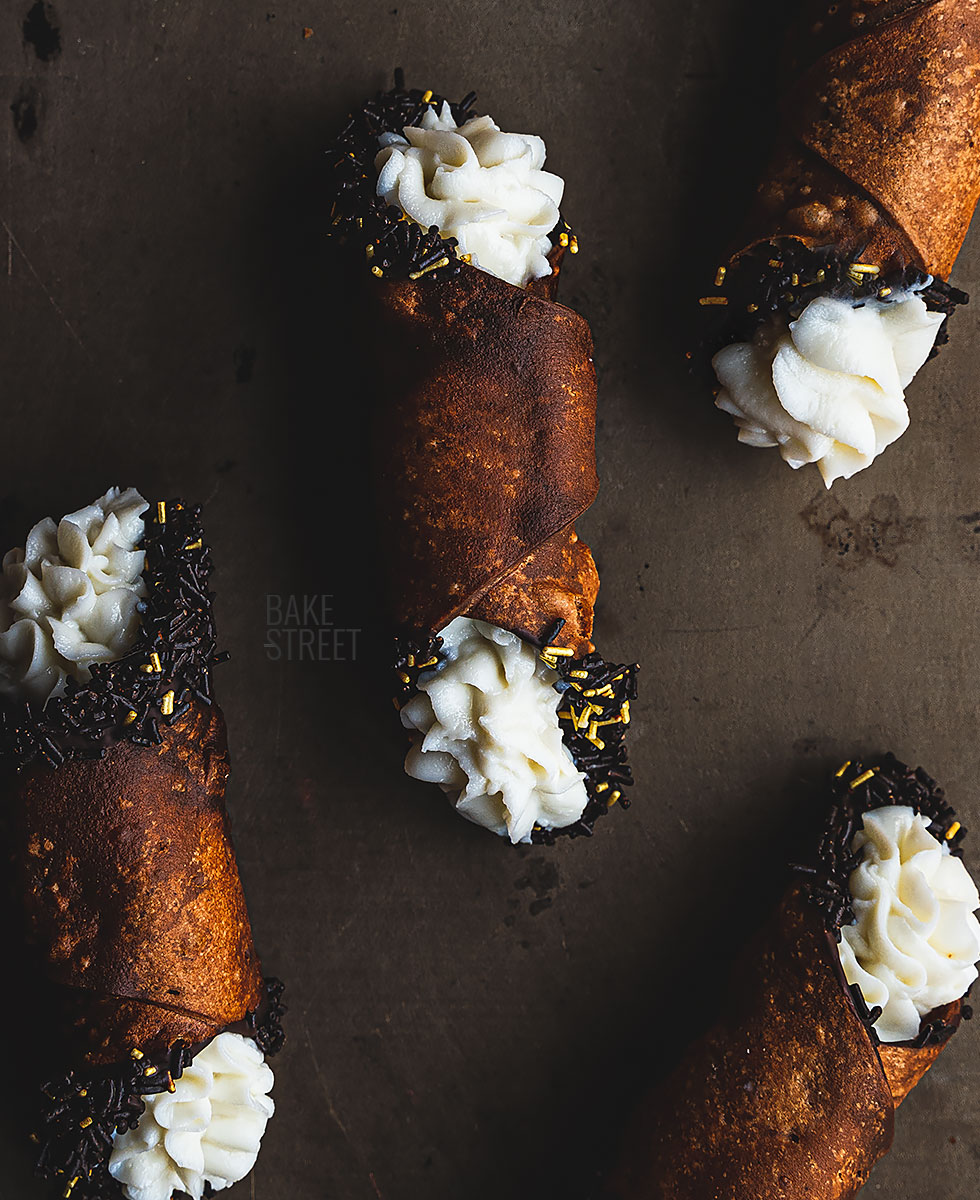 What are cannoli?
It is one of the most popular products of Sicilian confectionery together with the Sicilian Cassata. They are tubes of fried dough, filled with a ricotta cream decorated with candied fruits or nuts.
Ricotta cheese is a variety of fresh Italian cheese obtained from whey and is characterized by a very creamy texture. Its name comes from the heat treatment of the whey. After the first cooking that is carried out to make cheese, a second cooking is done at 185º-194ºF/85º-90ºC, the whey is therefore recooked.
"ricotta", comes from the Latin "recocta" and means "cooked twice" or "recooked"
Ricotta cheese is then placed in perforated containers so that excess liquid can drain away while it cools. Just like I showed you in this post about how to make homemade fresh cheese.
It's similar to cottage cheese, but not the same.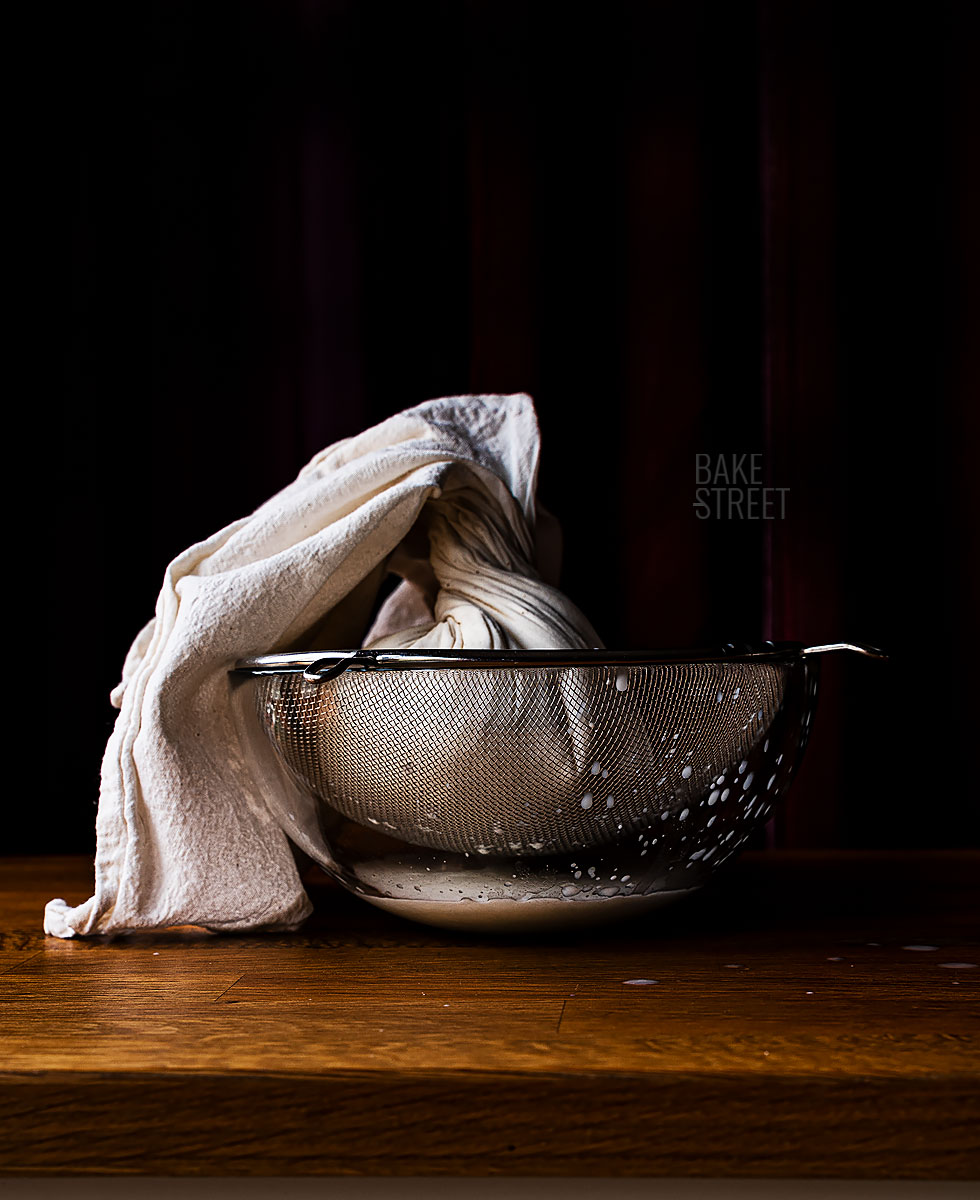 Sicilian Cannoli origin.
It seems that the recipe of the Sicilian Cannoli comes from the time of the Arab domination in Sicily (827-1091) born in the hands of nuns in a convent near Caltanissetta. From there it spread to the rest of the island and later to the rest of Italy.
Originally, it was made for Carnival and was even given away as a symbol of fertility.
There is a story, which may not be true, about a joke that some monks made. During the Carnival period, they made cream come out of a tap and used it as a filling for cannoli instead of water (this is very unlikely, more than anything else because let's see how they managed to do it and what an immense amount they had to use…), equating the image to what we can all now assume and imagine in terms of fertility.
This is how their popular name and the intention with which they gave themselves away came about. In 1635 a priest and poet from Palermo described the Sicilian cannoli as "scettru di ogni re e virga di Mosè" – "sceptre of every king and rod of Moses".
The name of this dessert comes from the "canna" bush.
A hollow cylindrical stem that, in the past, had many uses. Among them was the tube through which water came out in fountains and troughs. In fact "cannolo" means "tap" in Sicilian. "Cannoli" is the plural of "cannolo".
To make these Sicilian cannoli I followed the recipe Tavolartegusto, I find it absolutely superb in terms of taste and texture. A really impressive result that, I promise you, you're going to love.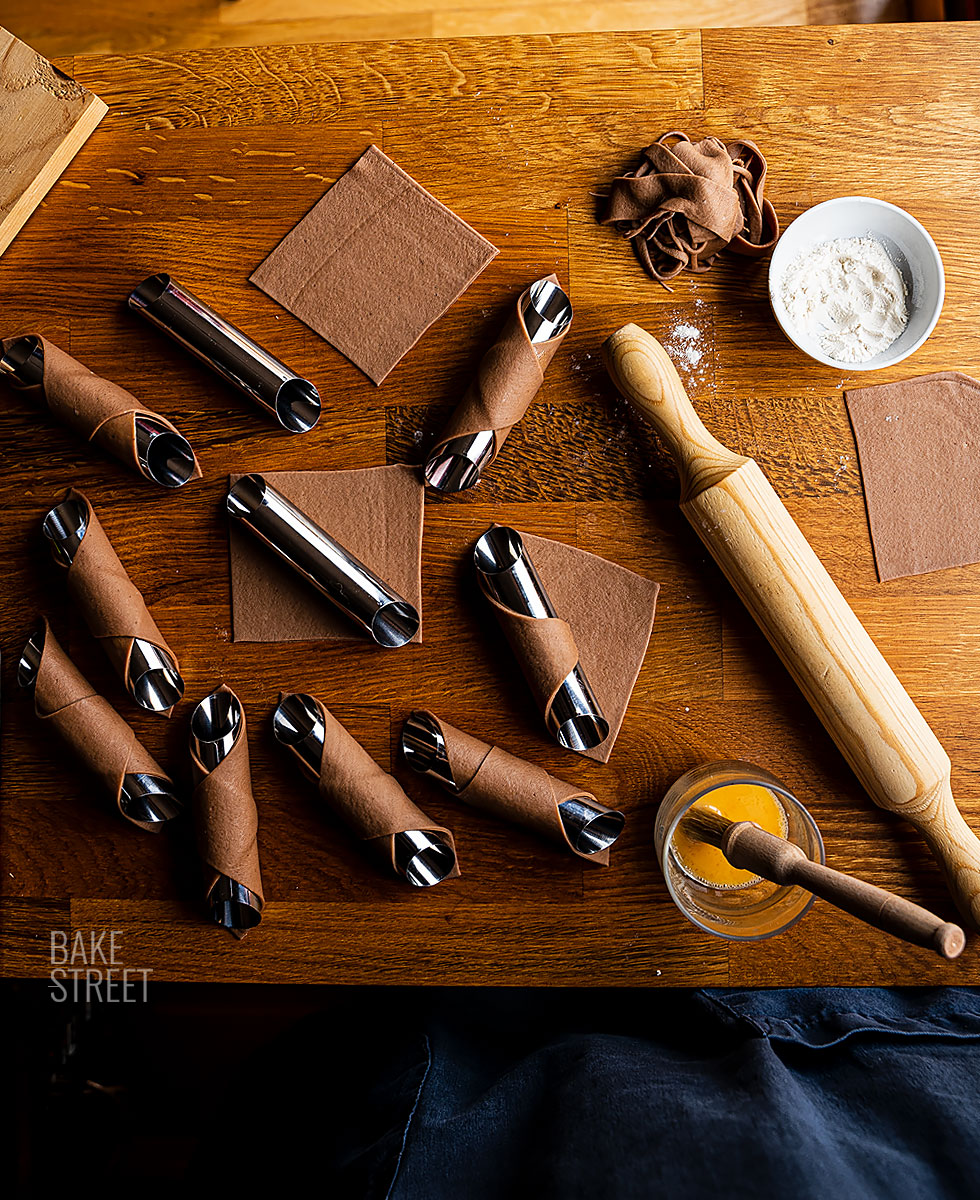 We will prepare a dough in which we will use, among other ingredients, lard, cinnamon, cocoa powder and Marsala. The latter is a type of Italian fortified wine produced under the In Perpetuum process, similar to that used to make sherry. It consists of raising the level of alcohol while preserving all its characteristics to withstand long journeys.
Don´t worry if you do not have this wine at home, it can be replaced by a Port, Sherry or even a variety of sweet wine that you like.
After a process of refining the dough, stretch, cut and place it on the metal cylinders. They are fried in abundant oil and left to cool.
As a last step, we proceed to decorate the dough (if desired) and fill with the ricotta cream. A super crunchy, aromatic bite with a silky, sweet interior. Just wonderful.
Ingredients for 16 units
FOR CANNOLI DOUGH:
250 g flour 00 (Manitoba)
4 g cocoa powder
50 g sugar
30 g lard
30 g egg (1/2 large beaten egg)
60 g sweet white wine (it´s common to use Marsala wine)
1 Tbsp apple cider vinegar
1 Tbsp vanilla extract
cinnamon to taste
3 g salt
FOR RICOTTA FILLING:
800 g ricotta cheese
300 g sugar
FOR DECORATING:
30 g black chocolate 70%, melted + chocolate sprinkles
icing sugar
1/2 large beaten egg for brushing the dough
Instructions for Sicilian Cannoli
Make ricotta filling.
Place a strainer over a bowl and, on top of it, a cheesecloth.
Put the ricotta cheese on the cloth and join the corners, lift and begin to exert a little force to drain the cheese.
We will press until the whey is completely removed.
Transfer the cheese to a clean bowl and add the sugar.
Mix with the help of a spoon until the ingredients are integrated.
With the help of the turmix blend, in this way we will obtain a soft and silky texture.
Cover with film and refrigerate for 4-5 hours.
Prepare Sicilian cannoli dough.
In the KitchenAid bowl add the lard along with the sugar, vanilla, salt and cinnamon powder.
Mix at speed 1 with the help of the flat beater until the ingredients are homogeneous.
Incorporate the egg and mix again until it is integrated into the mixture.
Begin to integrate alternately the dry ingredients (flour + cocoa powder) with the liquid ingredients (wine + vinegar).
Once we have all the ingredients together, dump the dough over a clean work surface.
Knead until you get a uniform consistency.
Make a ball, cover with film and leave in the fridge for 1 hour.
Divide and stretch the dough to form the cannoli.
Divide the dough into 4 equal parts. Take one of the pieces and cover the rest with film.
Before passing the dough through the pasta machine, we will stretch it with the help of a roller pin, trying to give it a narrow enough thickness to enter through the machine's rollers.
Pass the piece of dough through the pasta machine, fold it like a triptych and pass it through the rollers again.
We will repeat this step about 3-4 times. In this way we will manage to refine the dough and obtain a smooth finish.
Dust the dough and the work surface with a little flour, if necessary to prevent the dough from sticking.
Once the dough has been refined, pass it through all the levels of the rolling pin until it reaches position 5 (approximately 2-3 mm thick). As we stretch and refine the dough, it will become longer. Handle it carefully during the whole process.
Create the squares for the cannoli.
With the help of a sharp knife or cutter, cut the ends to achieve a clean finish.
Divide the piece into squares of 3,9 inches/10 cm side.
Place a cylinder on the dough square.
Fold one end over the cylinder, brush it with beaten egg and place the other end over the cylinder.
Repeat the same process with the rest of the pieces.
Once all the cannoli are formed, refrigerate covered with film for 1 hour.
Fry.
Pour sunflower oil in a saucepan, we will use enough quantity so that the cannoli can sink and float.
Put it on medium heat and let it reach 345ºF/175ºC.
I recommend frying them one at a time to get good results. Place a cannoli inside the oil.
After a few seconds, it will float and start filling with bubbles. We will turn it over from time to time to make the frying uniform. It will take a little less than 1 minute.
Take out carefully, drain well and place on kitchen paper.
Repeat the same process with the rest of the cannolis.
We should not wait too long to remove the metal cylinder or it will be very difficult to remove it.
Let it cool down completely.
Decorate and fill.
Dip the ends of the cannoli in melted chocolate and then in a bowl with chocolate sprinkles.
Place it on a rack and repeat the same process with the rest.
If we want the chocolate to solidify quickly, we can keep the cannoli (once they are decorated with chocolate) for 5 minutes in the fridge.
Put the ricotta cream in a piping bag with a curly tip.
Stuff the cannoli, first filling one side and then the other.
If you wish, you can decorate the ends with chocolate chips, candied orange, candied cherries, nuts...
Sprinkle with icing sugar and serve.
Notes for perfect Sicilian Cannoli
Is it essential to use high strength flour (Manitoba) for this recipe? Yeah. The recipe is designed to work at the specified proportions. Furthermore, we must not forget that the characteristics of this type of flour are what will guarantee us a successful result.
If you don't want to use sweet wine, you can replace that amount with water.
In my case I have used a sweet white wine, but the usual is to use Marsala. Otherwise, we can use port or sherry.
The lard gives a texture impossible to get with butter. In case you can't buy it, you can use this one instead. It does not provide flavor, but the texture achieved with this type of fat is wonderful.
In my case I have used apple vinegar, but you can use white wine vinegar if you prefer.
Rest is important to allow the dough to be relaxed when we prepare to stretch it.
What if I don't have a pasta machine? You can stretch the dough with a roller pin, I recommend a adjustable one. That way we'll get the same thickness on all the pieces. In addition, the refining process of this is easier to carry out with a pasta machine than with a roller pin. But this does not mean that it cannot be done! It's just that it's a little more laborious.
It is recommended to use a vegetable oil that provides little flavor; sunflower, seeds... Olive oil has much more flavour, but if you use a soft type, the result can be good.
It is very important to drain the cheese with a cheesecloth, otherwise we will be left with a watery filling, which is difficult to drain and will also spoil the super crunchy texture of the cannoli.
If you don't have cylinders, but you have cones, you can also make them with that format.
You can fill the cannoli with whatever you like. The more classic version is filled with ricotta cream, chocolate chips and decorated with candied fruits or nuts. But, in case you don't like cheese, you can fill them with whipped cream, truffle, pastry cream...
The ideal is to consume them the same day we make them or the next day at the most, in case they are filled. If we leave them longer, they tend to soften.
In case of not filling them, we can keep them for 2-3 days in an airtight container and fill them at the moment we are going to consume them.
If you want an idea to get through this weekend, a fantastic option would be to make these Sicilian Cannoli. A fantastic option to serve for dessert or even to accompany your coffee in the afternoon enjoying a good movie or Netflix/HBO series.
We're going at a fast pace with the series and we're running out of them almost all! The last ones we've seen are "The Visitor" and "This Shit Beats Me". We're back to the last season of "Vikings" that we had abandoned for all the Netflix shows that had come out and we wanted to watch.
Well, I don't talk much more! I wish you guys a great weekend.
Love,
Eva
Sources:Galbani, Uvinum, Gastronosfera
Archivado en