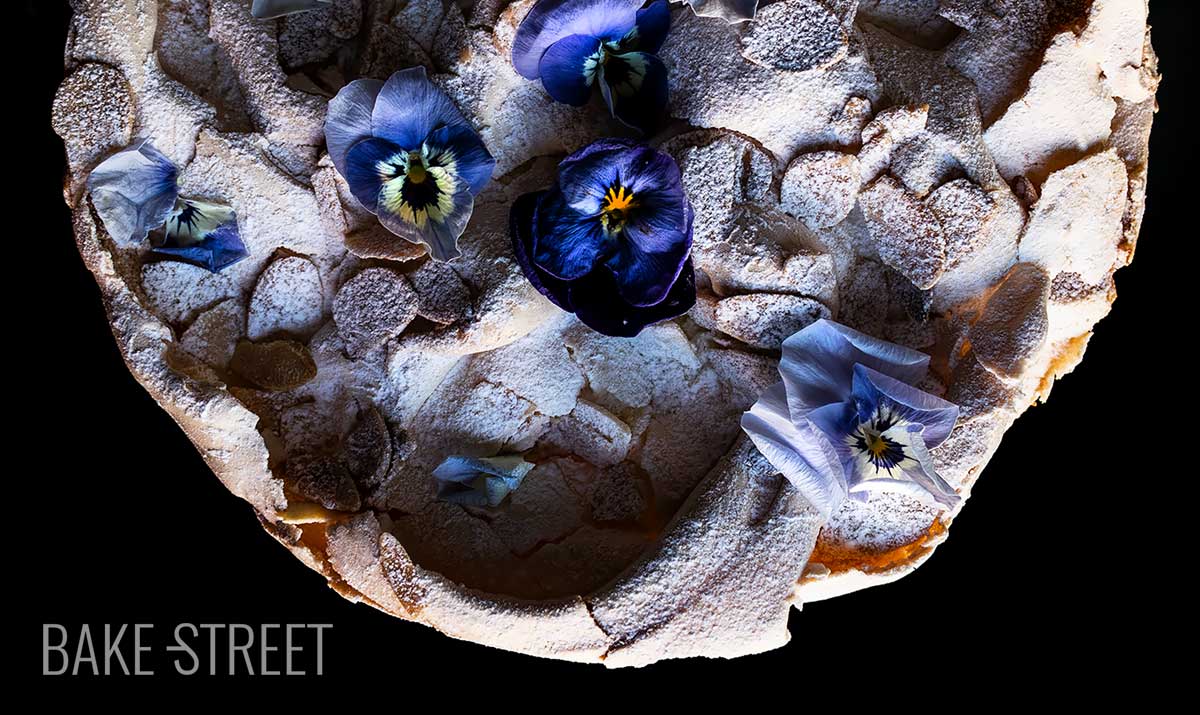 Himmelstorte – Hannchen Jensen Torte
Este post también está disponible en Spanish
Today I come up with a recipe that, to tell the truth, wasn't programmed. The fact is that the other day I remembered you by my social networks the Bienenstich recipe and a girl told me if I knew the sweet of German origin Himmelstorte or Hannchen Jensen Torte. I had never heard of this cake, but what's more, I had never seen it!
Because many times we don't know the name of things, but we've seen them somewhere. The fact is that with the description she gave me of the cake, I got a tremendous curiosity. Her words were "It's a mixture of Bienenstich and Pavlova". Of course, you can imagine my face, can't you? I was impressed! So I started looking for information about it.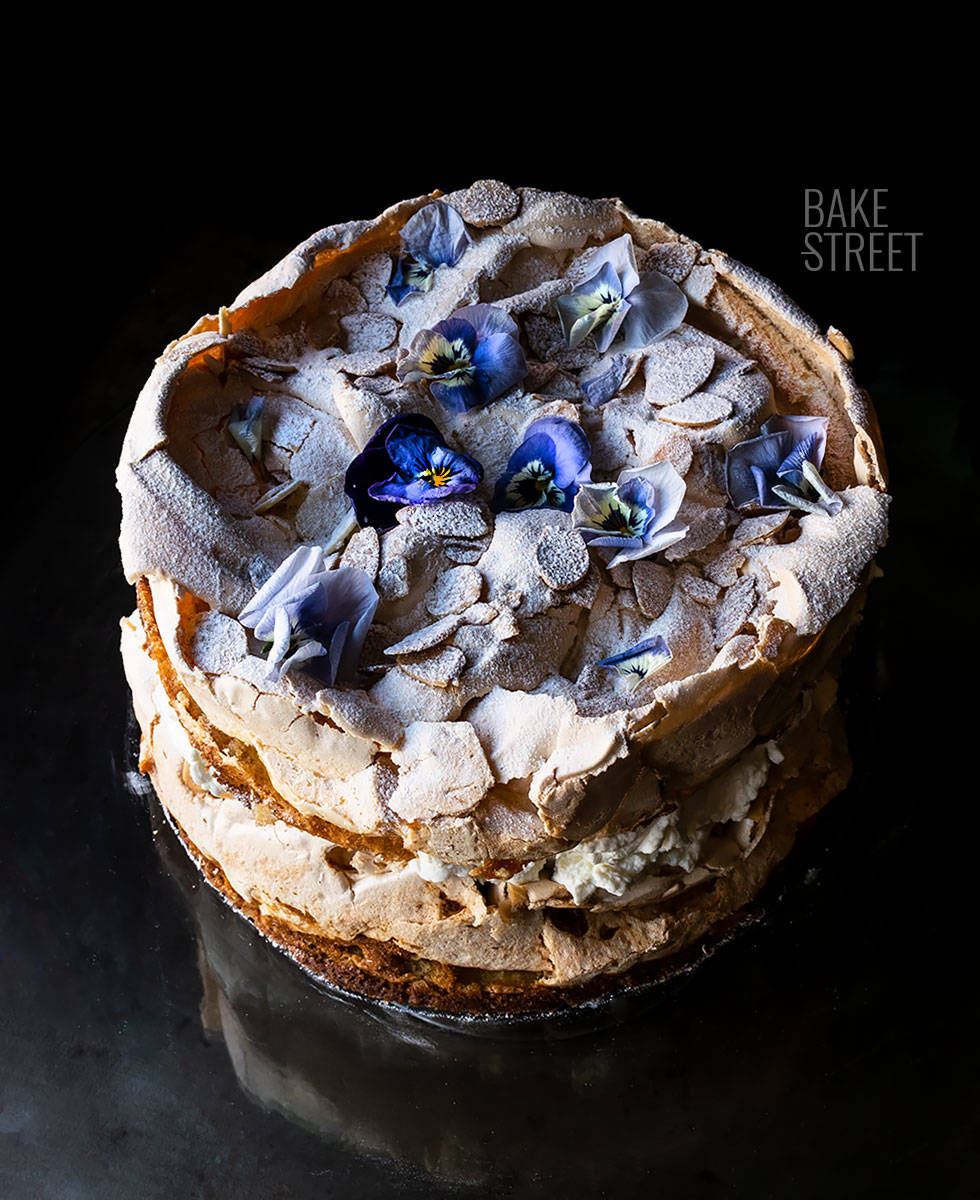 Origin Hannchen Jensen Torte – Himmelstorte.
The cake is not exactly a mixture of Bienenstich and Pavlova, in fact they look little like they take away the outside appearance that can remind us of both cakes. But we'll see about that next.
The truth is that it took me a while to find information about this cake. I had to search a lot and most of the information and recipes were on German websites. It's okay because we have our beloved Google Translate, but in some translations we had to give it a little imagination.
Apparently, there are no web references about it. In my case, thanks to the website of Nadia "Spoonfuls of Germany" (thank you very much!), I was able to know the origin of the cake Hannchen Jensen Torte.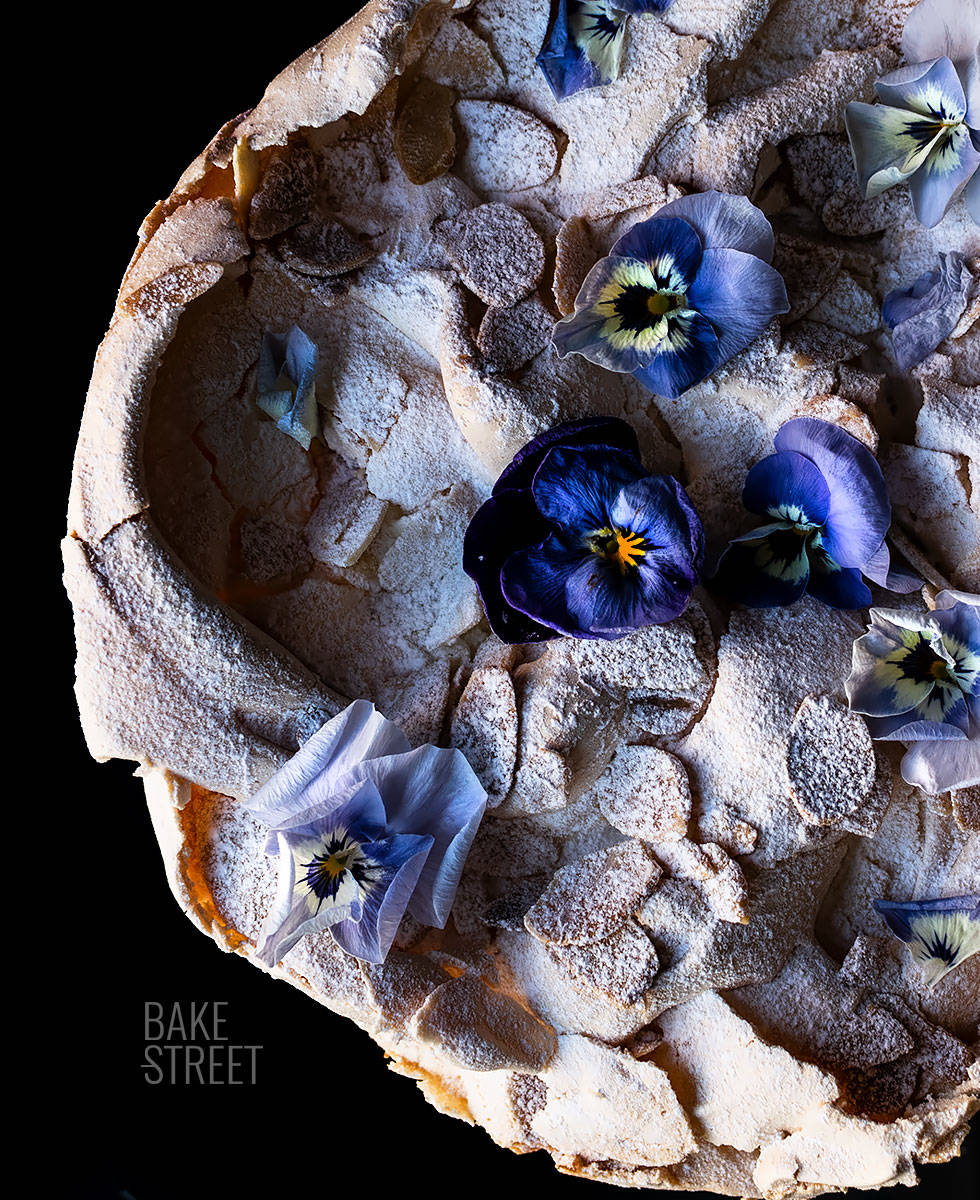 Nadia found an article in The Wall Street Journal in 2012 written by a Berlin blogger, Luisa Weiss, in which she commented that she had found it impossible to find the origin of this cake.
Reading the comments, she found Ragnar Heil, a man who said his grandparents used to spend their holidays in North Sea and Hannchen Jensen was the owner of the B&B where they stayed. Ragnar's grandparents were very fond of this cake and Hannchen herself gave them the recipe written on paper.
Nadia, located Ragnar in Germany and he kindly offered to visit his grandmother and record her in a video talking about Hannchen Jensen and her famous cake. In this link you can see his grandmother explaining the history of the cake.
Hannchen Jensen was a widow who ran a guest house in Lindholm.
A village near Niebüll on the North Sea coast. Ragnar's grandparents visited Hannchen for the first time in 1972 with their children. Hannchen gave all his guests Kaffee and Kuchen (tea and caraway brandy), a Frisian tradition. The guests, who came from all over Germany, took the recipe with them and it began to be diffused.
The original Hannchen cake was made with canned mandarins instead of gooseberries as we can find mostly elaborated this recipe. In Nadia's blog you can see some pictures of the original recipe handwritten by Hannchen herself.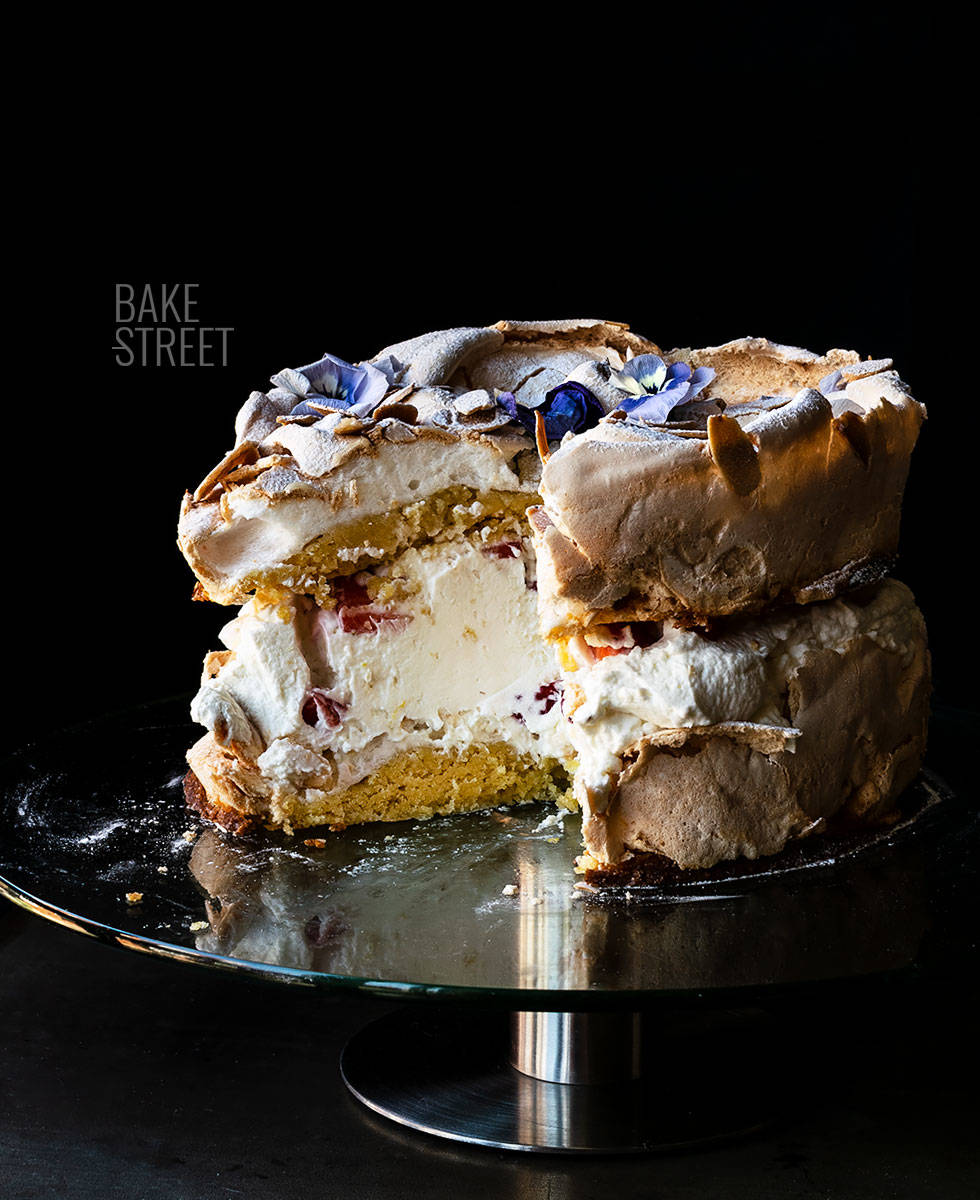 Making the Himmelstorte cake.
The Himmelstorte translation would be "Heaven Cake" and I think we can all imagine why… Not only because of its delicate flavors and textures, but also because of its wonderful flavor.
To make it we will need two molds, in my case I have done it in molds with 7 inch/18 cm in diameter, to be able to bake the two parts separately that later will be two layers of cake.
The base consists of a dough reminiscent of a very spongy cookie, on which meringue and laminated almond are placed. We will bake for about 25 minutes, during which time you will observe how it grows inside the oven. Then let it cool completely inside the cake tin.
The original filling was only made with whipped cream, which if you wish, you can do so. The recipe I leave you, besides whipped cream, has mascarpone cheese. This will help us that the cream has more consistency and supports the passage of time without melting.
We will end up stuffing with fruits, in my case strawberries and red currants that are now very easy to find, but you can use the one you like the most. Undoubtedly I have to try the version of Hannchen with mandarins 😉
Ingredients for two 7 inch cake tins
FOR THE DOUGH BASE:
3 large egg yolks
95 g unsalted butter at room temperature
65 g sugar
90 g pastry/cake flour
6 g baking powder
pinch of salt
FOR MERINGUE:
3 large egg whites
130 g sugar
few drops lemon juice
sliced almonds
FOR THE FILLING:
250 g mascarpone cheese
200 g fat cream + 2 Tbsp icing sugar
1 tsp vanilla extract
one small lemon zest
TO DECORATE:
strawberries
red currants
edible flowers
icing sugar
Instructions
Make the dough base.
Line two 7 inch/18 cm diameter cake tins with baking paper, set aside.
Preheat the oven to 355ºF/180ºC.
In a bowl add the butter together with the sugar. Beat with an electric whisk until we get a creamy, aired and whitish texture.
Add the yolks and whisk again until they are completely integrated.
Mix the flour with the baking powder and salt.
Add the mixture to the butter and, with the help of a spatula, mix until you get a homogeneous mixture without any flour remains.
Divide into two equal parts and place each of them at the base of the cake tins.
Smooth with the help of a spoon covering the entire base of the mold. Set aside.
Make the meringue.
In a bowl add the egg whites together with a few drops of lemon juice.
Begin to whip at the slowest speed.
Once they start to foam, add the sugar little by little and beating at the same time.
We continue beating increasing the speed gradually, but without reaching the maximum speed. We must obtain a meringue that forms firm peaks.
Finish the cake.
Divide the meringue into the two cake tins. Spread with a spoon  over the dough that we elaborated at the beginning trying to give a wavy appearance. If you prefer, you can spread it and leave it smooth.
Decorate the surface with sliced almonds and place in the oven at medium height for 25-27 minutes. It should have a slight golden color.
Remove from the oven and let it cool completely inside the mold and on a rack.
Make whipped cream.
Before we get ready to whip the cream we must make sure of two things:
Cream must be cold 24 hours before used it.
The bowl in which we are going to make whipped cream must be cold. I recommend to use one aluminium bowl and freeze 20 minutes before beat it.
If you want to know how to make whipped cream, you can do it in this video.
Pour heavy cream into freeze bowl and beat with an electric mixer into low speed.
Once cream is becoming to form stiff peaks, add sugar little by little stirring the whole time. Increase speed gradually but without reaches high one. Ideally use medium speed.
Before finish to beat the cream, add vanilla extract along  and beat until get a perfect whipping cream. Be sure not to over-beat, otherwise cream will become lumpy and butter-like.
Cover with plastic wrap and chill until used it.
Make the filling.
In a bowl we add the mascarpone cheese and beat with an electric whisk. This will help to soften the texture of the cheese to make it easier to work.
Pour the vanilla together with the lemon zest and mix until homogenized.
Add the whipped cream. We will do it in batches and trying that it integrates well before adding more.
Finish to assemble Hannchen Jensen Torte.
Place one of the cake discs on the plate or stand that we use to serve it.
Use the most of the filling on it and spread with the help of a spatula.
Decorate the whole surface with fruits, in my case chopped strawberries and red currants, and place the rest of the filling. Spread very well to leave the entire surface smooth.

Put the other disc of cake on top of the filling. Be careful when handling them because they are very delicate.
Sprinkle the surface with icing sugar and decorate with edible flowers, if desired.
Let it rest for a couple of hours in the fridge before serving.
Notes
You can make the cake the size you want. If you want to make it bigger, you only have to make the equivalent proportion for the desired size.
It is a very delicate cake, so you must be very careful when you are going to manipulate it to avoid damaging it.

The filling can be done as I show you or just with whipped cream. I leave it to your choice.
Use the fruits you like best. The ideal is always to use seasonal fruits and that are good candidates to accompany the filling. But you already know which is the original version, in addition to the option that I leave you.
The cake can be preserved in the fridge for up 2 days.
Esta Himmelstorte or Hannchen Jensen Torte is a very simple cake to prepare and with which you can surprise your friends or family. In fact, it is a cake that can save us from a rush almost in the same day. Ok, with some margin.
For example we have last minute guests in the afternoon, we can prepare it in the morning without problems. Zero stress or haste. Really, in a little more than 3 hours, you can have the cake ready.
Its texture is wonderful. It has a slightly crunchy exterior, which melts with a very soft and creamy interior... You can't stop trying it, I'm sure it will surprise you!
I wish you a wonderful weekend, see you on Monday!
Big hugs,
Eva
Archivado en