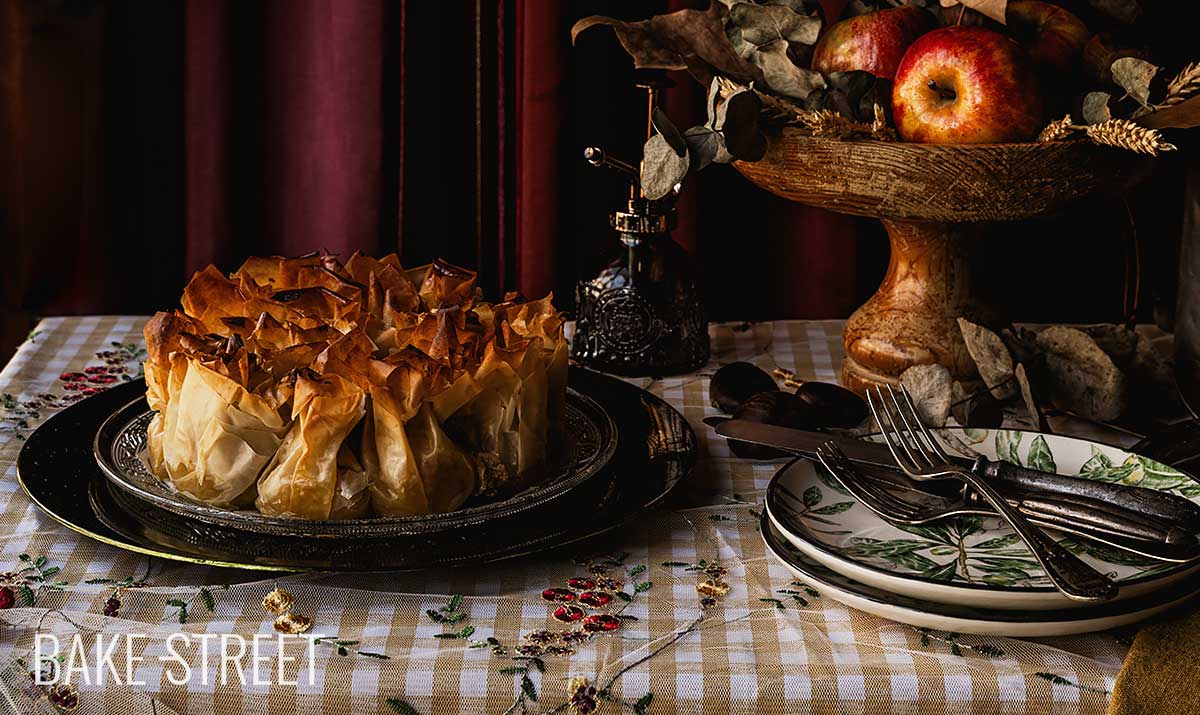 Gersois Pastis – Pastis Gascon
Este post también está disponible en Spanish
The world of doughs has always been extraordinary to me, in fact I have two weaknesses; laminated doughs and very extensible and elastic doughs. This does not leave aside the enriched doughs under any circumstances… But we always have some preferences. Today I show you how to prepare Gersois Pastis – Pastis Gascon in its easiest and simplest format, because this elaboration made in an artisanal way, is very laborious.
First of all, I want to clarify that the presentation that I leave you is not the traditional one. Sometimes I like to vary a little some details and this is one of them. It is true that the base and essence of the recipe is practically the same, but I wanted to clarify it for those people who are more purists and may perceive the elaboration as wrong. It is a version of the famous cake.
Gersois Pastis – Pastis Gascon is a specialty of Gascony, a region in the southwest of France that during the Ancien Régime (the system of government prior to the French Revolution) was part of the province of Guiana and Gascony. It is an apple tart flavored with brandy and decorated with filo pastry creating a rose-like appearance with beautiful volumes.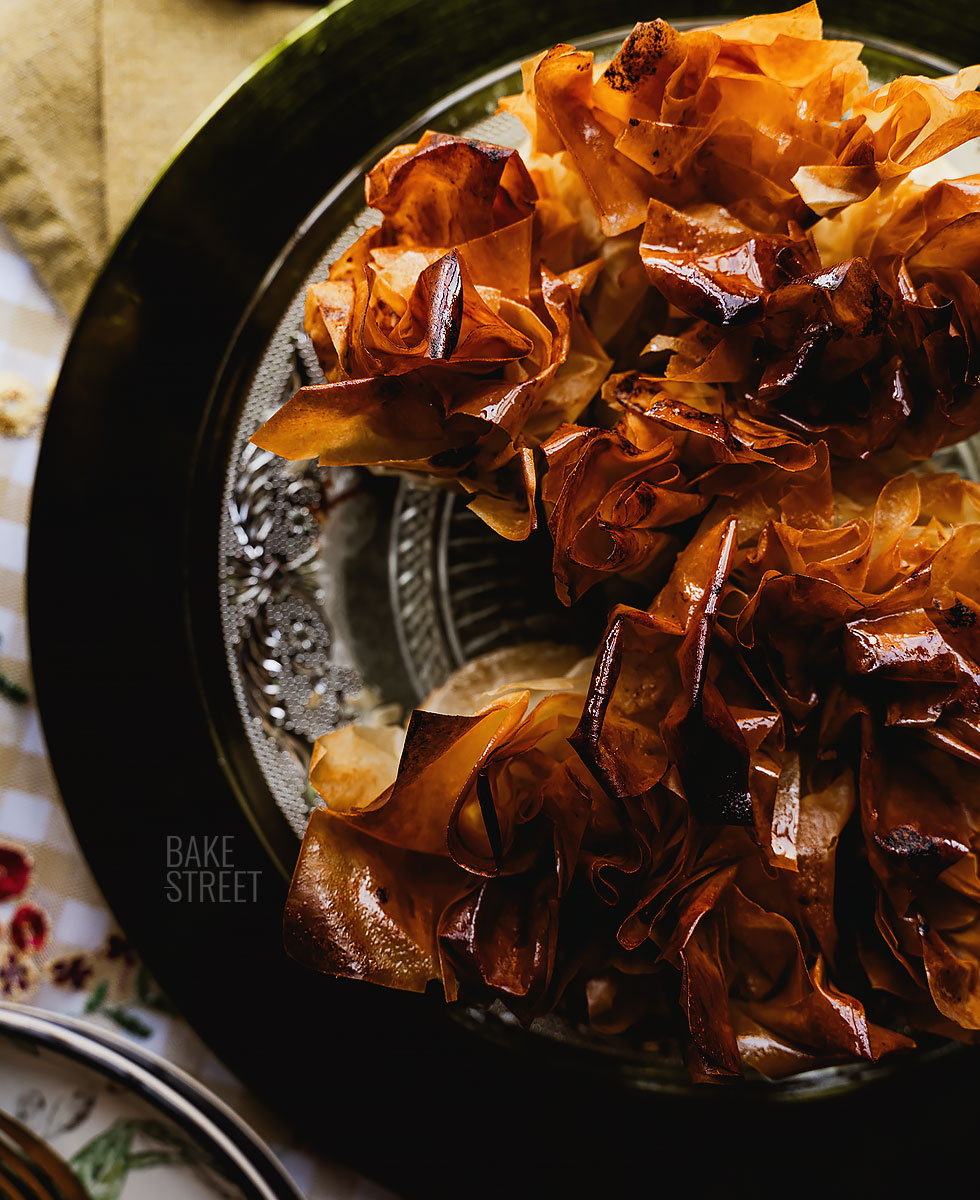 Pastis Gascon origin.
I must admit that when searching for its origin, I have found many conflicting versions. What makes me doubt if there is confusion between different recipes or, on the contrary, depending on the area where we can find this cake, we will see it called differently.
I found these denominations in which all of them create a connection with pastis gascon; "Tourtière", "Croustade aux pommes", "Gersois pastis", "Tourtière landais" or "Tourtère des Landes".
All the previously mentioned  are made in the same way and most of them have a common origin. This makes me think that the variation in the name may be due to the place where it can be found.
The origin of this dough dates back to the time of the invasion of the Arabs in Europe, who transmitted their technique of preparing very thin dough, the filo dough.
At that time, pastis was reserved for religious ceremonies and important family events, since the preparation of the dough requires a lot of technique and time.
Filo dough.
This delicate dough has its origins in the gastronomy of the Middle East, Turkey and the Balkans. It is a very thin, almost translucent dough, even reminiscent of onion paper. In fact, once it is completely stretched, you can read through it.
In the Apfelstrudelrecipe I show you how to make phyllo dough at home.
This dough was born thanks to the existence of breads made with folded doughs that later evolved to be worked with great refinement in the kitchens of the Topkapi Palace, Istanbul.
It is said that this pastry is inspired by the traditional Moroccan pastela, a pastry that combines savory and sweet flavors.
This pastry, reminiscent of Turkish baklava or Austrian strudel, would have been brought by the Arabs during the Arab invasions in the 8th century. This pastry quickly became a regional product and indispensable for important celebrations.
Traditionally, the dough for making Gascon pastis was spread and spread with goose fat, which is very common in the region, although nowadays it has been replaced by butter.
Every summer, the towns of Penne d'Agenais and Tournon d'Agenais organize a tourtière festival to honor this specialty.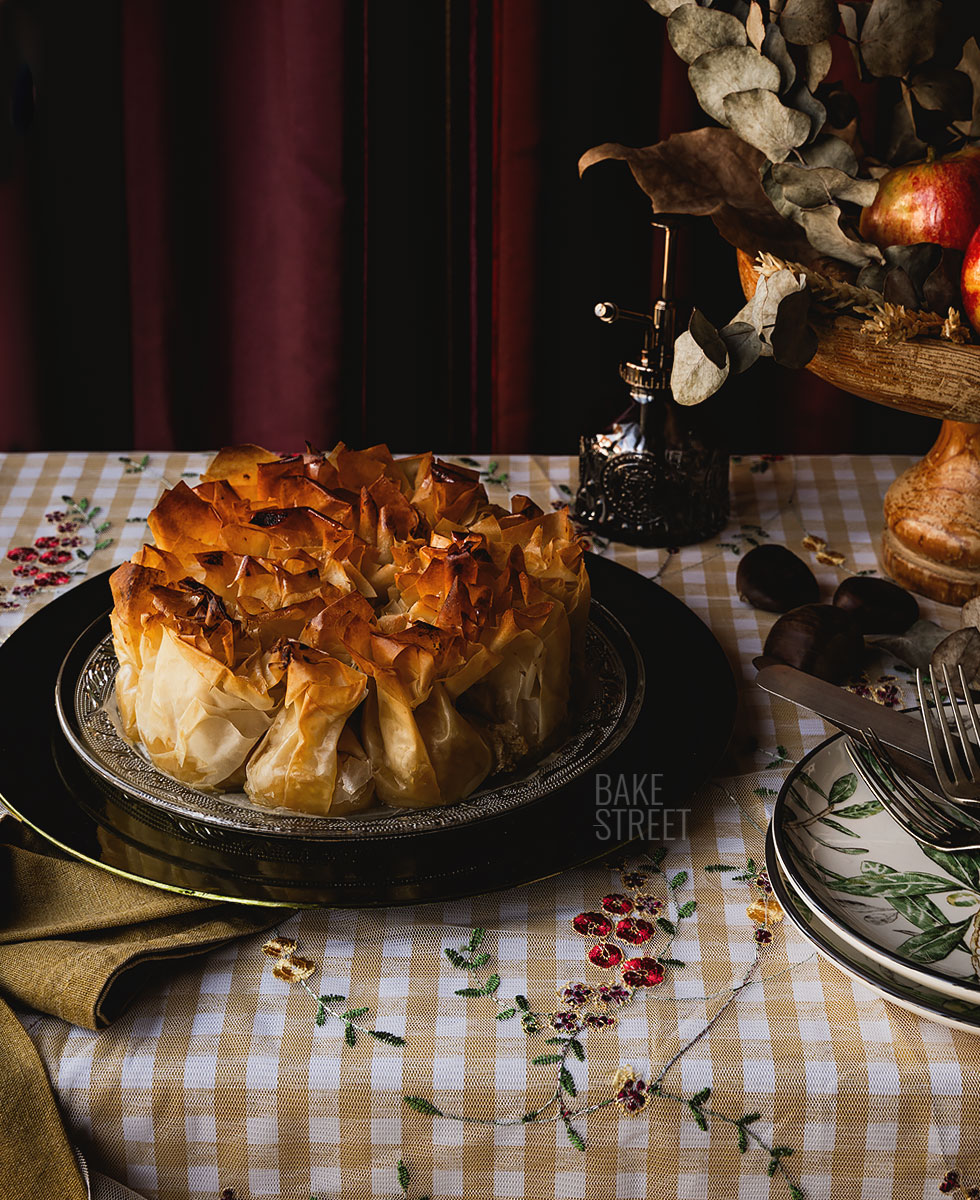 According to the history of the Tourtière des Landes.
Its origin dates back to ancient Rome, where it was called "crustata" in Latin. A cake that is composed of numerous thin layers of buttery and sweet dough.
There is an anecdote about this cake and it is that the dough spreads so thinly and widely, until it becomes almost transparent, that it has come to be known as "bride'sveil". It is possible that you will also find this denomination "bridal veil cake or bride'sveil cake".
Traditionally, the apple is left to macerate overnight in Armagnac, a dry white wine distillate obtained from 4 different grape varieties.
The tourtière landaise is at the origin of two traditional festivals in the southwest of France and, in particular, near Agen, in the Lot and Garonne valleys.
Every year, on the second Sunday of July, in Penne-d'Agenais (30 km north of Agen), a contest is organized for the best tourtière. The winning cake is presented to the public by the town's folk group, the Tourtiérayres.
A second traditional tourtière festival takes place every year in August in Tournon-d'Agenais, 40 km from Agen.
Making Gersois Pastis – Pastis Gascon.
In my case I will show you how to make this cake in its simplest format. We will use store-bought phyllo dough, although above I have left you how to make it at home and if you dare, it will be great.
Instead of making a base with filo dough, an apple filling and top decoration with filo dough, I will show you how to make a version of this marvel.
We will make small bags of filo dough, in which we will introduce some almond cream and apple previously cooked with brandy. Then we will bake in two batches; one of them to harden and cook most of the preparation, and the second one to brown, finish cooking and dry the part of the filling that will have juices and butter.
A dessert that you can enjoy during the day and without having to complicate too much.
Recipe Gersois Pastis - Pastis Gascon
ALMOND CREAM:
50 g unsalted butter, room temperature
50 g sugar
50 g ground almonds
1/2 egg, large
APPLE FILLING:
4 Fuji apples, about 800 g
juice of one lemon
80 g unsalted butter
100 g sugar
70 g Brandy or Armagnac
PIE:
350 g filo dough
130 g unsalted butter, melted and cooled
powdered sugar
MATERIAL WE WILL NEED AND VISIBLE IN THE VIDEO:
*These products you have a 5% discount on the website Claudia&Julia using this code BAKESTREET. Delivers throughout Europe.
Instructions
Prepare almond cream.
In a bowl add the butter and smooth with a silicone spatula.
Whisk until a smooth, whitish texture is achieved.
Add the sugar together with the egg and beat again until homogenized.
Add ground almonds and mix again. Finally, add vanilla and mix until all ingredients are integrated.
Pour into a piping bag and set aside at room temperature or in the refrigerator if it is very hot.
NOTE: In the video I have doubled the amount, but with the amount detailed in the ingredients, you will have enough for this recipe. To add half an egg, beat a whole egg and add half of it to the mixture.
Prepare apple filling.
Peel and core the apples. Cut into quarters and divide each into three portions. Cut into chunks and place in a large bowl.
Drizzle the apple with lemon juice to prevent oxidation.
Prepare a large skillet and place over medium high heat. Add the butter and let it melt.
Add the chopped apples and sugar. Cook over medium heat for 15 minutes, stirring occasionally.
Pour the brandy and cook for 15 minutes more until the juices are reduced enough. The texture of the apple should be tender, but slightly firm.
Remove from heat and allow to warm or cool completely.
Assemble the pie.
Cut filo dough sheets into 4 more or less equal parts. Cover with a slightly damp cloth to prevent the dough from drying out while assembling the cake. We will form little bags with these portions of dough, each bag will need 3-4 portions of filo dough.
Prepare a 24 cm diameter removable mold, line the base with baking paper and set aside.
Lightly brush one portion of phyllo dough with melted butter.
Place another portion on top, making sure that the corners do not coincide and brush again with butter. Place another portion of dough and brush, once again, lightly with butter.
Pipe some almond cream in the center and place apple on top.
Close the dough, pulling the ends of the filo dough upwards, to form a little bag. Gently press the dough together to seal.
Place inside the mold. Repeat the same process with the rest of the dough and filling until the mold is filled with sachets.
If you wish, once the mold is full, you can decorate the top of the cake with some filo dough sheets to create attractive volumes.
Sprinkle the entire surface generously with powdered sugar. This step helps the sugar to caramelize during baking, leaving a very elegant glossy finish.
Bake.
Preheat the oven to 355ºF/180ºC, heat up and down.
Bake at medium height for 30 minutes.
Remove the mold from the oven, let it cool slightly and remove the side ring. Place the cake on a perforated tray lined with baking paper and put it back in the oven. This time, bake at 338ºF/170ºC fan for 20 minutes.
Remove and let cool completely on a wire rack.
If you wish, before serving, you can sprinkle again with powdered sugar.
I recommend serving each sachet, they separate beautifully, with some crème fraîche.
Notes
In my case I have used Fuji apple, as it is my favorite for baking, but you can use any other variety you like.
Brandy or Armagnac can be replaced by another variety of liquor, such as rum, or omit it if you prefer.
I advise you to cook the apples for the specified time to prevent them from releasing juices during baking and softening, in excess, the filo dough.
Originally, this recipe does not have almond cream. But I wanted to give it a plus and I thought of adding some of this cream that goes great with apple and filo dough.

The presentation of this tart, in the traditional way, is not in bags. The apple is usually placed at the bottom of a mold and, on top of it, the phyllo dough is placed in a casual way (similar to Galatopita). But, those of you who know me know that I always like to give a twist to everything, I saw this presentation (in this video) and I thought it was wonderful. Different and very comfortable to serve.
It is not mandatory to sprinkle powdered sugar before baking, but it helps the cake to have a shiny, caramelized finish.
I bake in two parts so that the central part is well cooked and, in addition, the air helps to dry the outer part and prevent it from becoming soft. We will achieve a very crispy finish with a very juicy filling.
I advise you to let it cool completely before eating it so that the filling sets.
It is preserved in perfect condition for 24 hours, ideally consumed the same day it is made. It can be refrigerated, but it will lose its crunchy texture.
I hope you will soon be encouraged to prepare this wonderful Gersois Pastis - Pastis Gascon. A recipe with a very attractive appearance that does not require a lot of work or baking time.
If you want to simplify the process even more, you can always make the traditional format, which is very similar to the traditional Galatopita (in terms of the arrangement of the dough on top).
I remind you that you can watch all my videos on my YouTube channel. If you subscribe and activate the little bell, I will be eternally grateful to you!
Lots of love,
Eva
Sources:Jours de Marche, La Passion au bout des doigts, Le Gourmeur, Nouvelle Aquitaine.
This post contains affiliated links.
Archivado en