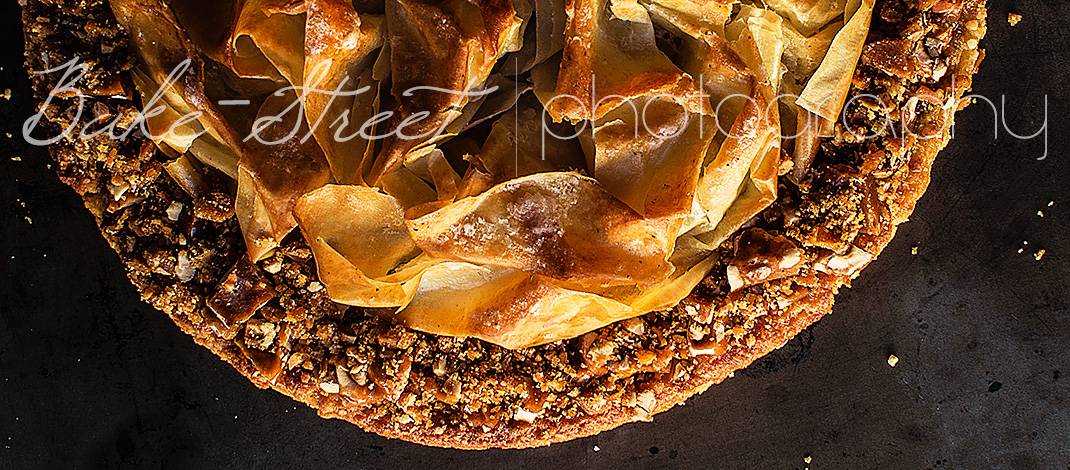 Tourte Croustillante – {Crunchy Cake}
Este post también está disponible en Spanish
I do not usually bring sweets in the middle of the week … I always post them on Fridays, but every now and then it's okay to break the routine and treat yourself. And I say it in "Capital Letters" because this Tourte Croustillante is really amazing; flavor, texture, aromas and … yes, tons of butter. But it can not have it all.
This wonder, which I have versioned slightly, is one of my recent books… We are going to leave home with so much book!  "Invitation d'un pâtissier voyageur" by Nicolas Bernardé. Fantastic book throughout. Dream recipes with impeccable photographs, the only thing that in terms of cooking times (at least in this recipe) were not the same.
It is also true that my oven is not like a bakery and it is very likely that the way it works is completely different. In my case I had to adjust the cooking times and increase them in all steps.
The original cake is made with sablé breton instead of almond pâte sucrée ,the almond cream I have kept as it is but adjusting the amount of egg, I imagine that this will depend on the size of them. Mine are quite large and more quantity would have left me a too liquid cream.
The pear filling was actually apple. I must admit that I like baking with apple, but the pear is fantastic too and we often forget … for that reason I decided to change one fruit for another. Moreover the sweet taste of conference pears … it's wonderful.
The hazelnut nougatine and the crisp phyllo dough, I followed them just as far as ingredients are concerned. When you read the recipe maybe you wonder, why the clarified butter has icing sugar?
And the reason is to give a shiny finish to the sheets of filo pastry.
As you have already been able to check out this Tourte Croustillante is to treat yourself, too much. A crunchy almond base accompanied by an almond cream and caramelized pear, topped with a crunchy filo and hazelnuts nougatine.
I fell down at its feet when I saw it in the book, but when I tasted it … You'll see 😉
TOURTE CROUSTILLANTE
For one ring pastry of 9,6 inches
FOR ALMOND PÂTE SUCRÉE:
6.9 oz (195 g) pastry flour
1.2 oz (35 g) ground almond
4.6 oz (130 g) cold butter
1 large egg
0.7 oz (20 g) sugar
0.07 oz (2 g) salt
FOR THE ALMOND CREAM:
unsalted butter at rom temperature, 5.3 oz (150 g)
ground almond, 5.3 oz (150 g)
sugar, 5.3 oz (150 g)
2 large eggs
FOR THE PEAR FILLING:
35.3 oz (1 kg) Conference pears
4.2 oz (120 g) unsalted butter
4.2 oz (120 g) sugar
0.07 oz (2 g) cinnamon powder
FOR THE PHYLLO DOUGH CRUNCHY:
6 filo pastry sheets
3.5 oz (100 g) clarified butter *or melted and cooled
1.75 oz (50 g) icing sugar
*Recipe in the link (Spanish only)
FOR THE HAZELNUTS NOUGATINE:
2.65 oz (75 g) toasted hazelnuts
2.1 oz (60 g) unsalted butter
2.1 oz (60 g) inverted sugar* (you can use Golden Syrup instead)
0.05 oz (1,5 g) pectin NH
2.1 oz (60 g) sugar
*Recipe in the link (Spanish only)
INSTRUCTIONS:
Make almond pastry.
Grate butter, set aside.
In a big bowl add pastry flour with ground almond, grated butter and salt. Mix between your hands until combined. Texture must be grainy.
Add muscovado sugar, egg and mix lightly.
Transfer the dough to a counter and knead making fraisage technique. It will be useful to get an homogenous dough but without gluten developed.
Put the heel of the hand over the dough and push to the front little by little to get a merged dough but without being elastic. We can see how to make it in this video.
Once the dough is homogenous, roll it between two teflon sheets into 0,11 inches (3 mm). Diameter dough must be bigger than iron skillet.
Let sit between two sheets over a baking tray in the fridge for 2 hours or overnight.
Place almond pastry into the ring pastry.
Remove teflon sheets and place the pastry over a parchment.
Helping with the ring pastry, cut the base and let sit without remove the ring.
Cut strips, bit higher than the ring height, and place around the base. You must to cut several strips to cover the tart sides. Press which each other to join the ends the strips.
Remove the excess of pastry with a knife to have a perfect edge.
Refrigerate for 1-2 hours.
Bake.
Preheat oven 345ºF.
Remove from the fridge, line pastry with baking paper and fill with ceramic pie weights or uncooked beans.
Bake for 15-20 minutes.
Remove ceramic pie weights, brush with beaten egg-white and bake for 5 minutes more.
Remove from the oven, with care, and let cool.
Make pear filling.
Peel pears, remove core and cut into 2 inches approx.
In a medium pot add butter along with sugar and cinnamon powder, place over medium heat and let cook until melted stirring occasionally. The mixture have to caramelize, about 5-7 minutes.
Add pears and cook, stirring from time to time, for 40-45 minutes.
Remove from the heat and let cool completely.
Transfer the mixture into a glass container and put in the fridge overnight.
NOTE: The pears will leave a lot of water at the beginning of cooking. We must reduce that water and obtain a kind of soft cream that covers the pear pieces. Be careful to stir them when they are cooking to avoid crumpling too much.
Make almond cream.
In the bowl of the stand mixer add the butter and, with the paddler, beat until whitened. It will take about 3 minutes. It will acquires some volume.
Add the sugar and beat again.
Incorporate the ground almond slowly, in 2 or 3 batches.
Add eggs, one at a time, and mix again until combined.
Once the mixture is homogeneous, pour in airtight container and cover.
NOTE: L leave at room temperature if you are going to use it immediately, otherwise refrigerate until needed. You will have to remove from the fridge 30 minutes before to use it. It will be hard and you can not spread it..
Bake the cake.
Preheat oven 360ºF.
Fill the base pastry with the almond filling. Do not reach the end because the filling grows during the baking.
Place pear filling over the almond cream. Cover it leaving uncovered 1.5 – 2 inches around the edge.
Place in the oven, medium height, and bake for 40-45 minutes. The filling will take a light golden brown on surface and it will be curdling. But if pressed we will notice a moist texture.
Remove from the oven and let cool completely on a rack.
NOTE: When cooling, the filling will become more solid, but will remain very moist inside.
Bake filo pastry.
Preheat oven 390ºF.
Line a baking sheet with parchment and a 8 inches cake pan removable bottom.
Mix clarified butter with sieved icing sugar.
Place a filo sheet over a work surface and brush with the butter on the surface. cover with other filo sheet and brush again.
Crumple the sheets with care and place them inside the cake pan removable.
Repeat with the rest os sheets.
Bake for 20-22 minutes or until the sheets get a beautiful golden brown.
Remove from the oven and let cool before handle.
NOTE: I recommend to use a baking sheet with bottom. Why? During baking, the butter will be released from the sheets and if the pan is flat, it will fall to the base of the oven. You will have to clean it…
Maybe you are thinking, I can use the mold without remove the bottom. Yes, you can, but all the butter will stand in the base and the sheets don´t be so crunchy.
Make hazelnuts nougatine.
Preheat oven 320ºF.
Place a silpat over a baking sheet with bottom, set aside.
Mix pectin with sugar, set aside.
Smash lightly hazelnuts, set aside.
In a medium saucepan add the butter in pieces along with the inverted sugar and cook over medium heat until completely melted.
Add the sugar and, stirring constantly, cook until completely melted and get a caramel.
Incorporate smashed hazelnuts and mix to combine.
Pour the mixture over the silpat and bake for 15 minutes.
Remove from the oven and let cool completely.
NOTE: This time we must use a baking sheet with bottom too for the same reason as above. The heat melts caramel and expands, it can fall to the base of the oven.
Assemble the cake, at last!
Transfer the crunchy filo crown over the cake, place in the middle to cover the pear filling.
Smash part from the hazelnut nougatine and make pieces with the other part.
Sprinkle the outer edge with the hazelnut nougatine.
And… enjoy!
PRESERVATION: At room temperature it can be preserved 2 days in a glass campaign. If we are going to leave it more days, I recommend cooling it to avoid that the fruit moist can spoil it.
It is one of the best pies I have tasted in the last few months, and I have made too many pies … I recognize that it is laborious or, rather, that it has many steps. But if we are well organized, it will be really easy and we can enjoy a real food of the gods 😉
Bon appétit for this half of the week.
Big hugs,
Eva
Archivado en