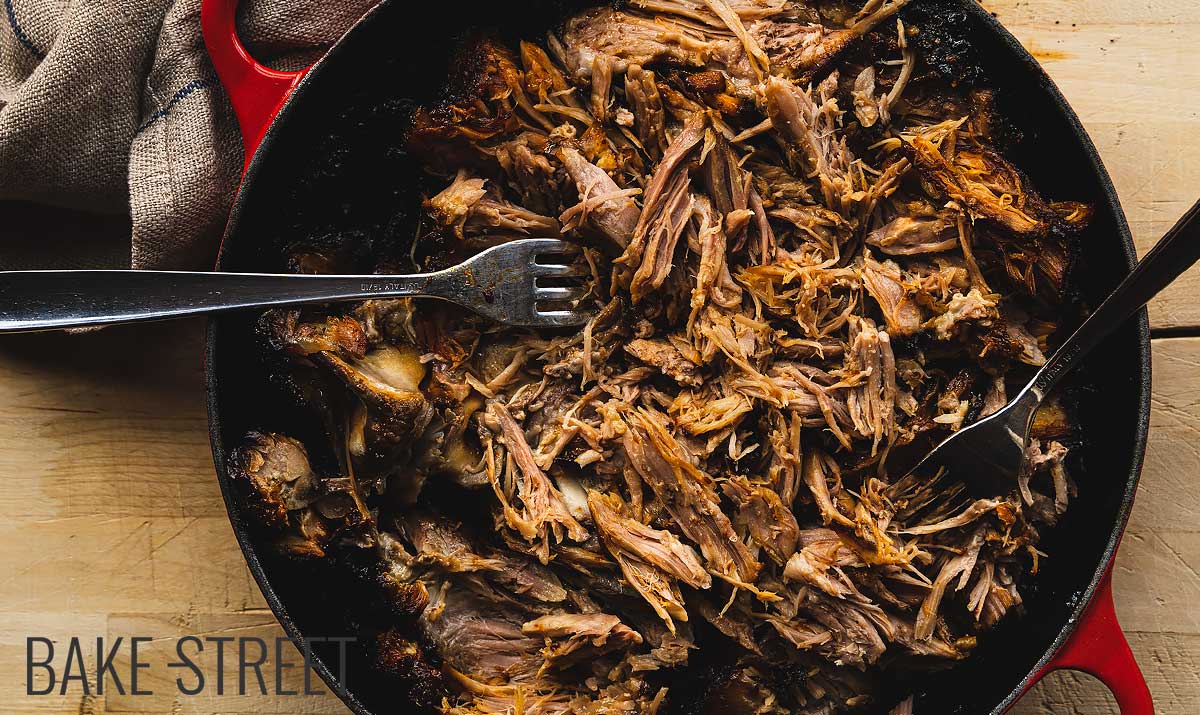 Caramelized Pulled Pork & Hawaiian Burger
Este post también está disponible en Spanish
It has been a long time since I wanted to bring you a pulled pork recipe. Originally, I wanted to leave you with the more classic or traditional version, but looking for recipes, processes and information, I came across a recipe for caramelized Pulled Pork… Let's see, how wonderful! And not just for the mere fact of being caramelized, but for the spices it contains. The recipe is more Asian style and that drives me crazy.
So I had to succumb to my desires and, first, I will let you know how to make this caramelized pulled pork with which I will show you how to make an amazing Hawaiian burger. Soon, I will also share how to make the traditional pulled pork, as well as another method to make it.
I think it is difficult for someone not to like this marvel, but anything is possible. For my part I have to say that my favorite burger is the pulled pork. By this I do not mean that I do not like other types of burgers (like this one), of course I do, but if it is available on the menu where we are going to eat, I always ask for it.
The process of making pulled pork is quite simple. The only detail we must keep in mind is the time it takes to be ready…. But we already know that good things come to those who wait. If you like it a lot, make more than the quantity I specify because it is not enough. In my case I made 3 hamburgers of about 300 g each. Given the time required for the process, I recommend you to make more quantity. Then you can freeze it in individual containers, so that each person who wants to consume it, only has to take it out, defrost it and heat it.
Pulled Pork origin.
North Carolina is the home of barbecues and it was right there where the famous pulled pork originated. It didn't take long for it to go around the world and it quickly became a great success.
It all began with the Spanish colonization of the Americas, the Taino Indians (the first indigenous people with whom Christopher Columbus had contact after his arrival in the New World) who cooked and smoked meat and fish in a structure over embers. They used to use guava wood because it adds a very good flavor to the elaborations. This method of cooking and structure was called bucánand was widely used by buccaneers and hunters. Later, the name "bucán" was given to the meats elaborated with this cooking technique.
The Spaniards decided to call it barbecue, deforming the native name, and it soon became popular in North America, giving life to the local barbecue tradition.
The custom of grilling food dates back to 1540.
When Spanish explorer Hernando de Soto introduced pigs to Florida and Alabama, and later in 1607 with the English settlers at Jamestown, Virginia. By the time of the Civil War, pigs were domesticated and their meat had become the staple food of the South.
The whole pig was roasted, as it is still done today, at a low temperature and following a slow cooking process. It took an entire night to get the meat ready, and the next day the meat was moist, lightly smoked and covered with a crispy crust. This meat, after cooking, was shredded for consuming.
It was an elaboration destined for special occasions, unlike nowadays, which has become a recipe that can be consumed at any time.
Why is it called Pulled Pork?
This preparation receives its name from the way the roast meat is prepared just before serving. It can be shredded using the hands, a pair of forks or meat tongs, obtaining shredded meat. The "pulling" process tenderizes the meat and releases its flavor.
What is the best piece of pork to make Pulled Pork?
Traditionally, Pulled Pork is made with pork shoulder. Shoulder and picnic ham can be used to make two types of pulled pork roasts. One is usually called Boston Butt (shoulder) and the other Picnic Roast (leg). Both cuts can be used to make pulled pork with good results. You can see the cuts of meat in this image.
Why is the Boston Butt cut called "Pork Butt"?
In colonial America, pork was a cheap meat. In fact, butchers used to store these pieces of meat in barrels called "butts". Apparently, someone started calling them "pork butts", and from there came the name for a cheap cut of meat perfect for preparing pulled pork. It is a contradiction how this piece is called with respect to its location in the animal itself, since it is not a back piece, but now you know the origin of its name.
What is the difference in preparing pulled pork with Boston Butt and Picnic Roast?
Picnic Roast is the foreleg. This piece does a lot of muscular work and, therefore, has very little intramuscular fat. When cooked, it tends to dry out more easily, especially if it is not cooked correctly. The shoulder, or Boston butt, is the upper part of the leg. This muscle has much more intramuscular fat and usually has a large fat cap on one side. The result we will obtain using this part of the pork is much more tender and moist. Of course, always bearing in mind that the cooking process must be adequate.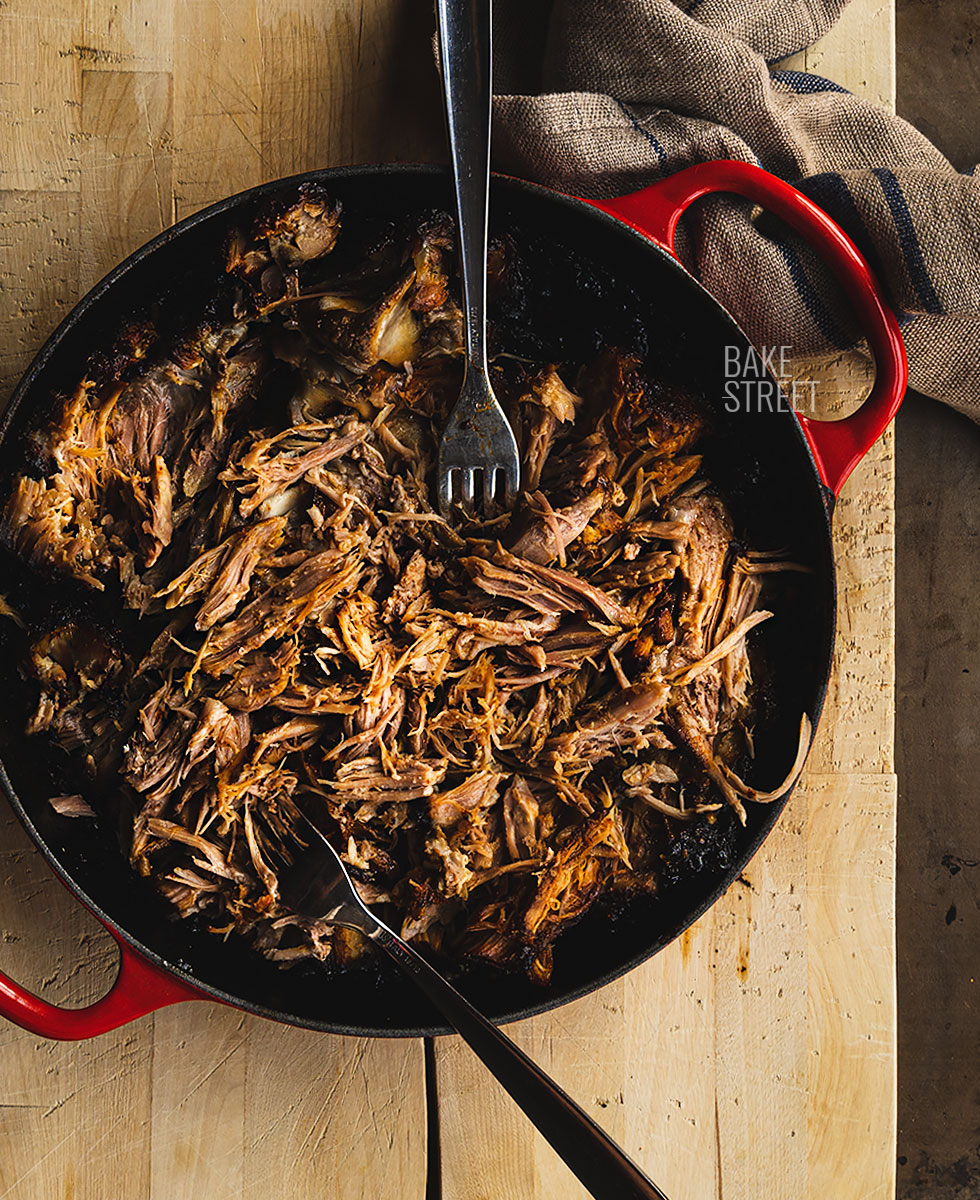 Things to keep in mind when we want to make pulled pork at home.
According to Gerardo Roccia, chef and creator, along with his brother Valentino, of Pork 'n' Roll, a signature pub in Rome famous for its incredible pulled pork, there are certain steps that are important to follow to achieve good results:
He advises to use quality prime ingredients. Although pulled pork is made from drier or blander meats, it is important that the piece contains a good percentage of fat and, in addition, that the meat is mature, not young. The reason for this is that a piece from an adult pig will release less water than a piece from a young pig.
Ideally, it is recommended that the piece of meat contains bone. This helps the meat to remain more moist and juicy.
The key point to obtain a good quality result is to carry out a slow cooking and try not to exceed 230ºF/110ºC. In my case, I have not followed this guideline since I have carried out the cooking at 284ºF/140ºC. But, it is good to take it into account and to know it, for future elaborations.
Cooking times will always be related to the weight of the piece to be cooked. The bigger it is, the longer the cooking time and vice versa. It is important to control the piece of meat during this process.
It is essential to use spices that enhance the flavor and aroma of the pulled pork. In my case I have left some spices and sauce very different from the traditional one, but with wonderful results, especially if you like Asian food.
The juice or sauce that remains in the base after cooking the pulled pork, it is important not to remove it so that the meat can absorb it. In the recipe I leave you, we use it to mix it with water and sugar to make the caramelized sauce. I recommend pouring it or mixing it with the meat while it is still hot or warm, so that the final result will be much juicier.
One of the highlights of this dish is how incredibly versatile it is. We can serve it in hamburgers, tacos, sandwiches, snacks, rice, with vegetables, noodles…. It goes well with everything, with any sauce and any accompaniment. Although it is true that some things combine much better than others.
Assembling the Hawaiian burger.
It has been a long, long time since I had in mind to prepare a Hawaiian style hamburger. I like to combine different elements and, in that way, achieve explosive flavor combinations. This burger… is EXPLOSIVE! I loved the flavor, the aromas, textures… I am completely in love with the result.
It is true that at the beginning I had in mind many more "layers of filling", i.e. toppings/dressings. But as I cooked the meat and tasted it, I reduced many elements. It didn't need it.
So in the end its composition consists of hamburger bun, which is a sweet bread I left you with recently, Bo Lou Bao or pineapple bread, a good layer of pineapple and jalapeño relish, lots of caramelized pulled pork and good salsa, thinly sliced red onion and fresh cilantro. It requires absolutely nothing else. It's spectacular, I promise!
Of course, take my advice and prepare much more meat…
Recipe Caramelized Pulled Pork & Hawaiian Burger
PULLED PORK:
I followed the recipe from Carls Bad Cravings
The meat shrinks during cooking, with these quantities you will get 3 hamburgers of about 300 g approximately.
1.2 kg Boston butt, one whole piece
2 tablespoons olive oil for browning
1 tablespoon sesame oil to grease the piece
SPICES:
8 g ginger powder
4 g garlic powder
3 g onion powder
ground black pepper to taste
COOKING SAUCE:
100 g thick milk or coconut cream
45 g soy sauce
85 g Mirin
40 g chili sauce or paste
15 g Cornstarch
CARAMEL SAUCE:
260 g cooking sauce
60 g water
115 g dark muscovado sugar
HAWAIIAN BURGER:
Bo Lou Bao bread (recipe here)
pineapple and jalapeño relish (recipe here)
red onion, thinly sliced
fresh cilantro
MATERIAL WE WILL NEED:
iron pot or cocotte iron pan
iron frying pan, especially for meats
pot/saucepan
meat tongs
rods and bowls
Instructions
Prepare the spice mixture.
In a bowl, incorporate all the spices and mix.
Set aside.
Cover the meat with the spices.
Grease the surface of the meat with sesame oil, massage it gently.
Rub the entire piece of meat with the spice mixture. Make sure that all parts of the piece are covered.
Prepare the sauce for cooking.
In a bowl incorporate all the ingredients of the sauce and, with the help of a whisk, mix until obtaining a homogeneous sauce.
Set aside.
Lightly brown the meat.
Place a cast iron skillet over medium high heat. In my case I have used a specific one for meats.
Once it is hot, add a couple of tablespoons of olive oil. Tilt the frying pan so that it covers the entire surface.
Place the piece of meat in the pan and brown on all sides.
Preheat the oven and prepare the iron pot for cooking.
Preheat the oven to 428ºF/220ºC with heat up and down.
Grease with olive oil the base of the iron pot.
Place the piece of meat in it and cover with the sauce.
Put the lid and place in the oven for 30 minutes.
After this time, reduce to 284ºF/140ºC and cook for 5-6 hours. Every 45 minutes, check the meat and the sauce. If it is too thick, add (by eye) a little coconut milk. The following times, we lighten the sauce with water.
Remember that every time we look at the meat, we should sprinkle it with the sauce to prevent it from drying out and to make it juicy.
The meat will be ready when it shreds very easily. It will be very, very tender.
While we prepare the sauce, we can keep the meat wrapped in aluminum foil to preserve its temperature and juiciness.
Prepare caramel sauce.
In a saucepan, add 260 g of cooking sauce (if there is not enough, top up with water to the specified amount), the water and dark muscovado sugar.
Place over medium heat and bring to a gentle boil, reduce the heat and cook, stirring until the sauce thickens slightly.
Remove from heat and set aside.
Serve.
Meat can be consumed after resting a little, just enough to temper it, after removing it from the oven.
At this point, we will proceed to shred the meat. We can do it with the help of two forks, with bear paws/ Meat claws that are very cool (I have to get one without fail!) or even with our hands.
The sauce can be served in two ways; mix it with the meat once we have shredded it or serve it in bowls so that each diner can serve himself the quantity he wants. In my case I did it in the last way because at home, with the sauces, each one of us has different tastes.
ASSEMBLE THE HAWAIIAN BURGER
Place a good layer of pineapple and jalapeño relish (it's addictive!) on the base of a Bo Lou Bao bread.
Add pulled pork to taste.
Drizzle well with salsa and finish with some red onion and fresh cilantro leaves.
Put the bread lid on and serve immediately.
NOTE: If we lightly toast the bases of the buns, the hamburger gains points ;)
Notes
To make pulled pork you can use Boston butt, this piece of meat is found in the upper part of the neck and part of the ribs (shoulder) and even the upper part of the front leg, Picnic roast or neck.
If we do not have sesame oil or we do not like it, we can substitute it for another variety of vegetable oil.
Spices used in this preparation are not the classic pulled pork spices. We are preparing a similar recipe, but different. With an Asian touch.
It is very important to control the meat throughout the cooking process to prevent it from becoming dry. We must pour sauce from time to time over the meat, as well as check that the sauce does not thicken excessively. In that case, we will add coconut milk or water to lighten it.
We must take into account that when we cook in a cocotte or iron pot, the cooking can be more intense because a lot of heat is retained. Keep an eye on the meat during the whole process so that the final result is adequate.
I have left this presentation suggestion, but feel free to enjoy the caramelized pulled pork as you like it.
If you are missing any part of the menu for this weekend, I recommend you to prepare this Caramelized Pulled Pork and, if you are ready, prepare the Hawaiian Burger. You will love it... Lots of flavor, incredible textures and an explosion of aromas that will leave you amazed.
At home it has been very much appreciated and, for sure, it will be one of the preparations that we will repeat on more than one occasion.
I wish you a wonderful weekend!
Lots of love,
Eva
Sources: Gambero Rosso, Beard Butchers
Archivado en