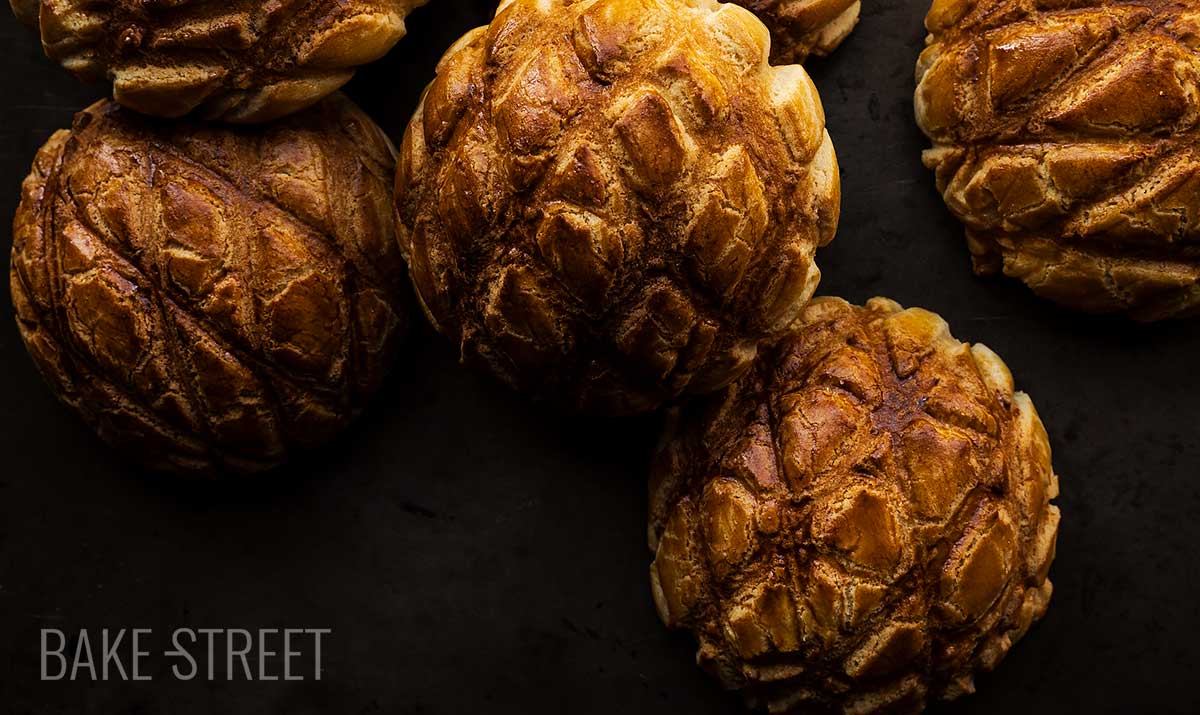 Bo Lou Bao – Pineapple Bun
Este post también está disponible en Spanish
Now that the temperatures have dropped a bit, it makes me want to turn the oven back on to bake bread and dough. The truth is that it is something I miss a lot in the warmer months. Let's go back to breads with this recipe for Pineapple Bun or Bo Luo Bao (菠蘿包) in Cantonese, bolo bao or polo bun. This is one of Hong Kong's most iconic sweet buns and is curiously not made with pineapple, but gets its name because of the similarity with its outer appearance.
The pineapple bun is a soft, tender and very fluffy bun, accompanied by a sweet topping crust on top. Traditionally, it is served for breakfast or snack accompanied by a cup of tea (in this post I tell you about the origin of tea). Surely these breads remind you a lot of Mexican conchas or Japanese melonpan.
Bolo Bun – Bo Luo Bao origin.
It is believed that they may have a Western influence. One of the stories about bolo bun describes that this Chinese sweet bun had been around for a long time and was traditionally steamed. With Western influence, especially with the presence of Portuguese in Macau and British in Hong Kong, the locals sought a Western-style bun. They wanted a sweet piece with which they could accompany their afternoon milk tea.
Another story links this piece to Mexican gastronomy in the mid-20th century.
In the 19th century, emigrants from Guangdong went to seek their fortunes abroad. Most crossed the Pacific to Canada and the United States, but others headed for Mexico, where they were better received. In fact, even Chinese could marry Mexican women, if they both wished, as the two cultures had many similarities in terms of family values.
In the late 1930s, Mexicans were forced to leave the United States due to increasing immigration bans. As a result of the influx of Mexicans returning home, Chinese in Mexico also received deportation orders. Most returned to their home country of Guangdong, while others sought the familiarity of Western culture and settled in Macau and Hong Kong.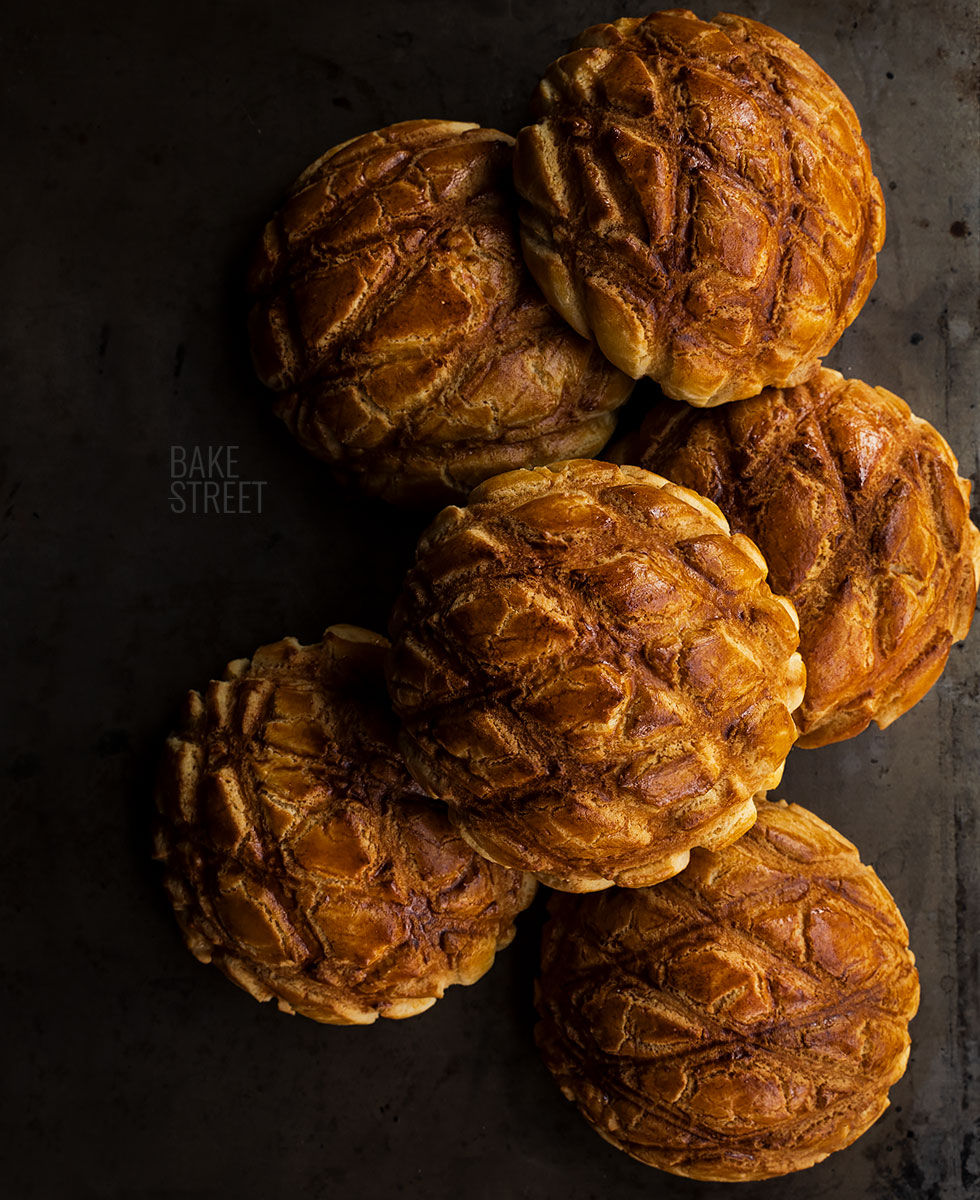 Creating the link with Pineapple Buns – Bo Luo Bao.
In 1946, the Ng family was deported from Mexico. Upon their return, they opened a Hong Kong-style cafeteria on Shanghai Street in Hong Kong. It was there that they began making the famous Mexican bun as a tribute to conchas. And, from that moment on, the pineapple bun was first introduced in Hong Kong.
Not surprisingly, this sweet bread gained a lot of popularity in Hong Kong from the 1940s onwards and was on the rise throughout the decade. As bo luo bao expanded, so did its variations. Traditionally, this bun is cut in half and filled with butter, bolo yau; 菠萝油. Today it can be found filled with cream, coconut, red bean paste (anko), recipe at this link and even char siu (Cantonese-style pork).
Pineapple bun reached its peak of popularity in 2014 when the Hong Kong Government recognized the technique of making pineapple bun as a valuable traditional craft skill, including it in the Intangible Cultural Heritage Inventory of Hong Kong.
In Hong Kong, there is a popular cartoon character named McDull, who appears in the 2004 movie McDull, Prince de la Bun (菠蘿油王子 – the literal translation is "the prince of the buttered pineapple bun"). His cap is a checkered pineapple bun cap, with a crown resembling golden butter.
Many traditional pineapple bun recipes elaborate their topping with a small amount of ammonia powder. This ingredient results in an extra strong and crunchy crust due to the crystallization properties of the powder. One thing to note about ammonia powder is that it has a powerful and unpleasant aroma, but this evaporates after baking. However, it seems that if too much is used, the end result will be pieces with an unpleasant odor. Another point that differs from the breads made today is the use of lard instead of butter. Here I must say that I learned about it late…. In fact it was looking for its history and origin.
When we use lard in doughs, the result is an extremely tender and fluffy snack. Some time ago I left you these potato rolls that are made with lard and the result is a cloud… For my part I tell you that I will repeat them using lard. So you can choose whether you make them with butter or lard.
Recipe Bo Lou Bao - Pineapple Bun
Ingredients for 6 pieces
DOUGH:
235 g high protein flour, such as Manitoba
105 g water
20 g powdered milk
45 g sugar
25 g unsalted butter, room temperature
25 g egg
2 g fresh yeast or 0,6 g dry yeast
4 g salt
CRUST:
68 g unsalted butter, room temperature
50 g powdered sugar
20 g egg
15 g powdered milk
120 g cake flour
pinch of salt, about 1/4 tsp
EGG WASH:
1 beaten egg, we will use it to brush the dough before placing the crust and to brush the bun before baking
MATERIAL WE WILL NEED:
perforated tray + Teflon or silpat

scraper

digital kitchen scale

digital kitchen thermometer

plastic film/ cling film

bowls

whisk

silicone spatula

rolling pin

pastry brush

rack
Instructions
Prepare dough for buns.
In order to obtain the quantities of egg required for both the dough and the topping, we will beat one large egg and divide it into two parts; one of 25 g (for the dough) and the other of 20 g (for the crust).
In a bowl add the flour together with the water, egg and powdered milk. Mix lightly.
Add crumbled yeast and mix again.
Incorporate half of the sugar and knead until it is completely integrated. Add the other half and knead again until homogenized.
Add the salt and continue kneading. Transfer to a clean work surface and knead until we obtain a semi-developed dough.
At that moment, add the butter little by little, we will do it in batches. Allow the butter to fully integrate into the dough before adding more.
Knead the dough until we obtain a good gluten development. It should be elastic, soft, smooth and not break.
Round the dough and place in a bowl or airtight container, previously greased with oil. Cover with film or with its corresponding lid.
Let rise until it grows a little more than doubling its volume. Depending on the temperature it may take more or less time. In my case it was 3 and 1/2 hours at 85,4ºF/29,7ºC.
If we want to divide the process in 2 days, once it has grown 1/3 of its volume, refrigerate until the next day.
Prepare the topping for the bo lou bun or pineapple bun.
In a bowl add the butter and smooth with a spatula.
Add powdered sugar and whisk until the mixture is whitish and airy.
Pour the egg and mix until homogenized.
Incorporate powdered milk and salt and mix again.
Finally, add the flour and mix until a homogeneous dough is obtained.
Form a disc, cover with plastic wrap and refrigerate for 1 hour.
Divide and shape.
If you have decided to place the dough in the refrigerator, remember to remove the dough from the refrigerator and leave it at room temperature for 1-2 hours. If it has not reached the desired volume, leave it until it reaches this point.
Divide the dough into 6 pieces of approximately 75 g each.
Shape the dough gently, without exerting too much tension. The softer you handle the dough, the more tender the final result will be. Remember that if you have created scraps when dividing the dough, these should always remain in the center of the piece.
In this case we will not preshape the dough, but shape it directly.
Place the pieces on a perforated tray lined with baking paper or Teflon.
Cover with cling film.
Divide the crust to place on the buns.
Divide the topping dough into pieces of approximately 45 g, we will obtain 6 units. Round gently and cover them with film to prevent them from drying out.
Place the toppings on the buns and make final proof.
Stretch the piece of dough with the help of a rolling pin, placing it on a piece of film and placing another piece of film on top (in this way it will be very easy to handle it without it breaking or sticking to the work surface or our hands). Ideally, it should be slightly larger in diameter than the dough piece.
Brush the piece of dough with beaten egg and place the cover on the shaped piece and adjust it. To do this we will help us with the film and remove it when it is adhered and adjusted.
With the help of a scraper, create lines that simulate the external aspect of a pineapple.
Repeat the same process with the rest of the pieces.
Cover with cling film and let rise until doubled in size. In my case it was 2 and 1/2 hours to 86ºF/30ºC. You will notice that the cuts you have made on the cover have opened and you will be able to see the depth in them.
Bake.
Preheat the oven to 338ºF/170ºC with heat up and down.
Bake at medium height for 17-18 minutes. Remember that the internal temperature must reach 190º-194ºF/88-90ºC for the baking to be finished.
Remove from the oven and let cool completely on a wire rack.
In the NOTES section, I tell you how to keep them for a long time.
Notes
Respect all the steps, resting and rising times to obtain a good result both in flavor and in texture and sponginess.
Some recipes use tangzhong in the process. You can incorporate it into the preparation if you wish.
I recommend using a good quality butter because it will affect the final flavor of the dough.
The egg that we use to brush the bun and the crust, we will keep it covered with film between both processes and refrigerated in case it is very hot.
If you prefer, you can carry out the whole process in a kneader. Just follow the same steps that I detail, but using it instead of kneading by hand.
If it is very hot, the crust should be refrigerated for a longer time (or even frozen), so that we can handle it without problems. Otherwise it will melt and be very difficult to work with.
They will keep in perfect condition for 4 days stored in a zip bag at room temperature (if it is not too hot). From this point on, they will begin to lose their tenderness.
If we want to keep the pineapple buns for several days/weeks maintaining the same freshness as the day we baked them, we will do the following. Once they have cooled completely, store in zip freezer bags 2 by 2 (or more if you wish) and freeze. When we want to eat them, we take them out the night before and leave them at room temperature. The next morning they will be like freshly baked, very tender.
If it is a very hot time of the year, in 2-3 hours they will be thawed and ready to eat.
I have always been attracted to these sweet rolls with toppings, not only because of their attractive appearance, but also because the topping helps the bread to keep better for a longer period of time. I am sure you will love to prepare this Bo Lou Bao - Pineapple Bun. Its process is very simple to carry out and the result is extraordinary. In addition, it is a very versatile bun since it goes well with both sweet and savory fillings.
Soon I will give you an idea of how to use it, apart from the obvious... Eating it as it is or with a simple filling like the one I mentioned above.
I wish you a great weekend!
Lots of love,
Eva
Sources:Foodcicles, A Foodie World
Archivado en