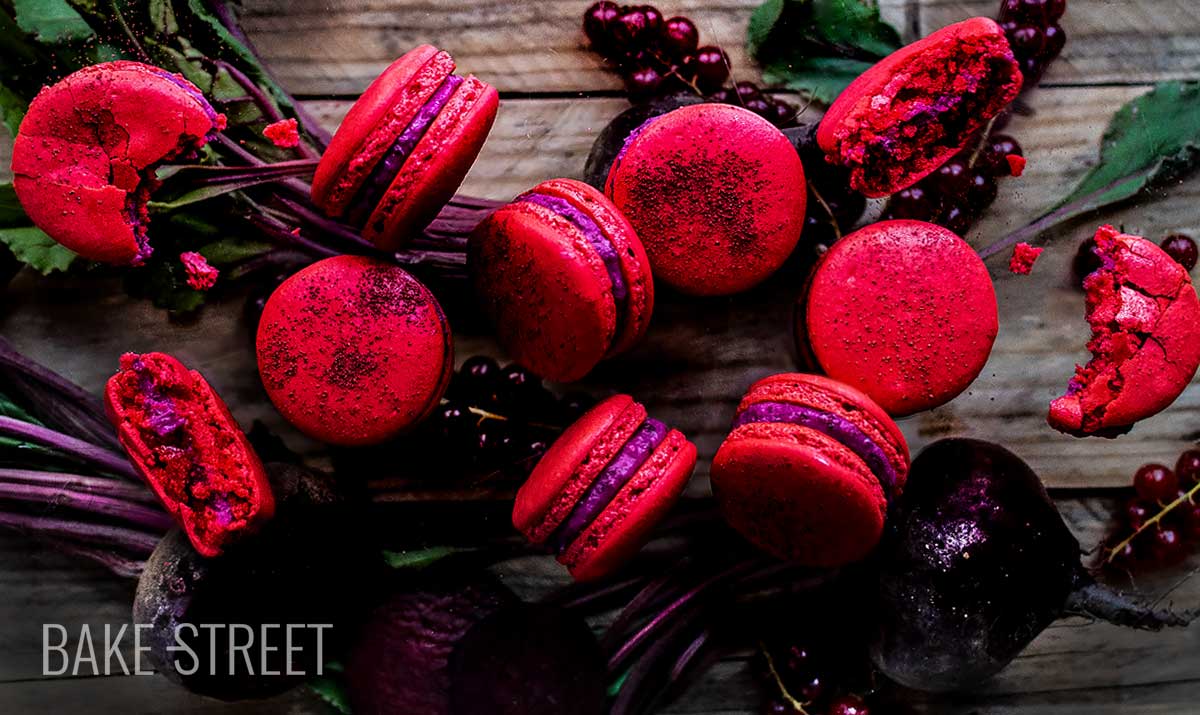 Beetroot Macarons
Este post también está disponible en Spanish
The recipe I leave you today, I think is the most "strange" in terms of fillings refers to macarons of all that I have prepared. I define it as strange because of the main ingredient you don't like very much, beetroot, as well as the combination of ingredients. Today I leave you like making Beetroot Macarons.
I know that many of you are going to find this ingredient strange, especially finding it in a sweet preparation. Not to mention that to many of you it is an ingredient that doesn't convince you… At home I am told that the taste reminds them of soil, but I find it wonderful. We already know that everyone has their own taste 😉
Beetroot in pastry.
This ingredient is especially attractive in pastry and cuisine thanks to its intense color. A very bright pink-purple that allows us to give a natural color to our preparations. On the blog I have several recipes made with beet like these beetroot éclairs (only Spanish), this gluten-free beet and chocolate cake (only Spanish), beetroot and chocolate doughnuts (only Spanish)… Or in savory versions this beetroot risotto (only Spanish), beetroot pizza (only Spanish), Borscht in many others.
When I made this filling, what attracted me the most was the fact that it was incorporated as part of a sweet cream added to its impressive color. I wanted to make a macaron of the same shade, but without falling into dyeing a ganache or using red fruits. I like these a lot, but I wanted to do something different. And that's how I came up with the mixture of white chocolate, almond and beetroot.
Today, I also want to share with you a tip that I always used to give in my workshops to achieve a more voluminous macaron. If you are used to making macarons, you will have noticed that one of the problems we have on some occasions is to whip the egg whites. Even following the right steps to age them.
Trick to strengthen the egg whites.
Nowadays it is very difficult to find good quality fresh eggs, most of which are old. This results in their inner composition being very watery (nothing to do with aging them on our own). In fact it is likely that when you separate egg whites from yolks you will notice that some eggs have a "runny texture" and others are practically a watery liquid. This is because they have lost the stability of the protein.
I've tried every kind of egg you can imagine. From the eggs you can easily buy in a supermarket, in conventional markets (poultry), organic eggs and eggs from free-range hens. In the latter you can see a better texture of the egg white, but in general I think that both the feeding, the stress they are subjected to and the time it takes for the egg to reach our homes from the farm, influences considerably.
A good way to know if the egg is fresh is as follows:
When you crack an egg you will notice that at one end of the shell (inside) there is a veil with air. The smaller it is, the fresher the egg will be.
If you come home with an egg that has a large inner veil when cracked, we have in our hands a very old egg.
Of course we can do little because in the shops are guided by the dates set on the package and little case will do the rest.
After several tests, which have been many, I have found a way to give the egg whites the strength they lacked…
Add a small amount of powdered albumin.
This is much purer, as it is concentrated and dehydrated. The only thing we have to do to work with it is to hydrate it (in our case it won't be necessary, we incorporate it to the egg whites that we are going to whip). All this without taking into account that we do not run any risk as far as egg contamination is concerned.
One kilo of dehydrated albumin + 7 litres of water gives us 8 kilos of liquid albumin.
One kilo of liquid albumin is achieved with 125 grams of powdered albumin plus 875 grams of water.
The exact equivalence between liquid and powdered albumin is 1 kg of powdered albumin equals 250 egg whites.
To work at the moment with our macarons we will use 1/8 tsp of powdered albumin for every 150 g of mixture of dry ingredients (almond+glas) that we will add to the egg whites that we are going to whip.
I assure you that with this tip there will be no meringue to resist you 😉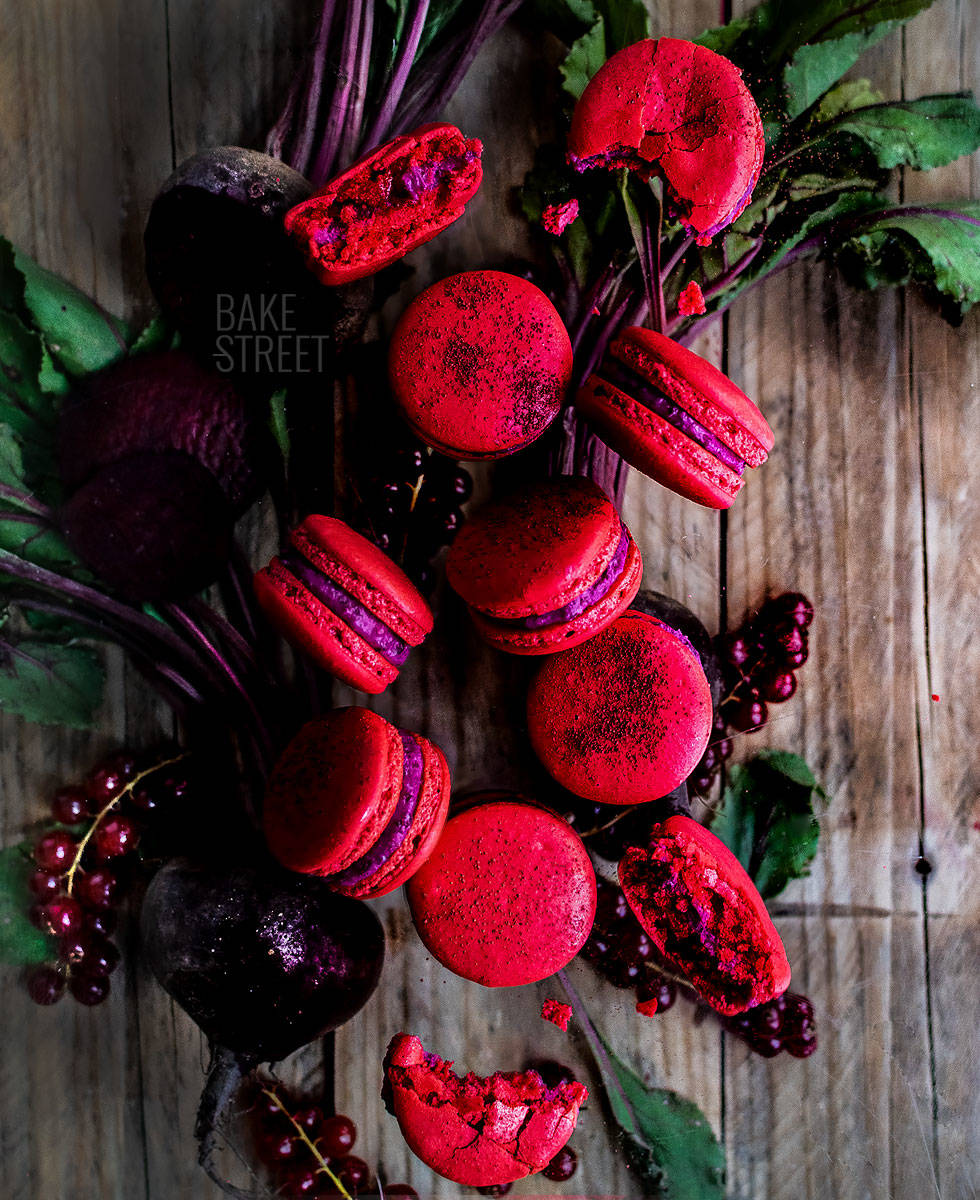 Ingredients
FOR MACARONS:
Basic macarons recipes. Link recipe (remember to add a pinch of powdered albumin)
Sugarflair Claret colour paste
Ruby powder for dusting
FOR THE FILLING:
100 g white chocolate
120 g cooked and ground beet
50 g ground almond
3-4 pink peppercorns
Instructions
Make macarons.
Prepare the macarons following the basic macarons recipe that you can find in this link.
One of the recipes will be made with Claret food coloring paste. To obtain this intense tone we must be generous when adding it, approximately 1/4 teaspoon.
I have not added any aroma to the macaron since the filling is the one that should have protagonism.
Once they are baked and cold, store them in an airtight container and refrigerate for 24 hours without the filling.
Prepare the filling of white chocolate, beetroot and almonds.
To make the filling we will have to use cooked beetroot. If we make this with fresh beet, we must cook it until it is tender. Drain and allow to cool completely before using.
If you decide to use cooked store-bought beets, you can omit this step. But, in my humble opinion, I recommend you to cook it at home.
Once the beet is cold, blend the amount specified in the ingredients in a food processor. We'll get some very small pieces, not a puree. Don't worry, that texture is perfect. Set aside.
In a mortar crush the pink peppercorns, set aside.
In a bowl add the white chocolate, previously chopped, and place in a water-bath at medium-low heat. Remember that the water must not touch the bowl.
Once it has completely melted, remove from the heat.
Add the crushed beetroot together with the ground almond and the pink pepper. Mix with a whisk until a homogeneous mixture is obtained.
Transfer to a hermetic bowl or container, cover with film or its lid and let it rest.
Once it has cooled, put it in the fridge until the next day.
Fill.
Put the cream in piping bag and fill the macarons.
If we let the macarons rest overnight in an airtight container in the fridge, they will be much tastier as their taste will have matured.
Dust with Ruby powder over the macarons.
Enjoy!
Notes
These Beetroot Macarons are different and exceptional in taste and texture. Really, despite seeming a strange combination, different or rare, do not hesitate to try them because you are going to love them!
This was another of the recipes that were part of my online macarons workshop and I can assure you that it was another favorite recipe along with orange, chocolate and ginger macarons, and blueberry and wasabi macarons.
From now on, remember to add albumin to the egg whites of your macarons to achieve a more rounded topping instead of flatter macarons. You will see a before and after in your results.
I wish you a wonderful beginning of the week!
Big hugs,
Eva
Archivado en