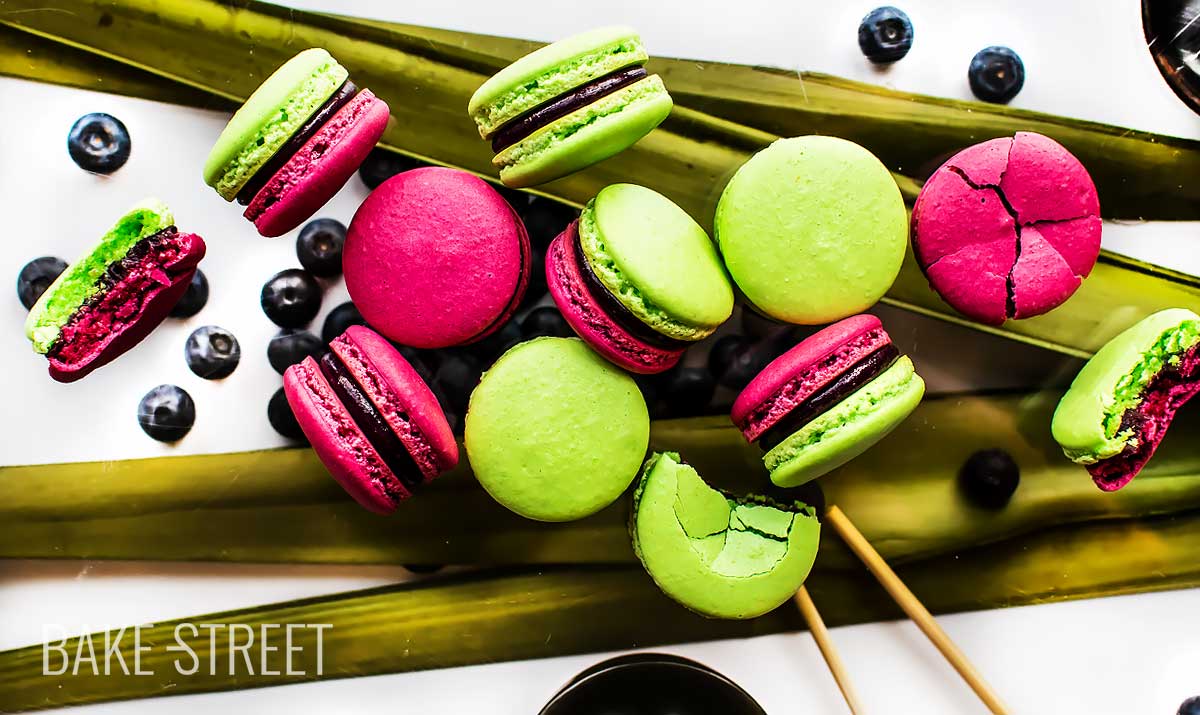 Blueberry and Wasabi Macarons
Este post también está disponible en Spanish
Whenever I did macarons workshops, I used to prepare different types of fillings so that they could fill the ones they made. In each workshop I never repeated fillings, but there were two of them that could never be missing and one was this blueberries soy curd. In fact these Blueberry and Wasabi Macarons were prepared in each workshop because they were the most liked without a doubt!
At the end of each workshop, the people who had assisted, told me that these macarons with this filling was the one that had surprised and pleased them the most. So it was a recipe that accompanied me for many editions and many years. Today I share it with you so that you can enjoy it at home and do not miss its surprising flavor.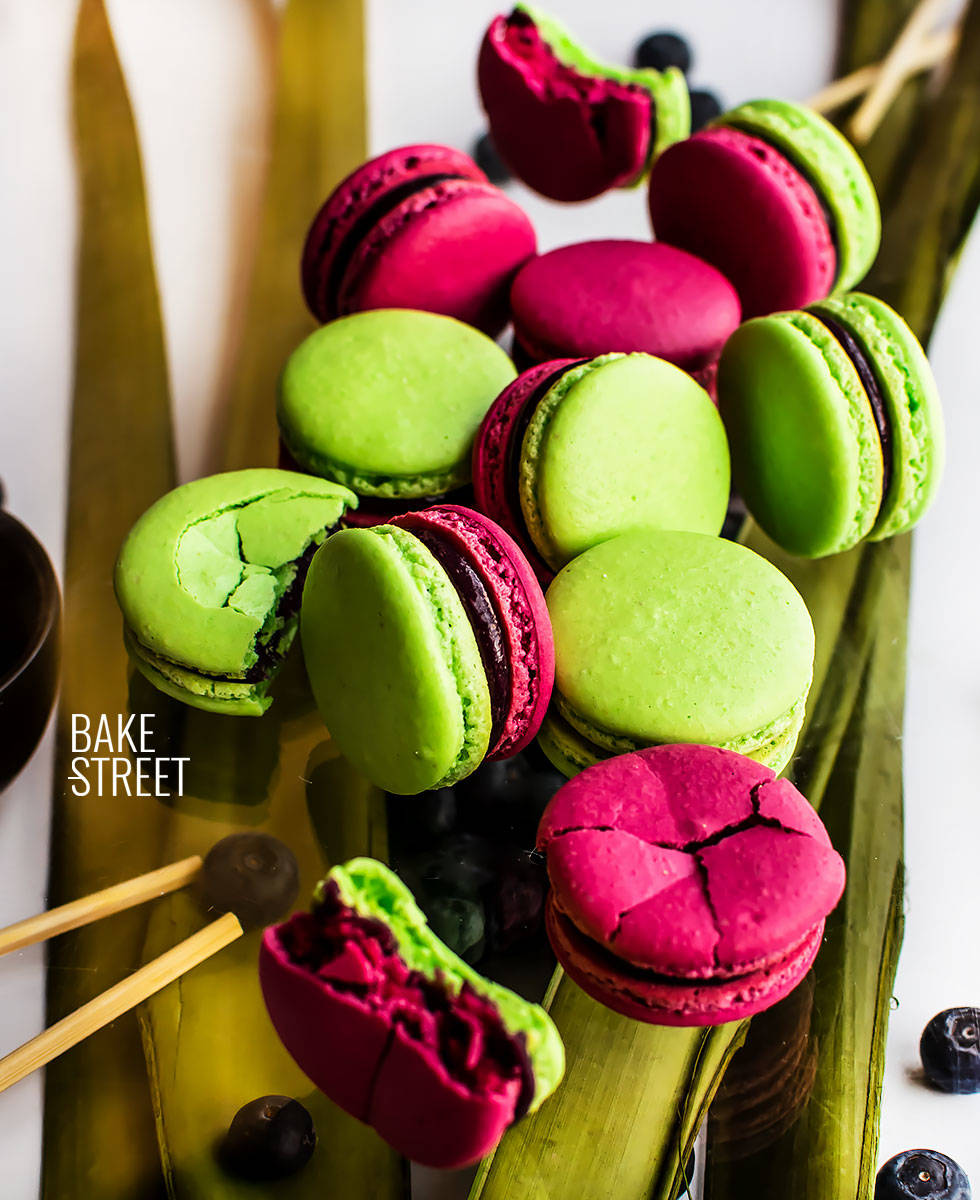 Blueberry soy curd.
When we think of macarons, most of the time, we associate them with fillings such as ganaches, creams, SMBC… But there are many variants that can be part of this small sweet treat giving an incredible result. Like curds. They are very versatile because they allow us to make them with many flavors, as well as having a perfect consistency to use as a filling.
I've always loved blueberries, whether in fruit, jam, inside a sponge cake… I love them in all their versions. One day I thought about the idea of making a curd with them and I did a test to see how they worked. I liked the result very much in flavor, color and consistency. So I made a recipe with them, combining them with a type of gastronomy I love. Japanese cuisine.
Blueberries & Wasabi.
I love spicy flavors, but I'm sure you already know that through many recipes that I have left you and in which spicy predominates. In fact, wasabi is one of the things I like most in the world. I can even eat it alone, in small quantities, that's right!
One day I thought of adding it to the couquilles of the macarons. The combination of sweet and spicy is always a hit and I thought it might work. Adding wasabi to the couquilles made me think about adding some flavor that could be related to this ingredient and combine well.
That's where I came up with the idea of adding soy sauce to blueberries curd to give it a light salty flavor that combined with sweet and spicy flavors. I know that you could probably find a combination of flavors somewhat particular, but I assure you that it is worth trying 😉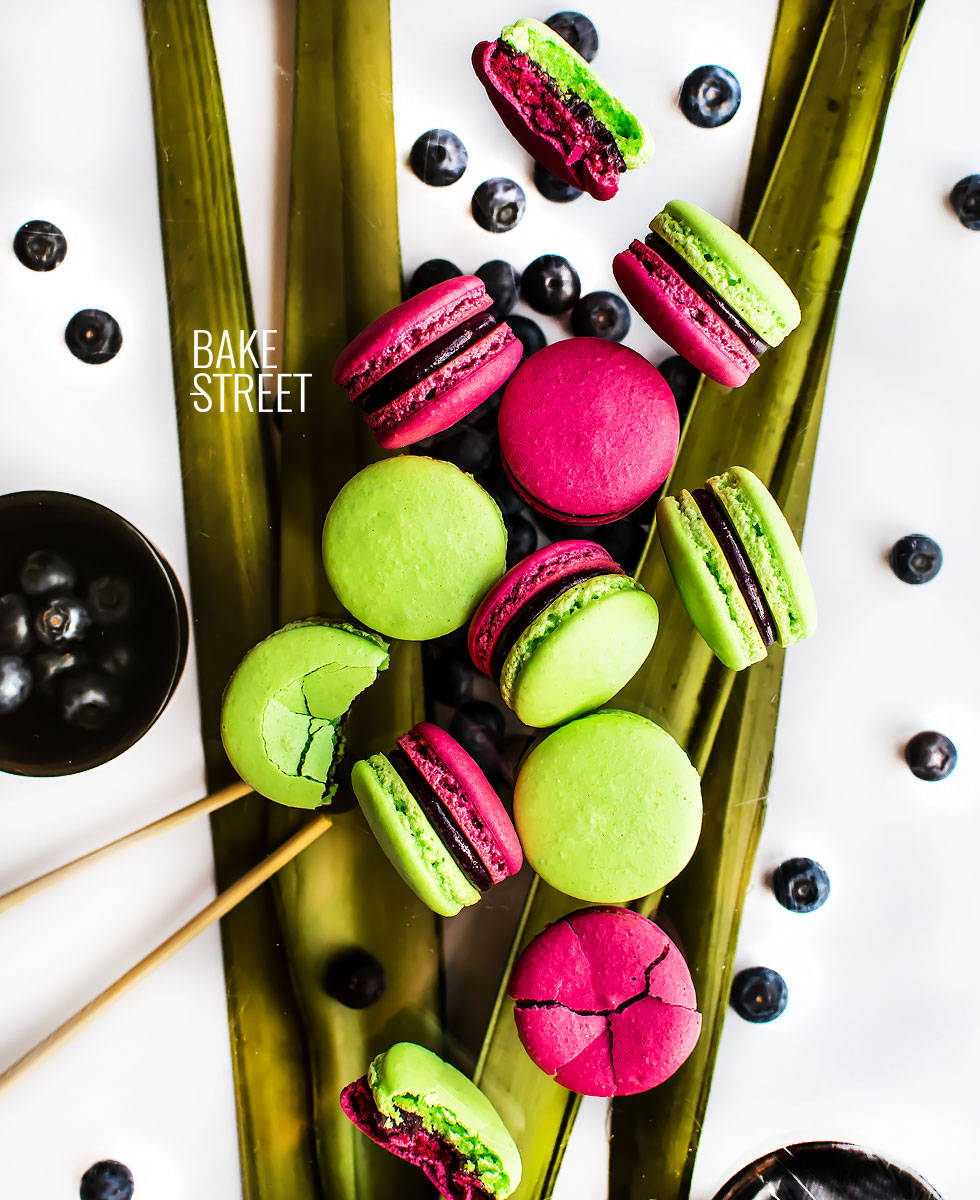 Ingredients
FOR MACARONS:
Two basic macarons recipes (one for blueberry macarons and one for wasabi macarons). Link recipe.
Sugarflair Claret colour paste + a couple of drops of blueberry extract
Sugarflair Party Green colour paste + 1 tsp wasabi powder
FOR THE BLUEBERRY AND SOY SAUCE CURD:
With this recipe we will be able to fill 10-12 medium-sized macarons
100 g blueberries
1 tsp sugar
3 large egg yolks
65 g unsalted butter at room temperature
47 g sugar
2 tsp soy sauce
1 tsp lime juice
Instructions
Make macarons.
Prepare the macarons following the basic macarons recipe that you can find in this link.
One of the recipes will be made with Claret food coloring paste, plus blueberry extract and another of them will be made with Party Green food coloring paste plus wasabi powder.
Once they are baked and cold, store them in an airtight container and refrigerate for 24 hours without the filling.
Make blueberry soy curd.
In a saucepan add the blueberries together with the teaspoon of granulated sugar. Place at medium-low heat and leave until the fruit begins to soften and release its juices. Use a spoon to lightly crush the blueberries as they soften.
Once they have released their juices, let it cook over low heat for 2 minutes.
Remove from the heat and pass through a sieve to remove the skin of the blueberries. Press well to obtain all the flesh. Set aside.
In another saucepan, add the butter together with the sugar over medium heat. Let it melt completely stirring from time to time.
Add the teaspoon of lime juice together with the egg yolks and the blueberry puree. Mix well with the help of a whisk and cook at medium heat (stirring constantly) until we see that begins to thicken. It will take about 10-12 minutes.
Add the soy sauce and mix again with the whisk.
Remove from the heat and transfer to an airtight or glass container. Let it cool completely at room temperature.
Once it has cooled completely, store in the refrigerator until the time you want to use it. I recommend you to let it rest 24 hours in the refrigerator before filling the macarons.
Fill.
Put the curd in piping bag and fill the macarons.
Remember that we will alternate the colors of the macarons. We will join a purple shell with a green one.
If we let the macarons rest overnight in an airtight container in the fridge, they will be much tastier as their taste will have matured.
Notes
Don't forget to review the two posts to make perfect macarons. In the first one I talk about origin, ingredients and macaronage. In the second one I detail the recipe and process to elaborate the macarons together with some tips.
You can vary the colors and flavors of the coquilles to your taste.
Keep in mind that when the curd cools, it becomes more consistent. The texture of this must be somewhat thick than a normal curd so that when filling the macarons does not spread on the sides.
If you don't like blueberries, you can try making them with blackberries or even raspberries.
I used wasabi powder, not paste.
Curd can be kept refrigerated for up to 5-6 days.
The macarons filled with curd are kept in perfect condition for 5-6 days, always refrigerated.
These blueberry and wasabi macarons are without a doubt one of my favorites. Let's see, I'm not going to lie if I tell you that I don't like other varieties... In fact, I think I've only tried a few that I didn't like. But if I had to choose, these would be among the first without a doubt.
The taste is very fresh, sweet and with surprising notes. In terms of texture we will find a soft, creamy macaron with a crunchy and fascinating finish of a perfect couquille. They are wonderful, you just have to try them!
I wish you a wonderful beginning of the week.
Big hugs,
Eva
Archivado en