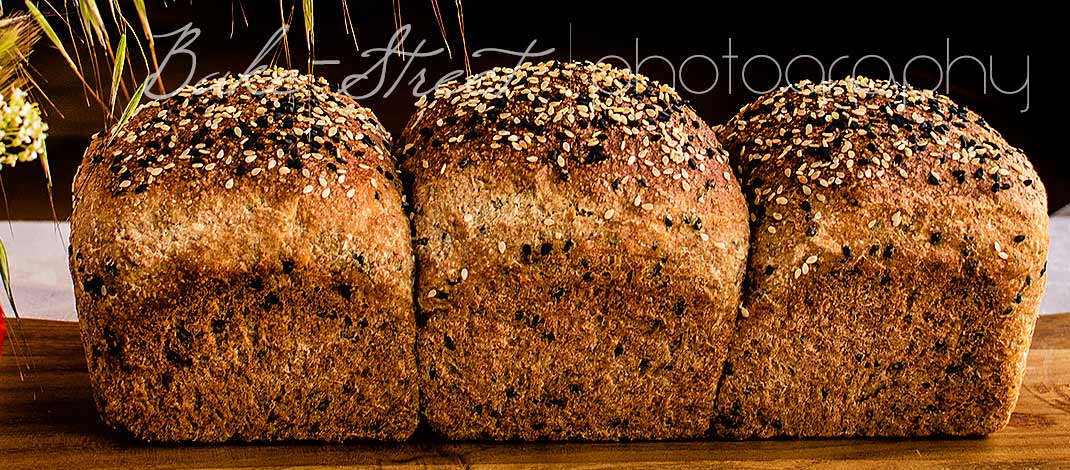 Whole wheat tin loaf with candied lemon
Este post también está disponible en Spanish
I am sure many of you will rejoice with today´s recipe, I say for sure because it is an elaboration that you have asked me a lot,  a 100% whole-grain bread. Well, here you go. A whole wheat tin loaf with candied lemon and black sesame that I assure will be one of your next favorite breads.
It is true that we always associate wholemeal breads with very dense breads, hard, with a totally missing tenderness … this is not so. Nor do I say that we will achieve the same tenderness as if we made the bread with white flour, but I guarantee that the result will charm you.
What should we keep in mind when working with whole wheat flour?
A while ago I left you a recipe for a wheat and whole wheat bread made with sourdough. In this post I commented, besides the difference between a wheat flour and whole wheat flour, the points that we must take into account when baking with this variety of flour; Manipulated, hydration, fermentation …
So do not keep to take a look because you surely will make good use of them and will favor a better final result.
What difference will I notice when working with a 100% whole wheat dough?
Its texture and finish will be totally different from a bread made with refined flour. The surface will be very grainy due to the presence of bran, so when you are going to test the membrane, it will be a indicative help. The bran tends to tear the dough more easily than if it were not present, but it will allow us to make this test and appreciate that characteristic veil.
The taste of a whole wheat bread … is a thing of another world.
A whole wheat bread, in general lines, has a more intense, characteristic, peculiar and delicious flavor that another one elaborated with refined flour. This is so, always.
In addition to benefiting from all its nutrients, we will enjoy a bread with a lot of flavor and a very particular texture.
Do you need to add seasoning to enhance its flavor?
Absolutely. This has been a whim of mine, you know that I always add some other ingredient to the doughs to aromatize or customize a little more elaboration. But, of course, this recipe can be made without the need to add candied lemon or black sesame.
Kitchen Kraft wooden board  from Claudia & Julia.
WHOLE WHEAT TIN LOAF WITH CANDIED LEMON
For a 35 oz (1 Kg) tin loaf
21 oz (600 g) whole wheat flour
10,8 oz (307 g) water
0,14 oz (4 g) dry yeast
2,3 oz (65 g) coconut milk* (the dense part)
3,7 oz (105 g) unsweetened Greek yogurt
1,75 oz (50 g) honey
1,25 oz (35 g) candied lemon*
1 oz (28 g) black sesame
0,28 oz (8 g) salt
* Canned milk, like this.
* *Recipe in the link.
FOR BRUSH:
whole milk
seeds at your choice (I used black and white sesame)
INSTRUCTIONS:
Make the dough for the tin loaf.
In a bowl add the flour along with the water, coconut milk and Greek yogurt, mix in a stand mixer or mixing bowl with a scraper if you are going to knead by hand.
Add dry yeast, salt and mix again.
Knead the dough, we must work it well to get an homogenous dough. It is important not to be hard with the dough if you knead by hand, because it will become a dense dough and texture won´t be fluffy.. Transfer the dough to a work surface and start kneading the French kneading. It is better to let stand dough 5-7 minutes  after 4-5 minutes kneading. When you do that, cover the dough to keep it from drying.
Or fit your mixer with a dough hook attachment and knead the dough at low speed for 8-10 minutes.
Whole wheat flour is a delicate flour and we must work with care.
Add the honey and knead until completely homogeneous.
When our dough is fully developed, incorporate the candied lemon in pieces along with the black sesame seeds. We will do it in batches and we will integrate the ingredients in the dough with smooth movements or folds until distribute them throughout the surface of uniform way.
NOTE: If we do not want to use coconut milk, we can use other vegetable milk or even cow milk. But keep in mind the final hydration because the coconut milk I use is the dense part and a vegetable milk would be liquid. Add 40-50 g of less water and observe the dough. As you knead, add that reserved water little by little until you get a good consistency without exceeding the final hydration.
Make bulk fermentation.
Grease a bowl or container, put the dough inside, cover with film and let rise until become nearly to double size, about 2 or 3 hours. It will depend from room temperature.
In my case the dough took 2 hours and 50 minutes at 73,4ºF to double size.
Preshape the tin loaf.
Dust lightly table or counter with a little flour and put the dough on top. Press lightly to degas.
Divide the dough into 3 equal pieces, and pre-shape each into a ball.
Cover and let stand for 15 minutes.
Shape the tin loaf and make final fermentation.
Grease a pan 12 x 4 x 3 inches  (30 x 11 x 7 cm) with butter and flour, removing excess, or lined with parchment. Set aside.
Shape each piece following the same process as when preshape the dough. Then, transfer each piece into the pan with seam-side down.
Repeat with the remaining pieces.
Cover with film and let stand until doubled in size. In my case it took 2 hours at 75,2ºF.
Bake the tin loaf.
Preheat oven 355ºF.
Brush with milk and sprinkle with seeds. Bake for 40-45 minutes a medium heigh.
Remove from the oven, let stand for 2 minutes and remove from the pan. Place the tin loaf over a rack and let cool completely.
NOTES: 
If you prefer you can brush the bread with beaten egg and a pinch of salt to achieve a more golden and shiny finish.
This bread does not need to be covered with baking paper in the middle of baking. I imagine that the use of milk instead of egg, delay the process of browning on the outside.
PRESERVATION: Once it is completely cool, store in a zip lock bag/freezer bag/airtight container around 6-7 days.
Your breakfast will be different with this whole wheat tin loaf with candied lemon. The smell that comes from the toaster while roast the slice´s surface to leave it golden and slightly crisp … is spectacular! Almost you can appreciate the citrus nuances.
This type of homemade bread keeps much better heat for longer, in addition to its tenderness. You have time to smear the butter, the jam and enjoy it hot yet. With a commercial tin loaf … it is impossible! The second time you are smearing the butter, you already notice that it does not melt … There is no comparison.
So try it as soon as possible! 😉
Have a nice week!
Big hugs,
Eva