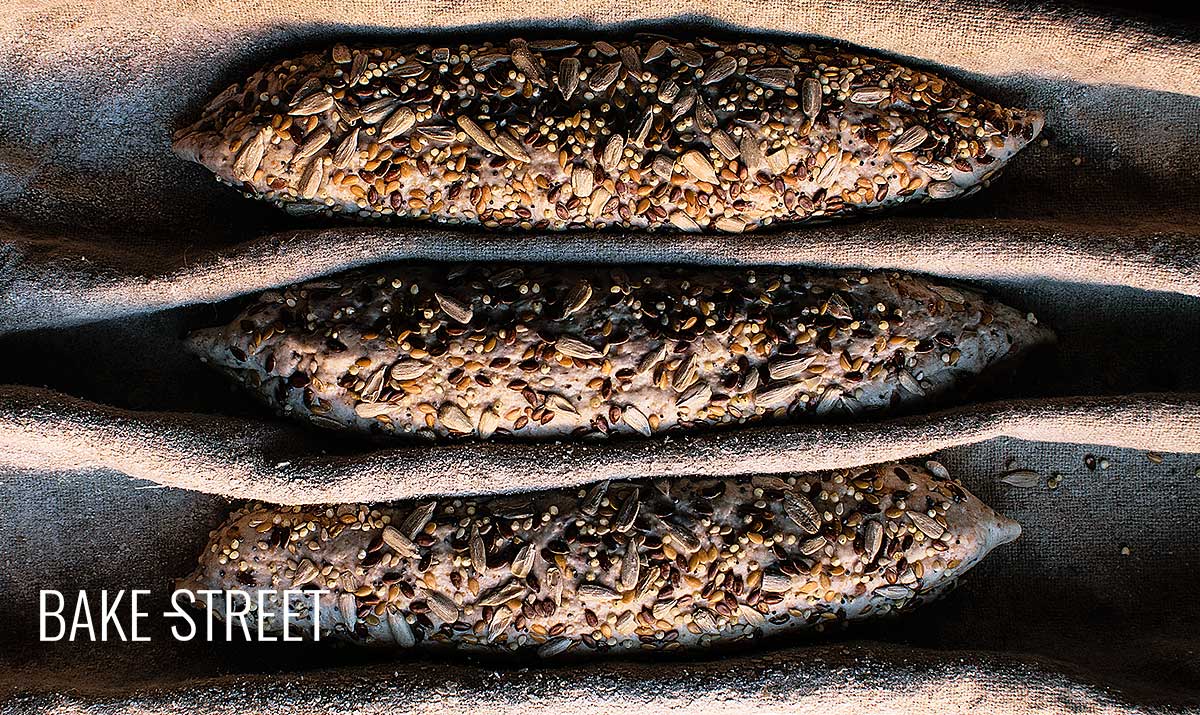 Whole wheat mini baguettes with seeds
Este post también está disponible en Spanish
One of the varieties of bread that they like best at home are the baguettes or mini baguettes. Especially my son, they're definitely his favorite. As they have an individual format, they are very practical for preparing sandwiches, toast for breakfast or simply serving them in a lunch/dinner for every diner. Today we are going to see how to make some very simple whole wheat mini baguettes with seeds.
Bread alone is a real delight, but if we add seeds not only improve its final flavor but also nutritionally enhance its benefits. To make this bread I have used a mixture of brown and golden flax seeds, sesame, poppy, millet and sunflower seeds. Of course, you can always adapt the seeds to your taste without any problem.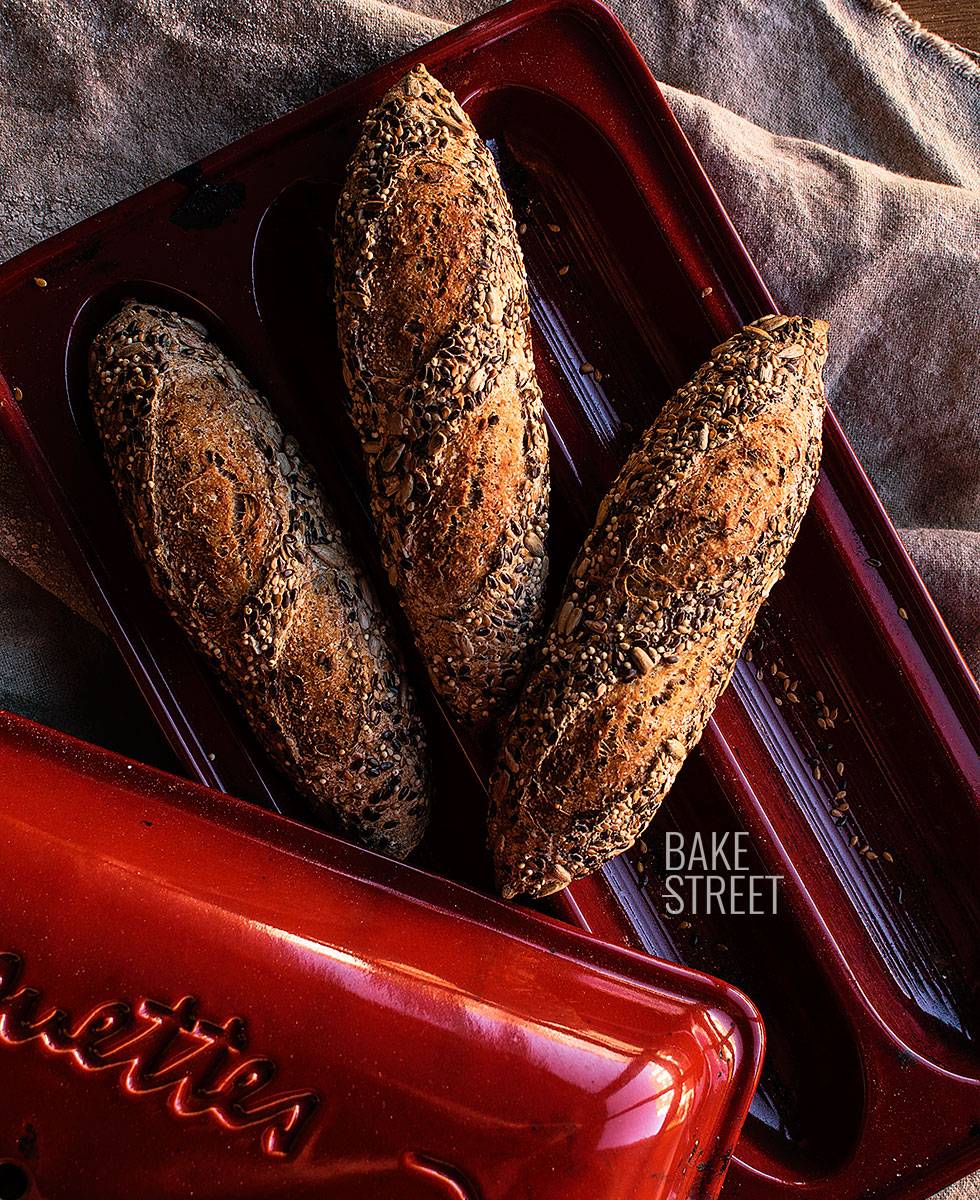 I would like to make a brief comment to give you some news.
Many of you have written to ask me about my online workshops, and after your requests, I have decided to do a new edition of the online workshop "Introduction to Homemade Bread". It is a workshop in which you can access from any part of the world, 24 hours a day with a duration of one month. In addition, there will be a forum where you can interact with other colleagues and me, and I will correct your exercises or resolve doubts daily.
As a novelty, the workshop will be available in 2 languages, Spanish and English. We will put it on sale throughout this week and I will tell you in more detail how the workshop works. I'll let you know by social networks!
Now, we continue with today´s recipe 😉
When we work with seeds in a bread we can do it in two ways:
Outside: We will always use them raw
Inside: Can be used toasted, dry or with a pre-soaker
In our case we will use the seeds in both ways. If you want to know more about what a soaker is and how to work with seeds, you can do it in this post in which I tell you everything.
We will make these wholemeal breads with seeds without previous soaker. This means that part of the hydration of the dough will be absorbed by these seeds. I have to take into account when preparing this or other breads.
We will also work with wholemeal flour.
Wholemeal is somewhat more delicate than normal wheat flour, so when we knead this dough or other dough with a percentage of whole wheat flour, we should do it delicately. Although when we work with doughs, it is never beneficial for them to be brusque or knead energetically (I mean, we shouldn't beat them up).
It is never recommended to knead bread abruptly, but even less so if we work with this variety of flour.
The seeds should always be added at the end of the kneading, when we have already developed the gluten mesh. The reason is that the presence of pointed forms, do not favor at all that the dough develops properly because they will cause tears. When you integrate the seeds, do it in a soft and delicate way, making folds until they are distributed evenly over the entire surface of the bread.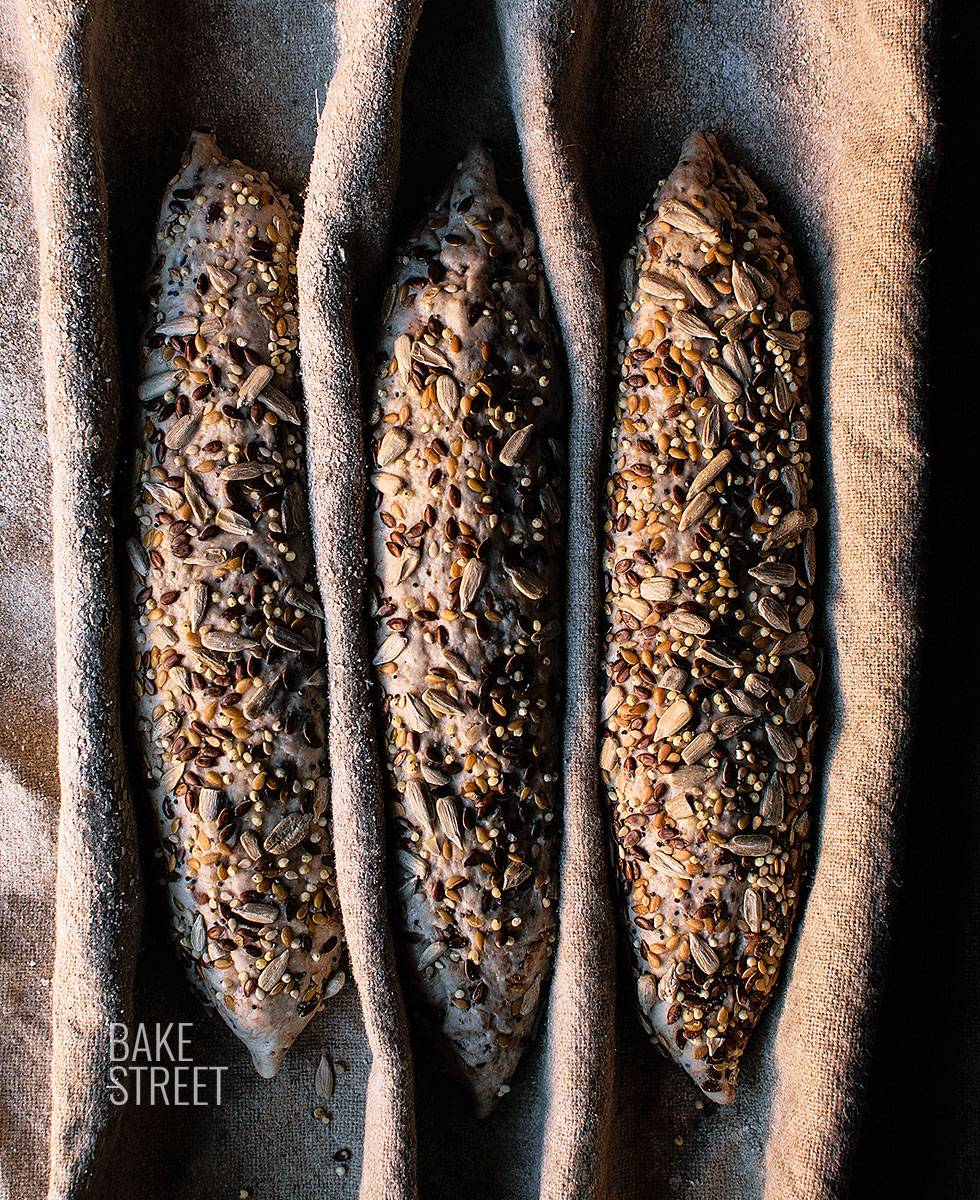 Ingredientes for 3 pieces
7 oz (200 g) plain flour
3,5 oz (100 g) whole wheat flour
7,4 oz (210 g) water
0,5 oz (15 g) honey
1 oz (30 g) roasted seeds + raw seeds for outside
0,07 oz (2 g) dry yeast + 0,17 oz (5 g) water
0,23 oz (6,3 g) sea salt
Instructions
Make whole wheat dough.
In a large bowl, add the two types of flour and mix with a silicone spatula.
Stir in the water and mix until both ingredients are completely integrated, no dry flour remains.
To mix it we can do it manually or in a stand mixer and using the hook. We will always mix at the lowest speed for a maximum of 2 minutes.
Cover the dough with a cotton cloth and make autolysis to take place for 30 minutes.
After this resting time, add dry yeast. Dissolve the yeast in 0,2 oz (5 g) of water and pour over the dough to homogenize completely.
Add the honey together with the salt and knead again until it is integrated.
Once we have the dough with a developed gluten, add the seeds.
Knead carefully to avoid breaking the gluten mesh. We must fold them gently until they are evenly distributed throughout the dough.
Make bulk fermentation. 
Introduce the dough in an airtight container or bowl previously greased with olive oil. Cover with the appropriate lid or film to prevent the dough from drying out, and let it ferment for about 3 hours at room temperature.
The dough will grow 2/3 of its volume. At that point we refrigerate the dough until the next day.
Preshape and shape mini baguettes.
Warm the dough 2 hours or 2 and 1/2 hours before working with the it.
Slightly flourish a work surface and dump the dough.
Divide into three equal portions, about 6,7 oz (190 g) each, and preshape.
Cover the pieces with a cotton cloth and leave to rest for 15-20 minutes. After this time, we proceed to shape our breads.
We will have prepared a linen (couche) or in its defect a linen tablecloth or cotton very large, floured generously. Set aside.
To shape the breads we will do it in the same way that we shape baguettes. You can see it illustrated in this post.
Once it is shaped, spray with water and cover the entire exterior with seeds.
Place the wholemeal bread over the couche. We repeat this step with the other two pieces.
Cover and allow to rise for about 60-90 minutes. You should note that they almost doubled in volume.
Bake.
When there are 45 minutes left to bake the breads, we will preheat Emile Henry's oven.
Introduce the ceramic oven, base and lid, over the rack located in the lowest part of the oven and preheat to 480ºF.
Uncover the baguettes and proceed to make the cuts (score) before baking. We will do this with a slightly damp blade to prevent it from sticking to the dough and tearing it.
The cuts should not be inclined, they are practically straight. We will make 2 cuts in the mini baguette with a fast and safe movement, we should not hesitate or cut again on a cut. It will be somewhat laborious due to the presence of seeds on the outside.
Once we have scored the three breads, spray a little water on them and place them in the oven.
Using oven gloves, remove the lid from the ceramic oven and leave it on a surface that cannot be damaged. Transfer the breads, as quickly as possible, to Emile Henry's oven, and leave them on the holes.
Cover again with the ceramic oven lid, close the oven and bake for 10 minutes at 480ºF.
After this time we lower the temperature to 465ºF and bake 10 minutes more.
Finally remove the lid of the ceramic oven, always with the help of gloves, and bake about 5-8 minutesin convection to 425ºF.
Remove from the oven and let cool completely over a rack.
Notes
This time I show you how to make the mini baguettes in 2 days. That way we can divide the work and make it more bearable. In addition to improving the flavours of bread after a period of rest. But, if you want to do the whole process from time to time, just let it lightly double in bulk fermentation and then follow the process as detailed in the recipe.
If we make breads with sourdough, we must be much more careful with fermentations. Wholemeal flour greatly speeds up the proofing process and we run the risk of over-fermentation if we get lost with other things.
The seeds I tell you about are optional, you can always adjust them to your liking.
If we don't have a wooden board to transport the breads from the couche to the oven, we can do the following. Put a strip of baking paper and on this we will place the bread. This will allow us to move it to the oven without having to manipulate it with our hands, as we run the risk of spoiling it.
We don't have to let them rise in the Emile Henry oven, as specified in the manual, because we need to preheat it well before using it in order to get good results after baking. Otherwise they would be soft or rubbery.
The cuts or scores  just made them before baking. We can't score them for a few minutes before they're put in the oven.
The final baking should be done with air/convection because it allows us to obtain a nice uniform golden browning, as well as to remove the excess of humidity that allows us to obtain a thin and very crunchy crust.
Preservation: this bread has a short shelf life, ideally it should be eaten on the same day we make it.
I hope you'll be encouraged very soon with these whole wheat mini baguettes with seeds. As you can see, you can bake different varieties of bread in Emile Henry's ceramic oven, not only baguettes but also this smaller format.
It could be a fantastic option to prepare individual breads for the upcoming holidays that await you. Don't you think?
This week there will be no more posts due to public holidays. I'll see you again next Monday, until then, enjoy!
Big hugs,
Eva
Archivado en