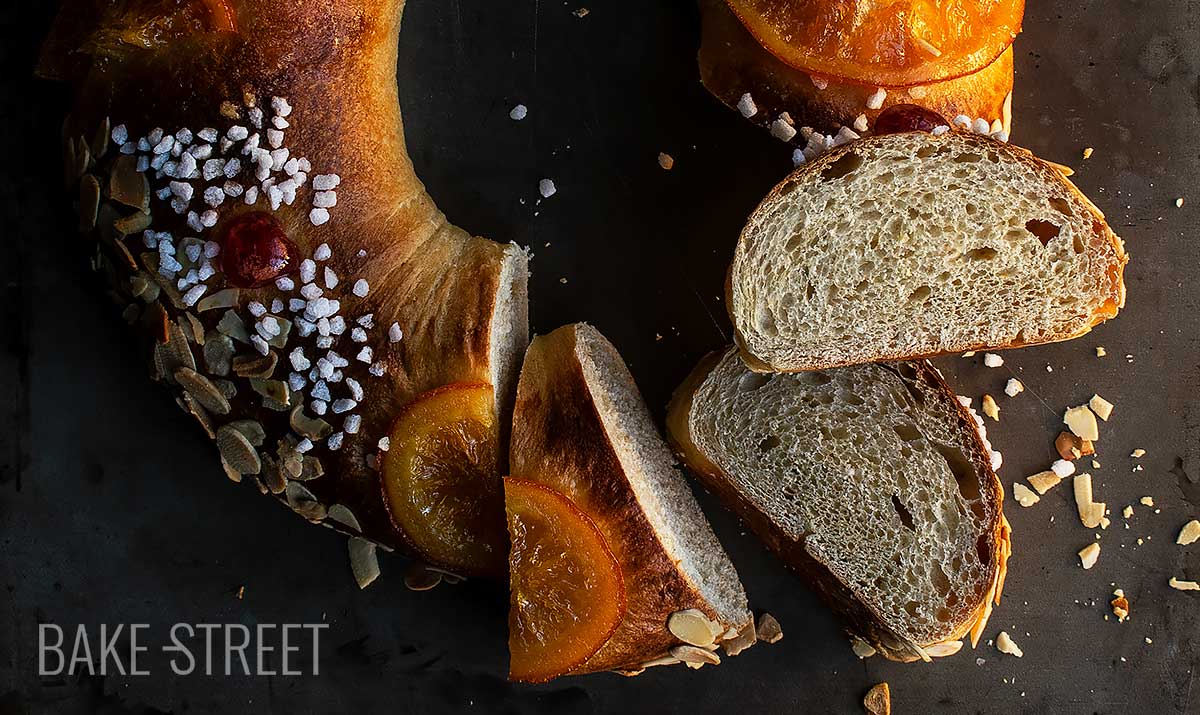 Sourdough Roscón de Reyes
Este post también está disponible en Spanish
Well, I'm back! Happy New Year, everybody! I hope and wish you all a wonderful Christmas and have had a great time with your family and friends. For my part I can say that I have disconnected more than ever, in fact I have tried to put everything aside to stay completely with my family. I really needed it and it was great. These things have to be done from time to time so as not to neglect anything in our lives.
I am sure you will be surprised to receive a publication from me today. It's Saturday, Epiphany… It seems to be a bit out of the ordinary routine and, yes, it is true. But I'll tell you. This year I have tried a new recipe for Roscón de Reyes, only with so much disconnection, I've done it just in time. So fair that I had little time to make it, try it and share it on time.
At first I thought about leaving it for next year, but the taste and texture is so good that I can't wait another year to share it with you. That's why the publication comes on a special day. If we look at it from the bright side, it is my Kings day gift to all of you. And I hope you like it 🙂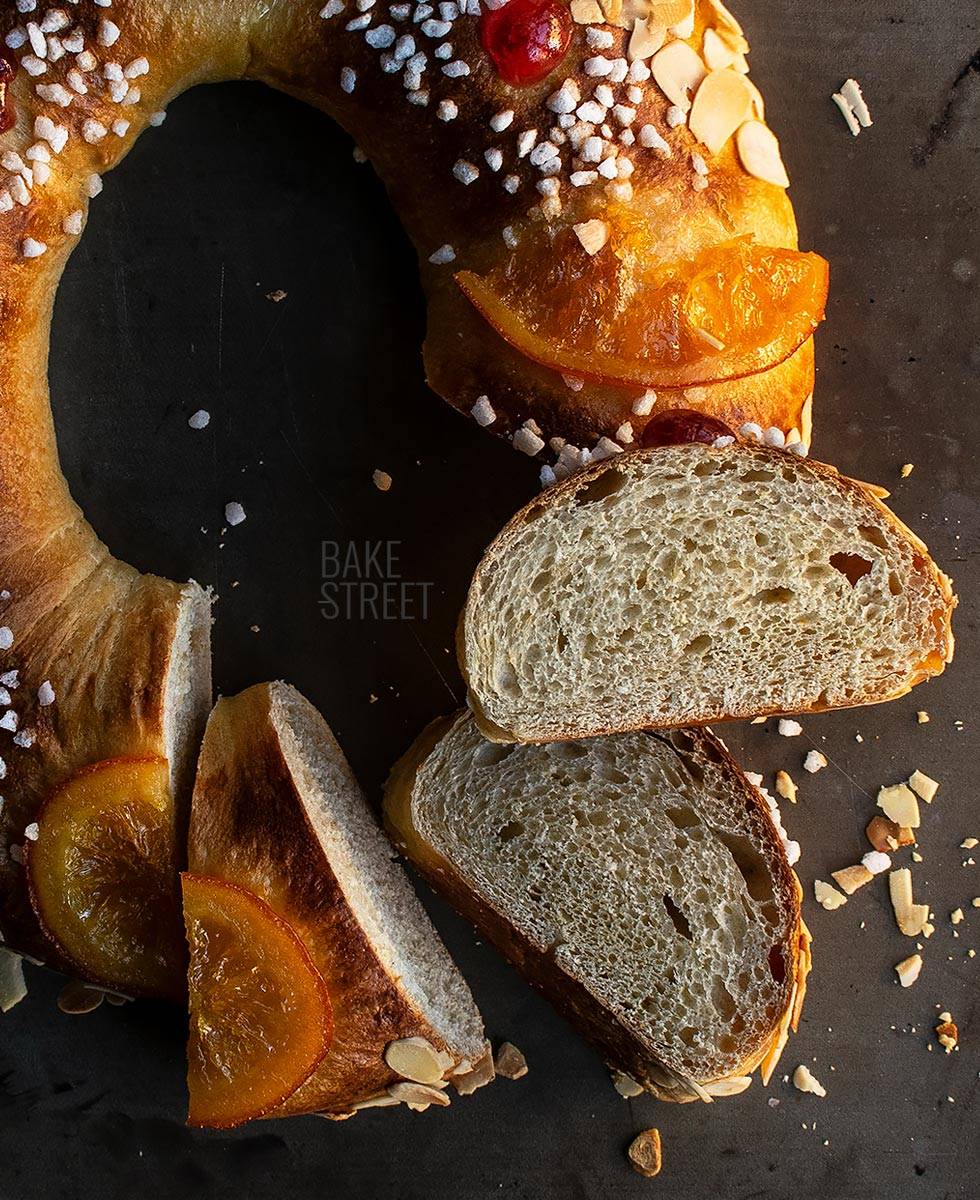 Sourdough Roscón de Reyes.
I know some of you don't work with sourdough because it's complicated or laborious for you. In that case you can replace the stiff sourdough with yeast or make a preferment. Take into account the amount of flour and water contained in the dough to add to the final dough, in addition to the yeast. In this recipe for Roscón de Reyes, I make it with a preferment and yeast. It can help to guide you in case you don't make it with stiff sourdough.
On the other hand, if you want to use a 100% hydrated sourdough which is the way many of you use to refresh your SD (watch out! my SD to make bread is fed in that way), you can use it too. Here you have to take into account the hydration plus of the SD, besides make sure that it is an active and very strong.
Achieve a super spongy result.
The truth is that every year I modify or change something in the recipe of Roscón de Reyes. Not because I don't like the result, far from it, but I always try to improve the result as well as trying to extend its useful life.
It's true that a homemade dough will always last less than one bought and the reason is the food preservatives. But that doesn't mean that a homemade roscón can only be eaten the same day we bake it. This is not so.
Why does a baked dough harden overnight? This mainly happens when we use an exaggerated amount of yeast. The doughs rise very quickly, but they also dry at the same speed. For that reason I always recommend you to use a very moderate amount of yeast and be patient with rising.
Neither does it help to "force" the doughs by subjecting them to elevated temperatures so that they speed up their yeast process. This, among other things, generates unpleasant flavours and aromas. Many times we can hurry, but in this case I recommend you to be very patient. Many things can be done while the doughs rise, in fact they do this work alone.
Roscones de Reyes that are cracked or scored.
This is one of the most common questions you ask me. No longer only for roscones, but also for tin loaves, buns…
Why does the roscón score/crack? This happens when we bake the dough before its time. The fermentation has not finished and the structure has not finished forming. The result of forcing a dough with heat to grow and expand generates cracks on the surface.
This spoils the final result, but the worst part you can't see is that our crumb won't be as tender and fluffy as it would have been if we had let it stand properly.
I know that the most complicated part of any dough is fermentation. This is learned by observing and carrying out many elaborations. One trick that can help you to have a reference of the state of the dough is to take pictures. For example, take a picture of the roscón once it is shaped and, in that way, you will be able to observe its evolution with the passage of hours. At the end you will learn to know the fermentation point of each dough just by seeing them.
And having said all this things, let's go with the recipe 😉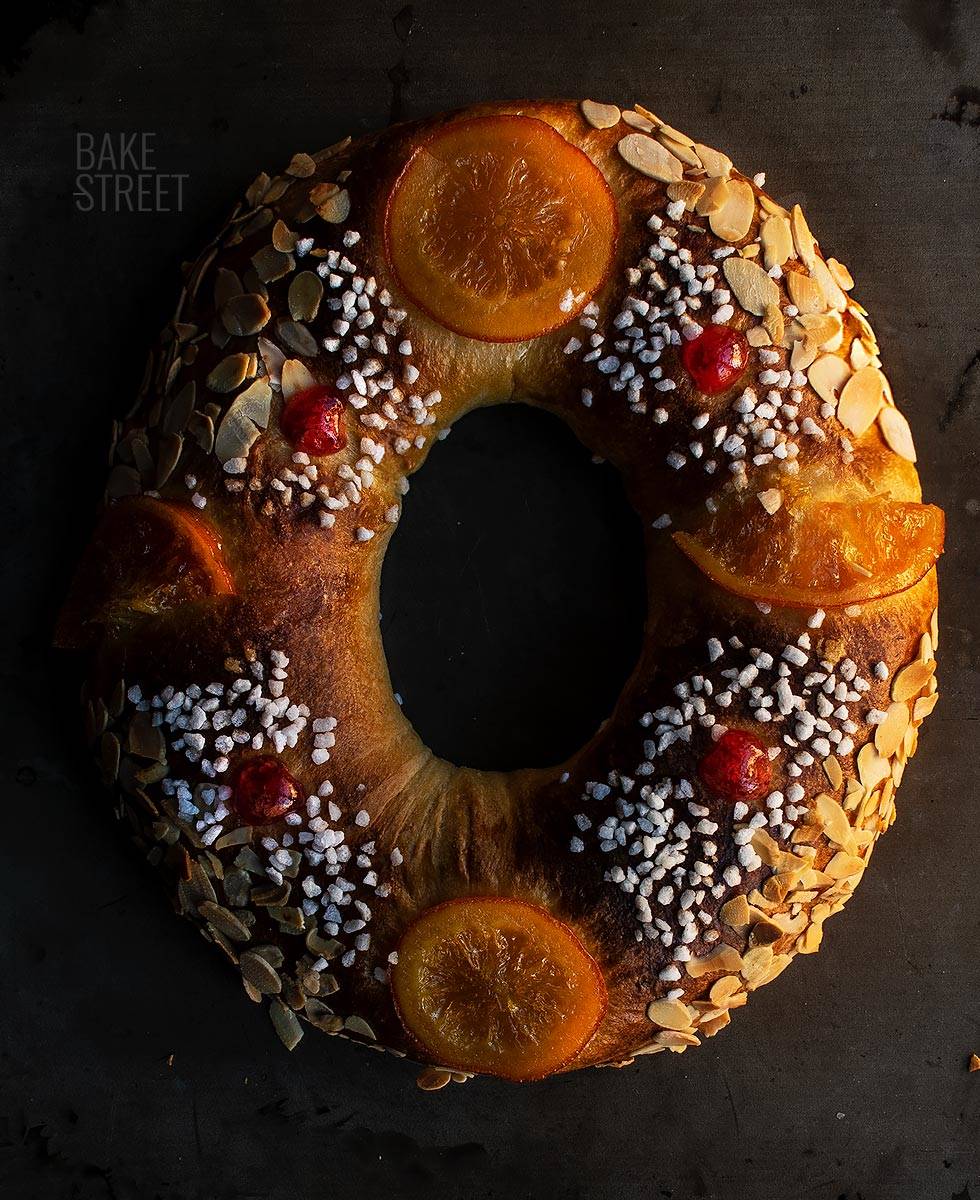 Ingredients for 2 pieces
FOR THE DOUGH:
500 g bread flour/AP flour
90 g stiff SD 45-50% hydrated
115 g whole milk at room temperature
2 large eggs
155 g sugar
15 g honey
115 g unsalted butter at room temperature
one orange zest
one lemon zest
10 g rum (I have used Matusalén)
10 g Frangelico, hazelnut liqueur
12 g Cointreau
1 tsp natural vanilla extract
35 g orange blossom water or few drops (4-5) if it is concentrated
5 drops of natural orange extract
5 drops of natural lemon extract
3 g salt
FOR DECORATING:
1 beaten egg with a pinch of salt for brush
flaked almond
pearled sugar
candied orange (link recipe)
cherries or candied fruit (optional)
Instructions
Make candied orange.
To see how to prepare candied oranges, you can do it in this post.
Once they are cold, store them in an airtight container and refrigerate. They are kept in good condition for a long time.
Make Roscón de Reyes dough.
Wash the lemon and orange well, dry and grated without reaching the white part. Set aside.
In a large bowl pour the milk together with eggs, extracts and liqueurs. Mix with the help of a whisk to integrate all the ingredients.
Cut up the SDh and add to the mixture of liquid ingredients. Mix again with the help of the sticks until it is completely dissolved. This step will help us to integrate without problems in the dough avoiding that lumps form in it.
Add the sugar, salt and zests, mix again.
Add the flour and knead with the hook at speed1. Knead until you obtain a homogeneous and a little dense dough. It will take a few minutes.
Once we have developed the gluten (remember to check by membrane testing), add the butter at room temperature. We will do it little by little so that it is easier for us to integrate it and we will not add more until the previous one has been completely integrated.
When the butter is completely integrated, knead until a smooth and shiny dough is obtained. The entire kneading process can take 45-50 minutes in a KitchenAid homemade kneader.
Placee the dough in a tupper or hermetic container. Cover it with its lid or with plastic film and let it lift until it triples its volume. In my case it took 20 hours at 78,8ºF/26ºC. The time is indicative, always remember that this must triple its volume.
Divide and preshape.
On a clean work surface sprinkle lightly with flour. Turn the dough over and degas very gently.
Divide into two equal pieces, preshape without exerting too much tension and let it rest covered with a cotton cloth for 15 minutes.
Line two oven trays with greaseproof paper. Lightly grease the hands with oil and shape the roscón.
Put the fingers in the centre, take the dough and lift it up in the air, turning to enlarge it. We must be careful when manipulating it and try to maintain the same thickness in all the surface.
We will leave a wide hole because after rising and baking it will be reduced.
Put the surprise wrapped in film (if you choose to do so) at the bottom of the roscón and seal with the dough. Repeat the same process with the bean.
Cover with film and leave to rise for 12 hours at 70º-70,6ºF/21-22 ºC, should almost triple its size.
Bake.
Preheat the oven to 380ºF/195ºC.
Beat the egg with a pinch of salt and brush the surface of the roscón gently.
Place the candied fruit, if we have chosen to put them, or the candied oranges.
Decorate with flacked almonds and pearly sugar.
Bake for 20 minutos. It should acquire a light golden colour.
In order to verify that it is done we prick with an oven thermometer in the roscón, this one will have to mark 199º-204ºF/93º-96ºC.
Take it out of the oven, place it on a rack and let it cool completely.
Bake the other roscón following the same process.
We can fill them with whipped cream, truffle, pastry cream, angel hair... the combinations are infinite although this sweet can be eaten very well on its own and without additives.
Notes
The flour I have used is La Primitiva del Molino Pasini which has a force W=300. You can always use a flour of similar characteristics or use flour of great force mixed with baking flour to achieve a similar force.
The stiff SD is part of a daily refreshment. I recommend you to use a strong and active SD. Or at least one SD that has been through 3-4 refreshments. To see how to make your own stiff SDs, you can do it in this post.
Natural vanilla extract can be replaced by half vanilla pod.
Advice to observe the state of the gluten mesh: To check the state of the gluten mesh we should always do so after a rest. The main reason is that if we check just after kneading, the dough will be very tense and will break when stretched. In addition to putting up a lot of resistance. But if we let it rest, it will relax and we will be able to stretch it checking in a correct way its state.

Remember that you can create a "fermentation chamber" by inserting the dough into the oven with the light on. You will reach a temperature between 80º-86ºF/27º-30ºC.
Be patient with the rising times, the result is worth it.
When forming the roscón, try not to manipulate the dough in excess. This will affect the final structure of the crumb and its sponginess. Work the dough with care and handle it just right.
The roscones are kept in perfect condition in a large freezing bag closed with a zipper for 4-5 days.
This Sourdough Roscón de Reyes requires a little more time than if we make it with yeast, but I promise you that the result is extraordinary. The texture of the crumb is very soft, tender and spongy... Not to mention the fantastic aromas.
In spite of arriving a little late, don't miss the chance to try this roscón. In the end, it's an enriched aromatized dough that can be part of our breakfasts. Well, outstanding breakfasts :)
I wish you a happy Three Kings night!
Big hugs and love,
Eva
Archivado en