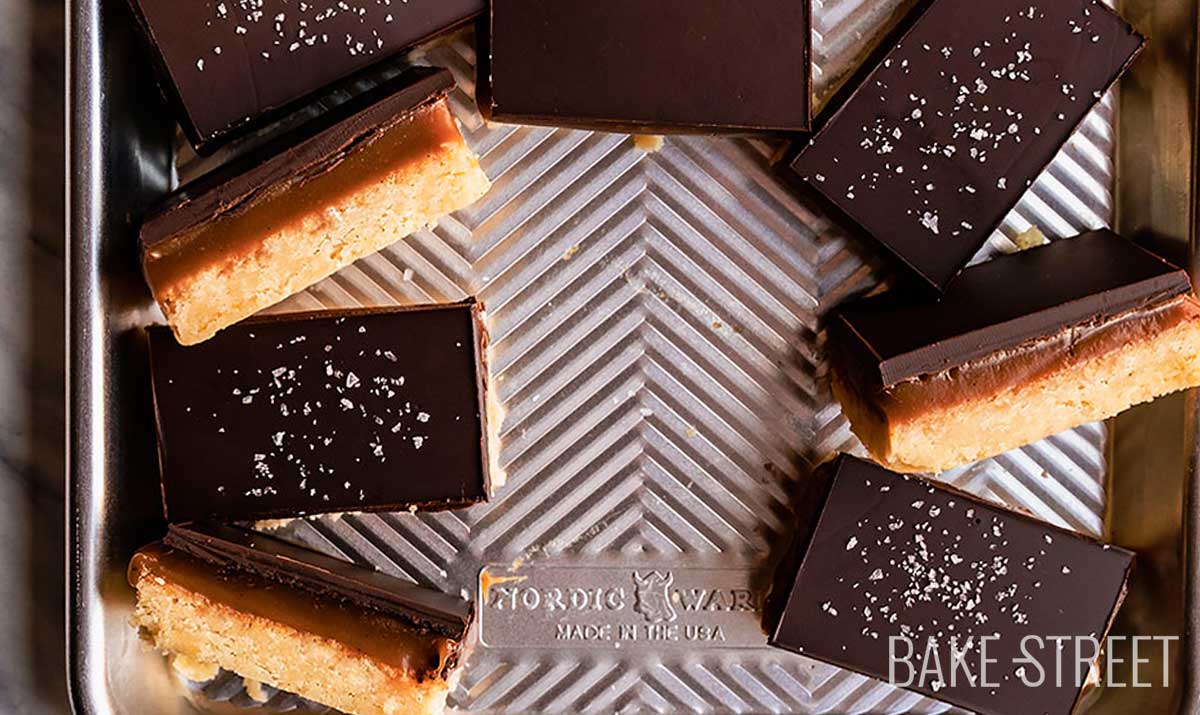 Millionaire's Shortbread
Este post también está disponible en Spanish
Long time no post on my website! Sorry for my absence, it was not at all because I didn't want to share recipes with you. But the last two months have been very busy and it was very difficult for me to find the time to publish. But, I'm back and looking forward to share with you a lot of elaborations that I have already organized. Thank you for all the messages you have sent me during the Christmas season, you are amazing and, from the bottom of my heart, all this is thanks to you. Today I bring you an addictive recipe, Millionaire's Shortbread.
It's a recipe that I really enjoyed, in fact I ate practically all of them by myself….. hahaha. At home they like more savory recipes. So I always have to make sacrifices….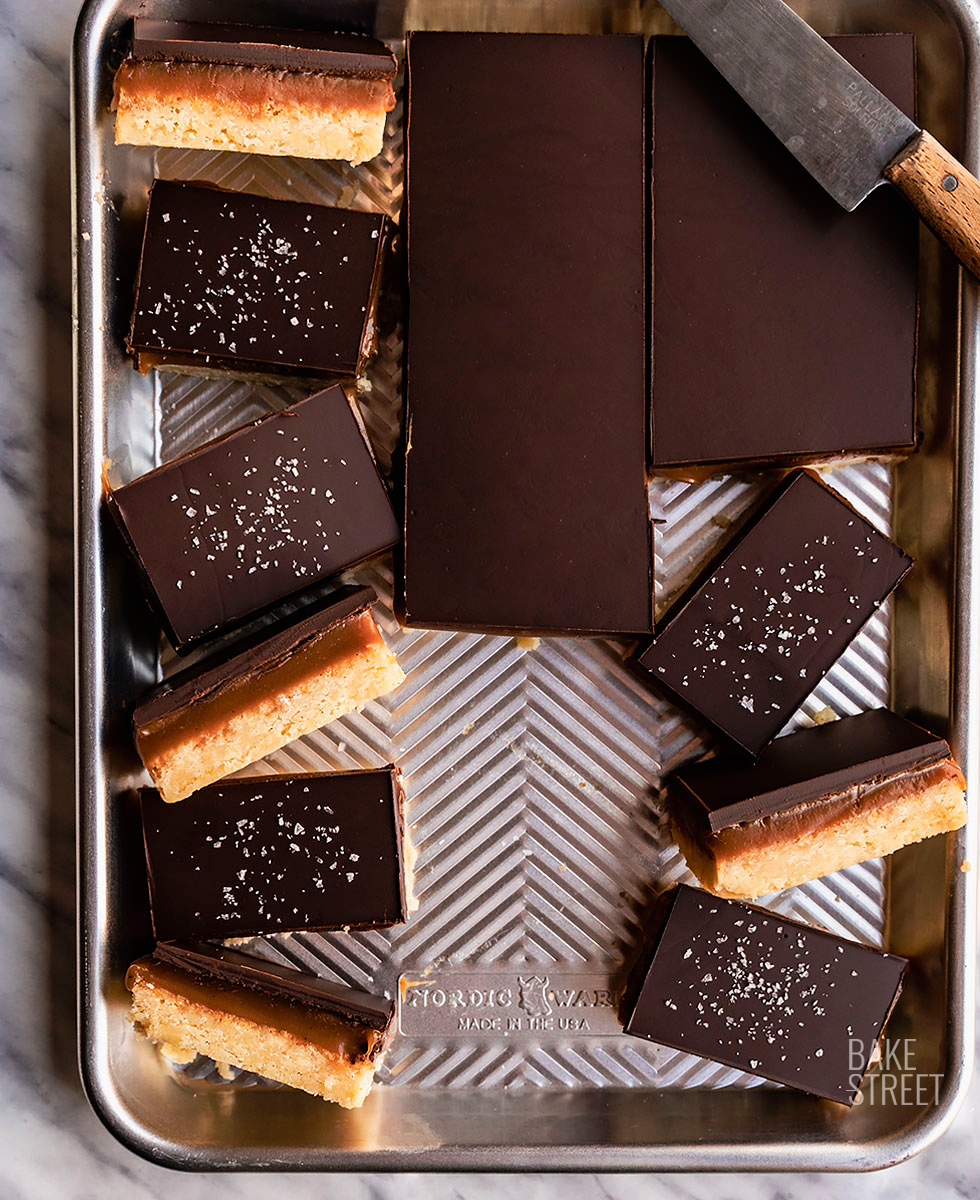 This recipe is one of those recipes that are incredibly simple to carry out and that, in addition, leave us with a surprising result. Like these Millionaire's Shortbread.
It's a winning combination, no matter how you look at it. Shortbread cookie, toffee cream and dark chocolate coating… Impossible to say no to this temptation. It is an ideal accompaniment for coffee, tea time, to serve with liqueurs or even soft drinks / milkshakes. Besides being a very versatile preparation because we can serve them as a dessert, snack or even, at this time of the year, as a gift to our friends.
Millionaire's Shortbread origin.
This very particular cookie is a sweet that consists of three layers; a cookie made without leavening agents and with a high fat content, toffee or condensed milk and a fine chocolate coating.
The peculiar, melting and buttery texture of the cookie is achieved thanks to the large amount of butter it contains, the toffee filling provides a very creamy and sweet texture and, finally, the chocolate coating provides the slightly bitter nuance that combines perfectly with the rest of the elements.
Millionaire's Shortbread evolved from the first recipes of Elizabethan Scotland, the idea of adding the chocolate coating came about in the 19th century.
Originally, this cookie was made with oat flour or ground oatmeal. Well into the 19th century, candied orange peel and almonds were added for special occasions, around the same time that chocolate was introduced for the topping. The addition of toffee filling was the last element to be integrated to create these wonderful Millionaire's Shortbread bars.
Shortbread is a sweet, unleavened cookie made with flour, sugar and butter.
Older recipes call for three parts flour, two parts butter and one part sugar, although contemporary versions may vary from the original. The cookie owes its name to its crumbly texture, a result of its high fat content.
Not to be confused with the shortcake, a related cookie made with vegetable oil and leavening agents.
The filling of this cookie is caramel. In its simplest form, there are recipes made with condensed milk that is heated until caramelized. But ideally we should prepare a toffee sauce. The addition of butter and cream is incorporated to obtain a creamy texture.
Chocolate coating should be a chocolate with a high cocoa content to counteract the sweetness of the filling. The addition of butter should not be omitted as it will provide smoothness and a less firm consistency.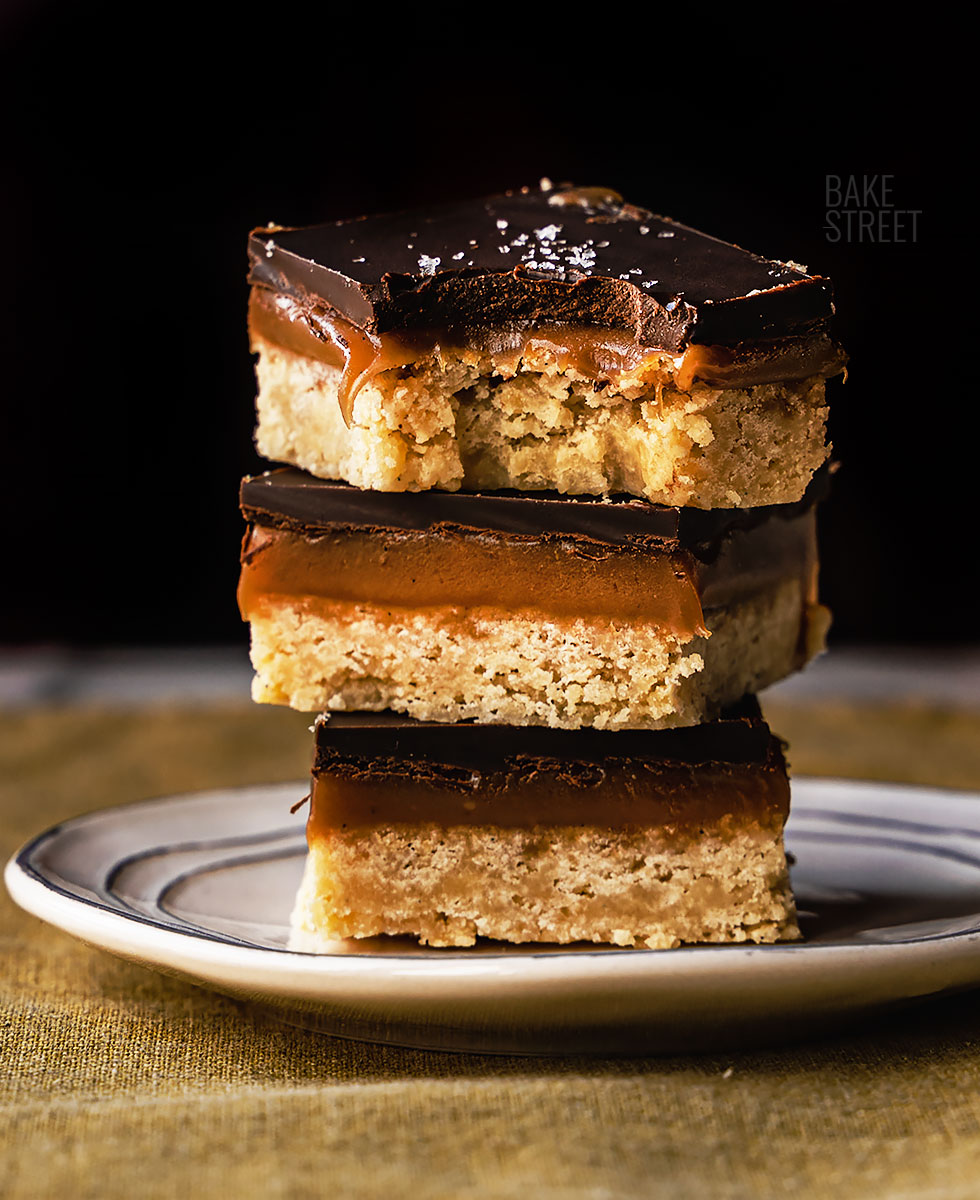 Recipe Millionaire's Shortbread
SHORTBREAD:
300 g pastry/cake flour
280 g unsalted butter, cold
100 g sugar
1 large egg yolk
2 tsp natural vanilla extract
¼ tsp salt
TOFFEE:
400 g sugar
160 g water
225 g heavy cream, warm
225 g unsalted butter, room temperature
2 tsp natural vanilla extract
pinch of salt
CHOCOLATE COATING:
250 g chocolate 70%
100 g unsalted butter, room temperature

1 teaspoon glucose or Corn Syrup (optional, but recommended)
MATERIAL WE WILL NEED:
pan/baking tray 25 x 18 x 2,8 cm (this is my pan)
digital kitchen thermometer
small rolling pin (optional)
large frying pan
whisk
mixer/kneader (optional)
rack
Instructions
Prepare shortbread.
Line the baking tray with baking paper, to help it adhere smoothly, lightly butter the surface. Set aside.
In the bowl of the KitchenAid, add the flour along with the butter cut into cubes, sugar and salt. Mix with the flat beater on speed 1 until a sandy texture is achieved.
Stir in the egg yolk and mix again until fully integrated.
Pour the mixture into the tray lined with paper, it will have a sandy aspect, this is correct. Press with your hands to compact and, with the help of a small rolling pin, roll over the surface to smooth and achieve a uniform height. If you notice that the mixture sticks to the roller, place a Teflon sheet or baking paper to smooth it without the mixture sticking to the roller.

Prick the surface with a fork.
Refrigerate the dough for 20 minutes while preheating the oven.
Bake shortbread.
Preheat the oven to 347ºF/175ºC with heat up and down.
Bake at medium-high for 20-22 minutes or until you see that the surface is lightly browned.
Remove from the oven, place on a wire rack and let cool completely.
Prepare toffee.
In a frying pan, add the sugar and water.
Place over medium heat and leave until you obtain a golden caramel, but not excessively toasted. Otherwise you will get a bitter taste. At first the water will begin to boil and then the sugar will gradually caramelize.
Once the caramel is ready, reduce the heat a little and add the warm cream and mix with a whisk. When you pour it in, it will start to bubble a lot, this is normal. Continue mixing until the bubbles go down.
Add the cubed butter along with the vanilla and salt. Turn up to medium heat and cook, stirring constantly, until the toffee reaches 245ºF/118ºC. For this step you will need to use a digital cooking thermometer.
Remove from the heat and pour the caramel over the shortbread.
Let it cool completely to room temperature, you will notice that the toffee settles and takes consistency.
Refrigerate until the next day.
Prepare chocolate coating.
In a heat resistant bowl, add the chopped chocolate, butter and glucose.
Place over a saucepan with water, it is very important that the water does not touch the bottom of the bowl, and place over medium low heat.
Let it melt completely in a bain-marie. Stir occasionally to homogenize the mixture.
Once melted, pour over the toffee.
Remove the pan from the refrigerator and pour the chocolate over the surface. Make sure it covers the entire surface, if necessary, tilt the pan to reach the corners. Try not to use a spatula to avoid leaving marks.
Allow to cool completely to room temperature and refrigerate for 8-12 hours before cutting. I advise you to follow this step to achieve clean cuts.
Serve.
Unmold by pulling the baking paper, carefully separate the baking paper to avoid damaging the sides too much.
With the help of a sharp knife, cut the ends to achieve a clean and defined finish. Cut into bars or squares, as you like.
If you wish, you can sprinkle salt flakes or even some gold leaf on top.
Serve.
Notes
To prepare this recipe I used my Nordic Ware naturals tray. It is a beautiful and perfect tray for this type of elaborations. I'm in love with it.
To make the shortbread, I advise you to use cold butter. This will help you to manipulate the mixture much better. Both in the mixer and when transferring it to the pan.
When making the toffee sauce, try to use a wide pan to help the caramel to melt quickly and without forming lumps.
Adding water to the sugar, to make the toffee, will help you to caramelize the sugar without problems.

I advise you to keep the cream that you add to the toffee warm to avoid a sudden change in temperature. This can cause the caramel to become solid and make it difficult to obtain a homogeneous mixture.
It is very important that the toffee reaches the specified temperature, otherwise we will be left with a very fluid toffee and it will be impossible to maintain consistency to cut it.
The top chocolate coating is recommended to be made with dark chocolate since the toffee is very sweet. You can use the whole amount of 70% or half 80% and half 70%. In my case I did it the latter way.
To make the chocolate coating, we must add butter to soften the consistency. Failure to do so will result in a hard chocolate slab which, when cutting the bars, will crush the rest of the ingredients and the result will be disastrous.
Glucose can be omitted, but I recommend using it if you have it at home. We use it to achieve a more flexible finish, to improve the consistency and as a conservant (it helps the appearance of the frosting to hold better over the days). We can use Corn syrup instead.
To cut the sticks, I advise you to dip the knife in hot water, dry it and proceed to cut. Each time you make a cut, wet the knife and dry it.
They can be stored in an airtight container refrigerated for 7 days.
I promise you that this is a recipe that you will repeat on more than one occasion. These Millionaire's shortbread bars meet a lot of requirements that make them indispensable; they are easy to make, require little time to prepare (although they do require several steps) and the result is exceptional. Both in appearance and when it comes to enjoying them.
I can't wait to see yours and let me know what you think of them!
Sources: Delighted Cooking
Archivado en